JTBC pushes Madam Antoine, rebroadcasts Padam Padam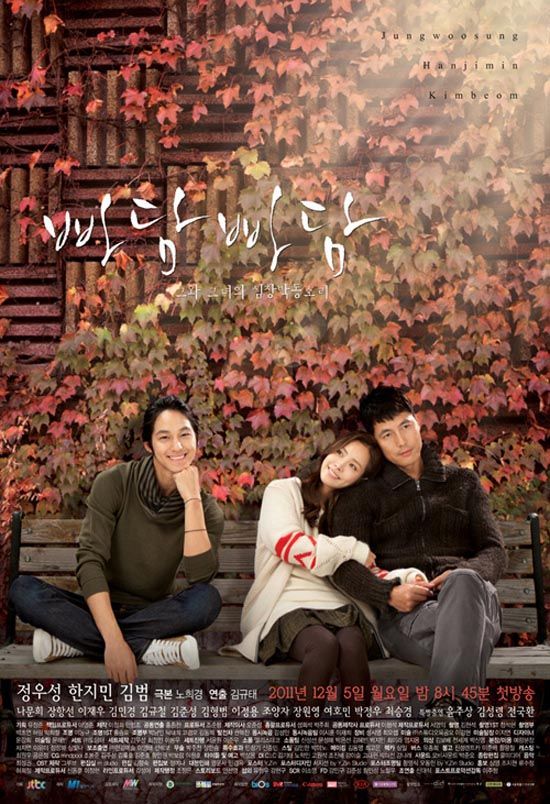 Hm, interesting decision. It had been previously reported that JTBC was intending to air Madam Antoine, its psychiatrist-fortuneteller rom-com starring Han Ye-seul and Sung Joon, as its next Friday-Saturday drama following disaster drama D-Day, which wrapped this past Saturday. Instead, JTBC has decided to rebroadcast an old drama, 2011's fantasy-romance melo Padam Padam — The Sound of His and Her Heartbeats. That's quite the last-minute switcheroo.
Rerunning dramas isn't an unusual practice, but reruns typically air throughout the week and in other timeslots; what's unexpected is that a cable station would give up a prime-time spot for a show that already had a full run years ago, pushing back new original programming to do so. Which makes me think it's more about Madam Antoine needing extra time to prepare than it is about Padam Padam meriting a second run.
I wonder why JTBC chose Padam Padam to rebroadcast, of all the shows in their backlist; they could have rerun current variety programming — they have a number of hits, like Take Care of My Refrigerator, Abnormal Summit, and Witch Hunt. They've also got bigger drama successes like Secret Love Affair and Wife's Credentials in their archives, though perhaps this would be an opportunity to give Padam Padam a second shot at picking up a bigger audience. It was considered a good show for JTBC back when it premiered, and having big stars like Jung Woo-sung and Han Ji-min (not to mention star producers like writer Noh Hee-kyung and director Kim Kyu-tae) was a big get for a brand-new cable station.
In its first run, the drama netted above 1% ratings, which at the time was a mark of a successful cable show. With cable now taking up increasingly bigger pieces of the ratings pie, it's conceivable that a second run could also do decently well… though you'd have to contend with the fact that a huge chunk of suspense is missing now, since fans can always get their hands on the whole series online. Does this move make sense for the station, or will the timeslot just be a void until new programming starts up next year?
Padam Padam begins its run this weekend on Friday, November 27. Madam Antoine will now premiere next February.
RELATED POSTS
Tags: Madam Antoine, Padam Padam