Six Flying Dragons: Episode 11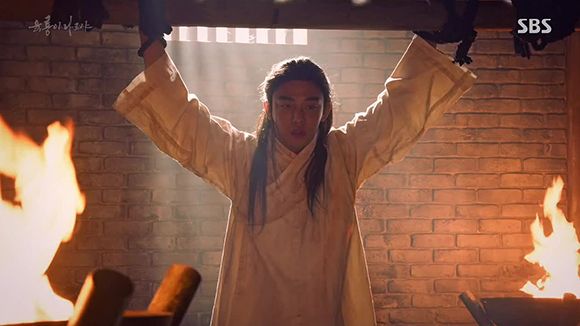 Our young and aspiring hero bears the unfortunate brunt of political manhandling this hour, and while he fights for his life in the torture chamber, everyone else fights over how best to use him. Well, most everyone—there are a few parties which seem to genuinely care about him, and sometimes it just goes to show that blood flows thicker than water, since Bang-won's band of brothers waste no time before jumping into the fray. But does it count if your family might be saving you today just so they can kill you tomorrow?
SONG OF THE DAY
Park Hyo-shin – "야생화 (Wild Flower)" [ Download ]
Audio clip: Adobe Flash Player (version 9 or above) is required to play this audio clip. Download the latest version here. You also need to have JavaScript enabled in your browser.

EPISODE 11 RECAP
Just as sure as Jung Do-jeon knows that Bang-won is a dangerous wild card to have in the mix, he knows Lee In-gyeom's retaliation will be swift. He's right, since the scheming minister releases an "anonymous" letter claiming that Lee Seong-gye, Minister Hong, and Gil Tae-mi made a secret deal to split tax revenues up between them as long as the two ministers agreed to pass the border plan.
It puts Lee Seong-gye in a potentially bad light, but General Choi is the only one to see reason, knowing that there's no proof to back up the letter's claims. Lee In-gyeom knew he'd react that way, and so he sent one of his minister cronies to present the good general with another piece of incriminating (but still made-up) evidence.
The letter doesn't help Minister Hong or Gil Tae-mi either, since they have to prove that they had legitimate reasons for passing the border plan. Gil Tae-mi gets all riled up and misquotes a proverb by Confucius about righting one's own wrongs, and it's kind of funny how he has to be corrected not only on the proverb itself, but even the book it came from.
Their civil discussion soon turns into a shouting matched laced with banmal and profanity, which is broken up by General Choi, the supreme leader of all things buzzkill. He presents Gil Tae-mi with the forgery Lee In-gyeom made sure he'd read, appointing his son to the position of Gamchanggwan, or inspector general.
This means he'd be in charge of inspecting taxes for the northeastern region, which all but screams that the secret deal was real after all. Gil Tae-mi adamantly denies appointing his son to such a position because he actually didn't, but now that the other ministers have heard it, most of them believe it to be true.
Jung Mong-joo isn't one of them though, since he refuses to believe Lee Seong-gye would be corrupt enough to make such a deal. He's in the "it's just a rumor" camp, but he knows how much damage a rumor can do.
Word from the rumor mill has made it to Jung Do-jeon, who realizes the same thing as his longtime comrade—that despite it being just a rumor, they've attacked Lee Seong-gye where it'll hurt him the most: his integrity. He wants to meet with the general immediately, but Yeon-hee tells him to wait and meet with Shin-jeok instead, who's coming to the capital on Lee Seong-gye's orders.
Elder brother Bang-gwa meets with eldest brother Bang-woo in the capital to fill him in on everything that happened regarding the border plan. He's been sent to withdraw it, though he questions whether that's the right thing to do.
Bang-woo claims that there is no right or wrong, only what their father's decided—and since he's decided to withdraw the plan, that's what they must do as his sons. He even scolds Bang-gwa for allowing himself to believe little bro Bang-won's lies.
Jung Do-jeon heads for Bang-woo's house once Shin-jeok tells him that Bang-gwa (so many Bang's!) has come to the capital to withdraw the border plan, hoping there's something he can do to stop him. Bang-won goes running to his eldest brother once Young-kyu tells him the same news.
Bang-woo is not happy to see him, and gives him what-for when it comes to his disobedience to their father. Bang-gwa still seems torn between doing the right thing by the border plan and doing the right thing by their father's orders, but Bang-won takes the decision out of his hands when he attempts to abscond with the withdrawal notice.
Unfortunately for him, he's not able to get far before military officials arrive to arrest Bang-won for making an illegal deal with Minister Hong to get the border plan approved. This is all part of Lee In-gyeom's plan to get to Lee Seong-gye and Minister Hong in order to root out whoever's secretly controlling them.
Like clockwork, Jung Do-jeon spots Bang-won as he's being carted off by the authorities, which is exactly what Lee In-gyeom wanted. While Bang-won is stripped down to his torture skivvies, Yeon-hee tells Jung Do-jeon and Shin-jeok that it might actually be good for them if Bang-won were to die while being tortured.
She gives four reasons: One, that his death would bury the as yet unpublicized border plan forgery scandal, two, that it would put Lee Seong-gye in exactly the position Jung Do-jeon wants him in, and three, that they'd rid themselves of the problem of Bang-won without having to do anything. (She said four, but there's only three.)
Shin-jeok is mortified at her proposition, since no matter how much Bang-won was in the wrong, it shouldn't mean that he has to die for it. Yeon-hee disagrees with his point that Bang-won should be spared from a horrible death because he's committed no crime with a dark glint in her eye: Since when has the balance between crime and death been fair?
"Crime and death have nothing in common. One does not die because sin exists. And no one lives just because they have done no wrong," she adds mercilessly. Shin-jeok's jaw goes slack as he addresses Jung Do-jeon to put a stop to her. Wasn't the point of creating a new nation to stop these kinds of things from happening? Is he really going to let Bang-won be sacrificed for his cause?
Jung Do-jeon doesn't have an answer for him, at least not right away. He takes some time to think it over, acknowledging to himself that Bang-won's death would make a lot of their problems disappear. He wants to just be able to look the other way and let it happen, but he can't deny that the same foul bug he claimed was growing in Bang-won's heart has now embedded itself in his mind, and did so the moment he saw Bang-won being carted off.
It's up to Bang-woo to decide what to do about Bang-won, and he makes an executive decision to not submit the withdrawal. Since Lee In-gyeom has declared war on their family by imprisoning their brother, they'll assemble their private army in the capital and prepare for the worst. Both Bang-gwa and Young-kyu are happy with this plan.
Gil Tae-mi frets that Bang-won might reveal that he met with Minister Hong the night before the dodang meeting, even though Hong denies that they made a secret deal. Gil Tae-mi knows that even without evidence, just Bang-won admitting that they met would be damning for them. His suggestion? They can just kill Bang-won.
Boon-yi tries to do what she can, which involves banging on Minister Hong's door to demand an audience. She's met by Hong's chief servant, whom she instantly recognizes as the man who killed her fellow villagers in cold blood (she doesn't know he's Yeon-hee's rapist). He attempts to apprehend her, but she gets Minister Hong's attention by claiming she was sent by Bang-won and that she knows what went on the night of their meeting.
Only when she's alone with him does she admit she wasn't sent by Bang-won, but that she knows he was seeking a partnership with Lee Seong-gye. In order for that to happen, she claims, Bang-won can't die under torture. If he does, Minister Hong can kiss any deal he hoped to make with Lee Seong-gye goodbye.
Minister Hong wonders what her relationship with Bang-won is for her to be so desperate she'd risk being killed by coming to his home. He suspects a relationship, but Boon-yi cuts him off before he can say so. "He bought shoes for me," she all but stammers. "Other noblemen would kill us, but Young Master bought me shoes."
He finds her amusing, and agrees to help… on one condition. Bang-won once called him out for renouncing his beliefs under torture and said he was different from him. If he is, and doesn't utter either his name or Lee Seong-gye's name, then he'll help. However, if Bang-won can't hold up to the torture and says their names, "Everything that you're worried about will come to pass."
Bang-won is understandably worried about the pain he's sure to face, but puts on a brave face in front of his torturers. As a searing iron is taken to his flesh, he thinks back to when Minister Hong had told him how he folded under interrogation. And how he chose to burn the teachings of Mencius rather than have his forehead permanently branded.
Determined not to be like Minister Hong or even his past self, Bang-won holds out the first day. Boon-yi is able to visit him in prison that evening thanks to Minister Hong, and sneaks him a boiled egg. She passes along the message from Hong about holding out, along with her belief that Jung Do-jeon will help somehow.
But Bang-won knows better, and in fact, he knows exactly what Jung Do-jeon must be thinking—that his death would make everything else a whole lot easier. Boon-yi denies this with tears in her eyes, leaving Bang-won to hope, even just a little, that maybe she's right.
Before she leaves she turns back to him, "Do you know why I like you? Because I think you will not die. I don't think you will leave me." Bang-won: "You… you like me? I won't die. I will definitely walk out of here alive. Just wait."
Outside the prison, Boon-yi looks back and thinks in his general direction, "Don't die. I don't want to see someone leaving me again. I don't even think about them. My brother, my mother… I forgot about them." And when Shin-jeok finds her, she demands he take her to Jung Do-jeon.
Moo-hyul returns home to his massive family to report that he's got an in with Lee Seong-gye because he saved his son not once, but twice, and even got promoted to Bukdo Guard, Second Rank. I love the running joke of someone always and inevitably asking, "What?"
This time it's his old Master Hong, who his siblings now claim is their new household servant. That's how they're getting him to repay all that he scammed from them, but it still weirds Moo-hyul out that his old Master has taken to calling his Grandma the most formal form of "noona." And better yet, he gets to move to Gaegyeong with the rest of them, however much Moo-hyul hates that idea.
Bang-ji performs for the people in the town square, though this time, he sings "Cheongsanbyeolgok" (Green Mountain Special Tune), a folk song which laments the loss the Goryeo people faced during various invasions and laments their broken system. The song moves the crowd to tears.
Jung Do-jeon stands among them, and when he meets Bang-ji's gaze, he remembers what he said in the cave about doing what he did for a country that's only gotten worse. "I'm sorry. I'm truly sorry," Jung thinks. Now, Bang-ji's questions about how many more needed to die for his master plan to work come back to him in a big way.
Unlike before, now Jung Do-jeon is really thinking about those questions and doubting himself: "So are you telling me to halt [my plans]? Or that I should kill everyone without looking at the big picture?" Yeon-hee tells him that now's not the time, but when he asks about Bang-ji, she doesn't reveal that she once knew him. In fact, she urges Jung Do-jeon to forget about him, because she hopes that might save Bang-ji from going down an even darker path.
She's not afraid of going dark though, and wants Jung Do-jeon to look the other way while she does what needs to be done—namely, by sneaking into the prison and killing Bang-won before he can say anything that would ruin Jung Do-jeon's plans.
Back in the New Joseon Cave, Shin-jeok tells him that Boon-yi wants to see him without mentioning her name. But Yeon-hee makes the mistake of saying that Boon-yi should be thrown out immediately for acting independently by following Bang-won around, only for Jung Do-jeon to turn and look at her: "Have I ever told you that girl's name?"
Ah, he caught her. Yeon-hee recovers quickly, and admits that she knows Boon-yi from having grown up in the same village. She only asks that he not tell Boon-yi, and that he not ask her why. (A request he respects.) Jung Do-jeon remembers Boon-yi telling him about the night her brother and a certain Yeon-hee disappeared, and wonders now if she was talking about the Yeon-hee standing in front of him.
Points go to Gil Tae-mi for arguing against having Bang-won tortured, since he knows he didn't do anything wrong. Lee In-gyeom is doing it now as a publicity stunt to show that he's "investigating" the purported tax revenue rumors.
Even though Minister Hong admits he agreed to the border plan because he eventually wanted to overtake Lee In-gyeom's political position, he argues reasonably that there was no secret agreement. Lee In-gyeom must know this, but still insists that a proper investigation must be done. And they have the perfect independent party for the job.
The second Jung Do-jeon enters their rendezvous point, Boon-yi drops to her knees in apology for helping Bang-won without telling anyone. Why would she help someone like Bang-won, with a temper that gives him tunnel vision?
"Because he is like us," Boon-yi finally answers. Her villagers are exactly the way Jung Do-jeon described Bang-won: quick tempered to a fault, and unable to see what's in front of them for the goal far ahead. Jung says that's why they died, and Boon-yi doesn't disagree.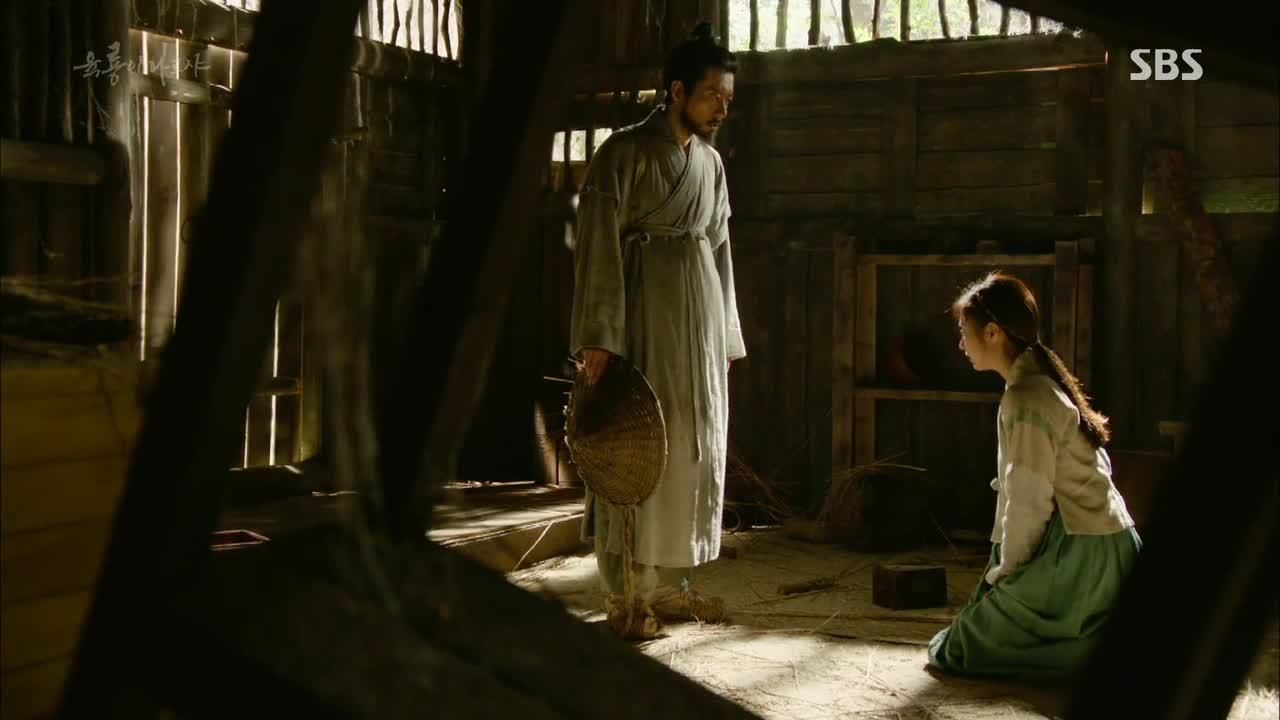 Boon-yi: "However, we the people… have suffered too much from hope. To gain hope and then lose it, to gain it and lose it again, and gain it and lose it again… after that happens over and over again, one becomes impatient, doesn't think ahead, and does not know how to hide one's way. I'm sorry, Ahjusshi, but just as I went looking for you in Hamju, to Bang-won, your plan was likely his only hope to survive."
Jung Do-jeon tells her she's different from Bang-won, only for her to deny that she is. She confesses that she met him when she was young, and how he'd done everything in his power to help her back then. And when they met again as adults, he again risked himself to help her.
"Those who have power have been the ones who take things from us, but he… was the first nobleman to help us. And he, more than anyone else… no, even more than myself, longed for your plan to come to fruition." She thinks briefly back to his impassioned speech while she'd been tied up, and continues, "That's why he waited, and waited, and waited for you in that room. In the hopes that you would come soon."
That triggers Jung Do-jeon's memory of the children in the cave who died waiting for him to return. Boon-yi ends her tearful plea by telling him that she knows she and Bang-won have done wrong, but if he would only give them a chance to repay him for their wrongdoings… "Please save Bang-won, Ahjusshi."
Eldest son Bang-woo finds his father in the midst of a full scale invasion, and still manages to find the courage to tell him that he disobeyed his order to submit the withdrawal. But he explains why when he tells him that Bang-won got arrested on trumped up charges, meaning that Lee In-gyeom has declared war against their family.
So Bang-woo, as the eldest son, made the call he thought was right. If Bang-won is to die, it has to be at their hands, and not Lee In-geyom's. Their family never backs down from a fight, and so he asks his father to save Bang-won. Surprisingly, his father agrees without a single qualm.
Jukryong's attempts to will himself out of confinement fail, but he gets a reprieve in the form of Bang-woo, who's taking him back to Gaegyeong with him. Why, I do not know.
Remember how Yeon-hee said there were four good reasons to let Bang-won die? Now Jung Do-jeon asks her what the last one was, to which she gives multiple answers that all share a common theme: Jung Do-jeon's moral quandary is just getting in the way of their cause. "Don't be afraid," she urges him.
But Jung Do-jeon answers that he's always afraid, and that's what makes him, well, him. He rejects her plan, and instead assigns her to report on Lee In-gyeom's movements behind the scenes, since he's sure to try to forge evidence next.
And he does exactly that, with the help of Cho-young. They've imitated Minister Hong's handwriting and will place the forged letter (detailing the secret deal they didn't make) in Bang-won's room right before an official search is conducted there. There'll be no way for them to refute the rumors now, which will force Lee Seong-gye to withdraw his border plan.
Yeon-hee follows Lee In-gyeom's men, retrieves the letter they planted in Bang-won's room, and hands it over to Jung Do-jeon. He, in turn, hands her a replacement letter to plant in Bang-won's room, causing her to gape at its mysterious contents.
That's the letter the authorities find the next day, but since Lee In-gyeom is so sure of his plan, he allows the investigator to make his first report on the findings in front of every member of the dodang. Thus, it comes as a shock to him and everyone else when the letter the investigator reads is the one Bang-ji left Jung Do-jeon in the cave—the one admitting he killed Baek Yoon, and wanted to know who else to kill.
Yeon-hee doesn't understand how planting that letter would be of any help to Bang-won, since he could die for a crime he didn't commit. Jung Do-jeon is unconcerned, and likens the situation to a snake who knows not to try swallowing a boar, lest it kill itself trying. Lee In-gyeom is that snake, and won't know how to handle this problem.
Gil Tae-mi believes Lee In-gyeom forged the letter, but can't believe he'd fabricate such an outlandish lie, since it sounds like Bang-won was following his father's orders in killing Baek Yoon. General Choi also believes it's fabricated, but the other ministers have doubts and fears that Lee Seong-gye will bring his entire army down on their heads.
Only Minister Hong and Jung Mong-joo are clever enough to realize that something went wrong with Lee In-gyeom's plan, and that this letter wasn't his idea. It had to be Jung Do-jeon's.
So what should come as good news to them—that Lee Seong-gye won in his fight against the invaders—instead sounds like a terrible omen for them. We cut to Lee Seong-gye returning victorious in Hamju, taking no time to celebrate before moving into the next stage of his plan: saving his son.
As Jung Do-jeon carves a figurine in Lee Seong-gye's likeness, Lee In-gyeom wonders who switched out the letters. As if he were at a chess table, Jung Do-jeon addresses his adversary from afar and asks Lee In-gyeom, "Will you accept my move this time?"
And in a blatant reminder as to who's in this playing field, we cut to Lee Seong-gye, who stops what he's doing to level a stare at the camera.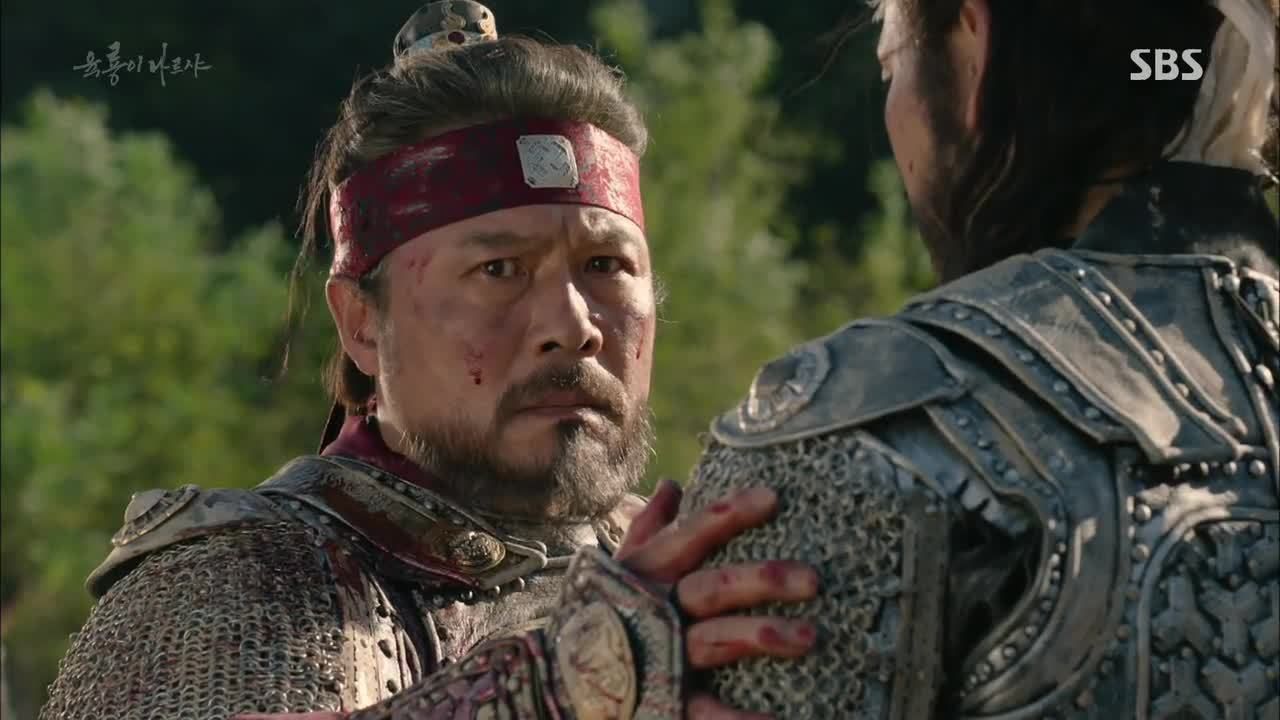 COMMENTS
That shot is such an odd choice to make for a show like this, isn't it? There's something so unnerving about a character staring directly into the camera as though he's acknowledging it, and while I'm sure that breaking the fourth wall was absolutely not the intention, it was unsettling in the way that breaking the fourth wall can be. Granted, a shot like that isn't the end of the world, but in this case, it was like an unwanted jolt of reality into what had so far been another thoroughly engrossing episode. It reminded me that I was watching a show, but at least it was over quickly. We definitely got the point being made.
I did find myself surprised that I almost/sorta/kinda cared about Minister Hong this episode, and if I had to chalk it up to a tangible reason, I'd probably blame the fact that Lee In-gyeom has emerged as the bigger baddie for the time being, making Hong an underdog by default. Up until now, he had all the makings of a classic remorseless villain, but I'd be lying if I said I wasn't at least a little bit attracted to his smarts. We only got a blatant peek into his thoughts while he was practicing telepathy with Jung Mong-joo, but even without the help of words, all the camera had to do was cut to him at various points throughout his scenes for us to see that he knew exactly what was going on.
If they're setting him up to be a rival of Jung Do-jeon's in the future, this episode actually convinced me that he might have what it takes to at least try to go head-to-head with him. If I seem unreasonably excited at that prospect, it's because I really love good villains and the kind of verbal sparring that comes out of adversarial relationships where neither side is necessarily more right than the other. Maybe that's not what we'll get from Minister Hong and Jung Do-jeon since Hong has long since abandoned his moral center, but if we consider him like a mini-boss Bang-won has to defeat on his way to greatness some day, there's a lot of potential. Or he'll just die really soon because that's the fortune Bang-ji read from his face, which will make everything said up until now pretty moot.
But watching Jung Do-jeon's inner struggle over what to do with himself and Bang-won was a great set of sequences, not only because they helped to highlight more of his personality, but because it really felt like we took that mental journey with him every step of the way. It's hard with someone like Jung, since he's so revered and authoritative that his mind can seem impenetrable, especially since that's the persona he has to have in order to carry out his master plan. And he knows that he can't afford to show hesitation or weakness, as evidenced by Yeon-hee freaking out over him taking his time to (gasp!) decide whether an innocent man should live or die.
It'd be interesting to find out how exactly Yeon-hee came into Jung Do-jeon's orbit, since she doesn't seem to fit in with the usual crowd he attracts. She's the one who seems to give him the most feedback and advice, but after this episode, it's hard to fathom why Jung Do-jeon sees keeping her around as such a necessity. If he's so against Bang-won's way of thinking, then what on earth does he think of Yeon-hee's ends-based and ceaselessly cynical worldview? And with nothing but young'uns like Yeon-hee, Bang-won, and Boon-yi running about, does Jung Do-jeon realize he's practically running a daycare for ideological misfits?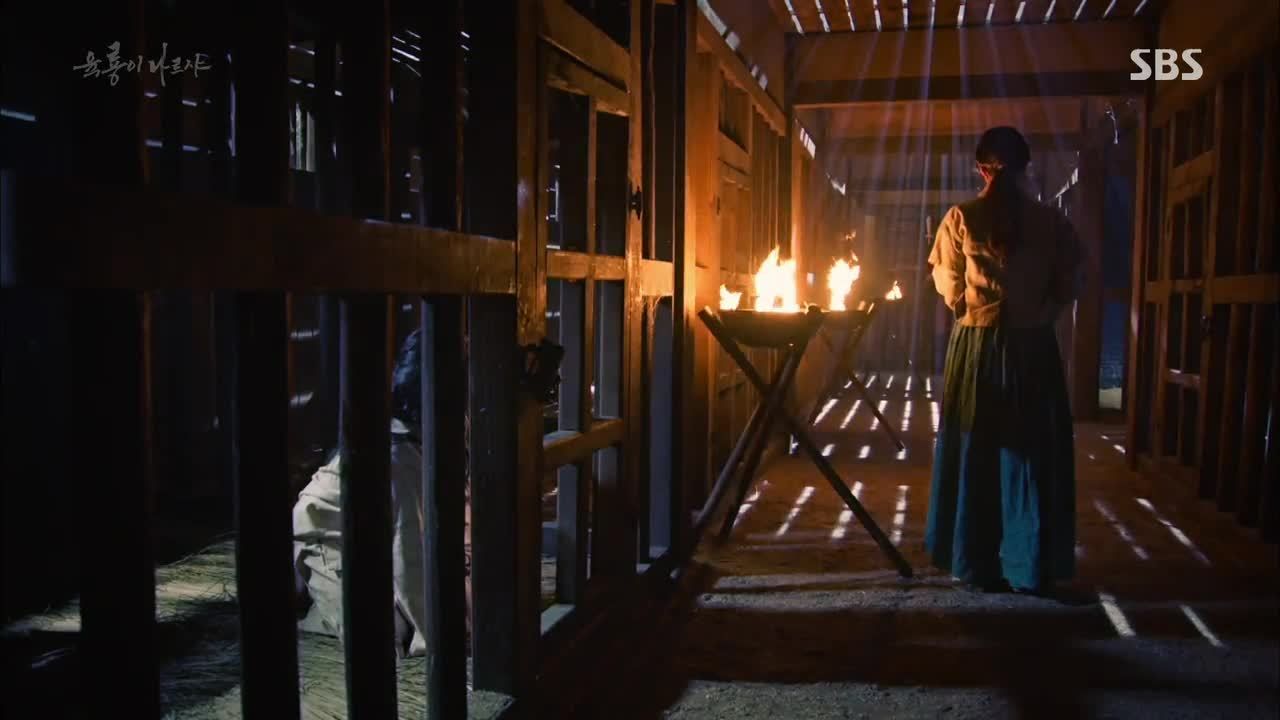 RELATED POSTS
Tags: Byun Yo-han, featured, Kim Myung-min, Shin Se-kyung, Six Flying Dragons, Yoo Ah-in