For the responsible addict [Year in Review, Part 7]
Wowie, it's the end of 2015, and another eventful year of dramas has come to an end. I always enjoy awards and reviews season, since it puts the whole year in perspective and gives me a couple more dramas to put on my list. I'm making a list and not checking it twice, since I'll watch all the dramas whether they're naughty or nice.
As you've probably already read in the previous reviews, we'd been given the daunting task of selecting a mere five dramas from this year to review. Thankfully, my limited drama-watching plate naturally narrowed down my choices, but it was still an excruciating process. I had many words for many shows but decided on these five because of their addiction potential.
I frequently wonder, "If dramas were drugs… what would they be?" But really, there should be no "if," in that question because we know that dramas are drugs — addicting and potent drugs that are in constant supply. I've gotten some education on how drugs work, so obviously, I would be the perfect person to provide you with the details behind the active ingredients that pulled me into the drama drug. And if you're a responsible drama addict, you should know what goes into the drama before you watch it. Sometimes, it's best to go in blind, but I've provided five components of five dramas to warn the responsible addict about the dangers and charms of my drug of choice.
BUBBLEGUM
Drug Facts
Active Ingredients:
1 wad of (exchangeable) bubblegum
2 charming friends-to-lovers
1 forgetful mother
1 heartwarming family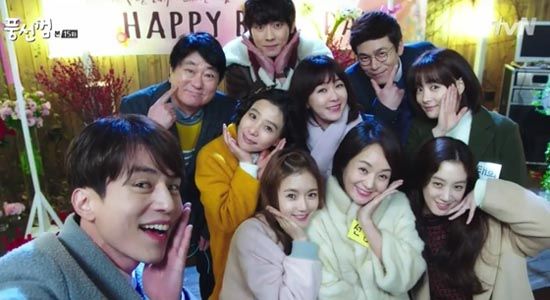 It's always a tricky deed to create a believable friendship preceding a compelling romance. Clearly, since we saw the face-palming flop that was Time I've Loved You, which couldn't pull off a functional story even with their amazingly well-cast leads and a wasted supporting cast. While Bubblegum suffered from similar pitfalls, this show was executed more effectively in a stylish and honest fashion.
While the storyline may have not been as strong or consistent, I found that the tactful directing helped me overlook some of the holes. I was captured by the enthralling mood of this show, which I credit to the directing and music. For me, the mood of this show played a huge part in how much I loved our couple, despite their frustratingly roundabout ways. I found myself falling in love with them, wishing that their real-life personas were just as sweet, cheeky, and vulnerable. Jung Ryeo-won and Lee Dong-wook had an irresistible charm that made me invest in their relationship wholeheartedly. Though not as commendable as the directing, the writing wasn't severely lacking — the narrations were beautiful and the ambivalence of a friends-to-lovers relationship was expressed in a surprisingly lucid and humorous manner. But it just wasn't as good or consistent as the directing.
This was glaringly obvious in Mom's storyline, which felt unbalanced. She was our couple's main roadblock and became the central point of our story for a bit, changing the flow from laughter to tears. Her story was fascinating and rich with pain, but she wasn't the reason I was watching this show. I wouldn't call Mom's story unnecessary, but she really could have had her own drama. This was realized too late, when we were already too deep into Mom's history, and the proceeding story felt strangely jumbled and incomplete. The swift return to the laughs and fun coupley moments without doing Mom's illness justice resulted in a confusing emotional whiplash.
Mom's condition aside, the initial reluctance and stakes in transitioning into lovers felt real because at its core, this drama was about family — an unconventional family previously held together by tiptoeing around fragile boundaries. Though the drama took a more somber turn and gave us an ample dose of noble idiocy, the memory loss gave Mom and our bubblegum pair the courage to break these self-created walls and find real happiness. Sometimes literally forgetting the burdens of your past is the best way to start anew.
We entered the story by eavesdropping on bickering childhood friends, then exit wondering what our two lovers are whispering and giggling about. It's a whimsical, romantic, and heartbreaking kind of joy and pain that reminds you to find happiness in the simple moments in life, even if you'll forget them the next day.
HEALER
Drug Facts
Active Ingredients:
5 generous doses of crack squeetastic adventure
Warning: highly addictive content that may cause insomnia and severe withdrawal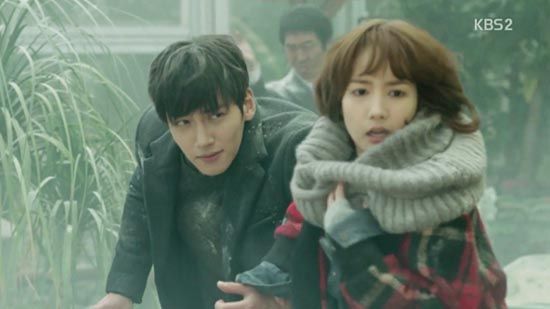 The feeeeeeeels. THE crack drama of the year, and though it may have been relatively overhyped by the end, I enjoyed every second of Healer while it lasted. I readily suspended my disbelief for 20 hours to immerse myself into the suspenseful world of Healer and his one true ajumma. When you're given full characters and a full story, you don't have much more to ask. But Healer does more for you, with its smart pace, quick wit, and complex characters intertwined among generations.
There was something so endearing about Healer himself, whether he was Bong-sookie, Jung-hoo, or the many other personas of Healer, simply trying to live a normal life. But it was most fulfilling to watch Healer grow into his identity and figure out who his people were. The lonely wildcat Healer, who engaged with humans based on a price tag, was a stranger by end. Ji Chang-wook brought life to our charismatic night errand boy and had some crackling chemistry with Park Min-young, who particularly stood out in this role. Yes, Park Min-young has played similar characters in the past, but something about the heroine allowed her to let go of the pretty image she's maintained for so long. She was weird, honest, resilient, and so easy to root for.
This is definitely a drama I would marathon, but the experience of anxiously awaiting the next episode and then getting an episode that really delivers was so gratifying. The pain in anticipation was worth it because it induced an adrenaline rush that made your heart race all the way to the end.
Things I like: Healer. Things I don't like: Life without Healer.
OH MY LOOOVE, I'M ALLLL YOOURRS! Writing this review just made me relapse.
OH MY GHOSTESS
Drug Facts
Active Ingredients:
1 thirsty virgin ghost
1 transformed meek-ling
1 dorky master chef
2 fateful possessions
What a fun, spooky, but murky surprise this show was. Oh My Ghostess was one of those shows that I knew I would like because of its cast and production team. Still, I was impressed by how the story was articulated to weave together all the characters' threads into the overarching story. Our lead couple was the most adorable pair this year, which was everything I expected and more from Park Bo-young and Jo Jung-seok. I could watch them onscreen together all day.
But much like High School King of Savvy (the producers' prior drama), this show didn't leave a clean finish. There were a fair amount of questionable body possessions and confusing romantic attraction to overlook in order to believe the adorably ever after ending. I found Kim Seul-gi's portrayal of the ghost the best she's done yet, with a nice blend of irreverent, perverted, poignant, and hilarious. But I found myself heavily confused about her character when she was possessing her host's body: Who was Chef falling in love with, and whom did these emotions belong to? The body you promised the feelings for, or the actual soul that elicited these feelings?
The ghost character overwhelmed the host's body, making me more attached to the ghost's story than to the human heroine's growth. It seemed like the ghost did the development and growth, and the human just became the product of that growth. If we'd had more interactions between our two pocket-sized partners, I would have had fewer qualms, but we were given too little development of their bond, resulting in a regrettably one-sided possession. I felt a similar discomfort with our possessed officer, and wished that there were better explanations for it, even though I nevertheless found his character effective. His warm eyes changed to scary killer eyes in a heartbeat, making chills run up my spine.
Ultimately, our story was about two invisible spirits resolving their deepest desires — for family, love, and themselves. It wasn't about a ghost needing to lose her virginity to find closure in her death. But I thank that the ghost thought she did, without which we couldn't have gotten the many laughs and hilarious hijinks with our beloved Chef.
TWENTY AGAIN
Drug Facts
Active Ingredients:
1 dose ajumma power
1 pair of dimples
1 delusional ex-husband
2 much Grammy's ddeokbokki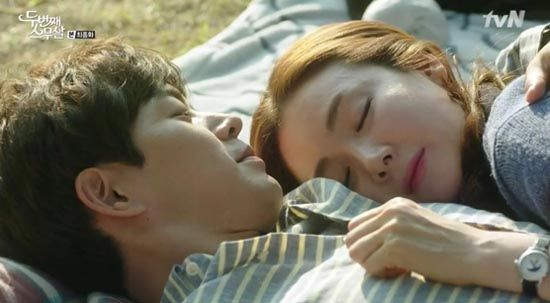 A reclaiming-of-age drama for the ajumma who revisits her lost golden years and rediscovers herself, Twenty Again won me over with its simple heroine and encouraging message. Watching the pushover heroine boom from a pushover who into a self-sufficient individual was my favorite part of this story, though her bickering relationship with the childhood friend secretly still in love with her was a close second. Choi Ji-woo was perfectly cast as the admirable and vulnerable Ha Nora, making me wonder why she doesn't do lighter rom-coms more often. Not that this drama was all light and fluffy, since we were definitely given some doses of reality in the heroine's pursuit of her once-held dreams.
There were standout moments when our heroine's self-awareness became too real — when she realized that her past was not something she could relive, and she felt the pain of regret. The heartache came from being too young, too far, and too late — all things she couldn't control at the time. Enough of these sobering moments allowed the overdue pursuit of college to be more realistic. However, I didn't feel the need for that cold bucket of water to the face, when she pulled back from continuing with her education in an ultimate sobering moment.
But I can't argue with an ending so sweet and satisfying, with the ever-supportive Lee Sang-yoon finally with his unforgettable first love. His eagerness to help her was frequently miscalculated and miscommunicated, but his sincere rooting for her happiness won my heart. His perseverance paid off in the end, and his patience made me even more satisfied with his happiness.
The drama gave me the strange urge to call my mom and tell her that she, too, could go back to college and relive her dreams. She was happy to embrace the delusion that grumpy, loyal, dimpled first loves exist and wait 20 years for you, making it tough to deliver the wake-up call that Professor Grumpypants was fictional. *sigh*
I REMEMBER YOU
Drug Facts
Active Ingredients:
2 brothers in a heartbreaking bromance
1 badass heroine
2 psychopathic killers/monsters
Truly an underrated show that explored the gripping question of whether monsters are born or created. The question wasn't addressed in an obvious fashion; rather, it was developed in a more subtle way that made you question the nature of psychopathic killers. Are circumstances to blame, or the biological pathology to blame? While there is no real dichotomy in the nature of psychopaths, it was an interesting question to dissect through our two long-lost brothers.
The cast in this show was simply great. I loved the cold intelligence, resentful passion, and heartbreak from Seo In-gook, who has been consistently improving with every project and proving to be quite an impressive actor. He played the older brother with a cautious protectiveness over younger brother Park Bo-gum, who put in a breakout performance as the chillingly innocent psychopath. He portrayed the juxtaposition of his two sides alarmingly well, always seeming borderline volatile. I held my breath a few times, wondering if this time would be enough provocation for him to show his true colors. I was just as captivated by Choi Won-young's performance as the veteran psychopath, whose blank wide-eyed stare and smile made me freeze. (His character left such a strong impression that it took a while for me to get used to his narcissistic ex-husband character in Twenty Again. I kept thinking that he must have killed someone.)
Sandwiched between the male cast was Jang Nara, who was one superb heroine: badass, (embarrassingly) honest, stubbornly brave, and caring. Despite knowing of the dangers, she would run into a situation or a killer head-on, and while her impulsiveness was troublesome at times, I preferred her acting on intuition to waiting around in distress, which she absolutely did not do.
The story was rich with symbolism, filled with conversational subtext, and purposeful in its development of our brothers' story through subcases. All the while, the show instilled in me a fascination with and predilection for monsters, then some anxiety about whether I was a monster… before realizing that maybe the world of monsters wouldn't be so bad if Park Bo-gum was a part of it.
*****
A huge thank you to the Dramabeans community for being the support group that we need to appreciate and obsess over all the dramas. Thank you to the benevolent overlords, javabeans and girlfriday, for letting me share my thoughts, for being patient and flexible, and for fueling my love for dramas.
Cheers to the new year in hopes that it will bring us more thrilling and heartwarming adventures! Peace out, 2015. It's been real.

RELATED POSTS
Tags: 1 show to rule them all, Bubblegum, featured, Healer, I Remember You, Oh My Ghostess, Twenty Again, year in review, year in review 2015