Imaginary Cat: Episode 2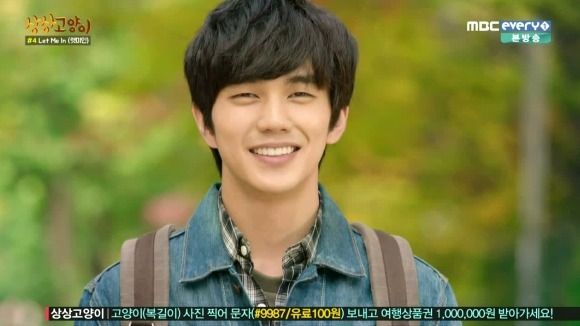 Gah, how can you not fall in love with that perfect smile? Melting hearts everywhere, Imaginary Cat continues to be the most delightful little show because this owner and pet relationship is perhaps the cutest thing I've seen onscreen this season. As we dive deeper into what made such a strong bond between Jong-hyun and Bok-gil, this episode also sheds light on how the past brought these two together.
While it may be easy to dwell upon how the past has shaped our hero's present, he'll soon see that the people around him will remind him that enjoying the here and now will hopefully lead to a much happier future.
SONG OF THE DAY
Acoustic Collabo – "그대와 나, 설레임 (You and I, Heart Fluttering)" [ Download ]
Audio clip: Adobe Flash Player (version 9 or above) is required to play this audio clip. Download the latest version here. You also need to have JavaScript enabled in your browser.
CHAPTER 3: "Oh! My Muse"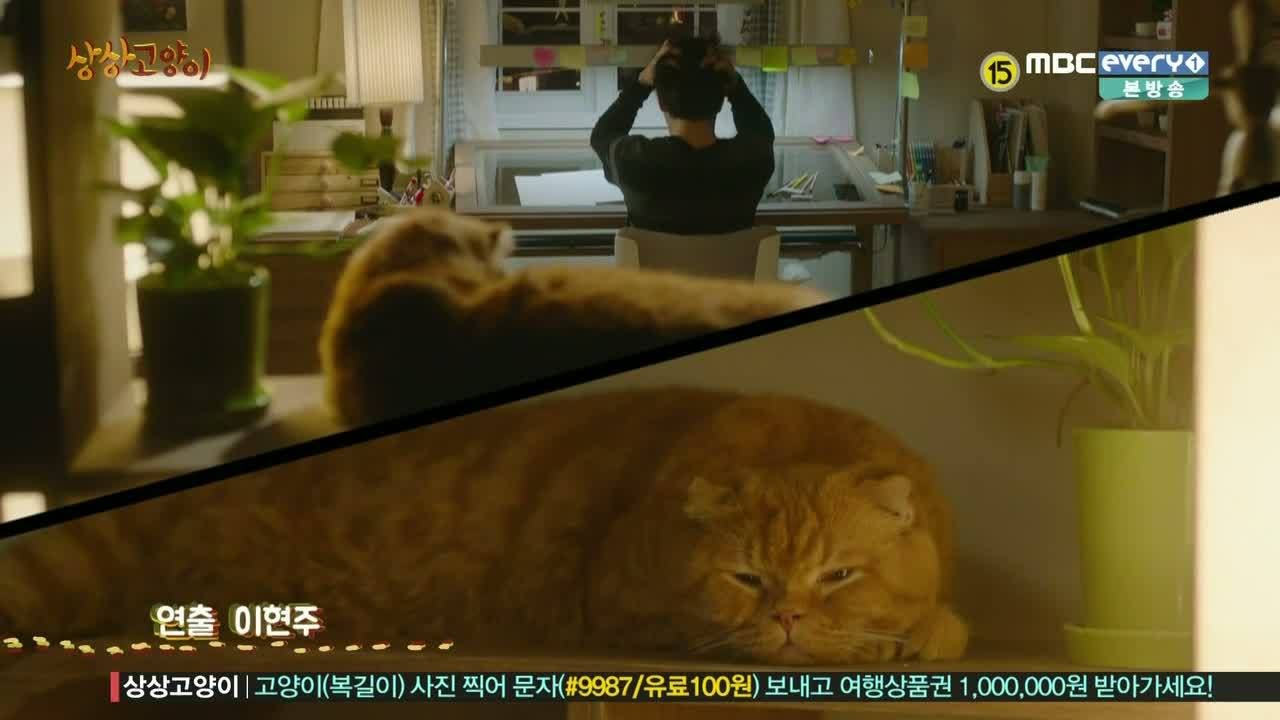 As Jong-hyun pulls another late night at his drafting table, Bok-gil observes her human's strange behavior: Some nights he'll sit in his chair for hours or catch a few winks, other nights he'll turn into a fool or act like a lunatic.
Tonight, Jong-hyun has to tell Dokko PD that he has yet to come up with a fresh new idea, and his creative tank is still empty when the sun rises. He's in no mood to entertain Bok-gil this morning, whose inner monologue says he should be grateful that she's felt a bit playful today.
Going about his morning routine, Jong-hyun loses it when he returns to find his desk in disarray. Pouting now, Bok-gil watches her human run out the door and wonders what she'll do to entertain herself today.
When his boss catches him dozing off at the bookstore, he interprets Hae-gong's text to mean that Jong-hyun's up all night trying to pick up girls when he was actually asking if he pulled an all-nighter working (the words are homonyms in Korean).
Over at the cafe, Na-woo (whom I previously called Han-woo out of my own silliness. Or my love of beef. This has since been fixed.) is tired of her unni cousin's nagging about her going back to school. She jumps upon hearing that her mother's on her way to Seoul as they speak and runs out to visit the alleycat instead.
But the kitten turns out to be sick, so Na-woo heads for the bookstore where she picks up Jong-hyun's fallen nametag. He enters the employee break room before she can return it to him, however, and remains outside the door waiting for him to reappear. Or… you could just knock.
It's only after the lights flicker off does she call out before getting pulled inside by Jong-hyun. She explains that she was waiting for him to ask about the sick kitten whereas he remained behind to do some reading. Now they're stuck here for the night because attempting to leave the building will trigger an alarm.
To his utter surprise, Na-woo smiles in relief. He's even more confused when she frolics around the empty store in glee. Jong-hyun isn't interested in engaging in small talk, but the sight of his nametag does grab his attention.
She brightens when she finds out that they're the same age, dropping to banmal immediately. She continues to try his patience when she mentions that fixation isn't conducive to creativity. He corrects her that she meant to say "concentrate," but she muses, "Wouldn't you fixate on something difficult and concentrate on something you enjoy?"
Having had enough, he sends her away but she offers that if he's trying to think of a new item, it might help to think of what he holds most dear.
Meanwhile, buddy Hae-gong is busy assuring a tipsy Dokko PD that of course Jong-hyun knows that she's always looking out for him. But it quickly becomes apparent that Dokko PD's level of interest more than professional, as she confesses that he once told her he had to go home because some "Bok-gil" was waiting.
Imagine her surprise and disappointment when she found out that said female was in fact, a cat. Hae-gong returns an understanding smile and launches into an explanation that Bok-gil is no ordinary cat to his friend.
Years ago, Jong-hyun had given up on drawing altogether following a dear friend's death. He didn't pick up a pencil for a year until he met Bok-gil, and her presence basically saved Jong-hyun's life, Hae-gong finishes. He's caught off-guard when Dokko PD asks him if he likes her or Bok-gil better, but no matter since she passes out moments later.
There's a thunderstorm brewing outside, and a frightened Bok-gil curls up in a corner, hoping that her human will come home soon.
Speaking of whom, Jong-hyun props Na-woo's head with his jacket, then accidentally drops his nametag. He smiles at the pair of paws drawn on the back, but then jumps up when he hears movement. He quickly rouses Na-woo awake, and they remain hidden until the coast is clear for them to escape the building.
It's morning now, and Na-woo says his cat must be waiting for him. She finds it odd that he doesn't quite know how old his cat is, which is when Jong-hyun realizes that today makes it ten years since he found Bok-gil as a stray. "That makes today her birthday," Na-woo remarks.
His eyes grow wide when she points out it must've rained heavily last night, and he rushes back home to find Bok-gil still curled up in the same corner. As he picks her up to console her, we hear an internal monologue-exchange—him speaking of his own past and Bok-gil of hers:
Jong-hyun: "No matter what I do, there's something I'm not able to forget." Bok-gil: "I was abandoned." The past takes us back to the rainy night Jong-hyun discovered Bok-gil as a kitten nearby the columbarium where his first love's urn was placed.
Bok-gil: "I was lonely and tired at the time." Jong-hyun: "There was nothing that I could do." As a young Jong-hyun picks a wee Bok-gil up, she continues, "There was a human that discovered me." Jong-hyun: "We shared a certain similarity."
That same image melds into the present as Jong-hyun embraces Bok-gil and apologizes for getting angry at her and leaving her alone to weather the storm alone. Looking into her eyes, he tells her to think of happy thoughts from now on, like how their painful pasts brought them together.
Remembering Na-woo's remark that today would be Bok-gil's birthday, Jong-hyun decides that they celebrate…. with a cake of canned food topped off with a Chocopie. LOL. What's better is that they're both wearing festive hats. Seriously, how did the production crew get the cat to cooperate? I can't even get mine to wear a collar.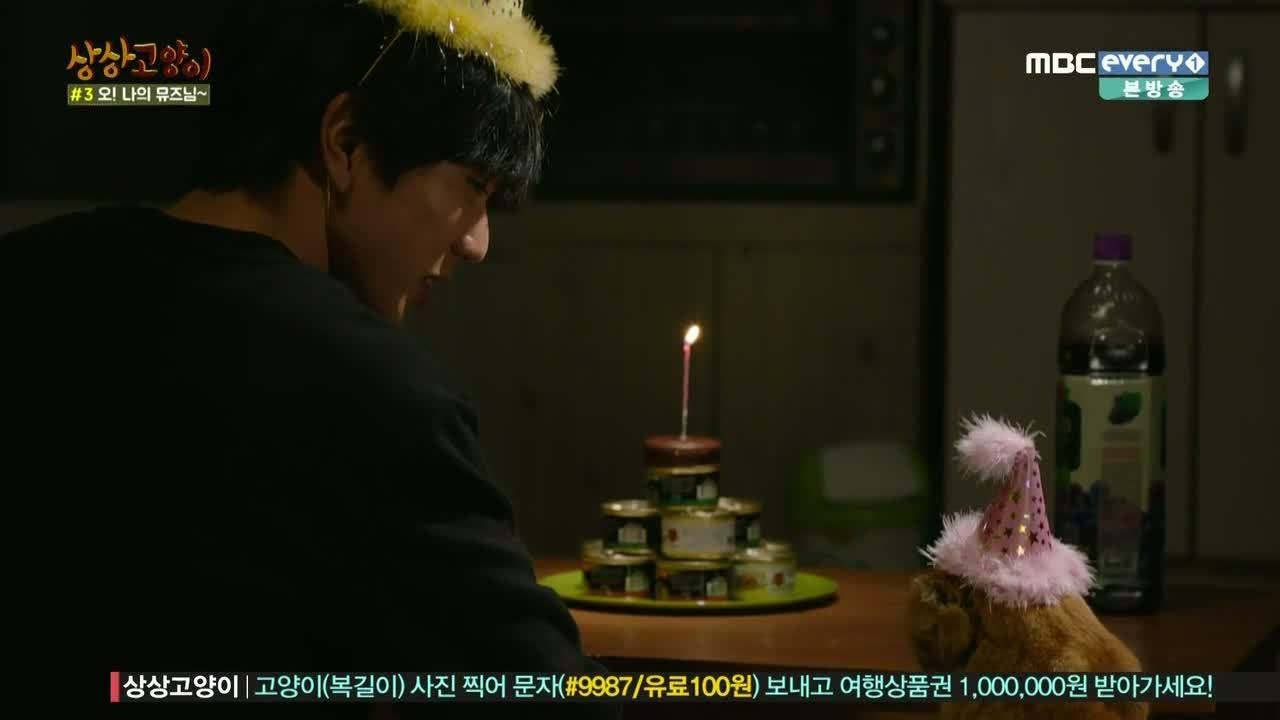 Jong-hyun even has a birthday surprise: a mini flip animation of a cat. She internally oohs and awws, and wishes herself a happy birthday.
He nearly gets upset when he sees paw prints over his papers later on that night, but then remembers the suggestion to think of who he considers most dear. Inspired, he gets to work and Bok-gil looks up from the bead: "That's right. That's how you start over. And Human, don't you ever forget that I'm your muse, okay?"

CHAPTER 4: "Let Me In"
During one of Na-woo's morning strolls, Bok-gil unexpectedly becomes one of her photographic subjects. She isn't too keen on Na-woo's friendliness, but admits that at least the human can recognize beauty.
She takes issue with her human calling her a halmae but instantly perks up when he opens a can of salmon for her. She's too busy devouring her food to really listen to Jong-hyun mention how he's off to see a friend he hasn't seen in a while.
We know that his first love JUNG SOO-IN is deceased, so it's odd to see her waving back at him in her school uniform from the other side of the street. A flashback, perhaps? Or just a figment of his imagination? Jong-hyun breaks into a smile: "I see you," he thinks.
He attempts to cross when the light turns green, but has to step back to avoid an oncoming car. When he looks back, she's gone.
We jump back to nearly ten years ago, when Jong-hyun was seventeen, a time when he could look upon her all the time. He had been sketching her while she was on the swings, growing nervous when she said she'd jump off.
He'd been miffed about how she does whatever she likes, so she leaned in to kiss him on the cheek. "I like you," she'd confessed bashfully. He had smiled to himself but remained faintly aloof, and changed the subject when she tried cajoling an answer out of him. "Later," he'd replied.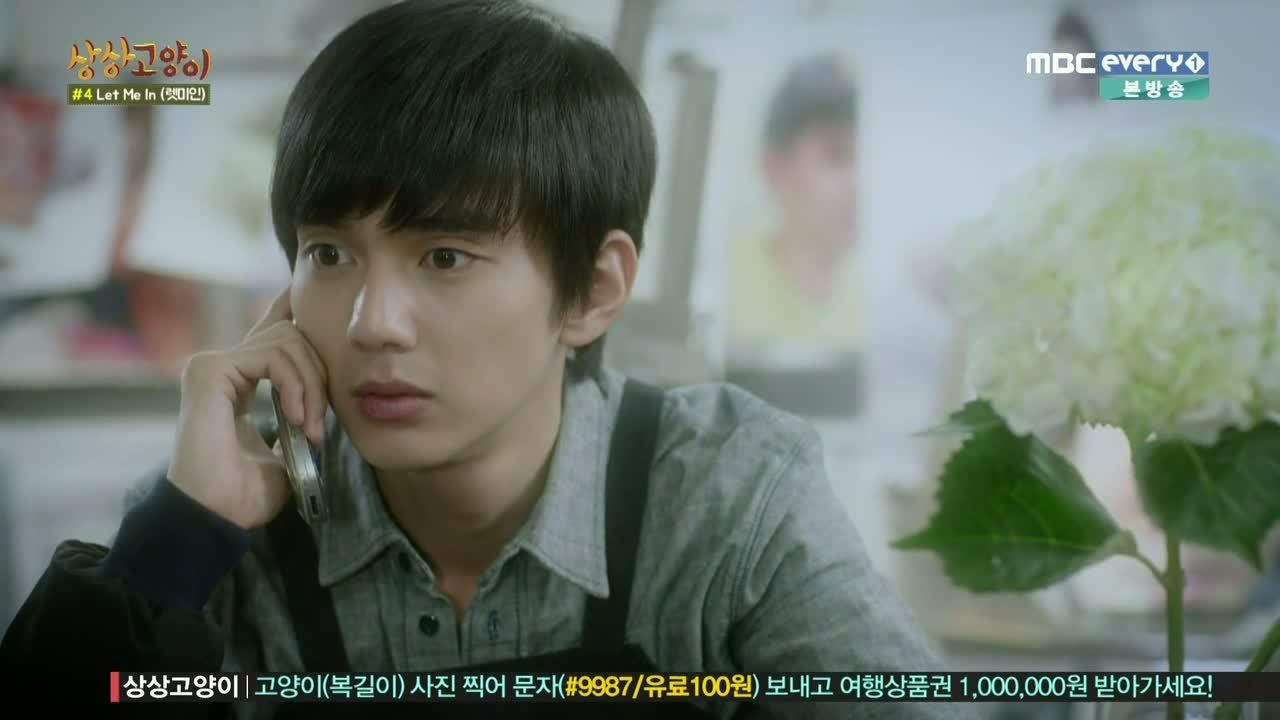 He'd been waiting for her at the art studio the following afternoon when he'd received a frightening call from the police informing him that last night, Soo-in had leapt from a rooftop to her death. Oh my god. He'd reeled at the news, left trembling and choking back sobs.
As he folds the drawing of Soo-in on the swings into a paper boat, Jong-hyun wonders why he couldn't bring himself to simply tell her that he liked her. He places the paper boat in the water and contemplates how he doesn't think he can let her go when he still feels responsible for not doing enough to prevent her passing.
Like a good friend, Hae-gong is there with him as he comments that it still bugs him how Soo-in left them without any explanation. He knows it must be harder for Jong-hyun, who returns that Soo-in must've had nothing to say. "If she just left you, why can't you just let her go?" Hae-gong muses.
Hae-gong would love nothing more than for his best bud to stop dwelling in the past. He even went ahead to make a wish to Soo-hyun that Jong-hyun would meet a girl and stop coming back here to see her. And you know, Hae-gong would have a girlfriend too. Ha.
His oh-so-casual mention of Dokko PD has Jong-hyun point out that Hae-gong's been hanging out with her a lot lately. Hae-gong is simply all, Well we get along, so you know…
Later that day, Jong-hyun hears a bloodcurdling scream coming from the alley. It's Na-woo, accusing the mean ajusshi that he killed the sick little alleycat. She can barely get through telling Jong-hyun about it before breaking down into tears, and Jong-hyun pulls her in for a comforting hug and protects her when the ajusshi throws water at them.
He pleads with the ajusshi to allow them to bury the dead kitten—in exchange, they'll never return to feed a stray outside his home again. Na-woo is still convinced that the ajusshi had something to do with the animal's death, refusing to believe that alleycats usually die in the streets.
She cries that the ajusshi killed her cat Haru too, and Jong-hyun gathers her into his arms again, saying how this kitten isn't her long lost cat. After they bury the tiny cat, she hopes that there were some happy days in the kitten's short life and rest in peace.
Na-woo explains that she lost Haru about seven years ago back when she was very ill and left her cat with her relatives. She was later told that Haru disappeared and blames herself for losing her pet. She takes heart in Jong-hyun's words that Haru is doing just fine. Feeling grateful, she offers to wash his shirt.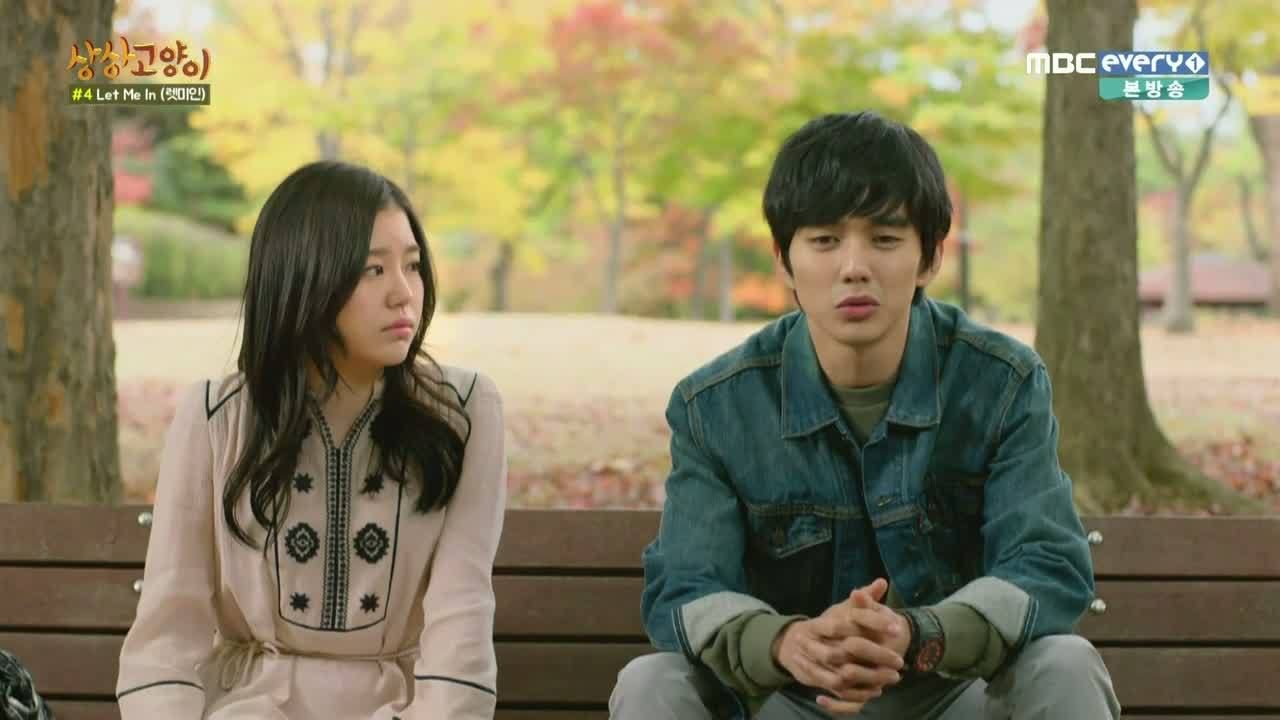 The conversation takes a lighter turn a minute later when Na-woo confesses that she's hungry. So they have jjajangmyun in the park, which Na-woo regrets having as soon as she finishes her last bite. To that Jong-hyun's response is like any other guy: Well, you've already had it…
She hates that she's both grateful and slightly annoyed by him, to which he says, "Don't hate me too much. You'll get a sense of attachment to me." Na-woo feels bad for Bok-gil who has to put up with him and finds it hard to believe that Jong-hyun can't tell whether his cat likes him or not. Haven't they spent the past seven years together? Yes, curious how that math works out.
"Would you be okay with it if Bok-gil suddenly disappeared one day?" she asks. She instantly regrets asking that, but Jong-hyun admits that he is emotionally preparing himself for that very event. Her movements and reflexes are a bit slower now, and she feels a little lighter lately…
… as Bok-gil plays with a bug at home. Heh. Back at the park, Na-woo explains that in one way, it's sad thinking about loving an animal that surely won't outlive them. But because that same animal makes them happy now, the best thing that a human can do is keeping loving their pets.
She's curious as to what Bok-gil looks like and asks if she can come visit her at his place. He nods.
Whereas Jong-hyun is happy to see Bok-gil later that night, she is in a pissy mood. "You said you were coming home early," she huffs. "Liar." She barely bashes an eyelash at his story about his very eventful day, but does feel a little better when her human gives her a massage. "Of course I'm stressed," she sighs. "You get to my age and your entire body hurts."
Too bad that lasts all of one minute when the sound of the doorbell interrupts them. It's Na-woo, who's here to take him up on his agreement to see his cat. She remembered that he headed in this direction when carrying the cat food and saw Bok-gil through the window once.
Bok-gil approaches the door, thinking that there's no way her human would let her in—why, no girl other than herself in the past seven years has ever crossed that threshold. When Na-woo boldly asks if she can come in, Bok-gil turns to her human: "What are you doing? Tell her no!"
But Jong-hyun simply hesitates and says nothing, which has Bok-gil wondering, "It can't be…"

COMMENTS
Oh yes, but it can. Can you blame a cat for being astonished that her human is about to let a stranger walk into her house? And a girl, at that? Really now, Jong-hyun.
In any case, I continue to love the bond that Jong-hyun shares with Bok-girl and how their closeness is evident to everyone else around them. For those who don't know the entire story (like Dokko PD) it might seem like a man's obsession with his cat, but thankfully there are those who understand where that strong sense of attachment stems from (like Hae-gong) even if they don't know the whole story (like Na-woo).
It's a little hard to believe that neither Jong-hyun nor Na-woo has thought that perhaps Bok-gil could be long lost Haru, but then again we're in Episode 2. Not only that, seven years is a long time, and while Na-woo may hope that her cat is still alive, the realistic chances of that are thin. And if Na-woo lost Haru as a kitten, it would make sense that a cat would have little to no recollection of that time as an adult. I wouldn't be surprised if Imaginary Cat will show all of its hands before our characters arrive at the truth, but unlike other shows, its charm and its core relationships are what I care more about than a possibly obvious turn of events.
Moving on to Jong-hyun, I love that he has Hae-gong as a longtime friend, one who doesn't minimize how much his first love Soo-in meant to him, but who also reminds Jong-hyun that it's time to move on. I hadn't expected that Soo-in's death meant suicide, but perhaps that's part of the overall mystery to solve as well. Or simply the source of inner pain and guilt that Jong-hyun still very much carries with him.
But it's sweet that Na-woo's words are slowly warming his heart, to think of what he holds most dear and to draw inspiration from that. He may say that he's been preparing himself for what life would be like without trusty Bok-gil by his side, but goodness knows the rest of us might be devastated and curled up into a ball. Maybe that's when he'll give us a consoling hug. Yep, that'll work.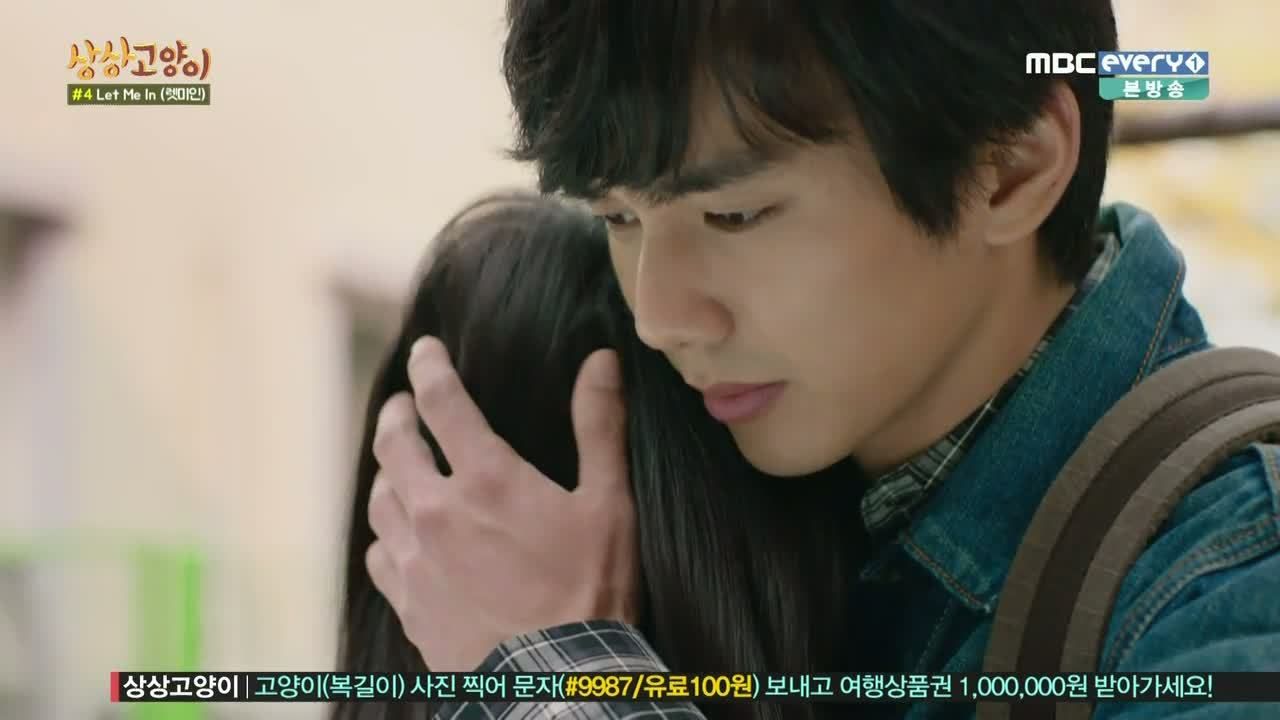 RELATED POSTS
Tags: featured, Imaginary Cat, Yoo Seung-ho