Imaginary Cat: Episode 4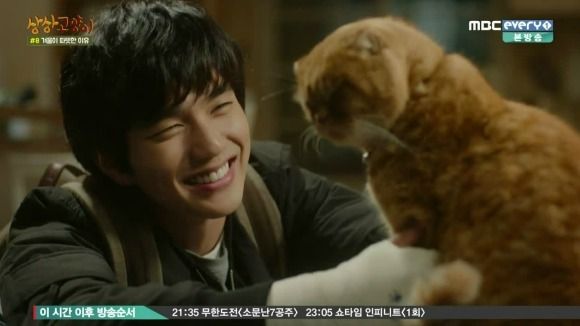 Could Jong-hyun and Bok-gil be any cuter? If this episode is any indication, the answer is yes. These best friends know each other so well that some things can be left unspoken. Although some intentions can miss the mark, there's no doubt that Jong-hyun and Bok-gil care more for each other than anyone else in this world. So when an unforeseen obstacle threatens to interfere with his career, our hero will need his cat and the ones around him to make it through.
SONG OF THE DAY
Two Piano – "12월의 폴라로이드 (December Polaroid)" [ Download ]
Audio clip: Adobe Flash Player (version 9 or above) is required to play this audio clip. Download the latest version here. You also need to have JavaScript enabled in your browser.
CHAPTER 7: "Even If Life Deceives You"
Upon realizing that Bok-gil is missing, Jong-hyun runs into the streets calling out her name. Na-woo hears him screaming, and concern washes over her face when Jong-hyun fills her in, his voice breaking.
They immediately split up to cover more ground — Na-woo puts out a can of tuna to attract Bok-gil while Jong-hyun rifles through boxes in an alley. He runs out to the same intersection that once conjured the image of Soo-in, and dashes toward the nearest cat he sees.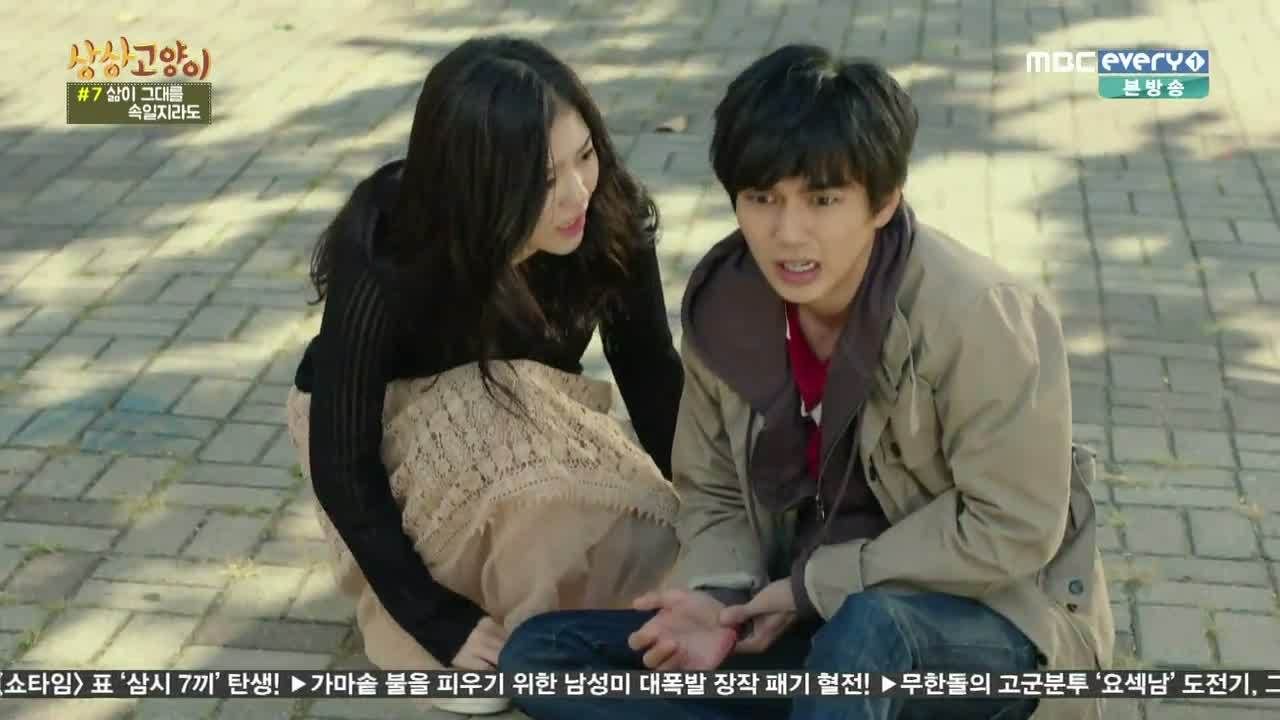 He doesn't see the oncoming motorcyclist in his haste, but Na-woo calls out in warning and he falls backwards on his hand. He's left with an injured hand, which he ignores for his desperation to find Bok-gil before nightfall.
Na-woo tells him to go the practical route: report Bok-gil missing and put up flyers. She sends him off to retrieve Bok-gil's favorite snack, but Jong-hyun can't bear the thought of returning to an empty home. "If I go home and she's not there… then her disappearance becomes real."
Na-woo remains strong and reminds him that she's only been gone for a couple of hours. The key point here is to not give up, she says encouragingly. As long as he believes Bok-gil is still out there, he'll find her.
Calling the animal shelter depresses Jong-hyun even more, and Na-woo's vet friend reassures him that domestic cats usually don't roam too far away from home. Jong-hyun and Na-woo spend the rest of the day putting up flyers—much to his boss's irate response—and Jong-hyun tells her to head home.
And that's when they hear it—a faint sound of a bell. They both close their eyes to get a better listen, then rush upstairs to the roof. He finds Bok-gil curled up inside a box, and she's exhausted but relieved to see her human. "Human, I thought I'd never see you again!" she cries.
Jong-hyun wraps her into a tight embrace as Bok-gil thinks about how frightened she was. To their surprise, Na-woo breaks down sobbing right then and there. "I thought [I] lost her again!"
Her sobs carry into the street, and Jong-hyun stops Na-woo's tears by suggesting that they need to feed Bok-gil. Once they're back home, Jong-hyun climbs into bed with Bok-gil to pet her, much to her delight.
He apologizes for today's events, but she's happy as a clam and purrs that there's nothing to forgive. "Thank you for coming back home," he tells her. Bok-gil: "Home is the best place there is."
Jong-hyun bolts awake the next morning when he finds himself alone in bed. Startled, he calls out to her and breathes a relieved sight when she happily pops out of the bathroom. He half-jokingly scolds her for going missing again and plants a big kiss on her head.
He winces when she jumps out of his arms, bringing attention to his cut hand. Jong-hyun's in for another lecture when he arrives at the bookstore, which is followed by an immediate dismissal.
His boss refuses to listen to any of Jong-hyun's excuses or apologies, and the screech he lets out reaches Na-woo's unni cousin's ears. She's looking pretty fancy in her outfit today, and it's clear from the manager's endless accolades that he's a longtime admirer of hers.
Na-woo isn't that far behind her unni, and sidles up to Jong-hyun for a chat. She's happy that Bok-gil's all right, but she wants to apologizing for paying for Bok-gil's visit to the vet. She realizes that she overstepped her boundaries in doing so, but he knows she went out of her way to help look for Bok-gil yesterday.
Having decided that they're even, Jong-hyun picks up a stack of books only to drop them moments later. Uh oh, it's something much worse than a bleeding hand, isn't it?
He tries picking up just one book, but even that's too painful of a task. Noticing his injury, Na-woo says they should get it checked out, but he refuses. Na-woo's unni cousin points out that a webtoon artist can't afford to hurt his hand, which has his boss change his tune.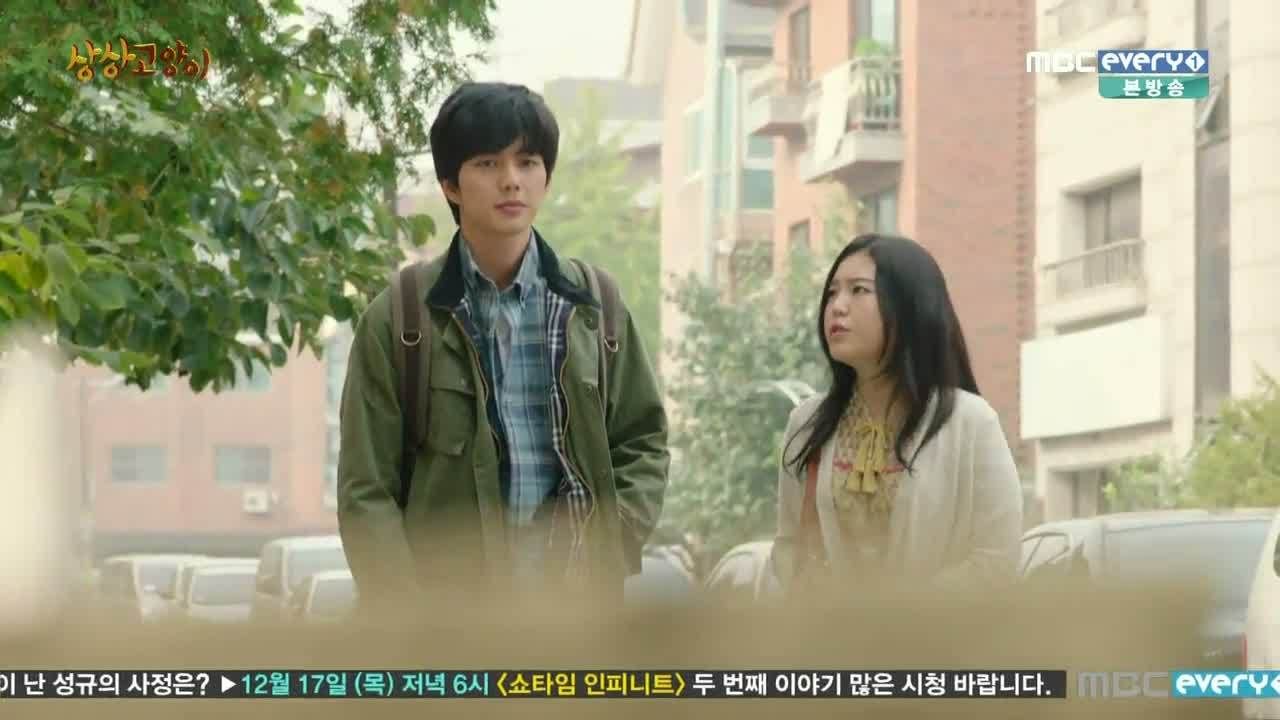 There's a mix of fear and anger written on Jong-hyun's face as he's told to go see a doctor.
Afterward, Na-woo stresses that he must take caution with the sprained wrist. The doctor said he mustn't use it, but Jong-hyun's had about enough now—hasn't she followed him around enough these past few days?
He tells her to leave, but she gets one last word in before actually parting ways. Jong-hyun looks down at his bandaged wrist.

CHAPTER 8: "Why Winter Is Warm"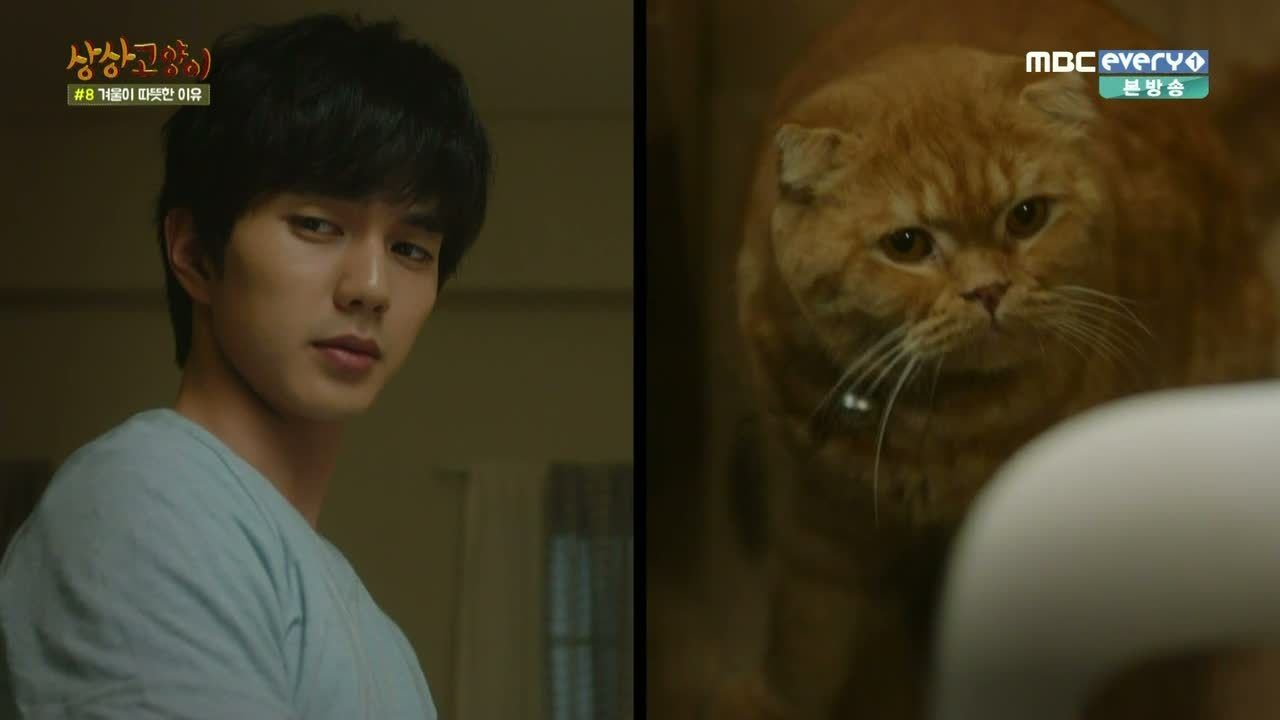 Bok-gil tsks at their messy home, noting that her human hasn't cleaned again. Jong-hyun is at his desk staring at a blank piece of paper, so she nibbles at his ankles, asking why he's been staring into space these days.
He thinks she might be hungry (which she refutes: "You think I'm a pig?") and rises to feed her. Seeing that her bowl is full, he sighs that she must want a snack, which he soon realizes is near impossible with only one hand.
He tries with all his might, only to let out a frustrated sigh when he can't. He tries picking up his quill, then receives a reminder text from Dokko PD about tomorrow's meeting. But handling the tool is near impossible, and a small mistake sets him off as he chucks the quill.
Jong-hyun sits there at his desk, exasperated, and Bok-gil looks up from him with curious eyes, unable to figure out what's going on with her human. What she does know is that seeing him in this state saddens her.
Dokko PD is more upset about not being told of Jong-hyun's injury than the deadline. Still, she's worried that Jong-hyun won't make the deadline which can't be moved since he's up against Jin-sung.
So the deadline stands firm, and Jin-sung can't resist making a barb at Jong-hyun once they're alone. He's pretty confident that he's won this game too easily—it's too bad because he's looked forward to Jong-hyun trying to beat him all these years.
When Jong-hyun retorts that sounds like he's already given up, Jin-sung returns that he hopes Jong-hyun won't because it's more satisfying to win on a level playing field. But that spurs more motivation within Jong-hyun, who now wants to know how it feels to beat the hotshot webtoon artist.
Jong-hyun admits to Hae-gong that he can only partially finish his work with an injured hand. Hae-gong suggests that he use an assistant, but Jong-hyun refuses to enlist the same girl working with Jin-sung.
Jong-hyun looks pretty exhausted by the time he climbs into bed that night. Bok-gil notes as much, and when he asks if he can do a good job, she thinks back: "Of course you will."
She climbs onto his chest and purrs, and he tells her, "Bok-gil-ah, I don't want to give up. I really want to do a good job. You're going to cheer me on, right?"
Jong-hyun gets up, feeling recharged by Bok-gil's presence. He puts in a call, and the next thing we know, we see Hae-gong helping him ink his drawings at the cafe. Hae-gong couldn't be prouder that his friend reached out to him, though he gets annoyed whenever Jong-hyun nags at him about the drawings.
Na-woo places a bowl before Jong-hyun just then—it's beef marrow bone soup. She claims it's good for healing bones, and when Jong-hyun says his are just fine, she adds its probably good for ligaments and tendons too.
Hae-gong looks pleased to hear that she got Jong-hyun the premium stuff, then asks for his. Hehe. He's given a nice espresso, which he finds too bitter.
Na-woo's unni cousin's nose is like a bloodhound, picking up on the soup. Apparently that precious premium beef marrow was meant for her. Er, whoops? After Na-woo's unni cousin chases after her dongsaeng, Hae-gong tells Jong-hyun to eat up. Ha.
It's dark out when Bok-gil stares out the window on top of Jong-hyun's drafting table. Bored, she wonders when her human will come home. He's still at the cafe, where Na-woo says he can stay here working all night.
When he assures her that he hasn't used his right hand, Na-woo places a heating pad over it. She found that heat is a home remedy for sprained wrists, and Jong-hyun seems touched by the gesture.
He assures her that everything will be fine—he can even take off the bandage tomorrow. At his request, Na-woo removes the heating pad but makes sure that his wrap is secure. She even draws a pet of paws on it, similar to the ones on the back of his employee nametag.
It's at that moment Hae-gong is startled in his own sleep, yelling at Jong-hyun before passing out again. When Jong-hyun does leave, he tells her that he can still manage with one hand, and she mutters under her breath that he's stubborn.
She makes sure that his scarf is on tight before he leaves so that he doesn't catch a cold. With that, she hops back inside and Jong-hyun heads home.
Jong-hyun breaks into a wide smile when he sees Bok-gil waiting for him. He refills her food bowl (though she's more interested in playing), and Bok-gil wonders if they'll play when he picks her up.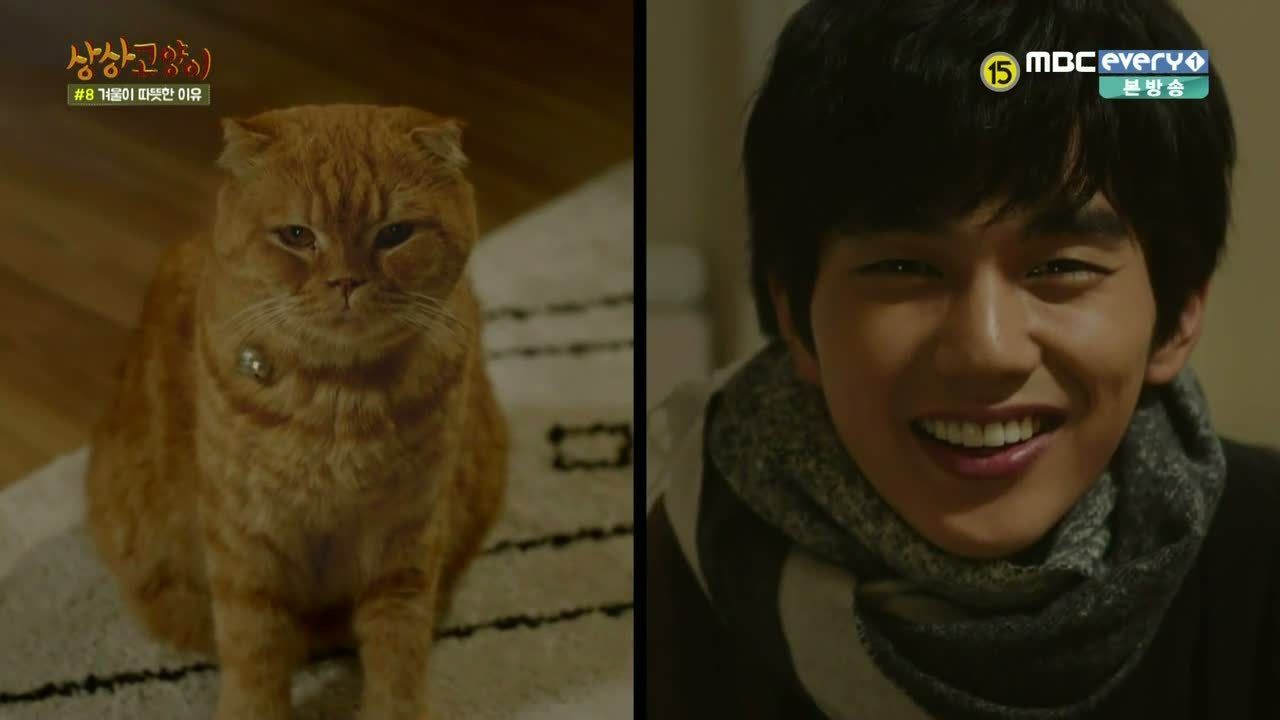 But nope—he just plops her on the bed and pets her. To his credit, he does notice that Bok-gil isn't that pleased, so he asks outright what she wants. Her eyes light up, all, I told you already! but it's not like he can hear her thoughts.
They stare at each other for a good minute before Jong-hyun smiles even wider. Then we hear Jong-hyun narrate: "Since we can't communicate through language, we have no choice but to communicate with our emotions."
As we see the memories they've shared over the years, Bok-gil continues, "As we calmly stare into each other's eyes, we read each other's thoughts." Jong-hyun: "Even though it's difficult for them to match up… " Bok-gil: "… it's okay that they slightly differ."
Jong-hyun: "Because it's like that all the time between people, too."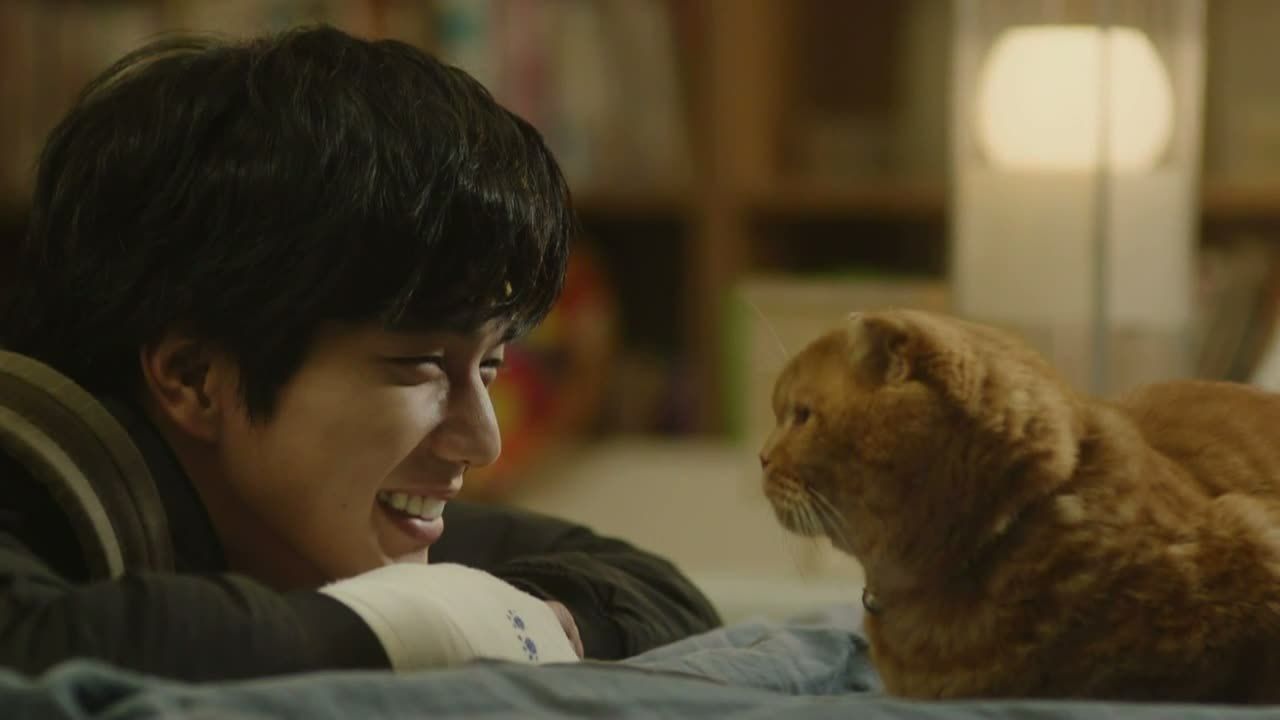 COMMENTS
From a heart-stopping opening to a heartwarming conclusion, Imaginary Cat knows how to keep us engaged week to week. In many ways I feel like many other dramas could take a page from this series with its shorter episodes; I'm sure many of us could think of a countless number of shows whose narratives could be truncated to fewer episodes than what ended up on air.
The same argument could be made against Imaginary Cat of course, with its relatively straightforward narrative with a couple of mysteries to uncover. Indeed its source material isn't that long, and yet we've also seen other shows that extrapolated storylines from much less material. That isn't to say that I find complaint with the show's format—I rather think that it's eight-episode design works for this story and that the drama makes good use of its smaller production budget and sets. In fact, this frugal yet clever method is a tactic I applaud, and I feel few productions have mastered (see: Sirius).
It gives the show an inclusive neighborhood feel that allows other facets, like character relationships and character moments to shine. Actor Yoo Seung-ho does an admirable job of pulling us into these range of moments from desperate helplessness to euphoric joy. The man can act alongside a cat and still manage to touch our hearts (genuine love for cats notwithstanding). So it's his character Jong-hyun and Bok-gil's relationship I look forward to every week, to see how their relationships deepens no matter what life throws at them.
I love that that through the many years they've lived together, they've been able to confide in one another (even if it's more of Jong-hyun saying it out loud) and comfort each other. They both harbor a painful past and inner struggles that leads to sense of deep understanding between them that needs no words. Knowing that makes their relationship one of the most precious and valuable ones I've seen yet this year—that all it takes is one look into each other's eyes and feel at peace in spite of the chaos and obstacles life brings, if only for a moment.
RELATED POSTS
Tags: featured, Imaginary Cat, Yoo Seung-ho