Six Flying Dragons: Episode 22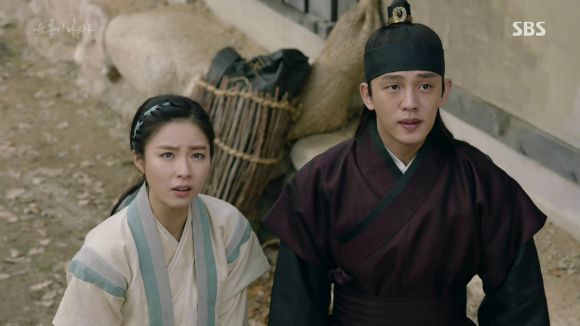 Yeah, I'd be making that face too if I just chased a man who's been giving taffy to random children up to the top of a roof. Leave it to our amateur flying sleuths to find the culprit responsible for spreading a dangerous message through the populace—or not, as it so happens in this case. Jung Do-jeon can't win 'em all all the time, right?
Ratings-wise, Dragons led the pack with 13.9%, while competitors Dazzling Temptation and Oh My Venus battled it out for second with 9.6% and 8.9%, respectively.
SONG OF THE DAY
Guckkasten – "무이이야 (Muyiyiya) | Rock ver." from the OST [ Download ]
Audio clip: Adobe Flash Player (version 9 or above) is required to play this audio clip. Download the latest version here. You also need to have JavaScript enabled in your browser.

EPISODE 22 RECAP
No sooner does King Woo lose what little mind he has left over the escape of Lee Seong-gye's family does the man himself show up with his armies outside the capital. They're getting closer and closer to the palace, which leads General Choi to take the meager forces he has to try and fend them off.
In order to try and bolster their numbers, the king orders notices to be placed throughout the capital offering silver to any man willing to fight for General Choi, as well as a sizable reward for any rebel generals captured or killed.
In a move that surprises the various sector leaders under Boon-yi's command, she asks that they tell their members to join General Choi's forces. It sounds counterintuitive, but she's hoping that by infiltrating his troops, they might be able to help avoid unnecessary bloodshed between the two armies.
They help by influencing would-be conscripts that signing up is futile when the horns from Lee Seong-gye's army begin to sound from just outside the capital gates. This sound reverberates through the streets loud and clear, and into the terrified heart of King Woo in the palace.
As he prepares for his assault on the palace, Lee Seong-gye tells Jung Do-jeon that he thought hard about the new nation he spoke of when he first decided to withdraw his troops.
But it'll be no easy task, which Jung Do-jeon fully agrees with, though he lauds the general for making the very difficult decision to put the citizens before his family. Even so, Lee Seong-gye sighs that if he would've gone along with Jung's earlier plan to remove General Choi from power, then this whole conflict could've been avoided.
Jung Do-jeon offers him comfort by saying that Bang-won and the others are no doubt working hard to prevent a massacre, and he's right—Bang-won convinces the Haedong Gapjok elders as well as Jung Mong-joo and the sadaebu to remove their people from General Choi's army.
Bang-won runs to Boon-yi and her people to tell them he's gotten the army guarding one of the main capital gates to desert their posts, leading her to release paper lanterns into the sky. The signal is seen by Lee Seong-gye, who orders his forces to march toward the now undefended gate.
Thousands rush forward all at once to the sound of battle horns, encountering no resistance thanks to Boon-yi's plants doing away with what little was left of the remaining forces. They face what little resistance is left from General Choi's army outside the palace by letting loose a rain of arrows before going in for the kill.
Everyone fights bravely to a rockin' tune, though Ji-ran takes the cake for most men mowed down in the shortest span of time. Lee Seong-gye uses his keen archery skills to take out any snipers, while General Choi retreats to the inner palace in order to protect the king.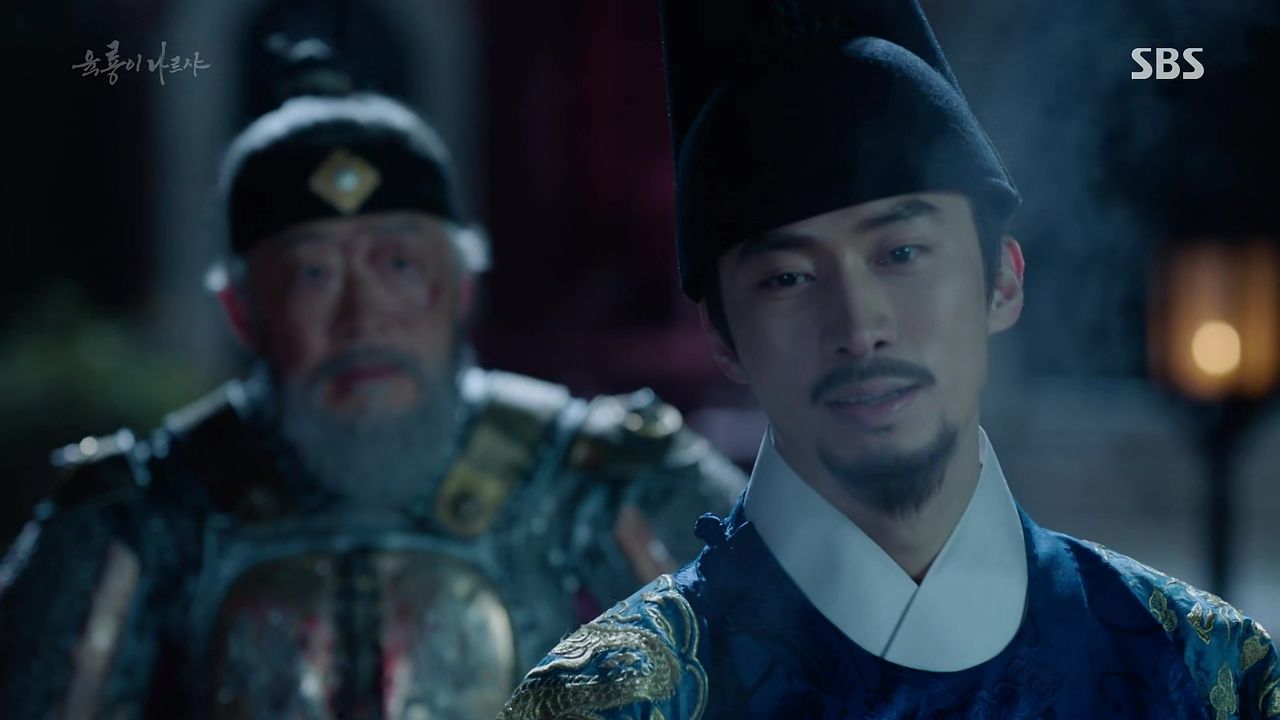 But the king has resigned himself to his fate, and has no desire to escape. He laments the path that led him here, since he was only a child when he was installed as king after his father was assassinated. If nothing else, he wants to at least go down with some semblance of dignity.
General Choi goes out to meet Lee Seong-gye and his army once they arrive outside the palace walls, asking what he did so wrong to deserve this kind of mutiny. Level and controlled, Lee Seong-gye explains that once he got ahold of power, he never allowed for the citizens to have hopes and dreams. Instead, he just used them as battle fodder.
Moreover, he continues, he couldn't bring himself to punish Lee In-gyeom or to break his ties with the corrupt if it meant ensuring his own power. With that kind of mindset, he would never be able to break the chain of corruption.
"Do you think you can break it?" General Choi fires back. He knows from experience that if Lee Seong-gye wants to break that chain, he'll need power and armies, and in order to get that, he'll need land. Then he'd just be another Shin Don or Minister Hong.
Lee Seong-gye tells him that will never be so, leaving General Choi with nothing left but to give him his dying wish, to protect the king and the government.
There's a moment of silence from Lee that unsettles him, but it's nothing compared to the dread he feels when his reply is only: "I will protect this country's people." General Choi demands to know what he means by that until he's dragged out of sight.
The people rejoice to see the victorious army returning home, since all their family members are returning to them in one piece. Boon-yi stands among the crowd with a face still healing from the beating she took, and only moves to take her hand out of Bang-won's grasp when he sidles up to her.
But when Bang-won takes her hand again, she doesn't resist. The cheering from the crowd is infectious, and neither of them can help a small smile. The people in the crowd start chanting "General Lee Seong-gye, manse!" which is a cheer normally reserved only for king and country.
It's a joyous day for all, especially for Lee Seong-gye's family when he returns home. Even Grandma admits to cheering until her vocal chords gave out, and thanks him for bringing her grandsons back alive, no doubt echoing the gratitude of tens of thousands of women who've been reunited with their menfolk.
Lee Seong-gye even sends a smile and a "You did well" Bang-won's way, which you can tell just makes his day. Even Ji-ran chimes in to commend Bang-won on saving lives by getting General Choi's men to leave their posts.
Bang-won, in turn, tells his father that he has Boon-yi to thank as well—were it not for her and her people, his work wouldn't have been possible. Da-kyung doesn't look upset that he mentioned Boon-yi's contribution, only thoughtful.
With a cart of wine given to her by Lee Seong-gye in gratitude, Boon-yi takes it to her troops to celebrate their accomplishment. She and Bang-ji slip away for a little sibling time afterward, with Bang-ji trying to understand how Jung Do-jeon's new nation is worth so much to her.
"I have a dream," Boon-yi tells him. "And in the country Ahjusshi is trying to create, that dream may come true." When asked how, she explains that she went into the New Joseon Cave to peek at Jung Do-jeon's plans for his new nation.
After seeing those plans, she became convinced that his world is one where her dream could come to fruition. But neither Bang-ji or the audience gets to hear what that dream is, since Boon-yi doesn't want to jinx it.
Yeon-hee and Bang-ji end up being the only two on a deserted street, forcing them to acknowledge each other. "You did well yesterday," she says somewhat stiltedly. "You too," Bang-ji replies. Well, it's better than nothing.
Despite their differences, Jung Mong-joo pays General Choi a visit in prison out of respect. But he ends up leaving because what Choi suggests is so out of line to him—the very idea that Jung Do-jeon could lead Lee Seong-gye to commit treason is unthinkable… right? "I will not let that happen," Jung Mong-joo tells himself after.
After doling out government positions for themselves and their closest allies, the talk between General Jo and Lee Seong-gye turns to who should be placed as king. Lee Seong-gye suggests Prince Jungchang (who would become the future King Gongyang), and General Jo agrees to put it up for discussion at the next dodang meeting.
Jung Do-jeon agrees with Lee Seong-gye's selection for king, as well as the economic positions he allowed General Jo's people to fill. Jung doesn't see a reason to fight over tiny matters like that when they have a much bigger task at hand. By which, of course, he means the reformation.
Lee Seong-gye guesses that a certain "dreadful scholar" must be coming to the capital soon, and Jung Do-jeon agrees that they need the mystery scholar in order for their plan to succeed. But first, they have to come to a mutual understanding, which they haven't reached yet.
Rallying under revered scholar LEE SAEK, Jung Mong-joo and his followers make their own plans for the reformation and how the sadaebu can contribute. They know that having the queen dowager decide on who will be the next king is just a formality when it'll be up to Lee Seong-gye and General Jo to decide, and it's likely they'll go with Jungchang.
Just then, a boy is dragged in from the market and ordered to repeat what he was singing there. It sounds innocent enough coming out of such a tiny human, but the lyrics shock the scholars gathered—it's an allusion to Lee Seong-gye becoming king. And everyone's singing it.
Not only have there been rumors circulating around the song, but also around an event that supposedly (but didn't) occur between Lee Seong-gye and General Jo, where Lee flew into a rage and chucked a bowl at Jo. Despite it being untrue, the fact that it seems believable enough to the people makes General Jo very, very angry.
Moo-hyul and Young-kyu sing the Prophecy Song circulating in the market, only for Moo-hyul to get scolded by Officer Nam for innocently cheering the idea that Lee Seong-gye might become king. Like a kid, he doesn't understand the ramifications of his words, and was just being honest about his feelings.
Shin-jeok defends him on that point, but also notes that Moo-hyul represents the mood of the people right now—everyone wants Lee Seong-gye to be king.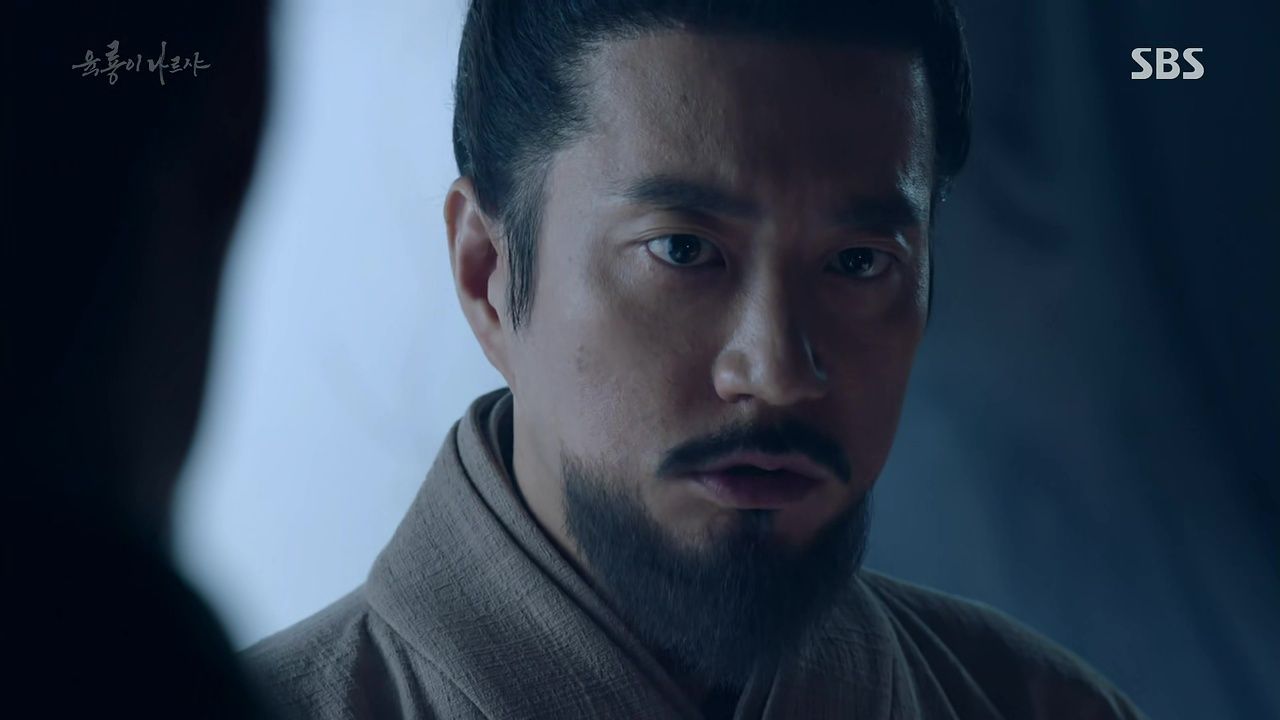 Jung Do-jeon is none too pleased when the song is explained to him, because public sentiment now will only be problematic for Lee Seong-gye, who could be seen as a traitor. When songs of this ilk were sung before about the Lee family, anyone they targeted ended up dying because of it.
Someone must have spread the song on purpose, Jung Do-jeon muses aloud, in order to ruin Lee Seong-gye. He may have an idea of who it was, but we don't.
Bang-won and Boon-yi try talking to the market children in order to find the source of the song, hearing from one little girl that she heard from another kid that there's a man giving out taffy to anyone who learns it.
While Gab-boon and Bang-ji also team up to do some market sleuthing, a group of children singing the Prophecy Song pass by Jung Mong-joo, whose expression grows grimmer with every passing note.
He takes it up with Lee Seong-gye by asking him to explain what was on his mind when he retreated, only for the general to reply that he didn't want to betray the people. "Between the royal command and the citizens, you mean you chose the citizens?" Jung Mong-joo asks disbelievingly.
Lee Seong-gye answers his question with another one, "If you were in the same situation, what would you have done?" This seems to placate Jung Mong-joo, who suddenly declares that he'll stay by Lee Seong-gye's side so that he won't have to face a decision like that again.
This news comes as a welcome surprise to Lee Seong-gye, who compares gaining him as an ally to gaining heaven and earth. In his mind, Jung Mong-joo says, "I will make sure to protect you from a dangerous and rebellious decision that may happen in the future." Aww, that's oddly noble.
Bang-won and Boon-yi manage to track down boy with an enormous pile of taffy at his side, all given to him by an ahjusshi who dressed like a peddler and promised to give him the treats if he would spread the song to the other children. The only discerning feature the boy can give them is that the man had a burn mark on the inside of his wrist.
Similarly, Bang-ji and Gab-boon talk to a performer asked to do a play on the same subject, though all he can tell them is that the man looked like a peddler. All this makes it back to Jung Do-jeon, who plans on turning the would-be sabotage attempt into an opportunity.
Boon-yi thinks aloud about who the culprit behind the Prophecy Song could be, running from General Jo to Lee Saek and possibly everyone in between. It's hard to track down whoever started an idea, she muses, but Bang-won's expression turns serious as he tells her that she knows too much now, and that worries him.
"Why are you worried? Can't I know things?" she fires back, somewhat indignantly. Bang-won corrects his earlier statement and adds that she's too talented to be put to waste, though he doesn't get to explain further when they're suddenly drawn to the sound of children singing.
Luckily for them, they come upon the group of children being taught by a man with two hands full of taffy. He takes one look at Bang-won before dropping the taffy and running for his life, prompting a foot chase through the busy market streets.
Bang-won finds the man trying (and somewhat failing) to scale a nearby rooftop to get away with him, and they share a funny exchange over whose fault the chase was.
The man indignantly refuses to tell the two of them why he's spreading the song until he finds a sword at his neck. It's Bang-ji, who's seemingly materialized on the rooftop next to him. He sends a victorious little smile down their way that just melts my heart.
When Bang-won tells the peddler that he could be charged with high treason for spreading that song, the man instantly becomes putty in his hands, willing to do or say anything that could save his skin.
He confesses that he was asked by an elderly man to spread the tune, and even hands over a piece of silver given to him for doing so. Bang-won instantly recognizes the insignia as one Lee In-gyeom's family uses, which can only mean he was the one behind it.
After receiving the peddler's word that he would testify in exchange for money (and not being charged for treason), Bang-won takes the embossed silver coins to Jung Do-jeon as proof that Lee In-gyeom's been working to undermine them even in exile.
Now that inaction is no longer an option when it comes to Lee In-gyeom, Jung Do-jeon charges Officer Nam with finding enough evidence to arrest Lee In-gyeom. Bang-won volunteers to help in that endeavor, citing some unfinished business with the former minister.
Having both received letters from Lee In-gyeom, General Jo and scholar Lee Saek find themselves called to the same meeting place in the dead of night. Inside, however, they don't find Lee In-gyeom, but Queen Jung, fourth consort of the late King Gongmin (and later known as Dowager Queen Ahn).
She too has been summoned in secret by one of Lee In-gyeom's letters, and only found what looks like code written on a piece of paper inside. Lee Saek solves it by finishing the characters that someone else started, ending up with characters they translate to mean that Chang will be victorious over Lee. Curiouser and curiouser.
Jung Do-jeon is nervous that Lee In-gyeom might undermine their efforts to put Prince Jungchang on the throne. He does just that through General Jo, who interrupts the dodang assembly where Lee Seong-gye had planned to put Jungchang forward by announcing that the queen has already made her decision.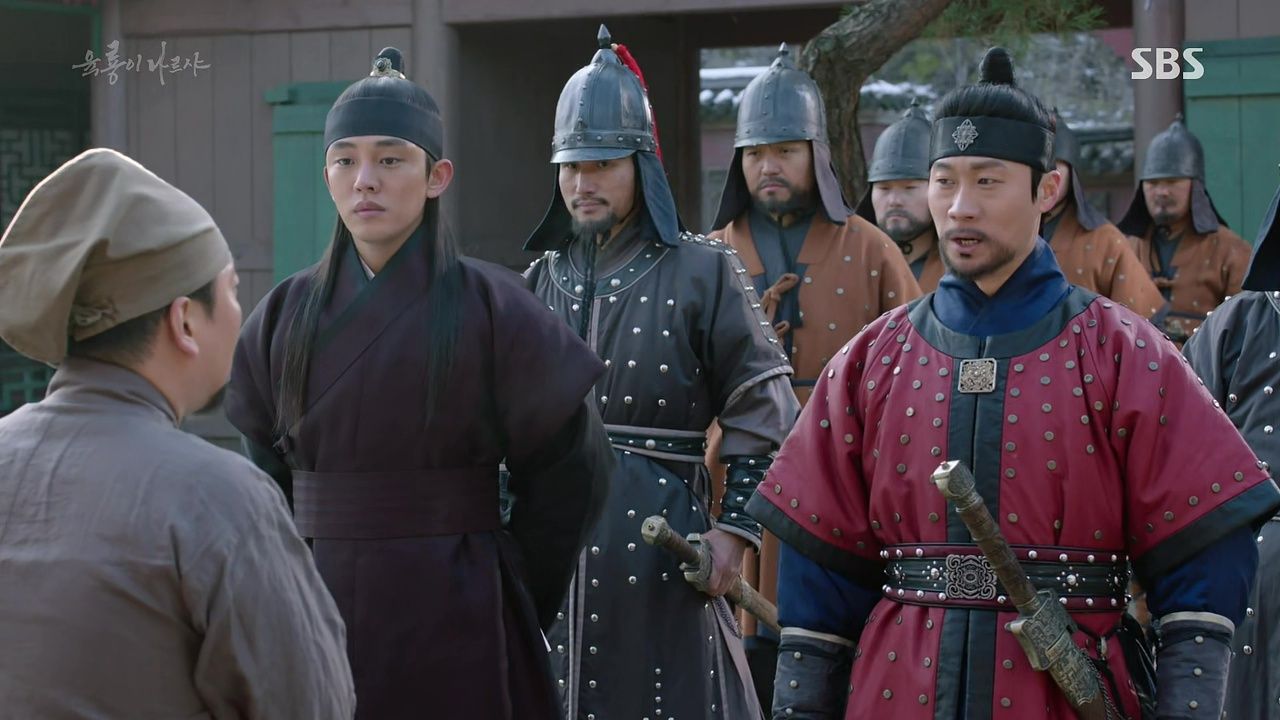 Bang-won and Officer Nam make it to Lee In-gyeom's place of exile, which is more like a palace away from home than any sort of prison. After asking a servant if they've got the right place, Officer Nam barges through the door and calls for Lee In-gyeom to come forward to be arrested.
The servant, however, pipes up to tell Officer Nam what a futile effort his shouting is—Lee In-gyeom passed away fifteen days ago.
General Jo reads the queen's edict to the assembled dodang members, but it's what he says at the end that has everyone in shock: Crown Prince Chang will ascend the throne. (Now the Chang/Lee cipher makes sense, since it happened in history that the son of King Woo, not even eight years old, took the throne after his father left it.)
Lee Seong-gye's supporters are outraged over this subterfuge, but there's nothing they can do to change it. Jung Do-jeon looks understandably devastated.
Meanwhile, Bang-won tries to sort out how the market peddler could've received instructions five days ago from a man who's supposed to have passed away ten days before that.
When the servant tells them that they didn't report the death because some scholar asked them not to, Bang-won remembers the burn scar on the inside of the peddler's wrist and begins to suspect that he isn't who he said he was. Grabbing the servant by the lapels, Bang-won demands to know if the scholar had a burn mark on his wrist…
Cut to the not-a-peddler dressed in fine silk robes, as it's revealed that he was the one who started the rumors of Lee Seong-gye and General Jo's supposed strife. Not only did he teach the children the Prophecy Song, he wasn't caught red-handed when Bang-won and Boon-yi came upon him—he'd paid the boy to lure them there.
To add to his list of machinations, it was he who write the secret letters from Lee In-gyeom in order to turn General Jo and Lee Saek against Lee Seong-gye by supporting Prince Chang for the throne.
Bang-won comes to the realization that the peddler/scholar wasn't doing someone else's bidding but acting on his own plan, while Jung Do-jeon wonders to himself, "Have we been played?"
The mysterious scholar answers his question from his forest perch, "Yes, you have been played, Brother Sambong." He smiles, knowing that Jung Do-jeon was probably too distracted chasing the ghost of Lee In-gyeom to realize he was being played like a fiddle.
And that fiddler's name is HA RYUN (Jo Hee-bong), introduced via chyron as the schemer who puts the future Lee Bang-won on the throne.
This takes me back to one of the best moments in Tree With Deep Roots, when the villain was revealed to have been hiding in plain sight as a commoner all along. It packed more punch in that instance since we'd gotten to know the character long before the reveal, but Ha Ryun's introduction still managed to be plenty shocking here—and besides, if the writer had pulled the exact same stunt as she did in Tree, we probably would've felt played ourselves.
It was just a matter of time before the villainous void left by Minister Hong and Gil Tae-mi would be filled with someone new, though I admit to worrying for a while that the show would be pulling from already established characters to do it. Not that there's anything wrong with the pool we already have, but the future was starting to look a little bleak when it seemed like the stoic General Jo or the scheming and completely interchangeable dodang members were going to be the ones standing toe-to-toe with the likes of Jung Do-jeon.
All that just means I couldn't be more excited for the fresh meat that is Ha Ryun, especially when he managed to so expertly fool even the most cunning of our dragons. And they weren't even the endgame, but a byproduct brought on by Ha Ryun working behind the scenes to decide who would next take the throne. Or rather, to influence the ones who could actually make the decision to make the one he wanted.
In order to do that, he had to convince General Jo that Lee Seong-gye intended to turn on him and become king himself (with the latter part not being technically untrue), so that Jo would be more inclined to go against Lee's recommendation for the throne. It worked, of course, with Ha Ryun's forged letters being used to bring the three decision-makers he needed together. After that it was just like dominos, with every falling piece setting off a chain reaction of historic proportions.
Ha Ryun clearly knows Jung Do-jeon and the way his mind works, so the question remains as to why he's just showing up now. Orrrrr is he? If he's the mind behind the Red Seal, what does he want out of all of this? Why would it benefit him to put a child on the throne, and why is he trying to undermine Lee Seong-gye's efforts? And more importantly, why do we have to wait until next week to find out?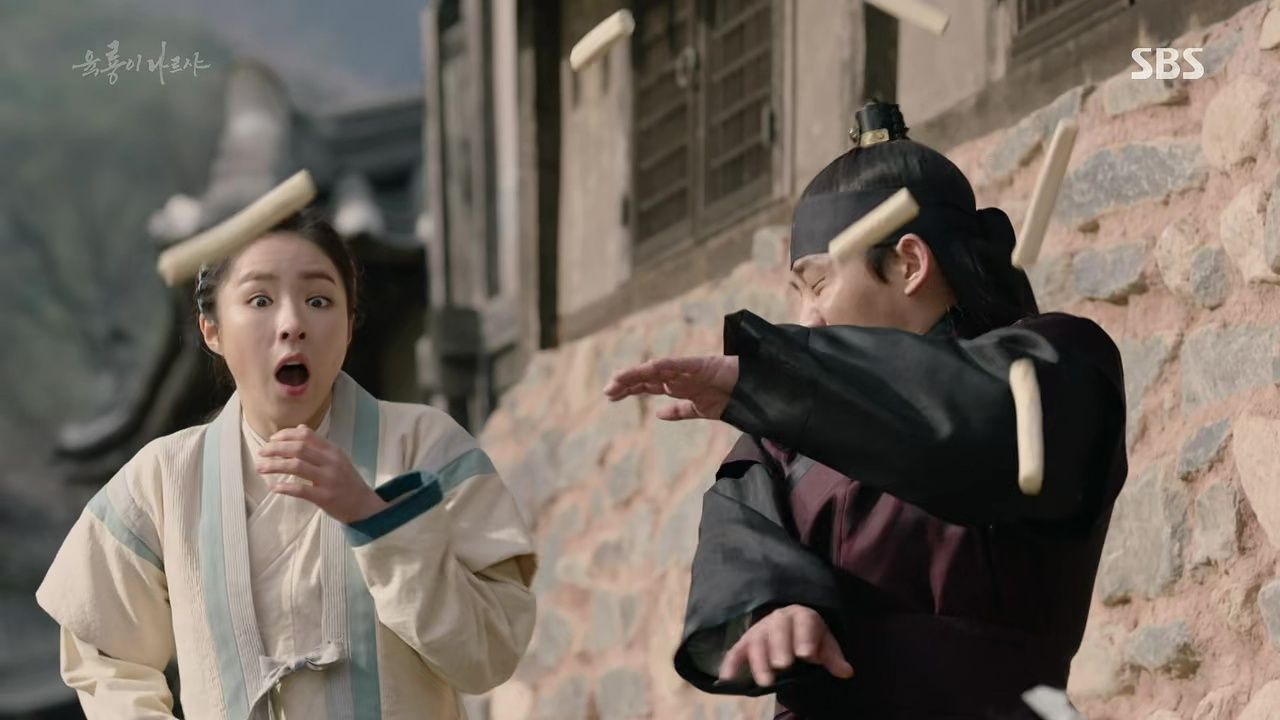 RELATED POSTS
Tags: Byun Yo-han, featured, Kim Myung-min, Shin Se-kyung, Six Flying Dragons, Yoo Ah-in