Splish Splash Love: Episodes 1-2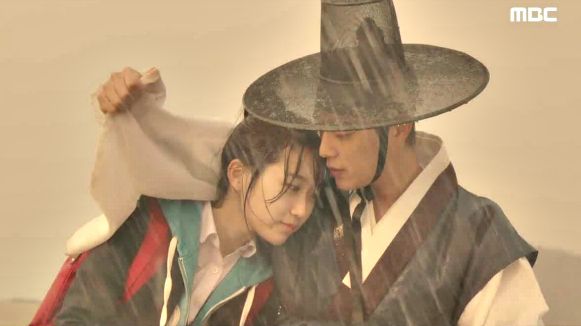 Ohmygah, you're just too darned cute not to recap. Why must you do this to me, Show? I waited till both episodes of MBC's two-part drama special Splish Splash Love (Pongdang Pongdang Love) had aired so I could watch it all at once like a little movie, not really anticipating anything other than a light, amusing fantasy sageuk about a time-traveler who lands in Joseon.
And that's exactly what it is, but it's also a surprisingly endearing love story that's beautiful to look at and easy to get swept up in, not to mention clever and hilarious. I knew that Kim Seul-gi and Yoon Doo-joon wouldn't disappoint on the comedy front, but they're really so good, and they even sell the romance.
This recap covers both Episodes 1 and 2 (if you watched the web version it's parsed into ten segments, but the whole thing is about two hours and twenty minutes in total). I was really planning to watch it for fun, but there are just some things you want to squee about with others.

SONG OF THE DAY
Kim Hyung-joong – "너에게 퐁당" (Splash Into You) for the Splish Splash Love OST [ Download ]
Audio clip: Adobe Flash Player (version 9 or above) is required to play this audio clip. Download the latest version here. You also need to have JavaScript enabled in your browser.

EPISODE 1 RECAP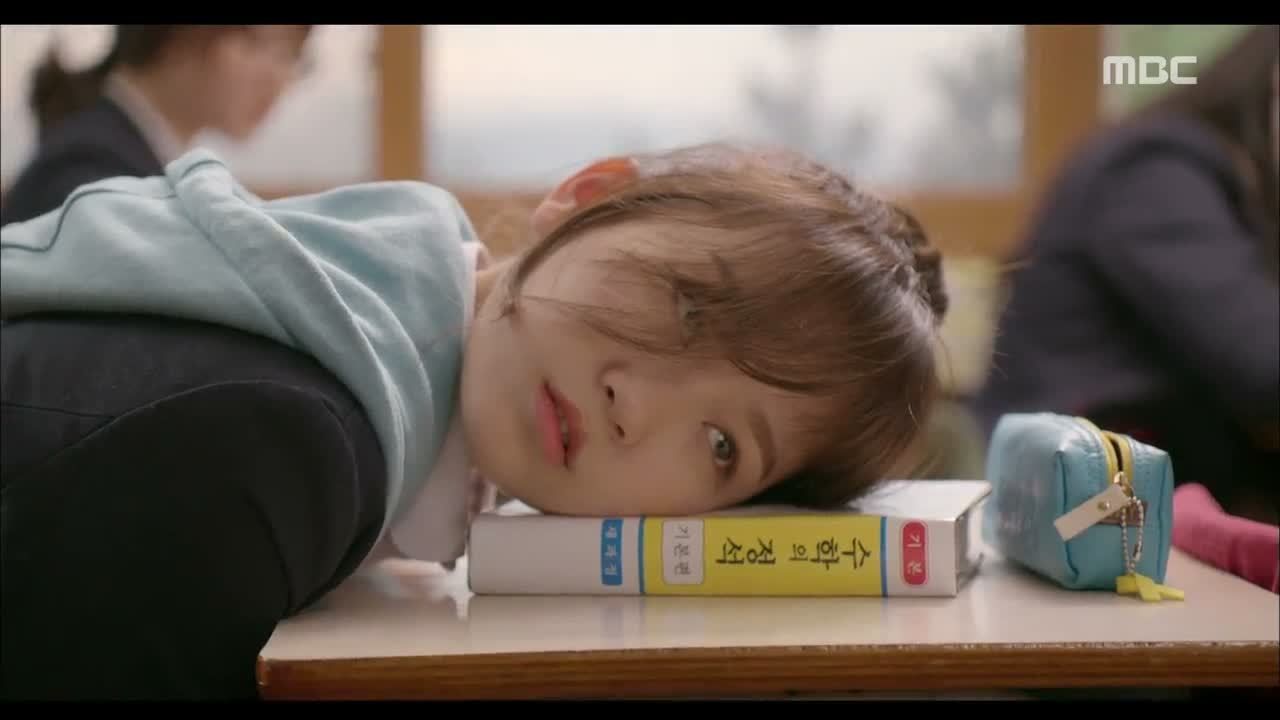 A high school senior sleeps her way through math class, until her name gets called to solve a dreaded equation on the chalkboard. This is JANG DAN-BI (Kim Seul-gi), whose name dan-bi means "much-needed rain." Her teacher sighs when she can't solve the math problem, and reminds her that the college entrance exam is tomorrow.
At home, Dan-bi lazes around on the couch and doesn't even have to look up to guess who's performing on Masked Singer, and Mom complains that if she used that brainpower on math, Seoul University would come knocking on her door. Mom mentions that Dad didn't have much of a head for math either, and Dan-bi glances wistfully at their family picture.
Dan-bi complains when Mom switches the channel to a sageuk, and when Mom nags her about not having a dream in life, Dan-bi storms out of the house and blows off steam at a noraebang with her friend SO-HEON (Jin Ki-joo). Dan-bi sighs that it feels like she's running out of time to decide on her future, but it's not like more time would yield an answer for her—she's still as lost as ever, and wishes that she could just disappear somewhere.
Dan-bi is envious of So-heon's prospects, though she has worries of her own because she wants to go to art school against her family's wishes. Dan-bi hates the idea that your entire future can be determined by one day's exam, and grouses, "Why was I born such a useless human being?"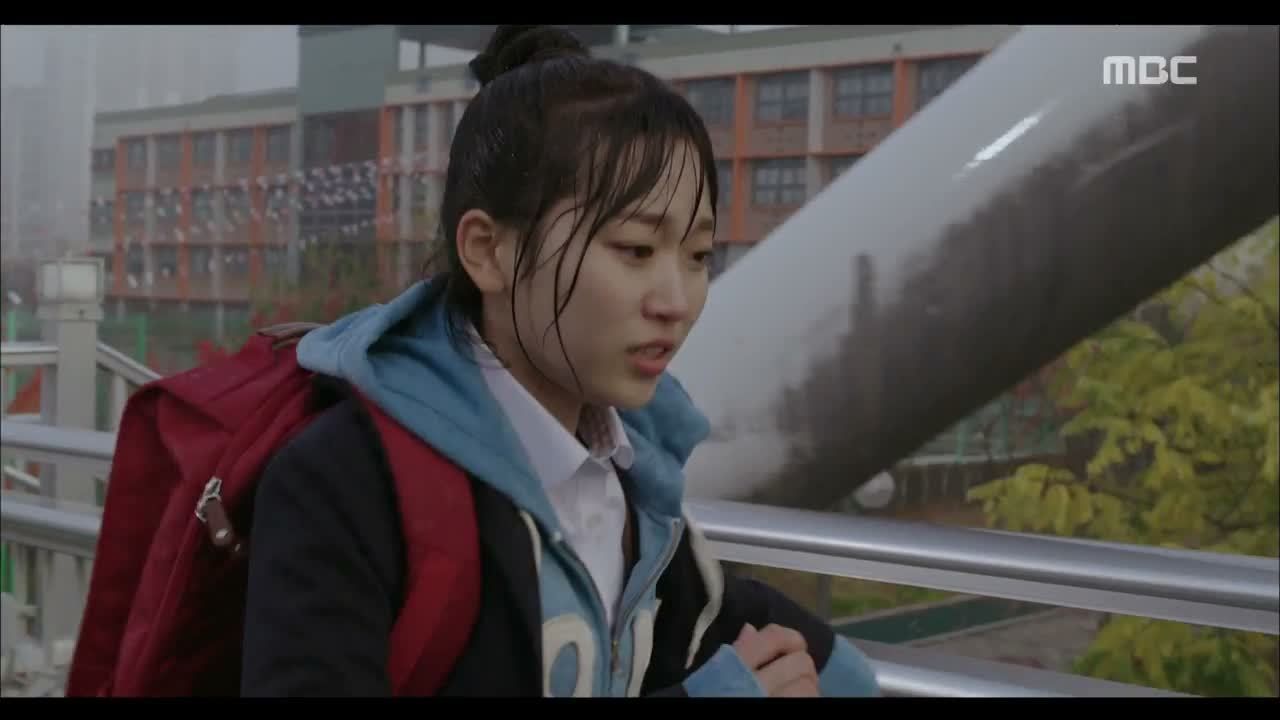 D-day arrives and Dan-bi races out the door, feeling no better about the college entrance exam. She's so engrossed in cramming for the test that she leaves her umbrella behind on the bus, and ends up trudging up to the school soaking wet from the rain.
The pressure mounts as she gets closer to school, and Dan-bi's feet just won't take another step. In a panic she turns and runs away, and ends up sitting alone in a playground as the rain keeps pouring down on her. She looks up at the sky and pleads softly, "Let me disappear, please, just once."
Suddenly the sound of a beating drum rings in the distance, and Dan-bi seems to sense something strange about a puddle of rain nearby. She peers inside, and it's like a window that looks down into another world. On the other side, a ritual is taking place in a palace, with people praying literally for dan-bi, or much-needed rain, to fall from the sky. Hur.
Dan-bi carefully dips a toe into the puddle and gasps when her whole foot sinks in. She doesn't know what's on the other side, but she braces herself and jumps anyway, and disappears completely into a large body of water.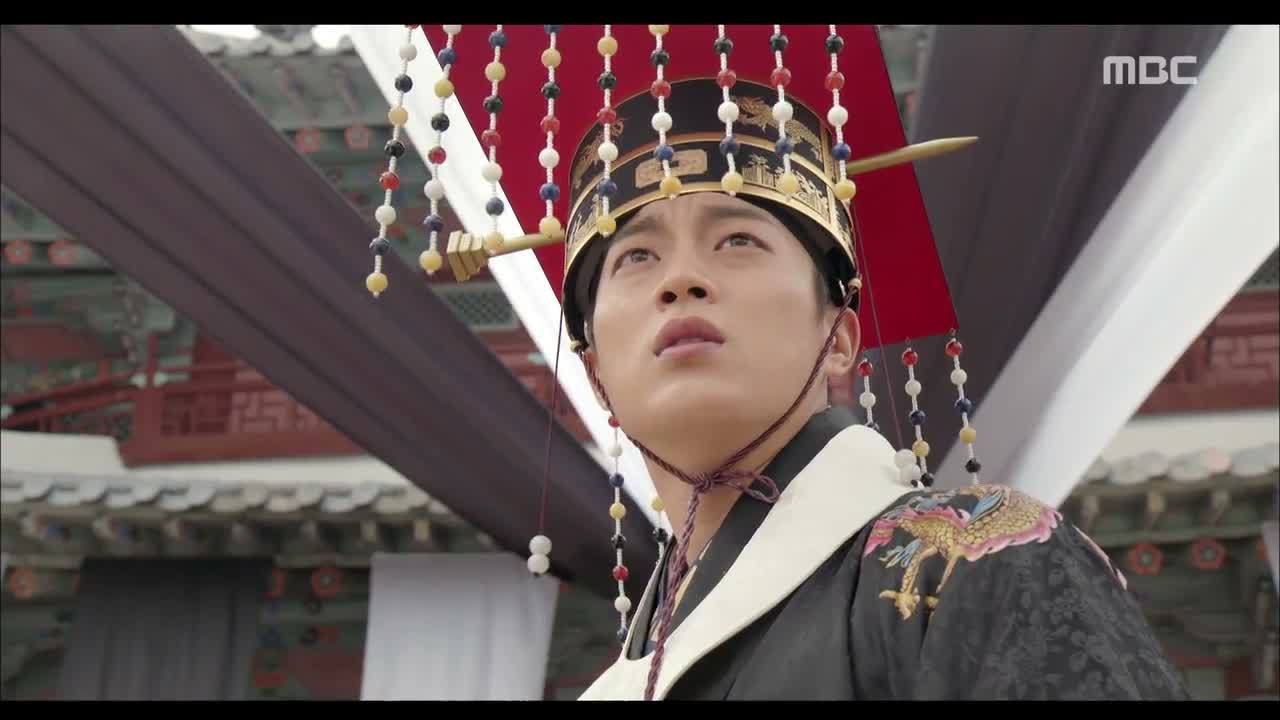 On the other side, the king sighs that he said this nonsense wouldn't work, but then the wind kicks up and one tiny droplet of rain falls from the sky into the ritual cup. And then out comes Dan-bi, who looks around and asks meekly, "Are you shooting a sageuk?"
The king, LEE DO (Yoon Doo-joon), asks if she's goblin or human, and Dan-bi just says she's a high school senior [or go-sam for short]. The king interprets go-sam the only way he knows how: to mean a castrated man, or eunuch. Pffffft. Dan-bi recognizes one of the king's eunuchs as her high school math teacher, but he doesn't seem to recognize her.
Dan-bi soon realizes this isn't a drama set and racks her brain to remember what someone in Mom's sageuks would do, and declares in her best booming voice that they will indeed make the rain fall. The king is skeptical but bows his head to pray along with the rest of the court… which is the perfect opportunity for Dan-bi to make her escape.
She grabs a scholar's robe and draws on a quick mustache to blend in, except she ends up being dragged along with the others to court. The king says they'll capture this mysterious eunuch at once (they just refer to her as go-sam pretty much the entire time), and wants to stop relying on mysticism when they should be developing science.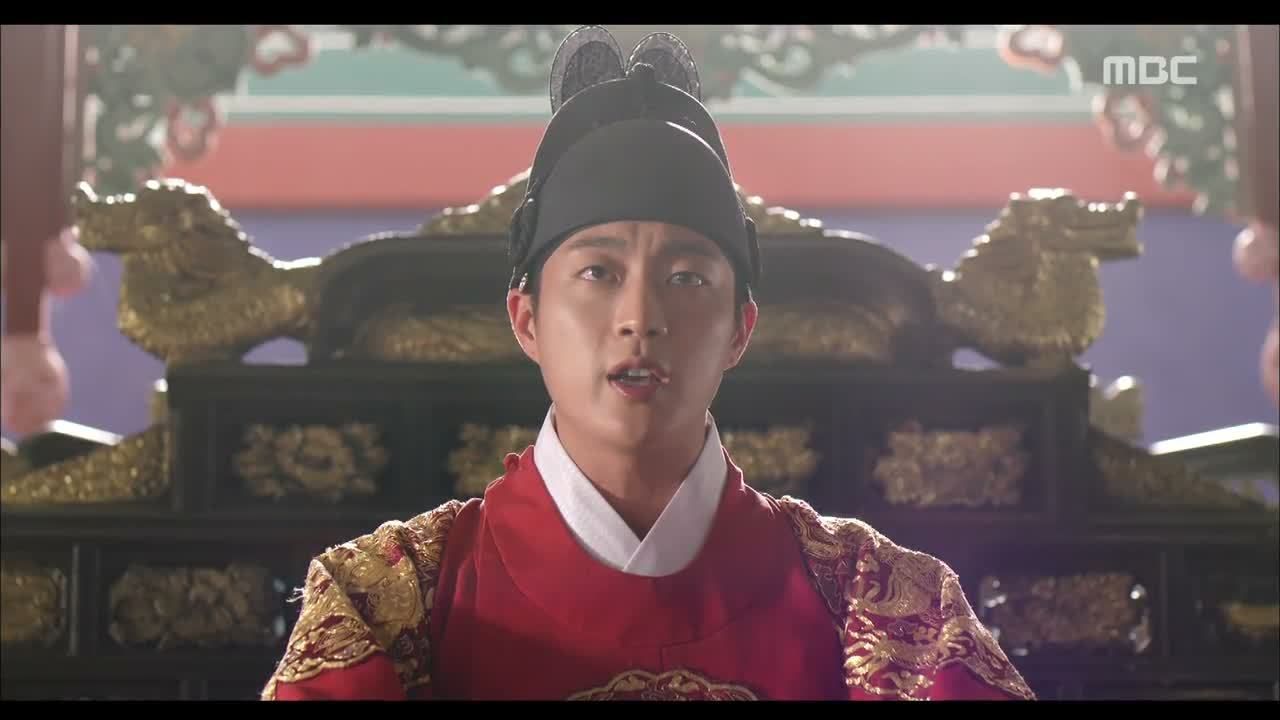 The queen's father is an ambitious man and tells his daughter to use this opportunity to have a son and secure their family's royal position. It looks like everyone in this universe will be played by doppelgangers of people in Dan-bi's life from the future, because her best friend So-heon is Queen Soheon.
King Lee Do is convinced that math and science are the keys to bettering his kingdom, and he's upset that his best mathematicians can't even solve Pythagoras' theorem. At the same time, Dan-bi is discovered by a nameless swordsman who reports to the king.
She's dragged to a quiet place where the king is waiting to meet with her, and Dan-bi mutters in awe when she realizes that this really IS Joseon, and that rain brought her here and will likely take her back. The problem, she learns, is that it hasn't rained in Joseon for three years.
The king thinks her clothing strange and wonders if she came from China, and then peers into her cell phone curiously before asking what the rain in this window is. He turns the screen forward to show a raindrop screensaver, ha. She says it's just an app that tells you the weather, and that she thinks she came from the future.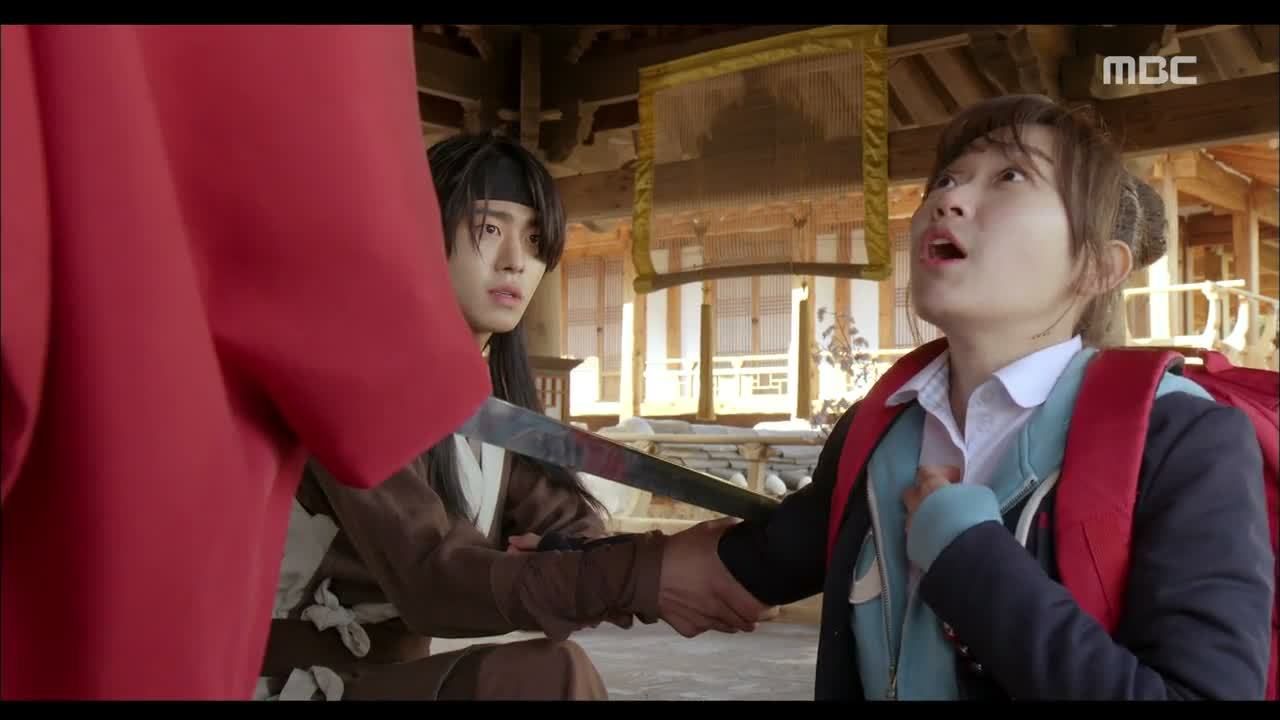 Lee Do is so frustrated at all her confusing slang and English that he shouts at her to speak so that he understands her, and the warrior suggests maybe cutting off an arm. Lee Do agrees that that's a sensible idea and reaches for the sword, and in a panic Dan-bi says she can tell him all sorts of things from the future, and that she's good at everything, including math. That piques his interest, and Dan-bi gulps knowing that it's a flat-out lie.
He presents her with the Pythagorean theorem, but she sighs to see that it's written in Hanja, which she can't read. She recognizes the formula though, and solves it pretty handily. He's amazed, and she says that in the future [mirae], anyone who's a high school senior can do this.
Lee Do wonders if all men are made into eunuchs in the land of Mirae (lulz, he thinks it's a foreign country, not the future) to be this educated, and she unwittingly confirms that everyone is castrated so as to be good at math. Lee Do marvels at their commitment to learning. Hahaha.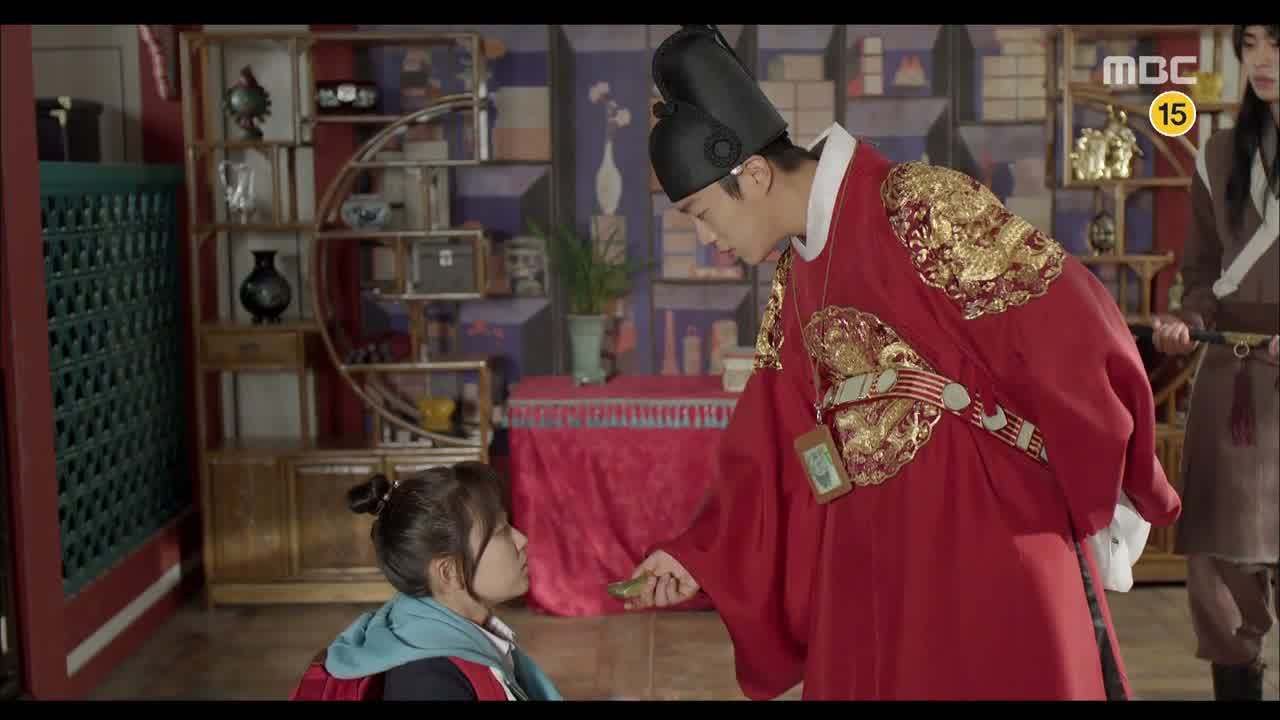 The king declares that she can go home when the rain comes, but he'll clear her of all criminal charges if she shares her knowledge with him, and rewards her with a big piece of gold. (There's this great sight gag where Lee Do is wearing Dan-bi's wallet around his neck after confiscating it, and the 10,000-won bill with Sejong's face on it is visible in the little window.) Dan-bi is amazed that he calls her a useful human being, and agrees readily.
The nameless swordsman gives her a modest room to stay in and a cup for her drinking water (which she seems to think is a device for measuring rainwater), and the next day Dan-bi is fitted for a eunuch's robe. She asks Teacher Eunuch why she can't have a pretty skirt, and he gives her a pep talk that being castrated doesn't mean he's not still a man. HA. That's the first time Dan-bi realizes that everyone thinks she's a dude, and she just decides to roll with it because it ought to be easier to get by in Joseon as a man.
Her first order of business is to scan the royal books to figure out which king she's even dealing with, but Lee Do interrupts her and takes her away to their first math lesson. Their first problem is that he doesn't know Arabic numerals, so she begins to teach and test him, which he adorably gets all competitive about.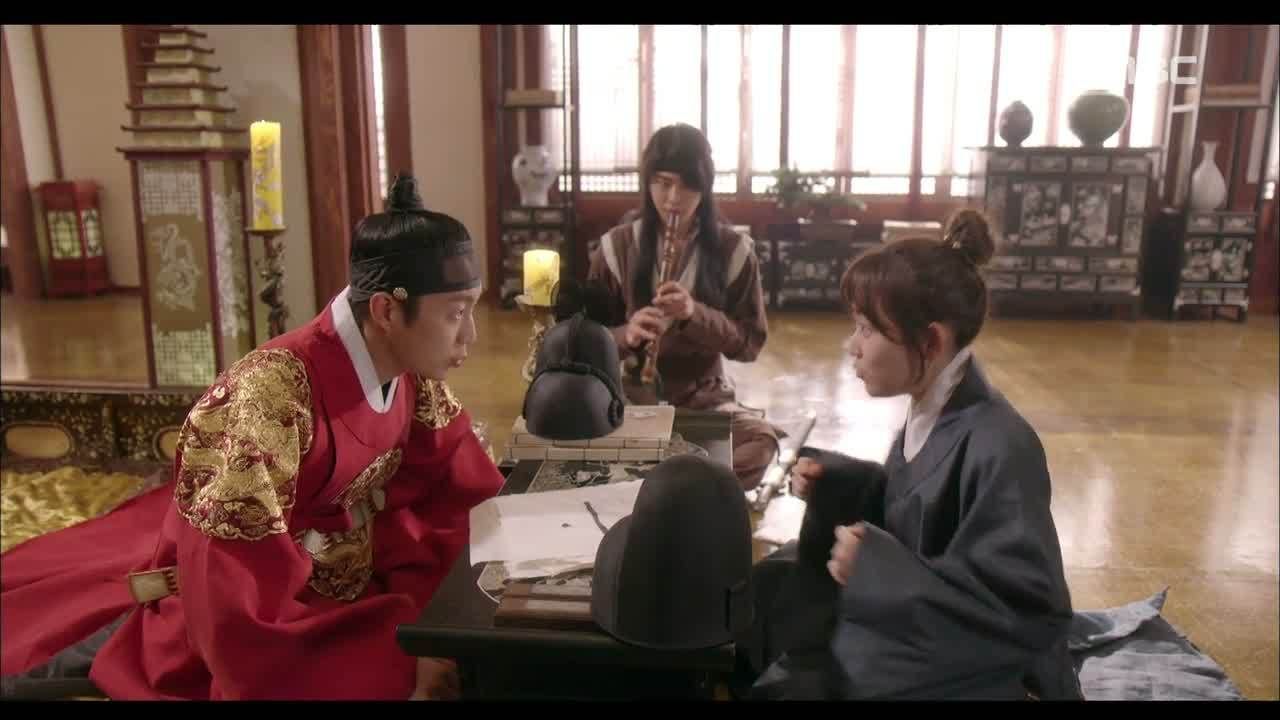 He wonders how Dan-bi can look him right in the eye without fearing for her life, but he finds it refreshing since it's been a long time since anyone's made eye contact with him. In the ensuing days, she teaches Lee Do basic math using the new numeral system, and in his free time he examines her belongings curiously, like a triangle kimbap which he mistakes for a bomb and tests out by lighting on fire and chucking out the window.
The king spends his days in court memorizing the multiplication table, and then one day he and Dan-bi stare each other down as the swordsman takes out his flute… and they begin chanting the multiplication table song. LOL. Dan-bi nearly gets her head cut off for daring to hit the king on the forehead as punishment for losing, but Lee Do is good-humored enough to keep playing and not sentence her to death.
He does get mad when he gets another one wrong because he mishears, but the swordsman backs up Dan-bi on this one, and Lee Do demands to play another round. When he wins, he gets ready to cut off her arm in retaliation, but they're interrupted by the arrival of the queen.
Dan-bi is shocked to recognize her best friend's face, though of course in Joseon she's the queen, and she eyes the new eunuch suspiciously. The queen also seems to know the swordsman, and asks bitterly when he became so loyal to the king.
When Dan-bi's stomach growls that night, the king enjoys teasing her with his food. She grumbles at him for eating all this food with a golden spoon when his people don't even have enough drinking water, offers to show him how great peasant food can be.
She asks where "Jang-geumie unni" (aka Dae Jang-geum) cooks, and busts out a packet of instant ddukbokki from her backpack. Lee Do is blown away by the taste and scarfs it all down, though the next morning there's a raging rebellion in his intestines and he's convinced that she tried to poison him.
Dan-bi has to explain that it's just a stomachache and tries to show him where his major organs are, like his heart that ought to beat when he likes someone. He doesn't know what she means, but takes her to the royal doctor so she can teach them all about the major organ systems. Thanks to her, a series of major medical texts get written about these discoveries.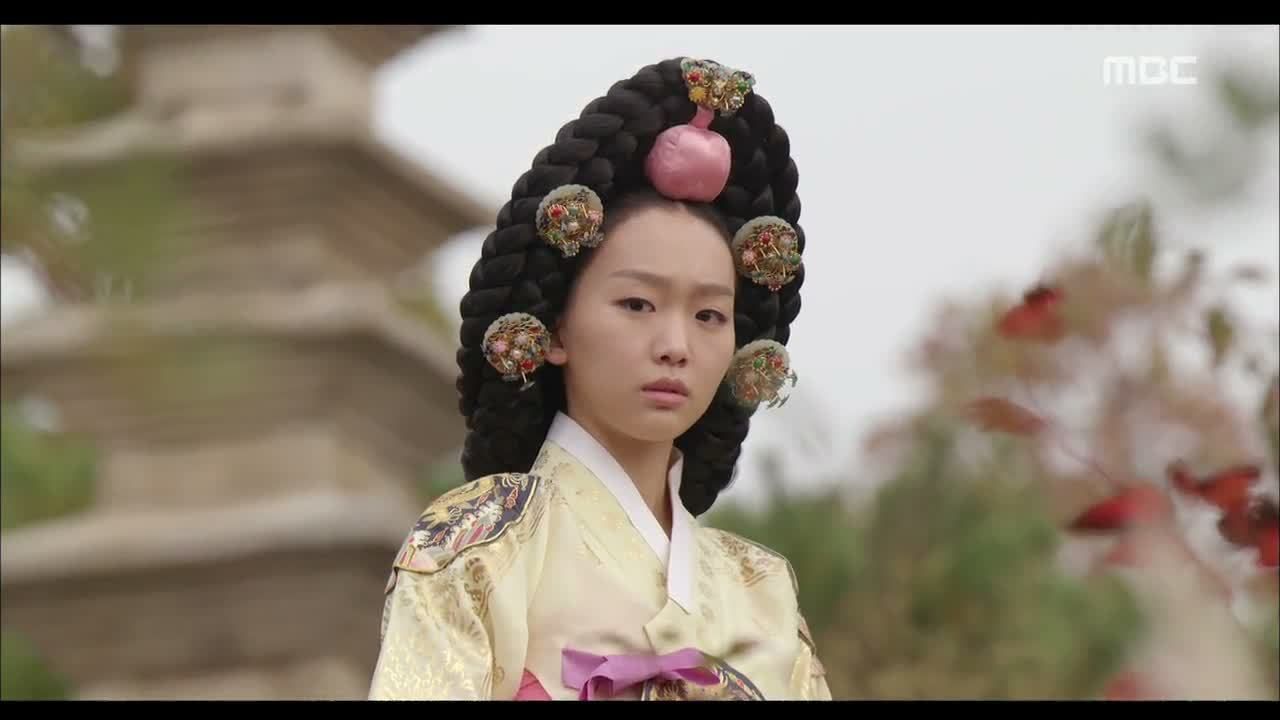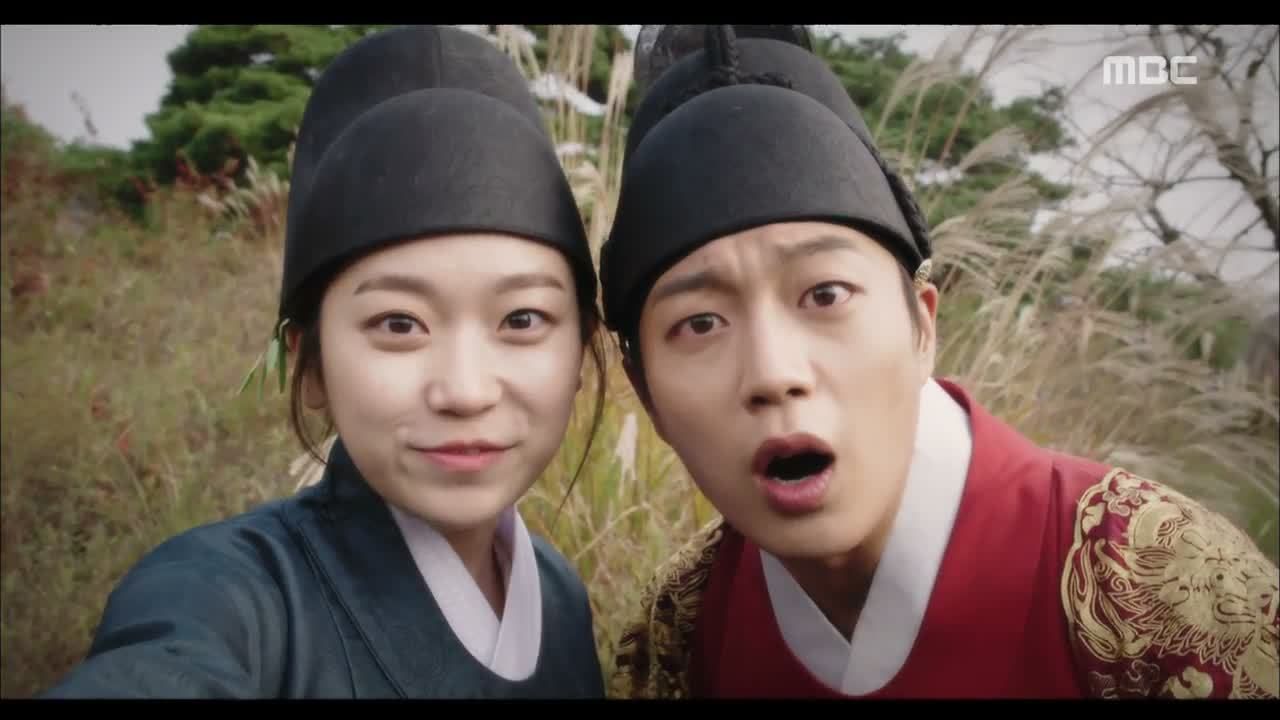 Dan-bi and the king become fast friends, as she teaches him about every useful thing she can think of. She asks for her phone back so she can take a picture with him, and at first he's frightened by it, but soon he's making faces for the camera too. And from a distance all of this doesn't go unnoticed by the queen.
For all their hard work in advancing science, the scholars and Dan-bi are awarded with a single tangerine from Tamra each, and she tucks hers away in her robe. The king saves an extra one to give to Dan-bi and proudly offers it to her, then is appalled when she gobbles it up without even offering him any. She learns from his reaction that this was a precious gift, and he acts like he's fine with it, but gets his petty revenge by kicking soccer balls at her in a field and making her fetch them.
She asks why there are so many things a king can't do, like say what he wants or run after his own soccer balls. She challenges him to live a little and sticks her tongue out at him before running, and he starts to speed-walk after her, eventually breaking out into a full run.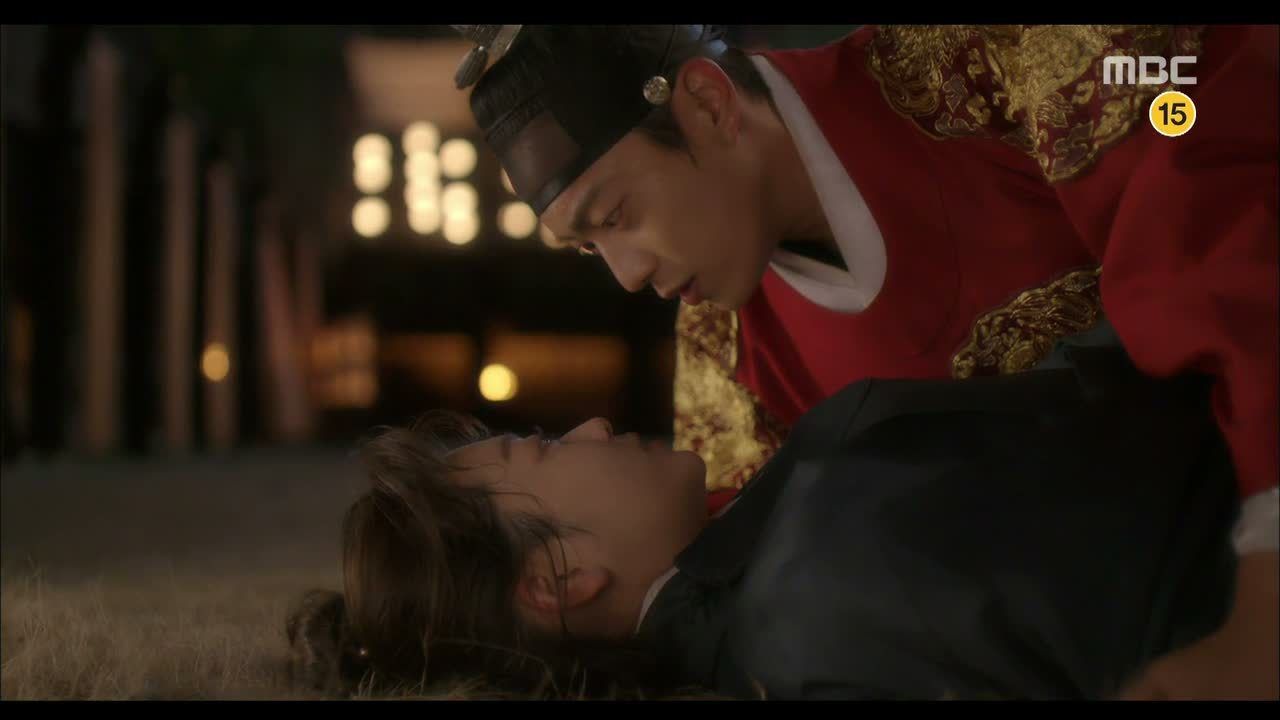 He catches her and they both go down, and he acknowledges that it feels pretty good to run. He jokingly slaps her in the chest, and suddenly they both freeze. In two seconds he's on top of her, and his expression darkens as he accuses her of fooling the king. Ruh-roh.
Dan-bi stammers nervously, not knowing how to explain, and he asks her to hand it over. That's when she realizes that he felt the tangerine, not her chest, and happily gives it to him. He tells her to keep it and offers to walk her home, insisting that he was going that way anyway. He rushes off to change out of his royal robes, suddenly looking like a giddy boy about to go on his first date.
He looks at a mirror to tie his hat on straight, and that's when he notices how excited he looks in his own reflection. He carefully raises a hand to his heart and feels it thumping, just like Dan-bi said it would if he liked someone. The thought startles him and he hesitates, and outside Dan-bi waits and waits, until finally the swordsman comes by to take her home.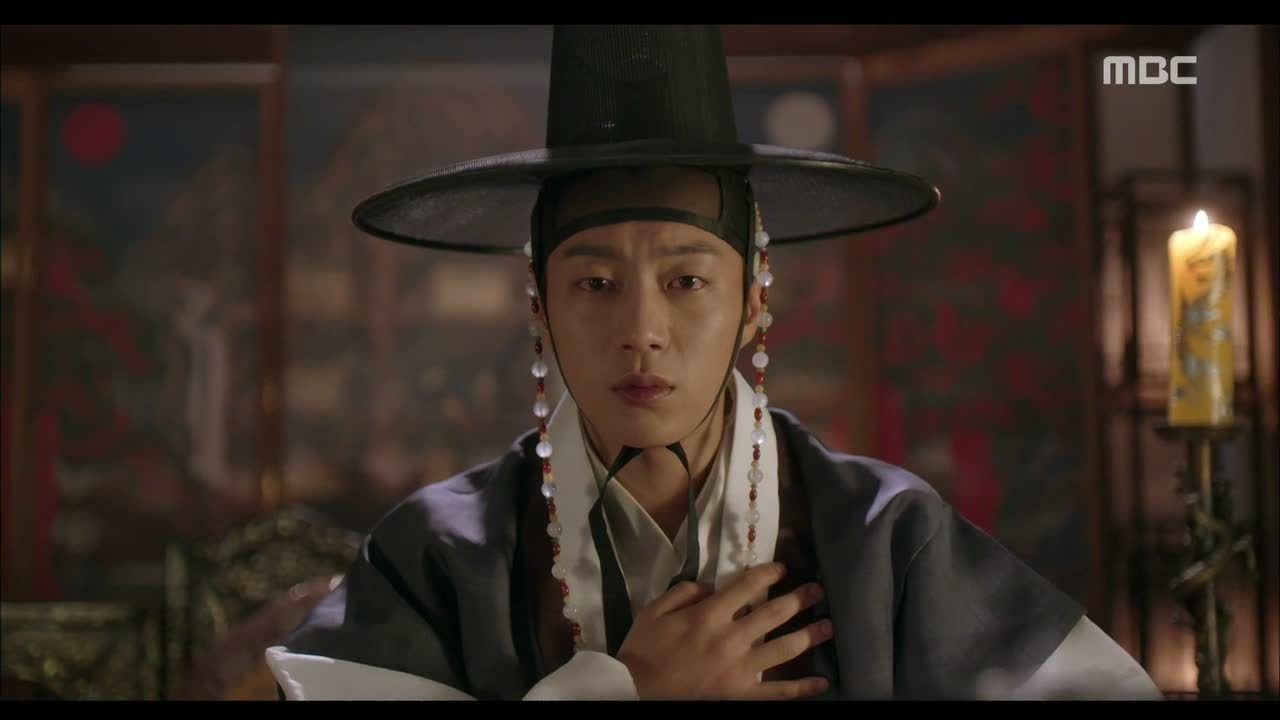 The queen's father hatches a plan to drug the king's dinner so that she can seduce him, except the plan goes sideways when the king gives his dinner to Dan-bi. Not knowing this, the queen comes into the king's chamber and starts to undress, but he stops her and tells her that she doesn't have to do this. She cries that she's lonely, but Lee Do brings real tears to her eyes when he says that there's not one who isn't enduring loneliness in this palace.
Dan-bi is hiding in the other room, but the drug takes effect and she wanders toward them in a daze, and the queen is shocked when Lee Do runs to catch Dan-bi's fall and holds her so preciously in his arms. She storms out in a huff, while the king tries to revive Dan-bi and then struggles to contain her strange drunken antics.
Dan-bi latches onto him in a burst of aegyo and complains that he's so good-looking and prickly that it makes her swoon: "What're you, shooting The Moon That Embraces the Sun?" She was already pretty loose with the banmal before this, but now she's full-on talking down to him, and declares huffily that she's going to leave at the first rain. He scoffs and says he's not keeping her around because he likes her, but then she sleepily replies, "I've started to like you…"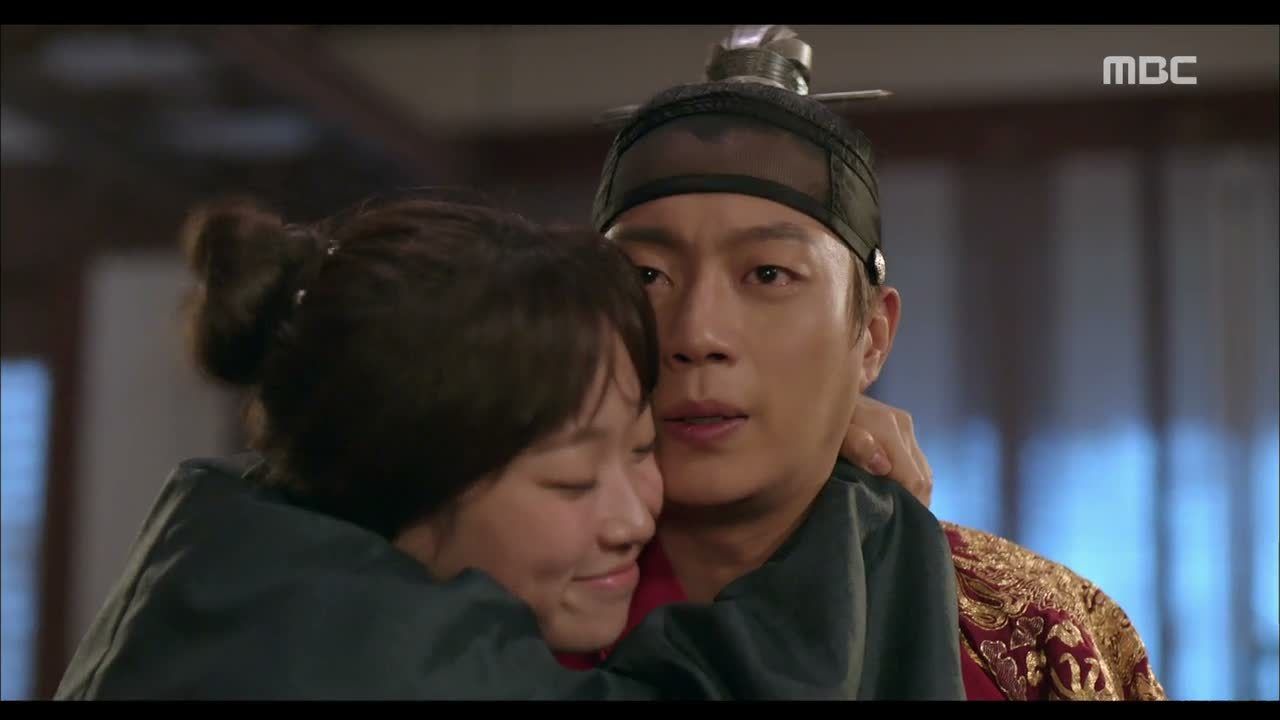 He pulls away in shock, but she just crawls into his lap and sighs that she's just a eunuch and he's a king, "A king prettier than a flower." She falls asleep like that in his lap, and he finds himself mesmerized by her and leans in closer… and closer… and closer… But seconds before his lips reach hers, he yanks away and says he must be going crazy.
She's mortified to wake up hugging his waist, and though he let her sleep like that for hours, he acts like he's put out by it. He insists on walking her home, and tells her that he used to think that becoming king would solve everything, but there's still so much work to be done. He throws an arm around Dan-bi and thanks her for everything she's done for him lately, and says that he's been able to breathe a little since her arrival.
He suggests that they become friends, and she agrees happily before tossing him the tangerine that she drew a little face on. As he leaves, Dan-bi is startled when the little neighbor boy at the inn pops up to greet her with her bra on his head and calls her noona, though thankfully no one seems to have heard.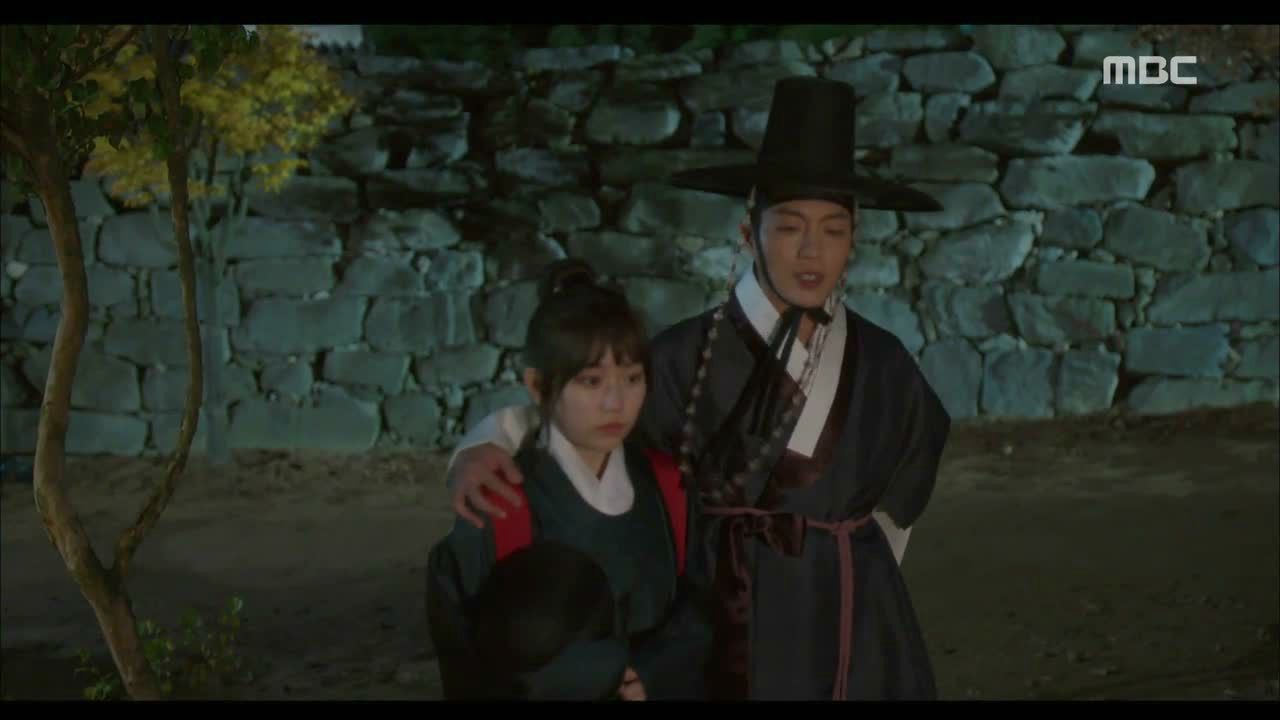 Spies are watching from the distance though, and the queen's father decides to make an issue of Dan-bi being with the king all night. They arrest her and charge her with high treason for scorning the queen, and in her defense the king shows them how Dan-bi invented a system for measuring precipitation with her water cup.
He repeats Dan-bi's words about how his citizens have no water, but they're here eating meat with golden spoons, and the least they should be doing as leaders is finding a way to measure rainfall and prepare for the worst of times so that this doesn't happen again. I really wish they'd talk faster, because Dan-bi is being drawn and quartered as we speak…
A minister who conspired with the queen's father speaks up to suggest that if Dan-bi is really as skilled as the king thinks, then they should put her to the test. He says it would be truly useful if they could tell the time without the sun. So for now she's saved, though Lee Do worries that the test is simply meant for her to fail.
Dan-bi overhears the king's trusted advisor telling him to throw her away, and she asks the swordsman if they'd really kill her. He doesn't hesitate to say yes—that's the natural order of things when you're no longer of any use. She begs the swordsman to help her one last time, and he acts indifferent but totally caves to her pleading face.
So she begins work on making a water clock to measure time without the sun, and busts out her math textbook to figure out the calculations. Lee Do tries to go about his business but can't stop thinking about her or worrying, and makes a late-night visit while she's fast asleep at her desk.
He covers her so she isn't cold and gently brushes the hair out of her face, and leaves before she wakes up. She can tell he was there though, because she finds her phone and wallet on the table, and a little doodle of the face she drew on the tangerine she gave him.
She works so hard night and day on the calculations that she gets a bloody nose, and meanwhile Lee Do takes all his frustrations out on a soccer ball as his thoughts linger on Dan-bi. We see now that he did show up that night to walk her home when he had hesitated, but he'd arrived a second too late. He'd held her sweetly all night while she slept in his lap, and when his advisor had suggested he abandon her, he said confidently that he trusted her to come through.
As the sun comes up, Dan-bi solves the equation at last. As if on cue, a raindrop falls from the sky, and Lee Do's eyes widen in alarm. Dan-bi feels the rain too, and they both remember what she said—that she'd go back home when the rain comes again.
The king gets up and starts walking, and then breaks into a full run as he dashes toward Dan-bi in desperation. Ruuuuuuun! Dan-bi changes back into her school uniform and looks down into a puddle of water in the yard, and tries dipping her toe in. Yup, it's a portal.
Lee Do runs as fast as he can, but when he arrives in the yard, it's empty. He finds Dan-bi's sketches and calculations, but she's nowhere to be found.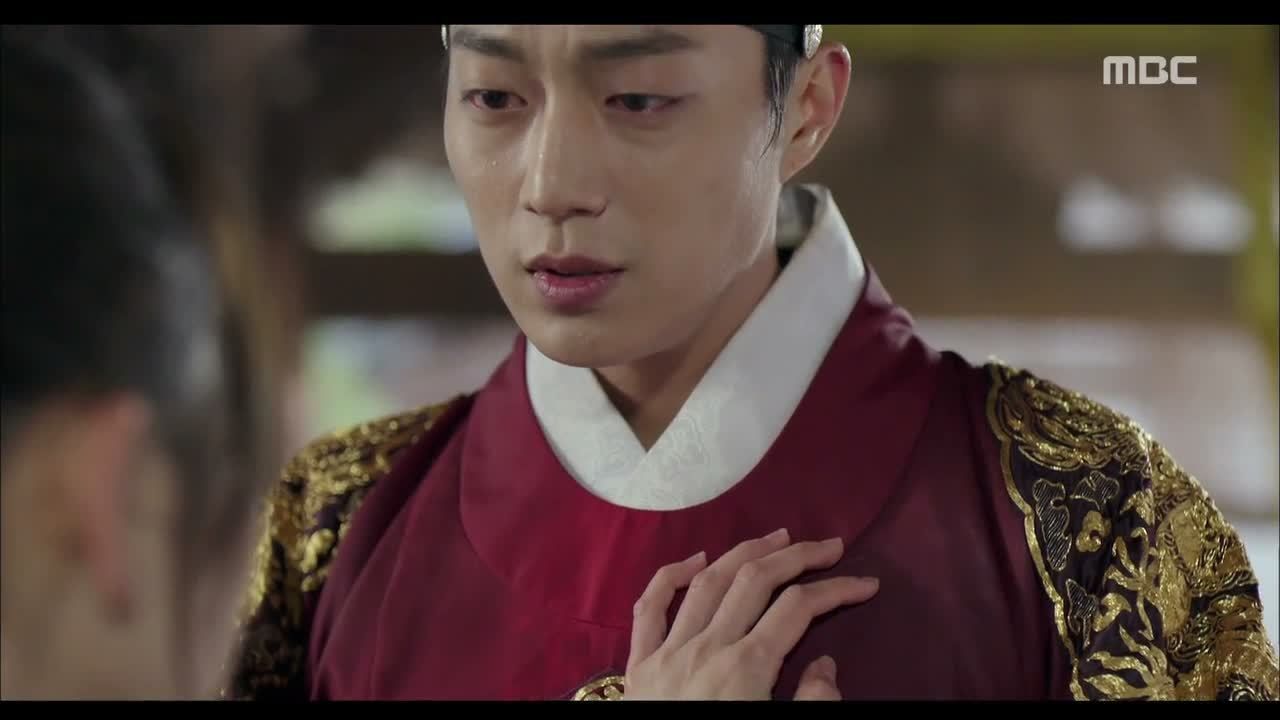 Oh phew, she's around the back, checking to see if her calculations work. Lee Do finds her, and she says that she thought she could make a water clock to measure time, an idea she had because of the leaky roof in her high school classroom and how one full rain bucket always alerted her to the end of one class period.
Her calculations are off though, and she says with tears in her eyes that she's never tried so hard for anything in her entire life, because she was always afraid that she'd try her best and then still fail. But her effort wasn't enough this time, and she confesses tearfully that she's actually terrible at math.
Lee Do just tells her it's okay: "I tried hard too, but I don't think there's an answer." Omo, you mean about loving her? He reaches for her hand and presses it up against his beating heart, and then pulls her into an embrace.

EPISODE 2 RECAP
Dan-bi looks over at the rain puddle that would be her ticket back home… but instead she hugs Lee Do back as the rain shower stops and her window closes. He's in a hurry to put her on a boat because her life is at stake, but Dan-bi cries that she already ran away to this place, and doesn't want to run anymore. What she needs is more time.
They're interrupted by the swordsman who's come to whisk her away to safety, though his loyalty comes into question as we see the king's advisor tell him in flashback that they have to kill Dan-bi because she's dangerous. When they stop for a break, the swordsman creeps up behind her with his sword drawn.
Meanwhile, the queen is told about the king running to save Dan-bi, so she sneaks into his room to dig around and finds that he's saved the tangerine that she saw Dan-bi with, and concludes that he's in love with her.
The swordsman just means to warn Dan-bi not to drink the water because of the moss, and when he catches her fall, he confirms that she's in fact a girl. He doesn't betray much of a reaction, and figures it doesn't matter either way. He offers to keep it a secret from the king if she pays double her room rent.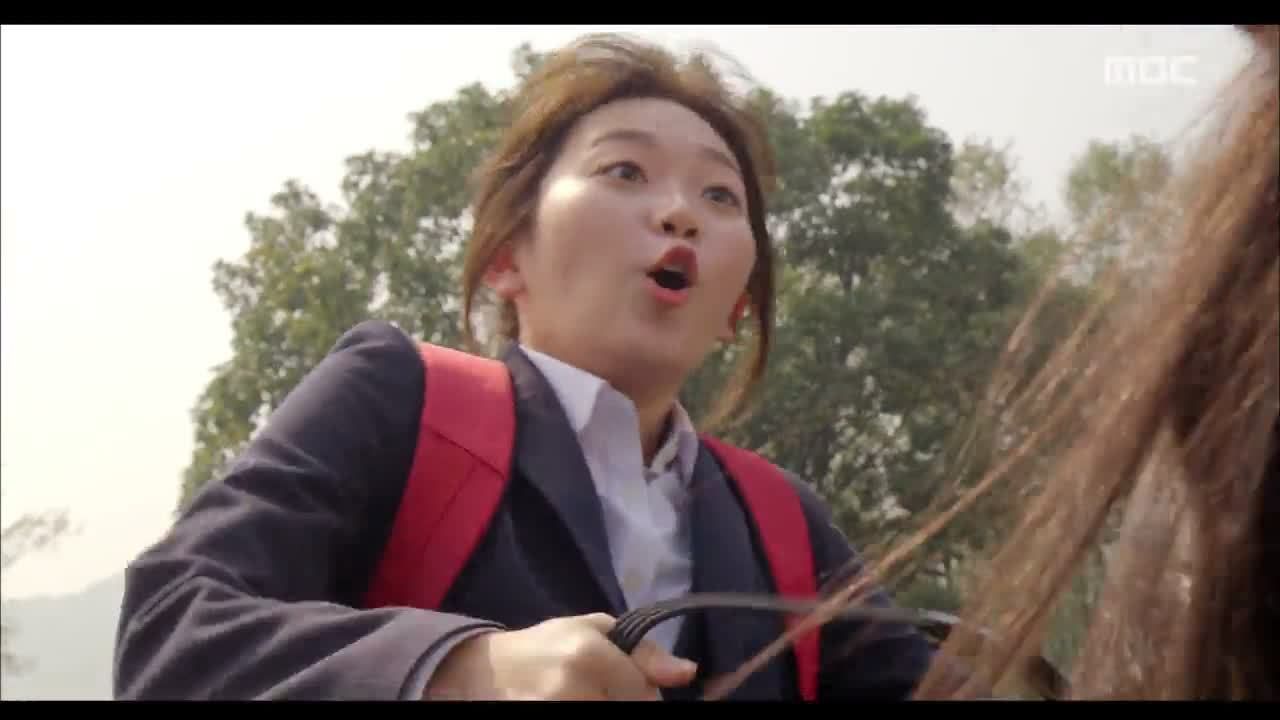 Dan-bi tells the swordsman that he's a good person, and he says that he's still deciding which side to take. At that, he draws his sword again and stabs Dan-bi right in the gut. Wuh? Lee Do learns of his advisor's order to kill Dan-bi and rushes off on his horse to try and stop it. When the queen sees that, she goes running into the woods too.
The swordsman's swing turns out to be a defensive strike against an assassin, but when he sees that there are more, he tells Dan-bi to take his horse. She gives him the only weapon she has—her tiny box-cutter knife—and he sends her ahead without him.
Dan-bi can't ride a horse and just hangs on for dear life, but she suddenly has a flash of brilliance and starts singing "Gangnam Style" and doing Psy's horse dance… and miraculously can ride a horse. LOL. When she comes to a fork in the road, she even thinks to take out her phone and use the compass to direct her.
The queen has shed her headdress and is limping by the time she comes across the swordsman in the woods. She slaps him and asks if he's known all this time (known what, about Dan-bi?), and instead of answering, he sits her down to tend to her bleeding feet and carries her over his shoulder despite her protests.
Dan-bi reaches the western shore by sunset, and soon the king arrives to meet her there. Her eyes well up with tears just to see him, and without a word he gets off his horse and marches over to her, and plants a kiss right on her lips. Eeeeee.
The queen discovers with a sigh that the palace doors have already closed, so she ends up at the swordsman's room, which we see is filled with musical instruments. She recognizes a pair of bird flutes and flashes back to making them together when they were children. She finds him outside tending to his own wounds and helps him, much of their previous bitterness now gone.
Dan-bi and Lee Do sit by a fire on the beach and she finally explains that Mirae isn't a foreign country but the future, and he eyes her skeptically. She shows him a stargazing app on her phone, which he marvels at, but when the battery finally dies on her, he says that the kind that don't disappear are better and points up at the sky.
Dan-bi is amazed at how many stars are visible in Joseon, and he shows her how at first you can only see a few, but the longer you stare, you can see more of them. He says that it's not the stars that become more visible, but a person's heart that grows bigger and sees more.
He reaches over and uses his finger to scrawl letters into her palm: L, O, V, E, the letters that his advisor copied from Dan-bi's sweatshirt and warned him were dangerous. Dan-bi giggles and says, "Me too," though of course he doesn't understand what he just said to her. She says, "I love you?" and he asks, "All of a sudden?"
She shows him the letters in pieces of chocolate and explains their meaning, and he tells her that it's his goal to create a language that anyone, even commoners like her, will be able to read and write.
It only NOW dawns on her that this is Lee Do, future King Sejong the Great. She quickly fishes out the 10,000-won bill from her wallet and holds it up against his face, and says in awe that he will create that language someday. She mutters to herself, "Daebak, should I get an autograph?" and then complains of the portrait, "You're WAY better looking!" Hahaha.
He finally tries the piece of chocolate after inspecting it suspiciously, and then it's his turn to be awed. He eats all four pieces and sniffs the wrapper lovingly as she laughs.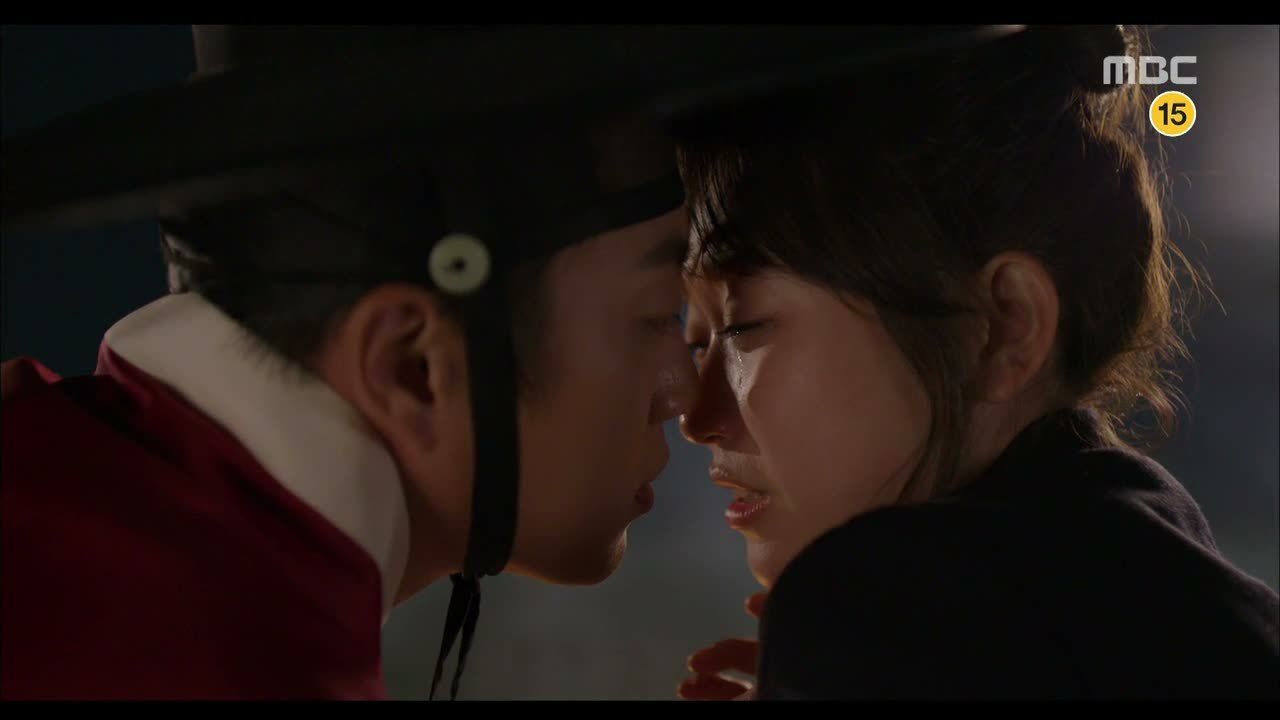 The queen and the swordsman gaze up at the stars too, and she offers to ask her father to give him a position as a musician. He gets fired up at that and starts hacking his gayageum to pieces, and she swears she only meant to help. Whoa.
When her stomach growls, the swordsman fries her a chicken in a vat of oil, and when she gasps at the taste and asks what it is, he uses a name that could've only come from Dan-bi: chineunim, or "chicken god."
Dan-bi gives every last piece of chocolate to Lee Do and he's amused by her never-ending backpack of snacks. She wonders how the chocolate got there in the first place, then remembers her mom put it there the morning of her exam.
She suddenly misses Mom very badly, and Lee Do orders her not to cry. When that doesn't work, he remembers her saying that chocolate is great for when you're feeling down. So he tips her chin toward him and shares his chocolate with a kiss (omg why so cute) and tells her again not to cry.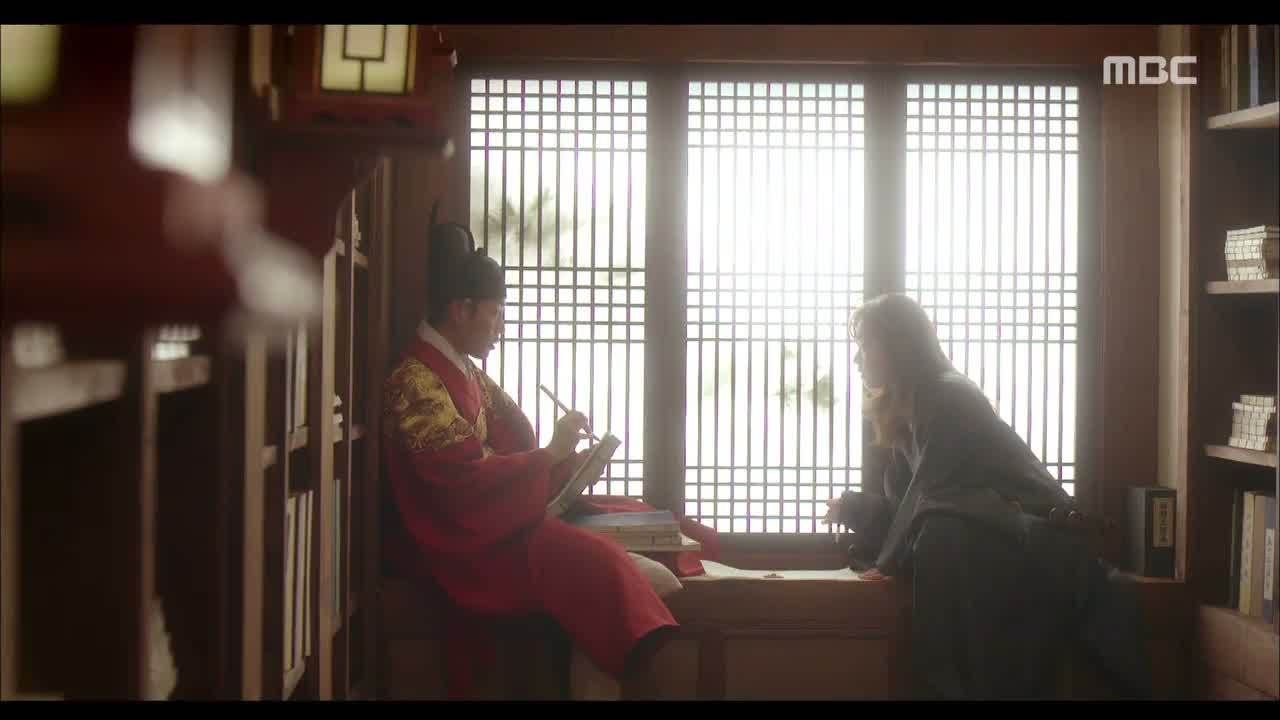 The queen stays up late that night painting panels of the swordsman's wind chime instrument, and he hangs them up in the morning to see that it's a painting of the two of them on that starry night.
Dan-bi tries her water clock equation over and over all night long, and it's only when she goes to wash her face in the morning that she finds moss in the little pond and thinks to clear the water of moss. When she tries that, it works like it's supposed to, and Lee Do is able to clear her of her criminal charges.
Lee Do steals Dan-bi away for more multiplication song and games, though now when he wins he gives her a kiss on the forehead instead of a hit. On a different day she explains the solar system and he's mesmerized when she lets her hair down (okay, he's gotta know by now that he's a she, right?). He focuses on the sounds of her words, and begins jotting down characters that'll later become Hangul.
Dan-bi even makes friends with the queen over a midnight snack and shows her a neat trick for her artistic pursuits in designing hanboks, and the queen decides to accept Dan-bi as the king's woman. Oh, so you did know she was a girl. Her father opposes it, but the queen has already begun preparations: Dan-bi is given a bath and dressed in a pretty woman's hanbok. Uh-oh, this is going to a concubine place.
Dan-bi asks what exactly the government position is that she's being awarded, and the court lady tells her that she's to spend a "flower night" with the king. She asks what that means, and then goes running for her life, muttering that she's no Jang Hee-bin. Keh, because her last name is Jang, haha.
The king hears that she ran off and gives chase, and of course when she uses the king's own secret passageways to hide, he finds her in no time. She screams when he drags her into his chamber, pleading that she pretended to be a man to survive, and that he's the one who said they should be friends, and she's only just nineteen.
He says that nineteen is about the age to have three children and looms closer, and Dan-bi panics and takes out her box-cutter and screams for her mom. Lee Do laughs, clearly only teasing her for kicks. He pulls her into a gentle hug and asks if she really assumed he wouldn't know she was a woman. Aw man, did you know? I was rooting for you to love her without knowing.
In flashback, we see that he heard the little boy calling her noona the night he walked her home, and then again when he ran to look for her in the rain. He says he played along because he wanted to spend every possible moment with her, which would've been much harder if everyone knew the truth.
He says it'll be quite difficult to talk the queen dowager out of making her his concubine though, and Dan-bi re-opens her box-cutter warily. He assures her that she'll be safe here and he won't lay a hand on her, and then stops to add, "Did I tell you? Did I not? You… look kinda pretty today."
They end up spending the night divided by a see-through screen, and when he thinks Dan-bi is dozing off, he accuses her of being a man and jokes that he's going to check just to be sure. He sighs that his mother won't let him just do things in his own time, and Dan-bi says her mother is the same.
He says with purpose, "The next time it rains… don't go." Omo. He says that he once wanted her to stay because she was useful to him, but that's not the case anymore. She thinks she's no longer useful, but he clarifies that it's enough for her to just be by his side: "Not because I need you. You're enough."
She's taken aback by the request, and when she doesn't answer, he runs over to her side and hops into bed with her anyway, and sleeps with his head on her arm.
In the morning, Dan-bi and the swordsman work on another batch of inventions, and she notes with some jealousy that if the king and the swordsman are Sejong the Great and Jang Young-shil (a trusted inventor whom Sejong selected based on merit over social class), that makes them both great men.
The swordsman tells her that going from a commoner to a royal consort is as good a life as she could expect, but she doesn't want to be Jang Hee-bin—that's not a life she ever imagined for herself, not to mention that she's afraid of altering history in some way. She even worries that Lee Do will be so distracted by her that he won't invent Hangul, ha. The swordsman asks if she really wants to go back home, and she wonders why she's always without answers in her life.
Lee Do, meanwhile, takes out a hairpin he plans to give to Dan-bi, and practices proposing to her to stay in Joseon with him. Dan-bi is contemplating that very question herself when she's called to meet the queen dowager, and she's shocked to discover that in his world, her mother's doppelganger is the queen dowager. She breaks down in heaving sobs from missing Mom so much.
When Dan-bi goes to meet the king that night, she's back in her school uniform. He shows her the new celestial globe he had made based on the things she taught him about the universe, and is concerned when he notices that she's been crying. He takes her by the hand to show her the real surprise, and walks her down a corridor lined with the letters that will form a new language that she and any Joseon citizen will be able to read and write.
She's amazed when he shows her the inner room that's lined floor-to-ceiling in words and sounds he's been testing out, and he sits her down to make his big proposal. He sticks the hairpin in her hair and says, "As long as the sun rises and sets, stay by my side."
He says it's really a royal order this time, and then gives her another gift. It's a scroll with the very first thing he's written in his new language: The name he's personally bestowed upon her.
Dan-bi takes it all in and then admits sorrowfully, "I want to go home when it rains." She thinks it'll rain soon, and even though she still has no answers about her future, there are things she needs to do and people waiting for her back home, and she misses her mom. He asks why she can't visit her mother or bring her here to live, and asks in frustration, "Then what was I, to you?"
Dan-bi: "A dream." Lee Do's eyes fill with tears as he asks in disbelief, "A dream that's gone when you wake up?" She takes the hairpin out and holds it out to him, and tears trickle down his face as he repeats that it's a royal order. Then he says it's a plea from the king, but all she can do is cry that she's sorry. He tells her bitterly that if Mirae is a nicer place to live, she can do as she pleases.
He storms out, and as she watches him walk away, she thinks to herself, "The first person I ever liked. A person like a dream." She goes to open up the scroll he gave her, when suddenly someone attacks her from behind and stabs her in the back. Eek!
The queen is horrified to hear of her father's plans to get rid of Dan-bi, and says that she'd finally found a dream—not to feel so alone in this palace. She runs to go tell the king, as the assassins light the room on fire with Dan-bi still inside. With her last remaining strength, Dan-bi reaches for the hairpin and clutches it in her hand.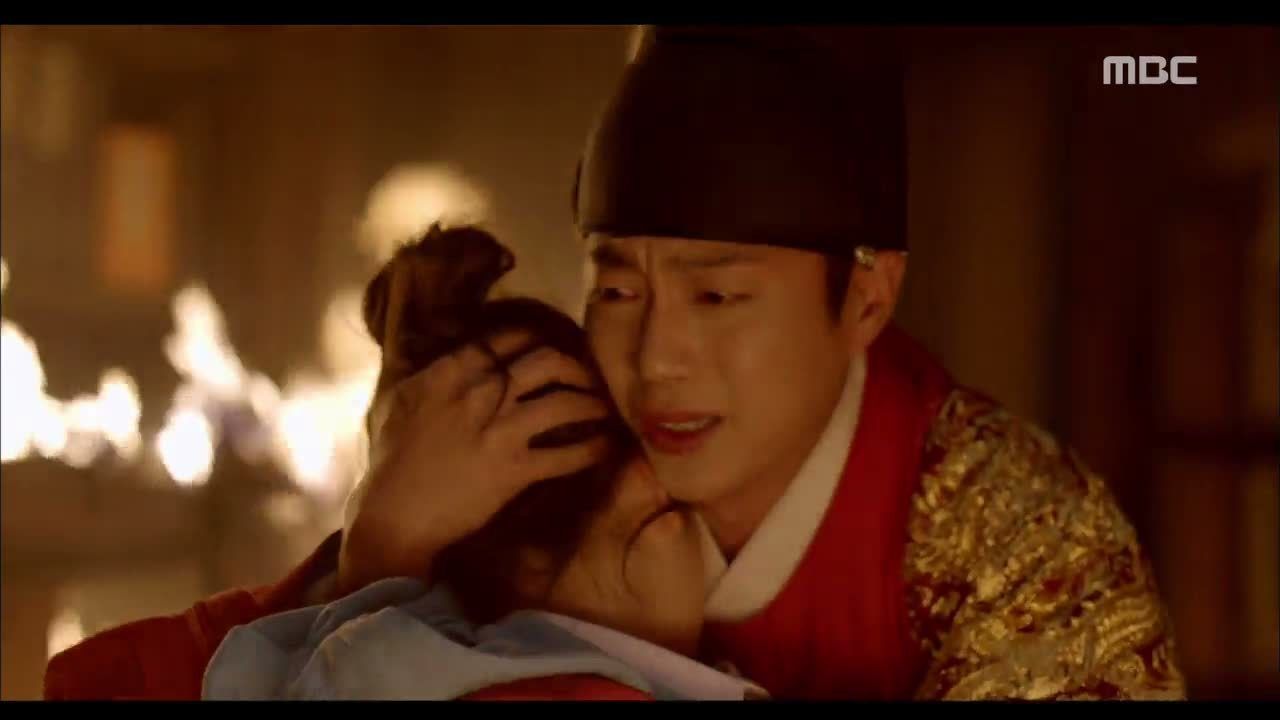 Lee Do runs back but the palace is so engulfed in flames that he's kept from running inside, so he makes his way through the secret passageway. He finds Dan-bi lying on the ground and says he's so sorry for keeping her here when it's so dangerous by his side, and he carries her out.
In the aftermath of the fire, Lee Do addresses his court and names his trusted advisor as the culprit. Dan-bi is alive and well, thanks to her ginormous math textbook that was in her backpack and shielded her from the stabbing—lol, math really saved her life and then some. She can say without a doubt that the advisor was there last night because of her special knack for recognizing voices.
The advisor admits that he's opposed to the invention of a language for commoners because they'll start to have thoughts of their own and make his job obsolete. Lee Do says that nothing will stop him from giving the people a language, "And I'm going to become a king who knows how to fear his people." The king asks what's so bad about being a little useless—a person remains a person, and there's no need to run away because you fear the future. He speaks the words to his advisor, but it's Dan-bi who's moved to tears.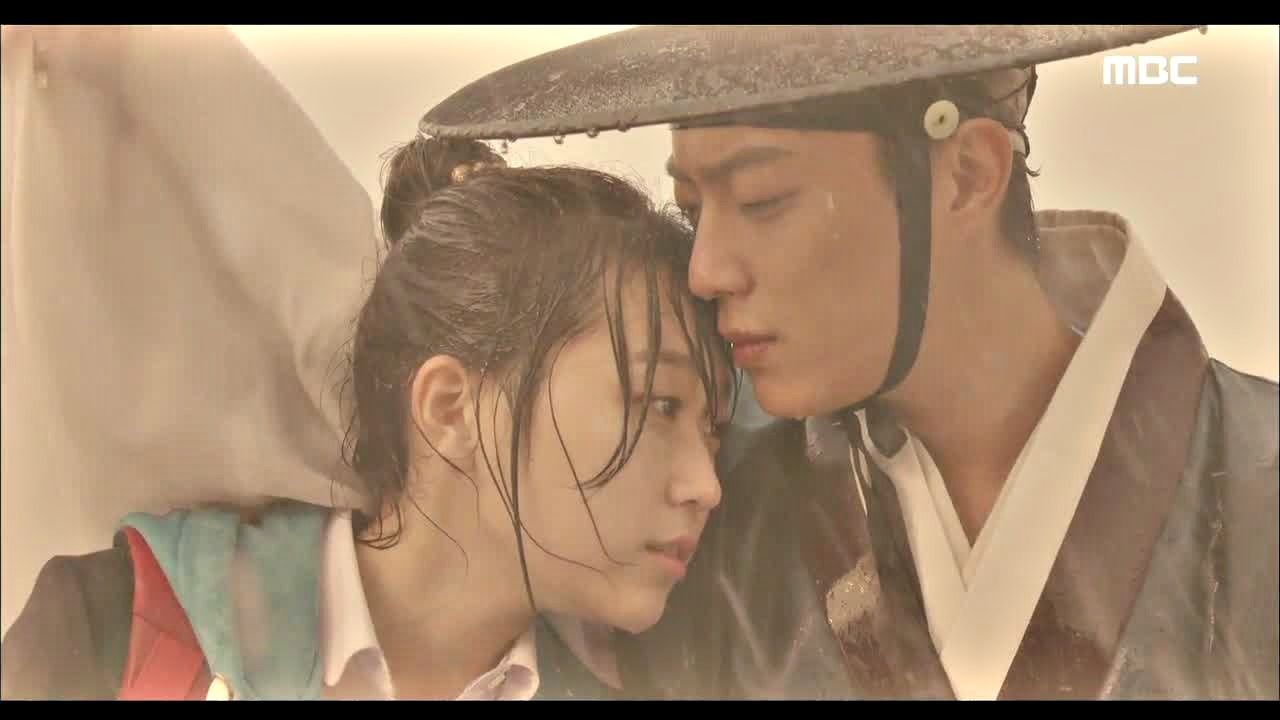 Dan-bi returns her eunuch's robes in preparation to leave, and then gives Lee Do a few pages out of one of her history books. It's a copy of the letters and words he'd invented, and he's shocked because they'd all been burned in the fire. She tells him that he'll realize his dream and give the people a language, and because of him all people in Joseon will come to read and write. She adds, "We'll all be grateful and proud, so don't be too sad."
He finally believes that she really came from the future, though he counters that he won't achieve all of his dreams: "My dream is you, but I can't stand to see you being sad in Joseon. The more I think on it, I think the answer is: There is no answer."
They see clouds rolling in, and he asks how she knew there'd be rain. She says she just had a feeling, though we see that it's because of Teacher Eunuch's telltale leg cramp every time it rains. Dan-bi says goodbye to the swordsman, who finally tells her that his name is Park Yeon. She's surprised that it's not Jang Young-shil like she'd assumed, and recognizes his name as a musical genius of his generation. She tells him not to give up on music and live doing what he loves, and leaves him all of her gold.
Lee Do takes Dan-bi for one last horseback ride to the ocean, where they run freely along the shore in the pouring rain, holding hands and laughing. They sit for a while just in each other's arms as he shields her from the rain, and then he picks her up so that her feet dangle above the ocean, opening up to a portal below her feet.
They look into each other's eyes full of so much love, knowing that this is the last time they'll see each other. He kisses her one last time.
She's crying, but she breaks out her best smile and gives him a little nod to say that it's time, and he smiles back at her before finally letting go. She drops right through the ocean at their feet and just like that, she's gone and he's standing on the beach alone. *waaaah*
We hear what he'd said to her in voiceover: "Someday I'll find you, no matter how much time passes."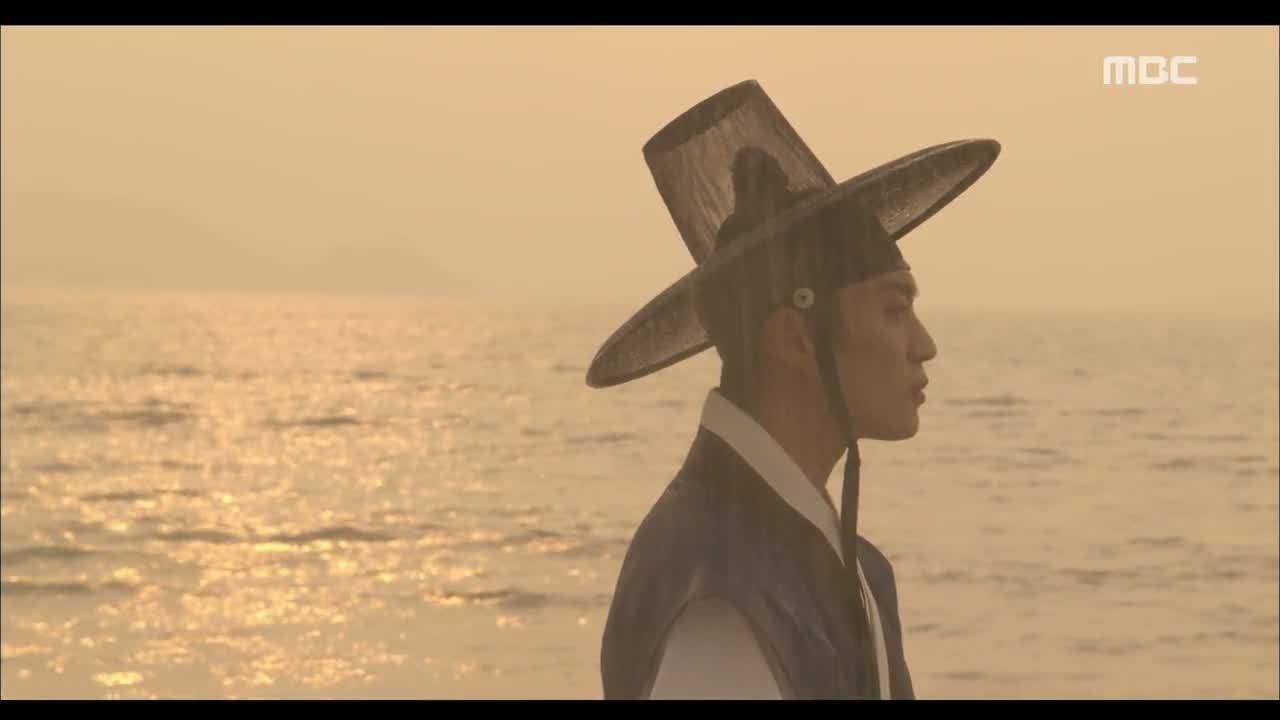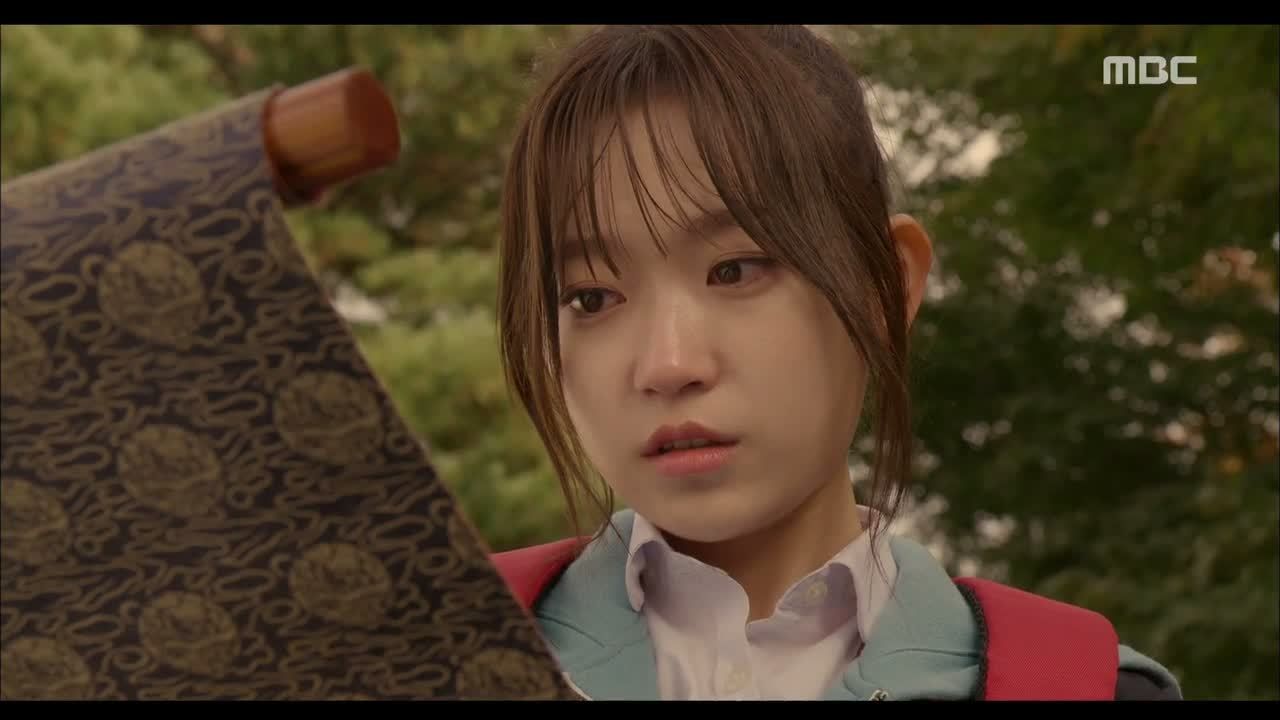 Dan-bi comes out on the other side right back when and where she'd left, and runs to make it to her exam just in time. In the history section, a question asks her to name the brilliant scientist and inventor that Sejong the Great credited as the person who taught him countless things and made all his advancements possible.
We see now in flashback that the ministers had said that Dan-bi would need a name if she were to be given an official position, and he'd named her Jang Young-shil. That's the name she marks on her test paper, and then after the exam she finally takes out the scroll Lee Do had given her, with her new name on it. She opens it up and cries to see that he'd named her Jang Young-shil.
She goes home and gives Mom a big hug, and then we see that in their family photo, Dad is the doppelganger of the minister who'd stood up for her in court.
Dan-bi ends up failing the college entrance exam and working part-time at a convenience store (wearing her hairpin), and she's enrolling in a tutoring academy to study for next year's exam. Her friend So-heon drew a webtoon about her story with Sejong, and tells her that according to history, Sejong had lots of women and like twenty children. Dan-bi scowls, but is happy to hear that he lived well. She notices that even the swordsman/musician has a doppelganger in this world, and he's a singer on TV.
Dan-bi gets off the bus on a rainy day, and she thinks of Lee Do wistfully as she carefully dips a toe into a puddle and finds that it's not a portal. She's standing at a crosswalk in the rain, when suddenly someone holds an umbrella over her head. She looks up, and there's a man who's the spitting image of Lee Do standing there and smiling at her. He says that they've run into each other before, "A long time ago…"
That shocks her, but in flashback we see that he means the day of her college entrance exam. He'd been on the bus that day and noticed her, and he was the one who picked up her books and handed them to her. She ran off without her umbrella, which he took… and is holding over her right now. He swings her around to shield her when a car splashes water on them, and they smile at each other as if they've done so a million times.
In an epilogue, we see that Lee Do was happy, and that he'd saved Dan-bi's pen to remember her by. He looks at the pen as she looks at her hairpin, each thinking of the other across the divide.

COMMENTS
Ugh, I just love it. I happy, stupid love it. Even though I wanted this drama to be a full-length series when I first read about the premise, ultimately I think I would've been upset if a 16-episode drama had ended this way. But there's something gained in the 2-episode format that makes me totally fine with a bittersweet ending. And that's namely because this was never a story about The One Love For All Eternity, as most full-length dramas like to be; this was a story about a first love, one that opens your eyes to the world and teaches you about yourself, and I actually like the idea that they grow up and move on, and remember their love fondly.
Of course, it's not like I didn't have an achy heart at their separation anyway, but that angst was part of what I enjoyed about the story, and I wouldn't have wanted the ending to be any other way for them. It's funny that I've been raging mad plenty of times at 16-episode dramas for throwing me a doppelganger bone in the final minutes, but I'm okay with it here, partly because of the first-love premise, and partly because the doppelgangers are built in from the start—everyone has a counterpart in the two worlds, so we learn to anticipate it by the end, that somewhere in Dan-bi's present life is a man who will be a lot like Lee Do.
It's also because the heroine's major character arc isn't about love, but self-discovery. What I loved about Dan-bi as a character is that she's actually quite strong and resourceful, and is just lost because she feels like she's supposed to have it all together and doesn't see a clear path for her future. But she's smart and grounded, and not about to live the rest of her life as Jang Hee-bin just because of a boy. It's pretty great that she remains a thoroughly contemporary heroine throughout her adventures in Joseon, and I thought the final twist was especially satisfying—for her to be one of those great men she'd only read about in history books, that she envied for having done such important, useful things. At the end of the day, she and Lee Do are just youths searching for their place in the world, oppressed by parental and societal expectations, afraid to fail and especially terrified that they're the only ones who feel this way. I like the drama's simple and earnest point that growing pains are universal, no matter what social station or century you were born in.
The spot-on comedic performances from Kim Seul-gi and Yoon Doo-joon are really what drew me in and carried me away, but I was actually surprised at how clever the dialogue was, how layered the jokes got, and how everything was plotted so carefully for some throwaway callback joke. There were actually too many to describe them all in the recap, but there are sight gags, recurring character motifs, clever little puns—all things that showed meticulous loving care in the writing and directing. The premise is totally nuts, of course, but the actors completely sold me on the idea that even the greatest of kings was once a young man with a first love, and hey, no one's to say she wasn't a time-traveling eunuch from the future.
I do wish that Dan-bi's rain-teleporting abilities were set up before the big jump to Joseon, because it would've been nice to have that teased and built in, rather than assumed after the fact. I didn't know it'd be a cross-dressing drama, but I welcomed it when I realized that everyone in Joseon thought Dan-bi was a boy, and absolutely loved it when Lee Do then struggled with his feelings for his new eunuch. It's too bad that he found out the truth so soon afterwards, though I guess two episodes isn't really the right length to be extending that misunderstanding. Still, it would've been nice to leave him in the dark for just a little longer, even though in the moment I still swooned because we were under the impression that Lee Do kissed her all those times without caring that she was a boy. It would've been really amazing if they had gone full Coffee Prince on us, but I suppose there are limits to what you can do with a fictional King Sejong, even if he's a supernatural fantasy King Sejong.
I rarely get this invested in drama specials purely because of length; it's not often that something so short will manage to grab my attention, let alone my heart. But I was so pleased with how the comedy, the time-travel, and the love story were all woven together, and found myself wishing that all supernatural dramas could be this punchy and well crafted. I know, being only two hours long is what keeps it from going in plot circles and sagging somewhere around Episode 12. But hey, if making shorter dramas is the way we get more Splish Splash Loves in dramaland, I can get onboard with that.

RELATED POSTS
Tags: featured, first episodes, Kim Seul-gi, Splish Splash Love, Yoon Doo-joon