Imaginary Cat: Episode 8 (Final)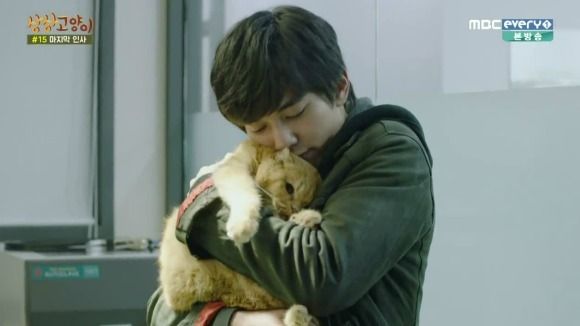 All good things must come to an end, and I can tell you that my Tuesdays will be just a little less sweet without Imaginary Cat to keep me company. And I thought I was emotionally prepared for the end, until I saw it. Jong-hyun and Bok-gil are faced with one last hurdle that tugs at the heart, and they'll learn just how precious they are to one another. Some conflicts are wrapped into a neat bow, while other dangling threads are swept under a rug, but none of that changes how delightful it was to spend eight weeks with this cute little series about the love between human and cat.
SONG OF THE DAY
Sung Shi-kyung – "두사람 (Two People)" [ Download ]
Audio clip: Adobe Flash Player (version 9 or above) is required to play this audio clip. Download the latest version here. You also need to have JavaScript enabled in your browser.
CHAPTER 15: "Last Farewell"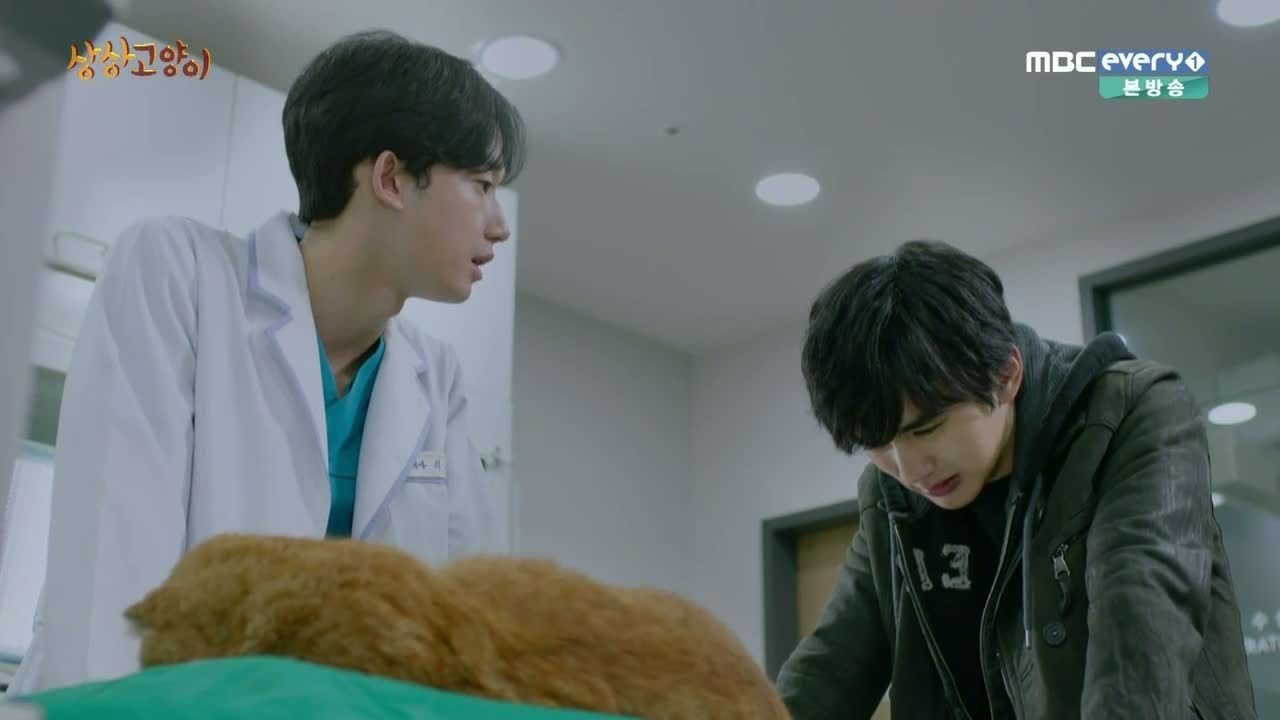 Jong-hyun rushes to the animal hospital with Bok-gil barely conscious in his arms. He learns that Bok-gil is suffering from a nerve disorder, one that isn't easily detected with a regular checkup or an x-ray. Bok-gil doesn't have much time left either—a day or two, at most.
Despite learning about the symptoms that are soon to follow (including paralysis in the limbs), Jong-hyun fixates on the idea of treatment, finding it impossible that his perfectly healthy cat could fall ill so quickly. "You're a vet," he cries. "Then shouldn't you do something for her?"
He jumps at the chance for surgery, but Wan tells him that would require amputating Bok-gil's leg. Because they don't know how serious the blood clot is yet and her age, Bok-gil has a higher chance of dying on the table.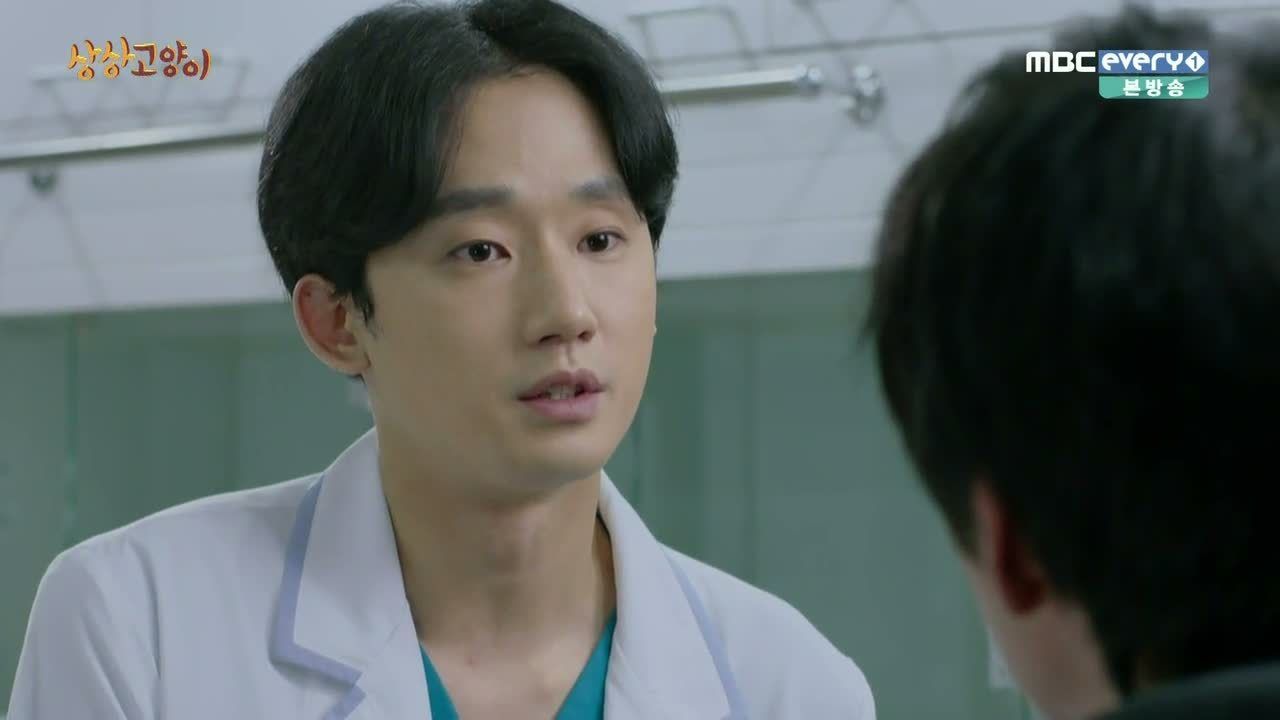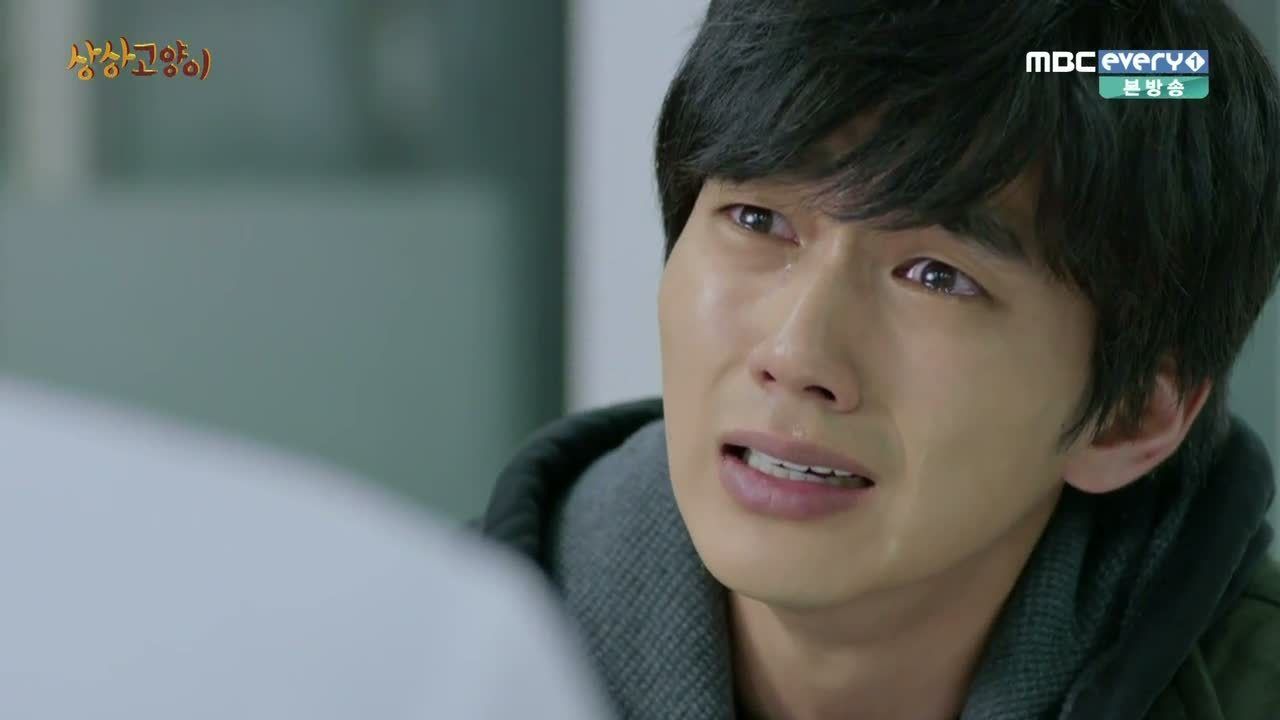 "Would you feel okay sending her away like that?" Wan asks. Jong-hyun roars back at him that he has no intention of losing Bok-gil. He's understandably overcome with emotion, and pleads with Wan tearfully, "Please do the surgery."
If this whole situation wasn't heart-wrenching enough as it is, we see Jong-hyun in the operating room with Bok-gil. He does his best to encourage Bok-gil to make it through, as the latter thinks of how scared she is.
He promises that they'll see each other again soon, and leans in once more for a moment of telepathic connection. Bok-gil: "I want to go home." Jong-hyun: "Bok-gil-sshi, let's go home."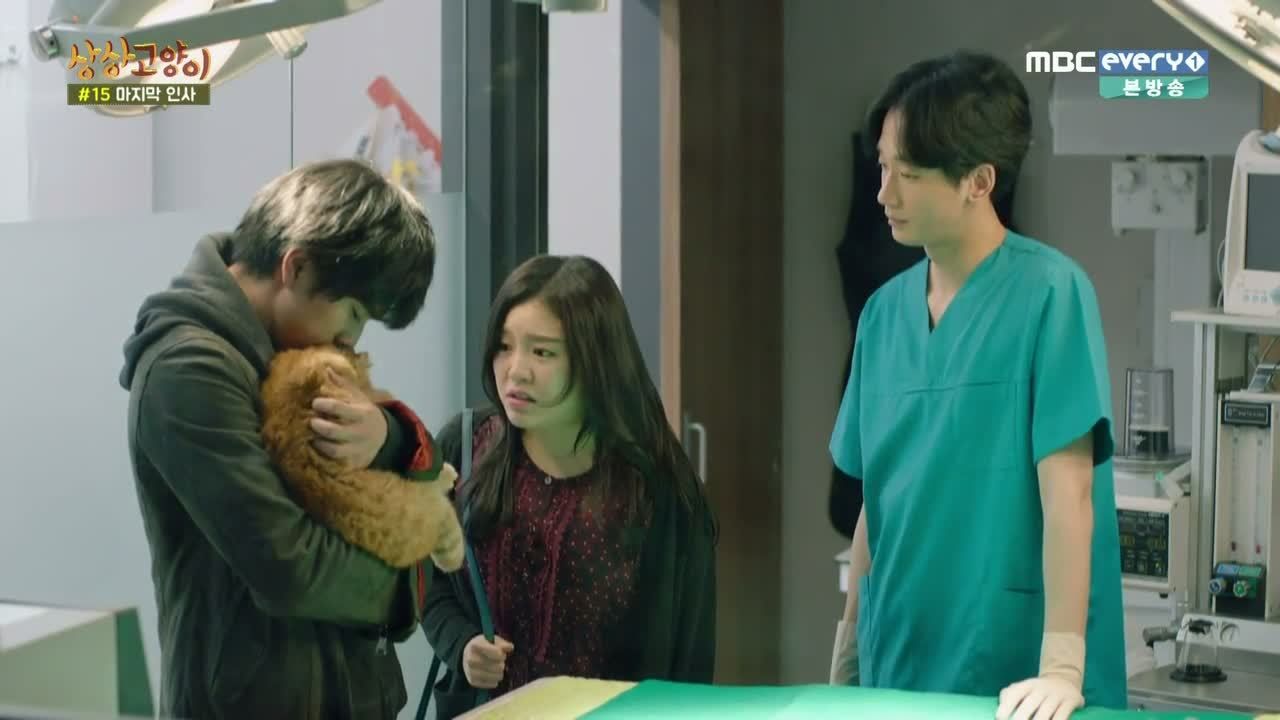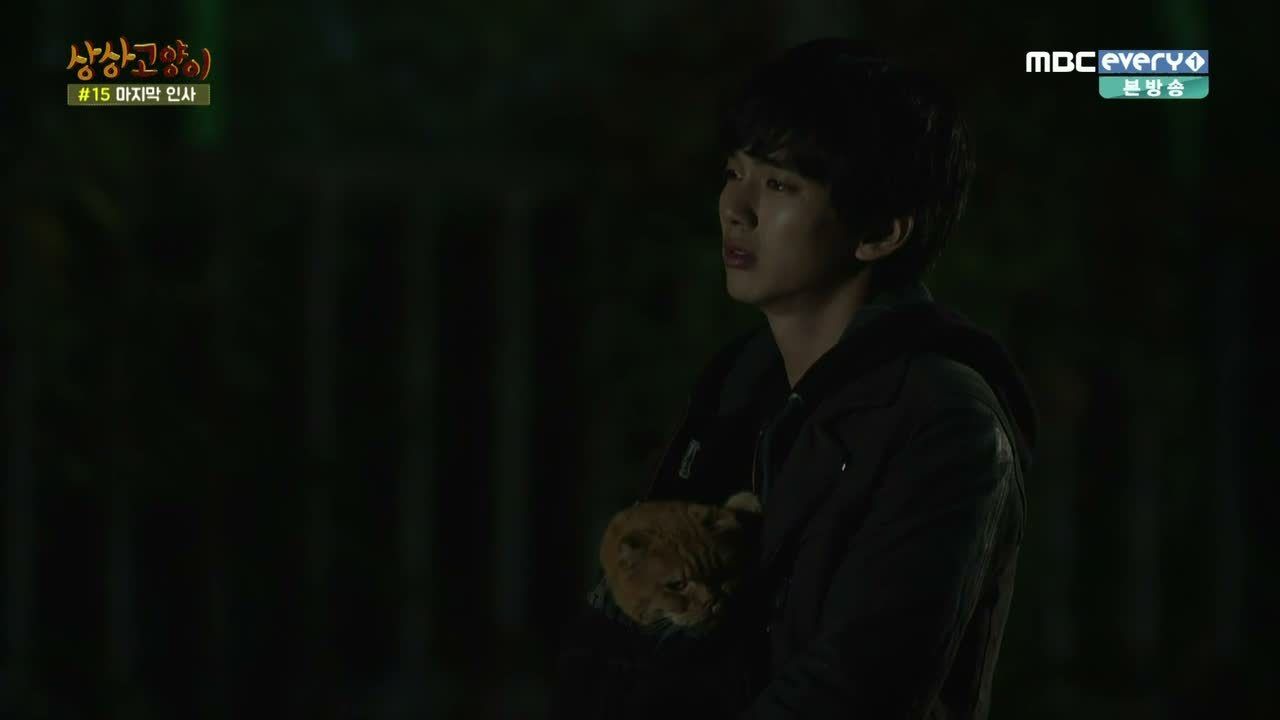 Jong-hyun gathers Bok-gil up in his arms, which is when Na-woo bursts through the door, worried. And whereas Wan told Jong-hyun to prepare for the worst, he reassures her that Bok-gil will be fine.
It doesn't take her long to realize that Bok-gil isn't fine, and she refuses to accept the possibility of losing her long-lost Haru again. She begs Jong-hyun not go ahead with the surgery, sobbing when Jong-hyun wordlessly takes Bok-gil away with him.
As they walk in the dark, Jong-hyun tries to distract himself by thinking of what to do when they get home. Play games? Read a book? Give her a massage? He cries at the thought of such mundane activities, and Bok-gil thinks, "Yes… do all of that." He promises to be by her side until she's all better.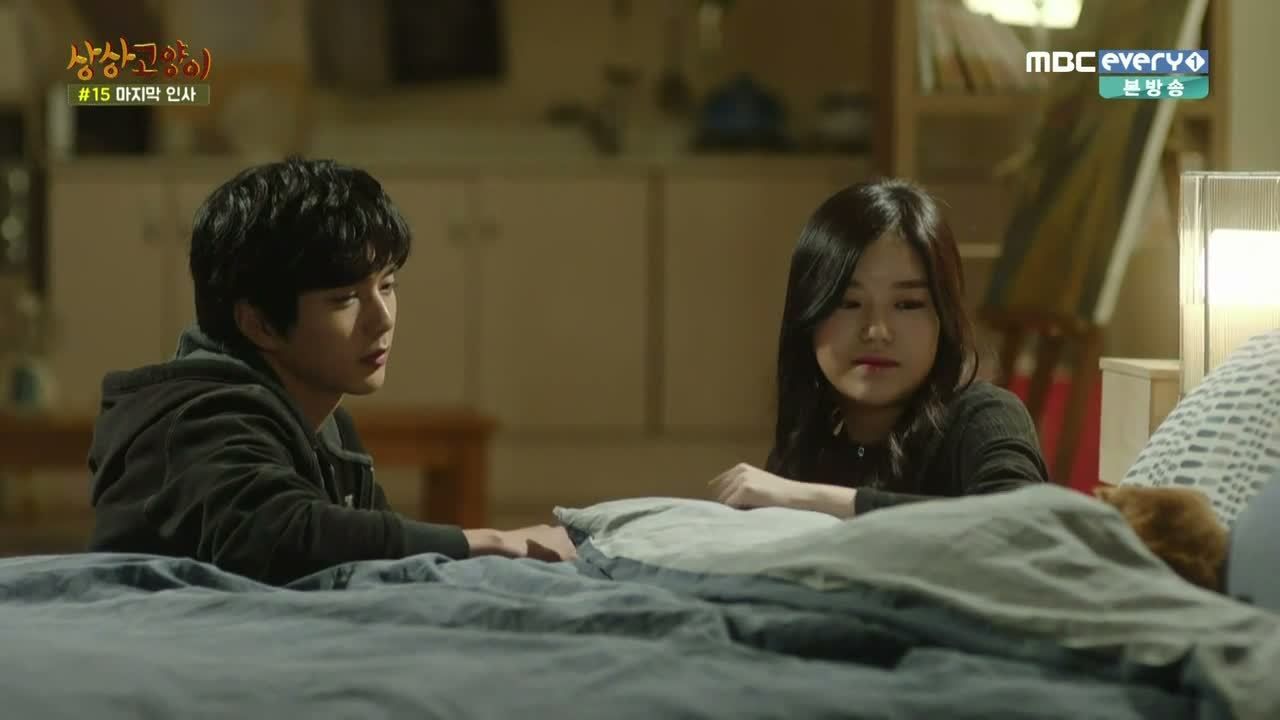 After climbing into bed together, Bok-gil admits that she's feeling much better now that they're home. She tries to reassure her owner that she's fine, and promises to groom him later because she's too tired to do so tonight.
Jong-hyun lets Na-woo in to see Bok-gil after receiving her next moments later. Watching her sleep, Na-woo remarks on how lucky Bok-gil is to have so many people who love her. Hearing Na-woo say it'd be nice for her to stay with them a little longer gets Jong-hyun choked up, and he blames himself for not picking up on her symptoms sooner.
He apologizes to Na-woo too, who tells him that this isn't his fault. Instead of beating himself up, Bok-gil would want him to stay with her with a smile, she says. Holding back her own tears, Na-woo whispers, "Haru, I love you."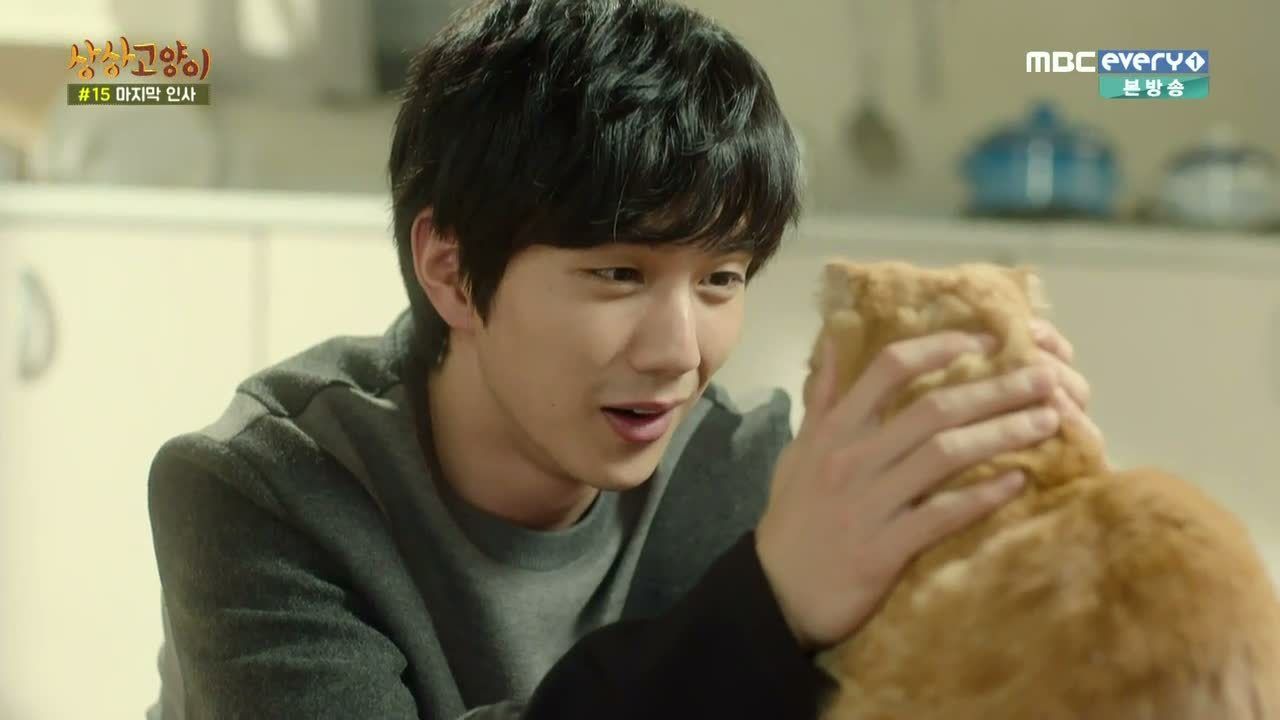 Her eyes brimming with tears, Na-woo gets up to leave and declines to stay any longer. "There's something I realized after being sick at a young age," she tells him. "That each and every day was precious. I don't want to steal away even a moment the two of you could have together right now."
Some time later (maybe the next morning or a few days later; the time jumps are never quite clear in this show), Jong-hyun's look of concern relaxes upon hearing Bok-gil's cries. He does everything for her in the time that they have: give her a massage, cook her chicken stew, and feed her her medication.
Bok-gil obliges to everything without complaint, saying that she's eating because her human made it for her, asking for praise when she takes her meds. Although a part of him is happy to see her happy, he also worries that she's a bit too compliant.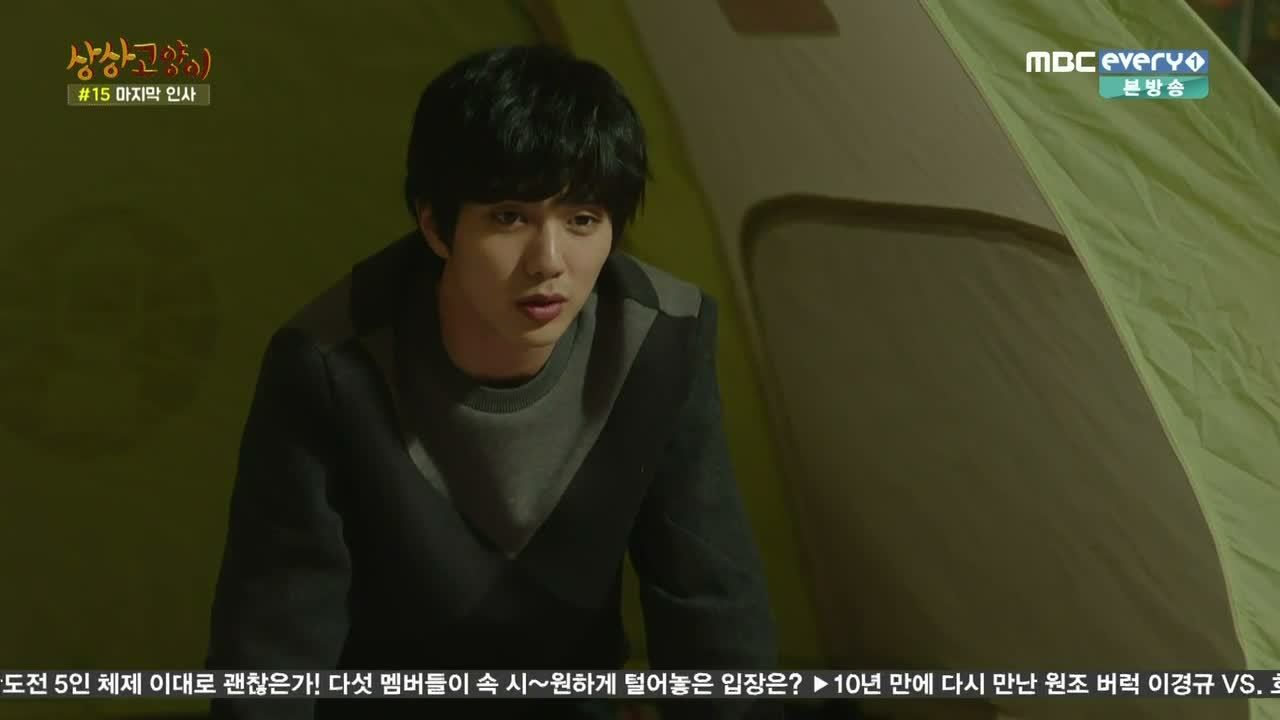 Per Jong-hyun's request, Hae-gong drops off camping equipment that evening. Even though he's relieved to hear that Bok-gil is holding up fine, he's more concerned about his friend. Telling him that Jong-hyun can call on him whenever he has need, Hae-gong leaves.
Turns out Jong-hyun wanted to bring that camping-themed cat cafe to Bok-gil as to entertain her. Aww, that's sweet. When Bok-gil isn't able to come to him, Jong-hyun wonders if she's not moving on purpose so that he has to carry her. Uh oh, is it the paralysis?
He picks her up and softly asks if she wants to go inside the tent. Bok-gil agrees, and they curl up in the tent together. He turns on a lamp that shines stars into the tent's ceiling, and Bok-gil's eyes light up in amazement.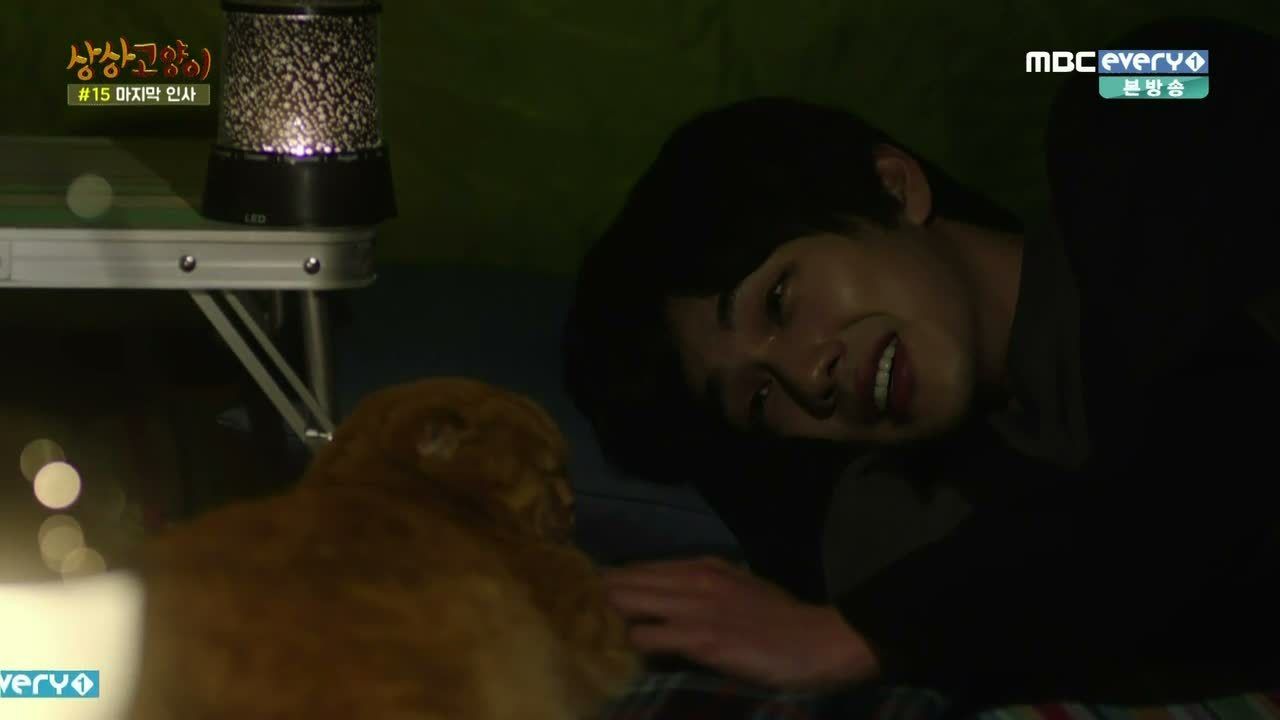 She's impressed, and even more so when her human wonders if a "cat star" exists. She explains that an old cat once told her that when a cat's time comes, it travels over the rainbow in the sky and to the cat star.
"Should we wish upon that star?" Jong-hyun asks. Bok-gil wishes that her human wouldn't feel lonely even after she's gone. She tsks at her human for saying that his is a secret.
Noticing that she's getting drowsy, Jong-hyun reassures her that he'll stay by her side. "Human, thank you for everything," Bok-gil thinks happily. "I was happy."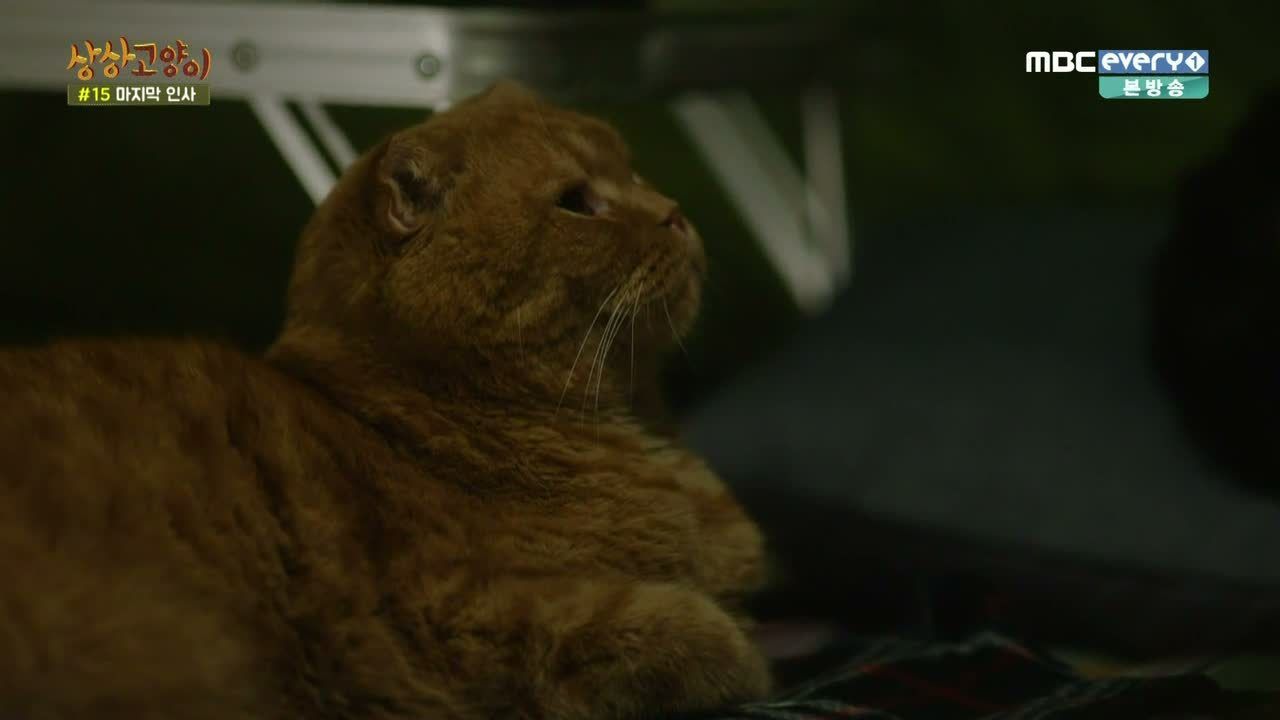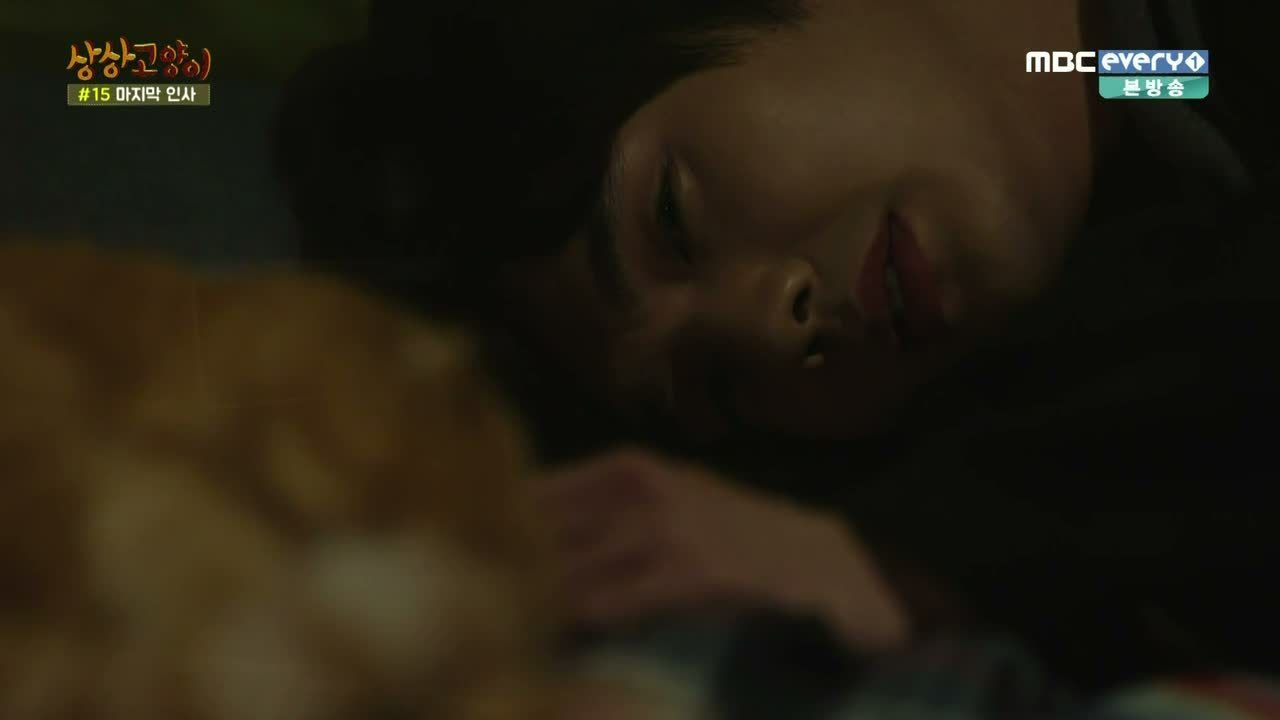 CHAPTER 16: "Stay By My Side"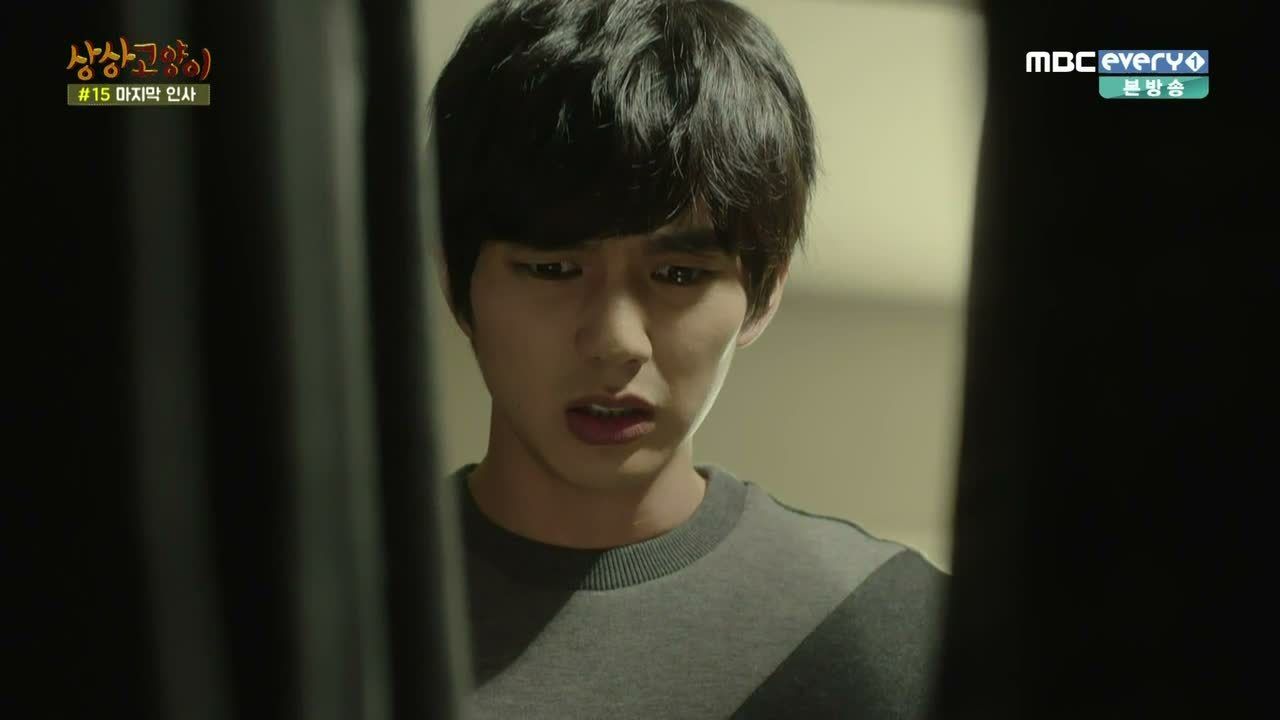 Bok-gil is gone by morning, much to Jong-hyun's shock. He calls her name, searching for her in every nook and cranny of the apartment. His face falls when opens his wardrobe. Oh no.
His agonized face says it all, but still Jong-hyun narrates for us how he heard that cats look for a place to die alone. Biting his lip, he tells us, "That morning, I found Bok-gil deeply hidden in my closet."
3 Months Later. Jong-hyun tenders his resignation at the bookstore, and is surprised to find that his boss isn't jumping with joy. Still, his boss wishes him luck in his future endeavors, in hopes to place Jong-hyun's work on the bestsellers shelf.
At the mention of Na-woo's cousin, Jong-hyun thinks his boss will be fine without him playing Cupid. He knows that because that cousin is standing ten feet away from them as they speak. I love the whispered argument about who should go talk to her before his boss finally musters up the courage to do it. Heh.
Hae-gong and Na-woo look through photos of Bok-gil with fondness at the cafe. She refuses to cry over Bok-gil's passing, especially when Jong-hyun seems to be hanging in there. They try to hide the photos when Jong-hyun walks in, but he smiles and asks how the gallery preparations are going.
He gives her the green light to use one of Bok-gil's photos for a poster, and Na-woo watches him work, sighing when he does. "Of course he can't be okay."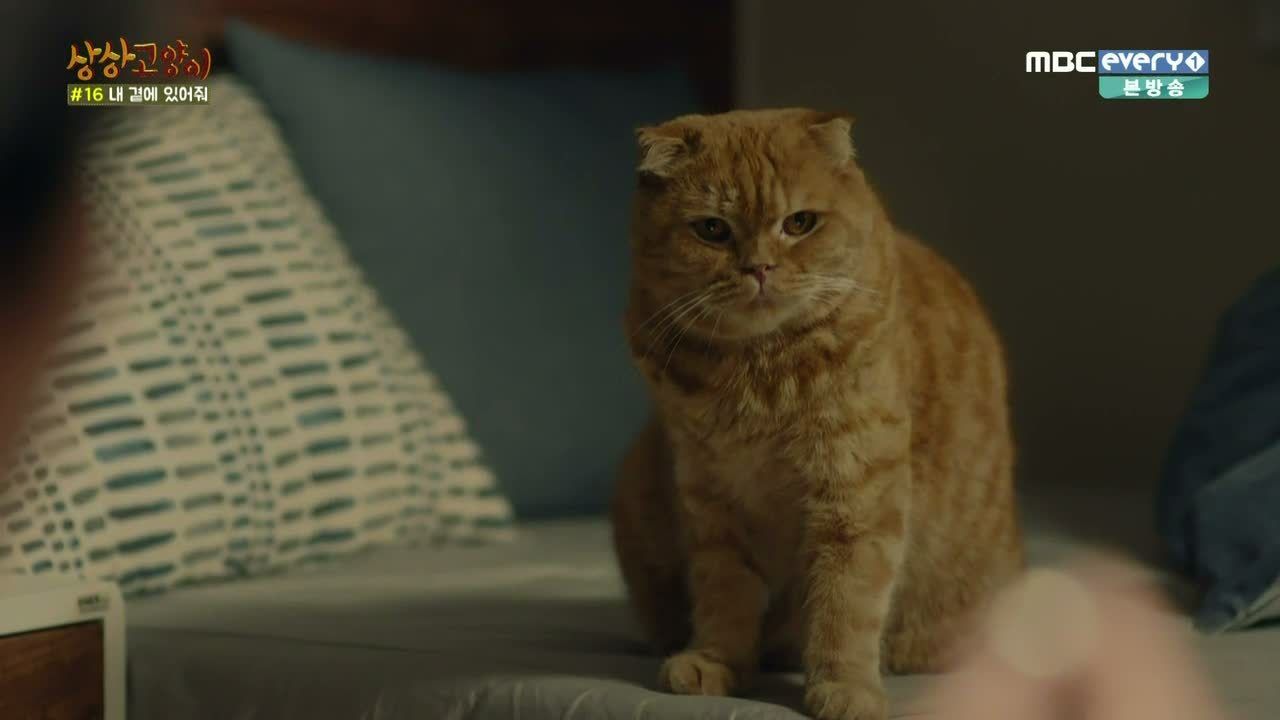 Jong-hyun returns to a dark apartment that evening and settles into his chair to work. Accidentally knocking over his pencils, he discovers the handmade brightly-colored collar that fell to the floor in the previous episode. He gives the bell a little ring, and then hears meowing. No, it couldn't be.
He smiles to see Bok-gil sitting on the bed, but that apparition disappears moments later. Now that's just cruel. Sure, Imaginary Cat, go ahead and drive that final nail into my emotional coffin by showing me all the heartwarming memories Jong-hyun and Bok-gil shared together.
Tears stream down Jong-hyun's cheeks before willing them to stop a minute later. He looks back at the bed in silence.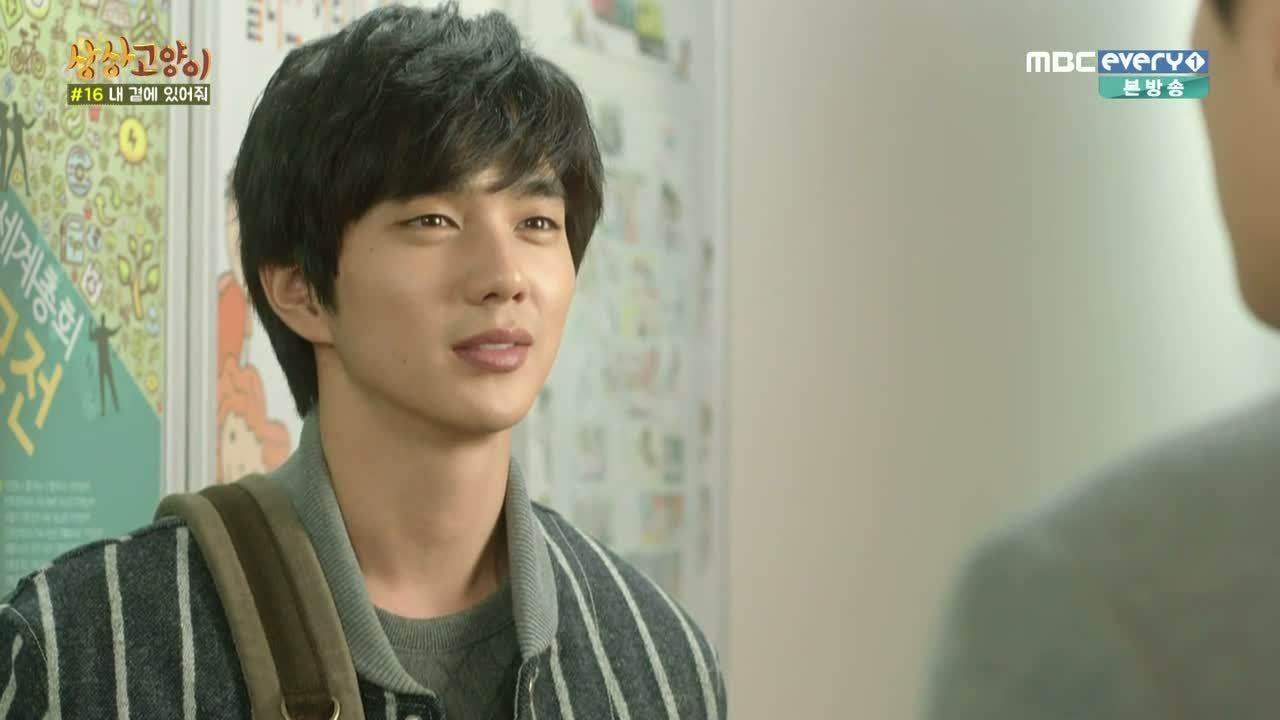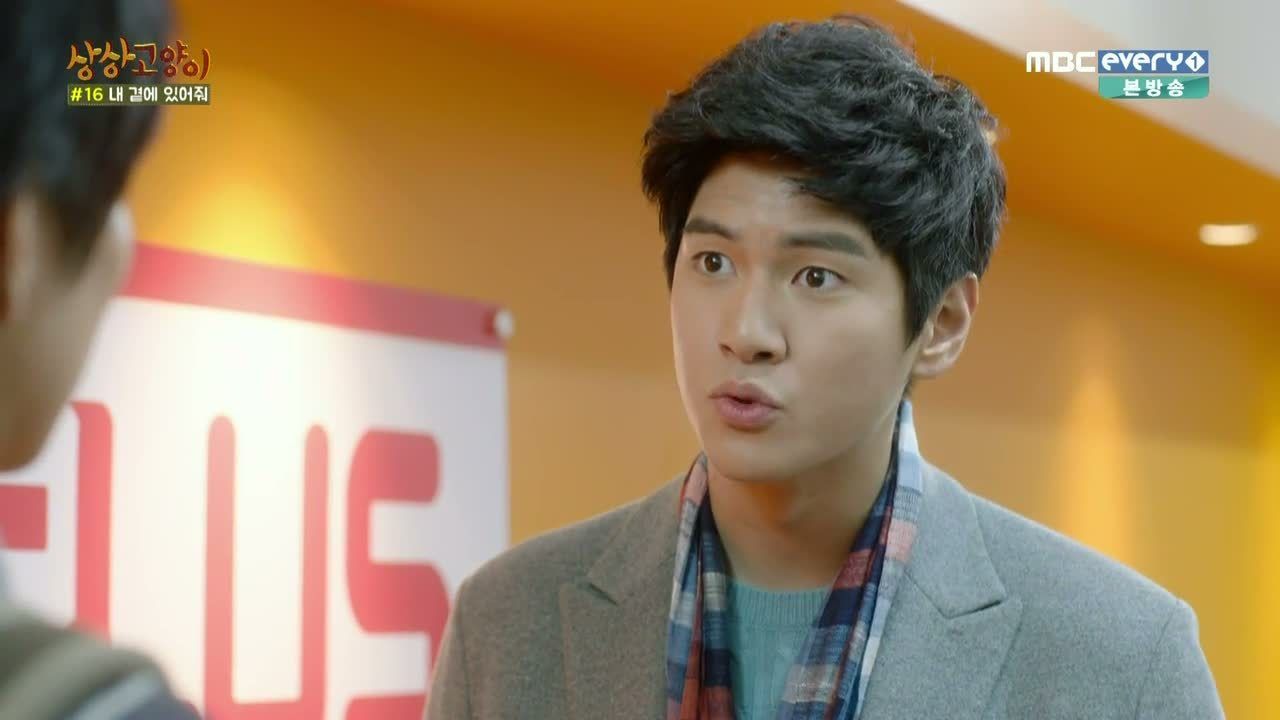 At the agency, Dokko PD is pleased that Jong-hyun's webtoon (which looks a lot like the actual webtoon "Imaginary Cat") is a hit. She confesses that some friendly competition has its benefits—even Jin-sung's next project looks promising. This is all to say that Jong-hyun needs to keep up the good work.
Jong-hyun congratulates her on her upcoming promotion, then hilariously takes his leave when she takes a call from Hae-gong.
Jin-sung looks annoyed when Jong-hyun stops him in the hallway. He fully expects another lecture from Jong-hyun, and is flabbergasted when Jong-hyun compliments him on his work instead.
Hae-gong is now a gas station attendant—he may have joined his father's business, but he acknowledges that his father's the wealthy one, not him. He mostly wants to be a man his successful girlfriend deserves, which spurs the question of how Hae-gong and Dokko PD got together.
Jong-hyun gets a vague-ish answer that it was all thanks to him and Bok-gil, and when Hae-gong tells him that he's not free tonight, Jong-hyun says it's fine because he has someone else to hang out with. Omo, Na-woo?
As Jong-hyun sits alone by the river, he thinks: "If you parted ways with someone, that means you loved them. One day, she appeared before me, someone with many wounds. In that moment when Bok-gil needed someone most, it makes me happy that I was there to find her."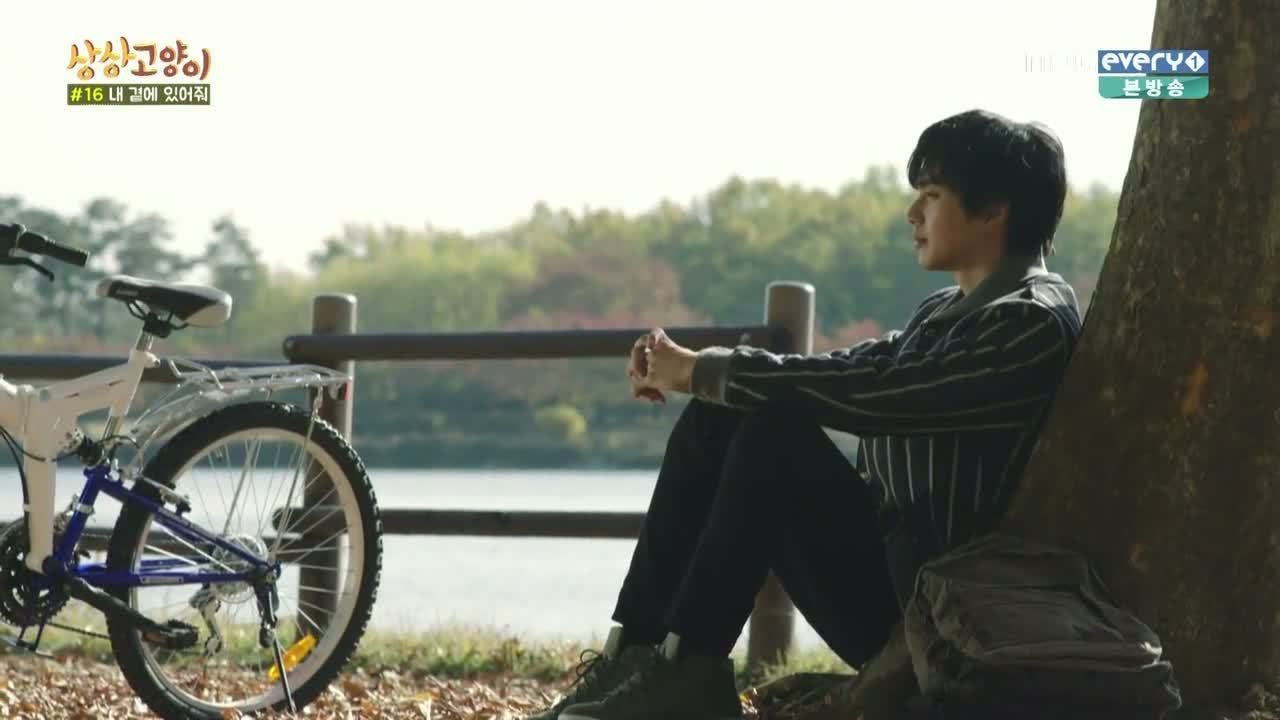 "However, now that I think about it, I wasn't the one who found Bok-gil… but I think Bok-gil called out to me." As his narration continues, we see a montage of Jong-hyun and Bok-gil's relationship, from the moment they met, to the years they spent together, to the time Na-woo entered their lives. "She licked my wounds, stroked my heart, and awoke my dreams."
Jong-hyun's face breaks into a smile at seeing Na-woo walk towards him. He tries teaching her to ride a bike again, but like before, she struggles to stay on and just gives up. HA.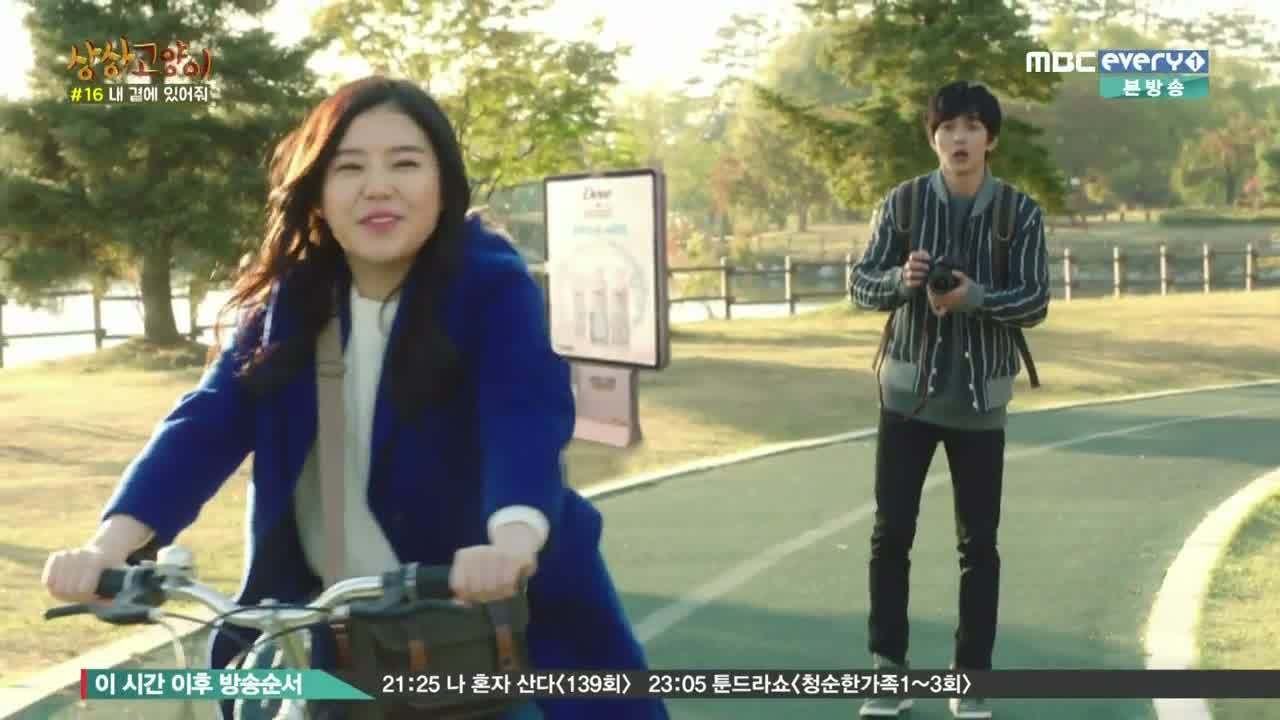 She claims that a thought came to her, about how she can't ride a bike for the life of her. Handing him her camera, she tells him to take a picture of her because she's determined to succeed today.
So Na-woo gets on the bike, and then eureka—she starts pedaling without assistance. As Jong-hyun struggles with the settings, she calls out, "Oh Na-woo likes Hyun Jong-hyun!" She looks back to tell him: "I like you!"
Jong-hyun narrates that he has vowed to himself never to run away because he's afraid to part ways with someone. "Bok-gil-ah, do I seem like I'm doing all right?" he thinks.
We see both collars hanging from a window at home while Jong-hyun puts the final touches on his latest webtoon chapter, scribbling, "The End."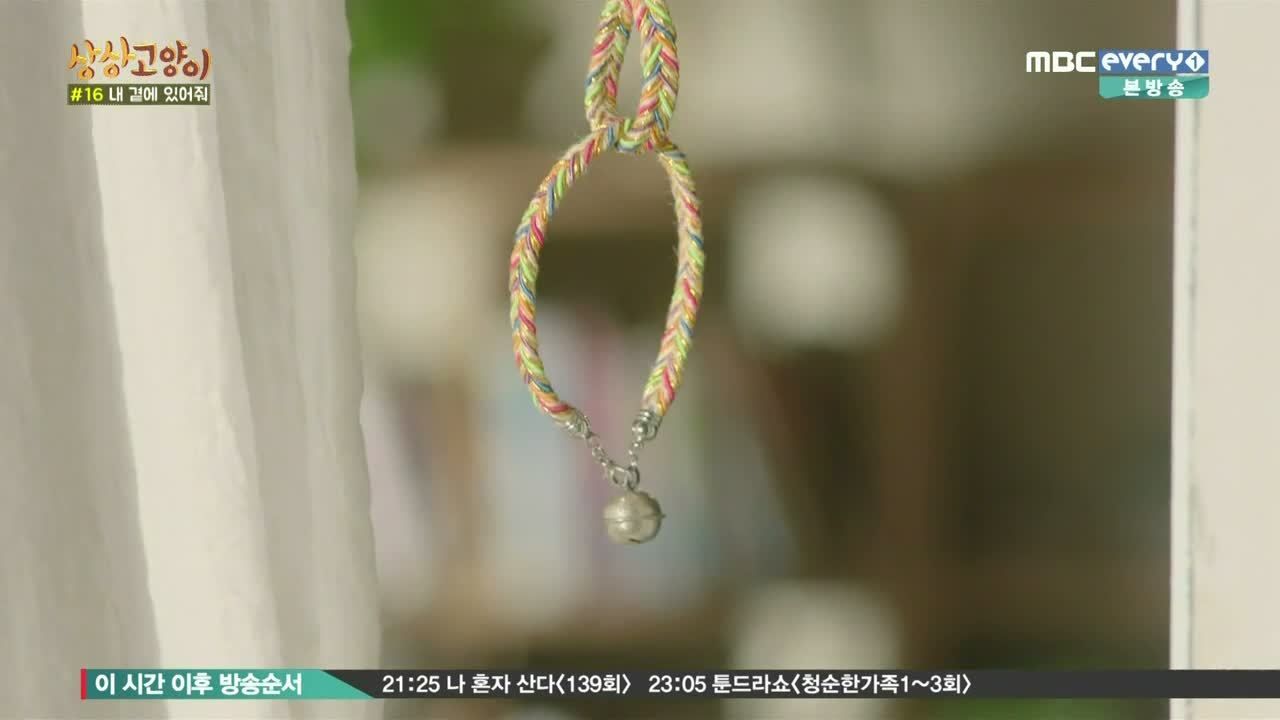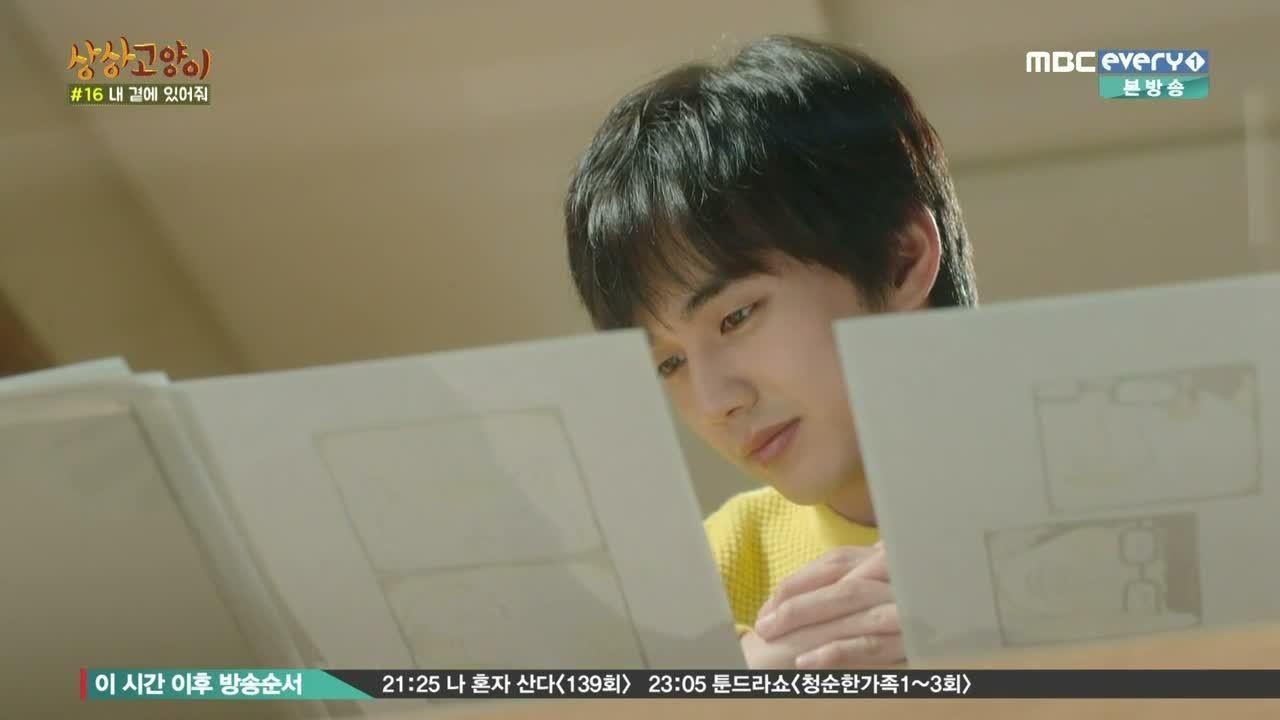 COMMENTS
I'm not crying; my eyes are just a little sweaty today. Oh, who am I kidding? I bawled like a baby during this finale. Not only that, there were times I wasn't sure I'd be able to find the words because I was on the verge of tears. And if I was this deeply attached to Bok-gil as a viewer, then I can only imagine that it's infinitely times more difficult for Jong-hyun.
Even though I knew that something terrible might happen to Bok-gil in the story's final act, I hadn't expected that Bok-gil's health would deteriorate so rapidly. Sure a part of me knew that the show had only thirty minutes to wrap everything up, but neither was I emotionally prepared to part ways with Bok-gil in any way. Watching her spend her last days with Jong-hyun both warmed my heart and tore at my heartstrings, since I knew that her passing was inevitable. I'm also glad that Na-woo stepped aside so that Jong-hyun and Bok-gil could savor every moment they still could together, and encouraged him to make that time a happy one. It certainly couldn't have been much easier for Na-woo either, that her long-lost cat would now be gone forever.
Of course in an ideal world, I would've wanted the three of them to live happily ever after. So instead of focusing on the sadness surrounding Bok-gil death, it's more meaningful to touch upon how her presence has influenced Jong-hyun's life for the better. Both of them harbored deep emotional pain and learned to depend on one another over the years, creating a virtually unbreakable bond. That strong relationship plays out in the telepathic conversations they have and the lovable interactions between man and cat. I swear there must be some mutual affection going on between Yoo Seung-ho and that drama cat as well, because no cat, not even a Scottish fold can be that chill with smushing your face into its own face. Or maybe pets can sense the goodness in people.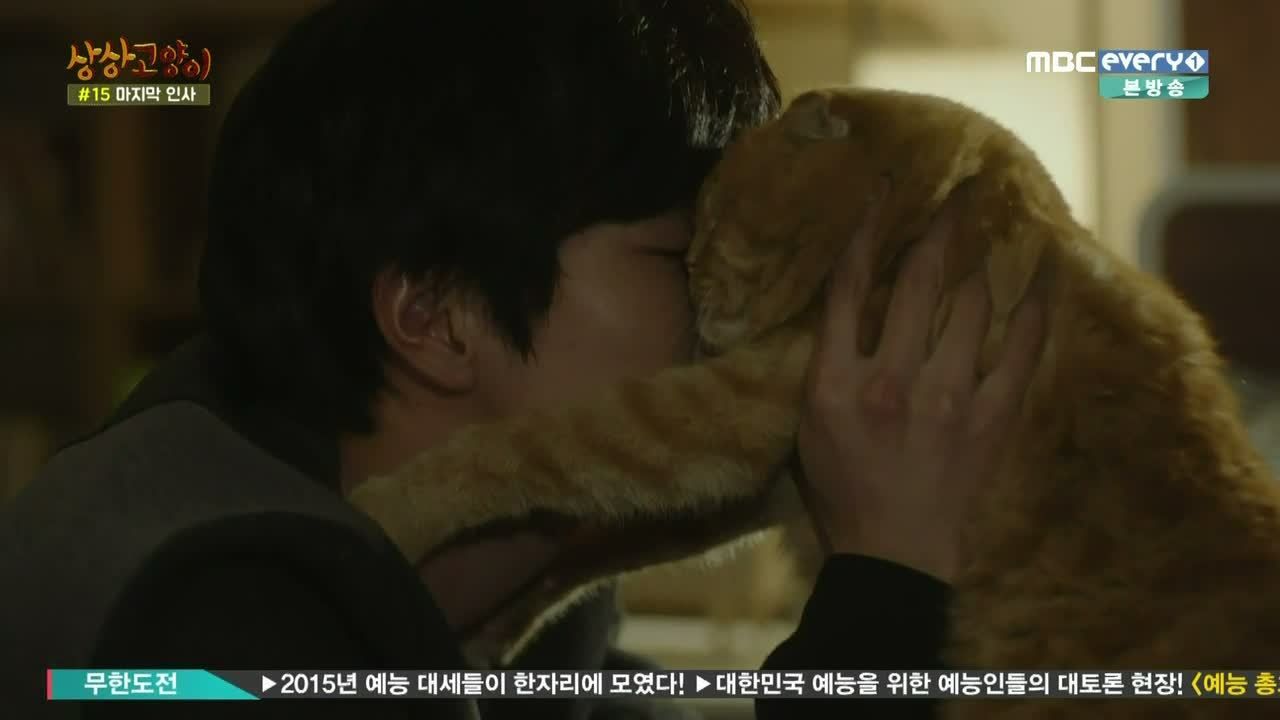 So once Bok-gil was gone, seeing her again in any light was still painful, whether that be in a flashback or as an imagined manifestation. Over the course of these eight half-hour episodes, we could see how much she meant to her owner and everyone who knew her. It broke my heart to see Jong-hyun grieving over the loss of his feline friend, and yet seeing him slowly pick himself back up months later instills hope that life does go on. Gone, but not forgotten.
As charming as Imaginary Cat was for a short series, it certainly wasn't without its flaws. The time lapses were mostly unclear, where we didn't know how much time passed between episodes. Since I haven't read the webtoon, I wouldn't be able to tell you how much this adaptation has stuck or strayed from its source material, but I can say that Cat managed to capture a charm that successfully left us smiling and squealing from week to week. I'm still of the belief that if the drama sought to make its viewers happy, then it has been extremely successful.
We'll never get to know what Jong-hyun had wished for in that tent., but I love that Bok-gil wished for nothing else but that her human wouldn't feel lonely once she was gone. You'll be missed, Bok-gil—we'll be sure to look for you in the stars.
RELATED POSTS
Tags: featured, Imaginary Cat, Yoo Seung-ho