Moorim School: Episode 2
With the world of the drama established, we now turn to the conflict propelling our two leads. It's time for the boys to make an important decision… Do they want to stay at this mysterious school and become something special, or slink home in defeat? They may not know what brought them here, but in the end there may not be room for both of them at Moorim. May the best man win.
EPISODE 2 RECAP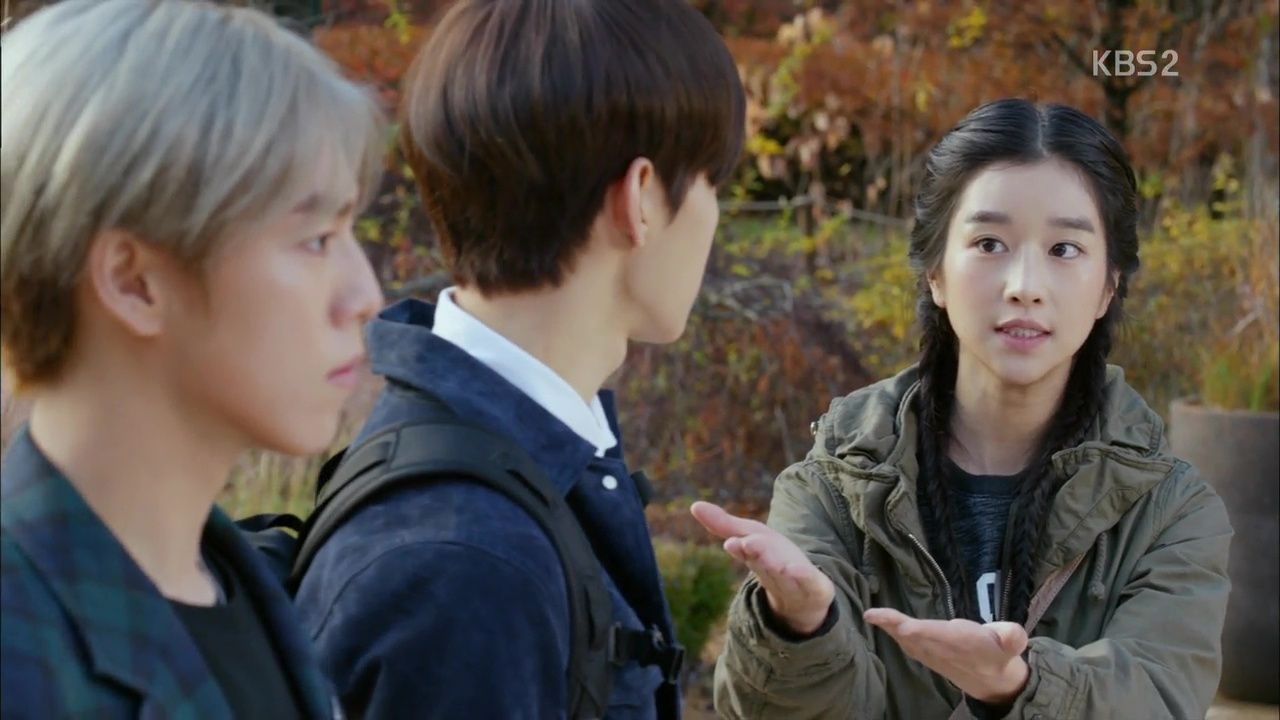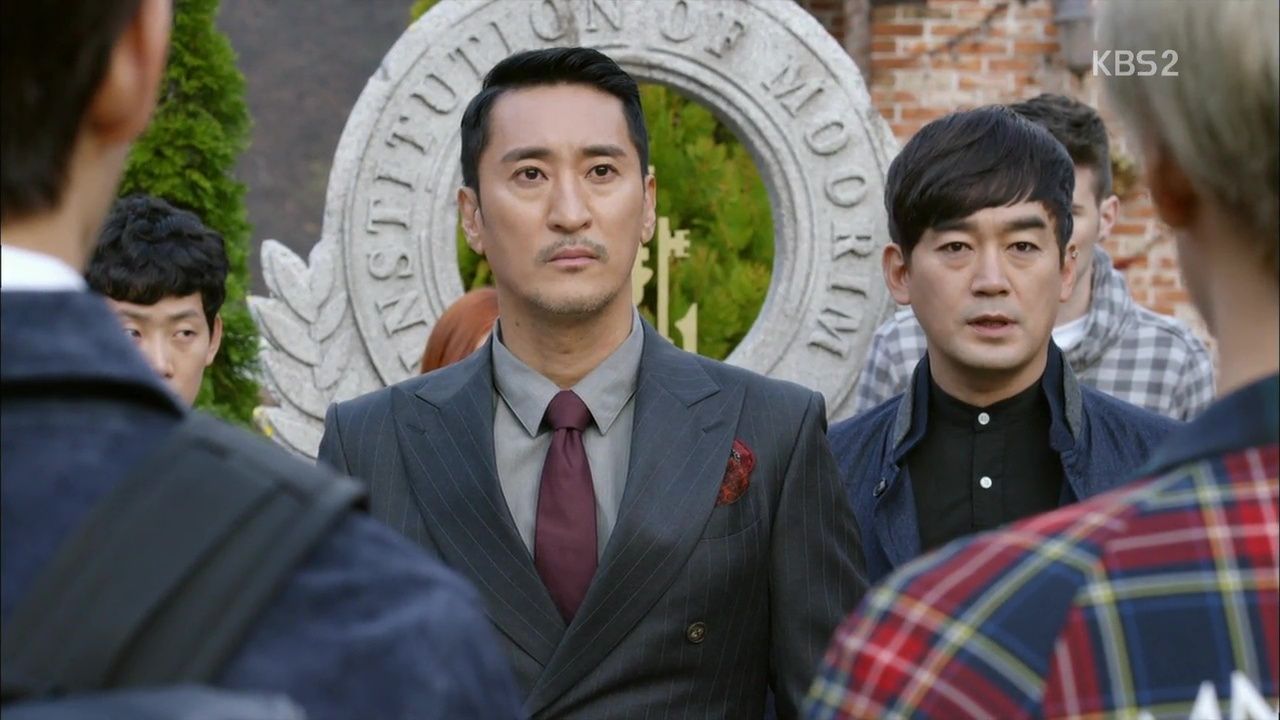 Something about Chi-ang and Shi-woo's confrontation causes a wave of energy to flood the forest, opening a path that leads them straight to Moorim School. They're greeted by the entire faculty and student body, all of whom are curious as to why these two made the whole school rumble as if from an earthquake.
Soon-deok breaks the tension by running in and yelling, "SAFE!" — she nearly missed the magical pathway herself, ha. But she notices right away that "the seal" has come undone, and Dean Hwang arrives to see for himself. Soon-deok tells him that she brought two new students, and Dean Hwang eyes them with intensity.
Another teacher, Professor Kim, asks if there wasn't only one new student expected, so Shi-woo speaks up to say that he wanted to meet Dean Hwang. The mystery girl who saved him at the concert ducks behind a large vase, but she smiles to see him.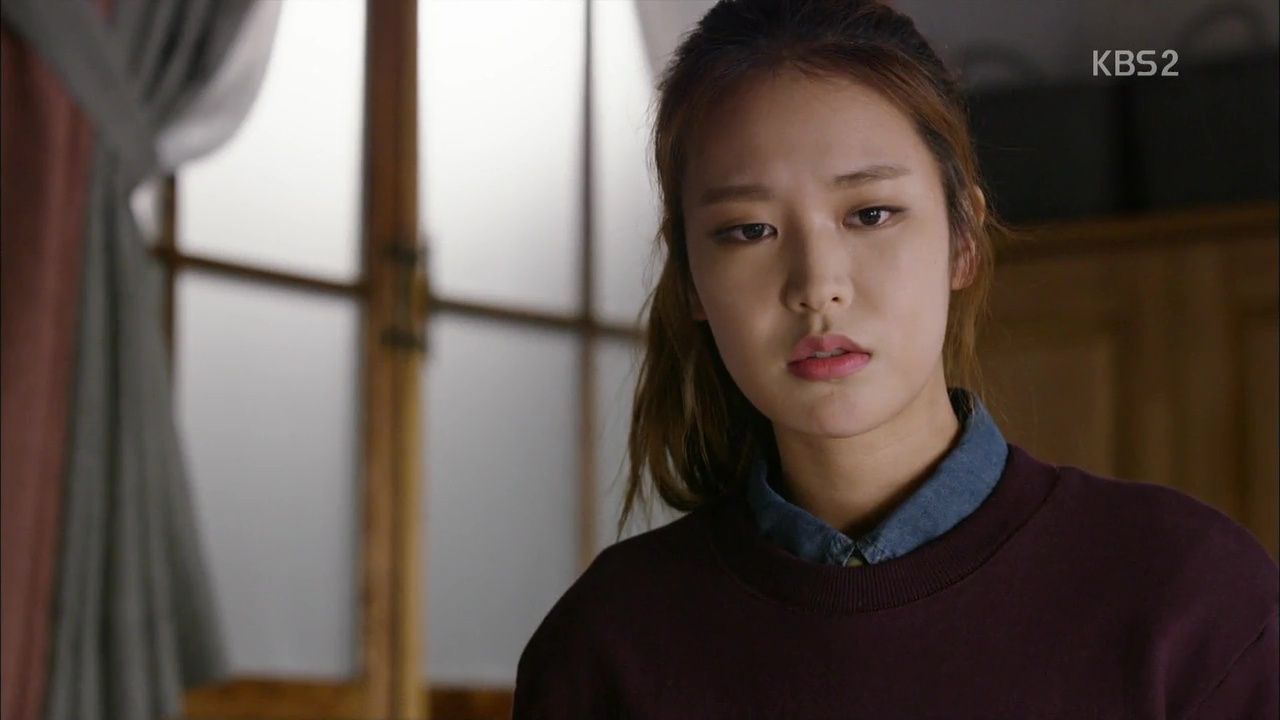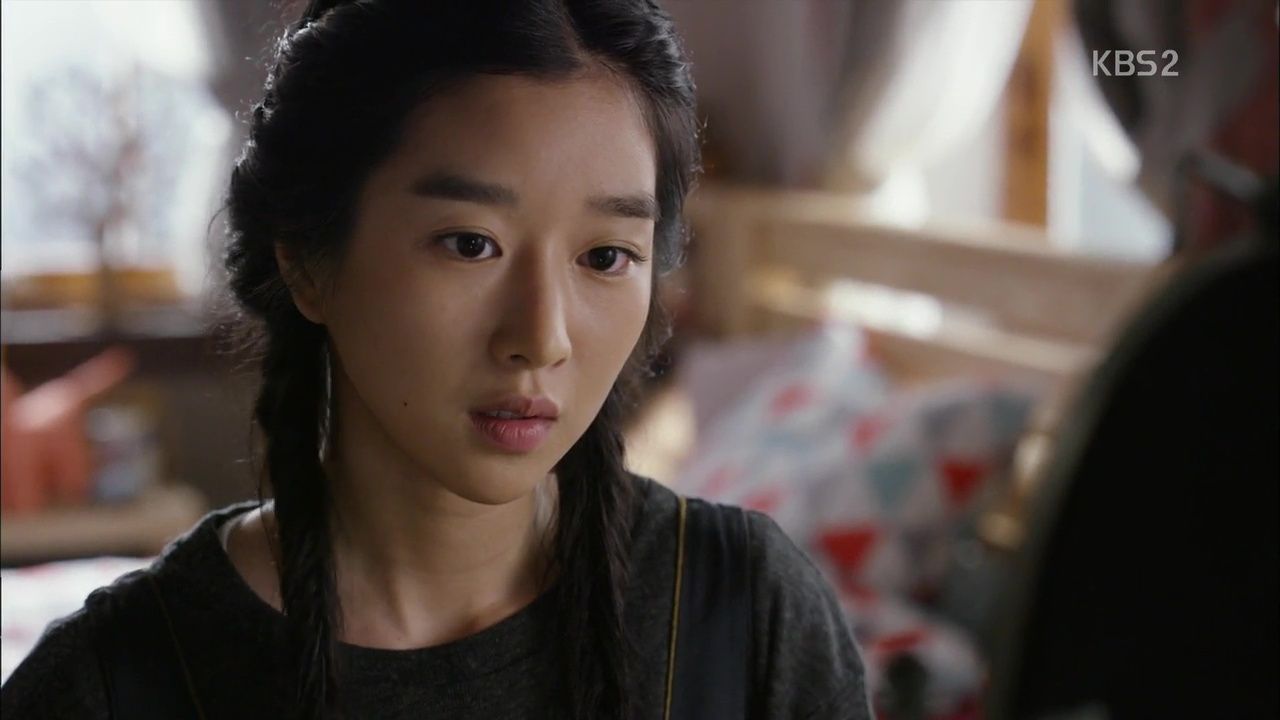 Dean Hwang leads Shi-woo and Chi-ang to his office, telling them about Moorim School on the way. It was built to protect and uphold world peace, he says, and is the only school built by the UN Peacekeeping Organization. Its students have placed first at the World Martial Arts Competition for the last ten years, and has been top-ranked marital arts academy in the world for twelve years. Also, it's not in any public records.
The students recognize both of them, as an idol and an international chaebol, and wonder what they're doing here. The instructors are more concerned with how the seal got broken, and Professor Kim admits that he sensed a new kind of power when it happened. One teacher wonders if it was the new students, but that idea is rejected out of hand.
The mystery girl asks Soon-deok how she came to the school with the newcomers — her name is HWANG SUN-AH (Jung Yoo-jin), and she just so happens to be Dean Hwang's daughter. She wonders if Shi-woo is the one who opened the seal, remembering how he stopped the stage lights from falling momentarily.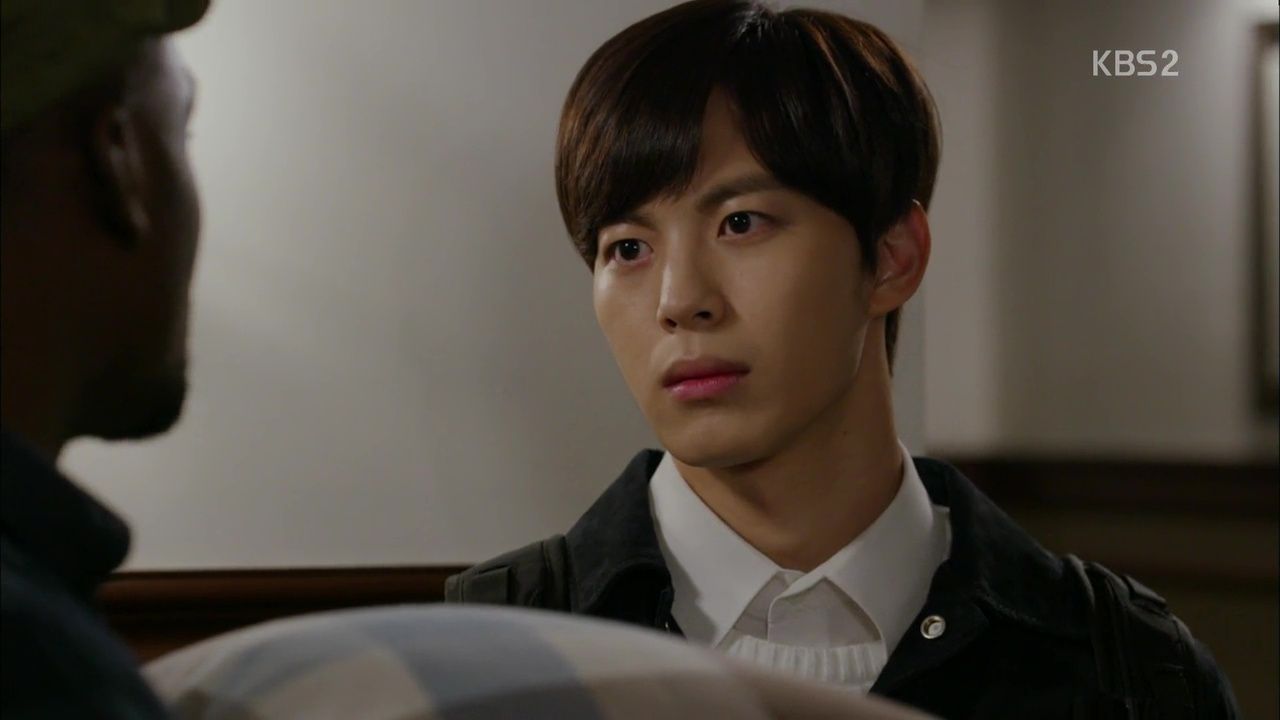 Dean Hwang questions the boys, asking why they came to Moorim School. Chi-ang goes for the easy answer, to learn martial arts, though he admits that he just came because his father sent him here. Shi-woo refuses to answer in front of Chi-ang, asking to talk to Dean Hwang in private.
Dean Hwang sends Chi-ang to the dorms with TEACHER SAMUEL (Sam Okyere), who informs Chi-ang that he's expected to do everything for himself, including cleaning and cooking. Chi-ang just loftily says that he'll have his father sponsor the school and get a cleaning service and chefs, only to be informed that the school isn't broke. HA.
It takes Shi-woo a while to get to the point of why he's here, only to discover that Dean Hwang already knows about his hearing loss. He wants it fixed, but the dean asks if he doesn't need to change his situation first. Shi-woo thinks his ear is the problem, but Dean Hwang says that the problem is inside himself.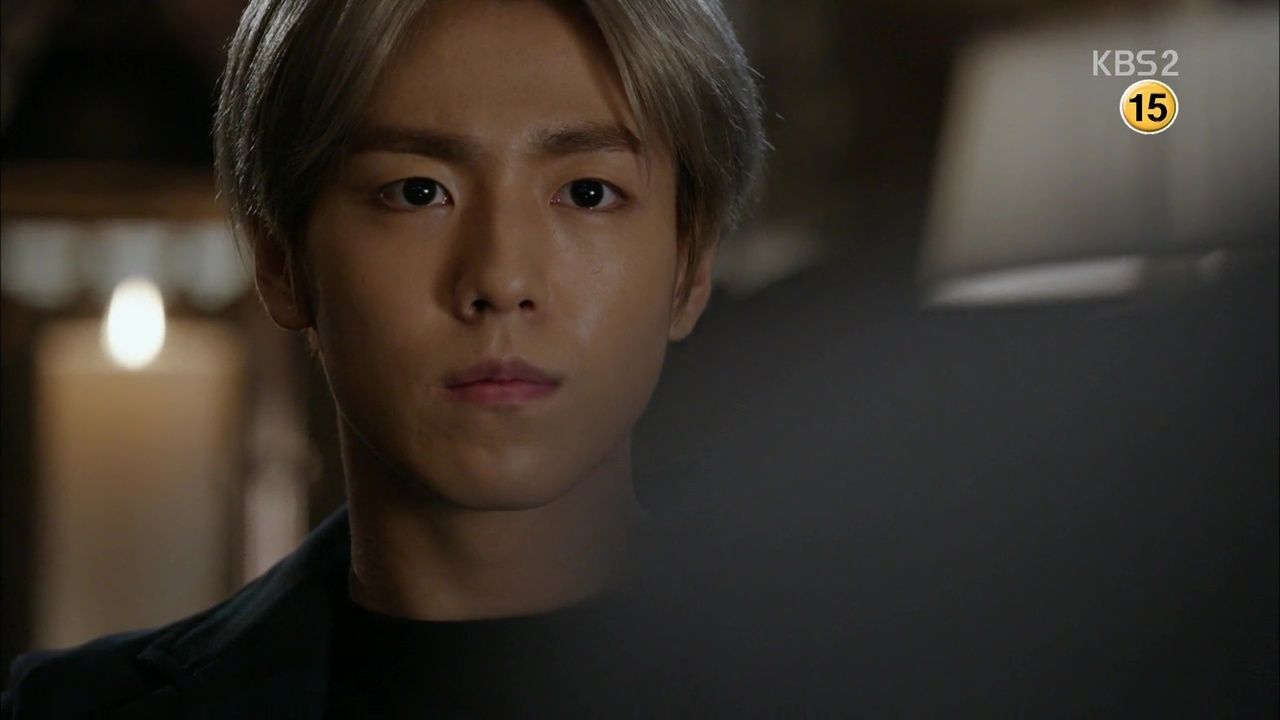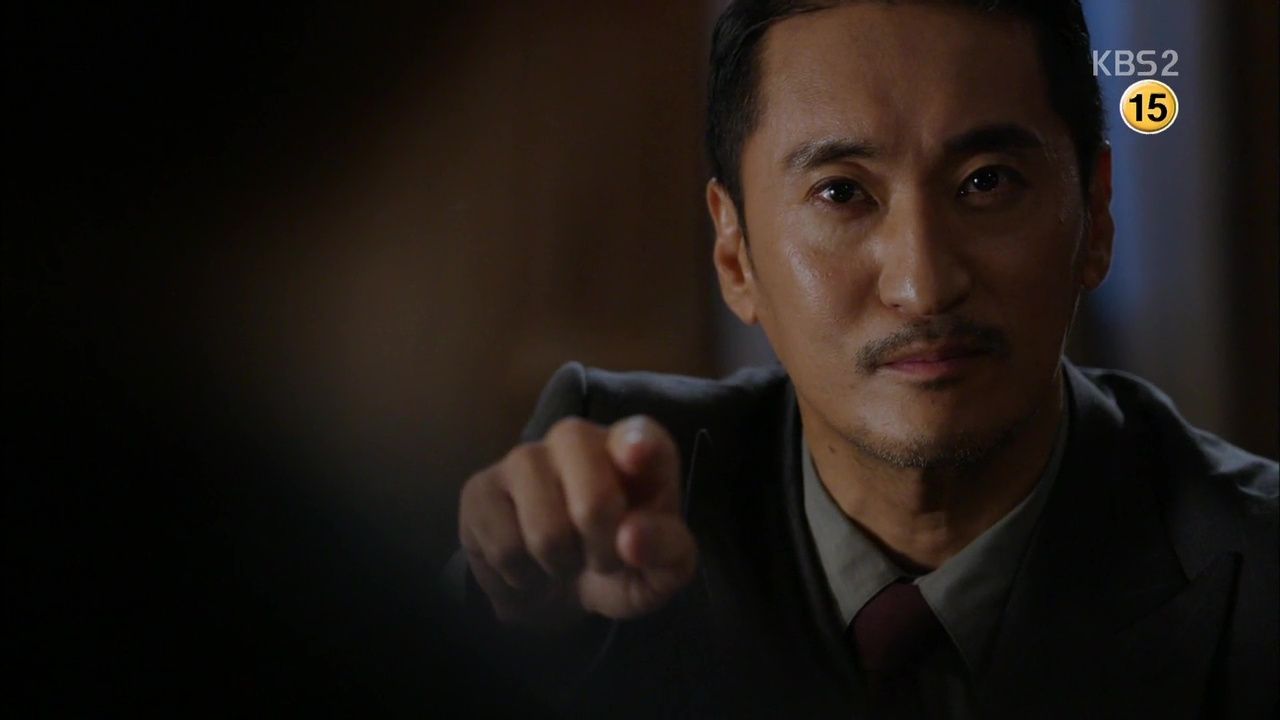 He offers Shi-woo a place as a student, which Shi-woo rejects immediately. He calls his manager to tell him that he's found the girl who beat up those thugs back in Seoul, insisting again on an interview. But his manager says that won't solve the problem, and the company is about to go bankrupt because of him. He unkindly tells Shi-woo to know when he's finished, and that official papers have been sent to him, presumably breaking their contract.
A small army of curious students delivers Chi-ang's class schedule to him and introduce themselves. There are several Korean kids, one Korean-American girl named Shannon, and a boy from Thailand named Nadet. They ask how Chi-ang released the seal, but he doesn't even know what that is. The kids are friendly, but Chi-ang rejects them all as being beneath his "level." Wow, what an ass.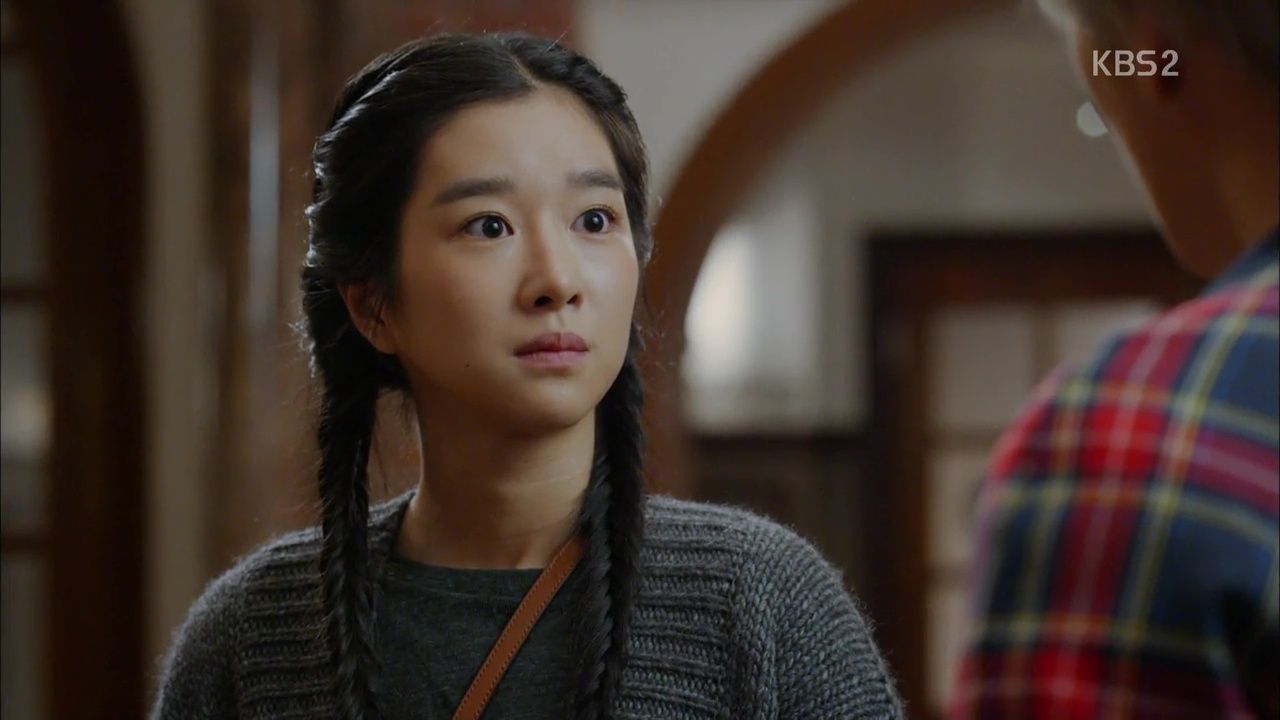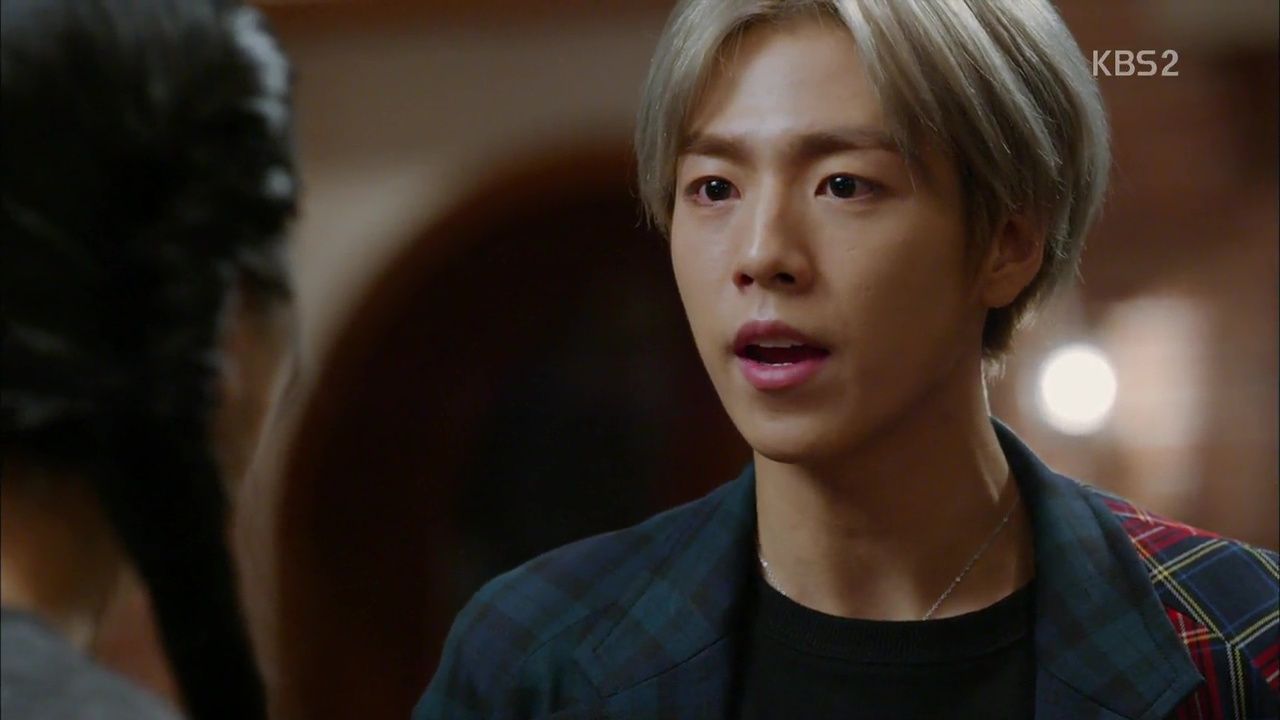 Meanwhile Shi-woo grabs Soon-deok as she's walking past him, ready to drag her back to Seoul with him. She repeats that she was only helping him and not part of any plot, but he says he didn't need her help. He wasn't running away, he was running after the paparazzi — those pictures could cause a huge scandal (though it's interesting that he seems more worried about Da-rim's reputation than his own).
Soon-deok is chastened that she misunderstood the situation, and agrees to go with him, but between her classes and her jobs she can't think of a time when she's free. Shi-woo insists on going right this instant, but Soon-deok says that her life is important, too.
Shi-woo accuses her again of taking money from CEO Choi to cause trouble for him, and Soon-deok gapes at him. She says he's a horrible person, and that if he's asking for a favor, he should thank her for helping him, then ask for her help in Seoul.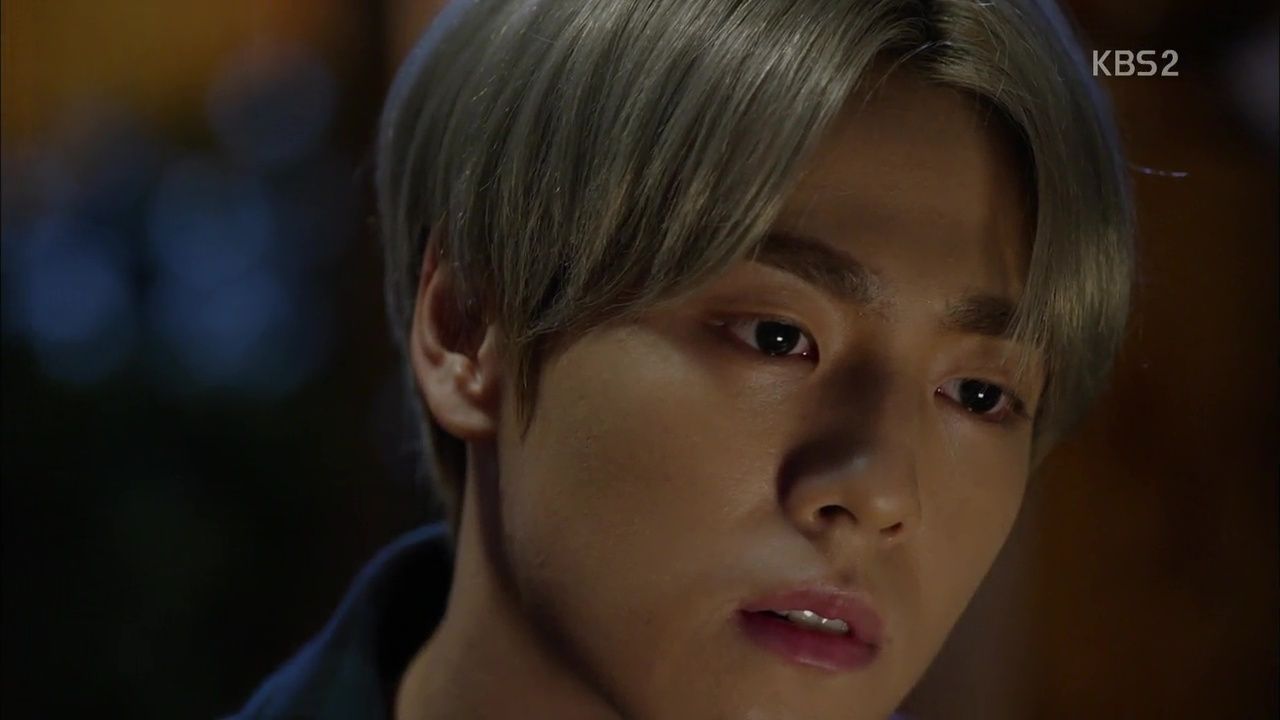 But Shi-woo just counters that he's not at all thankful, and that helping him should be an obligation, since she caused so much trouble in the first place. Soon-deok angrily says that her obligation right now is to go to work, and leaves him standing there.
Shi-woo spends his evening reading netizen posts about how he's done for in the music business, and remembers back to being discovered by CEO Choi. He'd uploaded a song he wrote online, under the nickname "Mobius," and Choi had sought him out and signed him. He and the group Mobius had quickly risen to fame, so fast it seemed unreal, and CEO Choi had treated him like a son. Now Shi-woo knows it was all an act, just for money.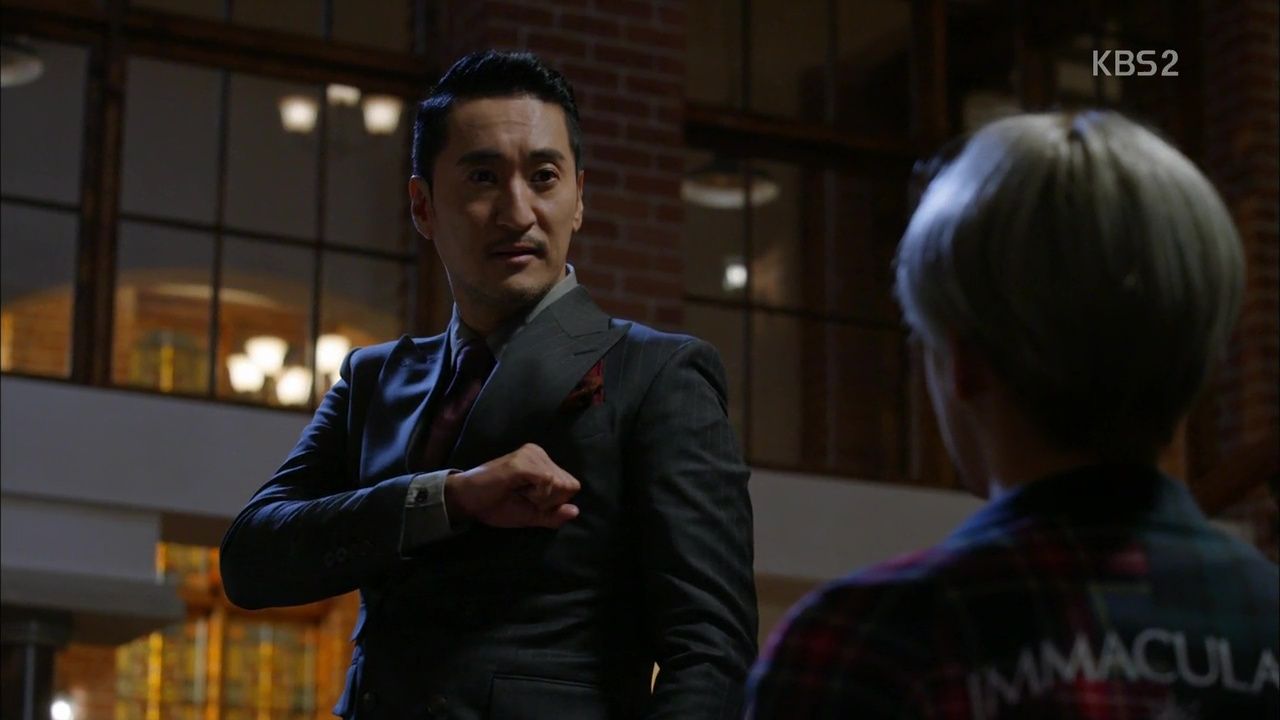 His ear starts to ring and hurt, and it looks like a bad episode this time. Shi-woo feels a hand on his head — it's Dean Hwang, and he massages pressure points while explaining that Shi-woo's personal energy is blocked, causing his hearing loss. He says he can help Shi-woo, and suddenly the pain is gone.
Once Shi-woo relaxes, Dean Hwang offers to walk him out if he's planning to leave. But Shi-woo decides that he can't leave now, but not because he has nowhere to go. He starts to blame Soon-deok for his situation, but Hwang puts a stop to that — first he blames his ear, now a student.
Hwang wants to know whether Shi-woo's heart is telling him to stay. He says there's no guarantee that staying will heal his ear, but training can only help. It's all up to him.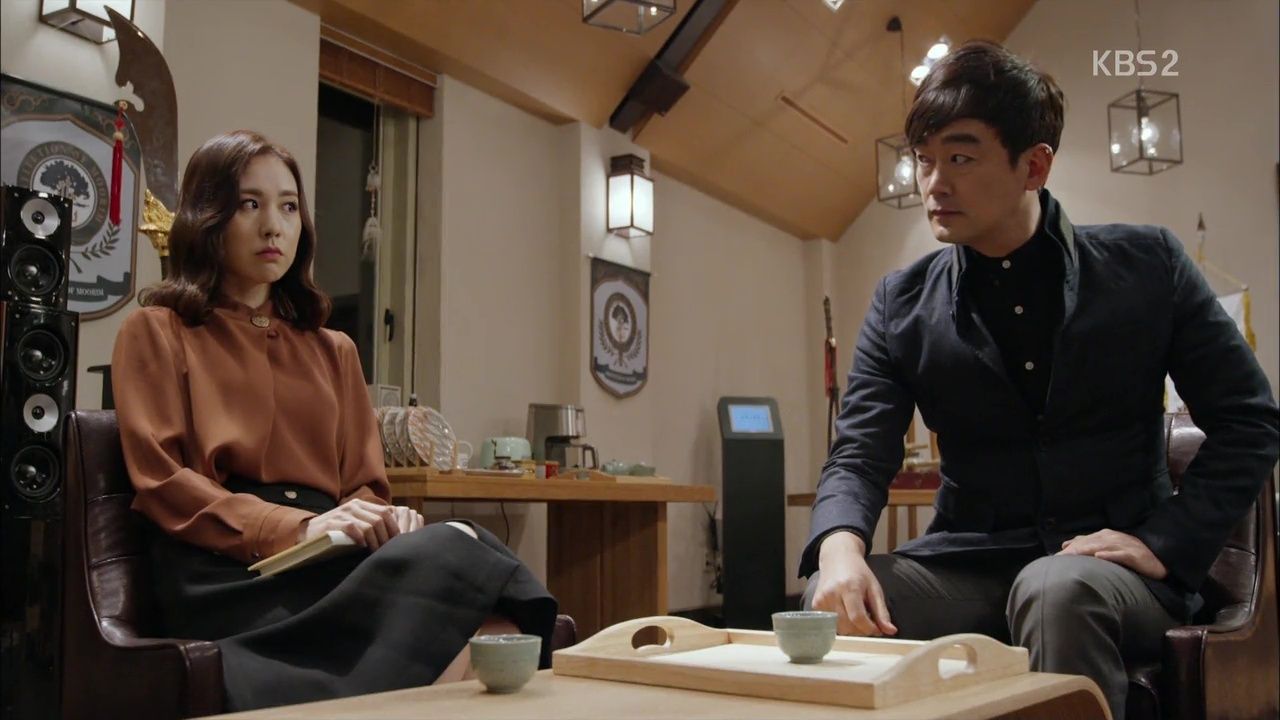 The next day, the other teachers speculate on why Shi-woo has been admitted as a new student. In fact, they're worried about both of the new boys, who seem to have no real reason to be here, and they doubt they'll succeed. (As an aside, Professor Kim and Professor Oh seem to be in a longterm on-again, off-again relationship, which is currently off again.)
The elder Professor Beop confronts Dean Hwang about his decision to let Shi-woo enroll, and Hwang says it would be wrong to kick someone out who needs help. He gets a faraway look in his eye as he says that "Somehow, it's not that child who came to find our school. This place might have called that child here."
As for Shi-woo, he tells himself that he'll stay, for now. Just until his problem is taken care of… though whether he means his hearing or his scandal is unclear.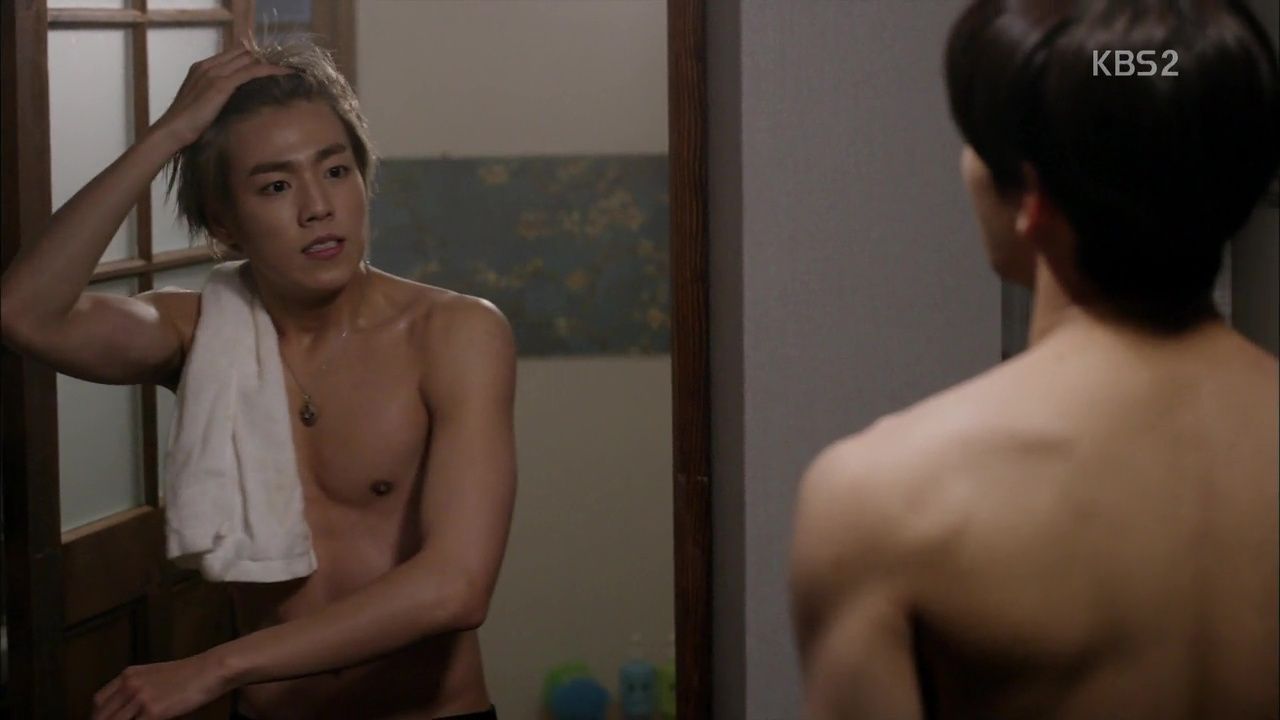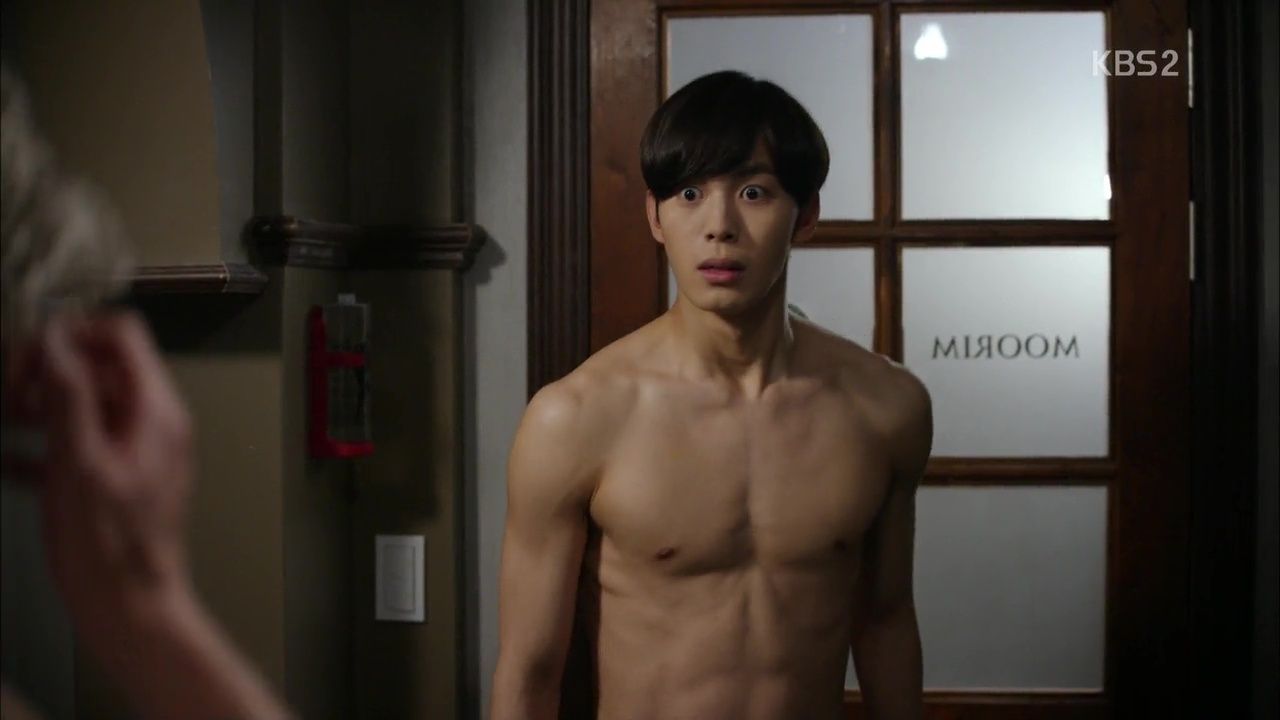 Shi-woo and Chi-ang again find themselves face-to-face and shirtless, this time in the same dorm room. HAHA, they're roommates. They end up in front of Teacher Samuel, demanding separate rooms, and Sam laughs when Chi-ang requests a VIP room. He informs them that there will be no special treatment for anyone for any reason, and tells them to get back in their room and behave. I like this guy a lot.
Chi-ang tries to assert dominance by demanding the bed that Shi-woo is lying on, and Shi-woo laughs that they do have one thing in common — they both like the view from this bed. Chi-ang claims to have farted on the bed (OMG HAHAHA), but Shi-woo just says he already changed the sheets. These two are really a lot alike, if they'd just stop trying to be the top dog.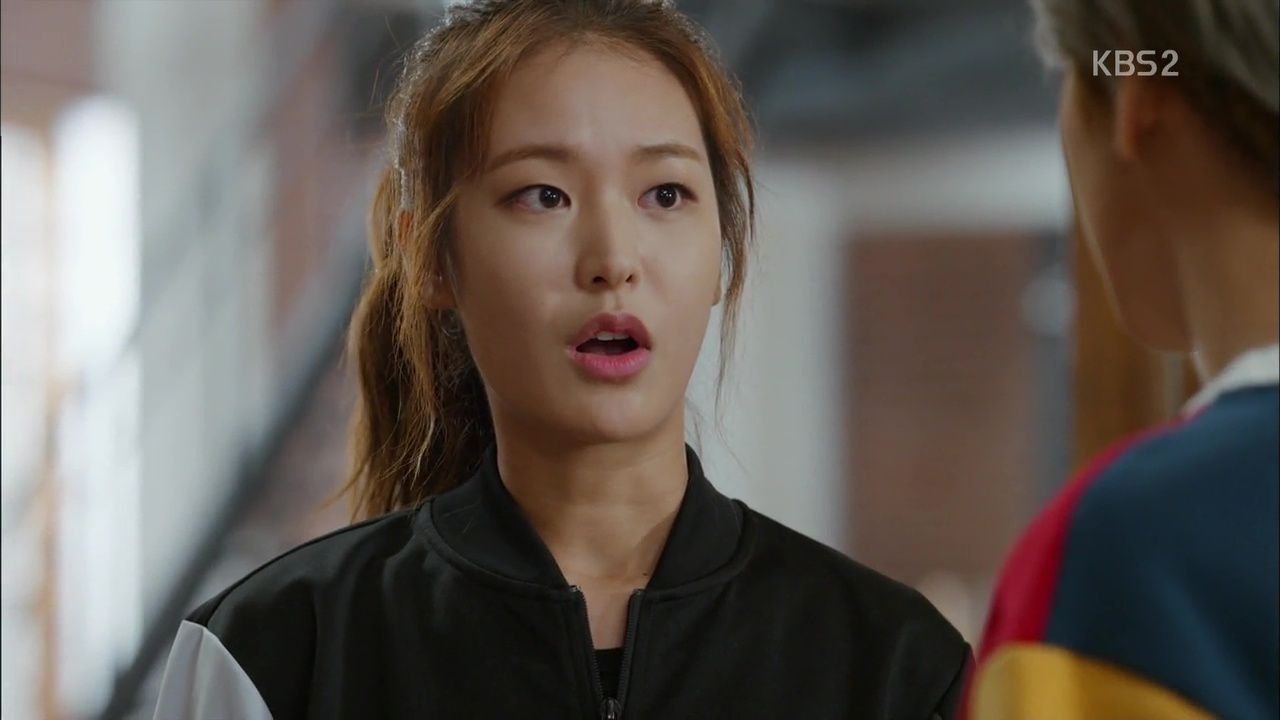 While the rest of the school sleeps, Sun-ah plays the piano softly, which wakes Chi-ang (despite Shi-woo's claim of being a delicate sleeper, he sleeps through it). Chi-ang stays up thinking of his mother, and asks her picture to just wait a little longer for him.
Teacher Samuel wakes the boys in the morning for exercise, and ha, Chi-ang literally falls right out of bed. "Exercise" appears to be basic martial arts training with Professor Daniel, and Chi-ang gives Soon-deok a dorky wave while she pretends not to see him. Sun-ah is startled to see her Shi-woo Oppa here, a little starstruck, and she tries to run off when he finds her after class.
He recognizes her from the concert, and asks angrily why she saved him and told him about Moorim School. She babbles about the Dean being so good at what he does, and the fresh air, and the cafeteria food, and tries to shake his hand in welcome. He totally leaves her hanging, and she runs off embarrassed.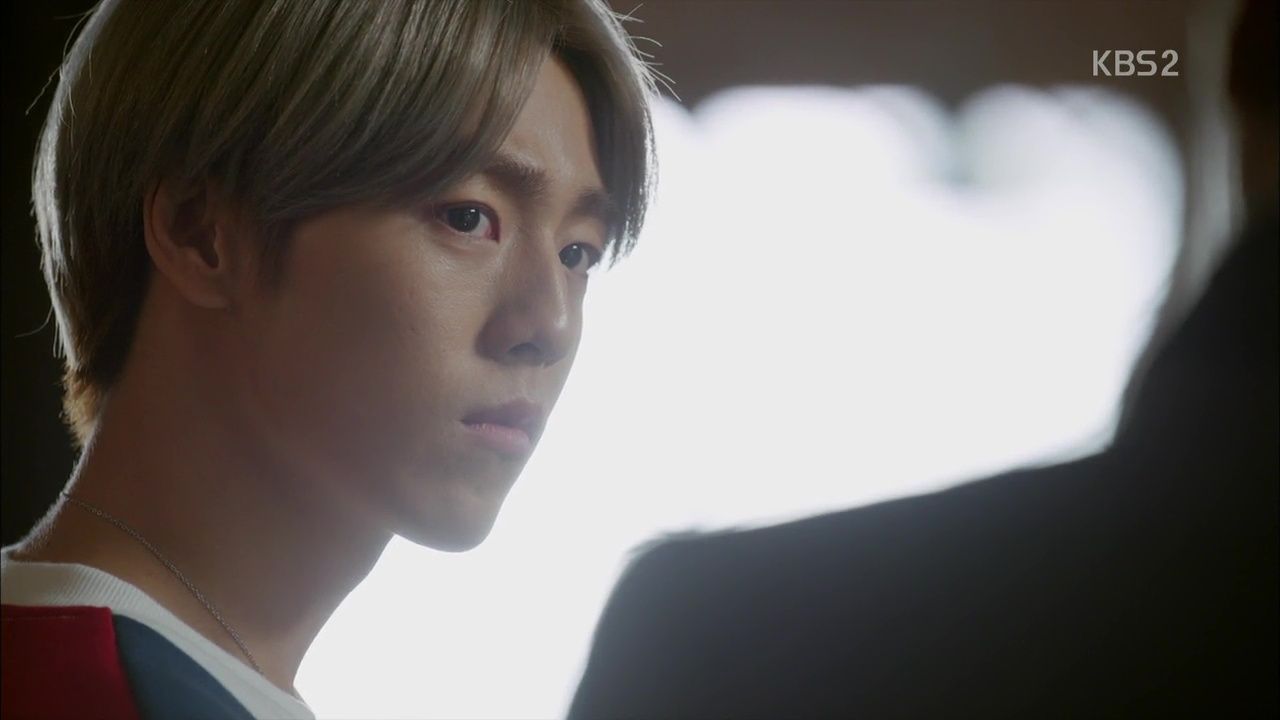 Professor Kim pulls Shi-woo aside to ask if he likes the school, but Shi-woo isn't making any judgments yet. Professor Kim says that he did come here for a reason, even if he doesn't know what that reason is, yet. But his voice hardens as he says that Shi-woo has something up his sleeve, and he asks him harshly why he's here. Shi-woo isn't intimidated, and simply says, "I can't tell you. And I don't want to."
Chi-ang's father goes back to Shanghai, China, where his assistant informs him that "the man at the hospital" is still unconscious, and expected to remain so. He orders him watched, due to his incredibly strong life energy. We cut to the man in the hospital, lying senseless in a lavish private room. Elsewhere, Dean Hwang walks through what looks like an abandoned prison. Well, that was mysterious.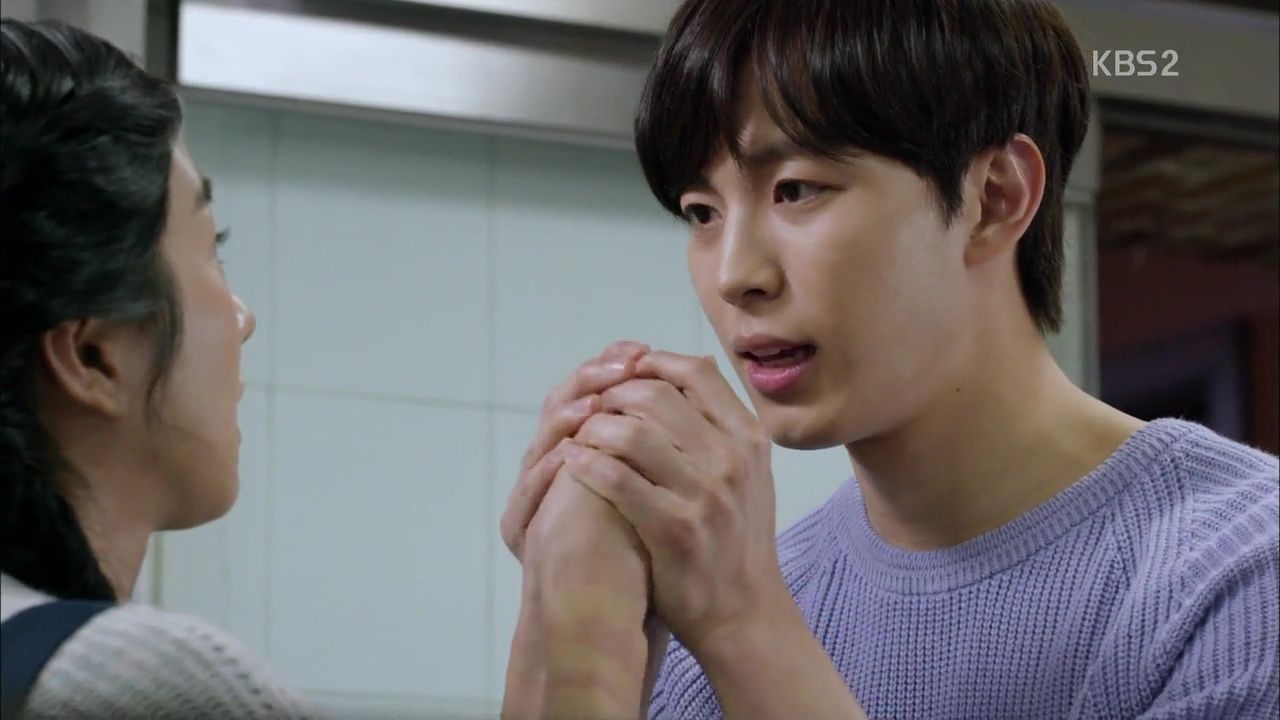 Chi-ang goes looking for Soon-deok, and finds her in the school kitchen fileting some fish. He makes the lamest joke ever about hurting her friends (because she's a mermaid, hyuk hyuk) and she sighs that he should at least say the word right if he's going to call her "mermaid."
She gives up when he can't say it right, so he just calls her Ariel instead. Ha, he's got exactly zero game. Soon-deok snarls at him to just call her by name, but he only says all starry-eyed that she's even prettier when she's mad.
She's too busy to deal with him, but he gallantly (he thinks) takes her fishy hands and says that she won't have to do this hard work anymore, because he's going to have his father provide the school with cooks and custodians. Soon-deok is less than impressed and tells him again to get lost, making Chi-ang admit that he likes her because she's the first person to treat him this way.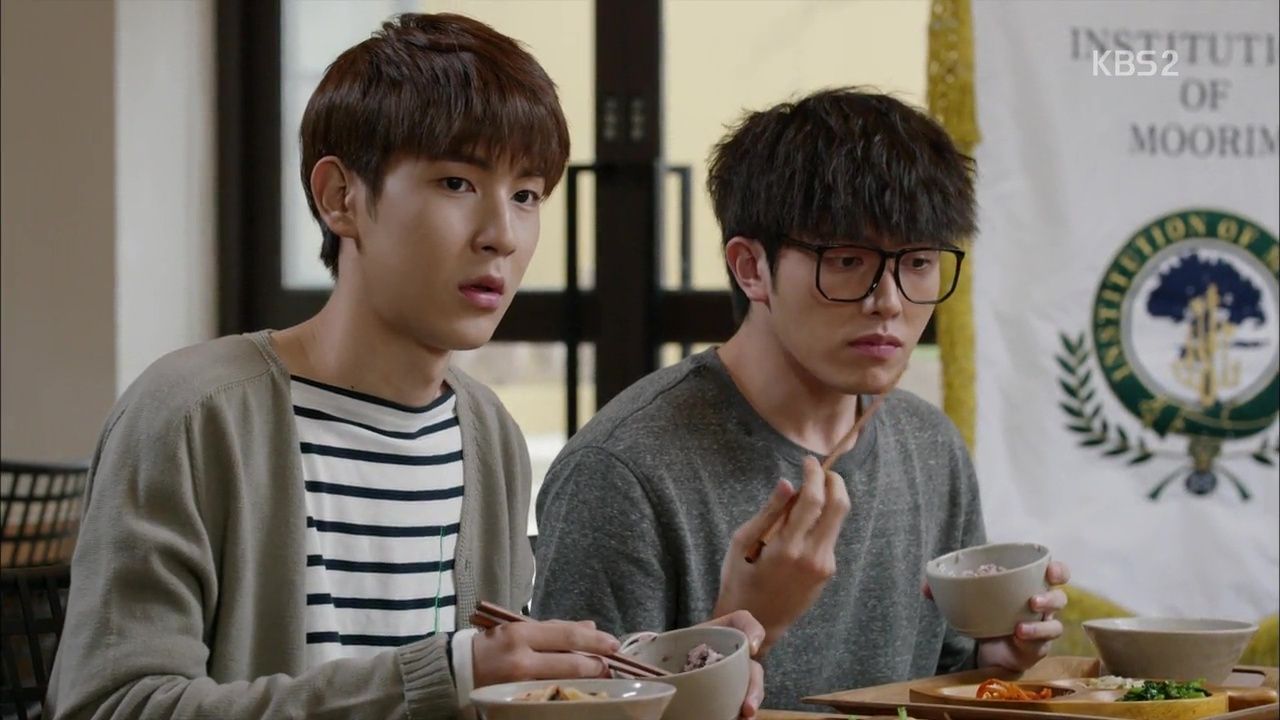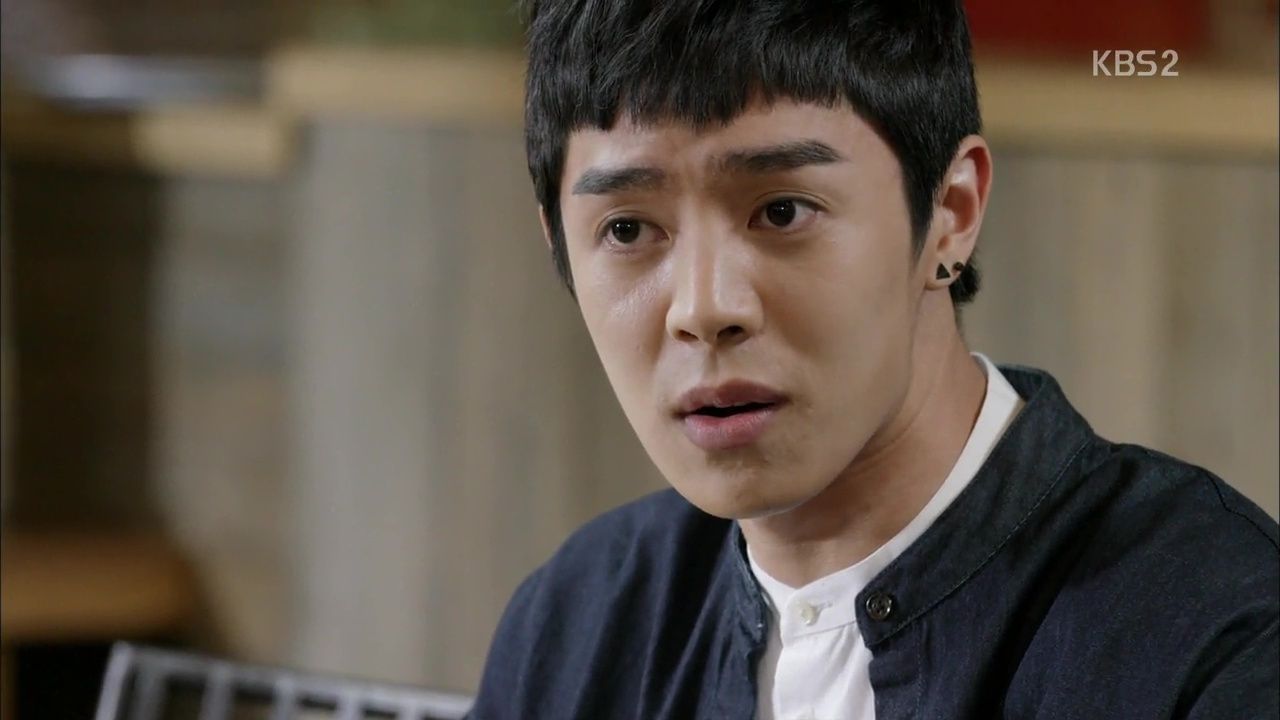 Chi-ang doesn't register that he's picked up the smell of fish from Soon-deok until he's back in his room, and Shi-woo now realizes that he and Soon-deok came here together the day before. He calls her "the chicken-headed girl," which infuriates Chi-ang, and he warns Shi-woo away from her. Shi-woo couldn't possibly care less, having no personal interest in her other than how she can help him.
The other students discuss the newcomers, reluctantly impressed that they've lasted a whole day already. The Thai student, Nadet, asks if they think the boys will make it to the entrance ceremony, which happens once you've lasted a week at the school.
YEOB JEONG (Alexander Eusebio), the apparent leader of the group, says that of course they won't make it the full week. He thinks the opening of the seal on their arrival was just a coincidence, especially since neither boy even knew what the seal was. He sneers and declares that he'll have them running home crying.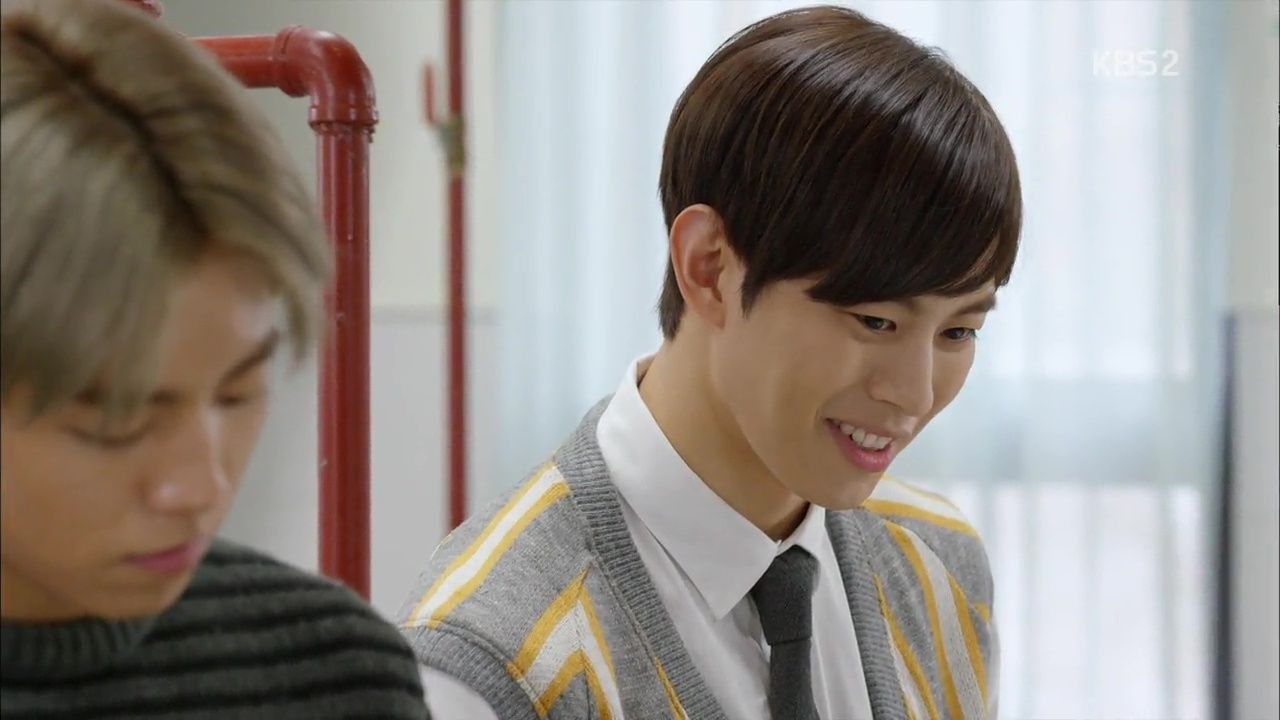 Shi-woo and Chi-ang take a cooking class to prepare for kitchen duty. They're paired up and given the job of making fried vegetables, and Professor Kim tells them a trick of putting ice into the batter to make them crispier. He warns them though, never to let the ice get into the hot oil.
Jeong gets a nasty idea to scare the boys, and shares his batter with Chi-ang after liberally adding ice cubes to it. Lazy as always, Shi-woo dumps the entire bowl in the frier at once, which makes the fire flare right in Shi-woo's face. Shi-woo's reaction is violent, and he falls to the floor in shock.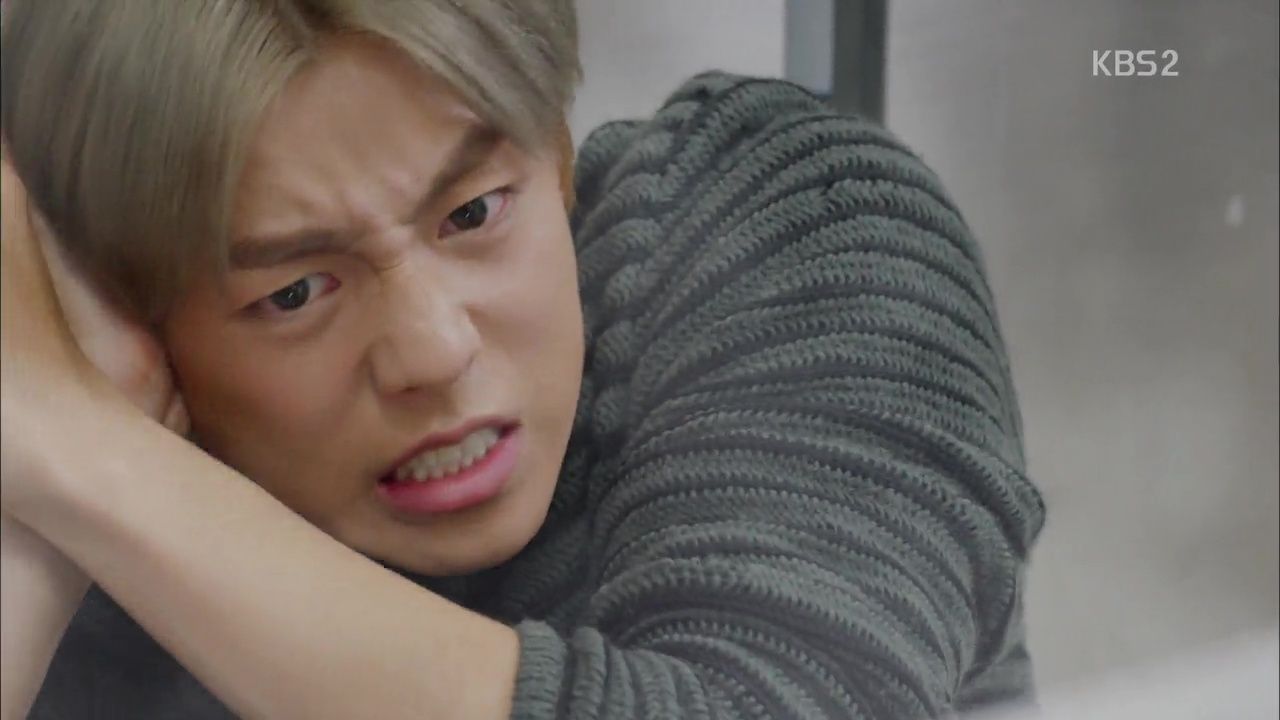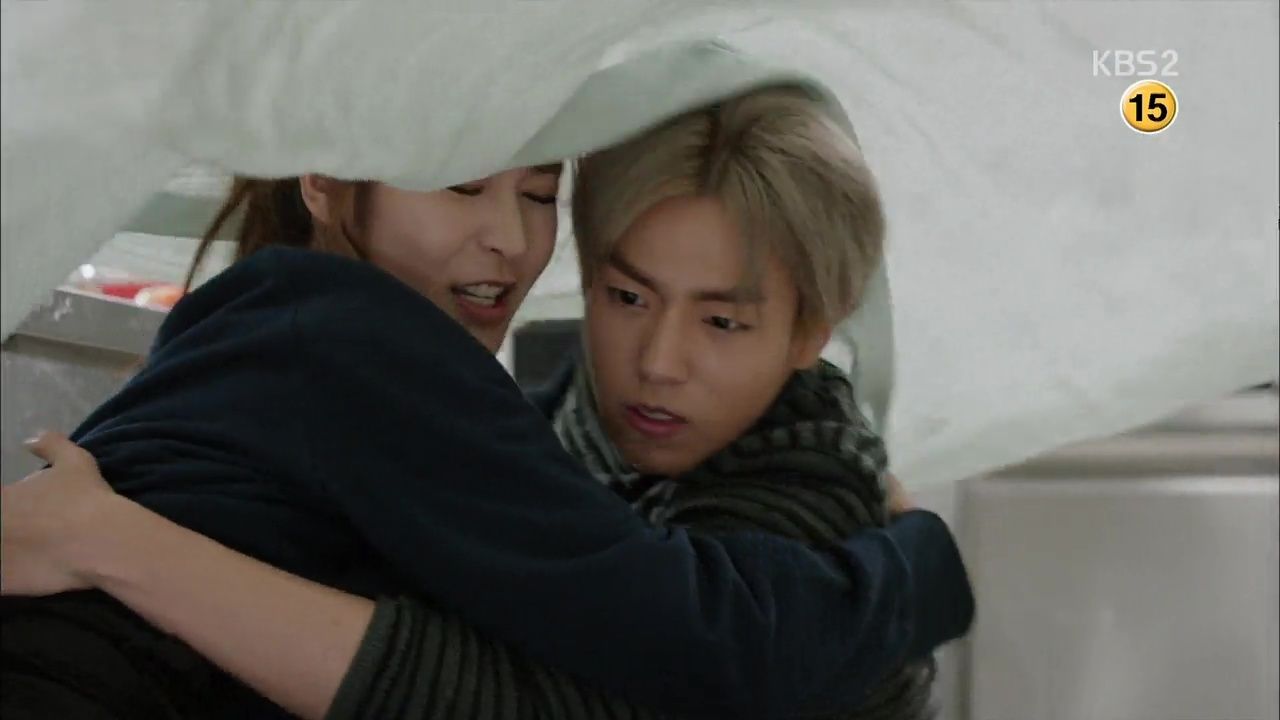 His bad ear rings as he seems to remember a fire from when he was younger, just as the bowl of oil and vegetables explodes, spraying hot food everywhere. The experienced students use their martial arts skills to kick and slap the burning vegetables out of the air, while Chi-ang just hides his face and Shi-woo cringes on the floor. Sun-ah quickly swipes a curtain from the window and shields Shi-woo, and Professor Kim tosses a pot over Chi-ang's head and slings him to safety.
Once the danger passes, Shi-woo's anger flares up next, and he grabs Chi-ang and accuses him of doing that on purpose. The two nearly come to blows before Professor Kim hollers at them to stop, and Jeong smiles to himself at his success.
The teachers hold a meeting, where Professor Kim argues that neither Chi-ang nor Shi-woo dserves to be here. Professor Daniel wants to give them time, and Professor Oh backs him up even though she previously thought they wouldn't last a day.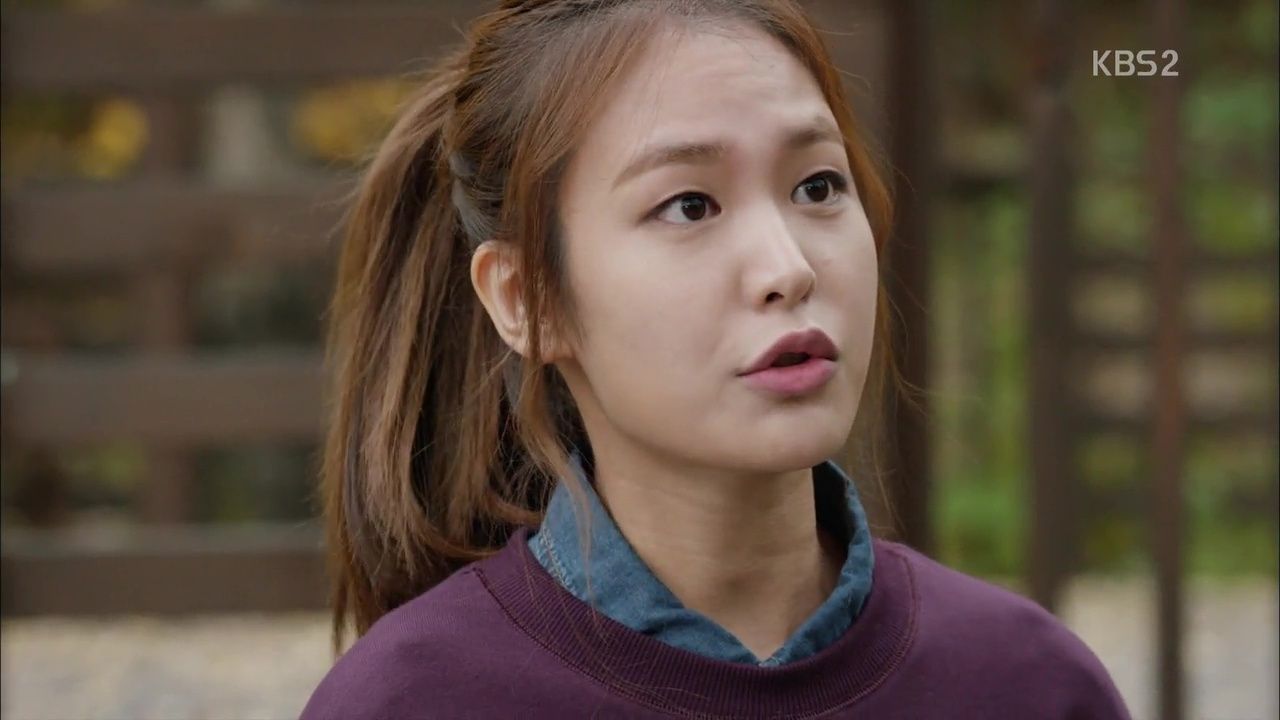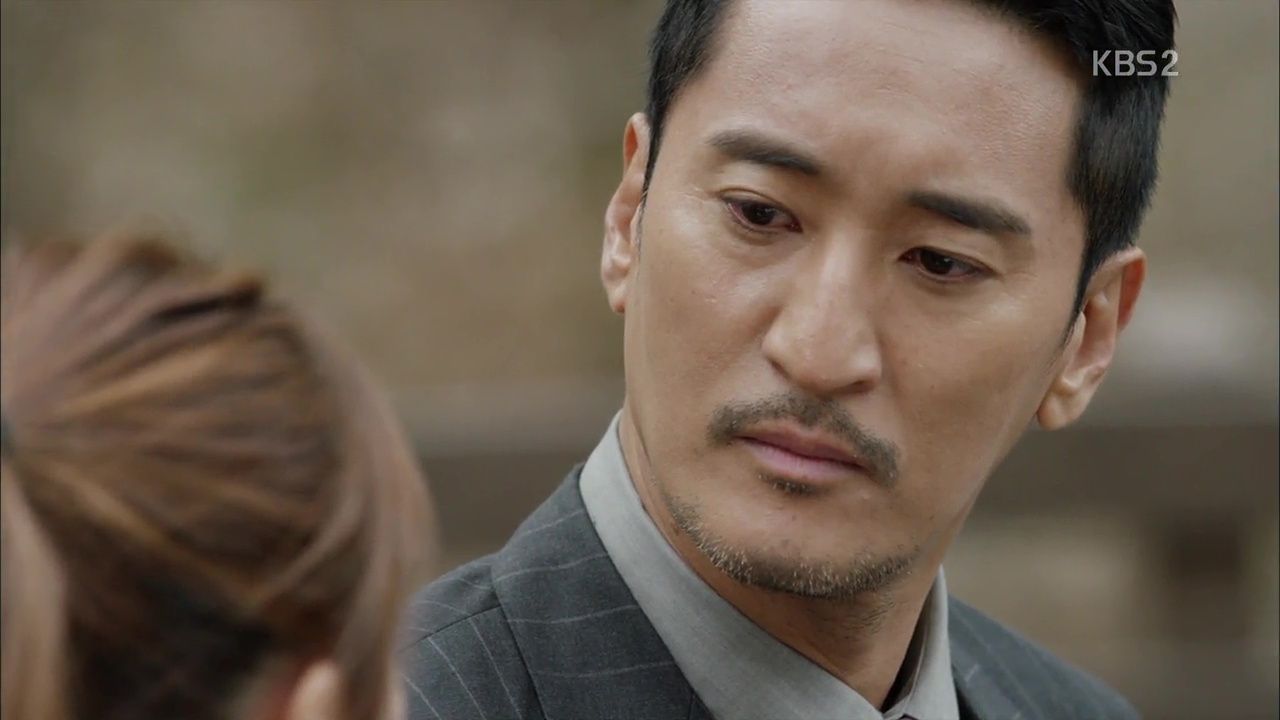 Later Sun-ah begs her father to let Shi-woo stay and get help for his ear, and he adorably teases her, saying that Shi-woo should just clean his ear out. He says that he still hasn't decided how to punish her for sneaking out to the concert and inviting the kid here in the first place, and now she wants him to heal Shi-woo?
Sun-ah argues that he's special — he stopped the lights from falling on himself during the concert, which is news to Hwang. Suddenly he seems a lot more interested.
Chi-ang finds Soon-deok at her next class, meditation, and actually shoves Sun-ah off her mat so he can sit next to her. Shi-woo arrives and orders Soon-deok to meet him after class, then takes the mat behind Chi-ang. He quietly thanks Sun-ah for protecting him in the kitchen, which gives her a teeny-tiny freakout.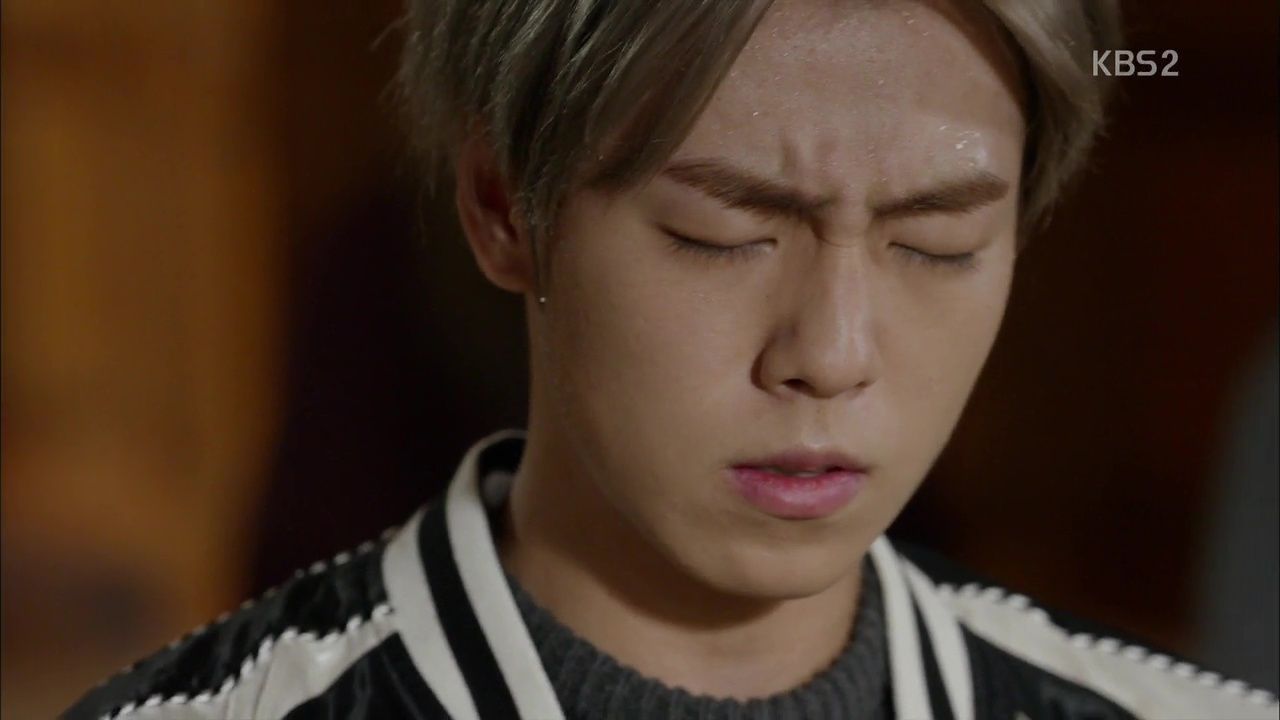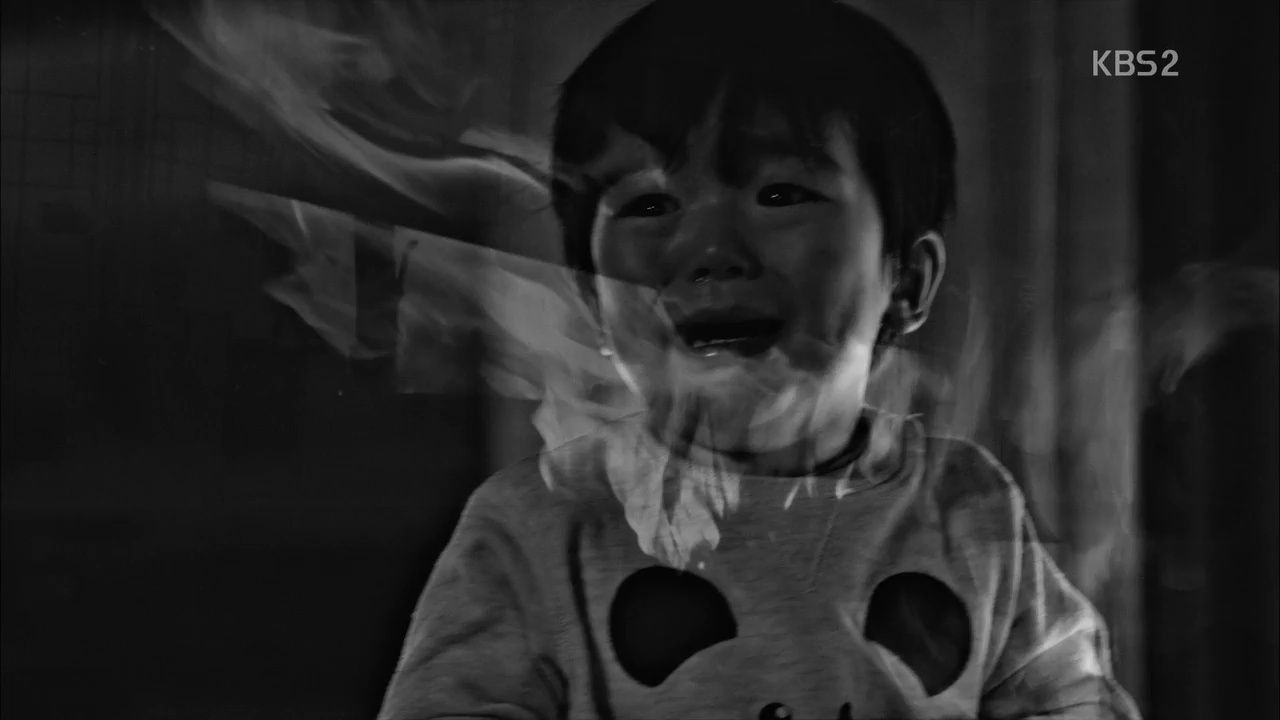 Meanwhile, Professor Kim confronts Dean Hwang about his acceptance of Chi-ang and Shi-woo. He figured out that the opening of the seal wasn't done by Dean Hwang himself, and suspects that it was one of the boys — but Hwang doesn't know which, so he allowed them both to stay. Hwang admitted that it's out of character for him, but now he hopes that his instinct wasn't wrong.
Shi-woo takes the meditation class seriously, but Chi-ang takes advantage of everyone's closed eyes to sneak glances at Soon-deok. Professor Beop asks the students what they see, and when Sun-ah says she sees a fire, it appears to bother Shi-woo. He remembers a fire again, and sees a baby screaming next to an apparently dead woman. He wakes violently, sweating and gasping for air, but when Professor Beop asks about what he saw, he denies seeing anything.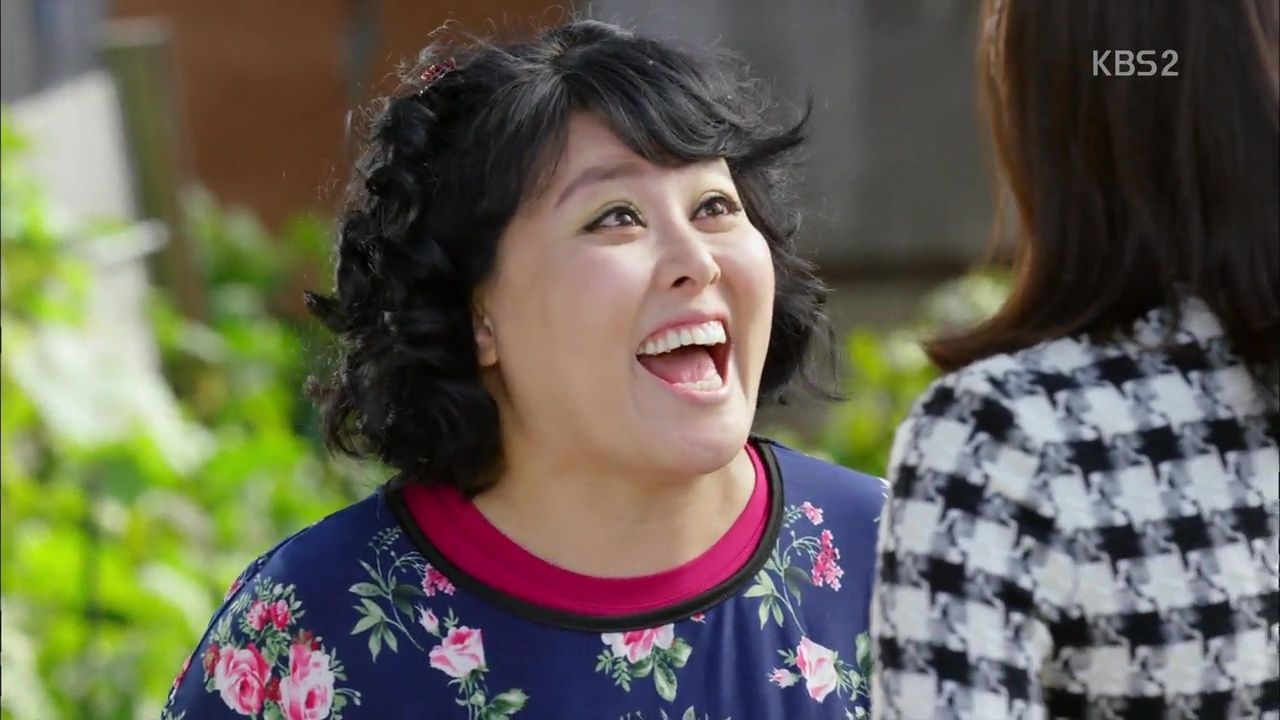 Not wanting Shi-woo to get all the attention, Chi-ang says that he saw something too. He describes a group of thugs, and leaving a girl behind to run away. He makes the students laugh, but Sun-ah tells them all to knock it off. Shi-woo looks furious, and Soon-deok notices his anger.
All the way in China, Chi-ang's father pulls an ornate box from his desk, and opens it to stare at the tiny metal charm inside. Back in Korea, his mother visits Soon-deok's family to offer payment in return for saving her son's life, though Soon-deok's father won't hear of it.
Soon-deok's aunt follows Chi-ang's mother out to try to get her to hand over the envelope of money anyway, but Chi-an'g smother is just dim enough not to get her hints. Aunt seems to recognize her and asks if she's from Masam, which seems to give Chi-ang's mother a fright. Regardless, Aunt determines to marry her niece off to Chi-ang, and get herself a better place in the world.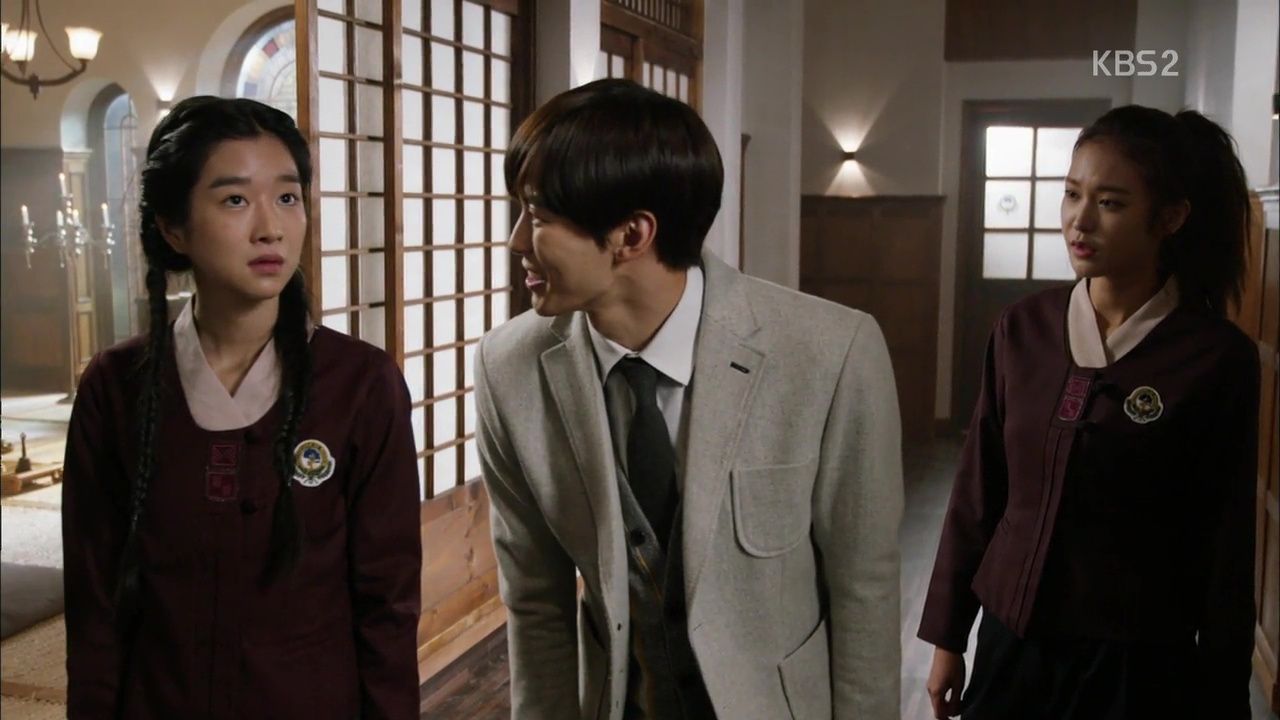 Nothing could be further from Soon-deok's mind, as she fumes over Chi-ang's assey behavior in meditation class. Chi-ang grins that she must be staying mad at him because he said she was pretty when she's angry, but Soon-deok tells him to scram. She's not the only female he's pissed off, and Sun-ah threatens him not to bother her Shi-woo Oppa again.
Frustrated, Shi-woo packs to leave, but Dean Hwang's words that he could train and help heal himself weave through his mind, making him hesitate. He shows up at martial arts class, where the students watch Soon-deok and Sun-ah expertly spar with wooden staves. Soon-deok wins the round and when Chi-ang starts to approach her, Jeong warns him venomously that this class isn't for beginners and useless idols.
He directs them to the beginners' class and Chi-ang bristles, but a word from Soon-deok has him smiling again. Jeong digs at him (in English, for some reason), telling him to show off his money somewhere else. Chi-ang retorts that he's not here by choice anyway, so Jeong tells him to leave.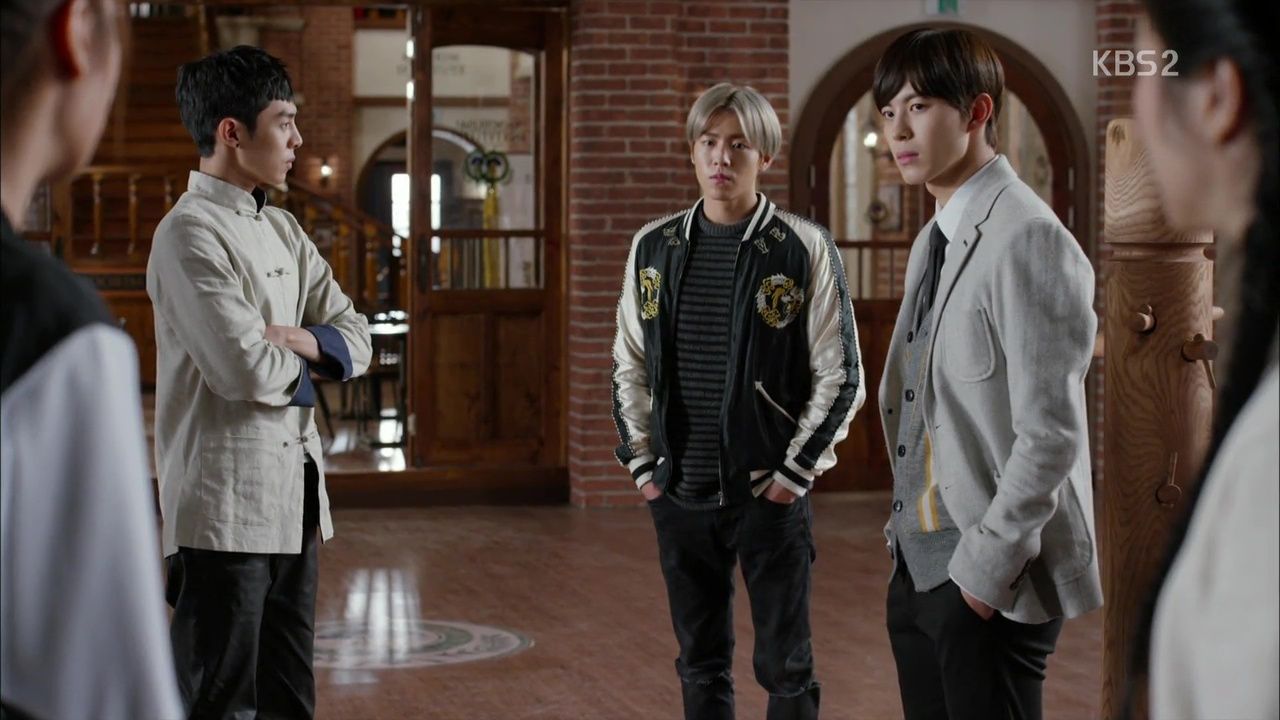 Sun-ah has had about enough of Chi-ang as well, telling him that they all have hopes and dreams they're here to pursue. Chi-ang and Shi-woo aren't skilled enough for this class, so they're wasting everyone's time here.
Chi-ang is ready to verbally spar some more, but Shi-woo takes action. He deftly kicks a stave into his hand and asks if he can stay if he proves he's skilled enough. Sun-ah warns they're not trying to exclude them arbitrarily, it's just that he could get hurt.
Shi-woo executes a few basic moves, asking if this is what they'd learn in beginner's class, and it becomes clear that he may actually know how to handle himself. Chi-ang also claims to know a few moves, so Jeong proposes that they spar each other, and defend their right to be at this school.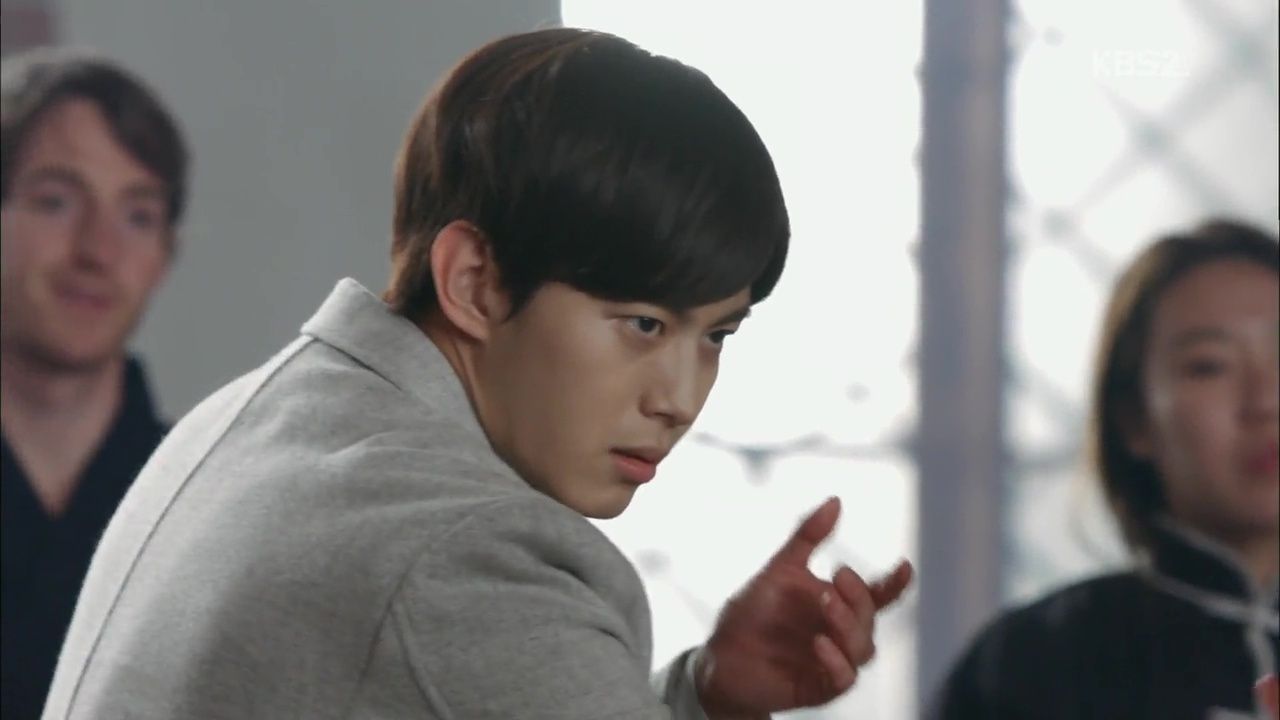 But the rules of the school say that fighting means expulsion, except in competition. He finds a loophole to make it a competition to earn the right to stay — loser goes home. Soon-deok tells them not to do it, that Jeong is just provoking them, but Shi-woo goes to the center of the circle and Chi-ang quickly joins him.
They face off, and at the beginning they seem surprisingly skilled, and equally matched. Chi-ang's style, to exactly nobody's surprise, is pretty straightforward and relies on brute strength, while Shi-woo displays an acrobatic ability that impresses even Jeong.
It's not long before they grapple face to face, and both boys throw a punch simultaneously, determined to be the winner and earn their right to stay at Moorim School.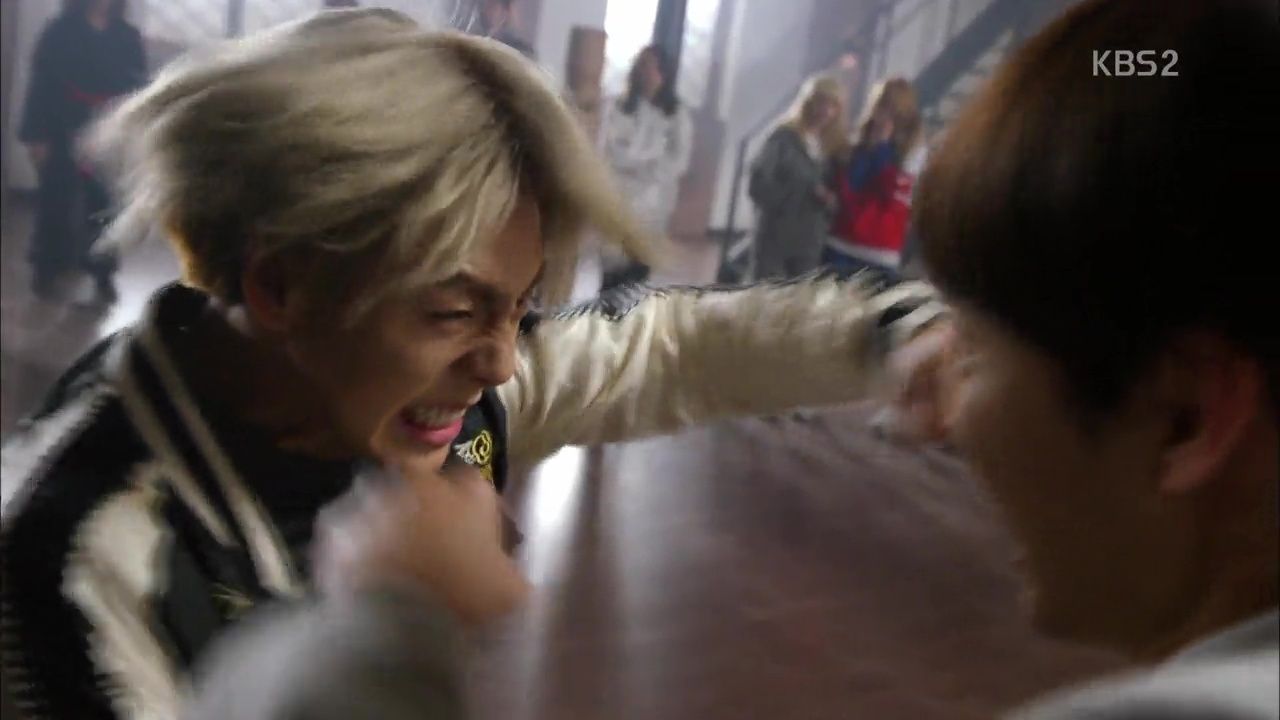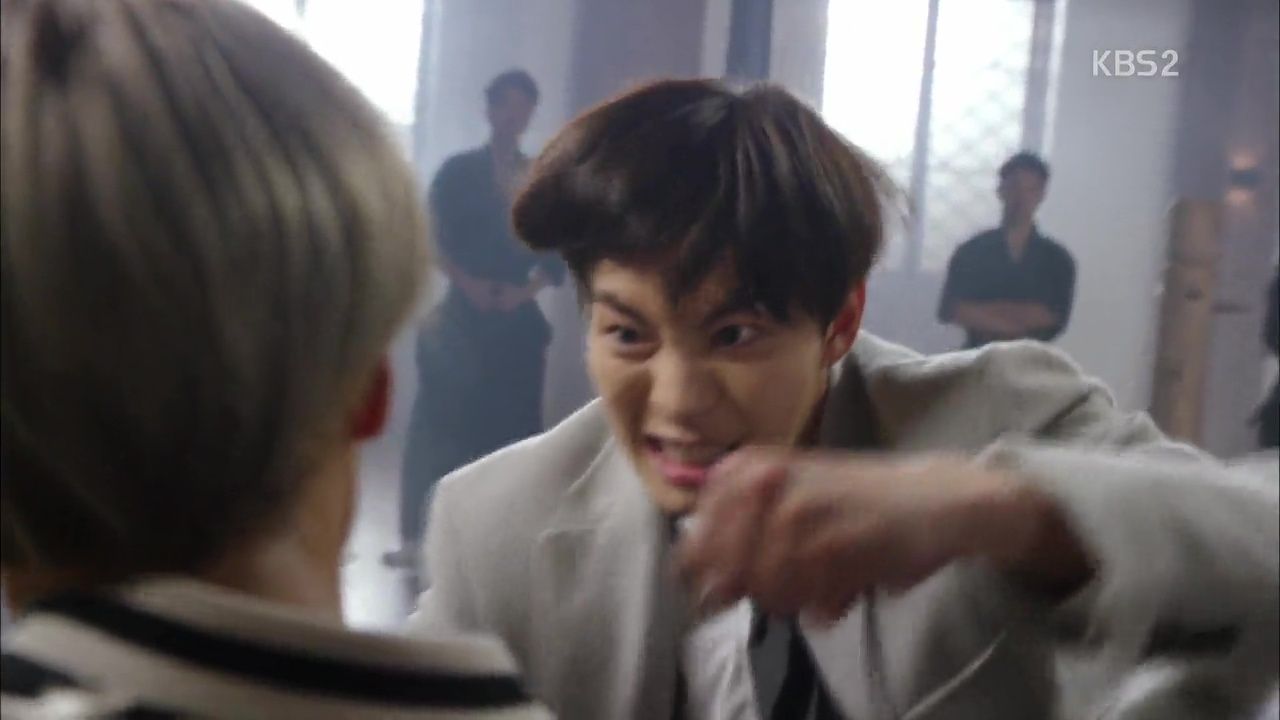 COMMENTS
That was pretty cool, though I wish that fight scene had been longer. The action sequences in this show are very well-choreographed, and I want to see more! It was only a matter of time before Chi-ang and Shi-woo came to blows, and it's a nice surprise that neither of them is a rookie when it comes to martial arts. Though, I have a sneaking suspicion that they're about to discover a lot more than they expect, once they stop fighting each other and start actually learning something.
This episode didn't move the plot forward much, which is surprising since there was so much plot movement in the first episode. But we did get to see more of Shi-woo, which was nice, and learn a little about his mysterious past. Clearly he grew up without parents, and now we know there is a tragic element to that. I wonder if his powers, uncontrolled at a young age, had anything to do with the fire that killed (I assume) his mother? Even if he repressed the memory and knowledge of his ability, it would explain a lot about his prickly personality. It's interesting that he's the one who seems more serious about being at Moorim, though he pretends not to care if he stays or not until he's pressed to leave. And as far as we know at this point, Chi-ang has no mystical abilities, and is really only here to kill time for a year and get a girlfriend.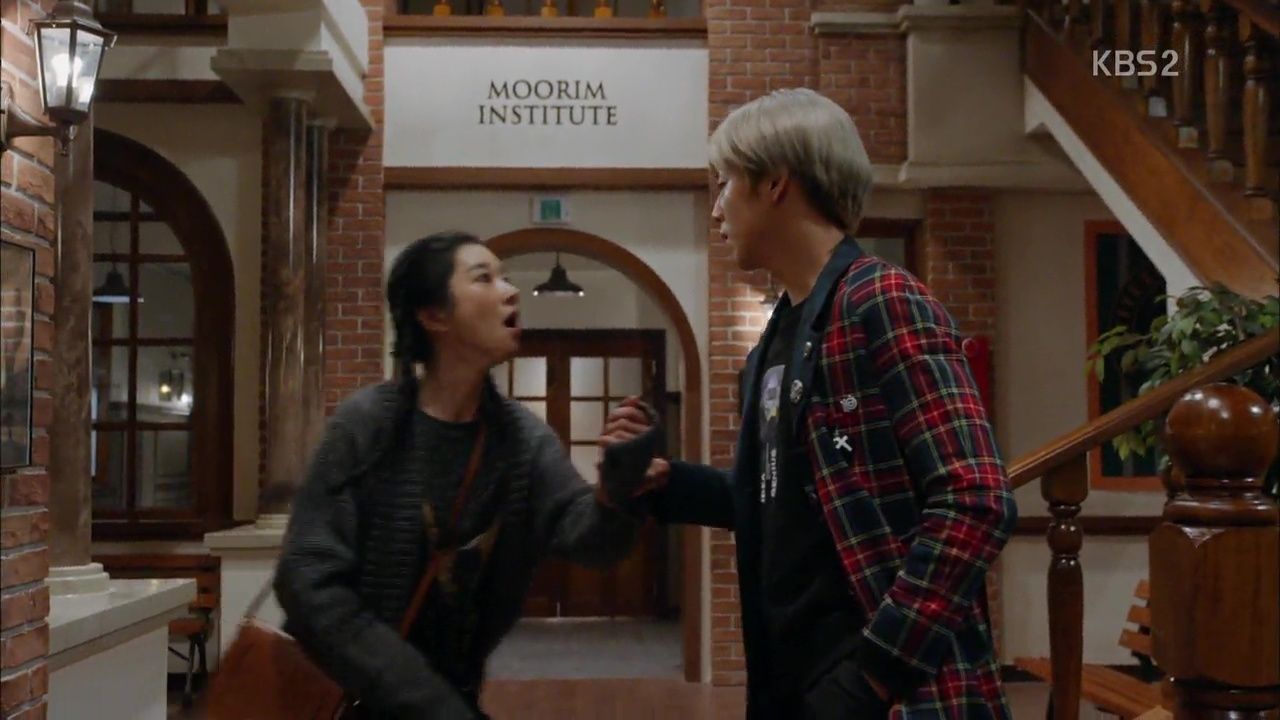 As much fun as I'm having with this show, I will admit that out of our four leads, it feels at times that they're acting in entirely different dramas. Shi-woo is in a tragic coming-of-age story, Chi-ang is filming a rom-com, Sun-ah is part of a mystery thriller and Soon-deok is doing straight-up slapstick comedy. It's a directing issue, and hopefully things will settle as we move into the plot and everyone reigns it in and settles down a bit. It's tricky when three out of your four main actors are pretty green, though I do appreciate that they're at least giving it their all. I would rather see an actor go too far in their character, than not work hard enough… from a directing standpoint, it's easier to pull someone back a bit, than to drag more emotion out of a performer. And these are not simple roles — the characters have a lot of layers to them, and are written to be very three-dimensional and complex. They have a lot of inner dialogue to portray without scripted words to support their motivations, so they're not easy roles to play in the first place. I have hope that with time and a couple more episodes, they'll settle into their roles and get on the same page, so to speak.
As to the story itself, I do like the setup of kids from very different walks of life, all going to one school to learn how to use their special skills. I do hope we learn more next week, about the school itself and the students who attend, because even after two episodes I'm still unsure of what's happening beyond that. It's still unclear if every student at the school has the same mystical energy powers that Dean Hwang and Shi-woo have (in fact, they're the only two we know for sure have that ability, which may be why Shi-woo is the one who unlocked the seal if it's a rare ability), or if the majority of the student body is just exceptionally talented at martial arts. But the show has dropped a lot of hints to something bigger going on behind the curtain, so to speak, especially in regards to Chi-ang's father and why he's determined to send his son there. There are a lot of mysteries to solve, such as why the school is there and why it's so secret that even the mountain protects it, what its purpose is, and why these particular kids are there.
I feel the need to say that of course, this show isn't for everyone, and it's not perfect (but then, what is?). I understand that many viewers may not like some things about it, or disagree on whether the acting and CGI are any good (and I'll admit that kitchen scene was laughable, though I suspect it was meant to be), while others think it's a fun time and enjoy it for what it is. Diff'rent strokes for diff'rent folks, and all that. But I do think there's a lot to recommend Moorim School (though I reserve the right to change my mind later, as always!), and while it may not win any major awards, it's still an interesting premise with, I feel, promising actors who are doing a decent job with what they've been given. It's going to be a long ride, so I'm willing to give the show a chance to see if it can live up to the hype, and the potential I see. Let's all try to discuss it respectfully, and allow each other our opinions so that everyone feels comfortable commenting. We can all have fun, whether we're praising the show or critiquing it!
RELATED POSTS
Tags: featured, Hongbin, Lee Hyun-woo (2), Moorim School, Seo Ye-ji