Remember—Son's War: Episode 9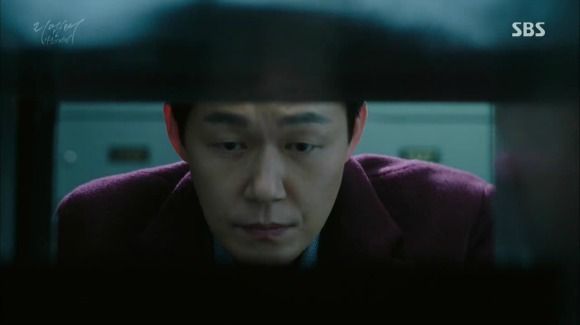 More pieces of our sons' wars come together, and it's time for Dong-ho to dig into his father's past. The combination of fate and Dong-ho's conscience tempt him to dump Gyu-man, but it seems as if this silent observer may need a bigger push to really escape the devil's grasp. All the pieces are there — they just need to be strategically timed and placed to combust our ultimate enemy, Il-ho group.

EPISODE 9 RECAP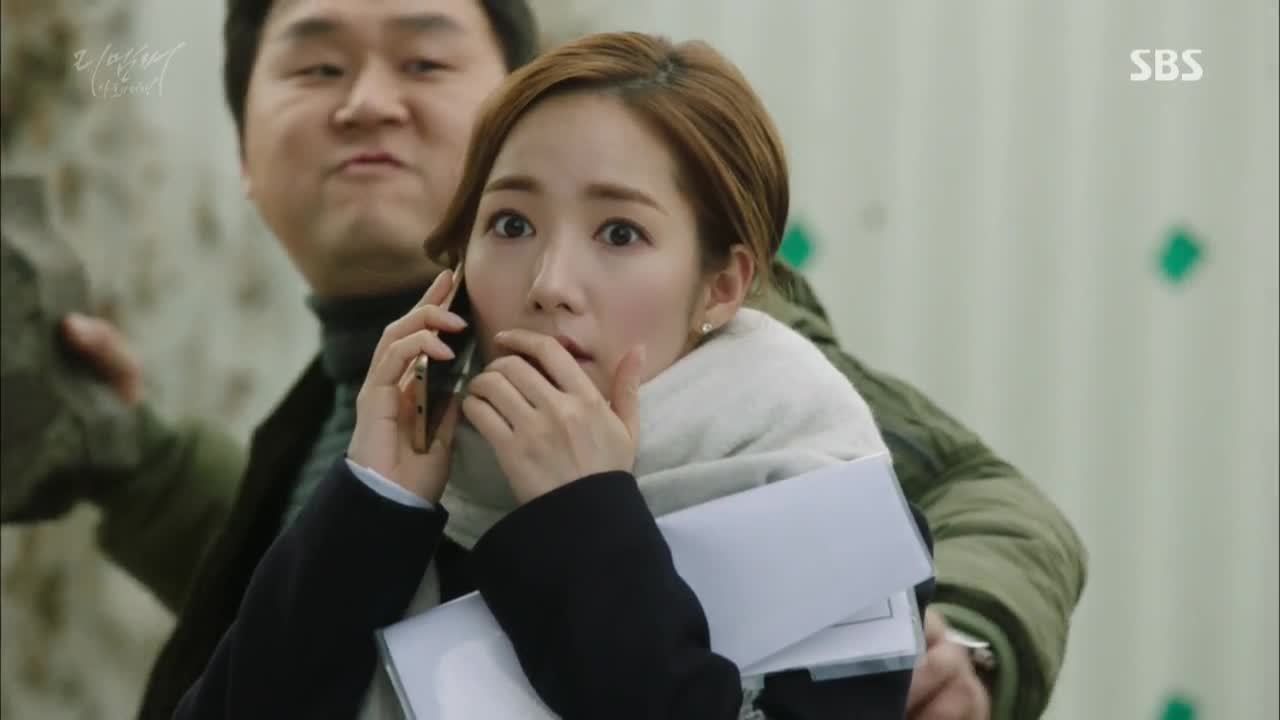 Before In-ah gets a chance to reveal Blue Scorpion Hand's location to Jin-woo, she gets knocked unconscious by our killer. Jin-woo loses her on the phone call, and the heightened sense of urgency sends him racing through his memory. Scanning through every detail in his mind, he finds a lead on the killer's location and runs off just as Dong-ho arrives behind him.
Once In-ah regains consciousness, she demands to know who ordered Blue Scorpion Hand to kill the witness. Blue Scorpion Hand responds to her constant demands by pulling the fish line of out his watch and chocking her.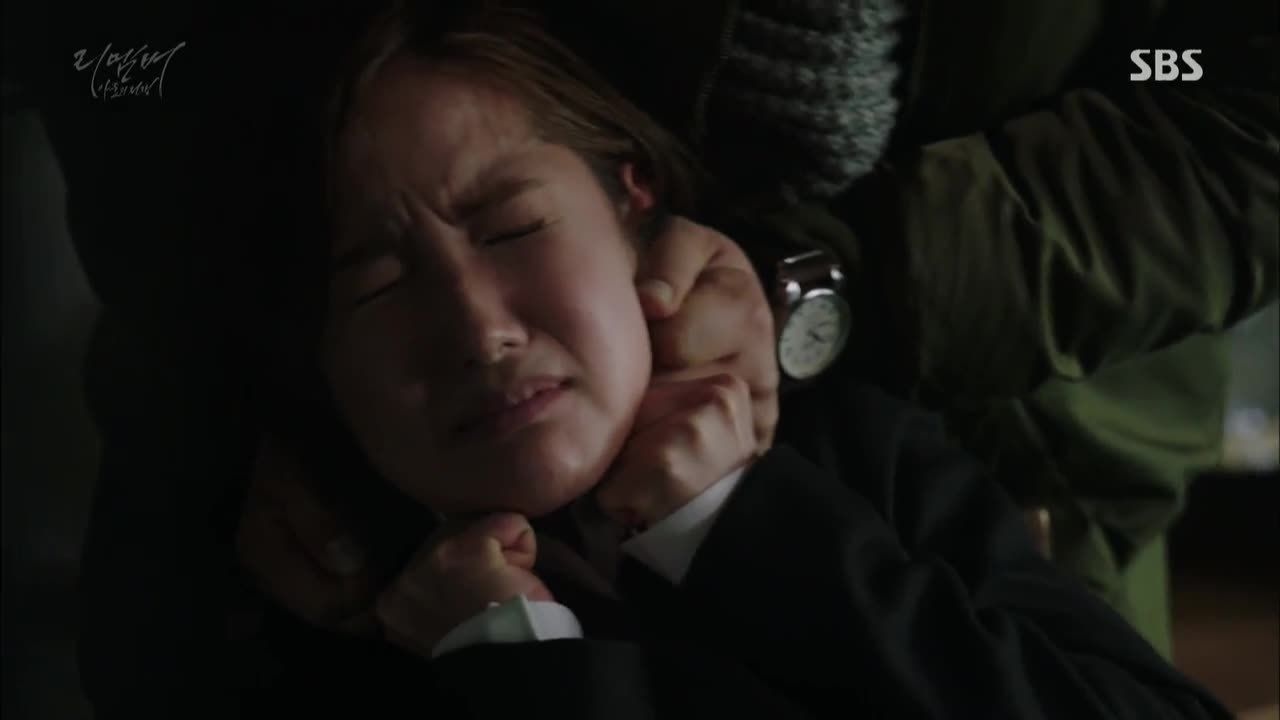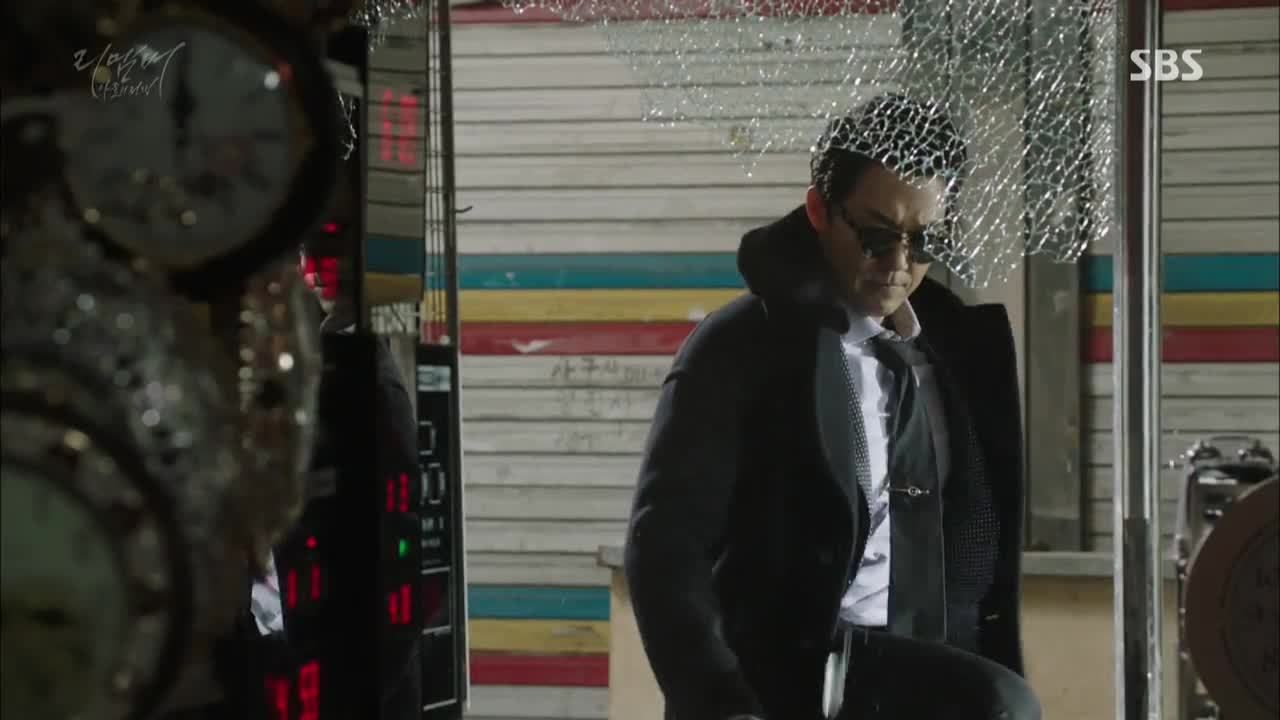 Dong-ho arrives at the clock shop, and when he finds the shop closed, he breaks entry. He stops the killer and tells him to let In-ah go, since she's not related to this case. When Blue Scorpion Hand refuses, Dong-ho takes matters into his own hands and immobilizes him.
Jin-woo runs in and tries to wake In-ah. Thankfully, she slowly opens her eyes, though weak and injured.
At the police station, Joo-il warns Blue Scorpion Hand to watch his mouth and assures him that they'll get him out. The detective tells them to wrap up their talk quickly and smirks at the "gangsters," an insult noted by Joo-il.
When Jin-woo is released from the station, he's met with Lawyer Song, Boss Ajumma, and In-ah, who all look relieved by his clearance. Secretary Ahn reports Jin-woo's release to Gyu-man, who starts to boil with anger.
The beginner driver who cuts him off on the road becomes his scapegoat, and he cuts the woman off to stop her on the road. He grabs a golf club from his trunk and runs onto the hood of the car.
He warns the woman that he's in a bad mood and orders her to stay in the car if she doesn't want to get hurt. Then, Gyu-man proceeds to wildly hit the front glass like a madman, yelling about things not going his way.
After his dangerous tantrum, he smiles at the frightened woman and calls Dong-ho to take care of his incident.
Joo-il storms into Dong-ho's office and asks why he messed up this plan. He's done all of this for Dong-ho, doesn't he know? Dong-ho pleads that Joo-il stop doing all the dirty work and start living for himself. But Joo-il tells him that he's never regretted a decision he's made, and if he's decided to work under someone, he'll compromise his morals to carry out an order.
Joo-il leaves Dong-ho with an ultimatum — be dragged down by Jin-woo, or live prosperously with him while taking orders — and hopes that Dong-ho will remain by his side.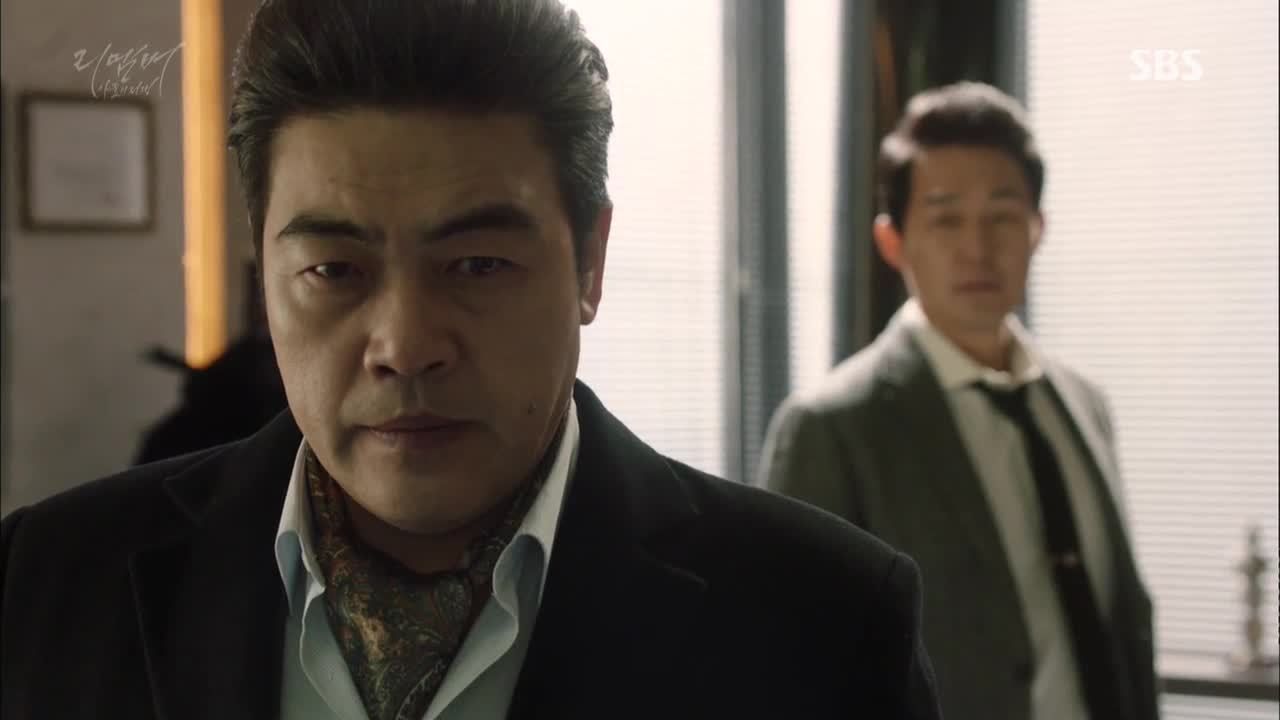 On their way back to the firm, Jin-woo tells In-ah not to fearlessly chase a killer, but she claims to have been more worried about clearing Jin-woo's name.
The witness's daughter is waiting at the firm and hands them a phone with a recording. She tells them that her mother asked her to reveal this clip to the world if anything happened to her, and it only seems right that Jin-woo do so. She tearfully apologizes on behalf of her passed mother.
Dong-ho arrives at the scene of Gyu-man's incident and hands the woman a thick envelope of money. He asks her to keep this incident away from any media outlets and then asks himself what the hell he's doing.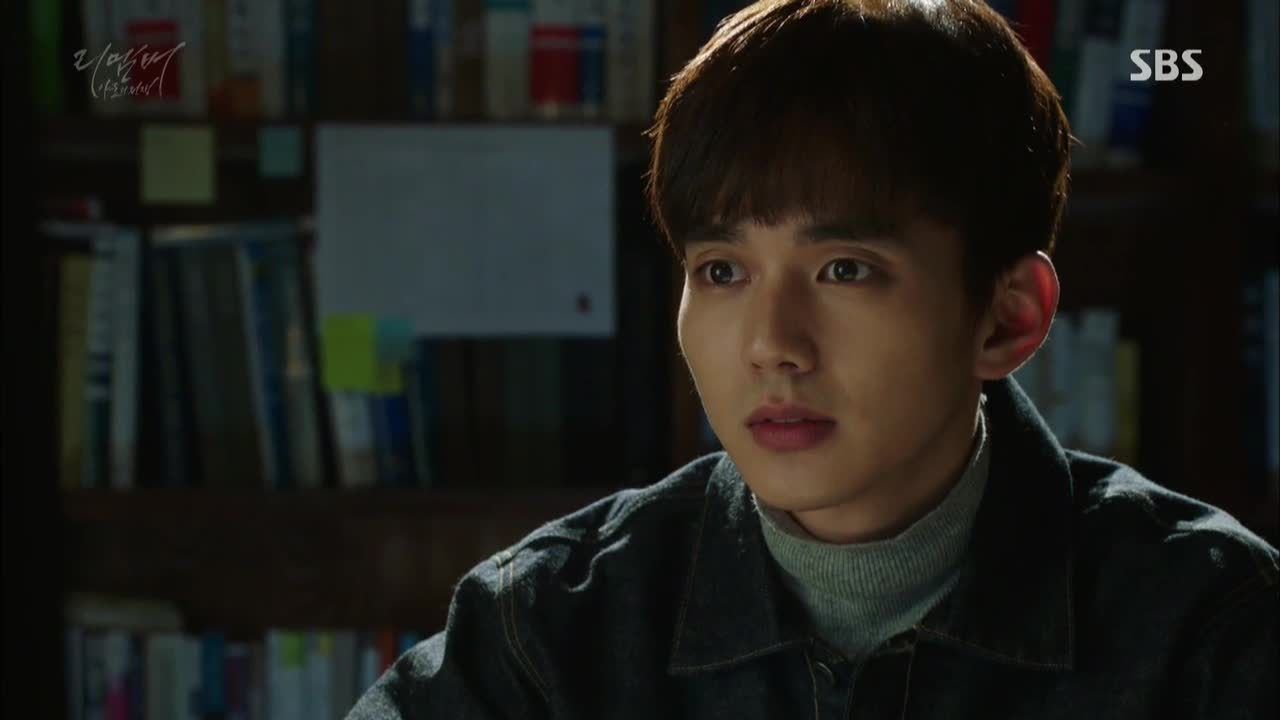 Jin-woo watches the recording of the witness admitting to perjury during Dad's trial, and the clip gets sent to Judge Seok-gyu supplementing another attempt at retrial. This time, the retrial goes through, and Jin-woo tells the media that the law must reveal the truth, despite attempts by those to evade just punishment.
Gyu-man and his father watch this interview, and Gyu-man immediately gets on his knees, begging his father to give him one more chance. President Nam glares at him and walks toward his beating equipment, but Gyu-man follows him and continues to beg.
President Nam barely gives him one more chance, threatening Gyu-man that if he doesn't want to end up like his mother (huh, his mother?), he better clear this without a scratch on Il-ho Group.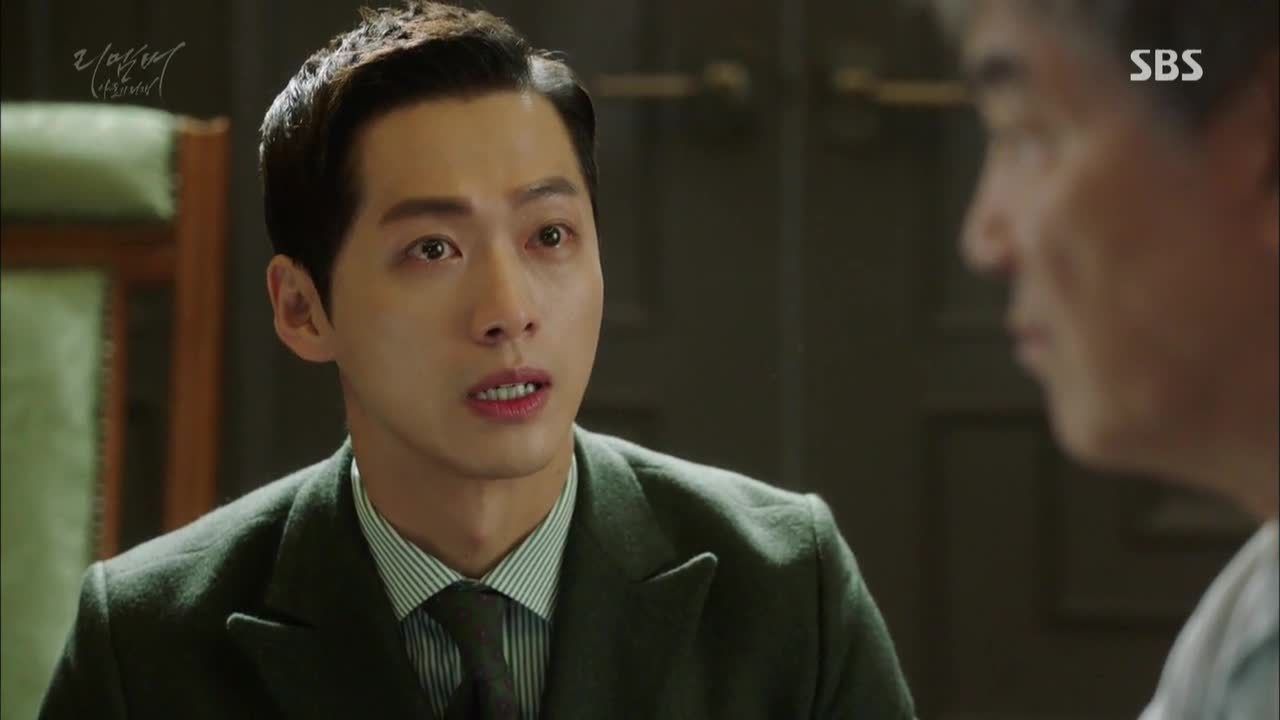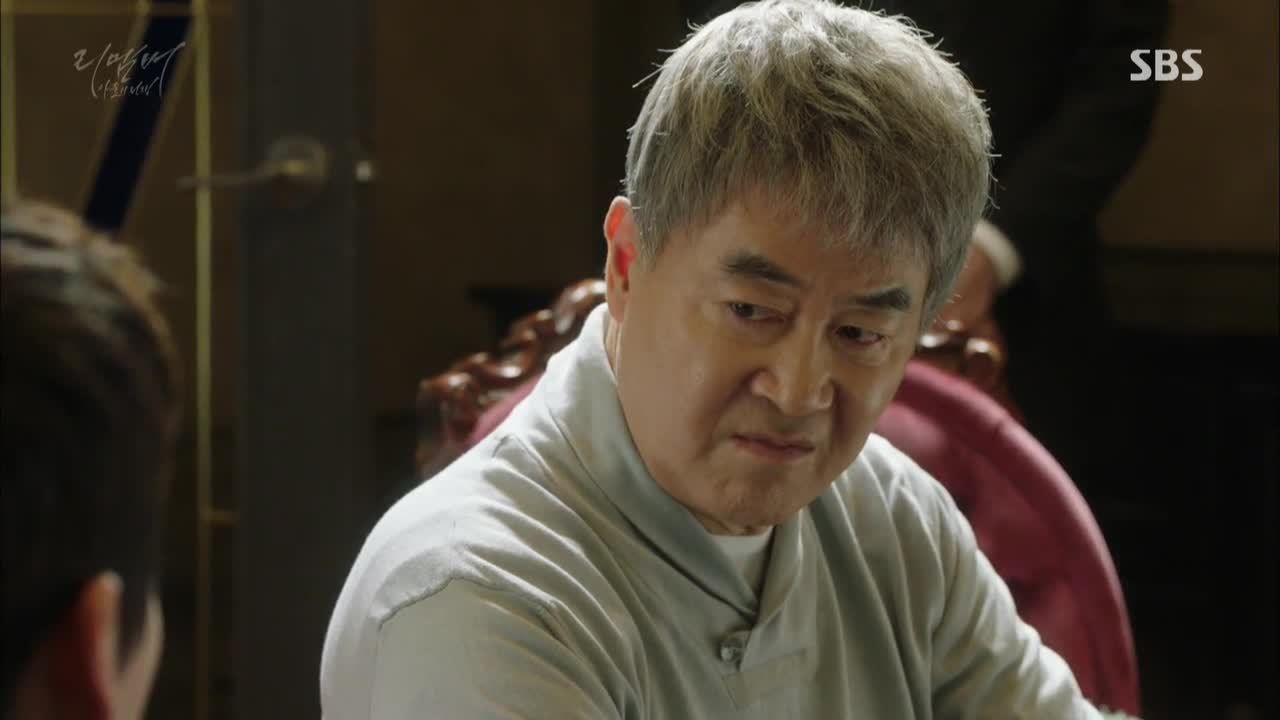 Prosecutor Hong scolds In-ah for not following orders and chasing down a suspect without permission to work on the case. He reminds her of the boundaries as a prosecutor and warns her that she won't get off easy next time.
After he leaves, In-ah gets a call from her colleague with updates about their caught suspect. It seems like they're trying to cover it up, and In-ah responds with exasperation that Detective Kwak is at it again.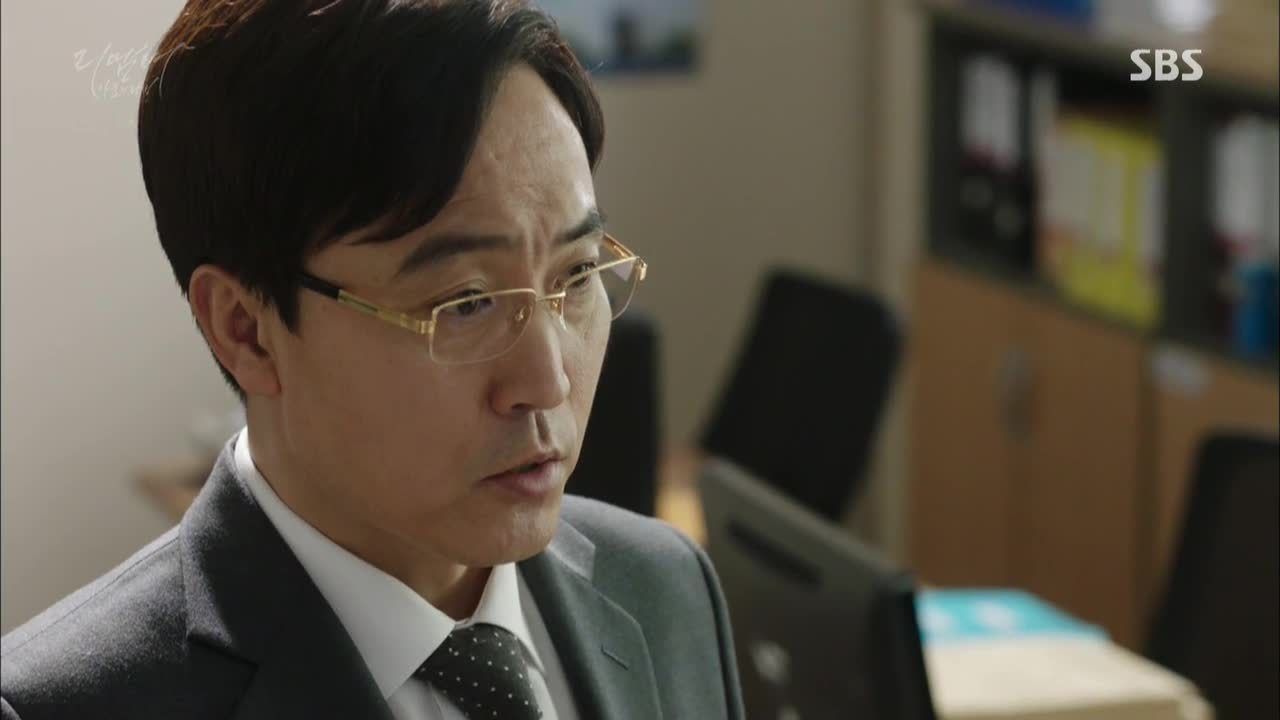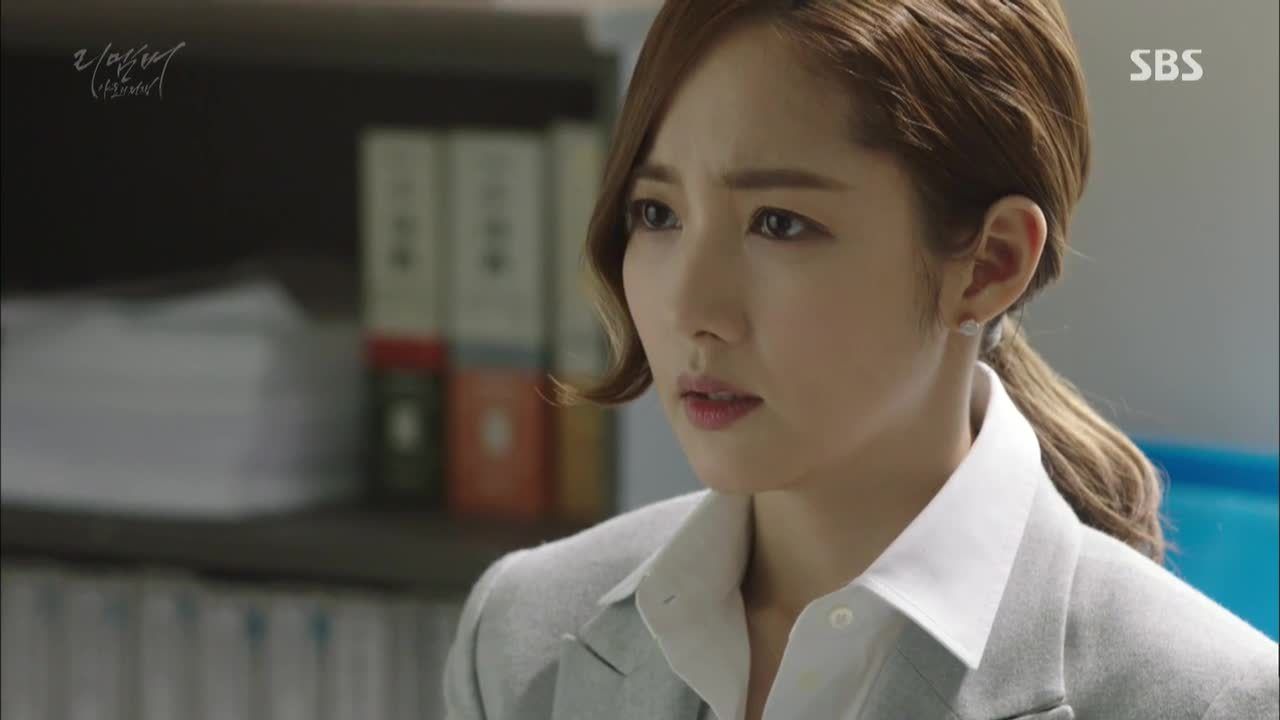 Prosecutor Hong calls President Nam to introduce him to a new player. Just more duplicity from our resident Papa Villian.
When Jin-woo and Lawyer Song arrive at the prison for a visit, they see cameras and reporters crowding around a prisoner release. Lawyer Song explains that it's President Kang, who squirmed his way out of a 10-year sentence to a 5-month sentence after putting on an act as a Parkinson's patient. He shakes his head with distaste.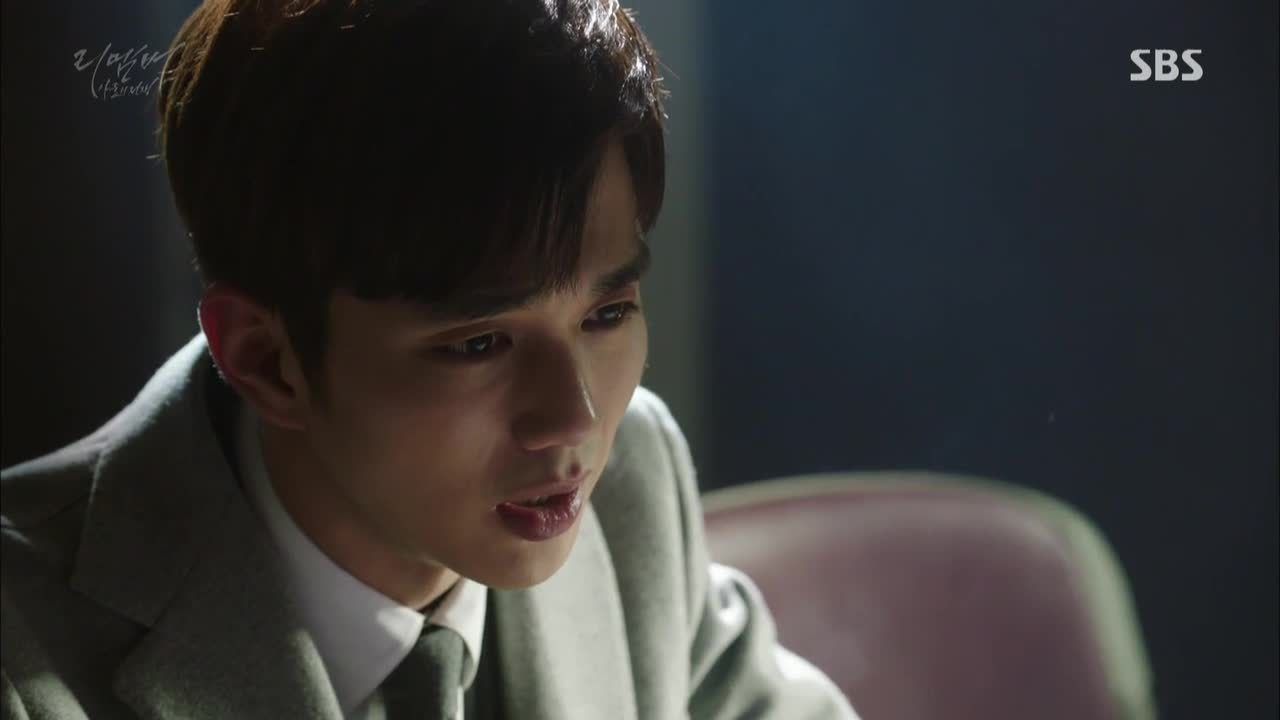 Jin-woo smiles when he sees his father, but Dad seems particularly cautious today. Jin-woo tells Dad that the court has approved his retrial, but Dad tells him that he doesn't want a retrial because that person told him that he's a murderer. Shaking his head, Jin-woo asserts that Dad wasn't the killer, that person was. He promises to proceed with this retrial, and Dad thanks him with smiles that attempt to cover his stomach pains.
Enraged by the deteriorating health of his father, Jin-woo storms into the prison doctor's room and demands proper treatment or a compromised sentence for Dad. The prison doctor nonchalantly says that they shouldn't fret over minor memory loss, and Lawyer Song erupts with accusations about leniency towards a rich fake Parkinson's patient and ignorance towards a real patient. But the prison doctor just shrugs that it's not his call — it's the prosecutor's decision. Ugh.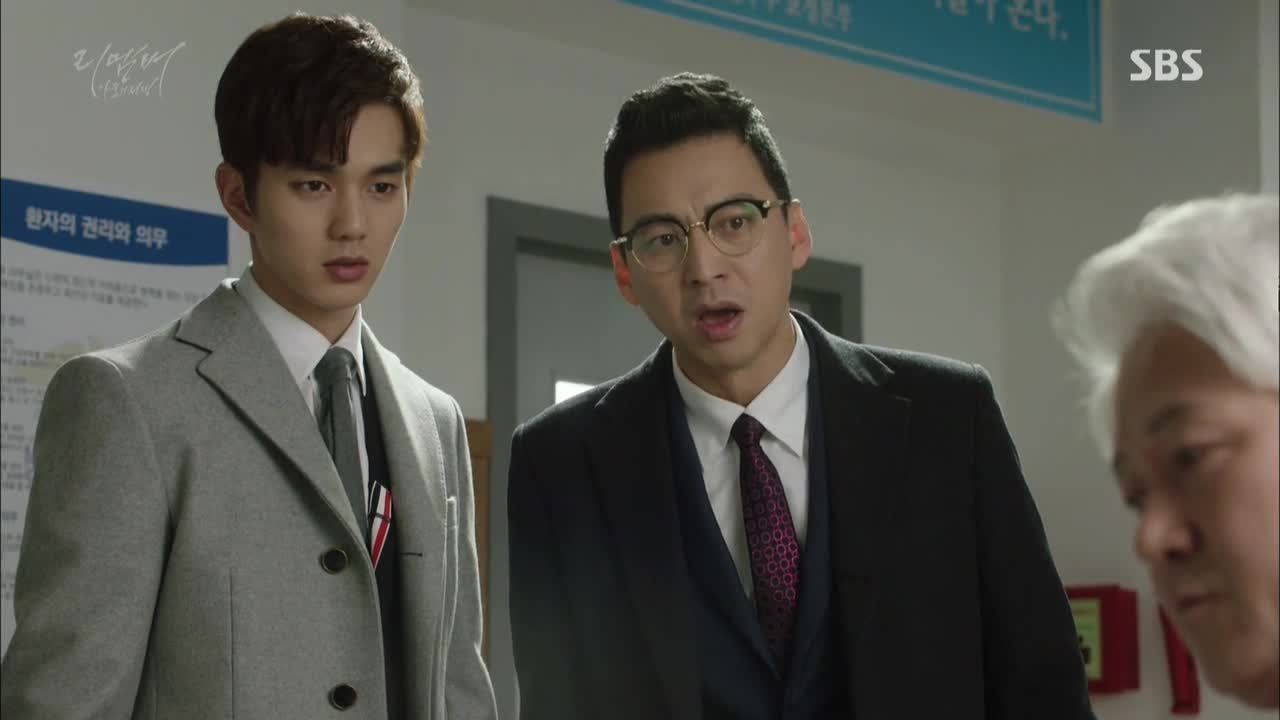 In-ah goes to the police department herself to argue Detective Kwak about the swift closure of the Blue Scorpion Hand case. He claims that the evidence was clear and no further investigation was needed. She argues that there were more players behind him, but he says that halting further investigation was Prosecutor Hong's orders.
In-ah visits Jin-woo's alcove, where he reveals evidence of Prosecutor Hong's alliance with the Nam household. Their omnipresence in the system is alarming.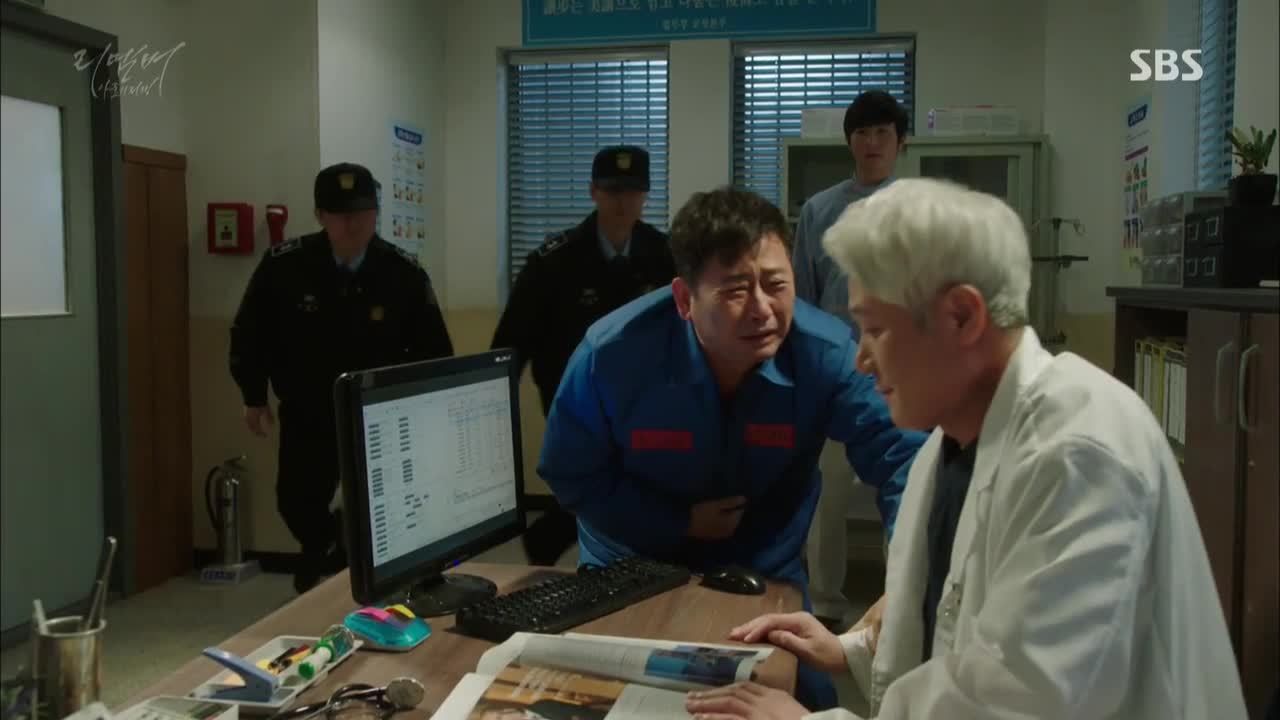 Dad seeks medical attention from the prison doctor because of his unbearable stomach pains, but the doctor just gives him simple pain medications. Although Dad begs for better treatment, the prison doctor ignores his pleas and orders the guards to drag him out.
The prison doctor updates Secretary Ahn on Dad's condition, which is only getting worse without proper Alzheimer's medication. Gyu-man expresses relief about Dad's memory loss, which is unlike Jin-woo's stellar memory. He pities them ("Being poor is a sin."), and Secretary Ahn glares at him from the rearview mirror.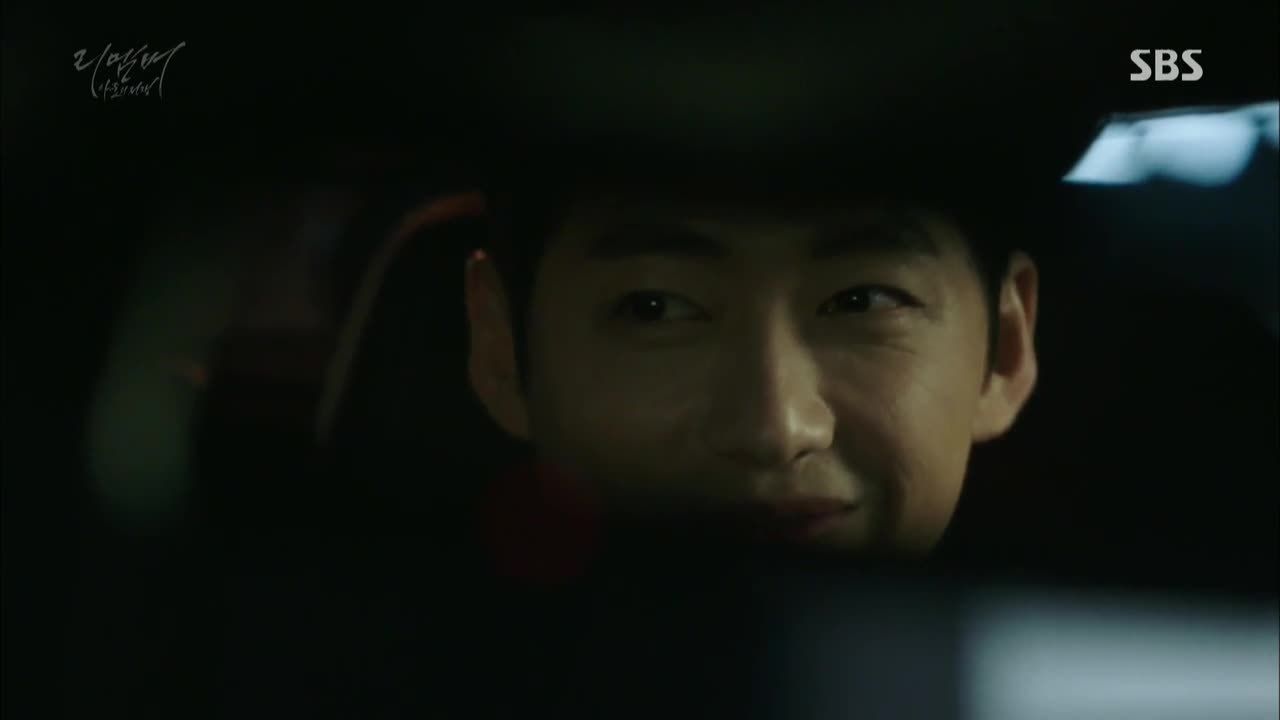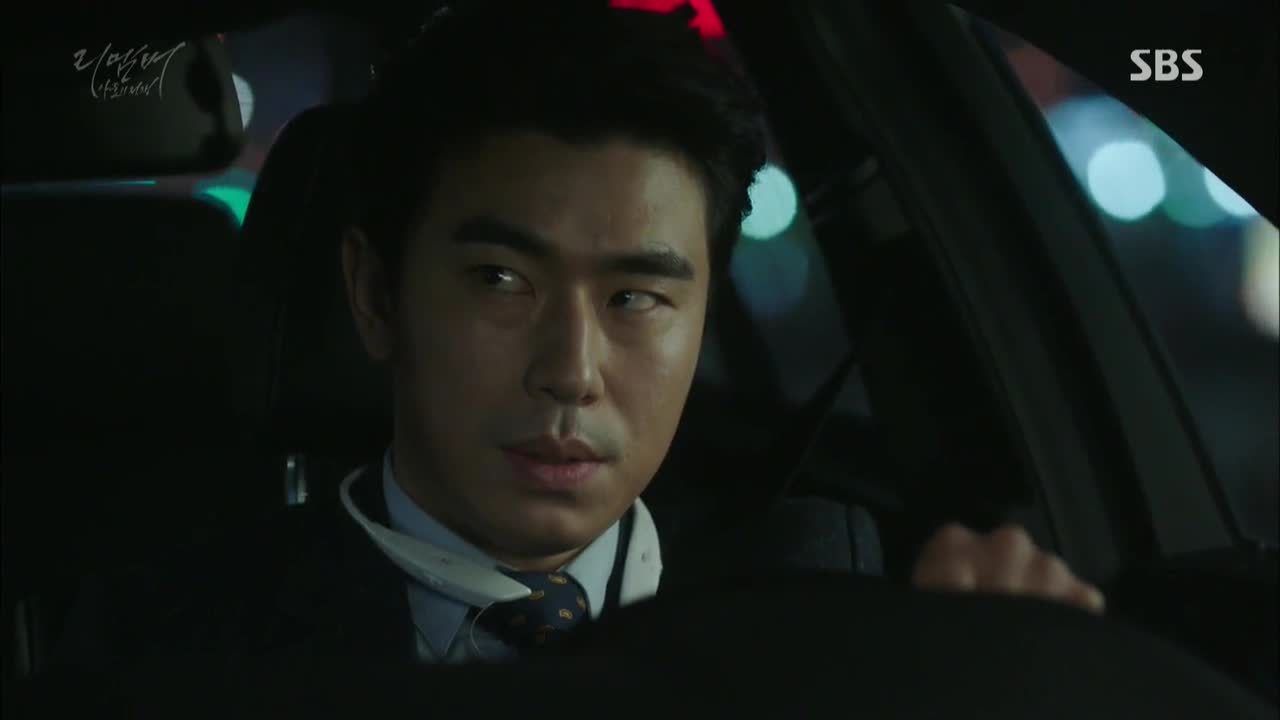 Gyu-man visits Dong-ho's office to thank him for taking care of his roadside anger incident but seems irate at his interference in Jin-woo's riddance. "Hunting dogs should act the part and just bite whatever bait we throw them. If my hunting dogs can't hunt, I kill them off." He threatens Dong-ho with a wink and leaves.
Dong-ho runs into Prosecutor Tak and his police hyung at a restaurant, and they share a drink. Dong-ho recognizes the officer as Prosecutor Tak's hometown hyung, but drunk Officer Bae clarifies that he was an acknowledged police officer in Seoul before he was transferred to that small village where he met Prosecutor Tak.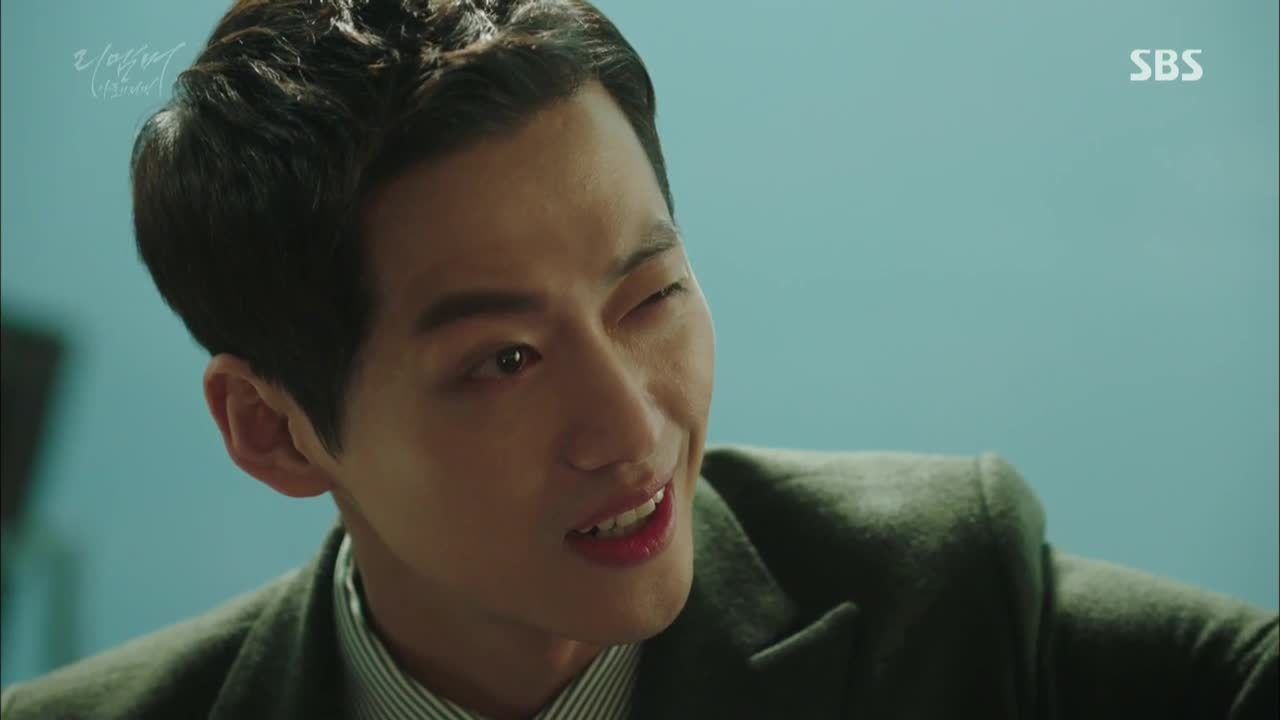 Officer Bae blames that car accident for his demotion, and though Prosecutor Tak argues that it was a simple DUI case, Officer Bae claims that it was more. "Have you seen anyone drive drunk with their son in the car?"
Dong-ho freezes as he remembers his father's DUI conviction. Young Dong-ho argues that a father would never drive drunk with his son, but the officer closes the case.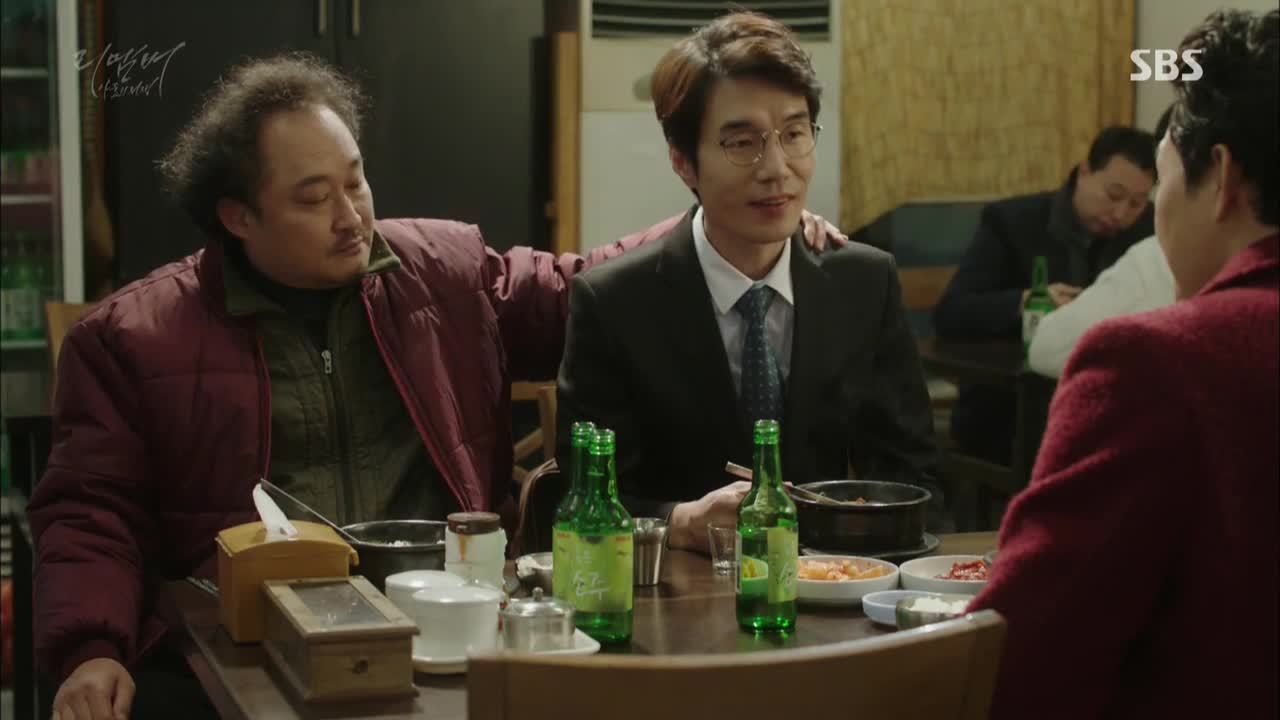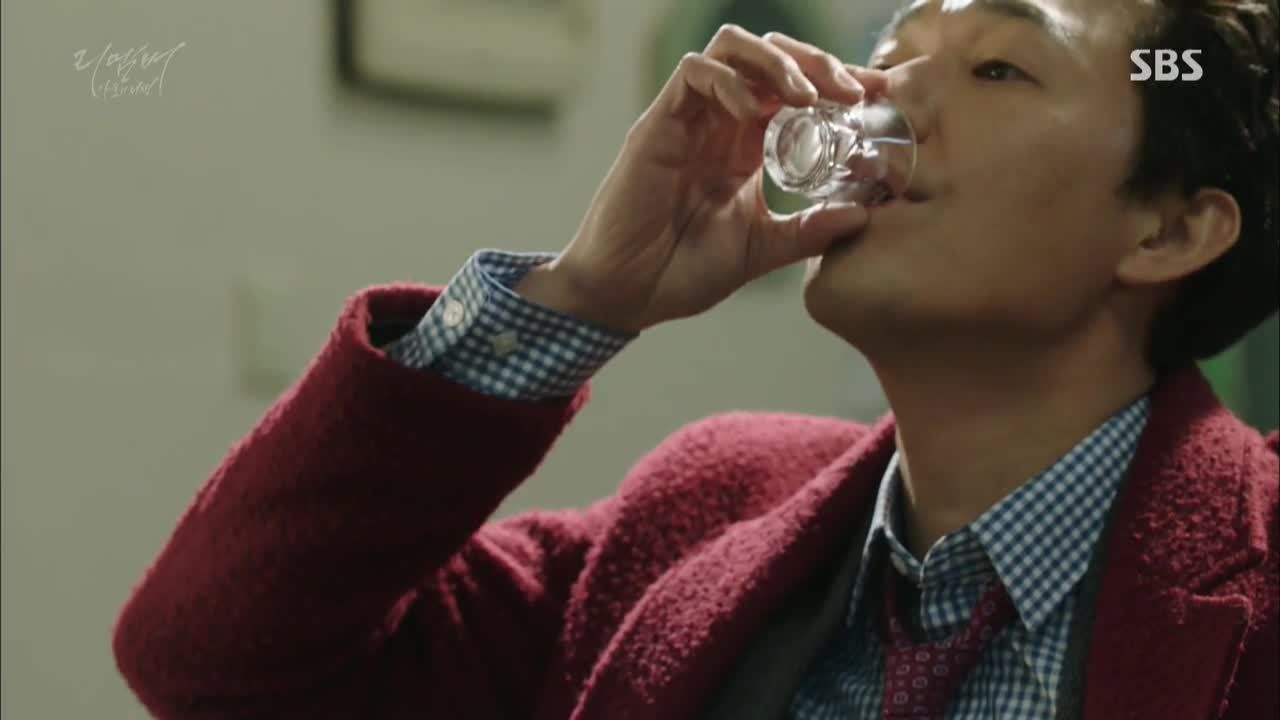 President Nam and Gyu-man arrive at the prosecutor's office to meet Prosecutor Hong and another prosecutor. In-ah sees the interaction from afar.
The new player is Prosecutor Chae, who's agreed to defend Gyu-man in the retrial. They go out for a meal, and Gyu-man introduces her to Dong-ho, since he was the lawyer on the initial trial. They already know each other though, since they were classmates in school.
After seeing Gyu-man off, Dong-ho tells Prosecutor Chae that the world must have changed the once "Justice Goddess." But Prosecutor Chae argues that she hasn't stooped down to Dong-ho's level. He sold justice for money, didn't he?
Dong-ho says that they're both working the justice system for money now, but proud Prosecutor Chae differentiates herself, claiming that she won't change face in the courtroom like he did.
Jin-woo tries to find his second witness, Park Dae-soo, but a neighbor tells him that the family moved out in the middle of the night. Turns out, Secretary Ahn has already gotten to Park, as we see the bribe in exchange for keeping his mouth shut.
Dong-ho meets with Officer Bae at the police station and asks him about the car accident from yesterday. As he hears more, it's clear that it's his father's accident, and he asks for the case files.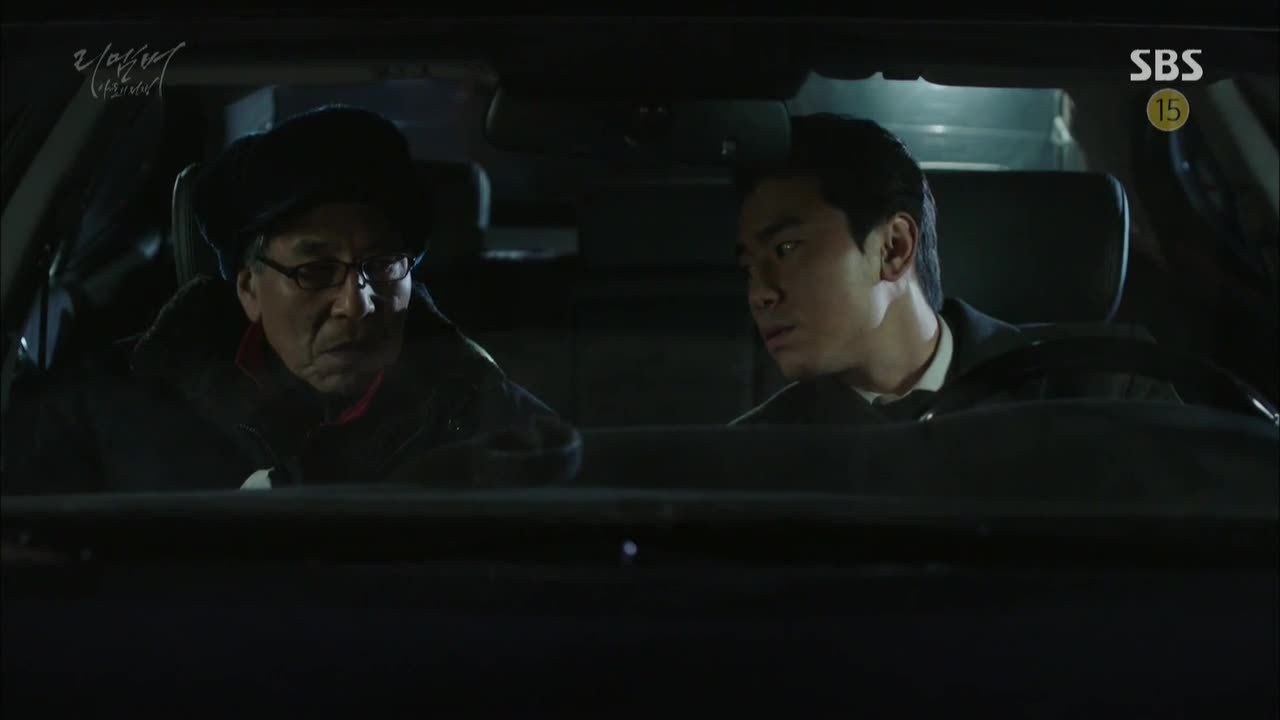 Boss Ajumma smells something fishy with Park's disappearance, and Jin-woo knows something is up. He asks Lawyer Song to look into Park's whereabouts and Boss Ajumma to continue following the prosecutor's movements while he goes out in search of another witness.
Prosecutor Hong assigns In-ah to help Prosecutor Chae in the retrial of his original case. He smiles as we flashback to his motive — a conversation with Gyu-man about forcing In-ah to give up her prosecutor robes by putting her in an intolerable position. In-ah responds stoically to the order.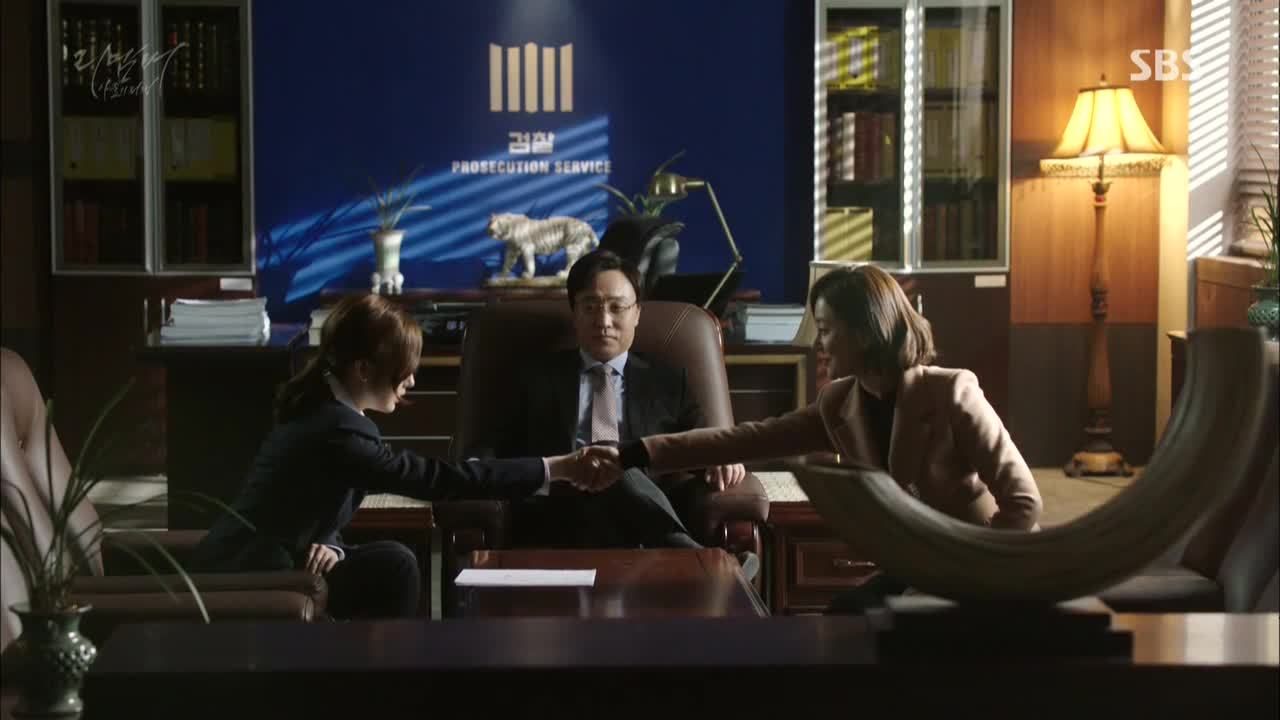 Jin-woo pays a visit our quack doctor, who's now promoted to assistant director of the hospital probably thanks to his false testimony against Dad's condition. Doctor Lee argues that it's all behind them, but Jin-woo haunts him with the crimes of his past: inducing mental diseases in healthy patients to rip off money. Jin-woo offers to bury his malpractice suits if he confirms his false testimony in court.
Dong-ho receives the case files and looks through the listed victims. He recognizes Seo Jae-hyuk's name, but the connections really sinks in when he sees Jin-woo's name. He realizes how twisted their fates have been and holds in a cry.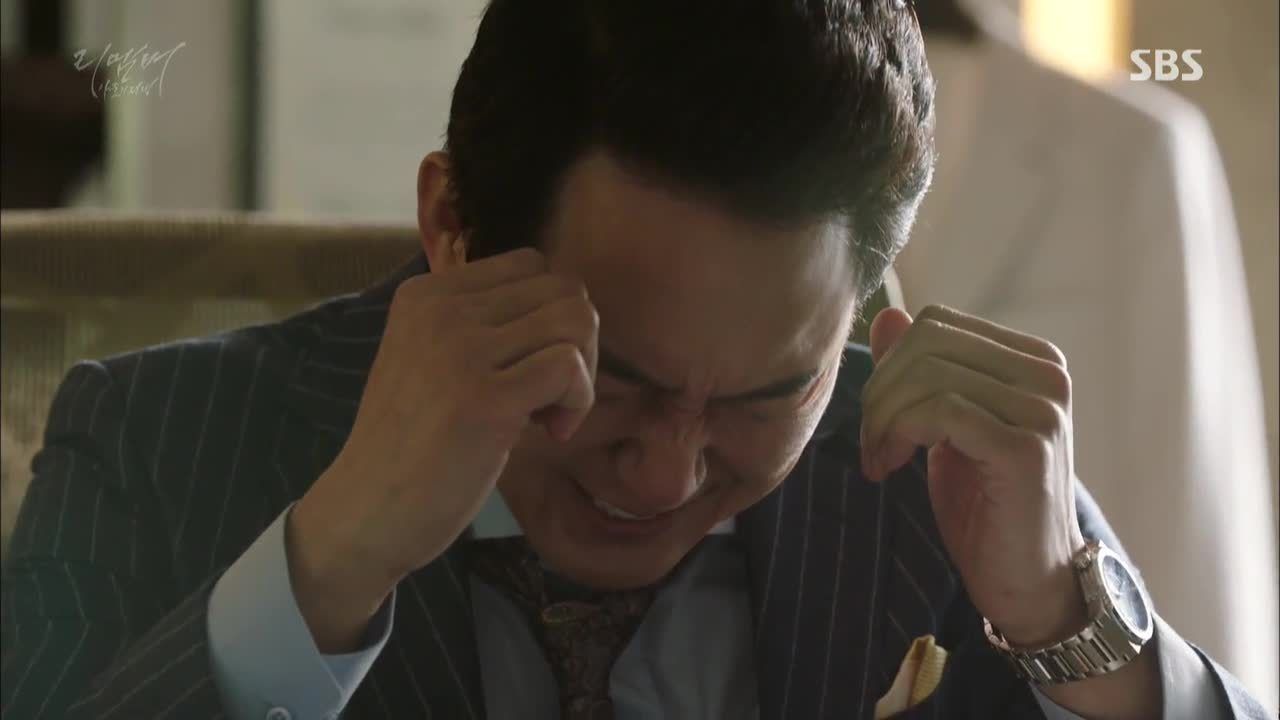 Prosecutor Chae assures In-ah that she understands the frustrations, but they have to follow orders. She also advises In-ah not to blindly follow her assertion of truth and reminds her that Prosecutor Hong's promotion to branch chief depends on this retrial.
Dong-ho visits Dad at the prison and introduces himself as his lawyer in the original trial four years ago. Dad thanks him and apologizes for the hardships Dong-ho must have gone through after his client was put on death row, which only deepens Dong-ho's sorrow.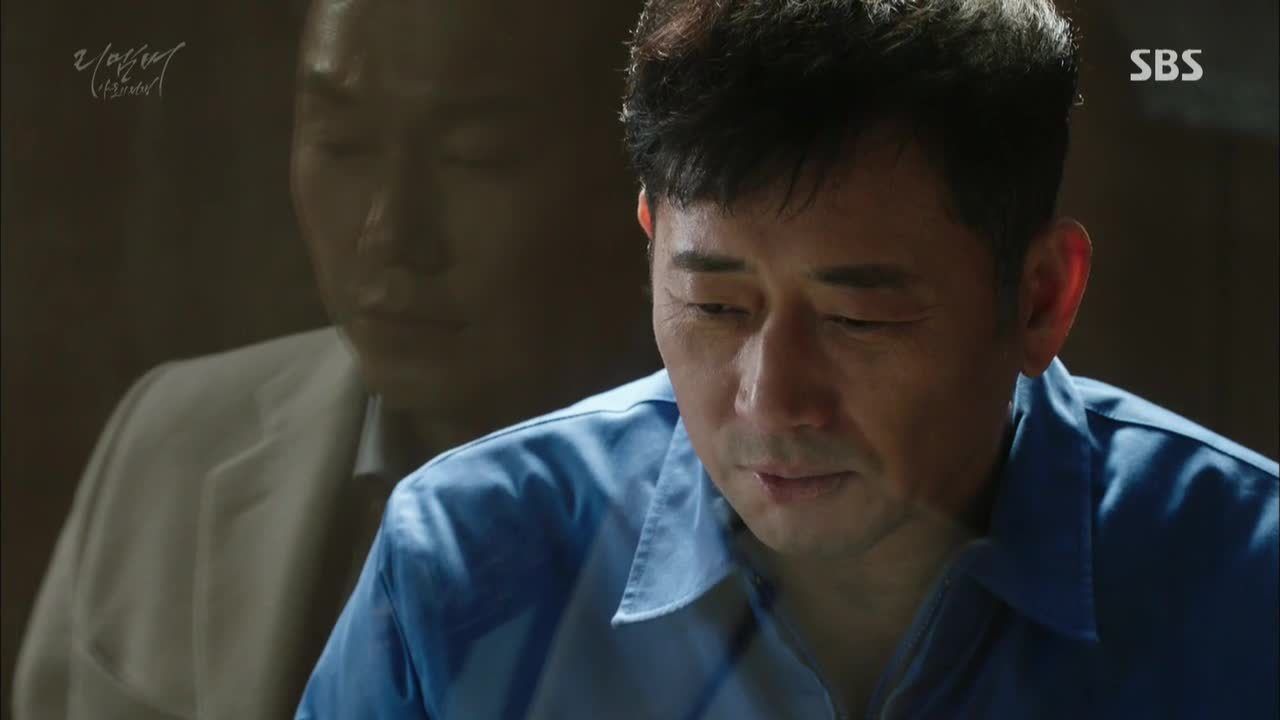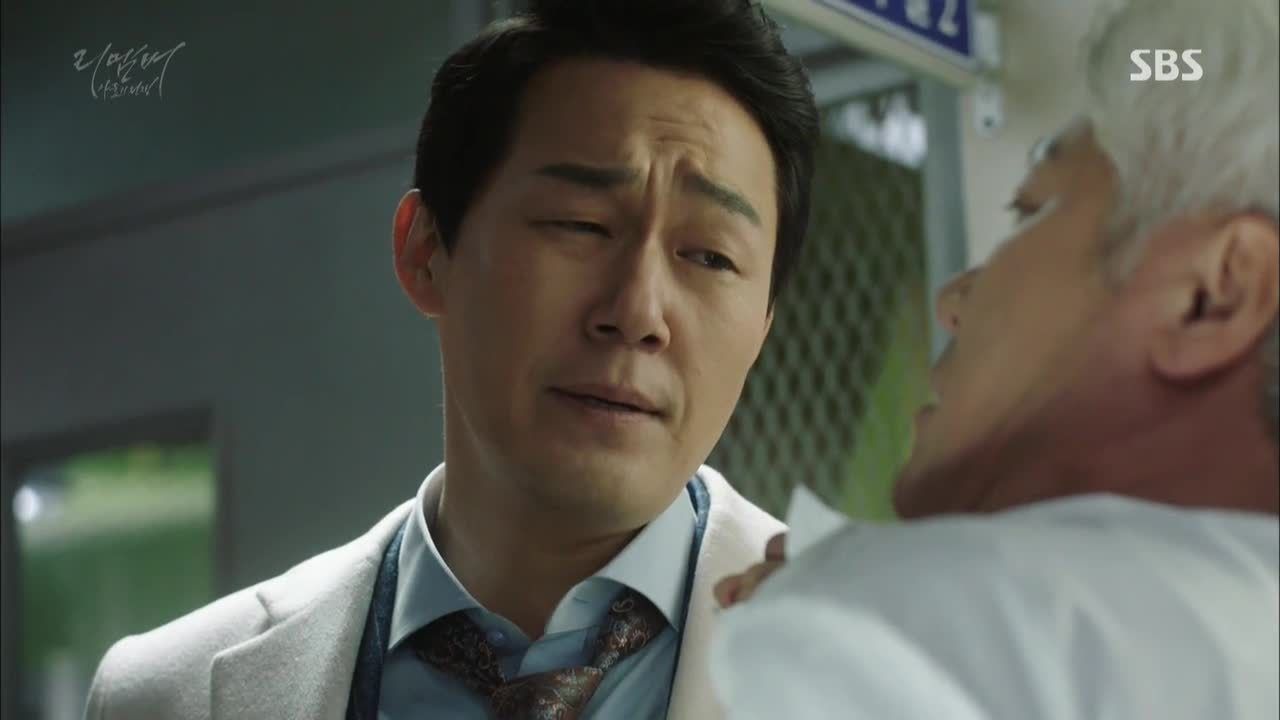 He talks to the prison doctor about Dad's destructive Alzheimer's and grabs him by the collar. Indignant and regretful, Dong-ho tells him to never refer to a patient by a number in front of him.
At the courthouse, Prosecutor Hong tells Jin-woo that he'll be facing In-ah for the retrial in court. Later, In-ah tries to explain, but Jin-woo already knows that this was Prosecutor Hong's doing. He knew it wouldn't be easy and tells In-ah not to be sorry — he'll win this trial no matter what.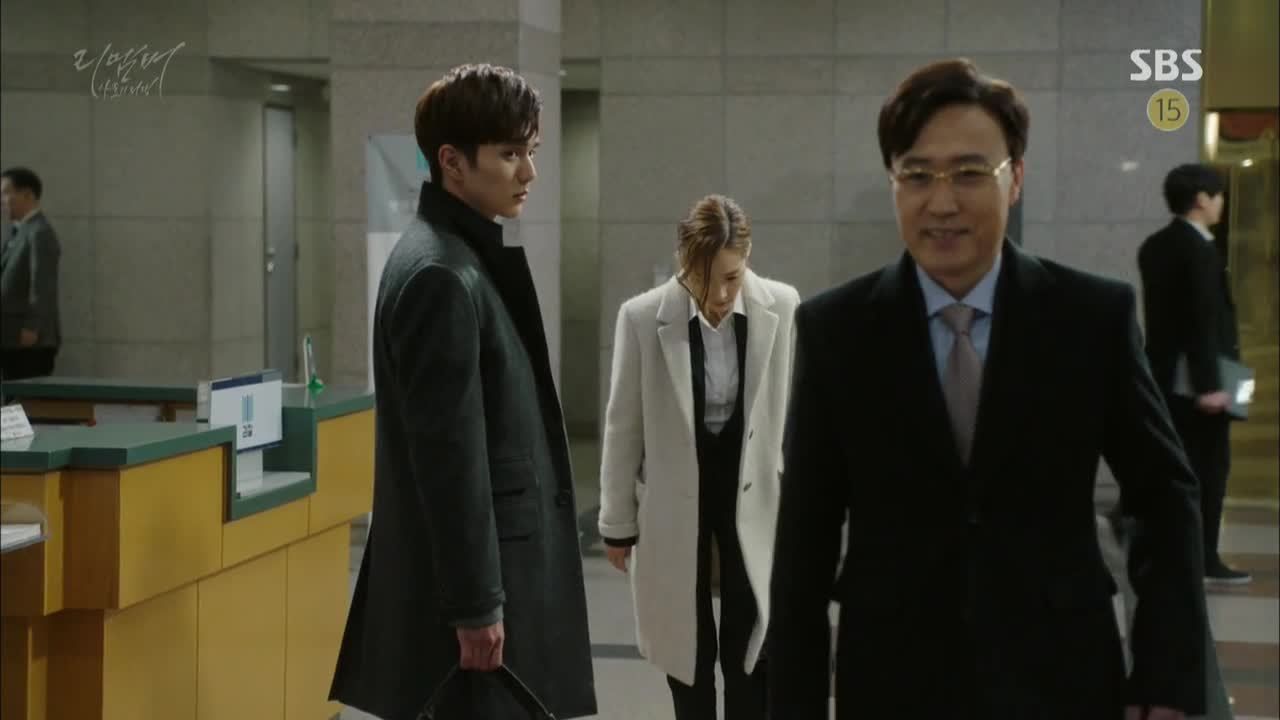 Dong-ho visits his secret bank vault, where we find that he's been keeping a copy of Gyu-man's murder confession. It looks like the incriminating evidence is making a comeback.
In-ah comes home, particularly cold and sensitive about her prosecutor job. When her mom brags to her friends about her prosecutor daughter easily taking care of her friend's case, In-ah yells in frustration that this isn't why she became a prosecutor.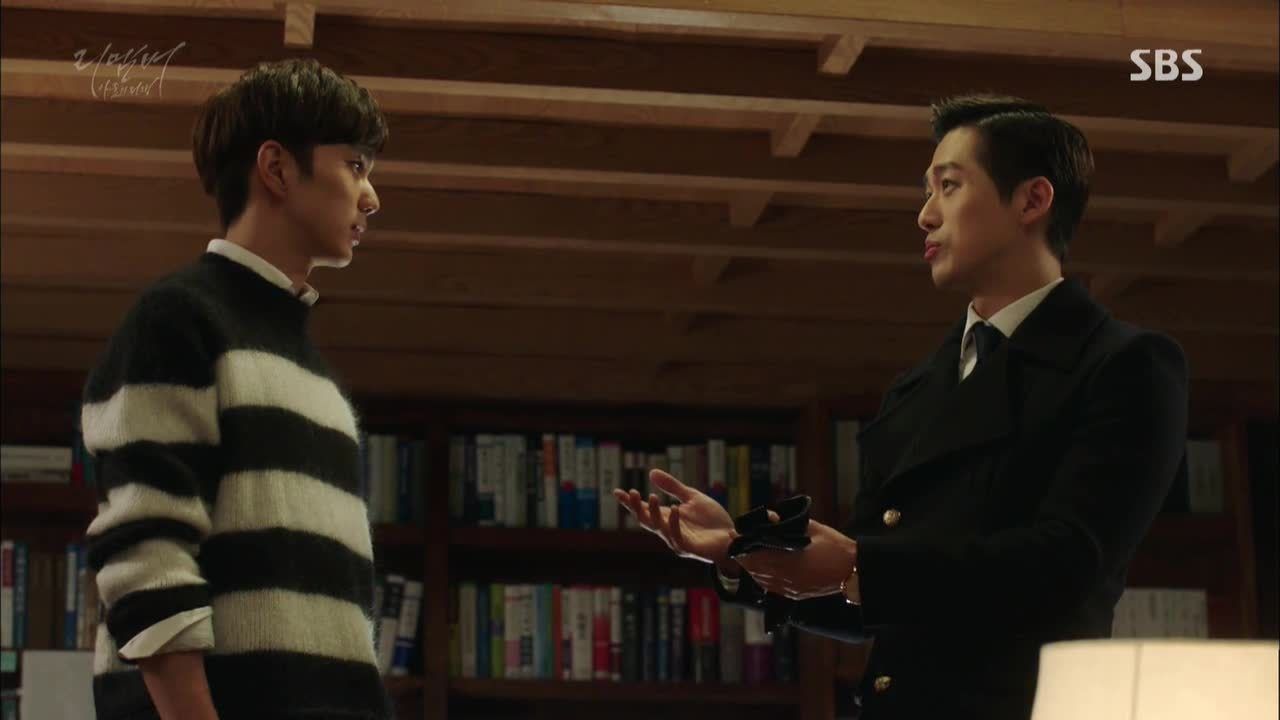 Dong-ho's brooding about Dad's apology in prison gets interrupted by Gyu-man, who calls him to Jin-woo's firm. Gyu-man offers Jin-woo money and a position, but Jin-woo just smirks that Gyu-man should try harder to pay off his guilt.
When Dong-ho arrives, he tries to tell Jin-woo that this retrial is just as unbeatable as the initial trial, but Jin-woo doesn't care to listen to a traitor's advice. Gyu-man says that people like Jin-woo annoy him the most, since they attack with nothing to lose while he's got plenty to lose.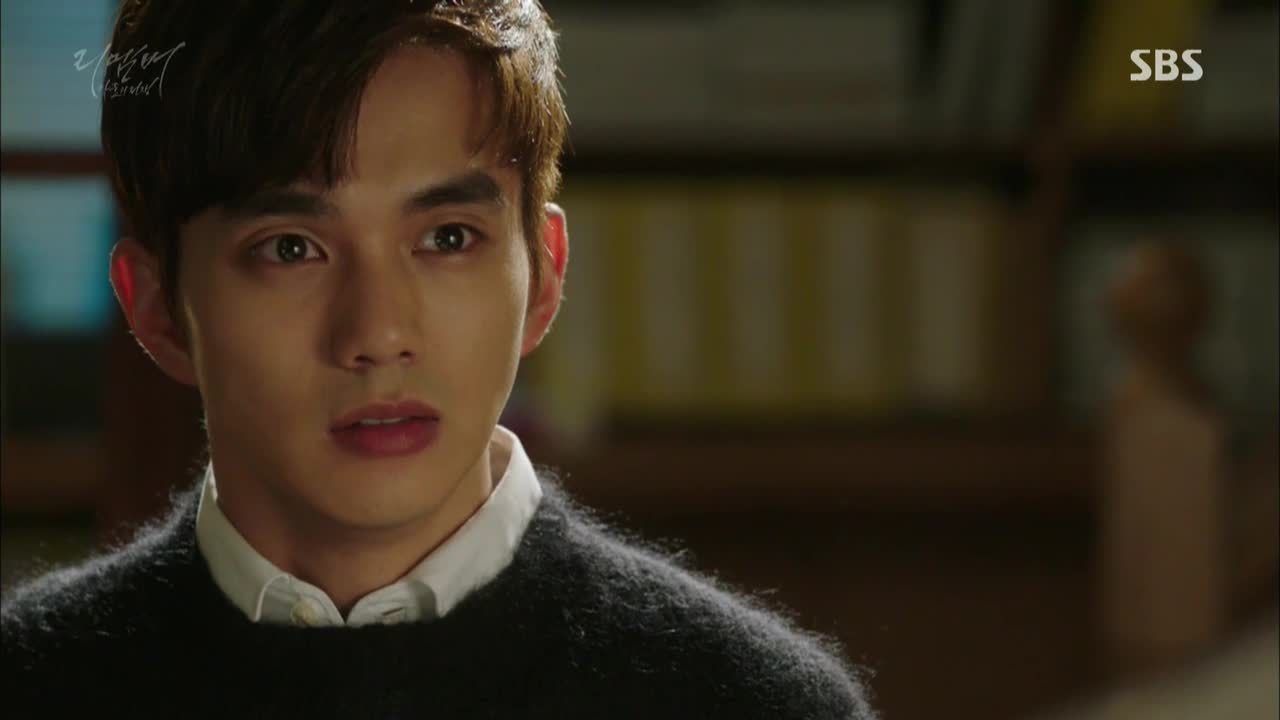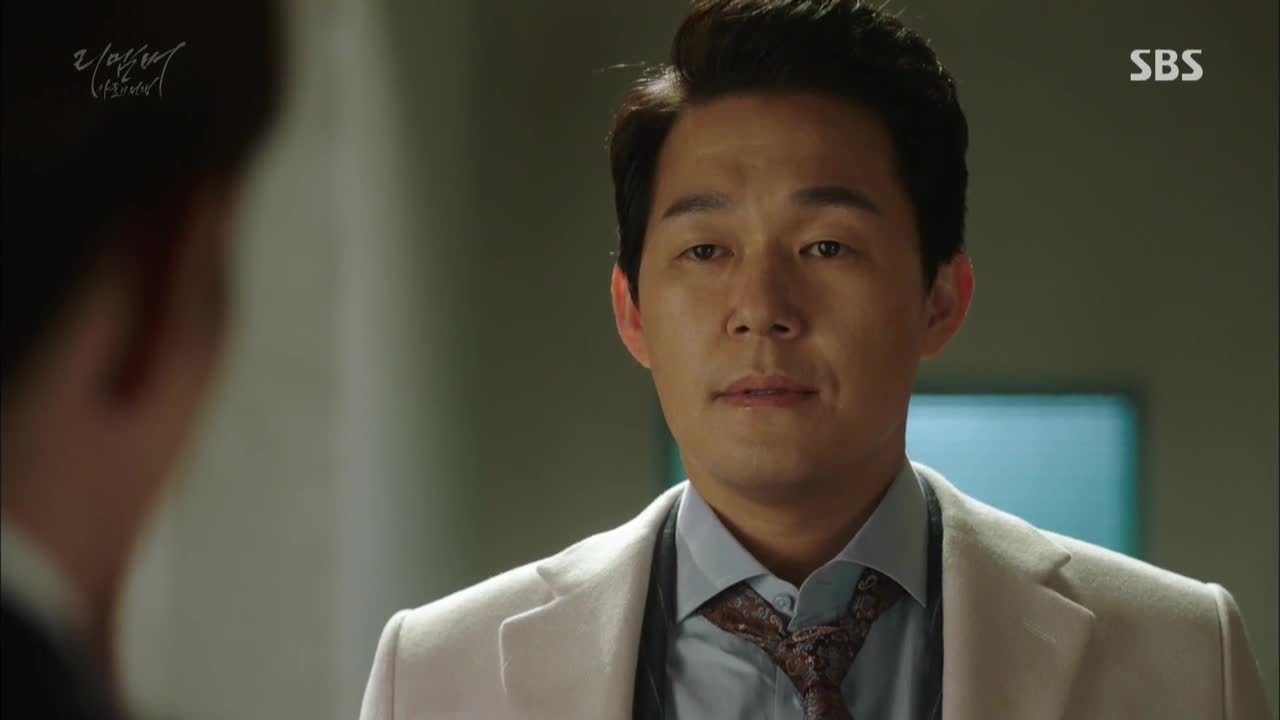 Gyu-man gives up trying to convince Jin-woo and asks Dong-ho to take care of the persuasion. Once Gyu-man leaves, Dong-ho tells Jin-woo sincerely hopes that he can finish what wasn't finished four years ago.
Prosecutor Chae and Jin-woo meet right before the trial. She comments on his youngster looks and disingenuously wishes that he'll win for the sake of his father.
In-ah walks through the hall contemplating her role in this case before entering the courtroom. She hesitates before filling the empty seat next to Prosecutor Chae and decides that she'll withhold from providing any aid in this case. She sits down as an observer, as does Dong-ho in the back.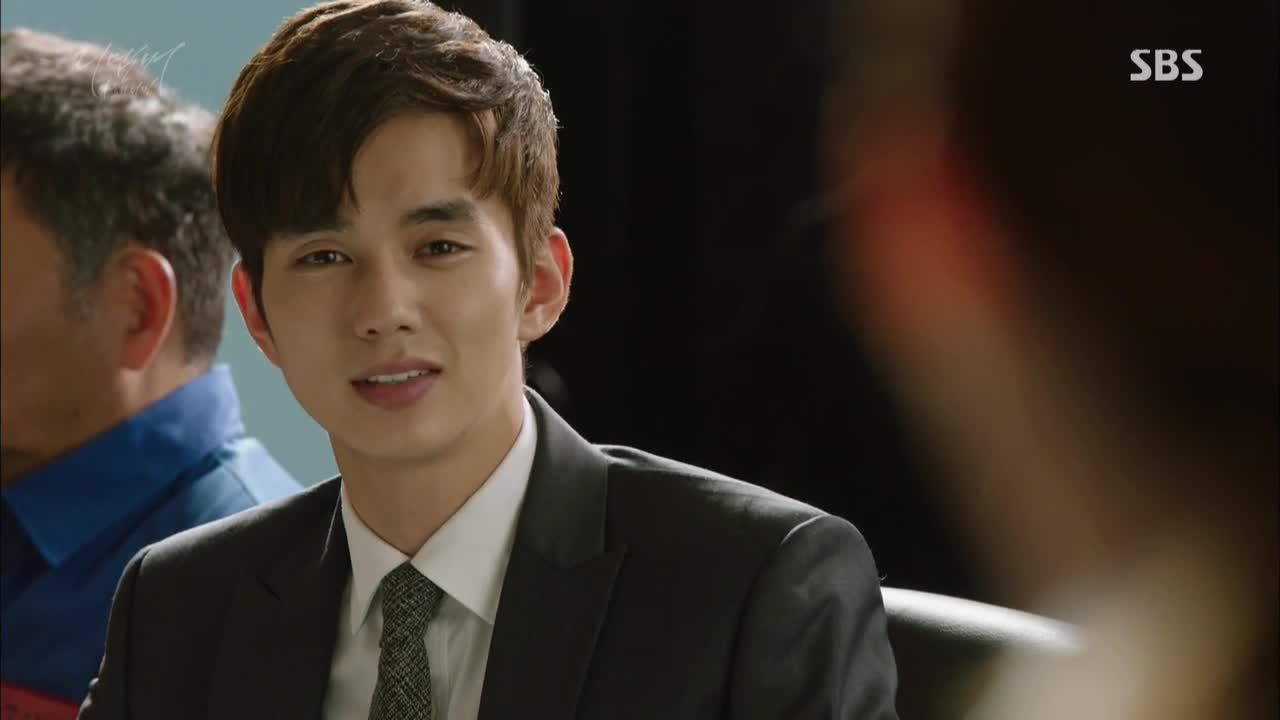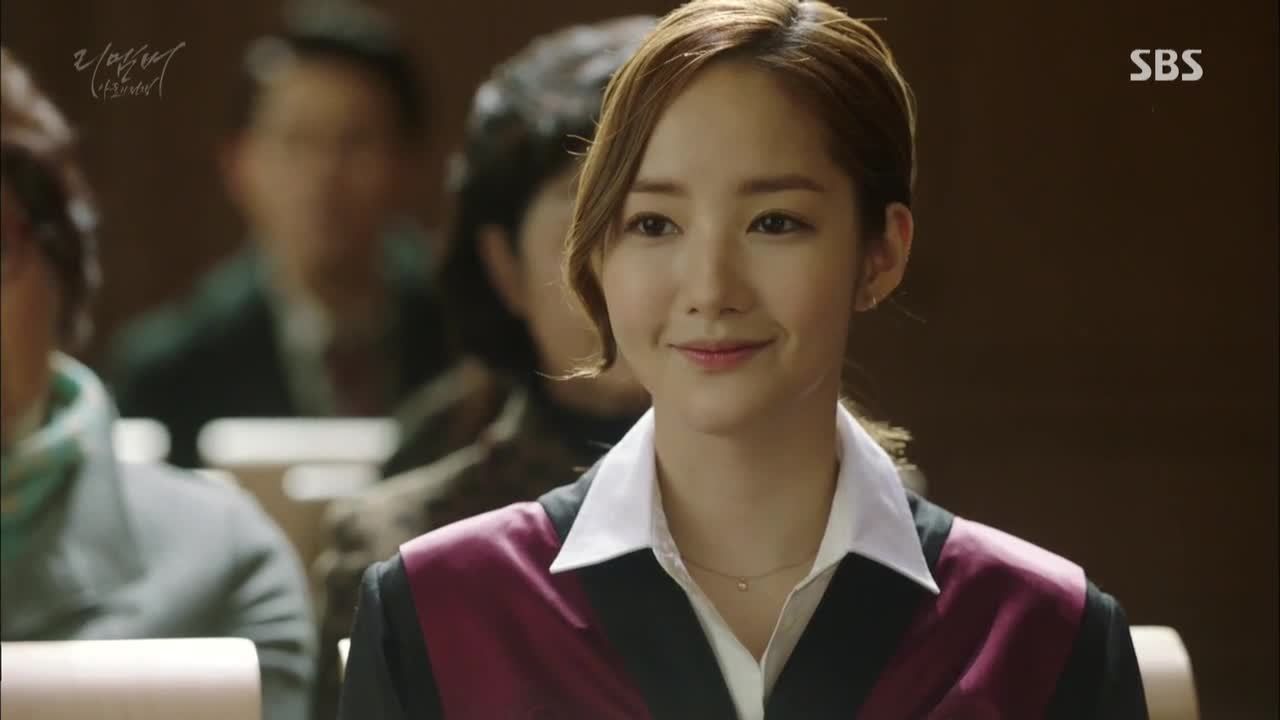 Jin-woo shows the video of our killed witness admitting to her false testimony against Dad. Though the evidence seems to disadvantage the prosecution, Prosecutor Chae remains calm. She claims that the video confession cannot be used as evidence because it was a coerced confession.
She summons a witness to the stand, and this supermarket worker admits to seeing Jin-woo "threatening" the witness. He heard only bits and pieces of the conversation, but the witness's attempt to call the police was clearly noted. Prosecutor Chae claims that Jin-woo threatened the witness as the suspect's son.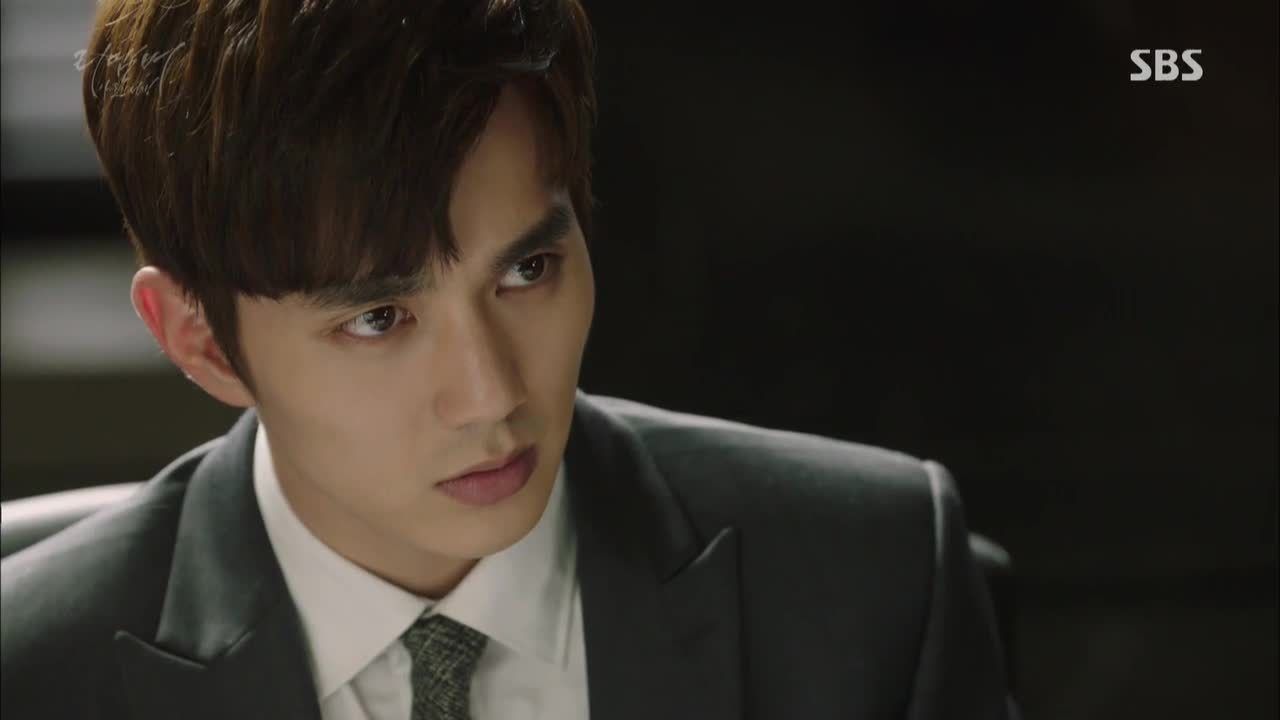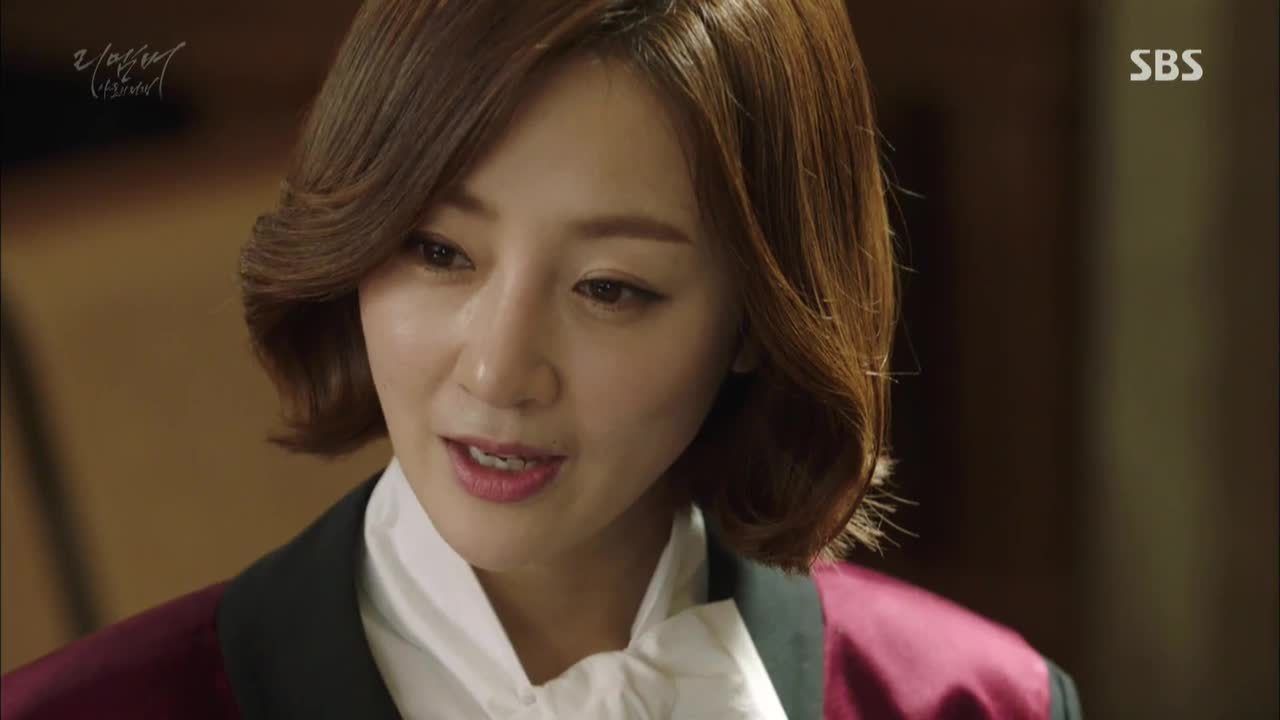 Jin-woo objects that she's going off of mere speculation, and although his objection is upheld, Prosecutor Chae has more evidence. She uses the witness's voice analyses to show her anxious state while filming this video, further supporting her claim that the confession was forced. Damn it, she's good.
Next, Jin-woo brings the witness's daughter to the stand. She says that her mother's confession wasn't forced, and she knows because she personally filmed the video. After Jin-woo visited, the witness asked her daughter to record her admitting to perjury. Jin-woo didn't even know this video existed until it was brought to him.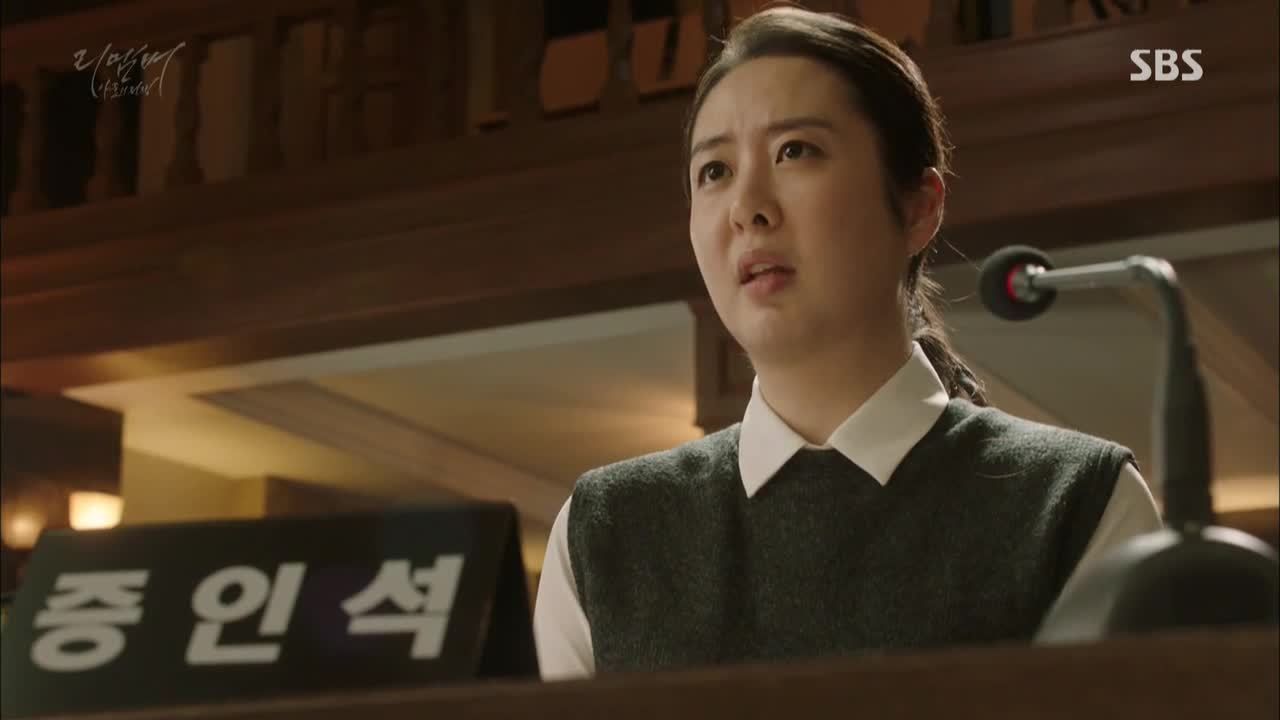 The judge calls for a recess. Jin-woo and In-ah take a coffee break, and she speculates that she'll be the only one to ever sit in the audience with prosecutor robes on. He asks why she decided to do so, but In-ah saves that conversation for later. He's got a trial to worry about.
Jin-woo calls in his next witness, quack Doctor Lee. He begins to introduce his witness, "Our witness is the assistant director at Il-ho Medical, Lee…" Jin-woo struggles to remember the doctor's name, and his hesitation seems to surprise everyone but especially himself.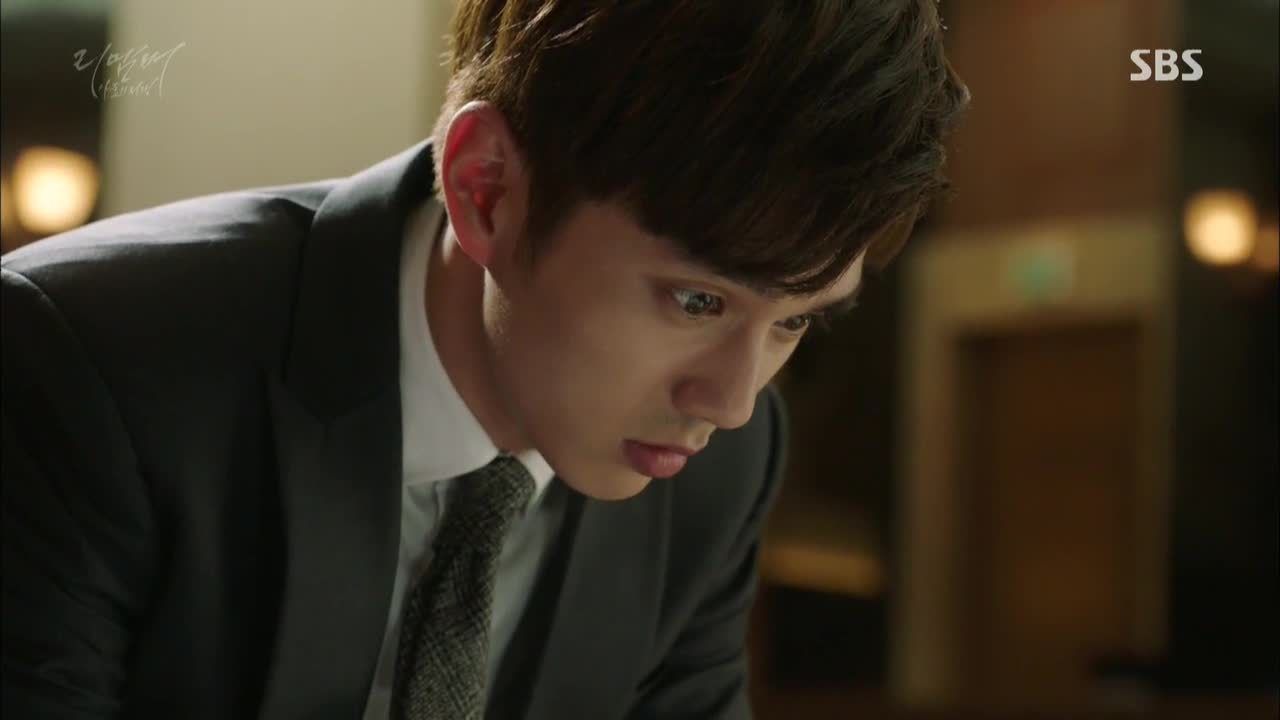 Wide-eyed, Jin-woo apologizes and tries to go back in his memory. But when he returns to the moment in Doctor Lee's office, the name plaque is blurred. He can't remember.
Jin-woo begins to tune out of the present, and flashbacks flicker through his mind. His father's arrest, Jung-ah's father's funeral, the death sentence. Then, Jin-woo stumbles back, and his limp body falls to the ground.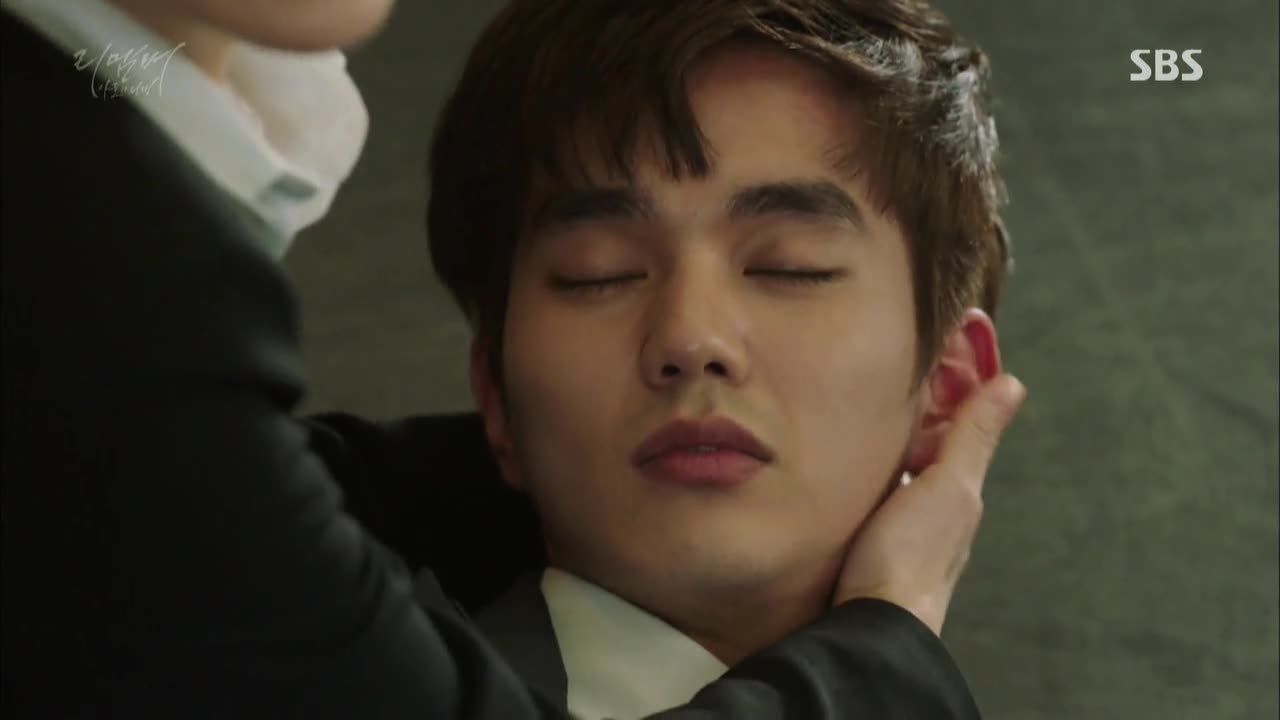 COMMENTS
Though this doesn't come as a surprise (since it was in the promo), I'm not quite prepared for Jin-woo to start losing his memory. I was hoping he'd get a taste of sweet victory before losing his hyperactive memory because poor Jin-woo has suffered enough already. But the stakes and desperation are not greater than ever. The more you suffer, the sweeter the revenge?
I'm glad we're finally making some progress with Dong-ho's storyline, since he's been frustratingly passive these past few episodes. He still can't seem to make up his mind though, which is starting to irk me. Part of me understands and sympathizes with the purgatory he's living in — trying to stay loyal to his father figure, Joo-il, while feeling massive guilt for betraying Jin-woo. But at some point, he's just got to choose. Where did that riot of a lawyer go? He started out with so much interesting potential, but he's completely lost that spark. I need him to be as flashy as his suits stat.
Gyu-man has completely lost it, but his oblivion towards his lack of morals is still semi-entertaining. He's very volatile and one dimensional, but you know, I don't blame him entirely. Sure I'm terrified of Gyu-man and his anger outbursts, but I think he's a character to be pitied. He knows nothing more than to get rid of people he doesn't like and kill people in his way. And he only could have learned this from the worst: Papa Nam, who seems so self-righteous in teaching his son all the wrong and evil things of this world. Maybe further exploration of that hint about Gyu-man's mother may tell us more about the infamous Nam household.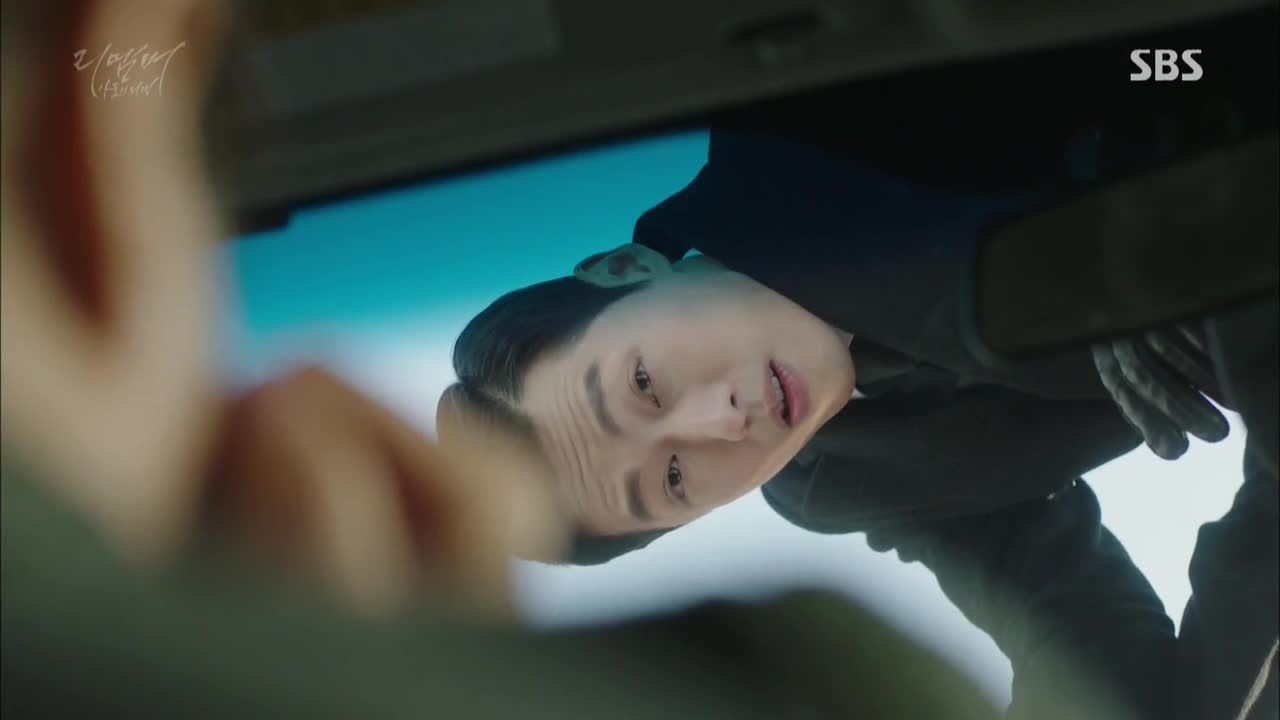 In-ah, the complete opposite of Gyu-man and Dong-ho in many ways, seems to be doing exactly what I'd want from a passionate and fearless heroine. Although she's underrated, underused, and pretty much the archetype of a righteous prosecutor, I find her extremely likeable. She moves this plot and trial forward, though her definite views on justice and morality do make her vulnerable. I don't see her naïve beliefs in the justice system lasting much longer, if she's going to face the corruption of Il-ho group.
In a way, In-ah reminds me of Park Min-young's character in A New Leaf, which I can't help but compare her to. Apart from the fact that both shows are about the justice system, I think both characters exhibit similar underwhelming yet admirable traits. We don't see enough of In-ah, but one act of defiance or one assertion based on a deep belief in justice makes her an integral asset to the show.
RELATED POSTS
Tags: featured, Park Min-young, Park Sung-woong, Remember—Son's War, Yoo Seung-ho