Six Flying Dragons: Episode 41
Things could only stay the way they were for so long, and now comes what can only be the beginning of the trials sure to face our beleaguered dragons. Beset upon by all sides, our misunderstood hero is faced with a decision with two seemingly losing options—but leave it up to Bang-won to turn a disadvantageous situation into a very advantageous one. Because for as smart as he is, Jung Do-jeon should probably know by now that when it comes to Bang-won, you can't even kill it with fire.
SONG OF THE DAY
Lee Ji-yoo – "두 눈을 가려도 (Cover My Two Eyes)" from the OST [ Download ]
Audio clip: Adobe Flash Player (version 9 or above) is required to play this audio clip. Download the latest version here. You also need to have JavaScript enabled in your browser.

EPISODE 41 RECAP
While Shin-jeok and Cho-young are mercilessly tortured for being caught in the wrong place at the wrong time, Bang-won seems to just be confined to his quarters for now. He knows Jung Do-jeon has no solid evidence against him, and knows just as well that won't stop him.
The lack of evidence won't stop his father either, who sees Bang-won being in the same place as a known Nameless spy as reason enough to suspect him. Jo Joon has his doubts, but he's outweighed by Jung Do-jeon and his followers—one being SHIM HYO-SAENG, Lee Bang-seok's father-in-law. (The little prince was married very, very young.)
Since Cho-young and Shin-jeok are sort of in this torture thing together, she devises a plan to use the contacts he has left to get a message to the outside world/Nameless. She tries commiserating with him, which just turns into a rant against Yeon-hee on his part. If it weren't for her, he all but froths at the mouth, he wouldn't be here.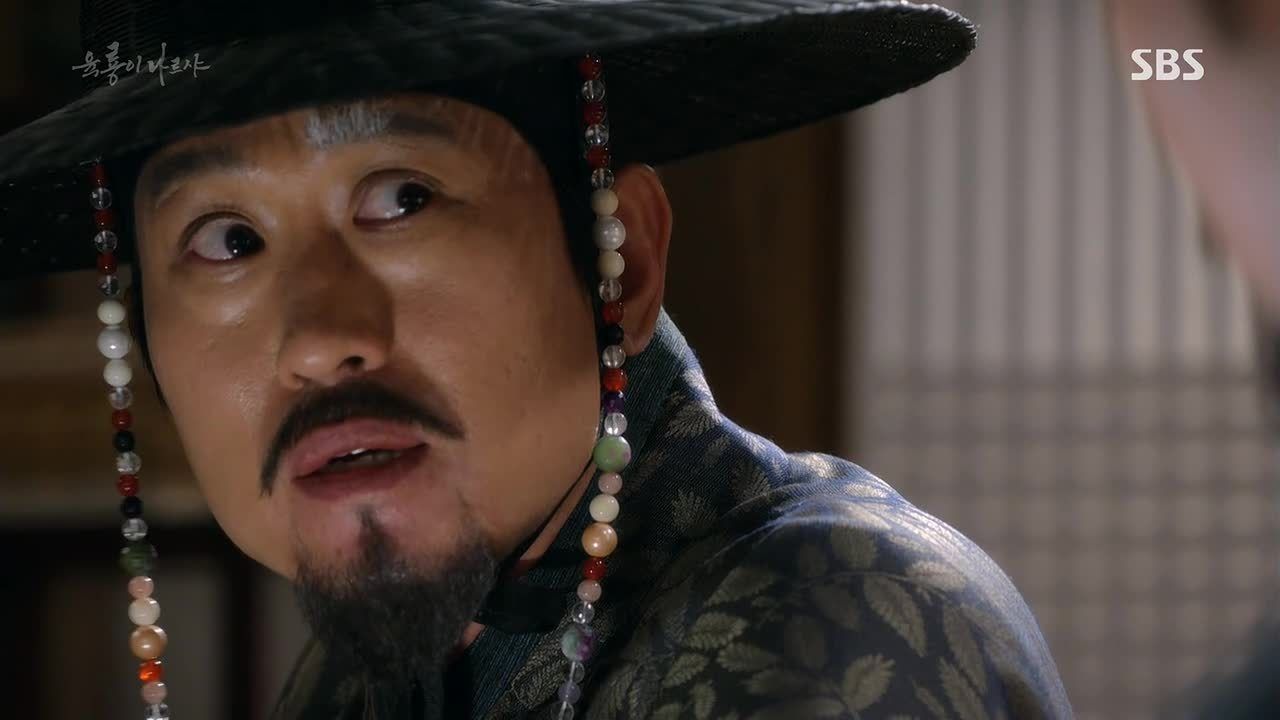 Ha Ryun pays a visit to elder brothers Bang-gwa and Bang-gan, warning them that the same thing that happened to their little brother can happen to them if they don't take preventative measures now. Jung Do-jeon is making a concerted effort to rid royal family members of their private armies, so they'll be next.
His advice is for them to go through Ji-ran to present a petition to the king, asking that he make Bang-won's investigation an official matter to be discussed in court. He's counting on the king to not go through with the investigation at all, since it'll only further serve to destabilize the royal family.
Meanwhile, Bang-won goes to his father to plead for him to receive an official interrogation with Cho-young, claiming that he must do it in order to prove his innocence. His father is more than skeptical at first when his son pulls out the "I just can't please you!" card, and flat-out asks him if he wants to become the crown prince.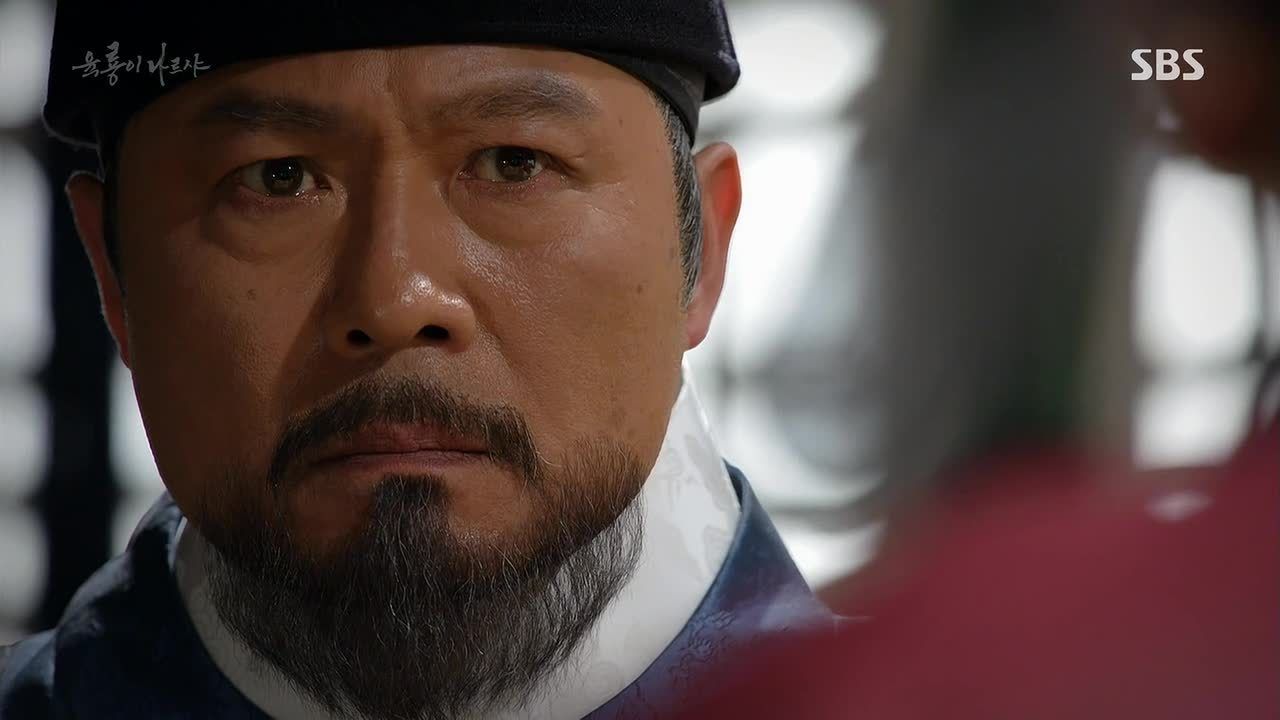 Because if he does, his father warns, he'll have to fight against his own brother, father, and Jung Do-jeon. Bang-won doesn't answer that question directly, and instead chooses to look pitiful as he asks how his father could even think him capable of such a terrible thing.
The tide turns when his father accuses him of harboring a terrible greed, all while advising him to let go of it while he still can. Bang-won's barely suppressed rage comes to the fore as he asks why only his dreams are considered greedy—he (his father) never dreamed of being king, but now he is. His little brother never dreamed of being crown prince, but now he is.
So why is it that he can't dream of bigger things? Why are his dreams so terrible? "If you still believe that I am a part of Nameless," he adds after regaining some composure, "You will have to prove it." Joseon mic drop!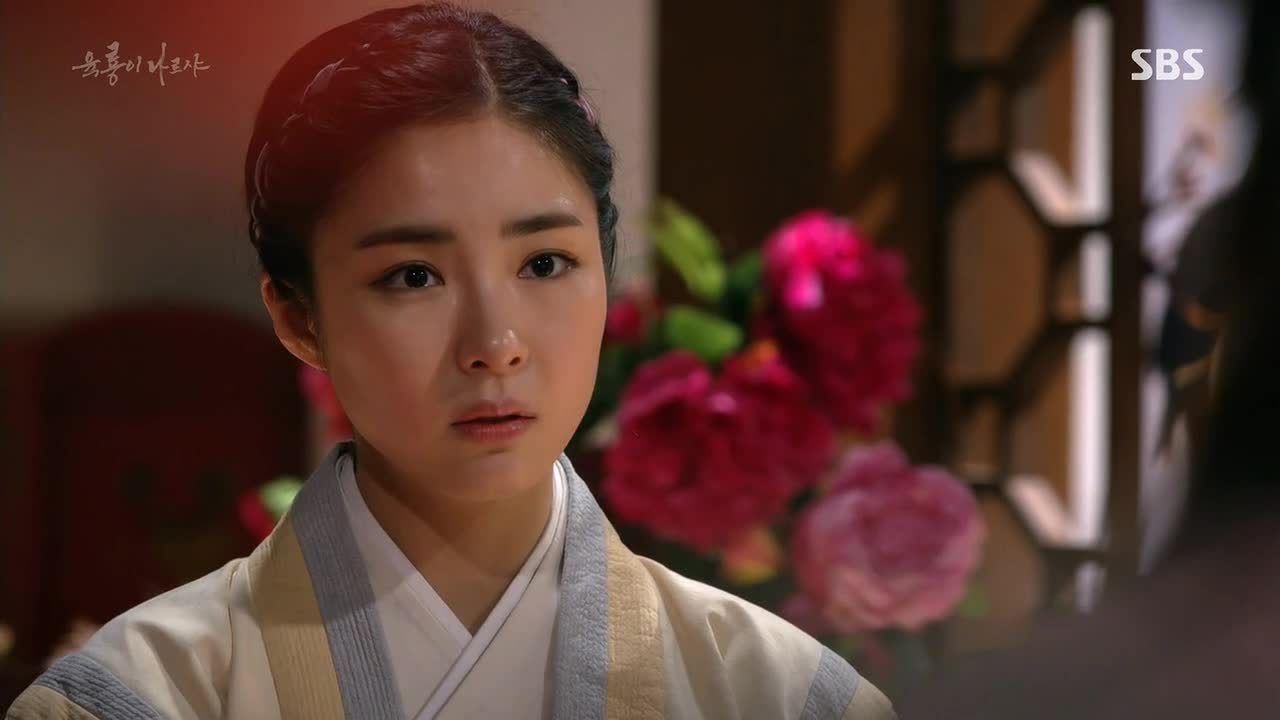 Word has spread that Boon-yi plans to leave for Banchon (the servant village near Sungkyunkwan) among high and low born alike, which means Yeon-hee is finally happy with a decision Boon-yi's made. She sees this as a good move for her, and tsks that Bang-won's greed has gotten out of control.
Unknowingly repeating the same thought that Bang-won had earlier, Moo-hyul asks why only Bang-won's greed is regarded so terribly. Yeon-hee doesn't have a good answer for that and he knows it, but he just can't formulate the words to call her out on it. As for what'll happen to Bang-won, Yeon-hee says Jung Do-jeon will make sure he can't participate in politics.
Afterward, Moo-hyul sighs that both he and Boon-yi aren't in a position to get involved with these kinds of problems. She agrees that it should be that way, but doesn't seem to believe it herself. More pressing though is her decision to move, which she worries will leave Moo-hyul disappointed.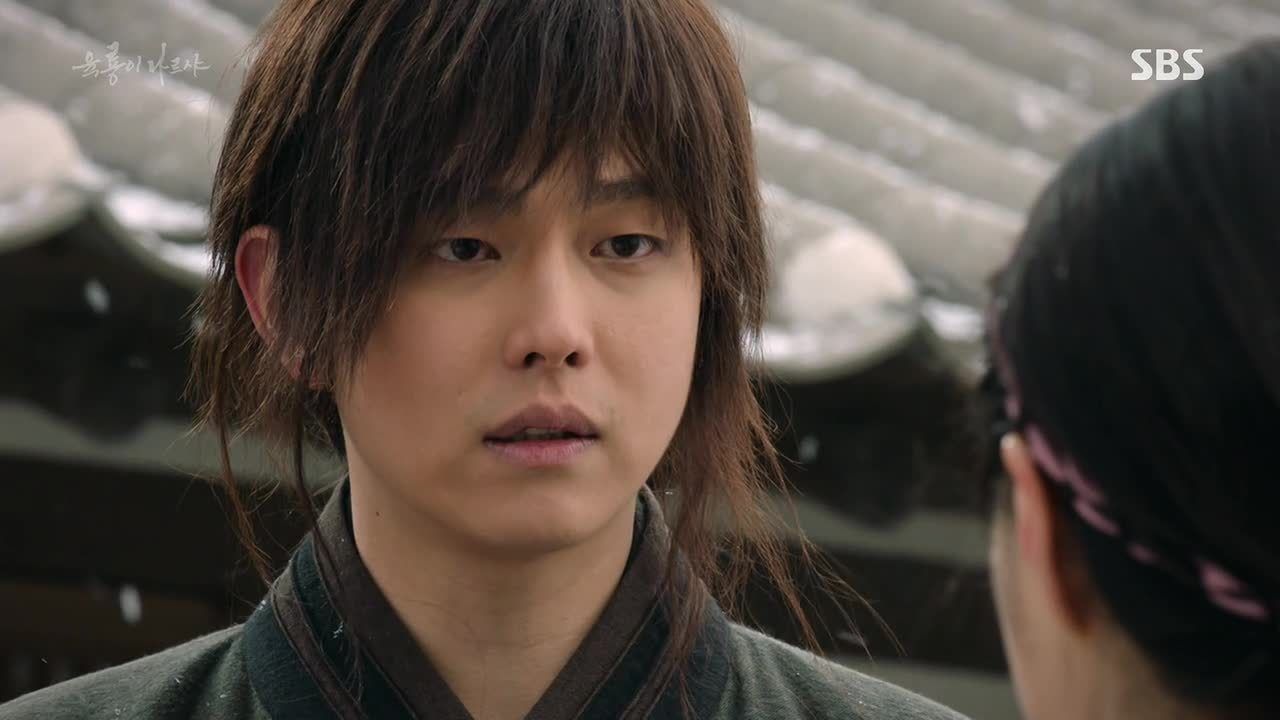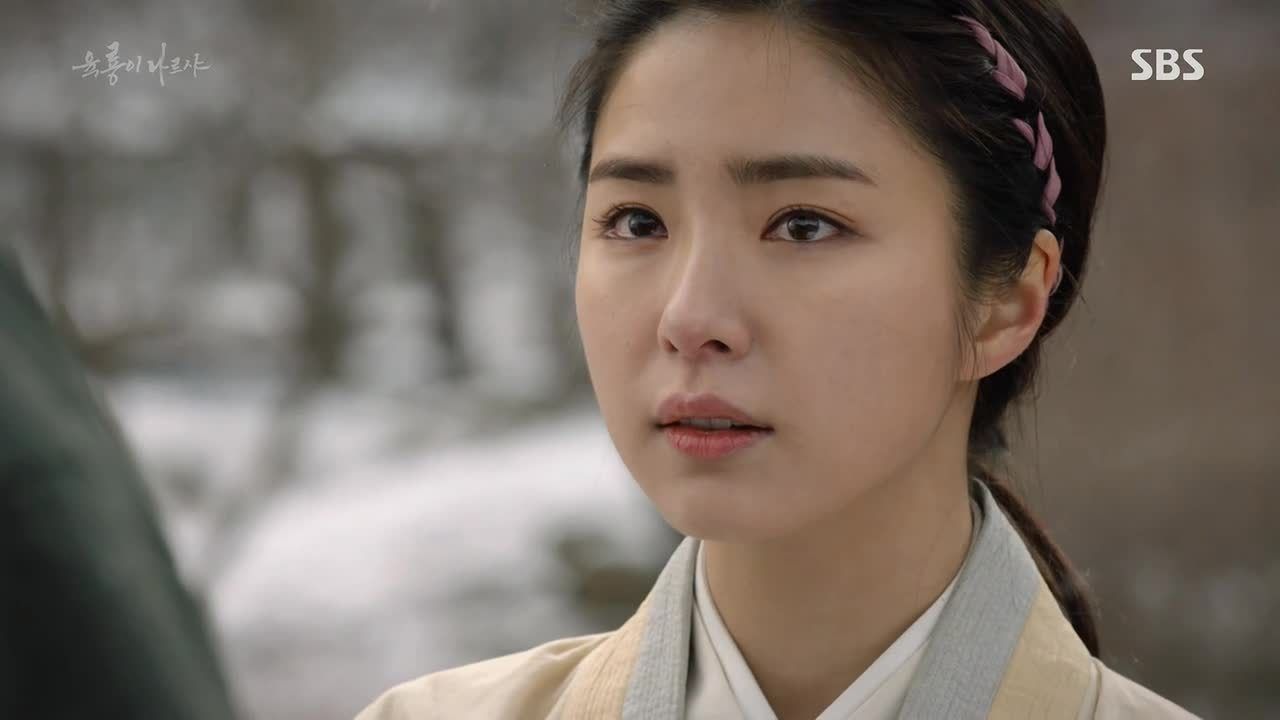 He assures her that he's not at all disappointed in her decision, but more the larger situation at hand. "But if there is one thing I know, it's that now is the time to make a decision." As for him, he's decided on Bang-won, but he wants her to trust in the decision she's already made. Aw, why didn't you two ever get the loveline we were promised?
Cho-young eventually convinces Shin-jeok to pass a letter through his ally, though he ends up damning himself in the process when his ally betrays him, and instead delivers the letter to Jung Do-jeon. But then the ally-turned-spy tells Jung Do-jeon that Shin-jeok was successful? Wait, what?
We rewind back to a discussion between Jung Do-jeon and Shin-jeok, predicting and planning for this exact sequence of events. Even knowing that he'd be tortured for the believability of the plan, Shin-jeok had been all too willing to offer himself in order to wipe Nameless off the face of the earth.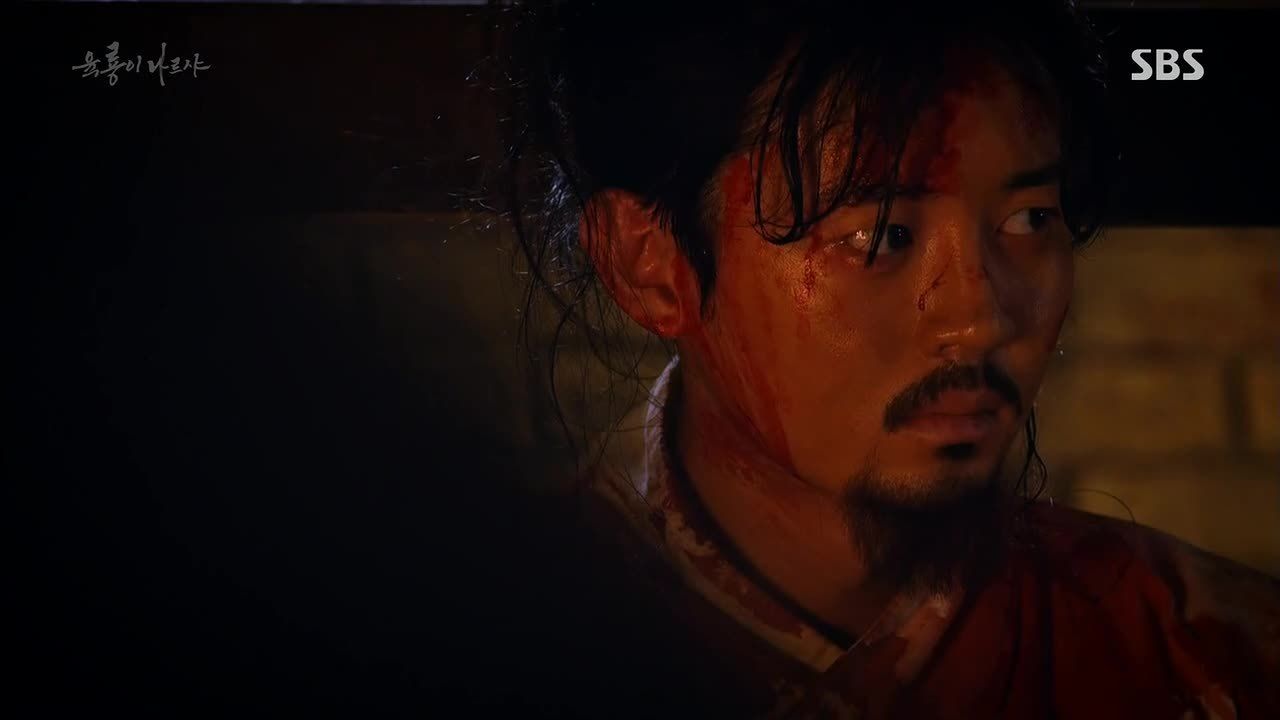 So Bang-won's initial suspicions about him had been correct, and Jung Do-jeon had planned all those encounters between Shin-jeok and Bang-won in order to soften Bang-won toward him. This is all part of Jung Do-jeon's plan to arrest the higher-ups in Nameless that they couldn't get to before, and making sure that Bang-won really can't return to politics will be next on the list. (Along with eradicating anyone who could possibly restore Goryeo.)
Bang-ji leads a group of soldiers after the trail of breadcrumbs left by the Hwasadan spy currently following the Nameless spy who retrieved Cho-young's letter from the drop point (phew, what a mouthful), but she's waylaid by Gil Sun-mi.
He cuts her down without a fight, and somehow gets behind the advancing army before returning to Yeon-hyang to tell her that they've been exposed. Oh no, not their one dilapidated room!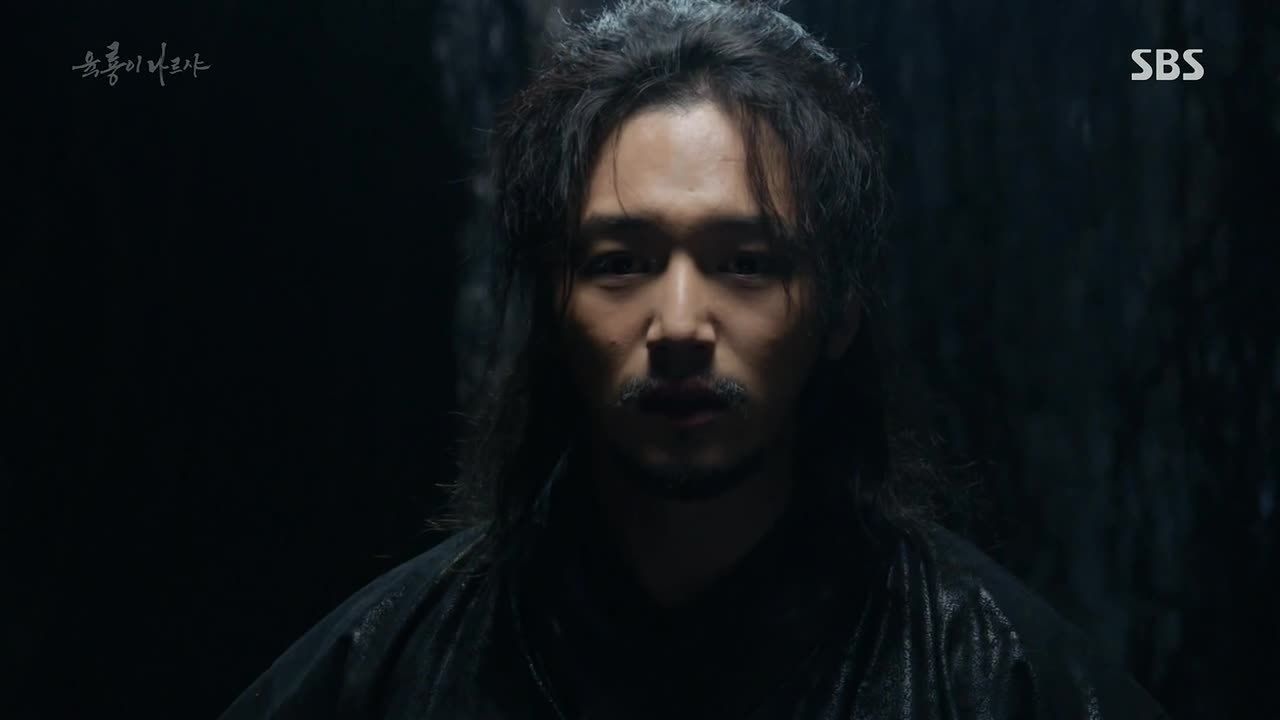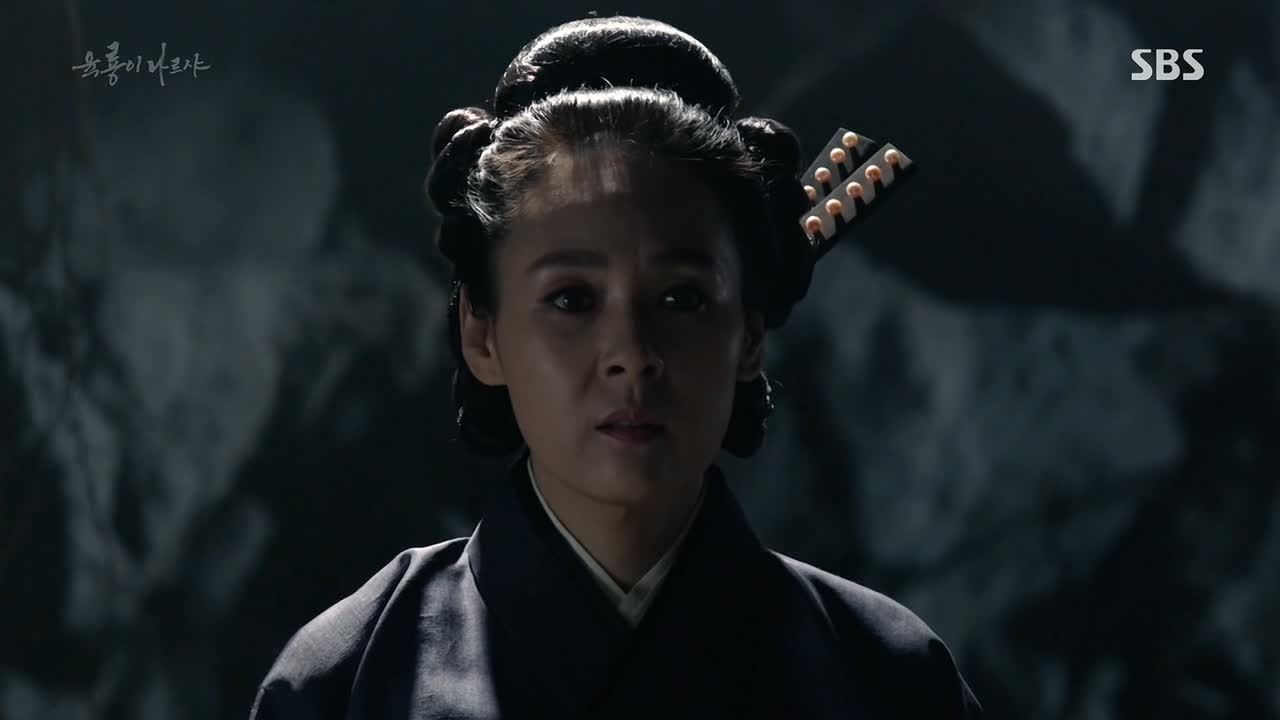 Yooksan makes his getaway while Bang-ji and his men search for the Nameless hideout after finding their Hwasadan operative dead. He ends up at the mouth of a suspicious cave and goes inside, finding none other than his mother standing there waiting for him.
He recognizes her instantly: "I wanted to see you so badly… I looked for you for so long, yet here is where I found you." His next question, asked in a halting voice, is "Did you really abandon us?" He says he couldn't do what his sister said she said and just forget about her, no matter how hard he tried.
But his mother delivers the final blow when she confesses that she did tell Boon-yi exactly those words. Bang-ji's face crumples with tears as he blames his mother for everything. He met Jung Do-jeon because he was looking for her. He learned how to wield a sword while looking for her. "But you never looked for us. You didn't leave. You abandoned us."
At least Yeon-hyang doesn't deny that fact, though admitting to it seems to hurt him all the more. She's not going to try to mend their broken relationship now, and has only appeared in front of him to give him one warning: "Leave Jung Do-jeon."
Though he has great ideas, they're not sustainable for a real country, she argues. He cuts her off before she can finish her thought about he and Boon-yi both believing in Jung Do-jeon's ideology, since he claims to be different from his sister. He doesn't buy into the ideas, but because Boon-yi does, he'll stake his life to protect what she believes in. No matter what.
Which means, as Yeon-hyang aptly notes, that he'll end up going directly against his own mother. Bang-ji cries at this very thought but stands by his decision, even when she tells him that the only way he can truly protect his sister's dream is by killing her, Nameless' leader, now. Ugh, what a cheap shot, Yeon-hyang.
"If you can't choose to leave Sambong, then you must kill me," Yeon-hyang reiterates. But she'll be nice and leave that option permanently open for him so that whenever he wants to kill her, he can. The only sin she'll admit to is the sin of turning his once innocent heart into a living hell for him, and adds a message for him to give to Jung Do-jeon: "Nameless will not disappear, even if he captures everyone. We… are the heart of the people."
Jung Do-jeon is understandably upset that his men failed to capture any high-ranking Nameless operatives, while Yeon-hee's testimony is used to confirm Cho-young's ties to Nameless and the extent of her crimes.
They also obtain Cho-young's confession that Nameless has been involved with the deposed King Gongyang since his exile because they were the ones to put him on the throne, which is all they need to petition the king to execute Gongyang and his entire family.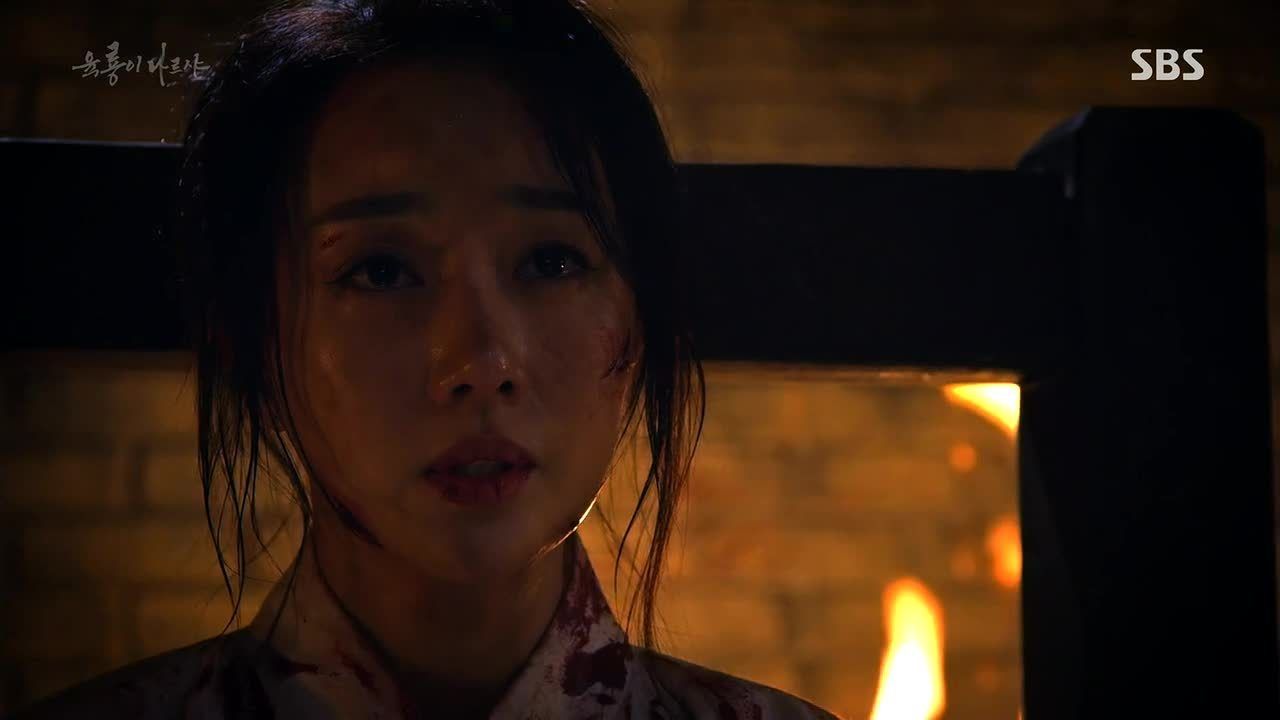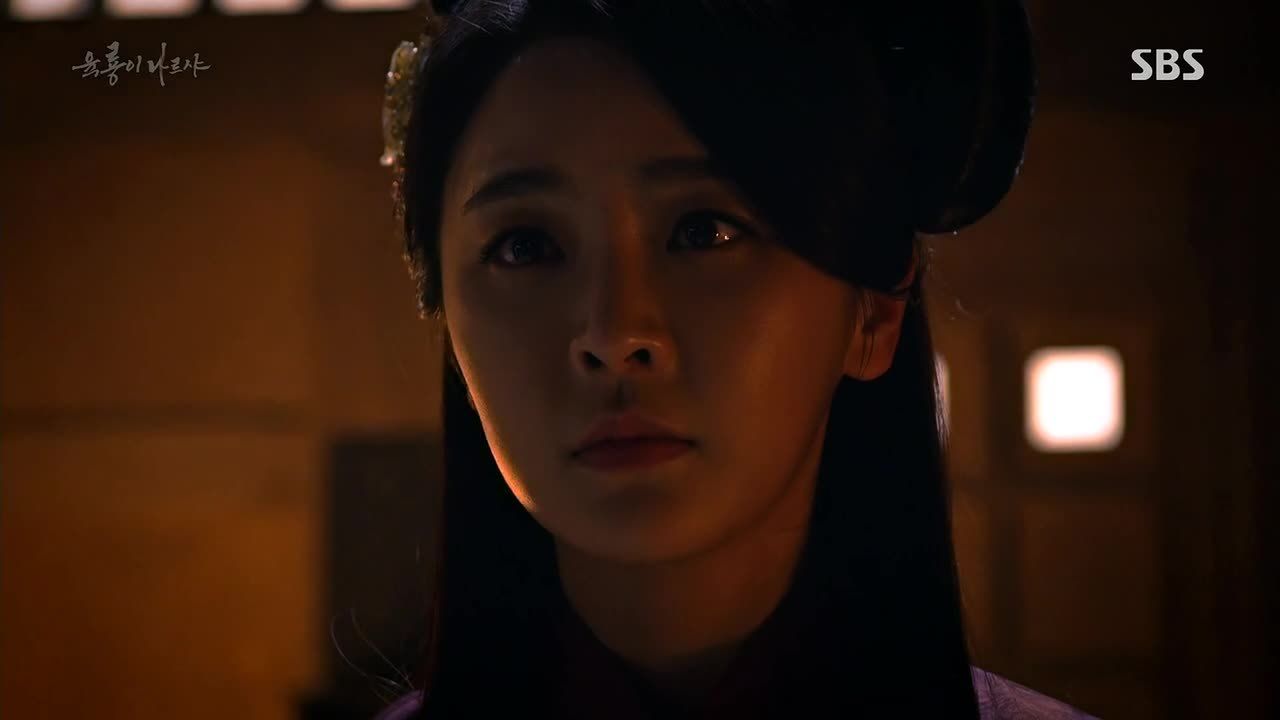 In a moment of privacy with the prisoner, Yeon-hee and Cho-young reminisce over old times—like when Cho-young found her on the street, wandering and starving, and saved her. When Cho-young asks how she could betray her after that, a tearful Yeon-hee says it's because she wanted to live.
Having to sell her smile to men and trick them into believing she loved them just to snatch intel from them wasn't a life, Yeon-hee adds. Having to kill people on top of all that wasn't a life either: "The one who truly saved me was Lord Sambong."
As for Cho-young's concern that she could be taken advantage of by Jung Do-jeon, Yeon-hee claims it doesn't matter, since she shares the same dream. She uses wisdom Cho-young once gave her about life and death, remarking on how wonderful it is that she's able to dream while she's alive, and thanks Cho-young for being there when she needed her. And with that, she bids her once-savior farewell.
Bang-won goes on a hunger strike in an effort to have his father approve his investigation into Cho-young, and it only works because Ji-ran helps to convince King Taejo.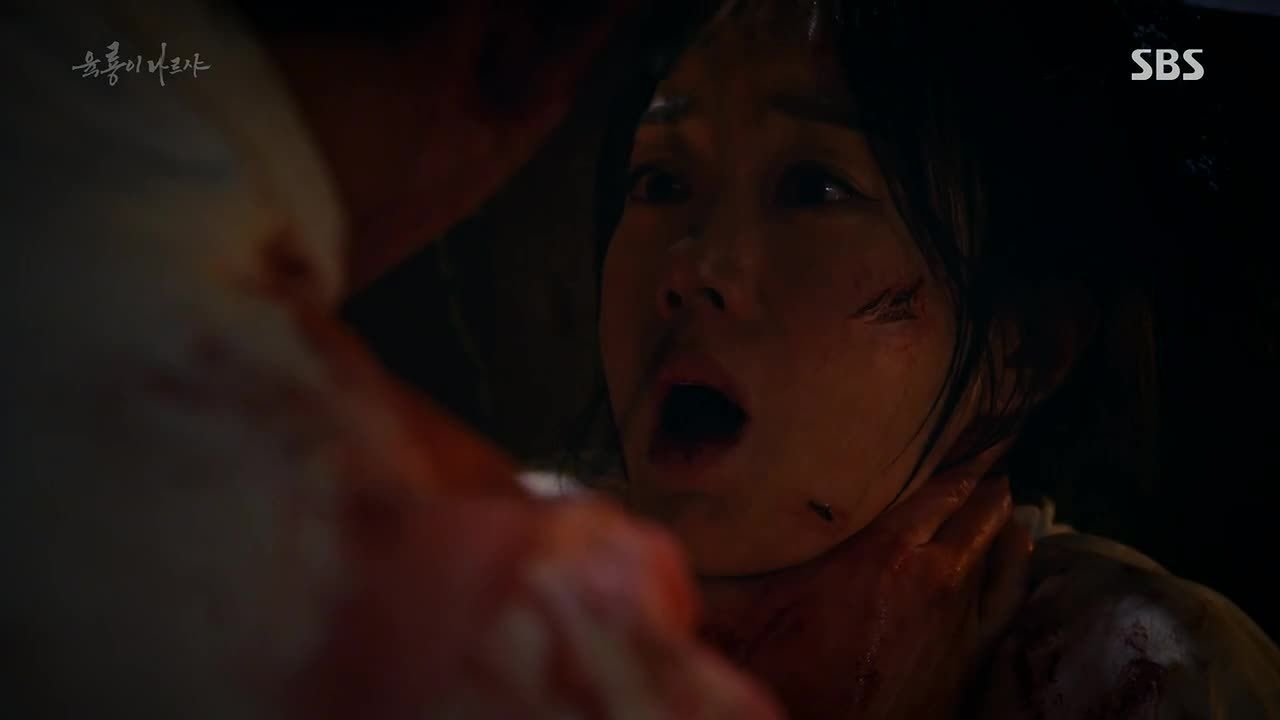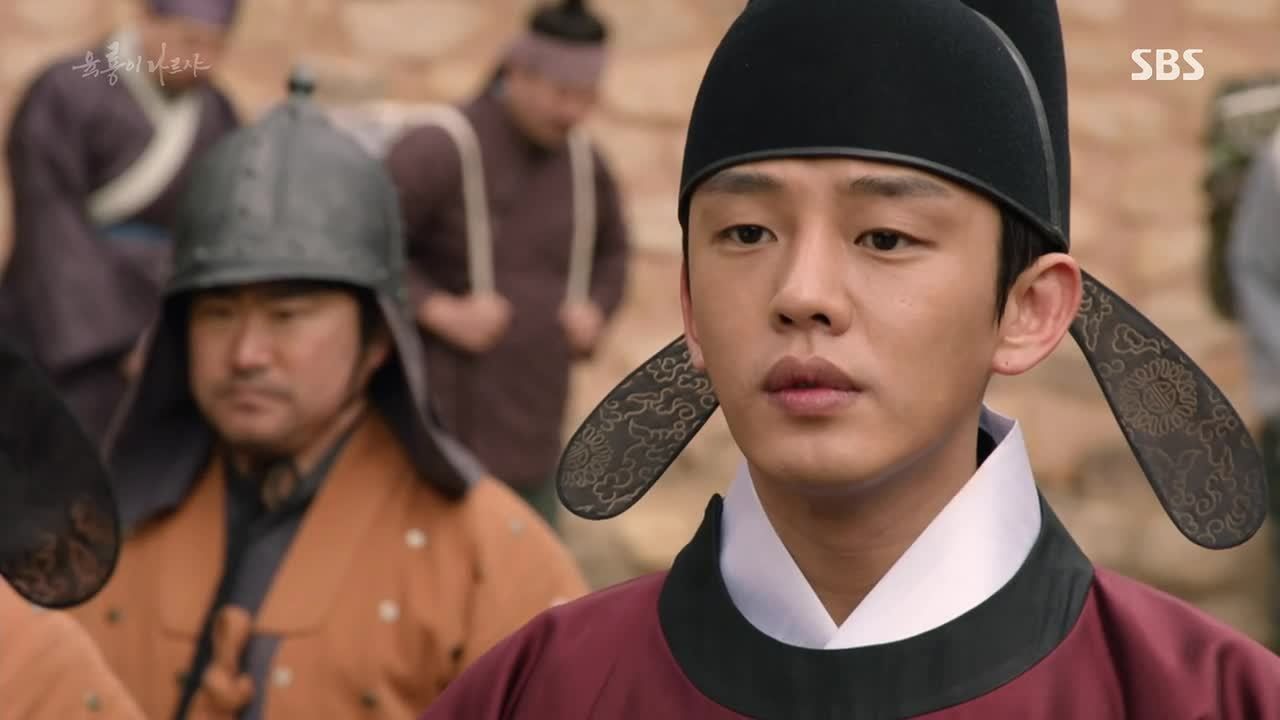 Cho-young seems to figure out that Shin-jeok's playing her before she reveals any more damning information, and calls him out for his subterfuge. This is bad for him and Jung Do-jeon since Bang-won is on his way for the interrogation, so Shin-jeok stands on shaky feet, stumbles over to Cho-young, and wraps his hands around her throat.
His man buys time outside, keeping Bang-won at bay just long enough for Shin-jeok to choke the life out of Cho-young. Shin-jeok has to explain what happened to Jung Do-jeon in a short period of time, so in an effort to cover it up, Jung has her thrown in a prison cell so it'll look like a suicide.
Bang-won doesn't believe it, but he's not given much of a choice. "How did you kill Cho-young?" he asks of Jung Do-joen later. Then, "Are you going to kill me too? Is that not what you plan to do anyway?" Jung Do-jeon takes the "Who, me?" approach coined earlier this episode by Bang-won himself, and it almost seems to work.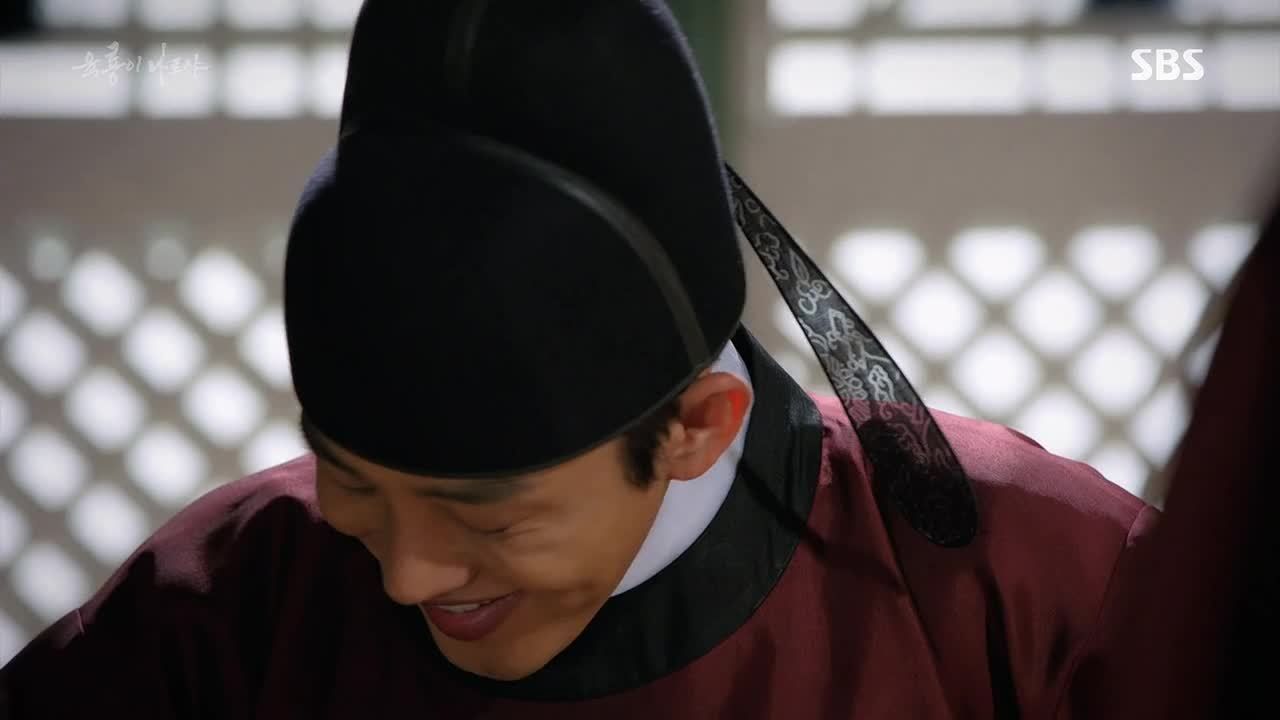 Making it sound like he's got Bang-won's best interests at heart, Jung Do-jeon entreats him to just spend five years in exile. In five years, he'll have stabilized the country for Bang-won's return, but Bang-won knows that he needs those five years for Bang-seok to become an adult.
"I have to save you even if I must do it like this," Jung Do-jeon claims. "Then try it," Bang-won challenges. So he does, by going to the king to ask him to assign Bang-won to a faraway provincial post.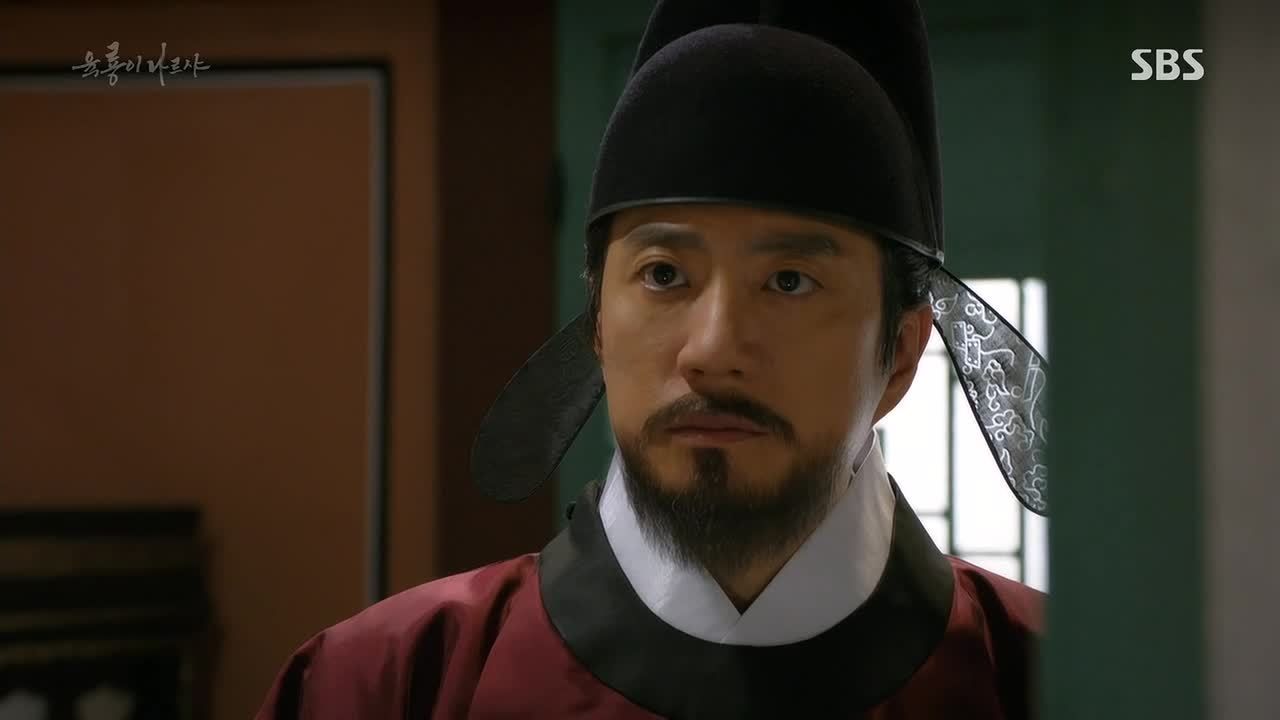 Even King Taejo agrees that five years away would be good for Bang-won, but doesn't get to make that order before Officer Nam arrives with news—Japanese pirates, captured by the Ming, confessed that they were just acting as spies on behalf of Joseon. In order to rectify the matter with Ming, they'll have to send a prince to explain matters personally.
Jo Joon, Ha Ryun, Officer Nam, and Daddy Min are all in agreement that to send a prince to the Ming would mean sending him to his death. Jung Do-jeon sees King Taejo struggling under the weight of this decision and thinks to himself, "Your Highness, I will take on the role of the villain. Do not worry."
Again, he goes to Bang-won and acts like he's appealing to his rational self, and gives him a choice between going into exile for five years or going to Ming as an envoy. He claims it's because King Taejo knows that Bang-won is the only one who can convince the Ming Court, which actually seems to work? Aw, is it because Bang-won wants so badly to believe his father thinks something of him?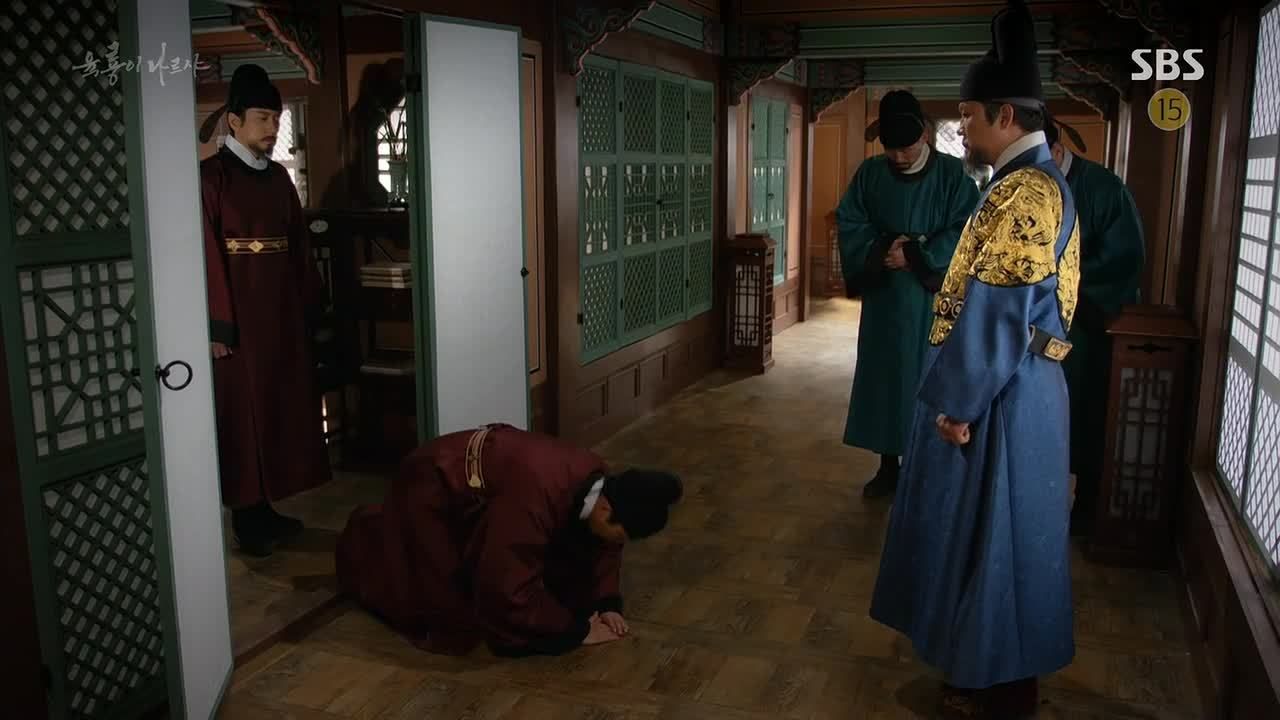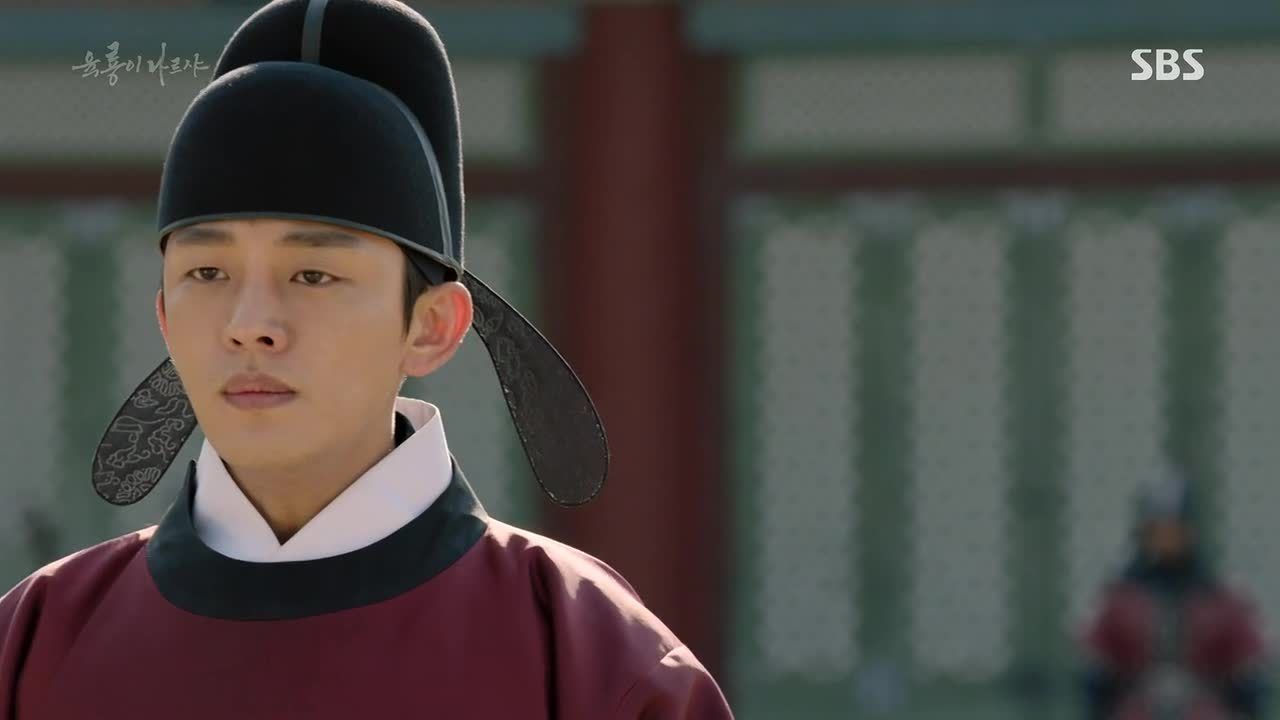 It may be that, but Bang-won seems to recognize the irony in all this by laughing hysterically for a good while. Then, he decides he'd rather go to Ming than be stuck in a province for five years. After all, he may actually convince the Ming emperor and return home wreathed in laurels and glory.
He's surprised to find his father outside, who's overheard everything. He agrees with the notion that Bang-won could come home in glory, prompting a formal and acquiescing bow from Bang-won. He keeps his hands and his lips clenched tightly shut until he's outside, and only then does he release the sigh he's been holding.
That night he dons black and takes a slo-mo walk, coming upon Boon-yi burning books. He wraps his arms around her from behind and surprises her, but when she turns, he tells her to go to Banchon no matter what. She asks what's caused the sudden change, before wondering if he wants her gone so he can be free to embrace his beastly heart instead of his human one. (She's not being mean, he's used these exact words before.)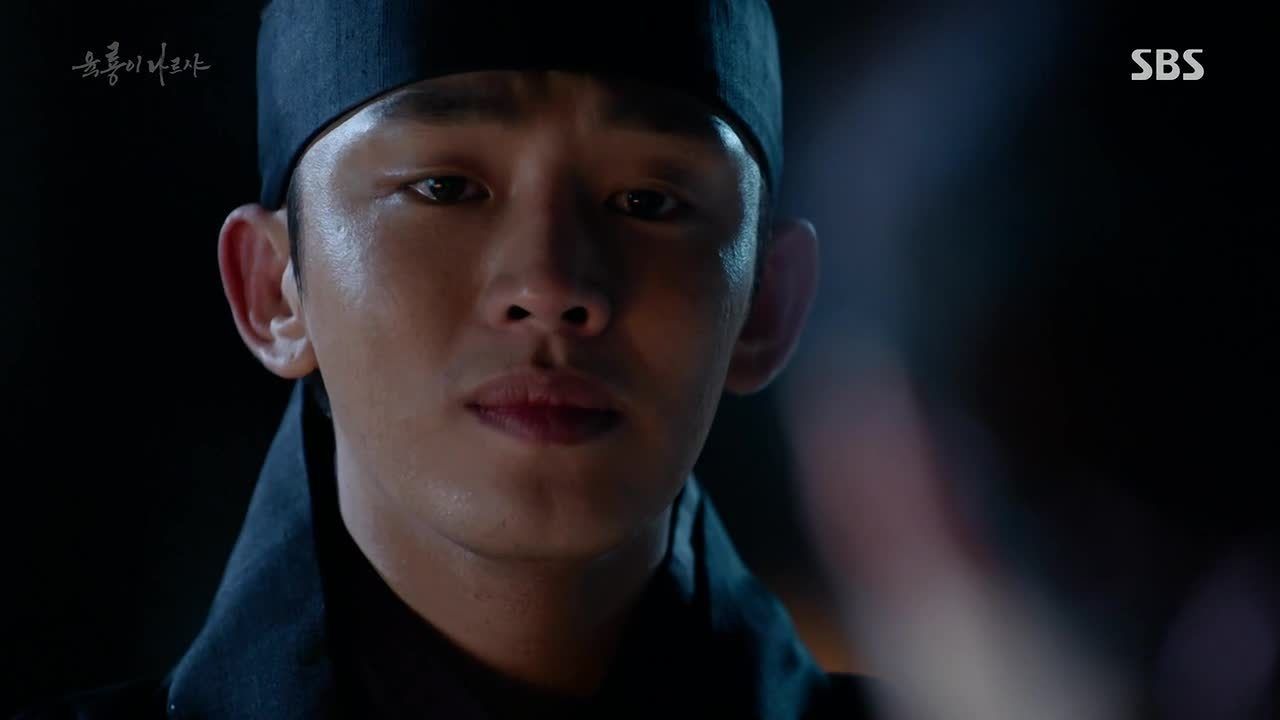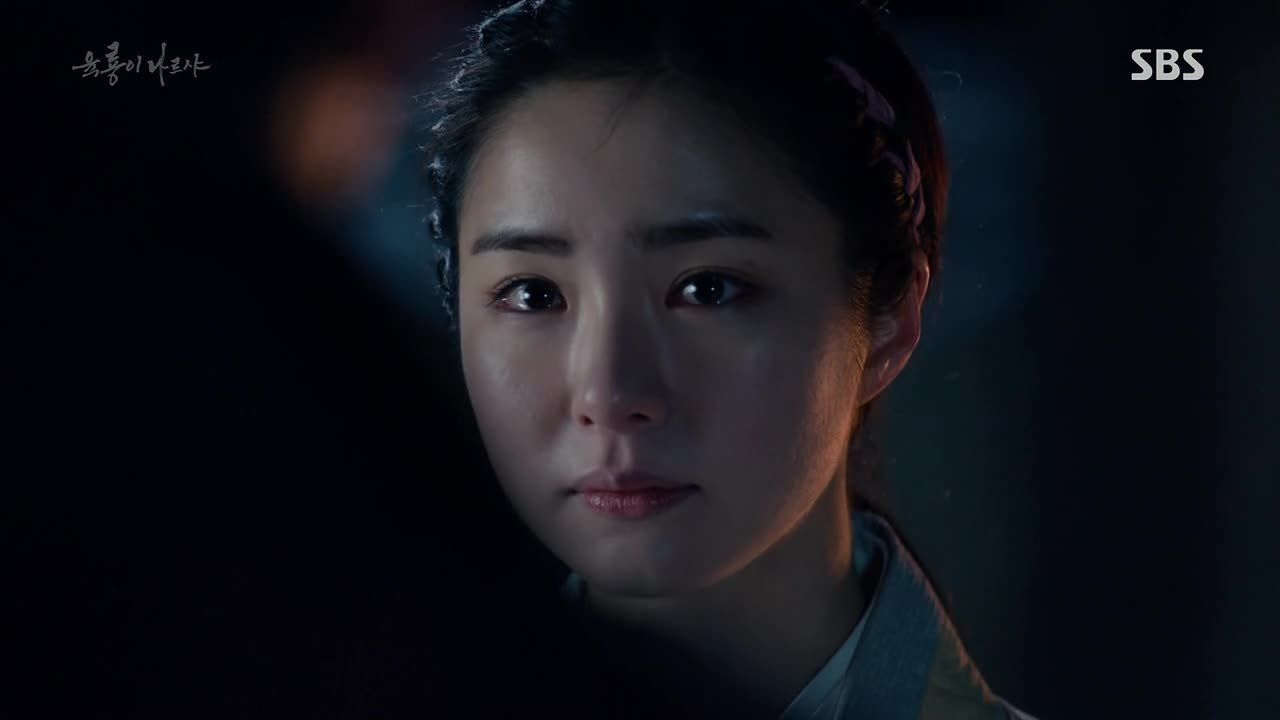 But she wishes that weren't the case, because she can't leave him for Banchon while still worrying about him. Tears fill his eyes as he implores her to let him think that no matter what happens to him, even if he were to die, she'd be somewhere with a smile on her face. "Please, let me think that way," he asks, as he closes his eyes against the onslaught of tears.
In answer, Boon-yi reminds him of the reason she first came to like him, back when they were friends. "Because you did not think that I would die [easily]," he answers, bringing a small smile of farewell to both their faces.
Some time later, Bang-won and his party arrive at the gates of the Liaodong Fortress. Though they declare themselves as envoys, they're swiftly arrested by the Ming, leaving him, Ha Ryun, Master Hong, and Moo-hyul all sitting on the ground with ropes around their torsos.
Somehow the scene ends up being pretty funny, with Ha Ryun reluctantly translating the words of the Ming man come to meet them. They're accused of taking in the Jurchens, a big no-no to the Ming, which is what Jung Do-jeon was actually doing in secret.
Ha Ryun is equally reluctant to translate Bang-won's response to this, seeing as how his life hangs on whatever Bang-won will say next. He's forced to translate Bang-won's informal "You, do you want to die?" which gets about the intended reaction when the Ming man grabs him by the collar and demands his name.
"I am Lee Bang-won. Who are you?" Bang-won says, translated by Ha Ryun. But what the man says next sends Ha Ryun into fits, since he says he is ZHU DI, also known as The Yongle Emperor, soon to be the third emperor of the Ming Dynasty.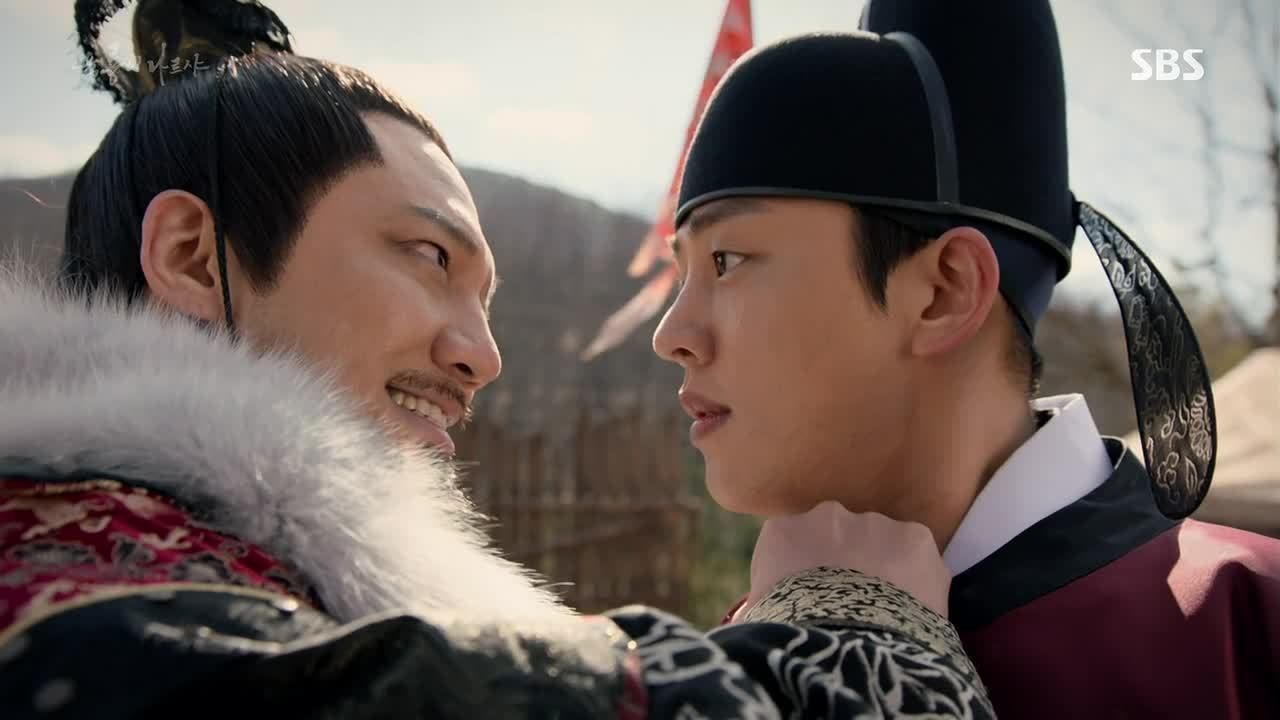 COMMENTS
Now that's a face that's going to haunt my nightmares. It's going to be interesting to see how this show shapes the events that could've happened during Bang-won's trip to Ming—there's not a whole lot of information on the excursion other than that it happened, so it seems like Dragons is going to take that hole in history and use it to Bang-won's homecoming advantage.
But at this rate, they've got a lot of history to burn through in what feels like a short span of time left ahead of us, since the logical endpoint seems to be when Bang-won finally assumes the throne. Anything less than that and we'd probably leave feeling disappointed, even though it seems like even the best of montages wouldn't necessarily cover all the ground that needs to be covered. That's a problem for another day though, and one I'm sure this production team has well in hand.
I was glad to see Bang-ji given more than a few moments of screen time this hour, because his is a character that started with so much potential and never actually lost it, but was just given so little time to display it that he may as well have. Where even Moo-hyul has been able to grow and make big boy decisions, Bang-ji has been stuck living in the past, and has been equally stuck in the same perpetually morose emotional rut. It's really a shame that they've secluded him from interactions with any of the other major characters, instead sticking him with side characters and a lack of dialogue. He probably said more in this episode than he has in the last ten combined, come to think of it. But is it so bad to want more Bang-ji?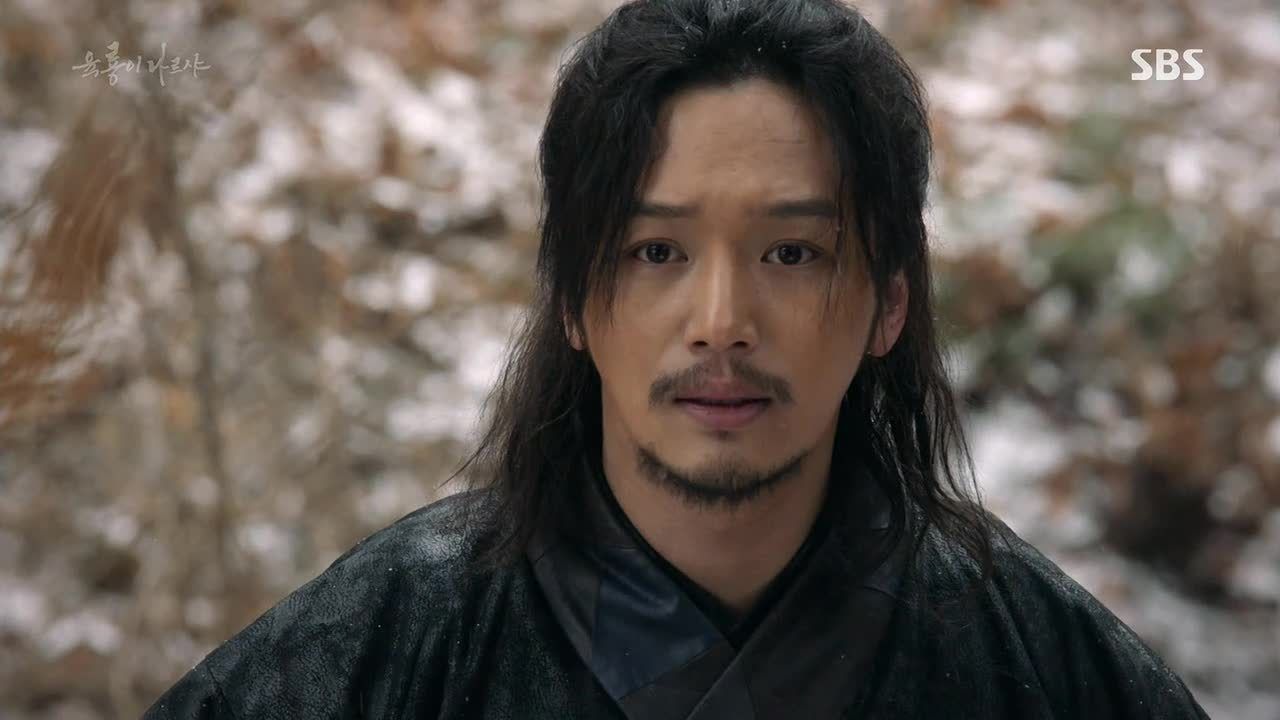 So while we got a small peek into his thoughts during his reunion scene, it still felt just a little incomplete, considering that we weren't privy to any of the essential aftermath. He has a real-life sister he can go talk to about this stuff, and while their mother is a sore subject, I doubt she would've advised him to do anything different during that encounter. Boon-yi can be cold, but telling him that he should've just killed their mother when he had the chance (except not really, because Gil Sun-mi was there), doesn't seem like the sort of thing she'd say.
Even though, when it does come to their mother, Boon-yi is capable of much more rationale than her brother. I'm with her on disavowing their mother entirely, since she was never a mother to them—and it's still unexplained as to why she even bothered being their mother for ten years, only to one day just… stop. Setting up the conflict with Yeon-hyang being their mother but also the leader of Nameless kind of comes off as extraneous, then, when she could have just as much conflict with strangers who aren't her children for all the attention she pays to that fact.
Perhaps this rift in ideology, even if there's just no earthly way to figure out Nameless' core ideology at this point ("We are the heart of the people" is a new one, I'll give them that), would've carried more weight had mother and children been closer. Or even if they'd been estranged, if Yeon-hyang secretly yearned to reunite with them, we could probably care more. But right now we're given zero reason to sympathize with her when the only crime she confesses to is that of destroying Bang-ji… before then proceeding to destroy him with the worst choice imaginable.
Which I guess all goes to say: She's just the worst. Poor Boon-yi and Bang-ji deserve better.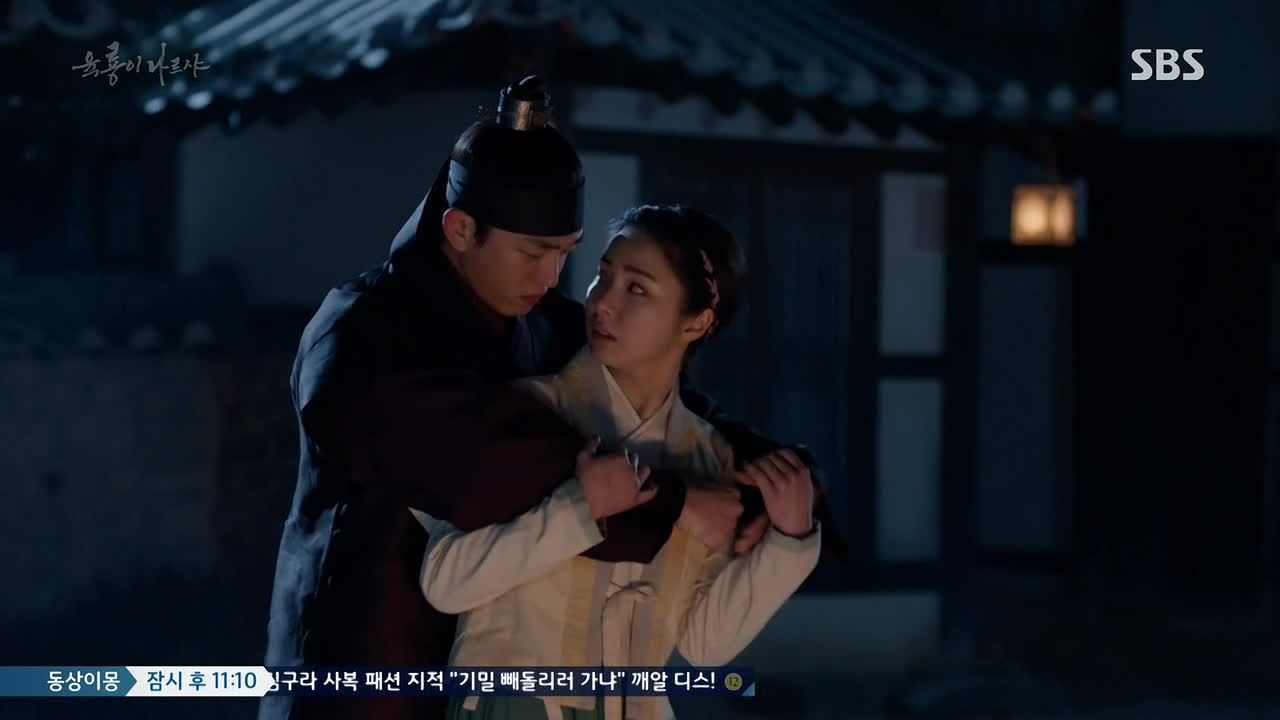 RELATED POSTS
Tags: Byun Yo-han, featured, Kim Myung-min, Shin Se-kyung, Six Flying Dragons, Yoo Ah-in