Youths Over Flowers in Iceland: Episode 7 (Final)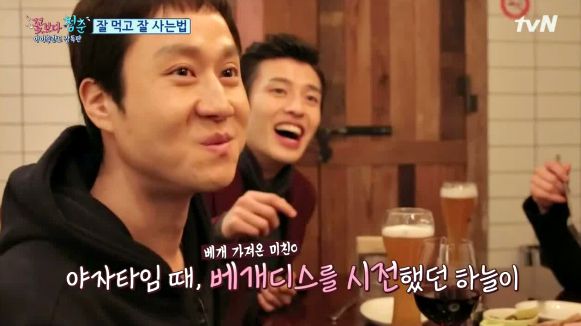 javabeans: Last episode! In Iceland, that is, since we've still got the Africa trip to look forward to. But today's the end of our Four Stones in Iceland, and this episode jumps forward to "some time after" the trip's end. We're in Seoul now for the "director's cut," which is basically the cast having a meal together and reminiscing.
girlfriday: Sang-hoon is the first to arrive at the restaurant, and he immediately starts slicing an invisible steak on his empty plate.
javabeans: He's really good at this, because I almost believe he's actually eating.
girlfriday: It's very Charlie Chaplin.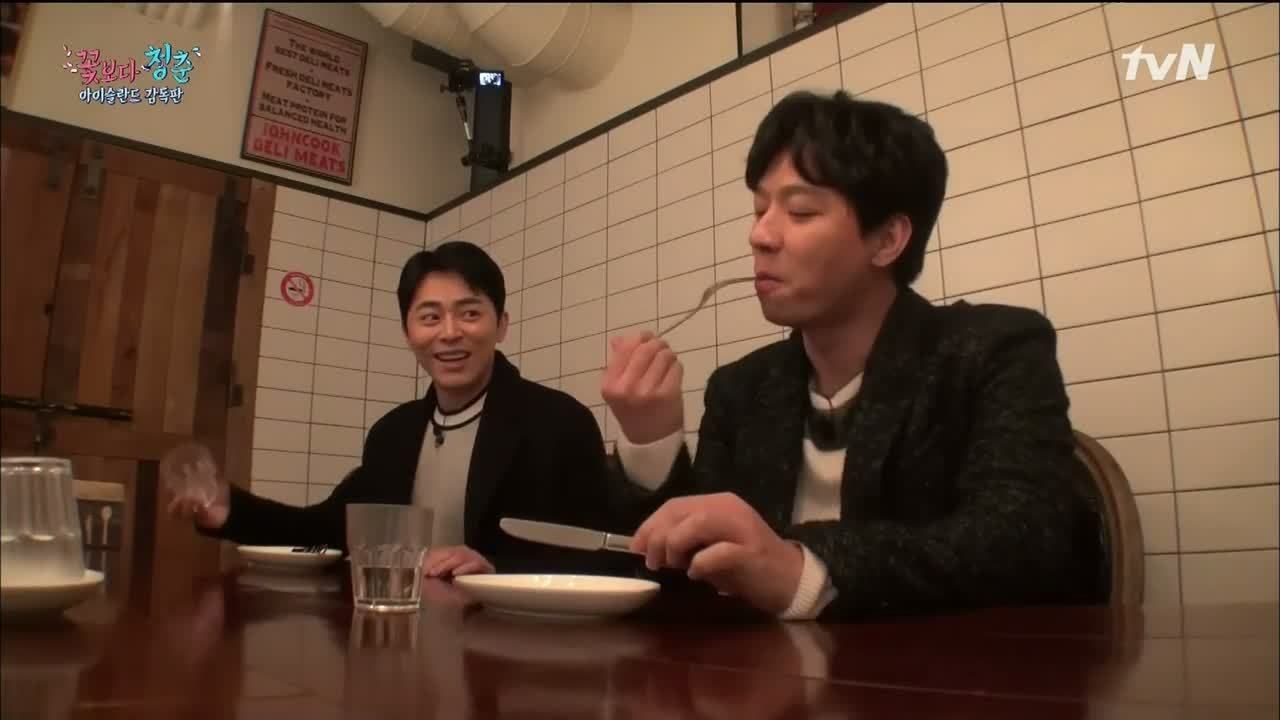 javabeans: Jung-seok arrives and then Jung Woo, and they immediately play along with it, pretending to eat, and Jung Woo reaches over his fork to try some of Sang-hoon's imaginary food before he laughs, "Let's cut out the improv now."
girlfriday: Will they EVER cut out the improv?
javabeans: No, because as soon as they agree to stop play-acting, Jung Woo "toasts" them with his "beer" (water) and they keep going.
girlfriday: The camera zooms in on Jung Woo's hand, which is now sporting a shiny wedding band that wasn't there before. The boys point out that he's returned a married man now, and he laughs. So basically he got hitched right after he got back from Iceland.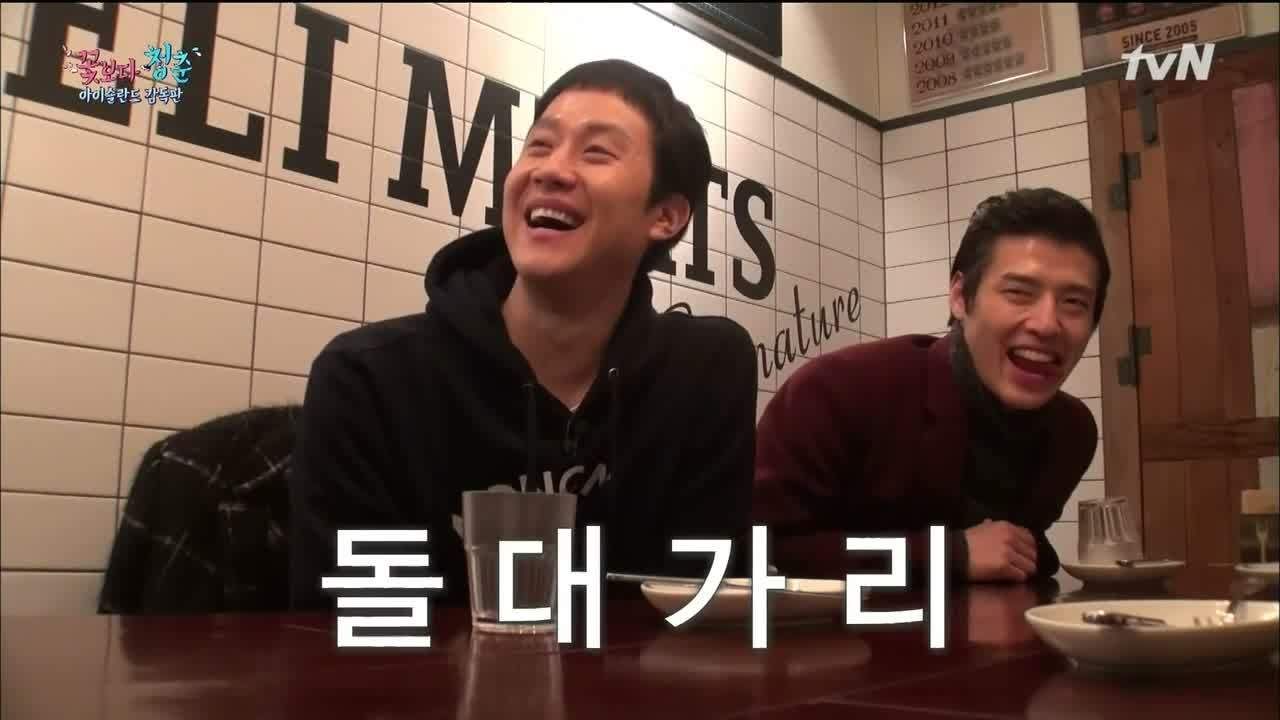 javabeans: Haneul bursts into the room exclaiming, "Hyung!" (three times) and then launches into a congratulatory song. Apparently Jung Woo kept his marriage news a secret from everyone, not just the public, because they all marvel at how he never said a peep all throughout the trip.
girlfriday: So it was kind of a bachelor party trip abroad for him, really. Na PD asks what the response from people around them has been, and Jung Woo says, "Rocks. For. Brains." Yup, that about sums it up.
javabeans: Na PD hands them menus and explains that this is a sausage restaurant, and the boys eagerly pore over the menu… and then sort of fall into silence, all indecisive. The caption labels this another team meeting, because of course it is.
girlfriday: They discover a thing on the menu called Sausage Party, which seems made for them, really, and then after a bunch of deliberation, Jung Woo asks if they can't just order Best 1, 2, 3 like they always do.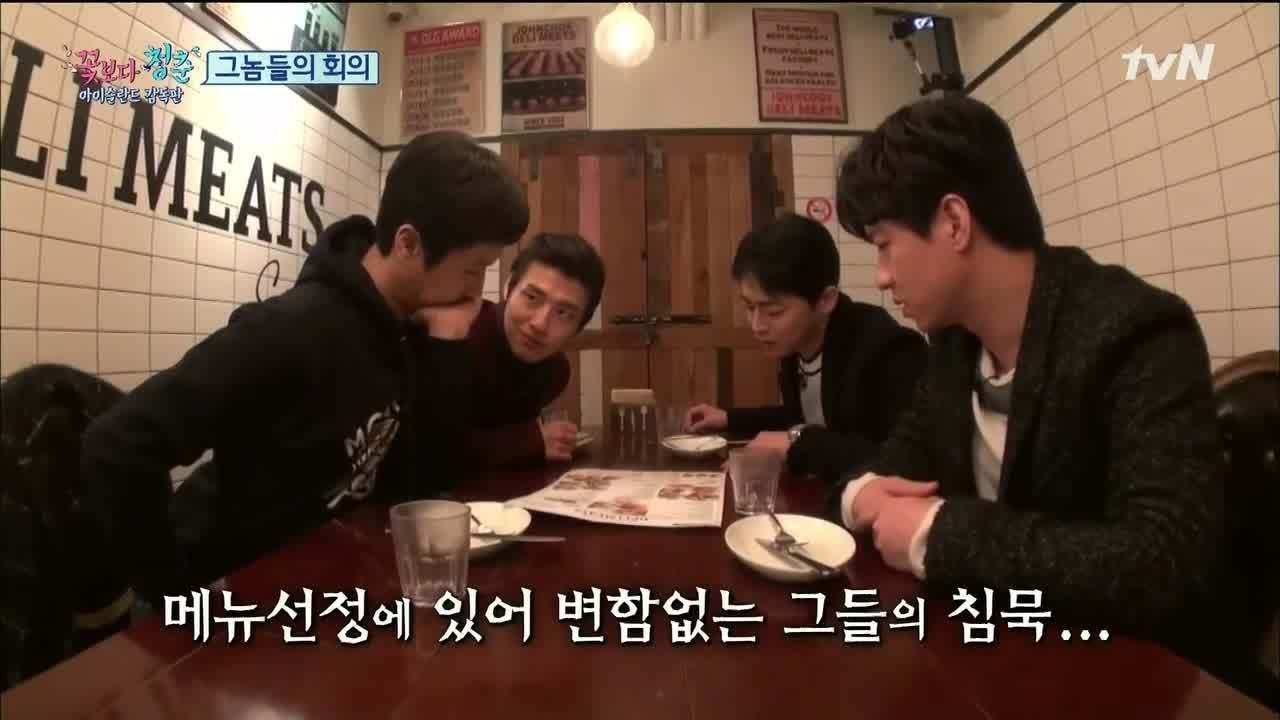 javabeans: We get a recap of all their team meetings from the trip, where they either have meetings or talk about the need to have meetings. Jung-seok: "Even if we fix plans now, once we get there we'll have to have another meeting about it."
girlfriday: This is funnier the longer it goes on. "Wait, let's have a team meeting." "Another team meeting?" "We'll confirm it in the team meeting." "Can we just have a 5-minute team meeting?"
javabeans: We get a sample of some of their meetings: "Shall we buy potatoes or not?" "Three ramyuns or four?" "Go down the street or not?" Haneul talks about the time they weren't sure whether to keep climbing the mountain to the hot spring and how they stopped three times for team meetings, pointing out that in the time they stopped to have meetings, they could have just… kept… going.
girlfriday: Back in the present, the Sausage Party arrives at the table and the boys dig in eagerly. I just love that Na PD brought them here for more hot dogs. This naturally launches us into a montage of allllll the hot dogs they ate on the trip, and then the rare occasions when they tried other foods.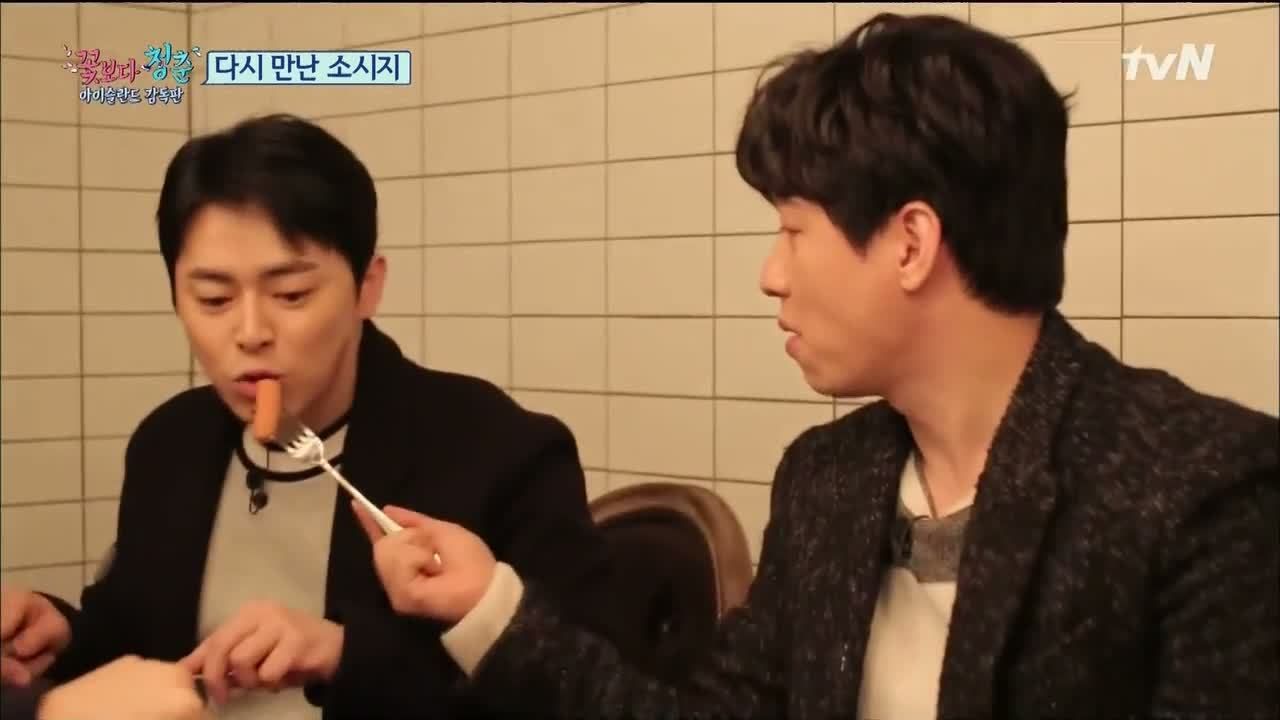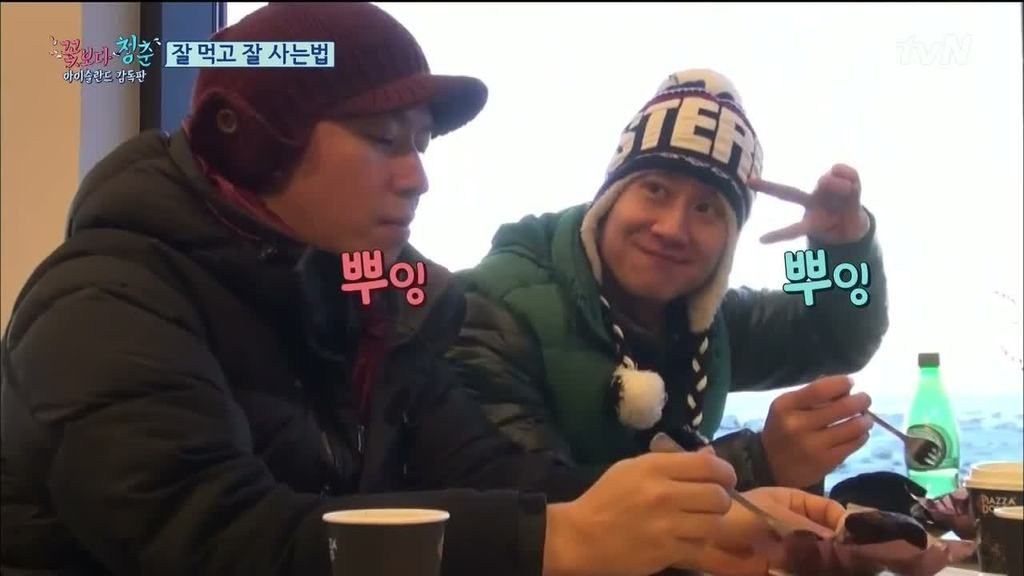 javabeans: I like the exchange where Jung Woo is offered the staff's lamb soup and says he probably won't like it, tries it, doesn't like it, and then tells Jung-seok he'd like some cake, to which Jung-seok says, "Already bought it!"
girlfriday: He basically has the taste buds of a child, which would explain the hot dog mania. Back at the reunion dinner, Na PD asks if they were to go on the same trip again, what item would they make sure to pack this time?
javabeans: Sang-hoon says ramyun seasoning, Jung-seok says a nice camera to capture everything, and then Haneul says "My hyungs!" But instead of the warm-and-fuzzy moment you might expect, it totally does the opposite and makes Sang-hoon retort that he's just making himself look good.
girlfriday: LOL. I love the dry reaction it gets. It was really the timing to say something like "underwear" or "razors." Now the hyungs are just mad (in a jokey way, of course).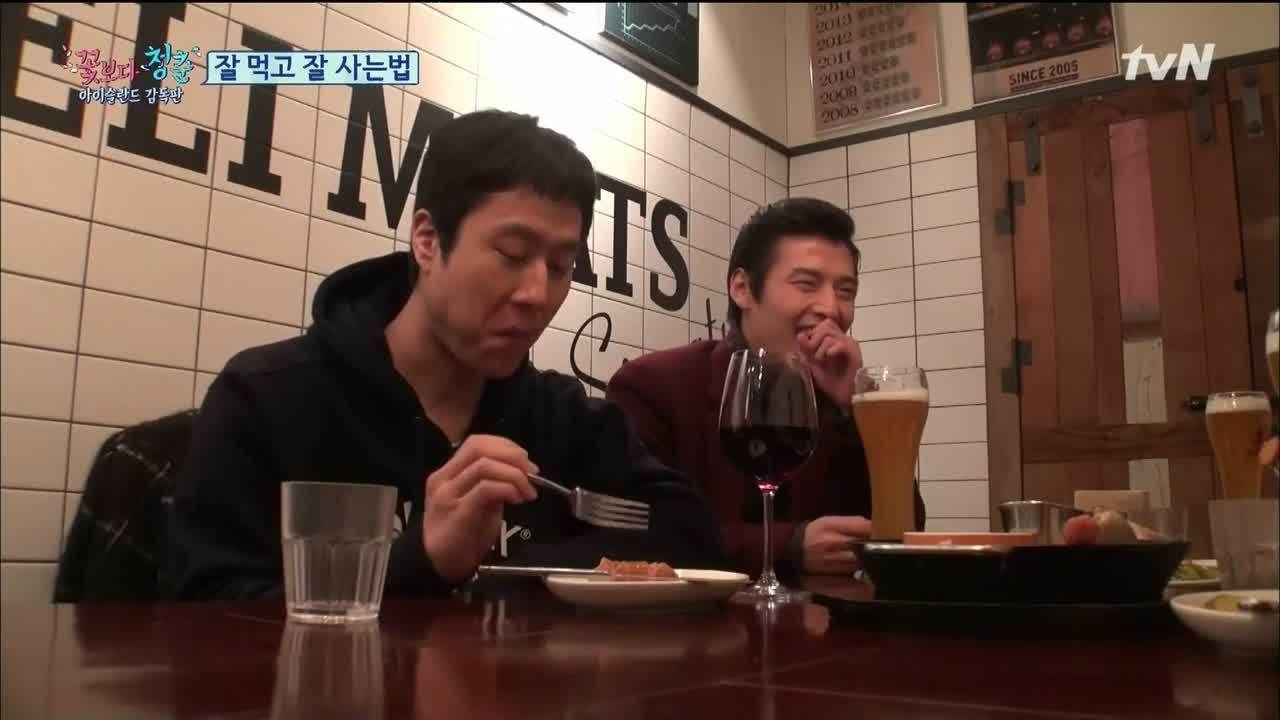 javabeans: I love Sang-hoon's pissy reaction, and how he's now trying to argue that his ramyun seasoning packets were totally also magnanimous: "I'd take the ramyun packets so we could all share them together! Do you think I'd only take one?"
girlfriday: When bullied into giving a practical answer, Haneul says he'd take shoes for hiking in snow, and Jung Woo says, "My pillow again!" which gets a big laugh. He really loves that pillow.
javabeans: Then he adds that he also agrees with Haneul, and that if you just have a group of people you can get along with, the other stuff doesn't matter: "You can always buy ramyun!" And Sang-hoon just heaves this sigh, looking huffy.
girlfriday: So then all three of the other boys join in, agreeing that all you really need is friends when you travel, leaving Sang-hoon all alone and looking like the bad guy.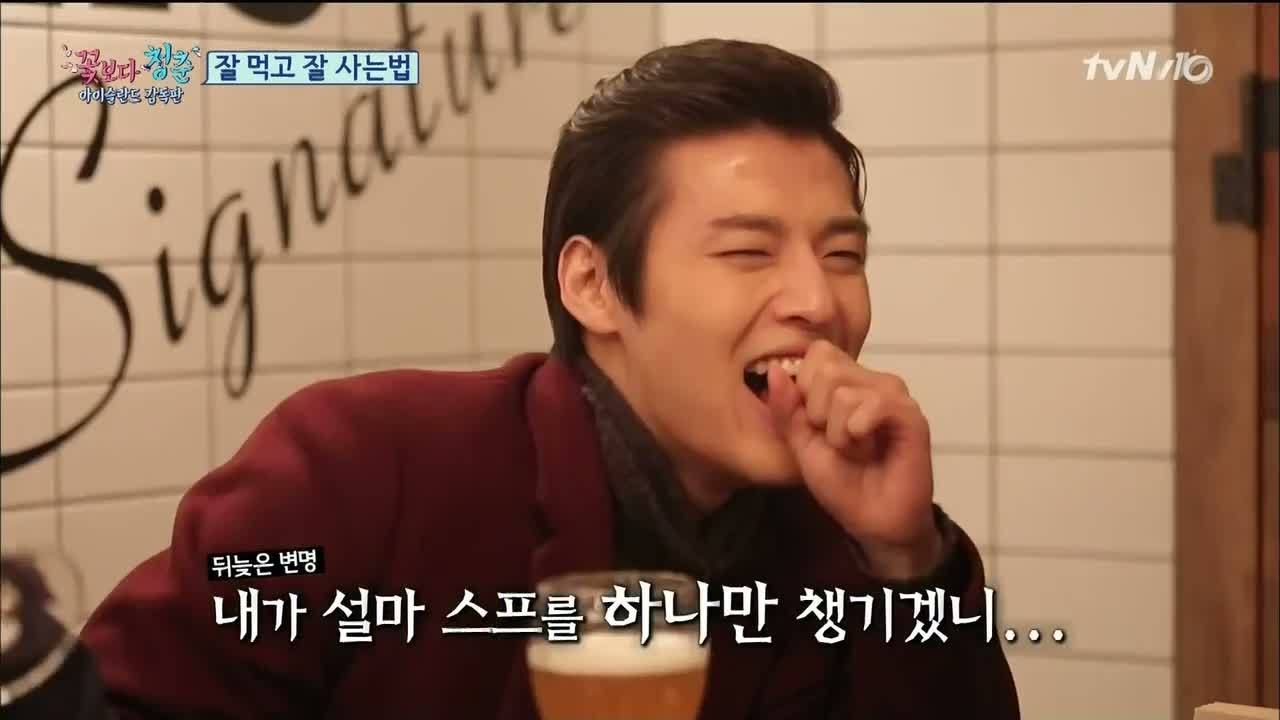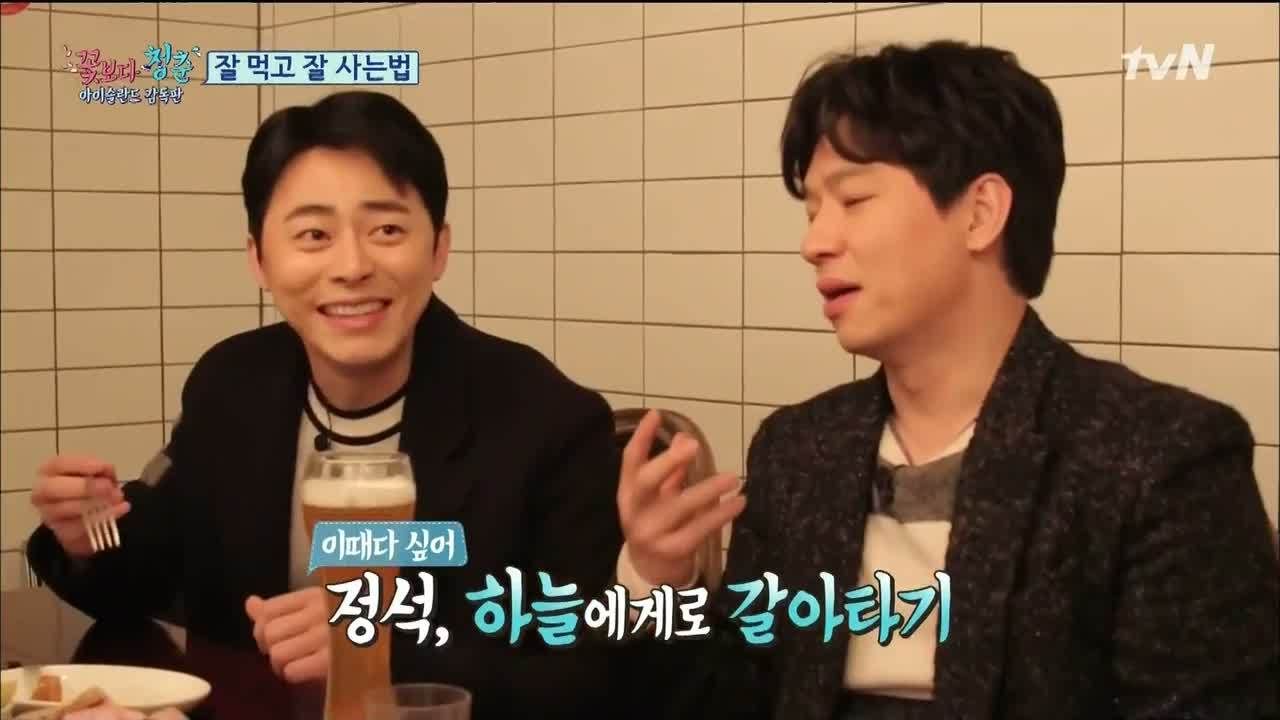 javabeans: We return to the topic of the stones, and how they all acknowledge that they are rockheads. This is just an excuse to play a montage of them doing dumb things and not knowing anything, right?
girlfriday: They should have lots to work with. I do love the initial discussion before the trip, of who should be treasurer. The only consensus is that Jung Woo shouldn't be in charge of money. He offers to be the errand boy, only they complain that they can't send him on errands if he can't speak English. So basically he's good for nothing.
javabeans: Then it's on to the language barrier, which was funny for all of them but really mostly for Jung Woo and his memorable statements like "Open the door!" (when he meant you need to close it) and "I water, we are the water" (when he was trying to order it).
girlfriday: I still crack up at, "Excuse me, can I help me?"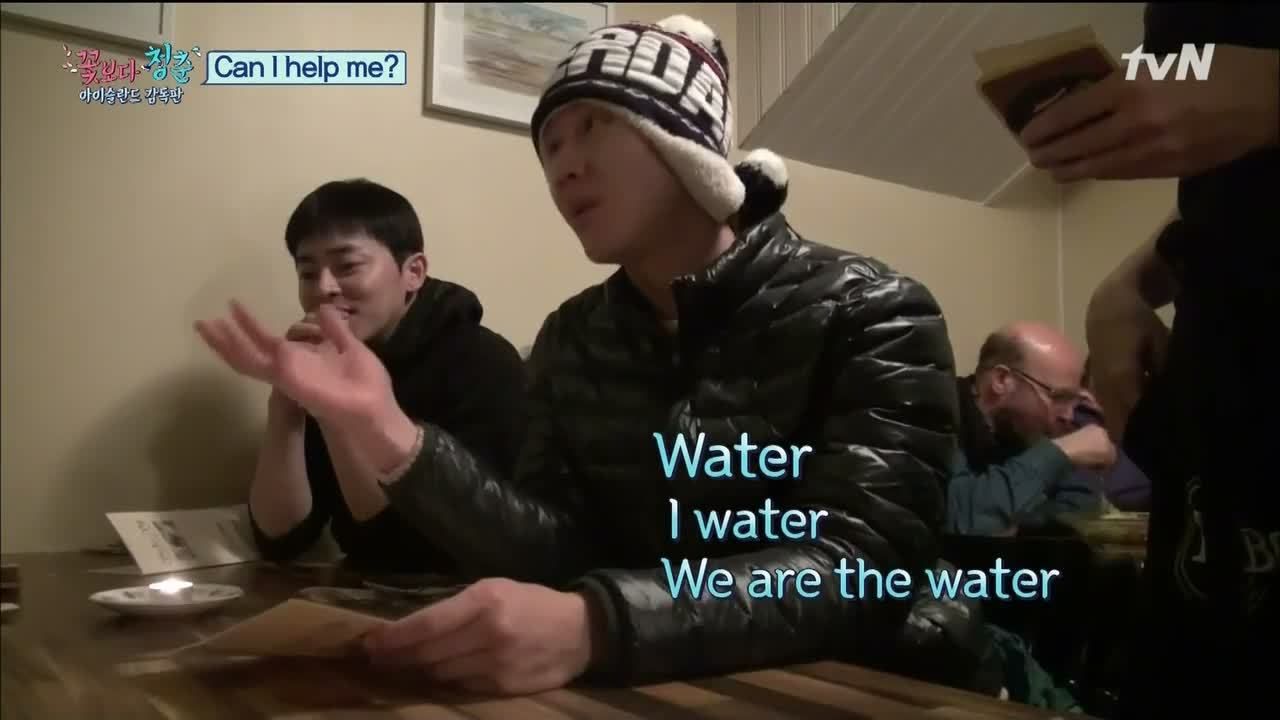 javabeans: But really, nothing tops "Three hot dogs please" =/= "Please hot dog world."
girlfriday: That one will just go down in history.
javabeans: We see a lot of scenes of their bad English, with Haneul being probably the best and yet having no confidence and rattling off a string of "Sorry"s constantly. Sang-hoon quips that it's like he's doing those old-timey gestures of penitence (you know, kneeling on a mat before the king for hours), with all his apologizing. Jung-seok says sheepishly, "We can't blame anyone when we're the dumb ones."
girlfriday: Then they talk about Haneul getting kidnapped from the Blue Dragon Awards and being put on a plane in his tux, and we see him calling his mommy to let her know that he's suddenly leaving the country.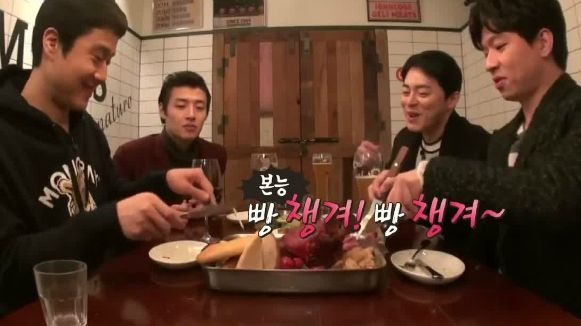 javabeans: While they're eating in the present, Jung Woo knocks a few rolls to the table and Jung-seok quips, "Save the bread! Take the bread!" Ah, old habits die hard.
girlfriday: Hahaha. This is why I like them. They know to make fun of themselves in the moment.
javabeans: That prompts Na PD to comment on their "extreme cheapskate ways" — I feel like Na PD is still not over being outmaneuvered on the budget, because he uses pointed words like it still annoys him. Sang-hoon explains feeling like a mom, where you realize you can't just take care of yourself, and that if you make a bad decision, it could make everyone else suffer.
girlfriday: I wonder if Na PD's calculations are off because of Seo-jinnie and the halbaes. You know that Seo-jin isn't going to stand for hot dogs and half-eaten sandwiches, so starting with him as a baseline means a pretty luxurious backpacking trip to begin with.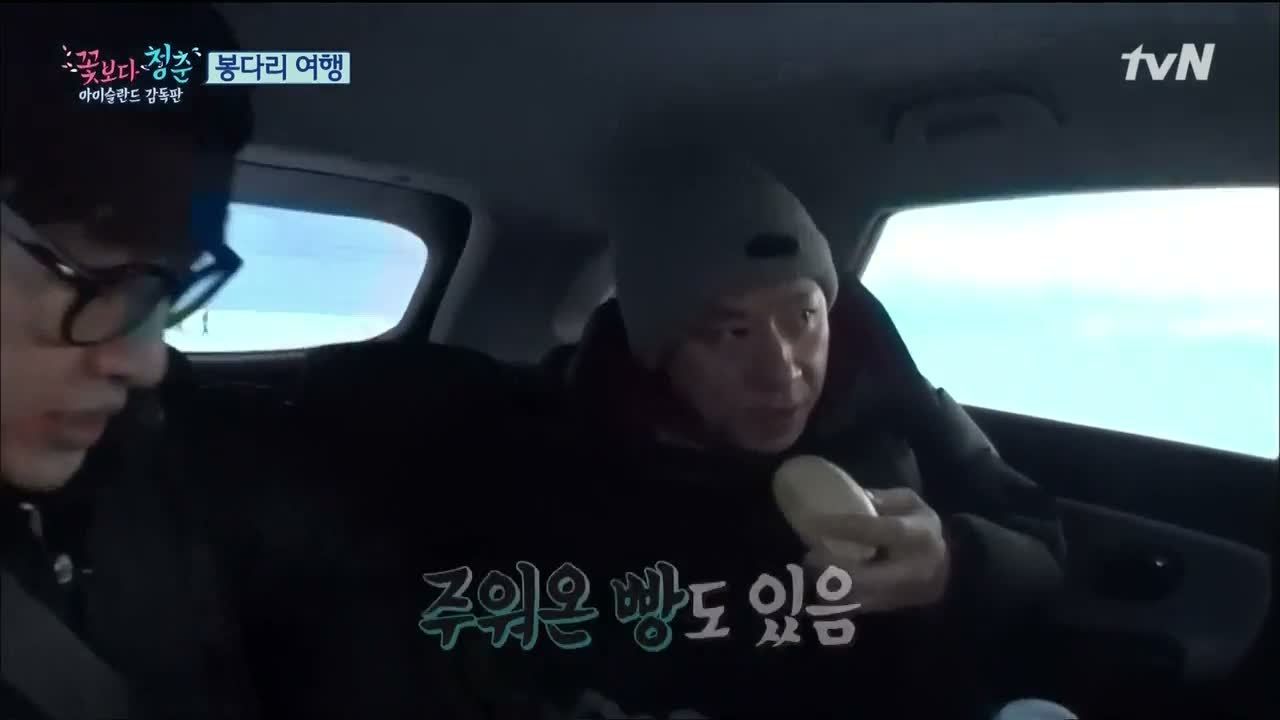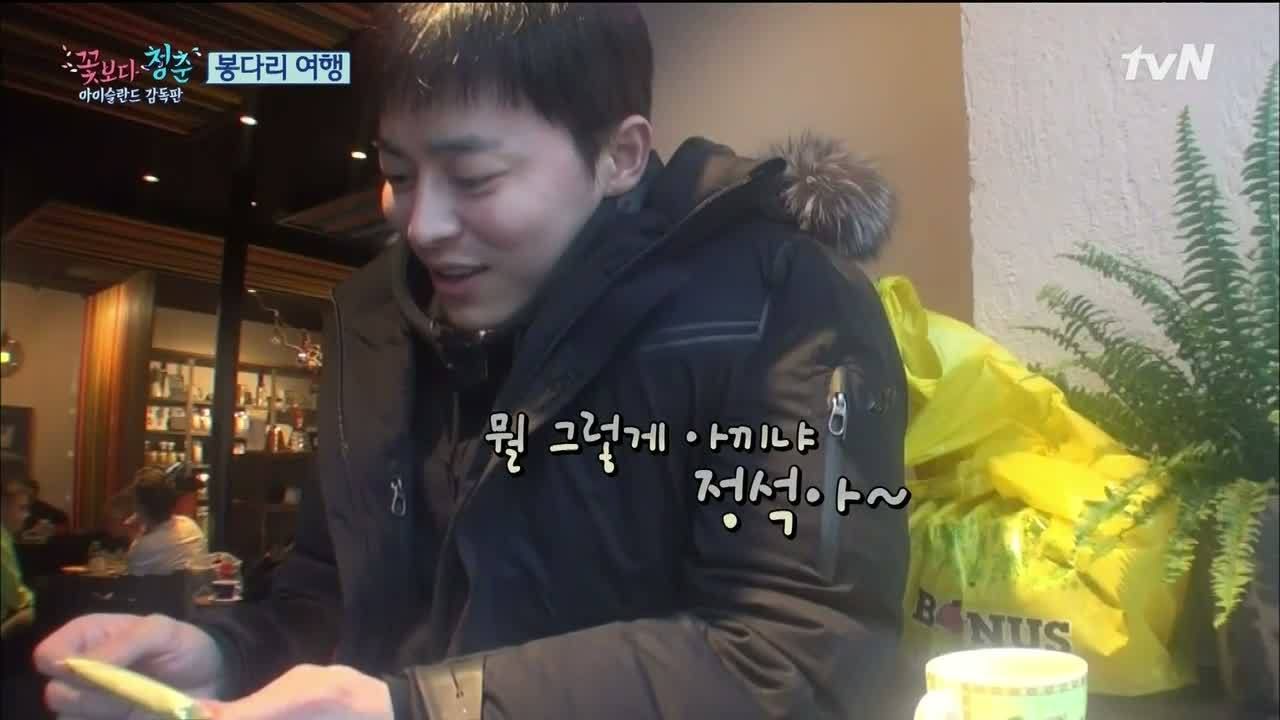 javabeans: I feel like his goal is to force Seo-jin out of his comfort zone and resort to eating like the Four Stones did — but he can't have his cast doing that voluntarily, or it's no fun in making them suffer. But he couldn't make them spend any less, since then that'd be inhumane!
girlfriday: The only thing you could do with the Four Stones is to give them a guitar, drop them on the side of the street, and make them earn their daily allowance with song and dance.
javabeans: It's hilarious and also really sad, to see the boys carefully saving their half-eaten sandwiches and hoarding rolls. At one point, a cast member is about to throw away a roll, and the boys exclaim, "Why would you do that?" and take it, and divide it into four parts. Sang-hoon pockets rolls for later, and says wistfully in the car, "I wish I could eat them." Jung-seok tells him to go ahead, but he says, "We have to save them."
girlfriday: Wow, they even only order one large coffee to split into three parts, or order an americano and a hot water to make four regular coffees out of. That's crazy.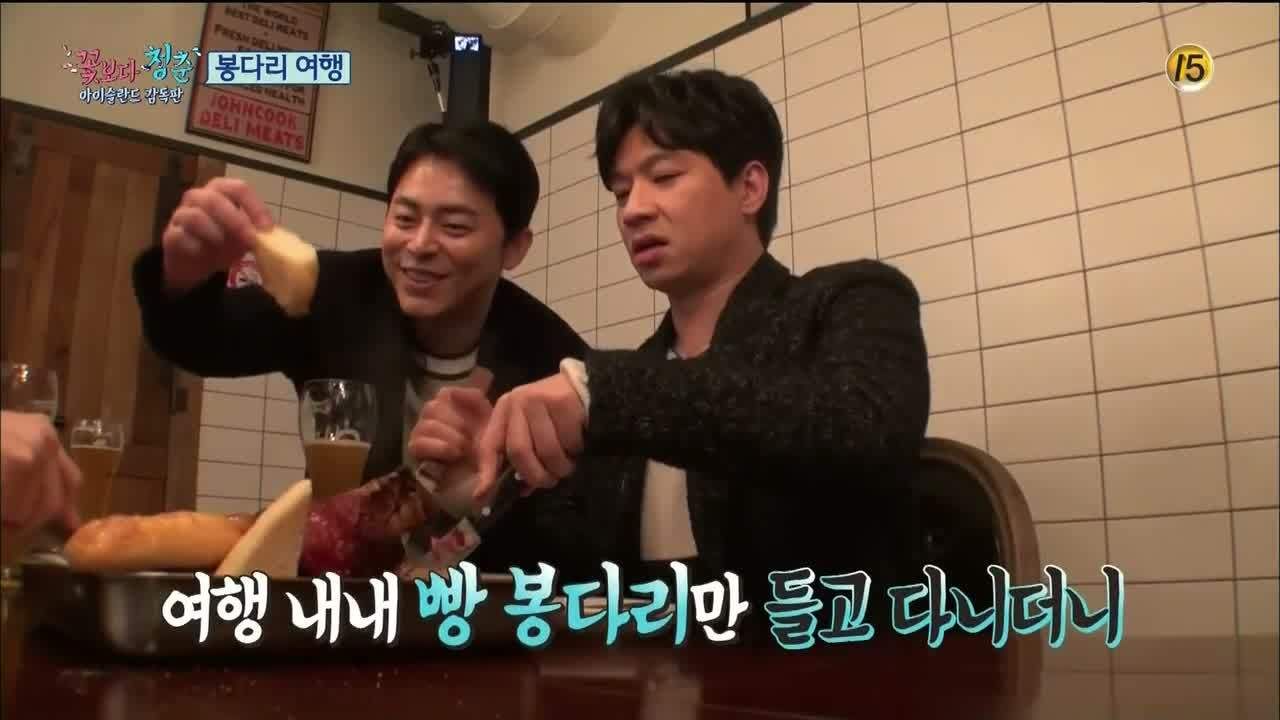 javabeans: Do you think their innate frugality was heightened by knowing they were in a Na PD show and expecting the worst, not realizing that they were way overreacting to the worst?
girlfriday: Maybe, but honestly I think this is really their poor starving artist days coming out in full force.
javabeans: It's kind of nuts to see them ordering two coffees and spooning coffee into two other cups.
girlfriday: I know. It makes me want to buy them coffees. Right now. Even though I'm sure in Korea they buy lattes all the time.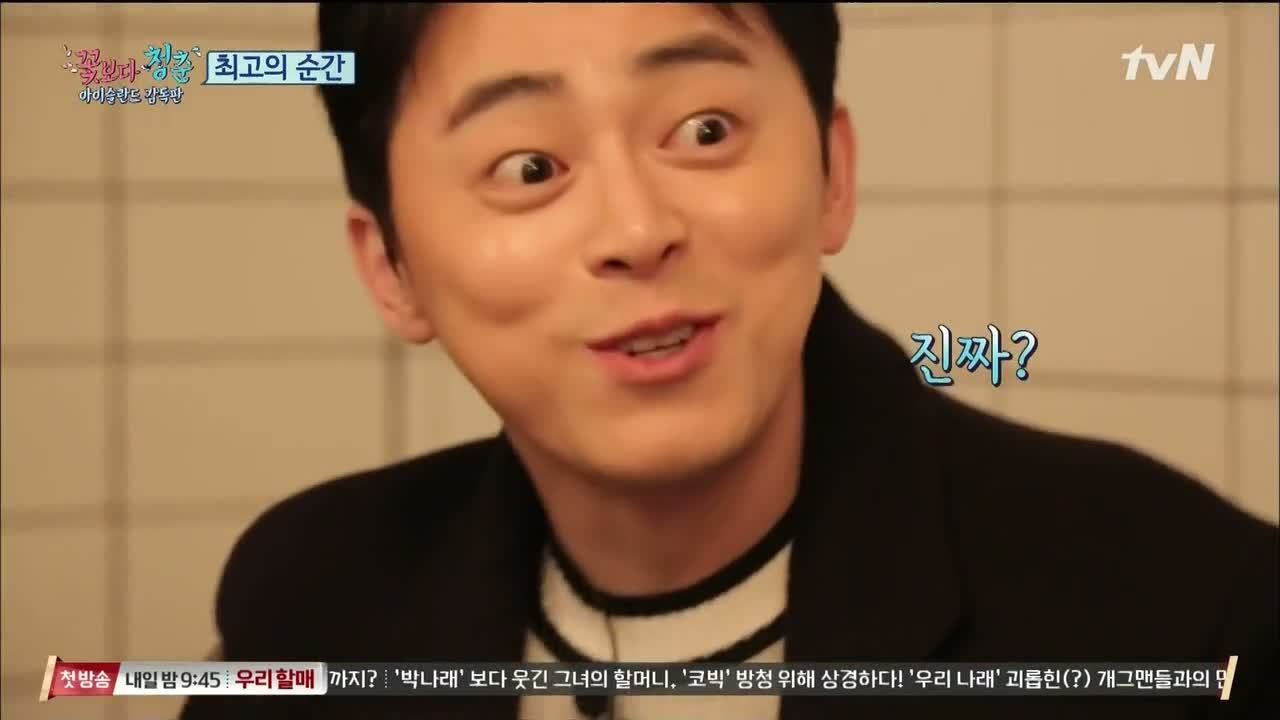 javabeans: Na PD asks them to guess what the top 3 moments were in ratings, and they're surprised that third place is 11.95% (that's so high!) and from their first trip out to the Gulfoss waterfall. Second place was Jung-seok's "transformation" (into the eyeglass-wearing monster) at 12.9%.
girlfriday: HEE. They're all amazed and Haneul says, "Hyung, you wearing glasses is more impressive than Gulfoss!"
javabeans: First place is naturally the Aurora segment (12.98%), and they all talk about the other really memorable moments for them, like stargazing while lying on the snow, or catching a glimpse of the sunlight on the horizon.
girlfriday: They talk about how much time they spent in the car (they really did do a lot of driving on this trip), and they all mention the time that they burst into song and Jung Woo started rapping. Okay, that's still hysterical the second time around.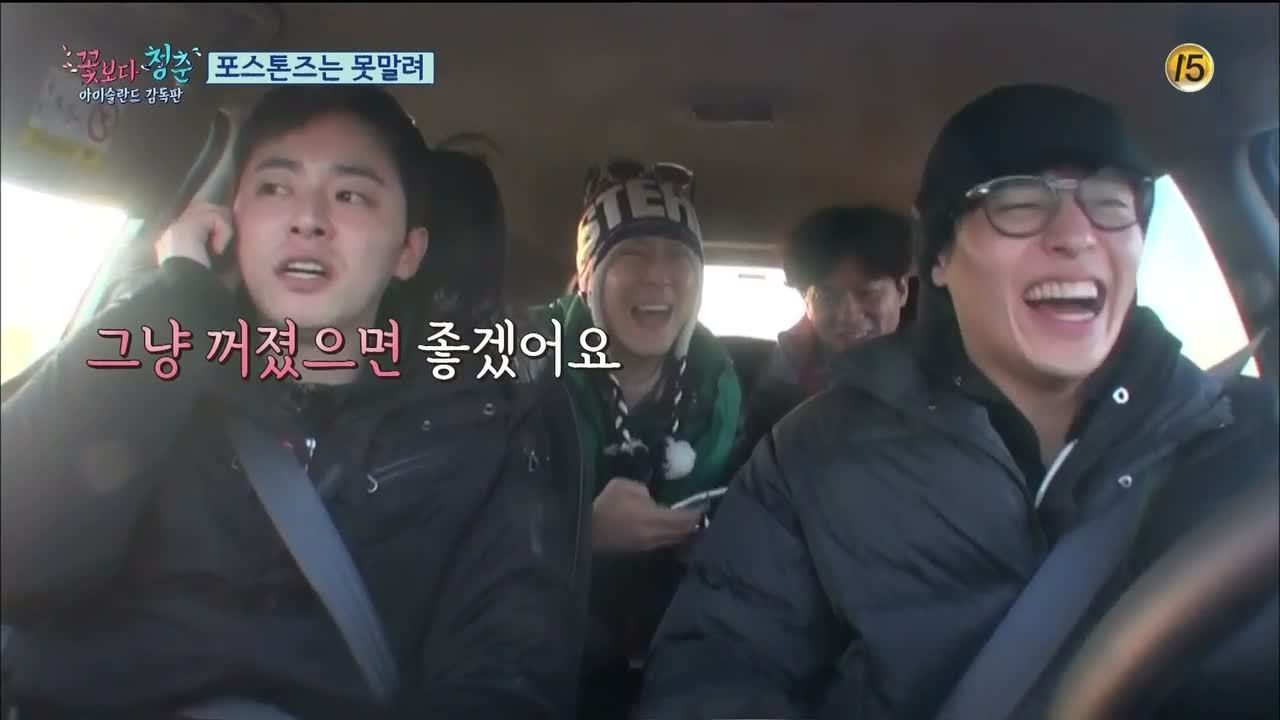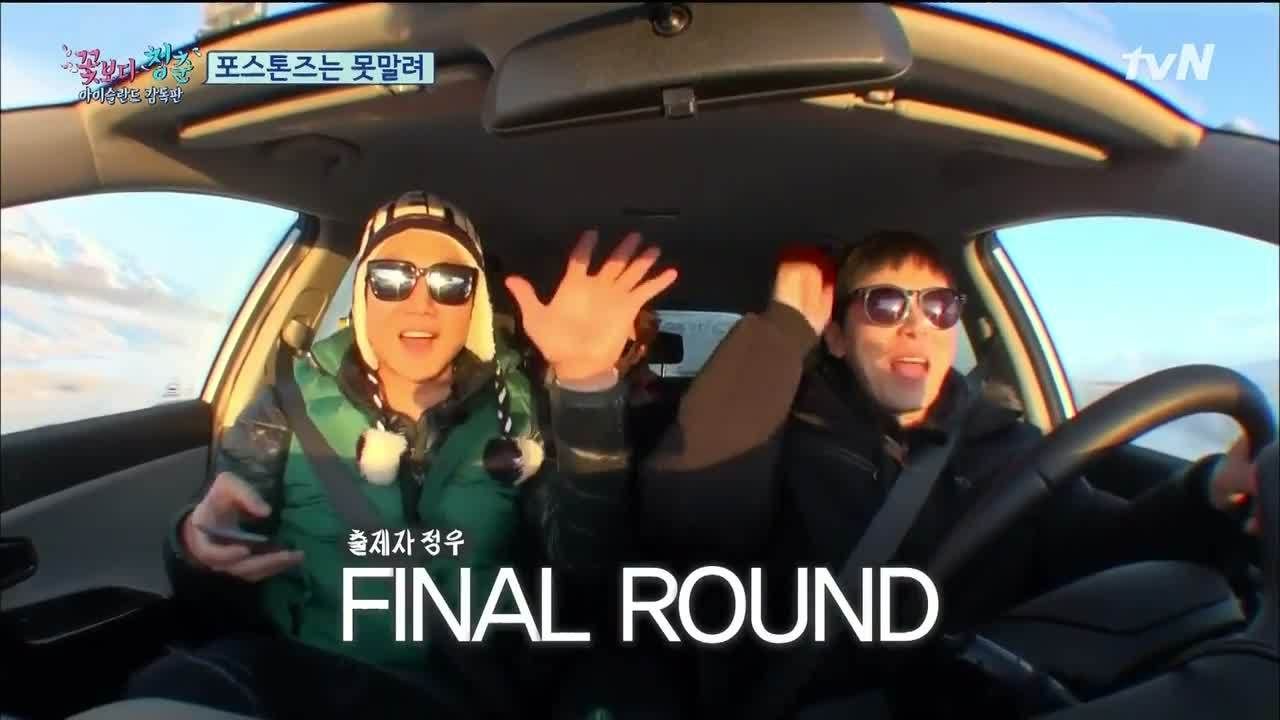 javabeans: We see them entertaining themselves during the long car rides with games and pretend radio shows and impersonations. Basically, they can play with anything, anytime, and never get bored.
girlfriday: Seriously. It's kind of amazing, the string of never-ending scenarios and games.
javabeans: I wonder if Na PD had the least to do on this show, because usually he's the one inventing games and making up rules to keep the action going, or even adding challenges to keep the trips difficult. On this trip, they just did it themselves and he never once had to step in.
girlfriday: Easiest paycheck ever. Minus the whining hike up the snowy mountain.
javabeans: Except he turned back and waited in the car, right?
girlfriday: That's right, that doesn't even count! Na PD mentions all the random songs they wrote during the trip, and Jung-seok cracks up remembering the one Sang-hoon sang about his own stinky fart. At first it's just silly: Sang-hoon farts and starts to sing about its smell, but then Jung-seok actually starts joining in with a harmony, and it's hilarious.
javabeans: Wow, there's this whole elaborate improv scene when Jung-seok and Sang-hoon pretend they're grilling meat on the table, wrapping it in lettuce, and eating up. Na PD animates their surroundings to match their miming movements, and you actually think they're eating when really the table only has books and random personal belongings on it. It's kind of messing with my mind.
girlfriday: It looks real! (Their acting, not the animation.) There's a segment where all the boys sign a guestbook in Vik and leave little messages, and back at the reunion dinner, Na PD asks them their final thoughts about the trip. Jung Woo says he never slept so well in his whole life, and that he must've been really comfortable to be able to do that. He talks about how auditioning was his job for so long, and after 13 years of small roles, he finally landed Answer Me 1994.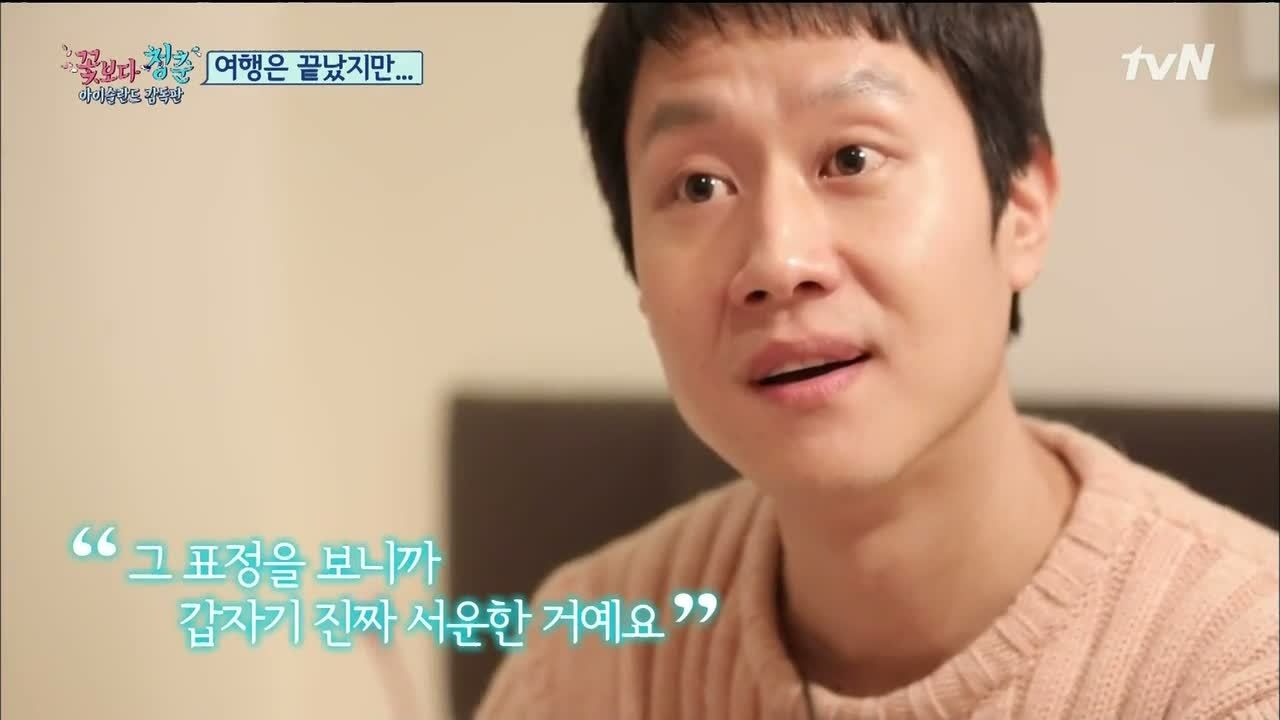 javabeans: I know Answer Me gets a lot of credit for "discovering" Jung Woo, but really it was You're the Best, Lee Soon-shin that was the stepping stone that allowed him to get Answer Me, and he was so great in that. Bread Man forever!
girlfriday: I did love him in that, and I remember thinking he was such a good actor for making that character's awkwardness so palpable. It hurts my heart a little when he talks about not liking travel because he felt too nervous about not working and taking time off to enjoy things.
javabeans: Aw, they say how they were in the middle of their "hidden camera" to trick Haneul into thinking they were fighting, and suddenly they felt sad and upset to be playing sad and upset and didn't want to go on: "It wasn't a hidden camera on you, it was a hidden camera on us."
girlfriday: Haneul talks about how he felt like he became really close with his hyungs on this trip, and the hyungs all say that they became closest to Haneul, probably because he was the lovable maknae who loved them all.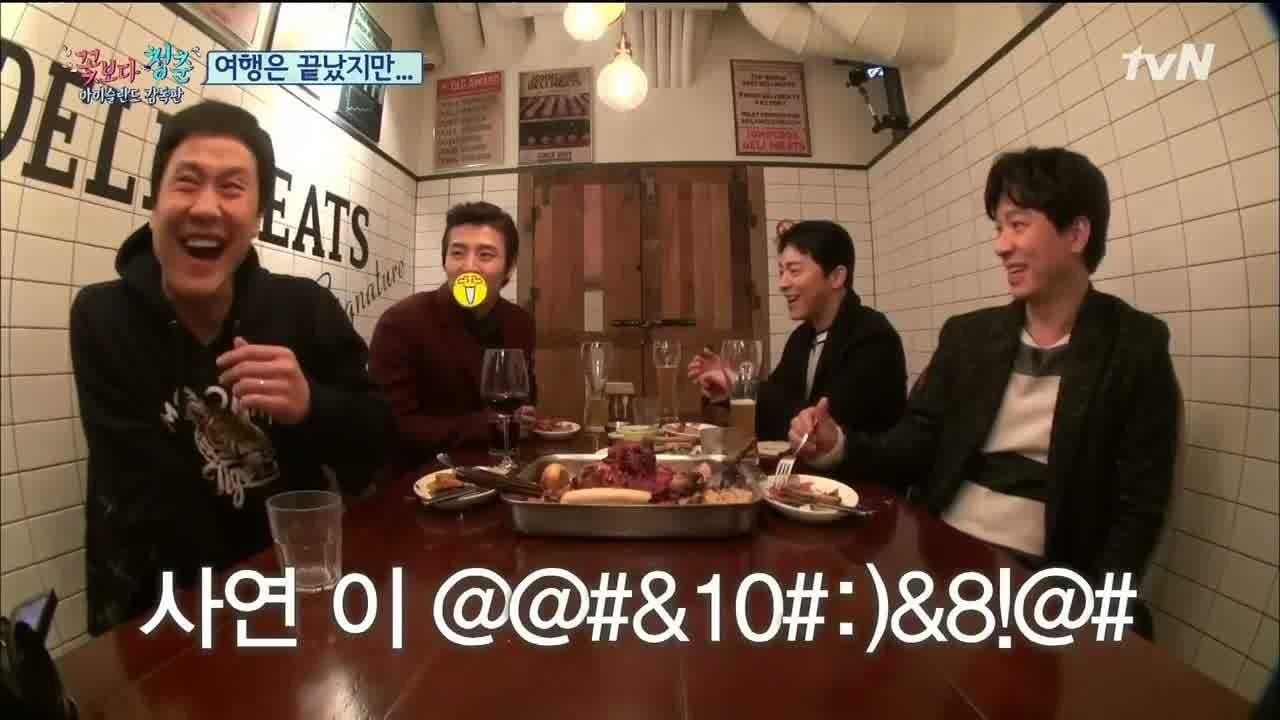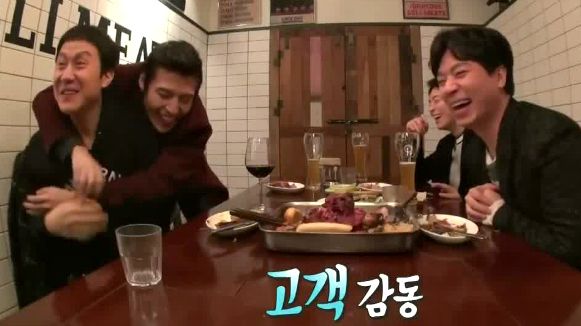 javabeans: Jung-seok says how he had felt a little bit of distance with Haneul before, like Haneul wasn't quite comfortable with his sunbaes, though as we've seen he's now totally affectionate with them.
girlfriday: They all interview about the others being there in their poorest, most anxious times, to just share a drink or hang out back in their twenties when they had little else but their dreams. Jung-seok admits that he misses those times, and when Sang-hoon hears that Jung-seok said that, he starts to cry.
javabeans: Back in the present, Haneul says that he's received all this praise now, and requests 30 seconds of Yaja Time to express his reaction to their praise. He lets loose a string of bleeped phrases and everyone cracks up, and then Sang-hoon tells him to direct some of that Yaja Time at Na PD. Haha. Jung Woo: "Then you'll be closer to the director." Na PD: "I'd like to be closer to Haneul-sshi too."
girlfriday: It takes a lot of prodding from the hyungs, but after a lot of hemming and hawing, Haneul launches a string of curses at Na PD and they all crack up. Man, I wish I could hear the un-bleeped version!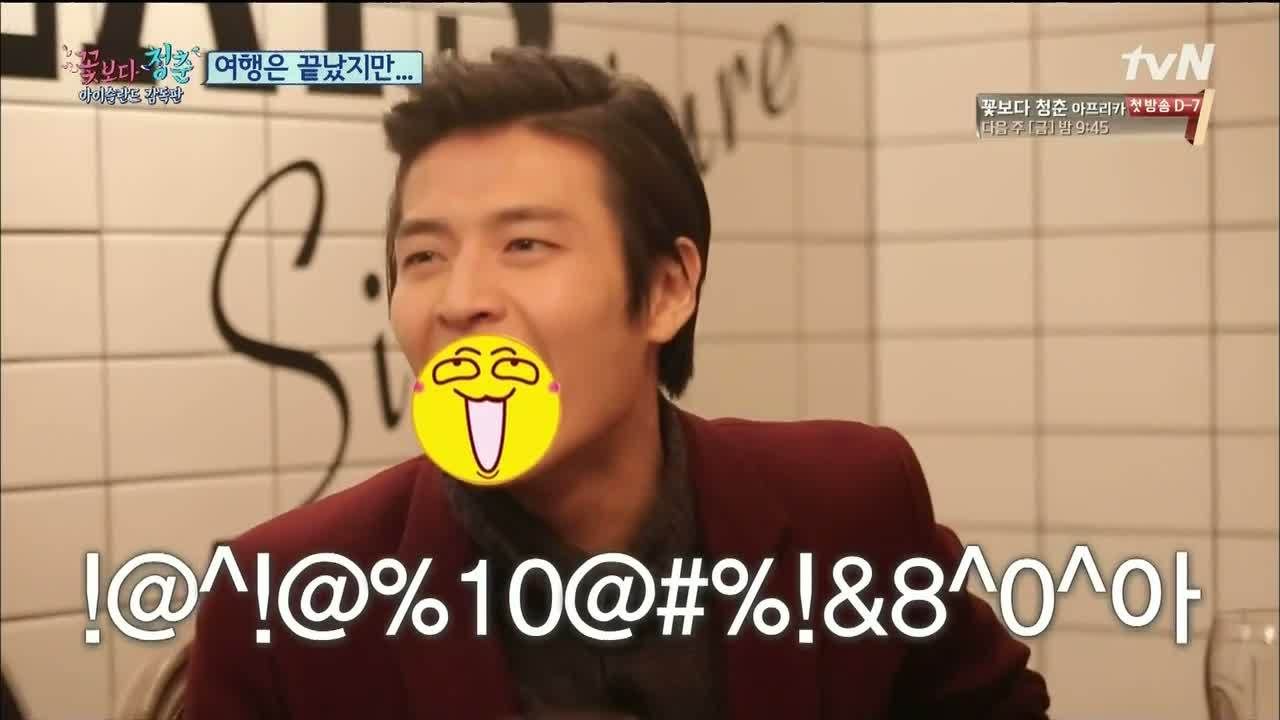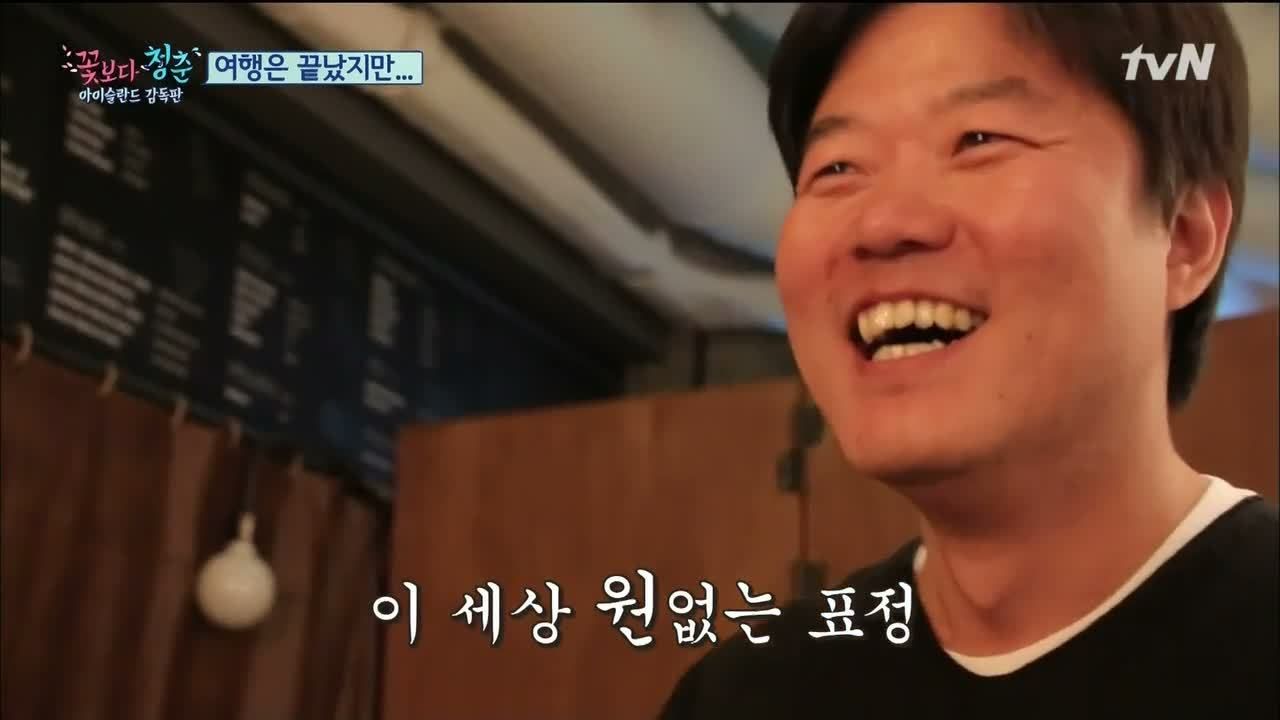 javabeans: I knoooow. I can only imagine, but my imagination probably isn't nearly as good. Haneul immediately makes a heart shape with his arms and exclaims, "Director, I love you!"
girlfriday: Jung-seok talks about learning the importance of travel, because he went his whole life saying he'd go on trips but never actually doing it. But this time, before he knew it, he was going abroad and traveling and enjoying himself. He even bought a map of the world to inspire future travel after Iceland.
javabeans: Asked what aspects were disappointing, he says nothing. And then a few seconds later, he adds, "There was nothing that was disappointing, really nothing, BUT…" and he cracks up admitting that "the guitar was my one trap." He's just sooooo wistful about not having a guitar.
girlfriday: Ha, I love the crew's response: "You had enough money left to buy five or six of them…"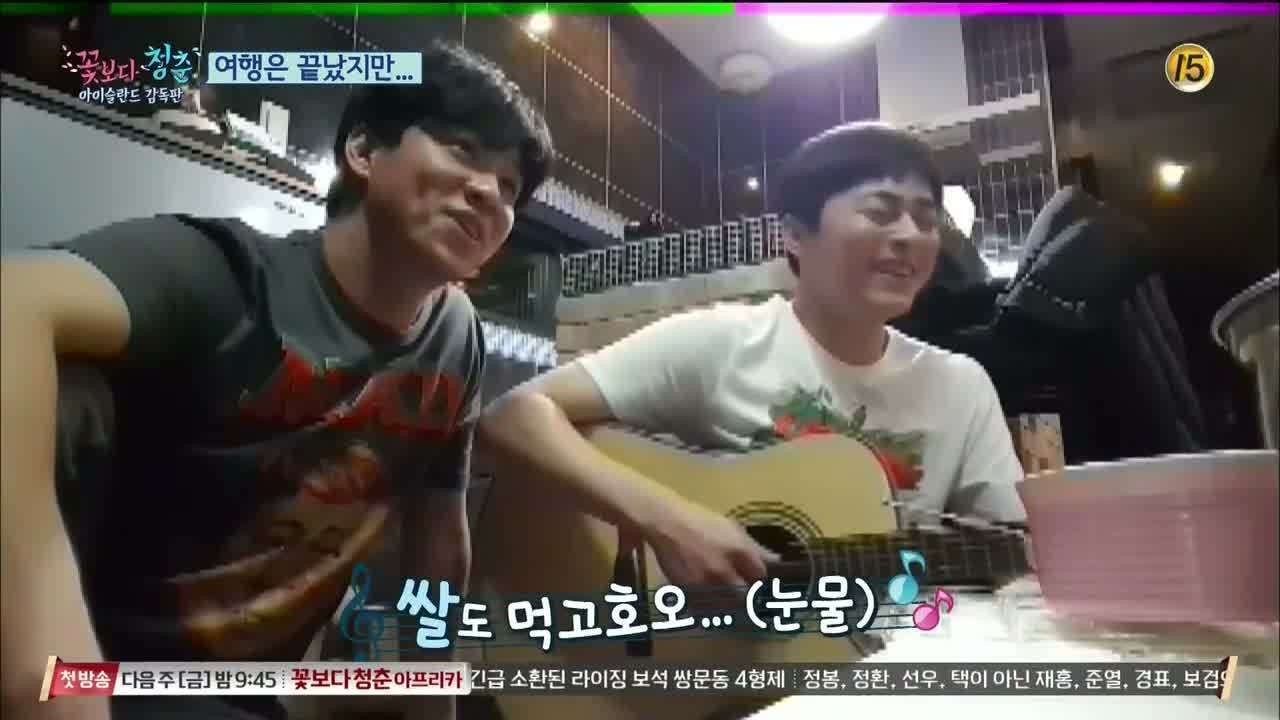 javabeans: A short while later, Jung-seok and Sang-hoon get together and set up a little camera to make up a song on the fly, which is a string of phrases related to their Iceland trip, put together in no sensical order.
girlfriday: But the accompanying music video makes it almost sensical.
javabeans: Na PD hands out gifts to each of the boys, and Sang-hoon asks suspiciously if it's something weird, and Haneul asks excitedly if it's plane tickets. Jung Woo's turns out to be a matching set of PJs for himself and the wife, while Sang-hoon gets this huge box filled with… hot dogs, lots and lots of hot dogs.
girlfriday: Pffft. That's hilarious.
javabeans: Aw, Na PD actually bought Jung-seok a guitar. Jung-seok probably has like a dozen guitars, but you know he's just going to cry over that thing.
girlfriday: Oh, it's the little one he picked up in the store in Iceland and didn't buy! They sneak-bought it for him! How cute.
javabeans: HA, did he really get Haneul a set of plastic bags? Is it better or worse that it's totally a fancy designer set?
girlfriday: That's just mean. And funny. Also, who even makes plastic bags with designer logos on them??
javabeans: Jung-seok has to reiterate, "Seeing that, I'm really thankful for mine!"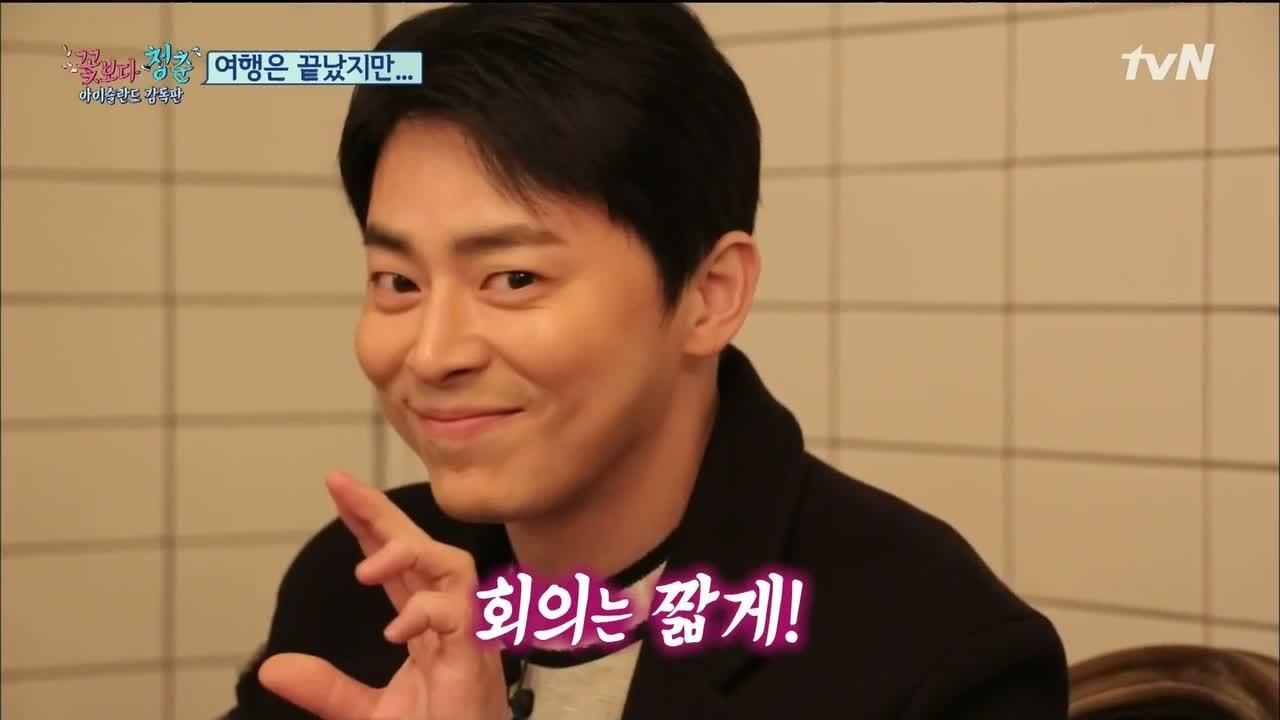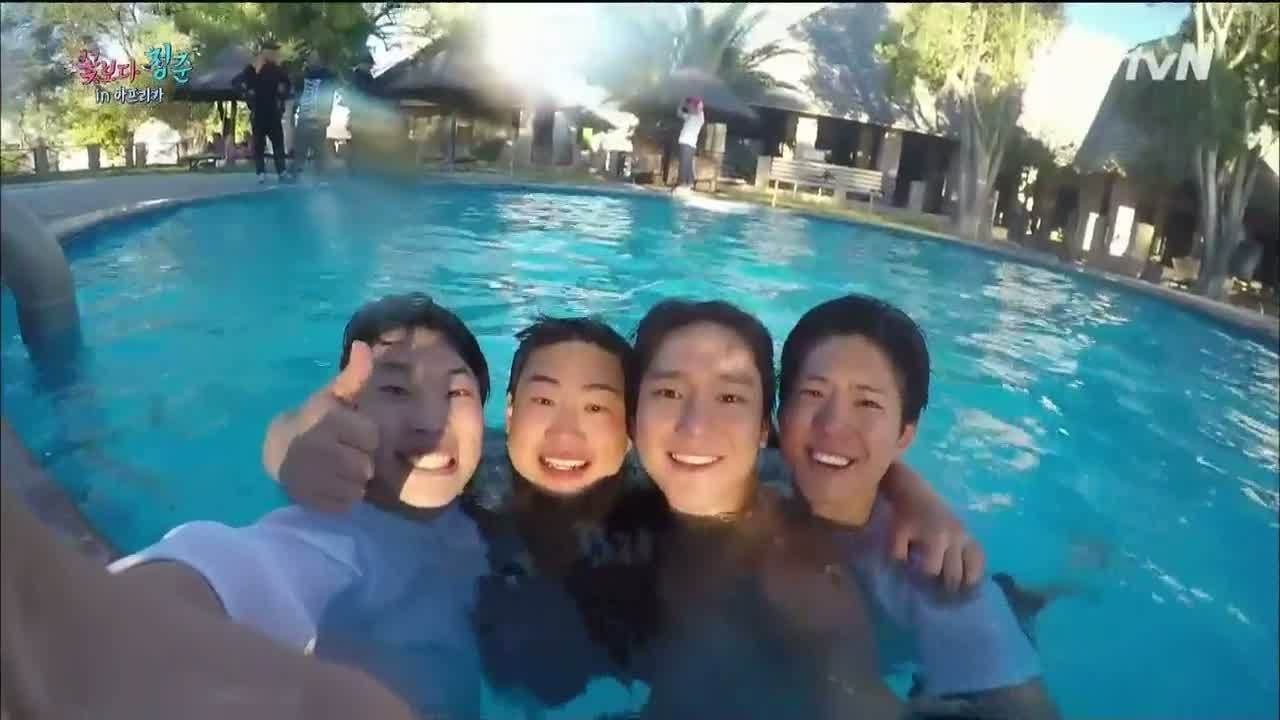 girlfriday: Na PD asks if they have any advice for their Youths Over Flowers hoobaes who just got sent to Africa, and Jung-seok says that they should spend freely without regret.
javabeans: Sang-hoon figures they'll have it better on the clothing front since they won't need as many as they did in Iceland, and then Jung-seok thinks of a bit of advice to put a button on everything: "Keep the team meetings short!"
girlfriday: And then, a preview of the Answer Me 1988 boys in Africa.
javabeans: There's a lot of talk about underwear in this one too, mostly about going without any entirely. Whee!
girlfriday: There's also a lot of kissing. I think I'm going to like this one.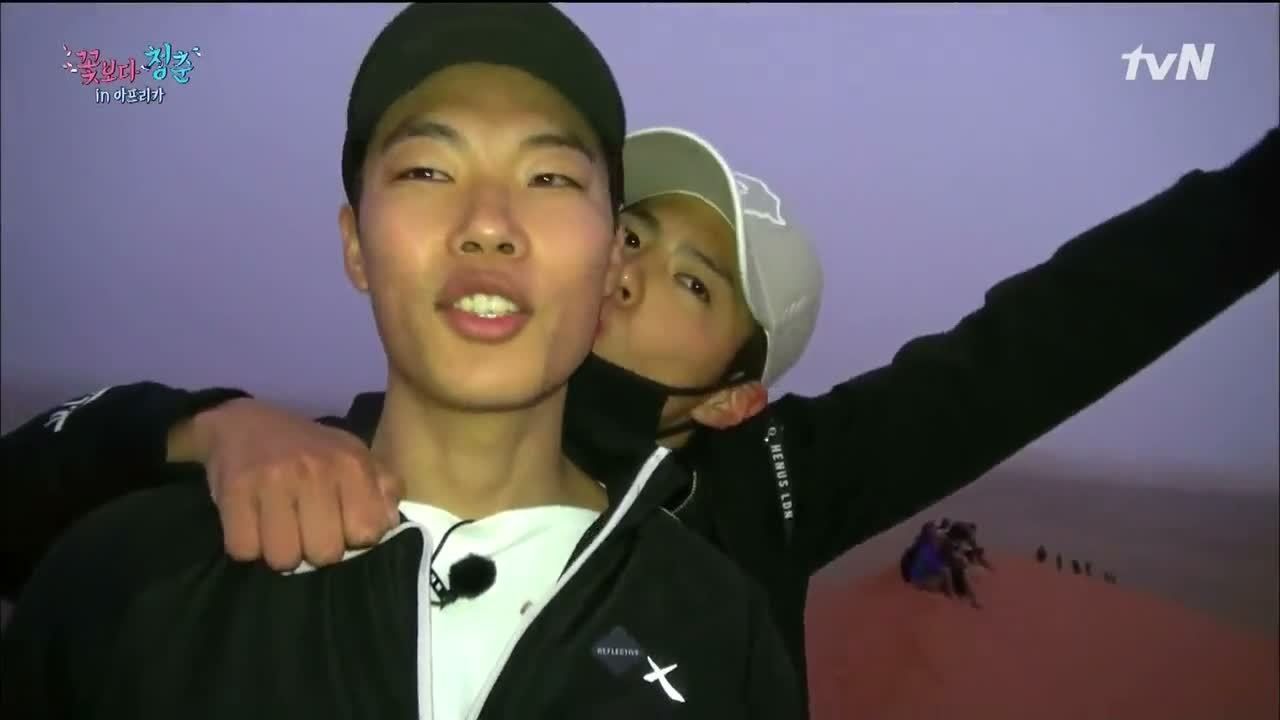 RELATED POSTS
Tags: featured, Jo Jung-seok, Jung Sang-hoon, Jung Woo, Kang Haneul, Youths Over Flowers