MBC eyes remake of classic contract marriage drama 1% of Anything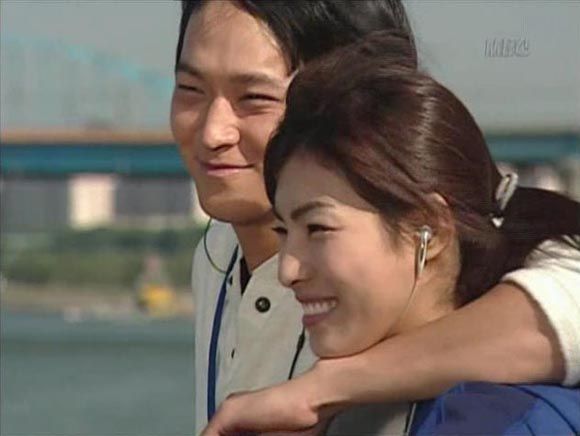 Here we have another remake in the works, but instead of remaking a foreign property or adapting a webtoon/movie/book into a drama, MBC is looking to remake one of its own properties: 2003 drama 1% of Anything, starring an early-career Kang Dong-won and Kim Jung-hwa in a contract-marriage romance.
At the center of the show is a kind schoolteacher (Kim Jung-hwa) who helps out an elderly man, not knowing he's a chaebol, and then is shocked to inherit his fortune when he dies. Kang Dong-won plays the haughty grandson who gets cut out of the will, whose only way to inherit is to accept Grandpa's choice of bride. He and the schoolteacher agree to a temporary contract marriage, but end up falling in love. The drama originated as an internet novel written by Hyun Go-woon, who went on to script the TV series (which also starred Han Hye-jin and Kim Ji-woo).
I wrote about this drama briefly back when I gave capsule reviews of some of my favorite (and okay, not-favorite) contract marriage dramas, because that is one of those tropes that consistently hooks me. The story is a bit straightforward as far as contract relationships go, and by all accounts 1% of Anything is an imperfect watch, which probably feels quite dated now. On the upside, my interest had been piqued after writing that If You Like post (I should really write more of those, if only I had the time), and I'd been bummed to hear that the show wasn't as exciting or bubbly as I hoped it would be — so this means I am ALL ABOUT this remake series. Here's the chance to update the world, polish up the rough edges, and make it fun for a whole new generation of viewers.
There were initial reports that MBC would schedule this remake in an unconventional timeslot, the late-night Saturday spot currently home to Oh Ji-ho and Lee Soo-kyung's My Little Baby. It's an odd broadcast hour, for sure, since My Little Baby starts airing past midnight (at 12:40 a.m.) and shows two consecutive episodes, but MBC has since come out to clarify that scheduling has not been decided. If 1% of Anything does get that slot, it could premiere as early as late April.
Via Joy News
RELATED POSTS
Tags: 1% of Anything, remakes