Ms. Temper and her three ex-husbands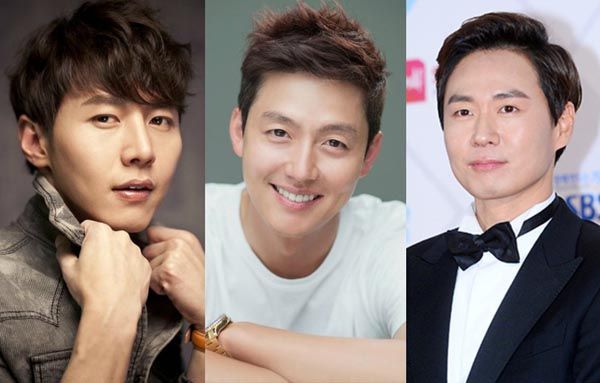 Ha, so apparently our hot-tempered heroine of Ms. Temper and Nam Jung-ki isn't just a terror to work for, but also a terror to have been married to, as her trail of exes can attest to. The drama has lined up three cameo appearances in the roles of her ex-husbands, to be played by Song Jae-hee (What's With This Family?), Lee Jung-jin (Temptation), and Yeon Jung-hoon (Mask).
Song Jae-hee plays the first husband who met our heroine (Lee Yo-won) when they entered the ranks of a home shopping company together and fell madly in love, marrying within a month — and then divorced almost as quickly due to their constant fighting. Still, the couple remained friends after their divorce and now are good co-workers.
Lee Jung-jin is ex-husband number two, and though he's described as a Casanova who attracts attention from the ladies wherever he goes, he's still nursing old feelings for Lee Yo-won and reappears in her life as a client, which is sure to cause complications. Really well-dressed, dapper complications.
Yeon Jung-hoon is the most recent ex, who was also her first love. A financial specialist with a love-hate relationship with the heroine, he reappears in her life to tear her down. Oh, and he'd love doing it too — Yeon Jung-hoon just seems so at home playing sexy, amoral bastards, and as far as I'm concerned I don't ever need to see him being a nice guy again.
Of course we can't forget that Yoon Sang-hyun is poised to become Love Interest Number Four as our lead, Nam Jung-ki — though hopefully not as an ex this time. He's the timid manager who works under her (she's a high-level executive) whose survival strategy is to be patient and endure, even as she's raging up a storm around (or, more likely, at) him. Let's just see how well that patience works out.
Ms. Temper and Nam Jung-ki premieres next weekend on JTBC, airing its first episode on March 18.
Via Herald
RELATED POSTS
Tags: Lee Jung-jin, Lee Yo-won, Ms. Temper and Nam Jung-ki, Yeon Jung-hoon