Kim Sung-oh joins Kang Ye-won for KBS's Baek-hee Has Returned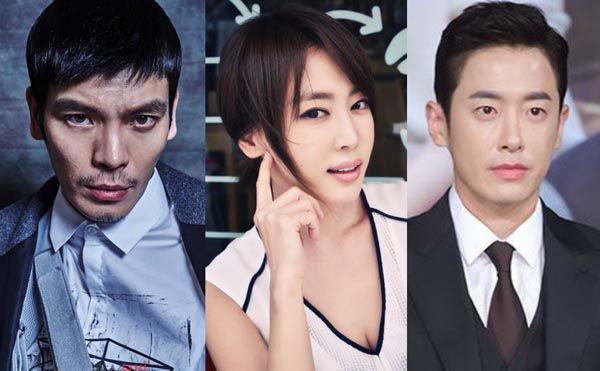 The casting continues to be strong on KBS's Baek-hee Has Returned, the short drama brought in as a last-minute addition to the Monday-Tuesday lineup before Beautiful Mind begins in June. It may only be four episodes long, but I'm intrigued by the concept and now the solid cast, the newest additions for which are chameleon-like Kim Sung-oh (Jackpot, Warm and Cozy) and Philip Choi (Rosy Lovers, High School King of Savvy).
Kang Ye-won (Bad Guys) was tapped first to play the mysterious-sounding title character, Yang Baek-hee, the "Scarlett O'Hara" who returns to a sleepy island town 18 years after leaving it, this time with a new name and a teenage daughter, played by Jin Ji-hee (Seonam High School Detectives).
The series is described as a comic family drama, and Kim Sung-oh's character was once a hot-tempered, brawling roughneck on the island, who's now a lonelyheart who sells cabbage and takes care of his widowed mother. Aw, pre-emptive heart pangs already.
Philip Choi is his opposite, a model student in his school days. He married the tough heroine and harbors a secret together with his family (I presume that refers to Baek-hee's identity, though the descriptions aren't forthcoming about the details). I find it interesting how Choi's the husband, but Kim's the one described as the male lead. (Not that I mind, of course—Kim Sung-oh is consistently great, but his awesomeness is often relegated to supporting roles so I'm happy to hear he's getting a lead.)
Baek-hee Has Returned will be directed by Gaksital and Joseon Gunman's PD Cha Young-hoon, and written by Im Sang-choon of Dodohara. Also included in the supporting cast: Choi Dae-chul (My Daughter, Geum Sa-wol), In Gyo-jin (Sassy Go Go), and Kim Hyun-sook. The drama follows Neighborhood Lawyer Jo Deul-ho and premieres on June 6.
RELATED POSTS
Tags: Kang Ye-won, Kim Sung-oh, Philip Choi