Wanted: Episode 1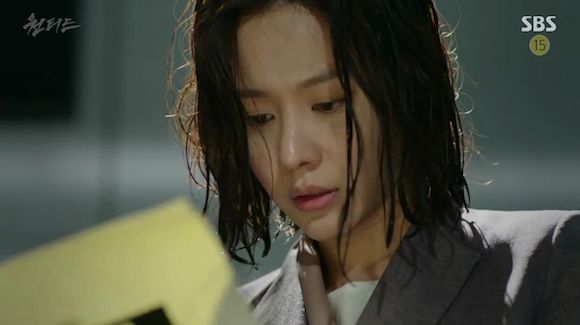 Wanted is tense, slick, and well-directed, with the basic premise set up in the first episode and a good introduction to all of our main players. Our heroine is easy to root for, and the relationships between the main characters grow more complex and interesting with every scene. If the suspense and the writing hold up throughout, this should be a thrilling, emotional ride.

EPISODE 1 RECAP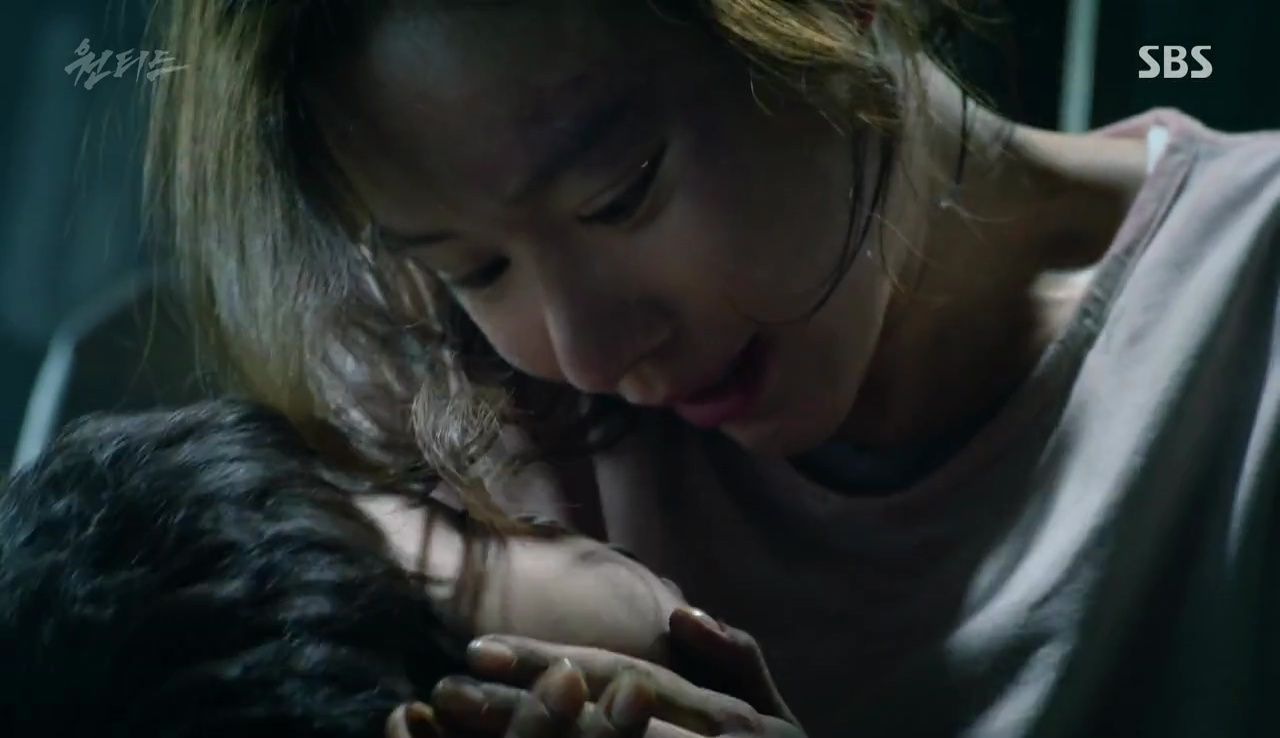 We open to suspenseful music, the scene an abandoned warehouse where a woman is held captive, bound and gagged. She struggles to get free, her frantic gaze on a small child tied up and unconscious nearby. She throws the chair she is tied to against the wall behind her repeatedly until it breaks into pieces, then runs to free the boy as well. He is unconscious, and she rocks him in her arms and wails.
"Cut! Thanks for your hard work," says a voice, and we zoom out to see cameras — it's a film set.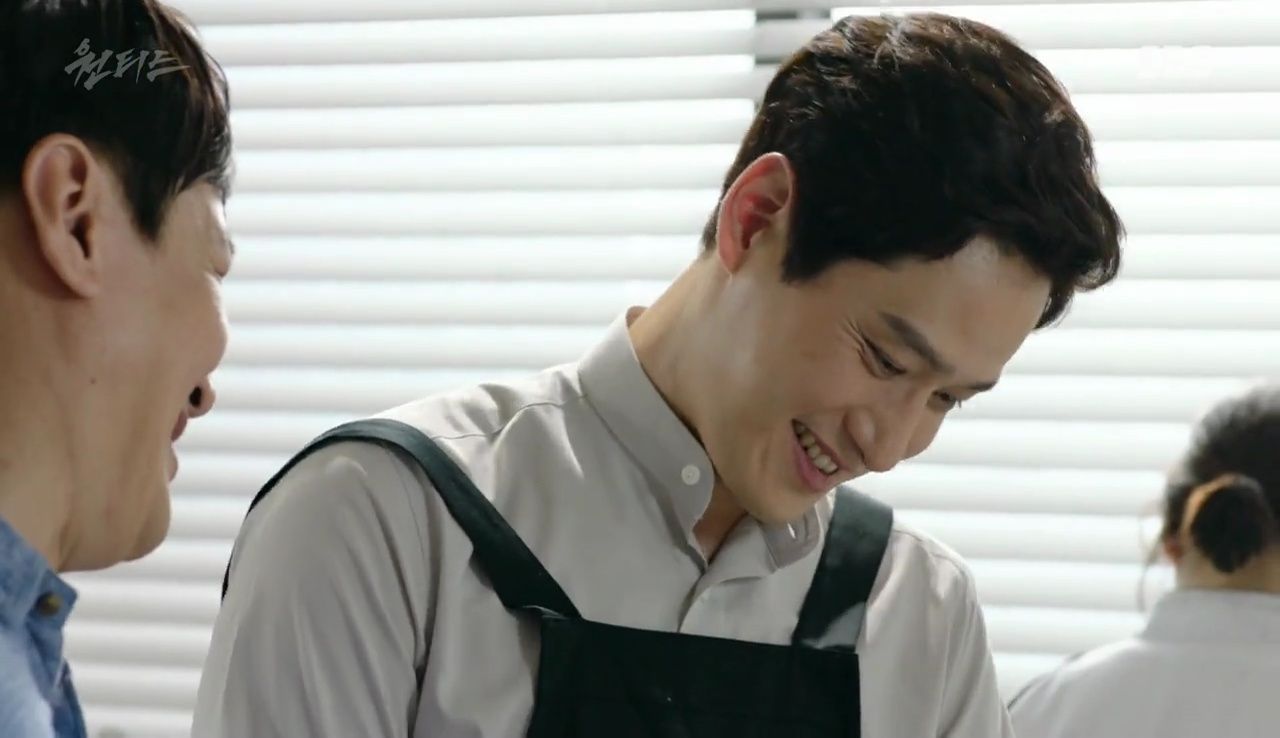 We start the episode proper at a party, where the cameraman asks arriving guests to congratulate the couple on their seventh wedding anniversary. He turns out to be a friend of the husband, SONG JUNG-HO (Park Hae-joon), who is making the cake. Jung-ho points out some guests as investors in his wife's new reality show, which he excitedly says will be shown all over Asia.
We return to the film set, where said actress, JUNG HYE-IN (Kim Ah-joong) is completing her last day of filming on a movie about a mother who takes revenge after losing her son. She sits with the director as media swarm the set, when her son brings her a cake and everyone applauds as she blows out the candles.
Back in their apartment, the party guests watch the scene on TV. Hye-in sends son SONG HYUN-WOO (Park Min-soo) to wait in the car with her manager. He turns back for a moment, takes off his necklace and gives it to her: "Today, you wear this, Mom."
During the press conference, reporters ask if the director wants to work with Hye-in again. He is full of praise and says he would love to, but Hye-in responds that she will be unable to. The press laugh and ask if it's due to her new reality show on UCN, but she says no, folds up her prepared remarks, and takes out a different script.
Hye-in stands up and says she has something to announce. She thanks everyone for the love she's received for the last twenty years, and says that now she wants to live as an ordinary mother, wife and neighbor. She's retiring, she states, to shocked murmurs. The atmosphere at home, where Jung-ho and guests are watching live, turns to dismay and disbelief.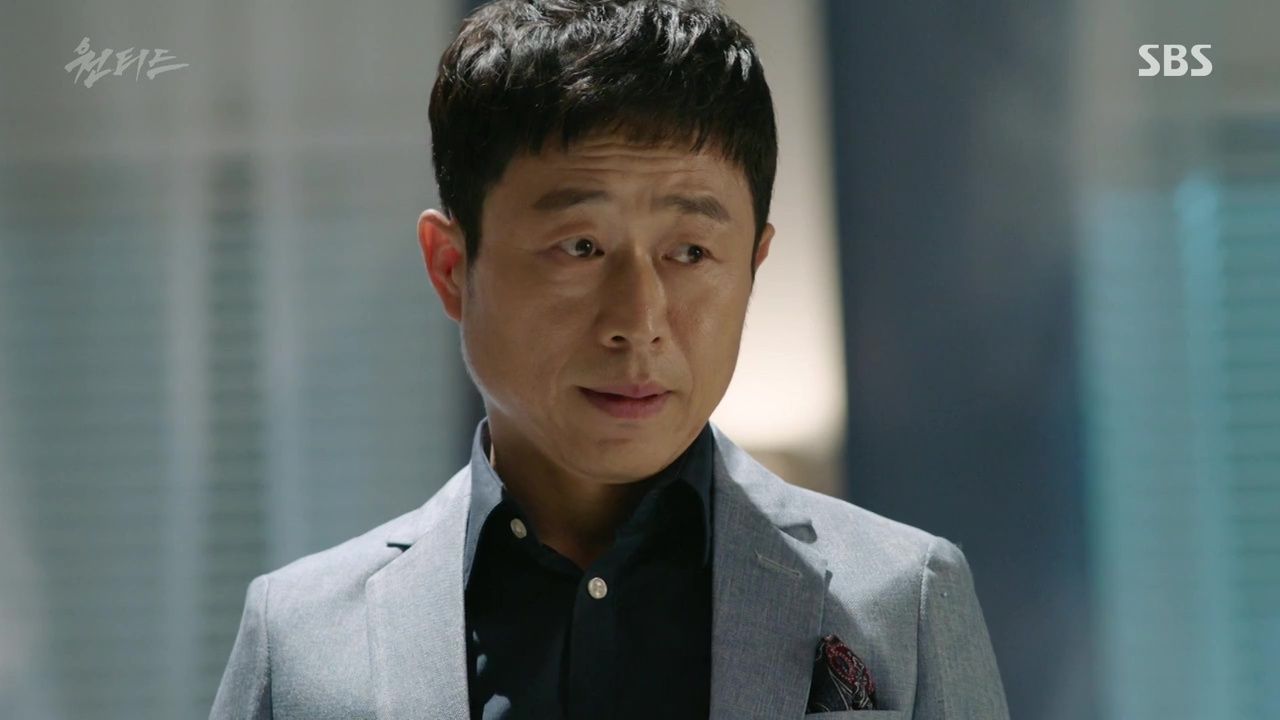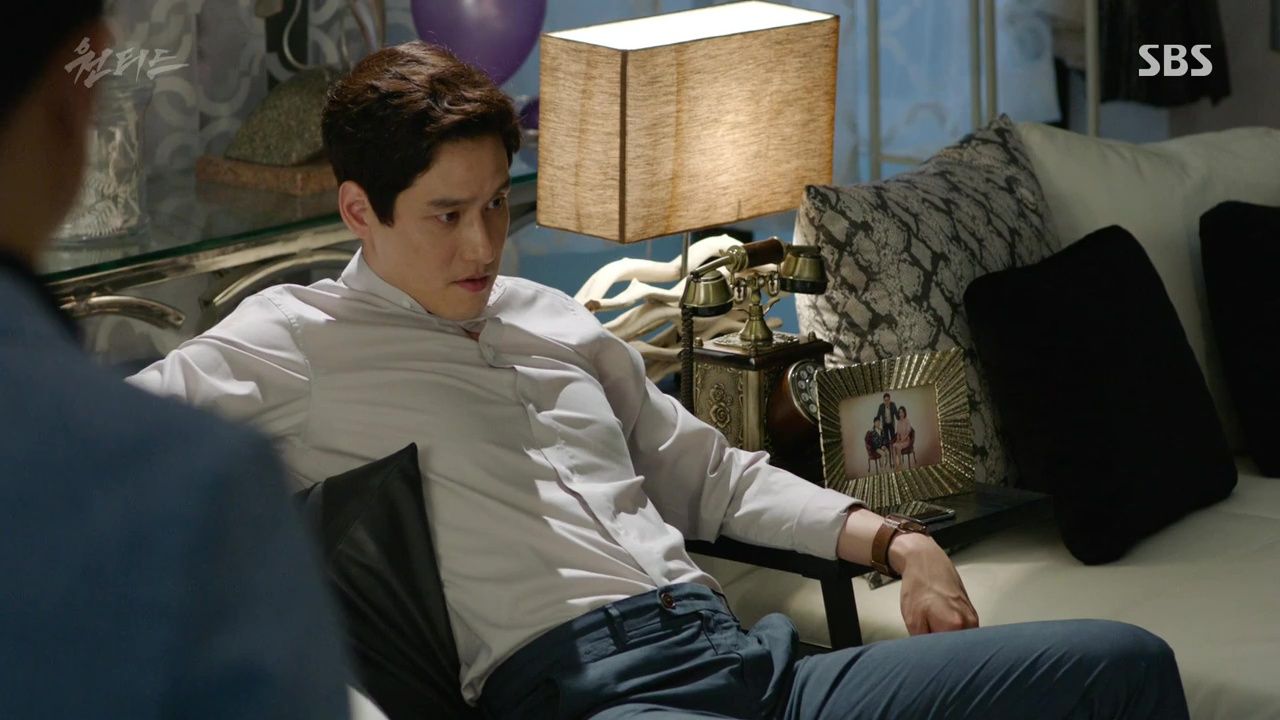 Night has fallen and Jung-ho sits in his silent apartment. CHOI JOON-GU (Lee Moon-shik), a high-up at UCN who seems to be close to him, tells him that for now he's appeased everyone. Jung-ho simply flings the cake to the floor with a crash and storms out.
At the set, Hye-in scolds her manager for bringing Hyun-woo here and exposing him to the press; apparently this was a decision made by the agency and not her. Hyun-woo wakes up, and while the manager pops out for a minute, he asks if she's quitting because she's angry he came without asking her. Hye-in tells him no, it's that she wants to spend more time with him. She asks him if he wants to move to France, and he asks if his dad said they were moving there. Ignoring a phone call from her husband, she asks him, "What if the two of us just went? Without Dad?" Hyun-woo frowns a little.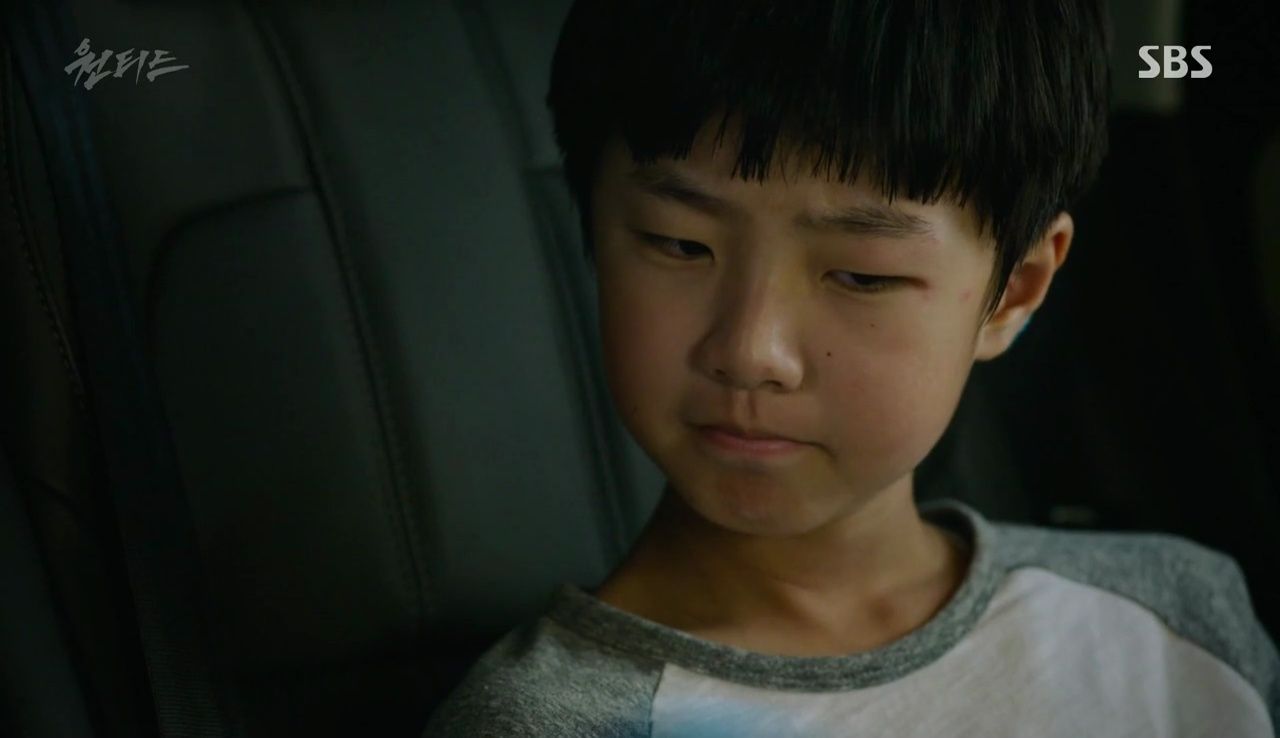 At home, Jung-ho looks ready to go out. Joon-gu stops him and tells him to wait until Hye-in comes home so he can talk to her calmly. He says he had told Jung-ho to convince her first. Jung-ho tells him to shut up, and that they're going ahead with the reality show no matter what. Joon-gu warns that Hye-in has a temper too, and that they shouldn't have backed her into a corner, but Jung-ho replies that he knew she would stab him in the back.
He tells Joon-gu that after his high school graduation, his father had sat him down and told him that life, and people, would always let him down. So he decided there were two options: trust in others and make sure one was compensated for that trust, or betray the other person first.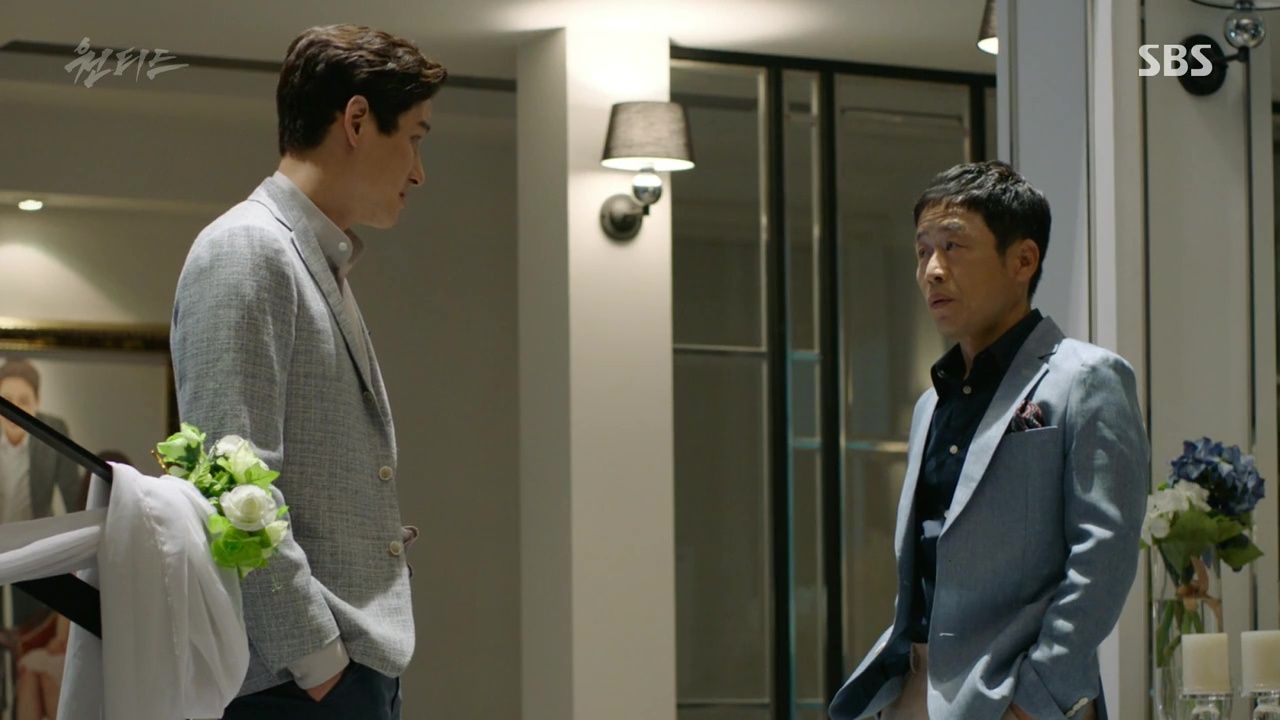 "What would you do, Hyung?" he asks. Joon-gu says he would choose to trust. "Right. You choose to trust," says Jung-ho mockingly. But he has chosen to betray first — he reveals that he set things up from the beginning so that if this didn't work out, Joon-gu would be legally responsible for all the unpaid wages and that he'd even get charged for embezzlement. In the end, he tells him, Hye-in will have no choice but to do what he wants as well. He tells him to take a taxi, throws a few checks on the table, and strides off.
In the car, Hye-in again rejects Jung-ho's call and Hyun-woo asks her why. A staff member comes to the window and asks Hyun-woo if he'd like to know how fake blood is made. As he takes the boy's hand, she notices a scar on his arm. She makes her son take his phone, then tells her manager to bring him back in twenty minutes — she's going to take a nap.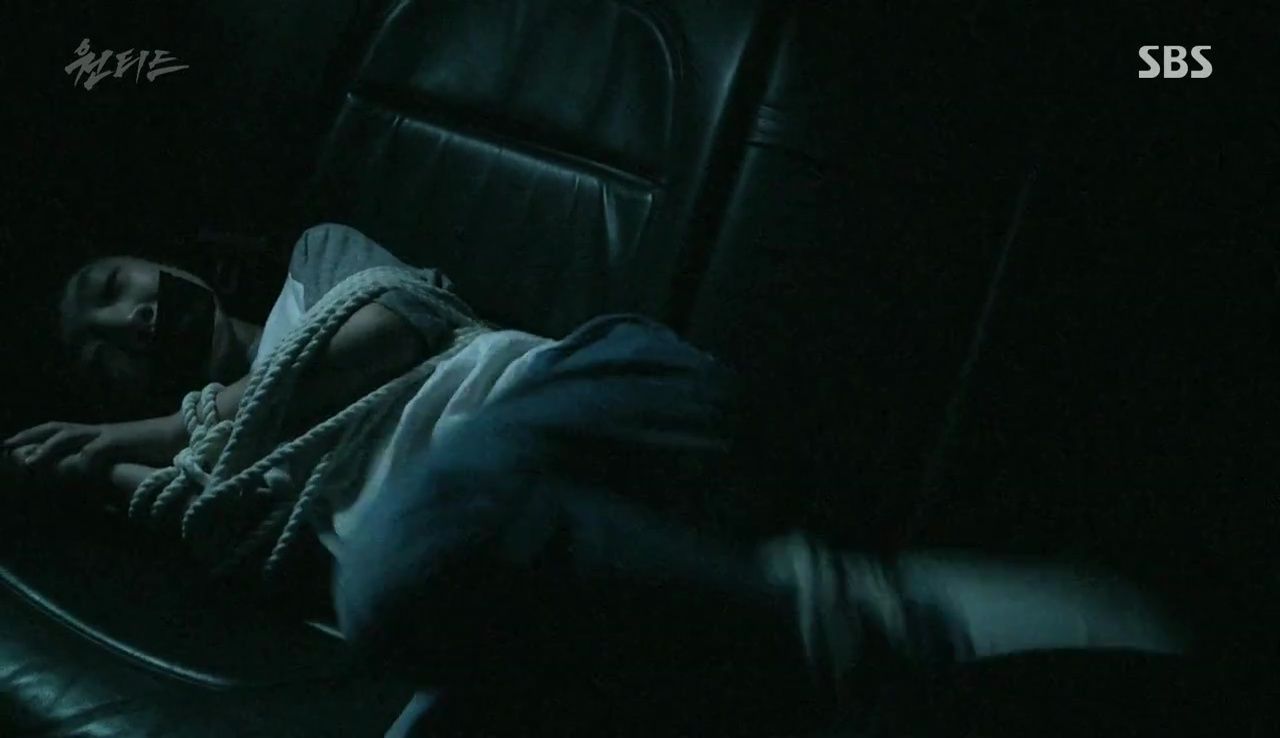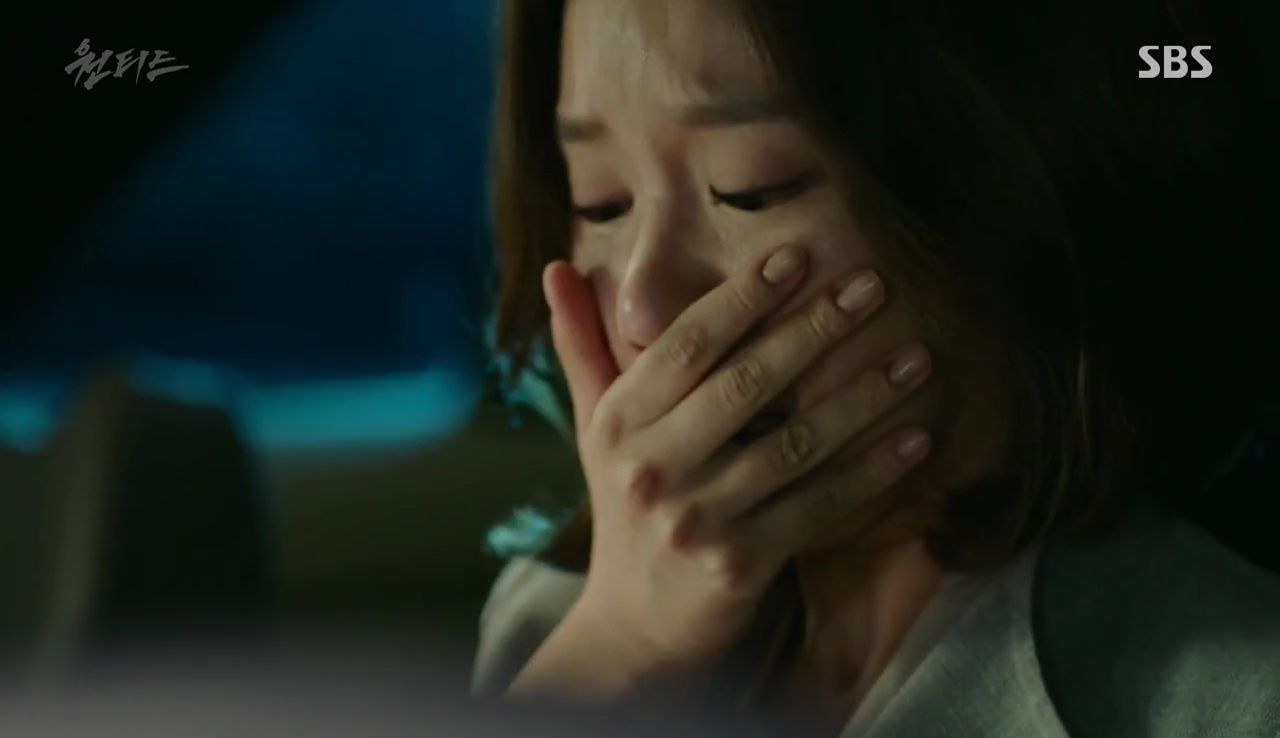 She dreams she's being held captive in the warehouse again. This time, once she gets free, arms reach out and grab her, pulling her back and choking her, keeping her from reaching the boy. She realizes with horror that it's Hyun-woo, and startles herself awake. She calls him, but when he doesn't pick up she goes to the set to get him. Her manager is just coming back, having left Hyun-woo with the staff member. Hye-in asks about the staff member with the scar, but is told he was a part-timer, and they all left earlier. They start calling and searching for Hyun-woo, but no one has seen him.
Searching the warehouse, Hye-in comes across what looks like a body on the floor, but when she uncovers it, to her relief it's only a dummy. Nearby, she finds Hyun-woo's phone, with the unsent message: Mom, Hyung wants to take me somewhere. Looking around her, she spots a security camera in the corner, but then she gets a text with an attached video: If you don't want your child to get hurt, watch it alone.
Her manager runs up. Hye-in tells him that Hyun-woo's dad had come to pick him up, and that she was just getting his phone which he had dropped. She tells him to go to the company dinner in her place and that she'll go home on her own. In her car, she gasps in horror as she watches the video of Hyun-woo, bound and gagged in the backseat of a car. Another text: If you report this to the police, Hyun-woo will die immediately.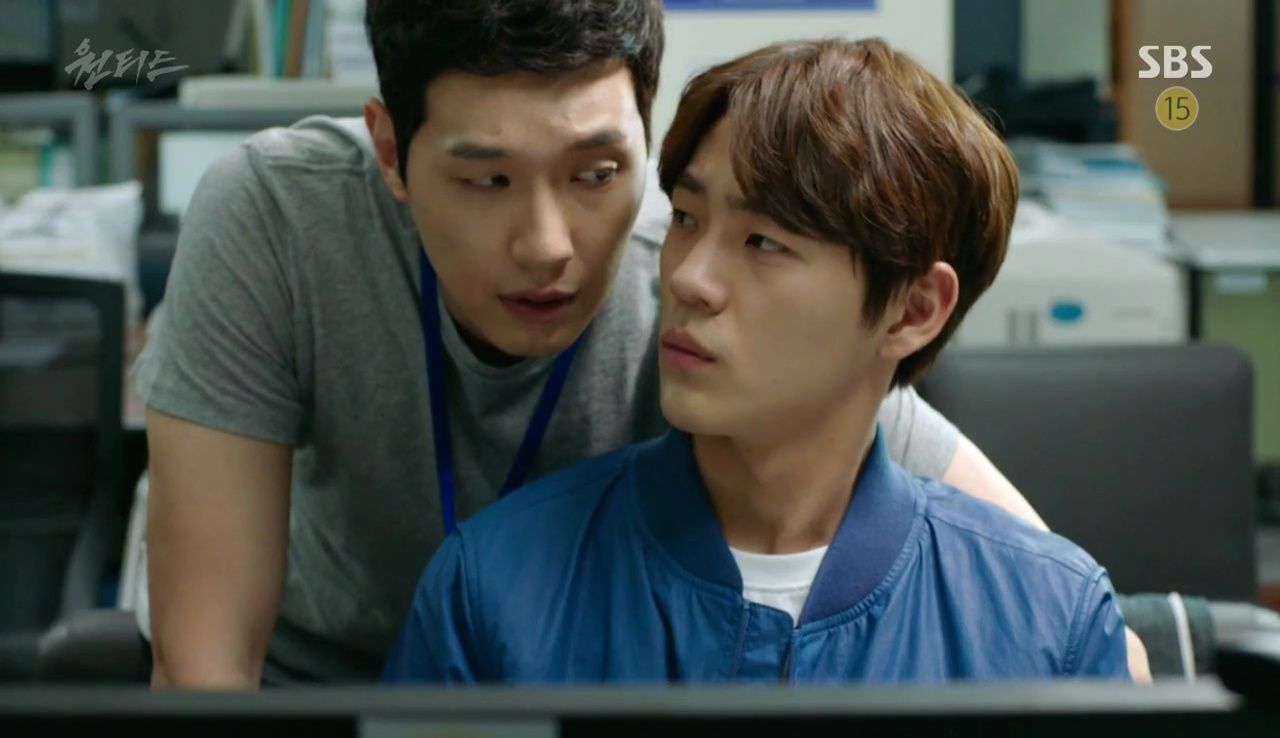 "The kid died immediately, the day she went missing," says a detective, sitting in a police station, watching the computer screen with his colleagues. (The show hasn't named them yet, but for our purposes, the detective is CHA SEUNG-IN, played by Ji Hyun-woo, and his hoobae LEE YOUNG-GWAN.)
A pretty young woman is doing a mukbang on screen, or eating alone for an online audience. They discuss how the mother didn't report her missing for three days because the daughter was always out, and how she came across this video by horrible chance. On the screen, the room goes dark, and a masked man comes in suddenly and grabs the girl, dragging her out of the room.
"Now tell me," Seung-in says to his subordinate, "how do I know she was probably killed right away?" Young-gwan mentions how long she's been missing, the lack of ransom demands, but Seung-in stops him. If there's no body, he says, in his eyes the victim is still alive. Confused, the kid follows him out, while their superior calls them both crazy.
In the empty lot, Hye-in calls her husband, who doesn't pick up. Then she dials the police, but hesitates to call. Jung-ho arrives and tells her to rest in a hospital for a few days and relieve her stress; he'll postpone the announcement about the show. She tries to bring up Hyun-woo, but he cuts her off, telling her not to use him as an excuse. Doesn't she know how important today is for the company, for him?
Hye-in pushes him. "To the point that you would use him? If you hadn't sent Hyun-woo here—…"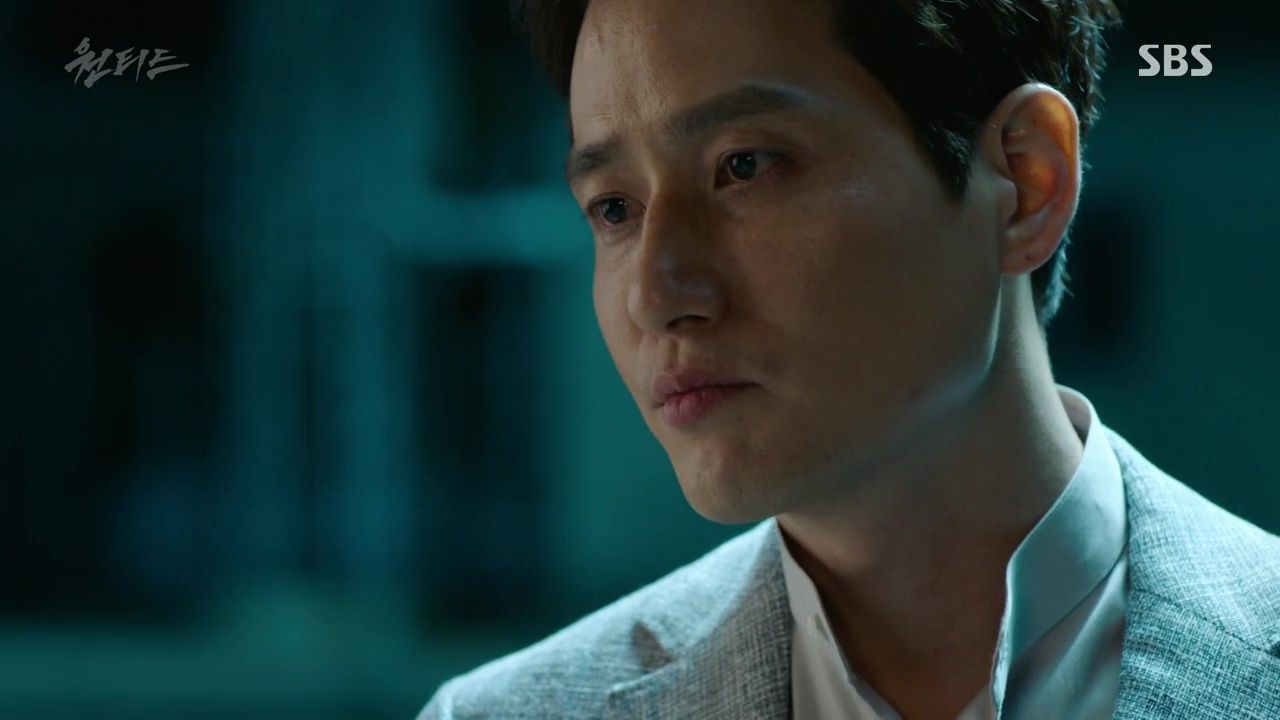 "I can use him even more if I want," Jung-ho says coldly, grabbing her wrist hard, and she cries out. "Do as I say. Your life is an empty shell without Hyun-woo. If you don't want to lose even that…" He threatens that he will tell her ex-husband's family that Hyun-woo is their grandson. She wrenches her arm out of his grip and drives away.
Detective Cha Seung-in and his hoobae head to the kidnapping victim's house. Young-gwan asks Seung-in if he knows why he begged to join his team. Seung-in: "Because I catch the most criminals." The kid protests, calls him Coach-nim, and asks if he remembers him from the boxing gym seven years ago.
"You know, I'm that outcast, that loser! I was getting beat up so bad and then I accidentally head-butted you and made two teeth fall out!" Young-gwan says. Seung-in asks him how is it he's still alive then, and he says Seung-in inspired him to clean up his act and become a policeman. He asks if Seung-in ever got his Christmas cards, and the older man remarks that he tries hard not to remember useless things.
As for what he does remember, Seung-in says, "The victim's face. And the culprit's face."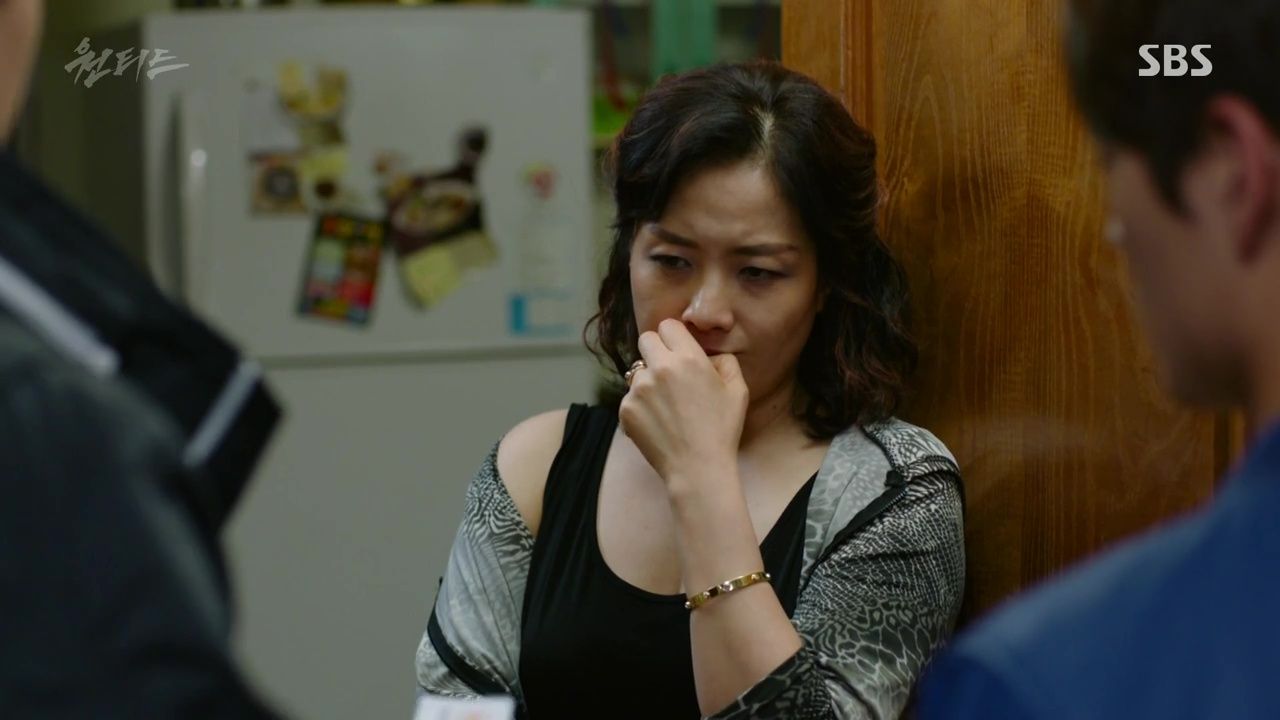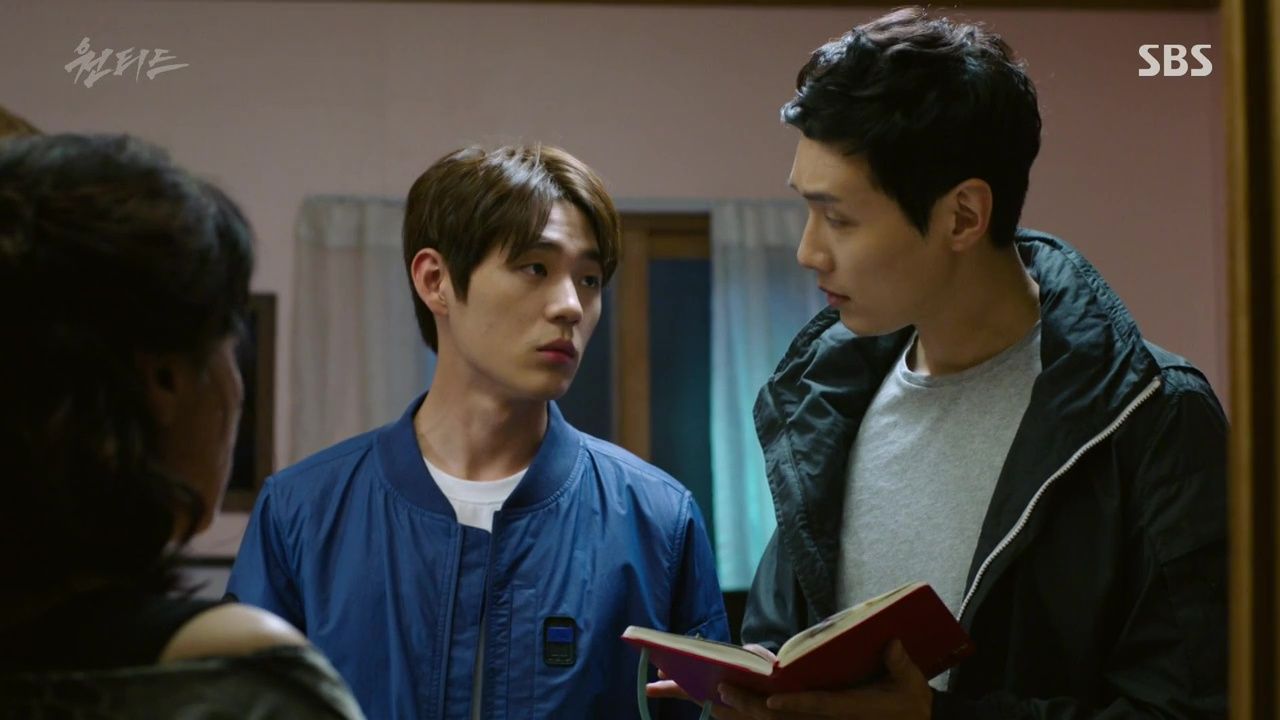 At the victim's house, Seung-in goes through her diary and asks if the mother ever met her daughter's boyfriend. She hasn't, but she remembers the girl saying he had influence at a broadcast station and that he was going to help her debut as an actress. Seung-in shows her the picture of the couple embracing, only the man's arm and shoulder are visible. Seung-in asks if she has seen anyone with that kind of burn scar around. (Ooh, that looks familiar.) The mother says only that her daughter hasn't been seen in her usual places lately. He spots a strange note in the diary, which they take along with the girl's hard drive.
Hye-in goes to a police station, where she is recognized. Before she can say anything, she gets a text warning her again that Hyun-woo will die if she makes a report, and tells her to go home. She looks around her in panic, her eyes catching on all the CCTV and black box cameras around her. Near tears, she drives away.
At home, Hye-in parks her car and is about to go in when she hears someone at the front gate. She opens it to see a girl trying to stuff an envelope into the mail slot, and chases her, asking who she is. Before Hye-in can catch up to the mystery girl, someone on a motorcycle picks her up and drives away.
When Hye-in gets back, she opens the envelope. Inside is what looks like a drama script, the title: Wanted. She opens the first page, to read a description of her press conference that day, down to all of her emotions and dialogue, written like a script. She reads through it, sobbing to see more scenes from the day flash before her eyes, like Hyun-woo going off to see the fake blood.
The phone beeps. It's a video with text spelling out the kidnapper's demands: She must make a live reality show, ten episodes, with a mission every episode that will be sent to her every night. She has to start in two days, on Saturday. If she doesn't do the show, or she doesn't succeed in the mission, Hyun-woo will die. If ratings fall below 20%, he will get hurt. If she completes the ten episodes, he'll be sent home to her. The video includes footage of Hyun-woo, tied up on a bed and crying for his mom. The kidnapper says to make a trailer for the series first; once it airs, he will send the first mission.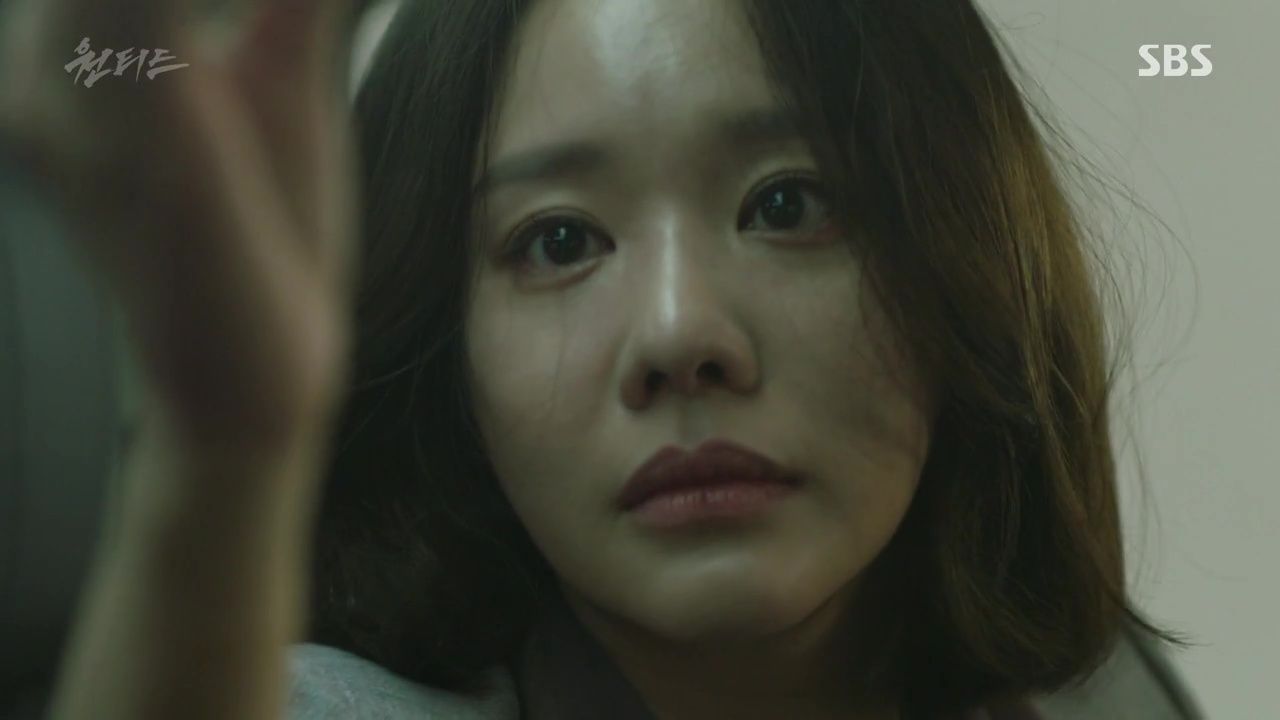 Morning comes. Having stayed crouched on the floor all night, Hye-in stumbles trying to stand. She slaps herself hard on the side of the head, and gets up and goes to her car.
As she prepares to leave she remembers how the script included the details about how she felt about announcing her retirement, how she told no one about it and was conflicted. She remembers that she was sitting in her car when she wrote about that, and slides her hands over every surface of the car, looking for a camera. She finds it hidden in the sunroof, rips it out, and takes a taxi to the broadcast station.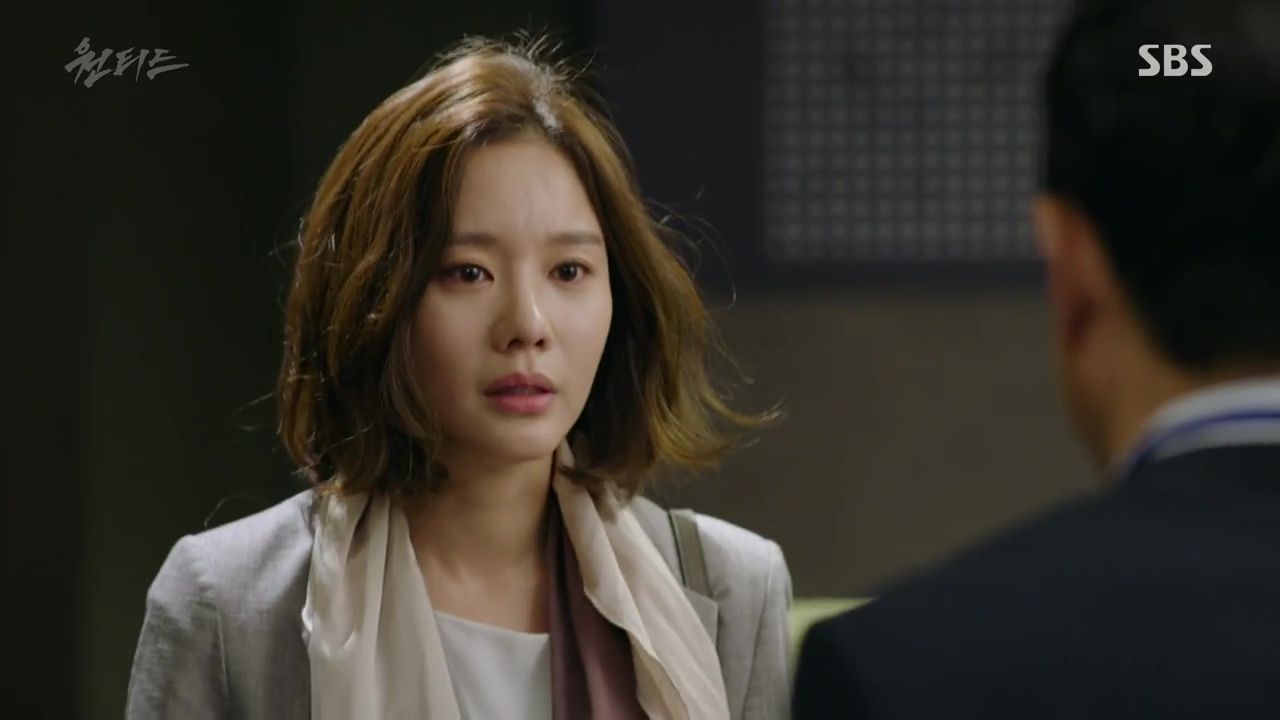 She shows the videos to Joon-gu, who tells her to go to the police. She says she can't, that she's being watched. He asks her if she's told Hyun-woo's father, and she shakes her head, thinking of the horrible things he said to her the day before.
"Sunbae," she says, "even if other people don't know, you know [about] that person." They share a look. Joon-gu says he can't do it even if he wanted to; he doesn't have the power. There is one person who can, though…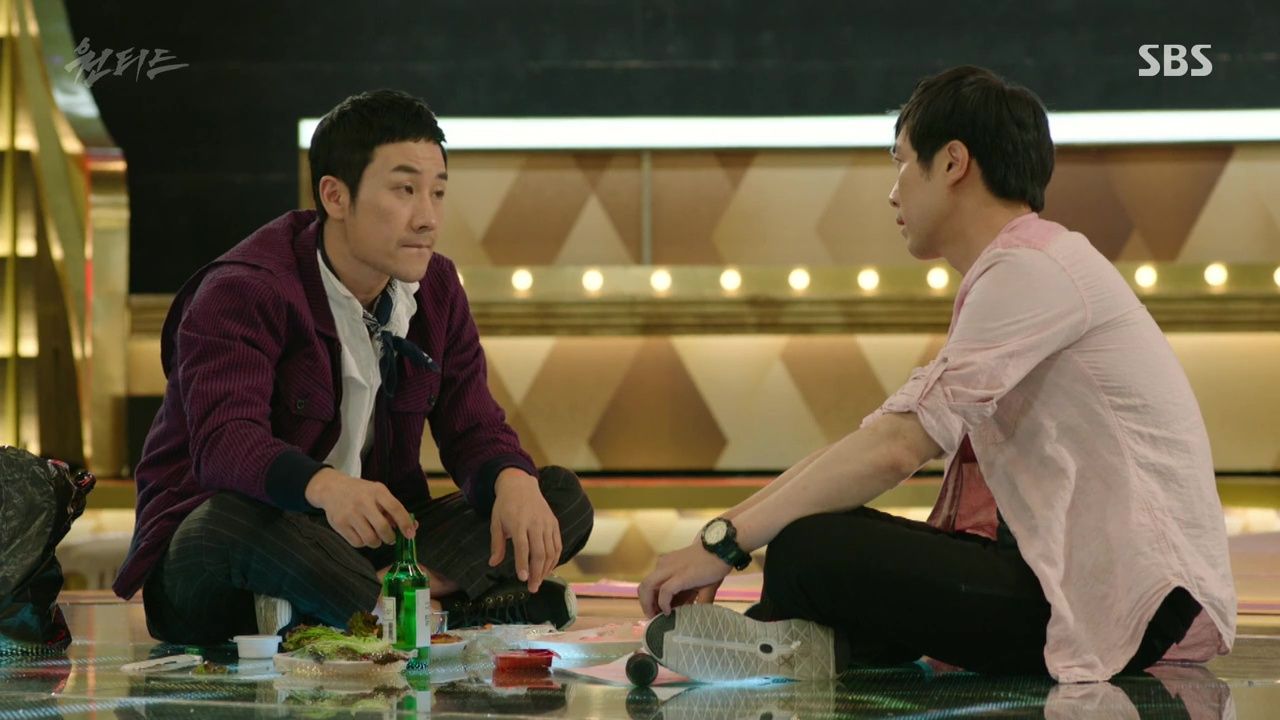 This is PD SHIN DONG-WOOK (Uhm Tae-woong), who walks onto the stage of a talk show in the middle of rehearsal with a plastic bag, despite protests from the staff. The PD comes over to him and asks him to let it go, but he refuses: "The day before filming started, I got a notification that I was fired. I never got to say goodbye to my hoobae, my family-like staff, my lovely viewers."
He sits down on the stage and opens the bag filled with soju and snacks, telling the PD to sit down. He makes a lettuce wrap and offers it to him: "You like to eat it raw." (Eating something raw can also mean getting something without putting in the effort.) The other PD protests that he didn't take the program because he wanted to, it was the higher-ups, but Dong-wook bites out that even if he was a son of a bitch, as a colleague, he could have at least called him first to let him know. He throws the soju glass on the stage, shattering it, and walks out.
At the door he turns back and looks at the studio. "I didn't know, but it's very small; this world that was my everything."
Dong-wook arrives home, and ignores Hye-in, who is standing in front of his door waiting. He's about to go in when she says she isn't here because of personal feelings, but because she has a favor to ask. She shows him the script, and says he's the only one who can do the show. She reminds him that he used to say he wanted to do a show that wasn't loud and funny, but one that would be influential enough to want to make watchers want to commit suicide. She knows he's been fired — he can make his comeback with this. He tells her to find someone else.
She kneels in front of him, and says she'll do whatever he says, whether it's to laugh, or cry, dance, or take off her clothes. If he says to die, she'll die. She'll make it the best and get the highest ratings. She begs him to save Hyun-woo. He walks away from her.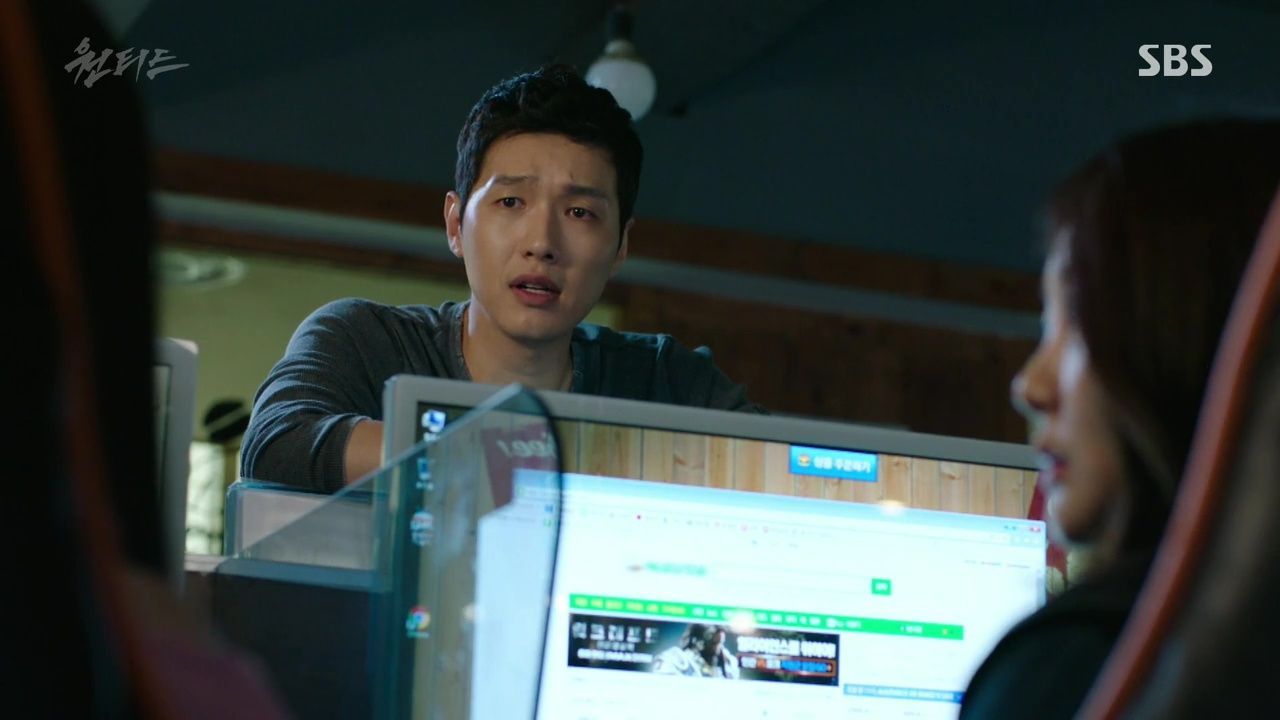 At an internet cafe where the mukbang kidnapping victim used to hang out, Seung-in asks some girls if they've ever been conned by a guy with a burn scar on his arm, showing them a picture. One of the girls says his name is Ji-woon, and is her friend's boyfriend. She shows them a picture — it's the guy from the movie set. He shows them the username he saw written in the girl's diary, and they recognize it as his.
Dong-wook returns to Hye-in and tells her to go to the police, but she says they'll find out anyway once the show airs. He asks her how she knows Hyun-woo is still alive. "He'll be safe," she replies. "As long as the show airs, they have to send me evidence that he's alive."
Dong-wook says he'll do it. Not for her, but because he's curious if such a program can work. He says only UCN can do it, because President Song Jung-ho is Hyun-woo's father.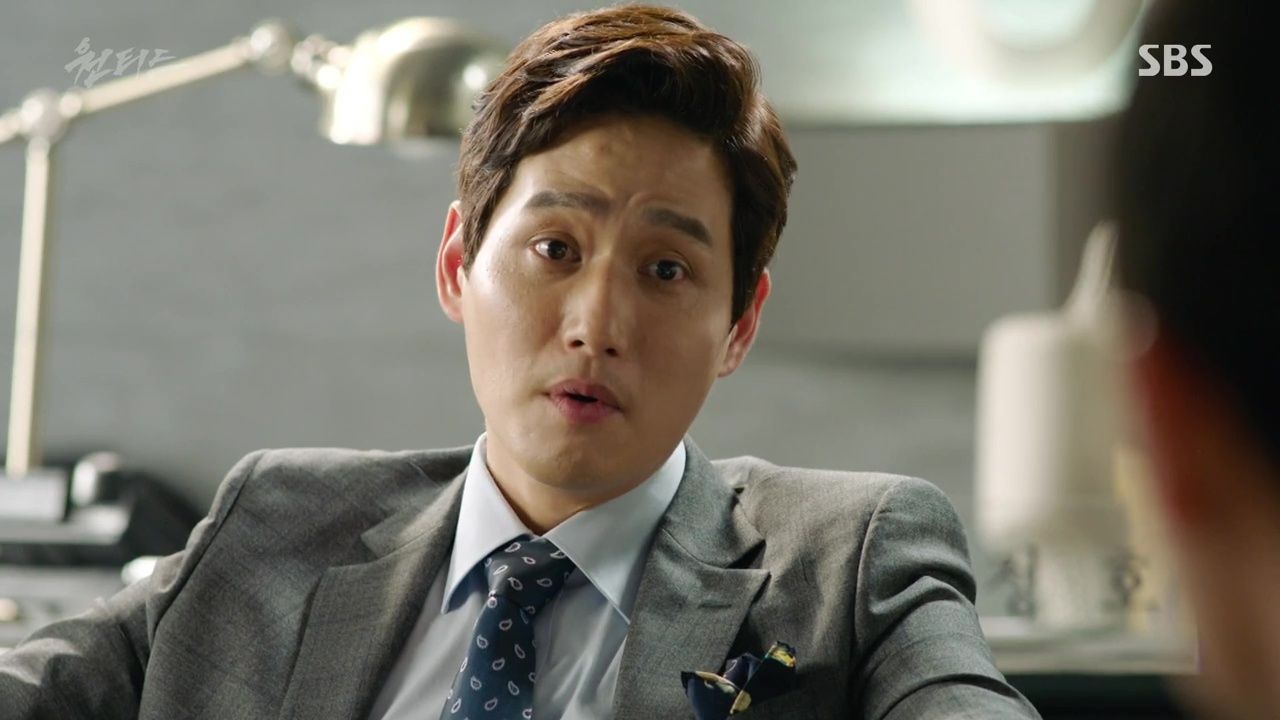 They sit in Jung-ho's office, who asks why he should do it — not as Hyun-woo's father, but as the president of the network. Hye-in grips the sofa and asks if being Hyun-woo's father is not enough. Jung-ho is disdainful. "What can a retired actress and a fired director do?" Dong-wook points out that UCN is in a bad situation, unable to pay employees and is currently being investigated for tax evasion. Jung-ho calls in Joon-gu, who is a director at the station. Dong-wook pushes the money angle, saying they can do a lot of advertising, include PPL, and that ratings will keep growing due to the viewers' curiosity about whether the child can be found. Jung-ho coolly agrees to do it as an independent broadcast. He's almost flippant about it.
Hye-in walks out, then runs to the bathroom and throws up.
In the office, Joon-gu says he will be the producer. He tells Jung-ho to find someone else for his lawsuit; there has to be one sane person in this crazy broadcast. And if everything gets destroyed, he needs to find someone to take responsibility. Dong-wook wonders why Jung-ho didn't at least lie and say he would do the program for Hyun-woo's sake; he could have gained something. He even wonders aloud if it's because Jung-ho may not be Hyun-woo's real father.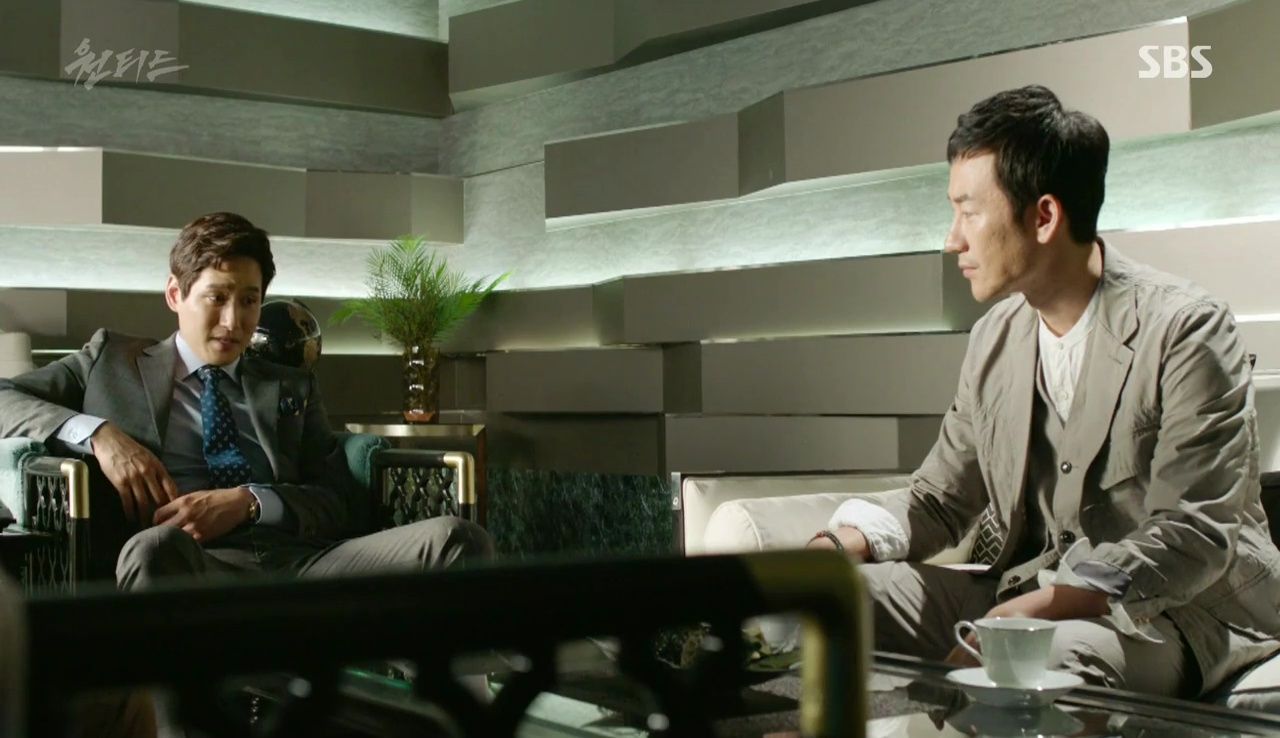 Jung-ho replies that words are powerful, and that saying your goals out loud causes them to come about. Dong-wook replies that he understands now why Hye-in didn't tell Jong-gu first.
Dong-wook assembles his team, including a writer he has worked with before and a newbie with a less than impressive resume. They begin meetings, which Hye-in sits in on. She gets upset, however, at Dong-wook's suggestion to use the video sent by the kidnapper to attract viewership by posting it on Facebook and Twitter. He reminds her that she kneeled and promised to do anything, and tells her that if she can't control her emotions, she can get out.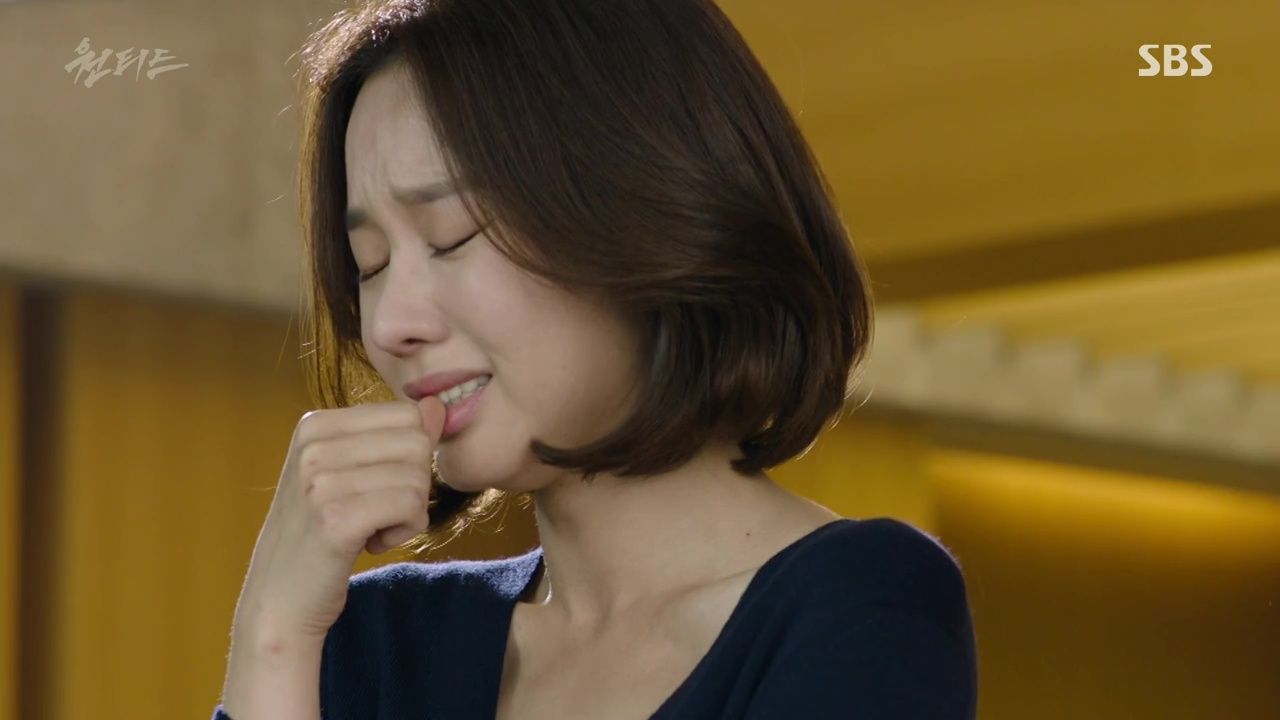 She walks out, and Dong-wook stops Joon-gu from following her, telling him it will only be harder for her later. Joon-gu calls her anyway, telling her not to take it to heart. In the lobby she overhears people talking about a new live talk show that seems to be taking off, and looks over at them for a moment.
Hye-in hides in the bathroom, fingering Hyun-woo's necklace, which she's still wearing around her wrist. She prays, remembering a time when Hyun-woo had asked her to sleep with him but she had to go to work. She had given him the Iron Man necklace to protect him from scary dreams in her place.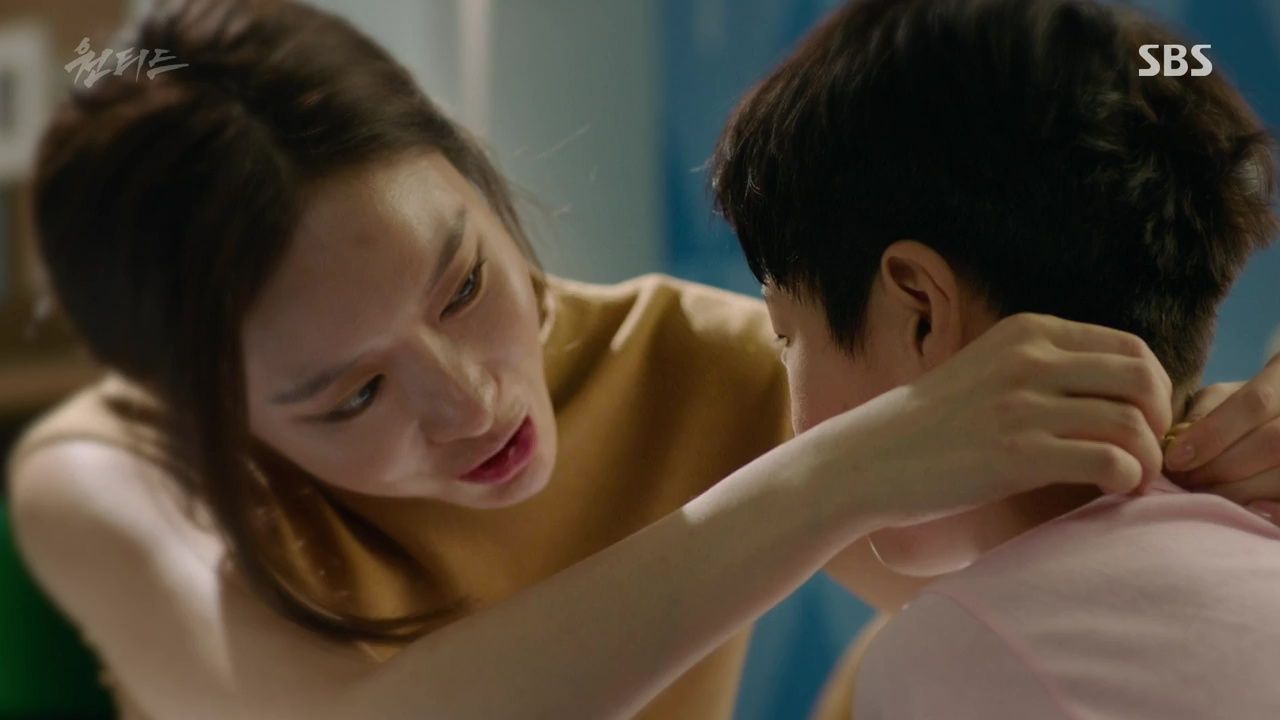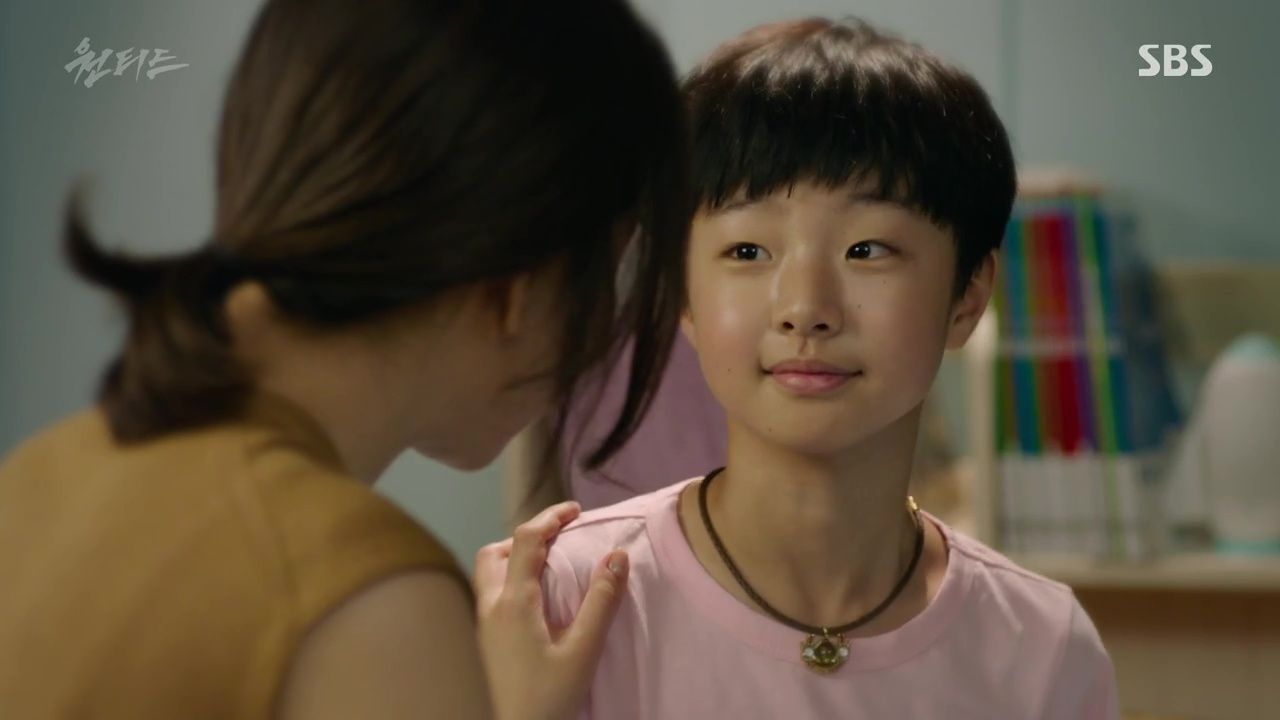 The aforementioned talk show starts, and Hye-in walks onto the stage, surprising the main guest of the day. The MC asks her about her recent retirement, and why she came here today. Dong-wook and his team watch in shock from the writers' room.
"I heard this was the show with the highest ratings," she replies, and the audience laughs. Hye-in looks out at the audience. "I wanted to tell you all something, about the night I announced my retirement. That night… my son Hyun-woo was kidnapped."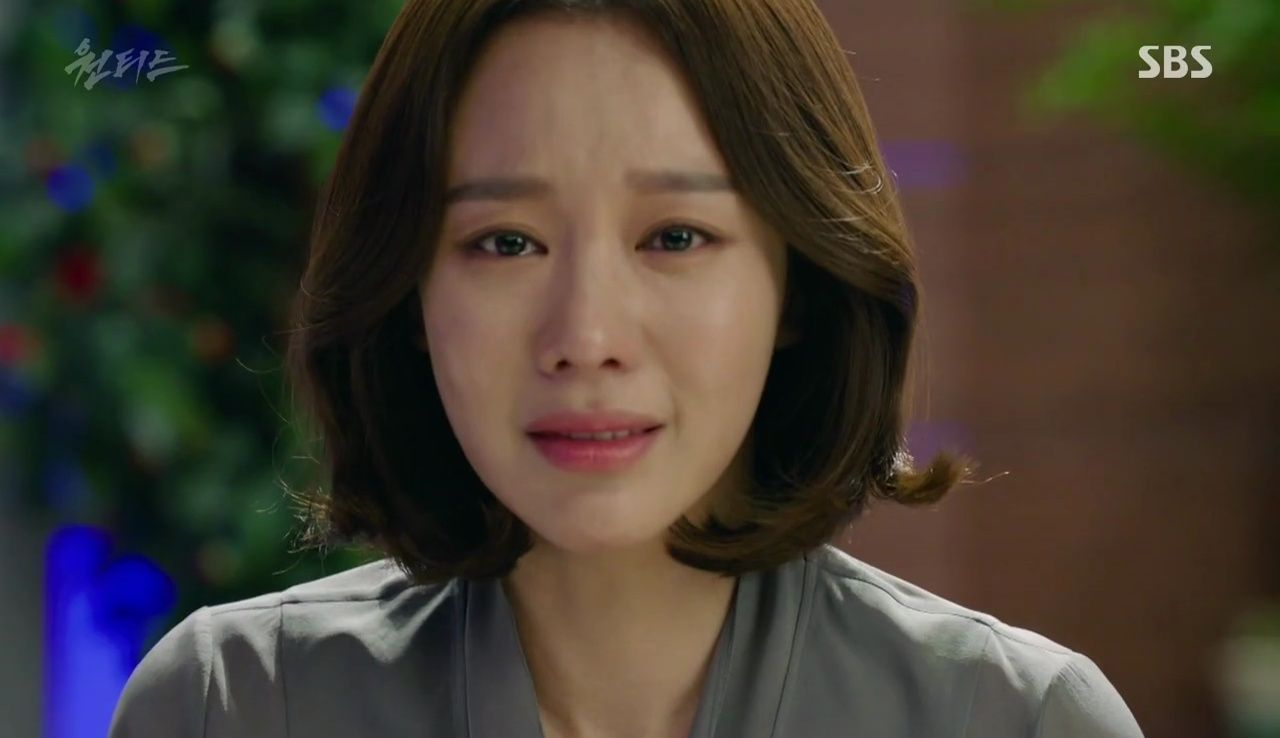 COMMENTS
That was certainly a very tense and emotional first episode! We went into the show knowing the basic premise from the promotional materials, so there was almost no surprise when Hyun-woo was kidnapped. But that happened relatively early on, and the show still found ways to play with our expectations — like with the fake-out in the beginning, which I genuinely thought was a flash forward in the timeline. Instead we saw an eerie parallel in Hye-in's last acting job before she retired, a role that was written especially for her, and doesn't that take on a suspicious kind of irony later on in the episode? Perhaps it's a clue to the kidnapper's identity, or maybe it's a sick case of life imitating art, with her film giving the criminal the idea for his sick game.
It's interesting how we are given details about relationships between our characters in bits and pieces, with each interaction surprising the audience, flipping our expectations in interesting ways. For example, the anniversary party portrays Hye-in and her husband as a very loving couple, but as we see more clearly with their every interaction this hour, their marriage has long since broken down in terrible ways. Joon-gu at first seems to be very close to Jung-ho, but the narrative shows us that he is far more sympathetic to Hye-in. And I'm very curious to know the history between Hye-in and Dong-wook — every moment they spend in the same room seems to almost vibrate with subtext.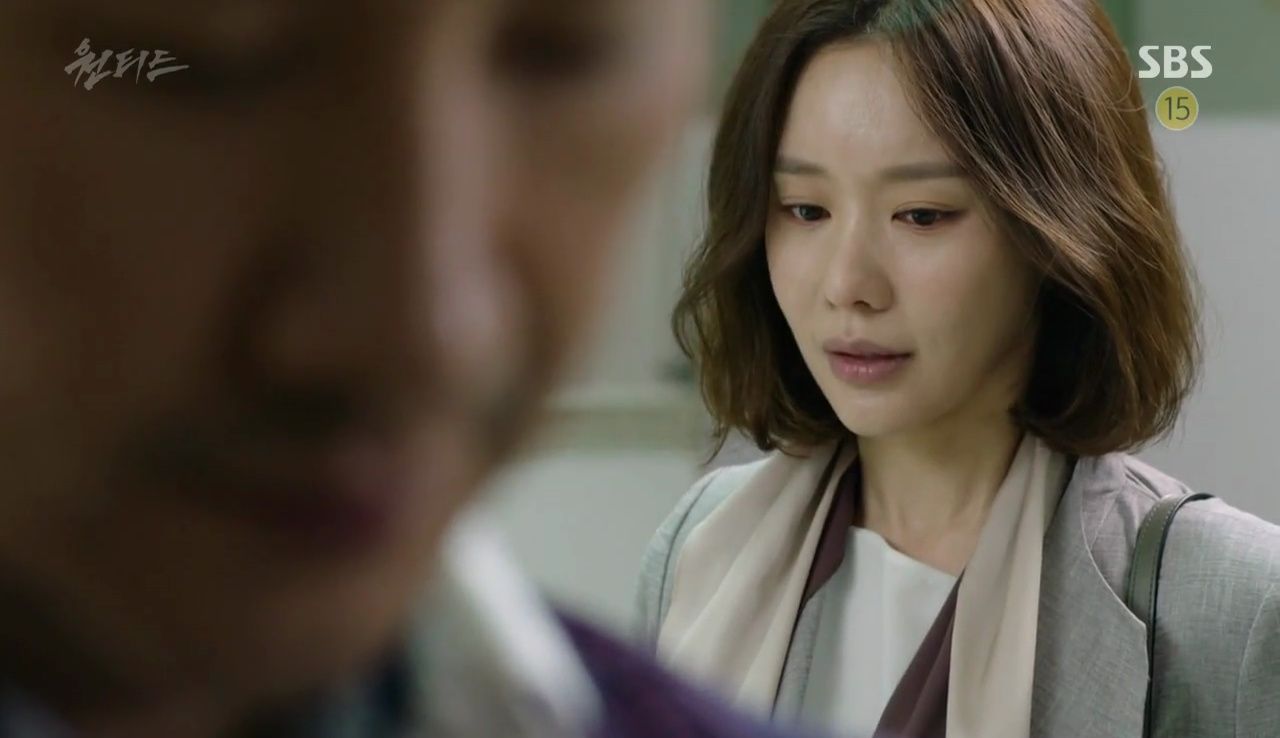 I was a little amused by the open secret of Hyun-woo not being Jung-ho's real son, which at first seemed like such a shocking threat, but it ends up being something that all our main characters know. Jung-ho is also being set up so clearly as a villain here (and there's no doubt he is one, in the general sense), that it seems too easy to point to him as the culprit yet. There's also the matter of the other kidnapped girl, which clearly has a connection to the case somehow. The writing seems to be complex and layered so far in other aspects though, so I'm hopeful that the case will be twisty and interesting as well.
The cast's performances are competent and well-acted, but Kim Ah-joong as Hye-in is really the heart of this episode. The others play their roles well, but her character is the one whose motivations were laid bare for us from the start, and her emotional journey is the one we are carried along on — which is as it should be. She impressed me as the stoic, grieving ex-wife in Punch, and she's doing a wonderful job here as a mother who is gathering her strength for the fight of her life, despite being completely devastated under her tough exterior.
For now we've seen very little of Ji Hyun-woo's detective character (although I already love his grumpypants dynamic with his hoobae) and Uhm Tae-woong has shown us only the surface of a man who obviously has unspoken depths and motivations. I can't wait to see more of both them (and I could stand to see less of Jung-ho, he makes my skin crawl. Which I suppose means that actor is doing a great job too). I'm looking forward to a thrilling, intense ride!

RELATED POSTS
Tags: Episode 1, featured, first episodes, Ji Hyun-woo, Kim Ah-joong, Uhm Tae-woong, Wanted