Wanted: Episode 7
Both the police and the Wanted team dig deeper into Na Soo-hyun's history and his connection to the increasing number of dead bodies that surround this case. Every time they seem close to a breakthrough, more information comes to light that changes everything once again. With tempers wearing thin and public opinion rising in an angry tide against them, the team grows desperate, and innocence becomes a luxury they can no longer afford.

EPISODE 7 RECAP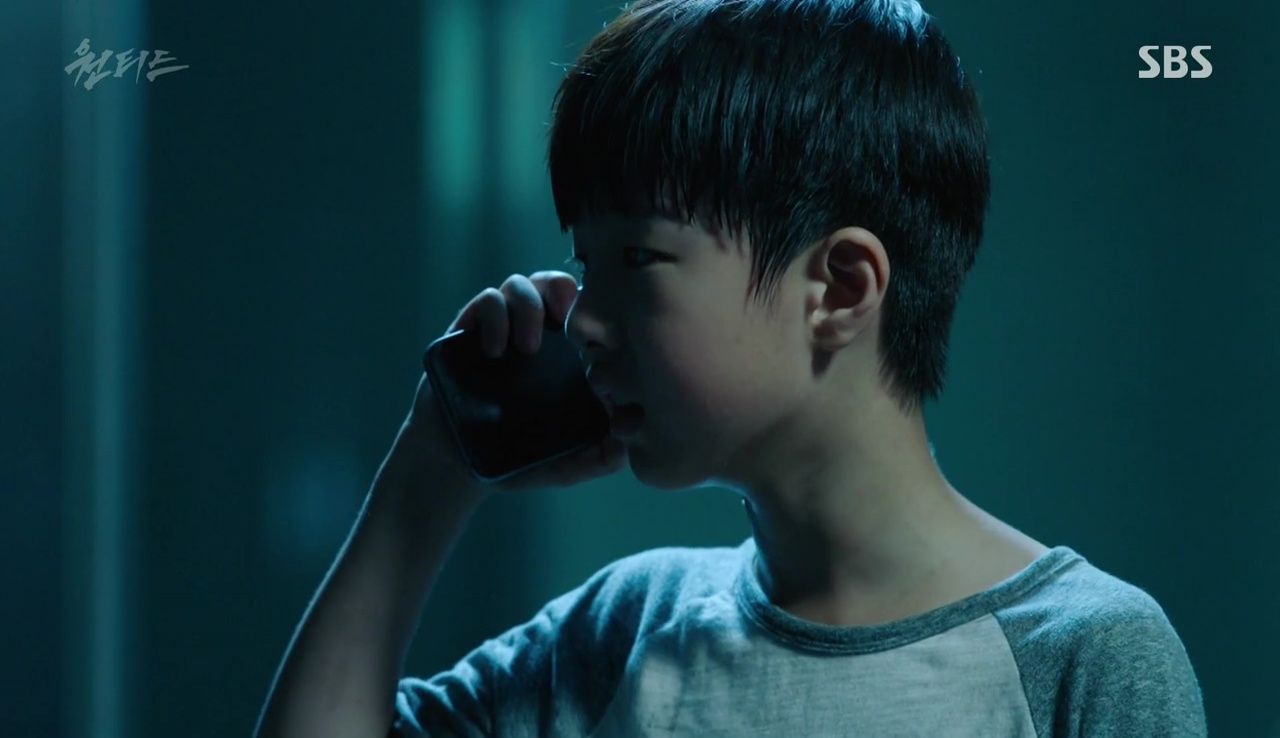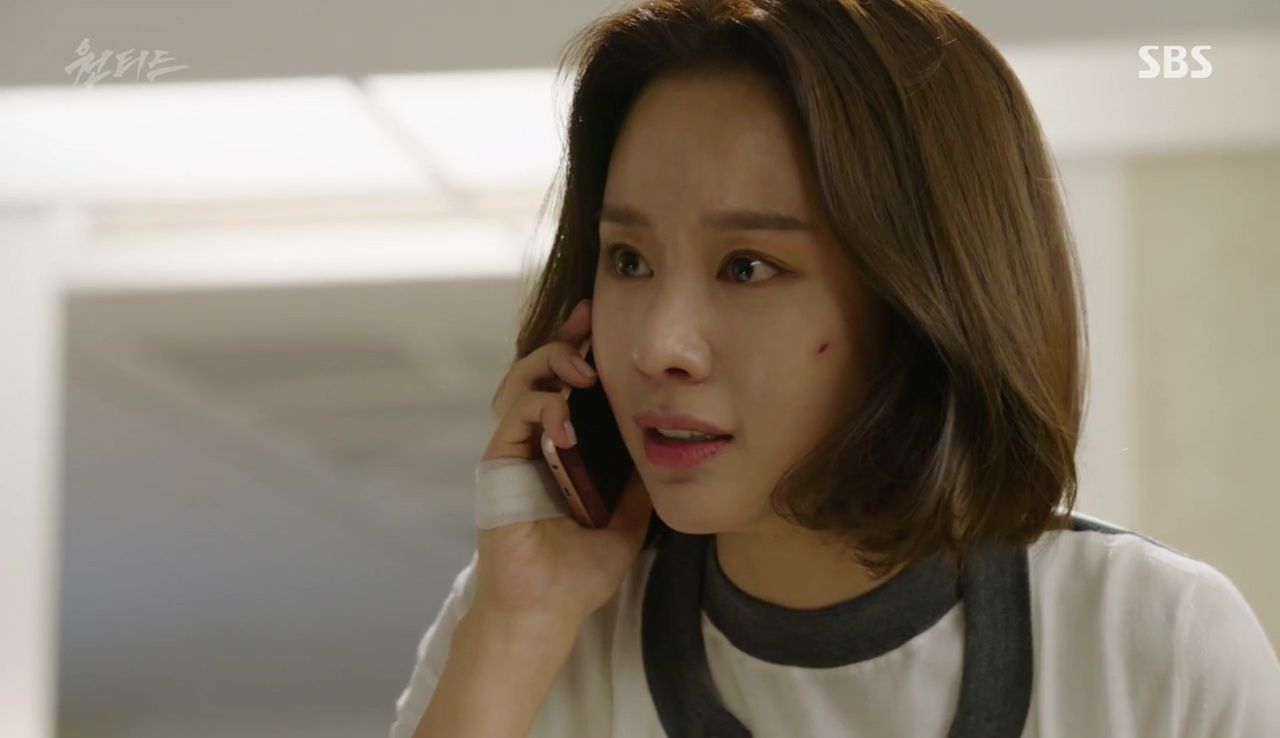 Hyun-woo runs through the building where he is being held. He dials Hye-in's number on a stolen cell phone, looking for an escape route as kidnapper Na Soo-hyun searches for him. She asks him if he's alone, and tells him to get out of there. Hyun-woo tries the door but it's locked, and he warns his mom he only has five percent of his battery left. She tells him to stay on the phone and find a hiding place.
Na Soo-hyun finds his way to the room where Hyun-woo is hiding, calling his name. Hyun-woo cowers under a desk in terror, but the kidnapper soon leaves. Hyun-woo takes off running.
Hye-in runs to the conference room at UCN to find Dong-wook. She grabs a piece of paper and scribbles, Hyun-woo escaped. He's on the phone right now. Over the phone, Hyun-woo tells her there's a large swimming pool on the second floor. She tells him to find a window at Dong-wook's suggestion, but Hyun-woo says the windows are too high to escape from. Hyun-woo suddenly trips and drops the phone, which draws his attention to a placard with the name of a swimming pool on it. He tells his mother what's written there before the phone dies.
As soon as they lose Hyun-woo, Dong-wook calls the police to tell them his location, and that he and Hye-in are heading over. They break the door open when they get there, and split up to search the building. Dong-wook heads to the basement, telling Hye-in to call him if anything happens.
Meanwhile, Hyun-woo is still running scared through the building as Na Soo-hyun searches for him. Suddenly, Na Soo-hyun hears Hye-in calling Hyun-woo's name from another floor, and stops short.
At that moment, Seung-in and Young-gwan arrive. Young-gwan heads downstairs while Seung-in calls Hye-in and races upstairs to her, telling her to stay on the line and shout if anything happens. Hye-in goes up another flight to the room Hyun-woo was hiding in earlier, but it's empty now. She hears a sound and goes to investigate, telling Seung-in to come to the third floor.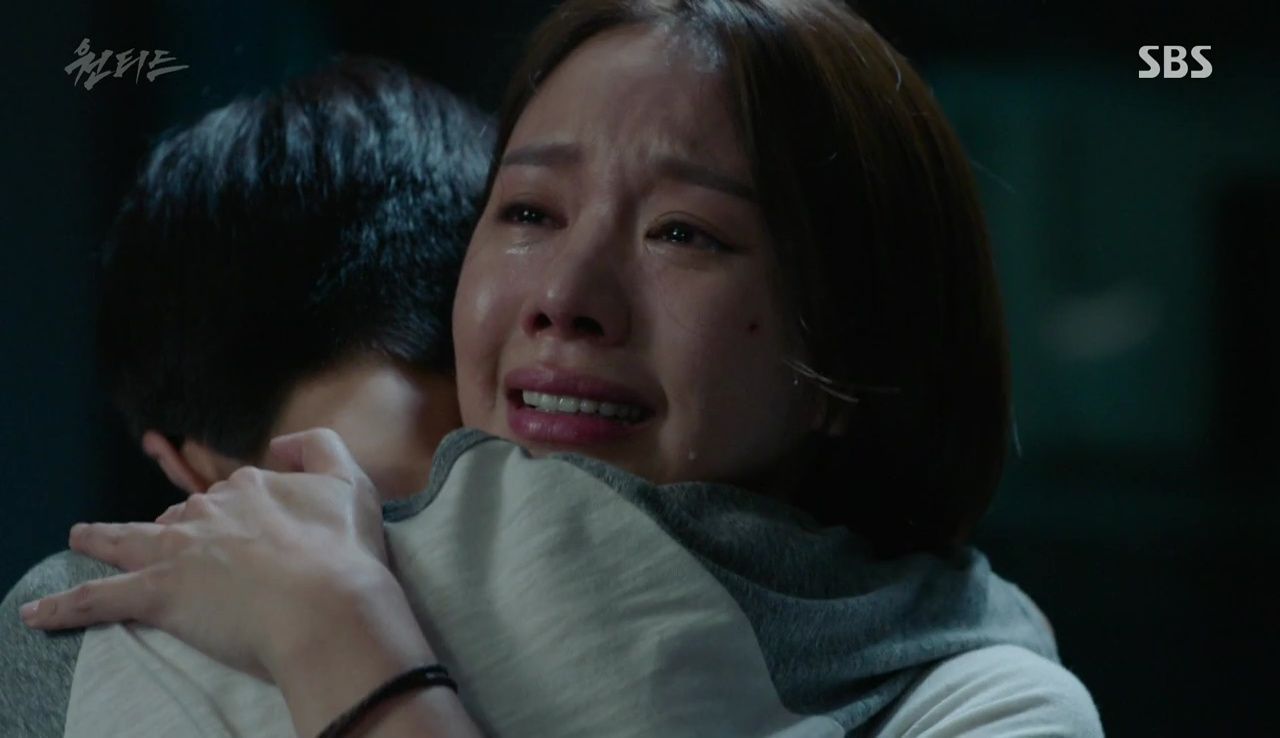 She sees Hyun-woo trying to open a window across the room, and calls his name. He turns. "Mom!" he calls, and runs into her arms. She hugs him asks him tearfully if he's hurt. Both sob in relief.
Na Soo-hyun approaches from behind Hye-in and tases her. She collapses, unconscious. He carries away a screaming Hyun-woo.
Seung-in arrives to see Hye-in on the floor and immediately calls Young-gwan to tell him that the kidnapper has escaped with Hyun-woo, ordering him to get backup to block all the routes out.
Meanwhile, in the basement, Dong-wook finds the room where Hyun-woo was being held. Having used his camera as just a flashlight before, he now uses it to film.
Hye-in wakes in Seung-in's arms. She stutters something about Hyun-woo, but he assures her that the police are looking for him; they can't have gone far.
Her phone rings. It's Na Soo-hyun: "Let's say you succeeded the fourth mission. You've confirmed that Hyun-woo is alive, right? Go back and wait for the next mission." She screams in denial.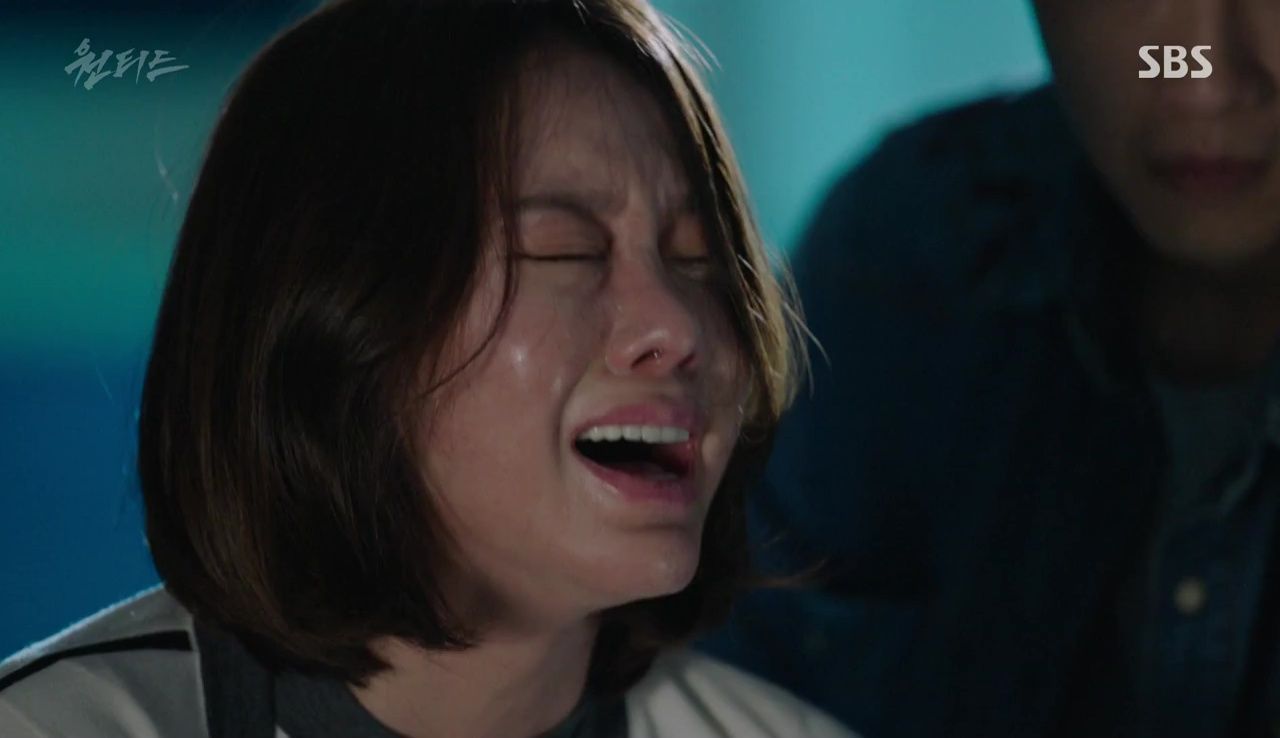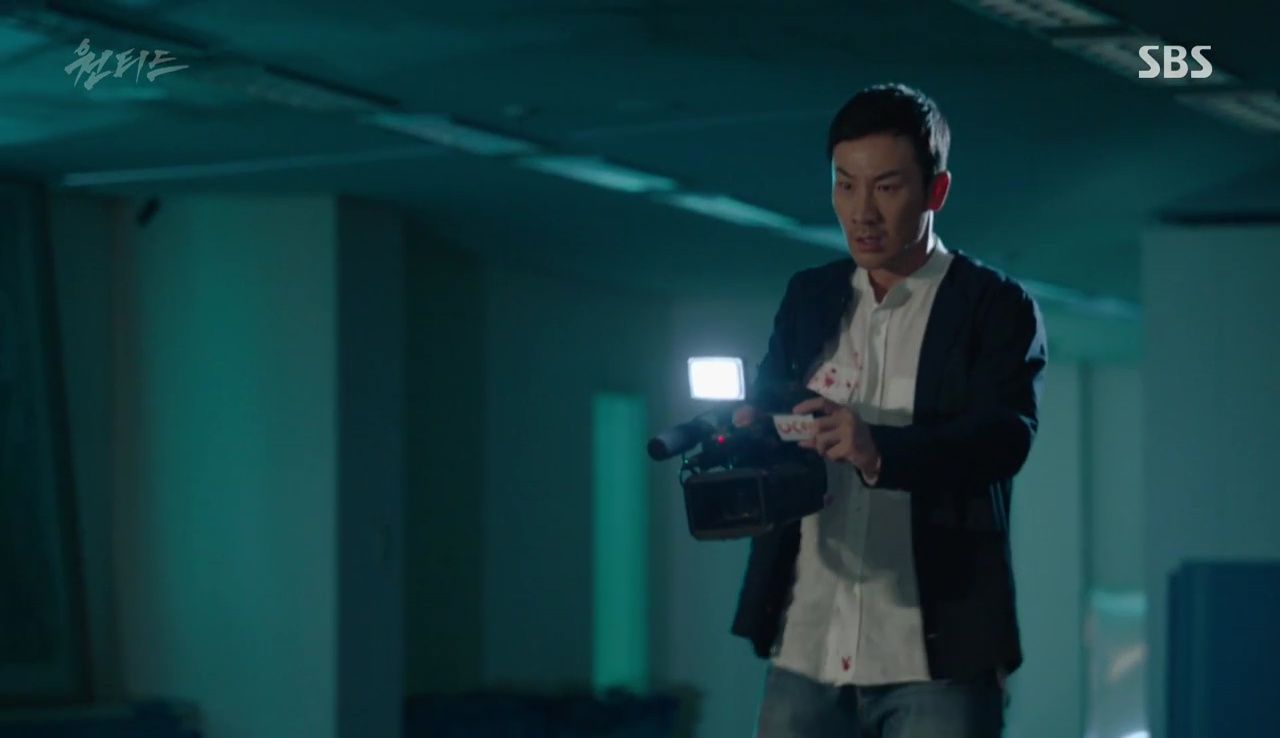 The investigation team meets to pool the information they have on Na Soo-hyun together. He's been confirmed to have been on UCN premises when Jo Nam-cheol was killed, and he's also the one Hye-in saw the previous night.
At the prison where Lee Ji-eun is being held, Mi-ok questions her again, saying they've found the person who has Hyun-woo. Seeing the girl's reaction, Mi-ok smiles. "I guess it wasn't planned for Na Soo-hyun to be exposed yet." She asks her if he's the one who killed Han-sol's father as well, and what relationship she has to Na Soo-hyun and Park Se-young. Ji-eun remains silent.
Mi-ok lays out the facts: Ji-eun started seeing Park Se-young a month before Hyun-woo's kidnapping. Na Soo-hyun started working at the UCN cafe a month before that. When she asks when the plans were set in motion, Ji-eun simply looks away.
Seung-in shares more details with Captain Jung and the team. Na Soo-hyun doesn't have an address or ID they can verify. He has no family, since his parents died in an accident when he was sixteen. Nine years ago, when he went to the army, his six-year-old sister died of an illness. Seven years ago, his older brother disappeared; it's still an unsolved missing persons case.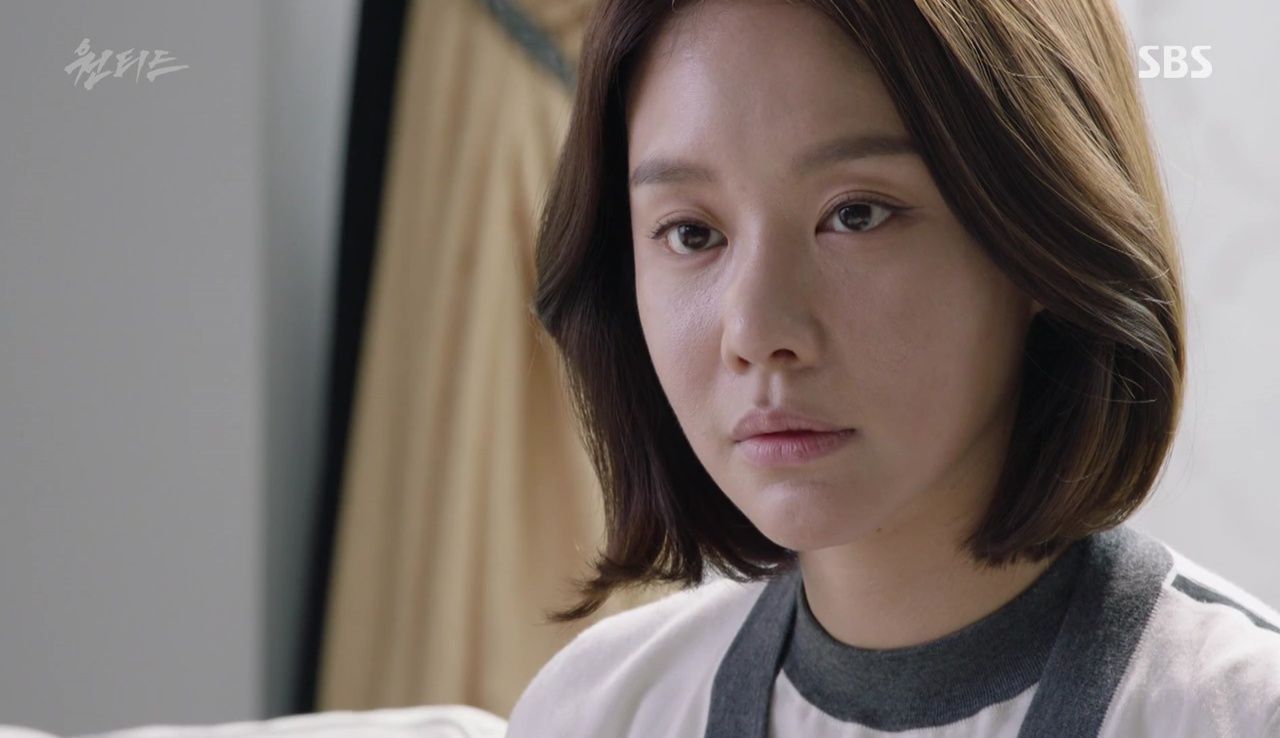 At Hye-in's house, Joon-gu apologizes for not catching Na Soo-hyun, and for losing Jo Nam-cheol's testimony and Hyun-woo in the process. Hye-in replies flatly that he was discharged very quickly—it seems impossible and convenient to her that he would be injured so slightly if he had really tried to stop Na Soo-hyun.
Dong-wook objects that Na Soo-hyun had no reason to kill Joon-gu, only to get him out of the way so he could get his target. Joon-gu says he understands how she feels, though. He apologizes again, saying everything happened too fast.
Dong-wook calls Bo-yeon as she's leaving the TV station to follow up a lead on the silver ring that was found in Jo Nam-cheol's hideout. She goes to a metalworking shop, where the elderly owner tells her the ring was made for a girl named Yeong-hyun. It was a present on her fifth birthday from her two older brothers. He shows Bo-yeon a picture of the siblings, telling her how the brothers took care of Yeong-hyun after their parents died. The boys' names were Na Jae-hyun and Na Soo-hyun.
As she's leaving, the old man's son asks Bo-yeon how much reward money they'll get for the information. Bo-yeon is shocked, but he brings up the previous reward of five billion won. She tells him she'll find out and let him know.
Bo-yeon heads to the police station and shows the photograph of the three siblings to Seung-in and Mi-ok, telling them what she's discovered. They deduce that the bracelet was for Yeong-hyun, and the ring was Jae-hyun's. Perhaps Jo Nam-cheol killed the older brother, making his murder by Na Soo-hyun a revenge killing.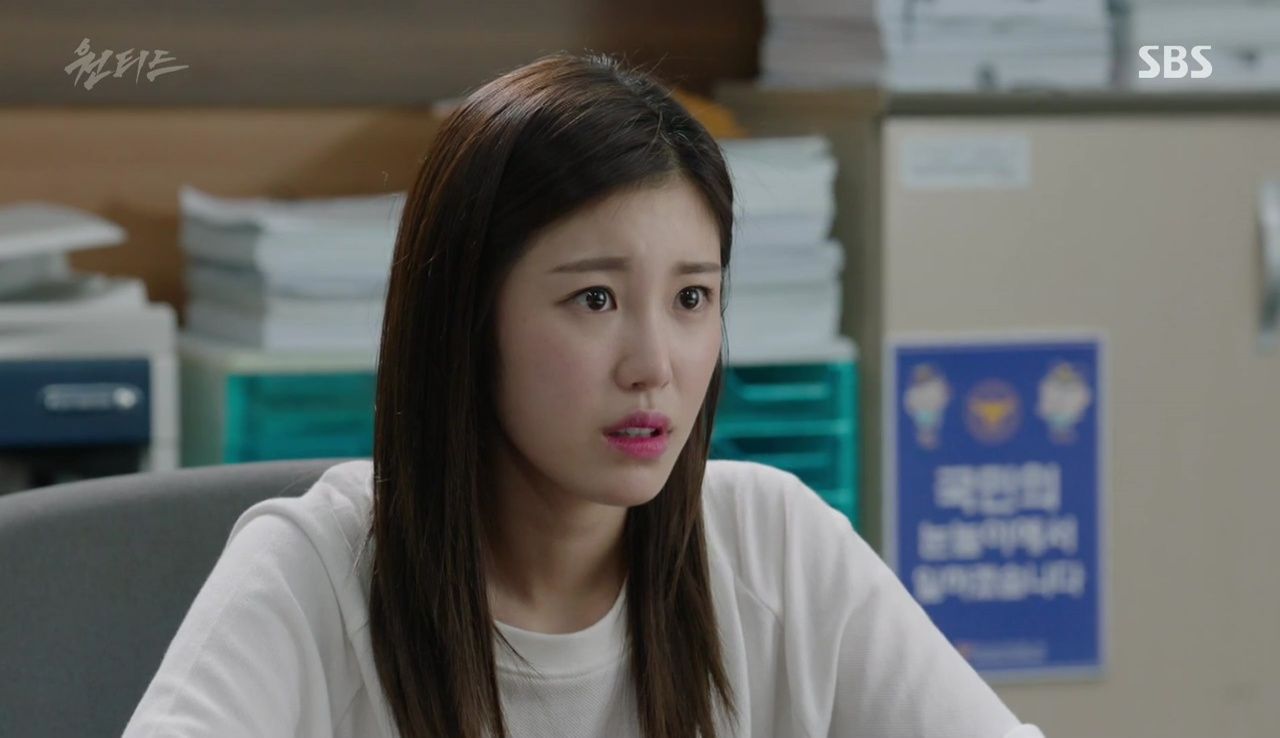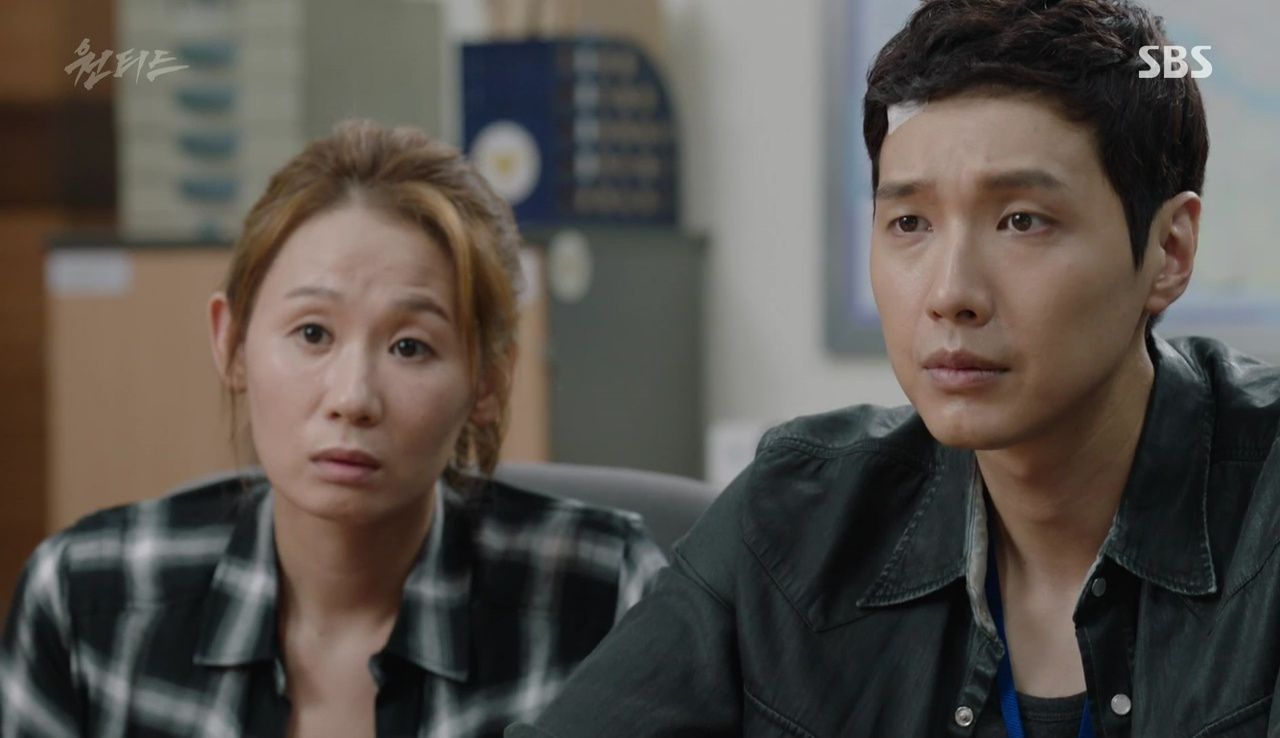 Seung-in asks Bo-yeon why she came to them before going to the broadcast team. She says she wanted to ask them for permission to put this information on the show. If it'll be more helpful to the case not to, she says, she won't tell her team.
Bo-yeon: "Our show is slowly becoming scary. Even if I try to think this is for saving Hyun-woo, more people keep dying, and it's getting more dangerous for the broadcast team… but everyone just wants to make it more provocative. I'm worried."
A man calls Writer Yeon and says the Wanted team are murderers who raise their ratings by killing people. All the office phones start ringing, and it's all people with the same type of accusations.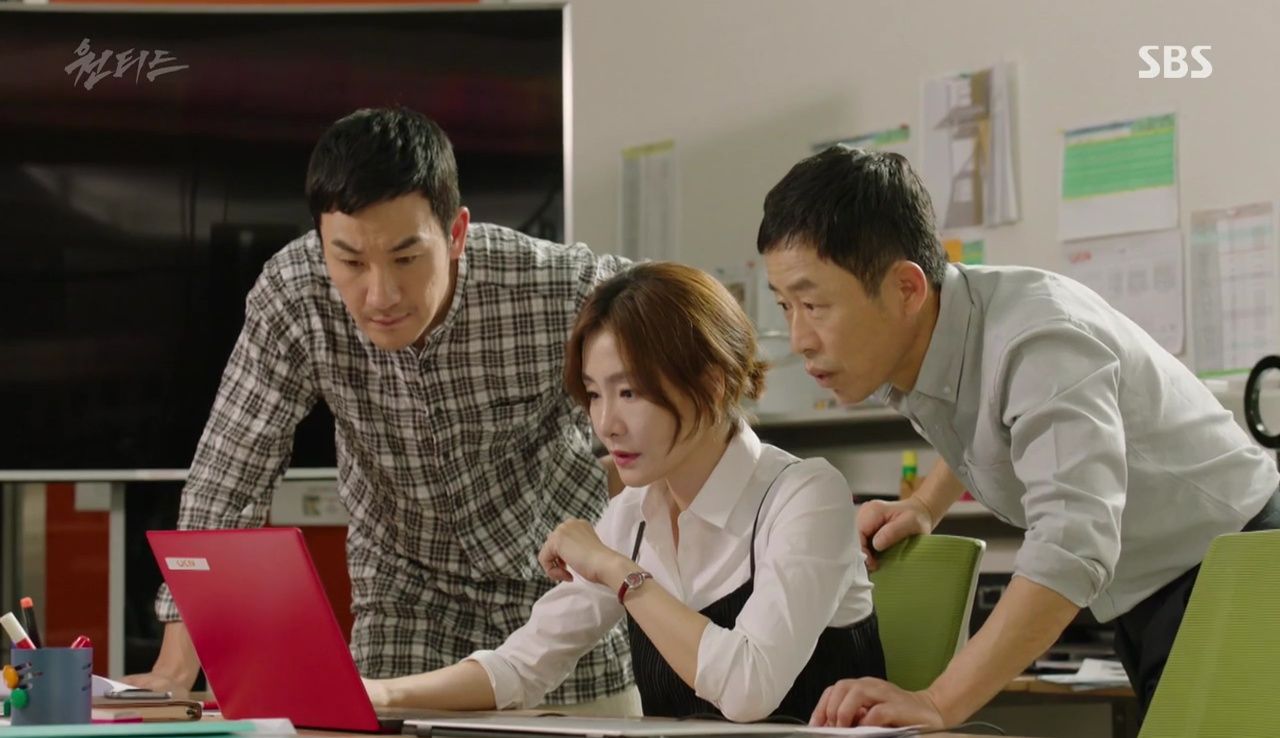 It turns out an article has been posted stating that the Wanted team is encouraging murders. It includes the clip of Lee Ji-eun showing them the body of Han-sol's father. The article accuses the team of knowing people would be killed as a result of the show, and of concealing that fact.
The author is Reporter Jang, who is pleased to finally be contacted when Dong-wook tracks him down. Reporter Jang says that since they used all his information on Seung-in and then ignored him, he assumed he could do what he wanted. Dong-wook asks where he got the video. The reporter refuses to reveal his source, but we see in flashback that he got it from Joon-gu's phone when the man was in the hospital.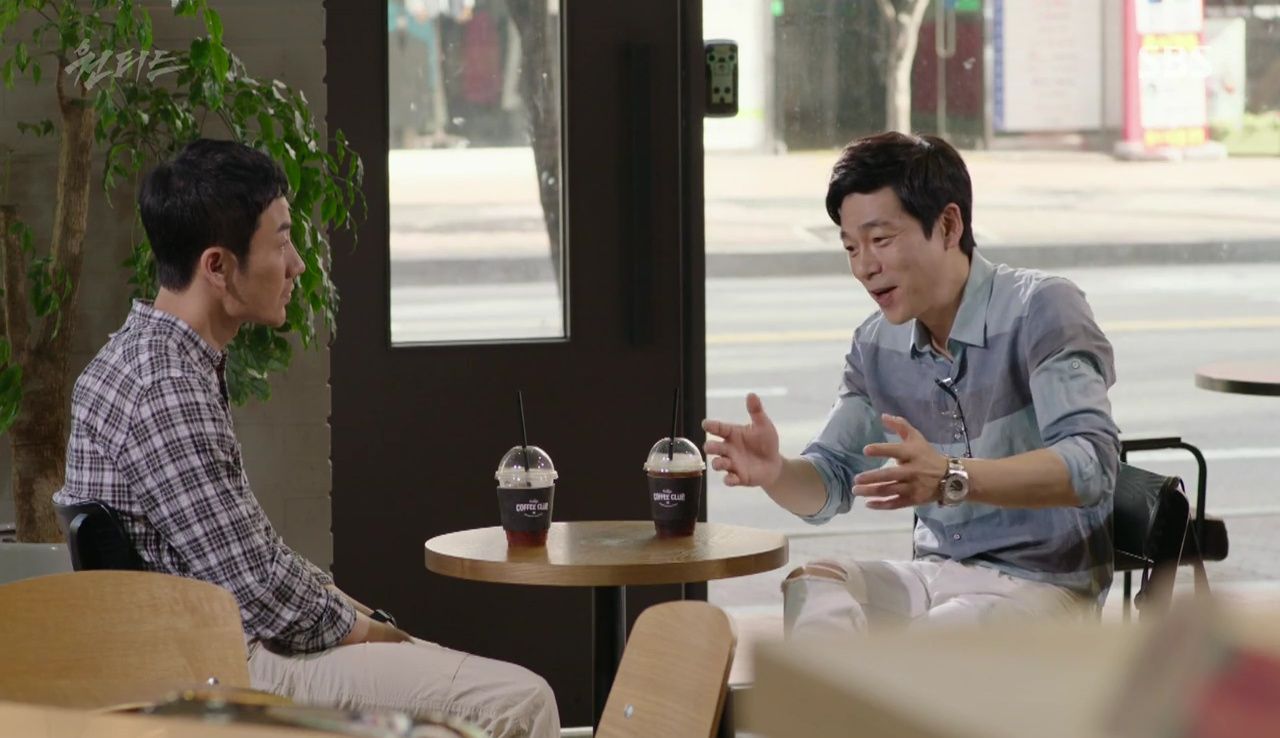 Dong-wook tells him to publish a retraction and join the Wanted team. Reporter Jang protests that he can't retract the truth, but Dong-wook replies that all he needs to do is change the angle. They'll show that they had to conceal the video due to the police's decision to save Hyun-woo, and thus shift the focus to the kidnapper and Lee Ji-eun. Dong-wook says he knows this was the reporter's objective all along. Reporter Jang agrees, but suspiciously keeps his phone within recording distance of their conversation.
Jung-ho apologizes when he faces a very angry police commissioner, but still asks for the police to tell the press that they were the ones who didn't want the Ji-eun clip released due to the ongoing investigation. The commissioner refuses to help the show anymore than he already has.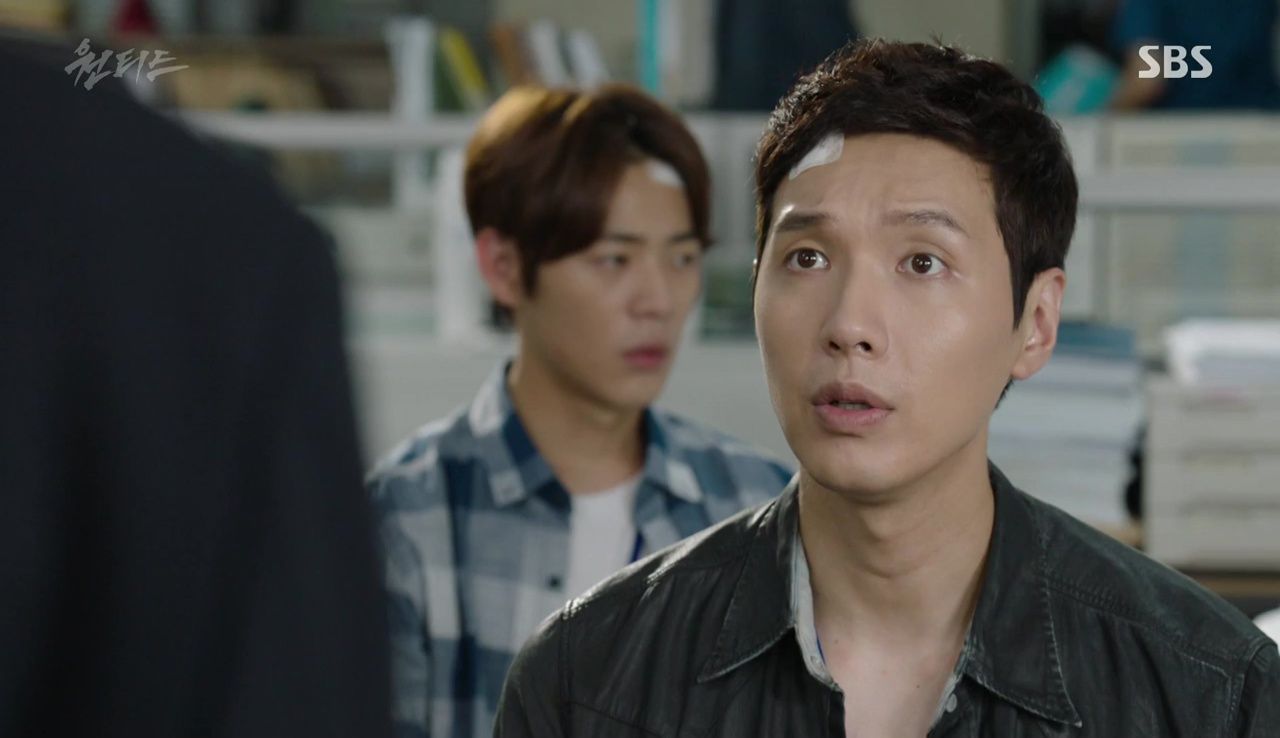 The police commissioner then gives Captain Jung new orders: The investigation team is not going to be joining the broadcast team anymore. Captain Jung will take the hit for making the wrong decision about the clip. He's bowing out of the case, and the rest of the team will join a new task force to investigate the serial murders. The broadcast team will be under investigation as well.
Detective Park agrees, saying it's turned into a serial murder case, but Seung-in says he won't join the task force. Captain Jung pulls him aside, and Seung-in asks to be allowed to stay with the broadcast team. The captain asks why, when they'll be chasing the same criminal. Seung-in says if the team can't fulfill the mission of the day, Hyun-woo dies, and it's much easier for the team to have the police's help.
"And also," he says, "Jung Hye-in is in a state of isolation. She can't trust her husband, her manager, or the broadcast team—she was abducted, she got Hyun-woo taken away again in front of her eyes… She's bearing all that alone."
Captain Jung declares that he officially can't allow that, but he puts Seung-in and Young-gwan on some nondescript busy work, implicitly giving them the go-ahead.
Dong-wook and Writer Yeon prepare what they can for today's show, but they worry that the mission hasn't arrived yet. Dong-wook tells her to use a scary voice actor to record what Na Soo-hyun said to Hye-in over the phone last night, and use it as the preview. She asks if he'll label it as a re-enactment, but he says no. When she protests, he asks her why she got involved in this show if she was going to feel guilty over every little thing.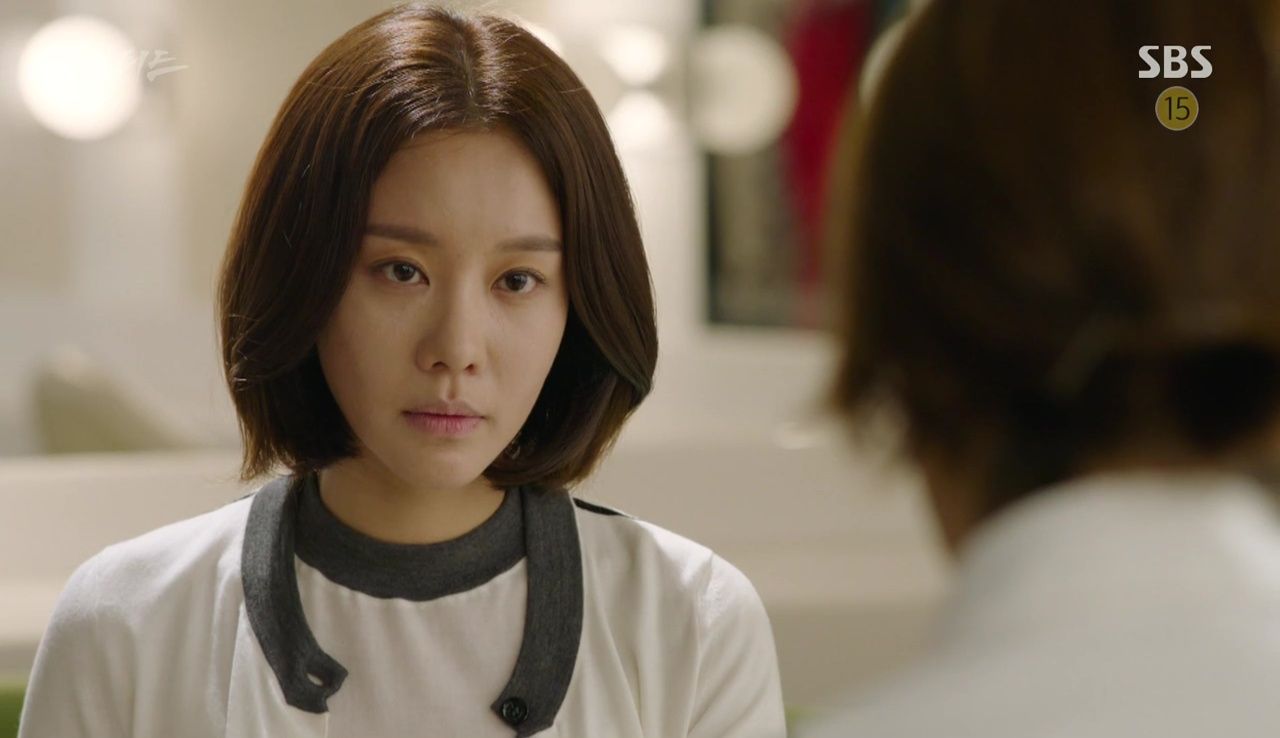 Writer Yeon asks Hye-in for her opinion. She knows it's hard for Hye-in to expose her emotions like this, and she's also worried about how the criminal will react if they fake his voice and broadcast it. Hye-in asks what Writer Yeon thinks, not as a person, but as a writer. Does she think it will help? Writer Yeon replies that it will probably help to turn public opinion around.
"Then do it," says Hye-in. "Make the voice scary, put in dramatic music. Other than making sure Hyun-woo comes back safely, nothing matters to me now." Writer Yeon comments that Hye-in has a lot in common with Dong-wook.
Hye-in's former brother-in-law calls her and asks to meet. He asks if it's true that his brother was murdered, and she says it's a possibility that she's going to look into for the sake of saving Hyun-woo. He says he also wants to know the truth, and to know if his brother was killed unjustly. He knows today's news reports have made things difficult for the show, and so he offers her his company's support.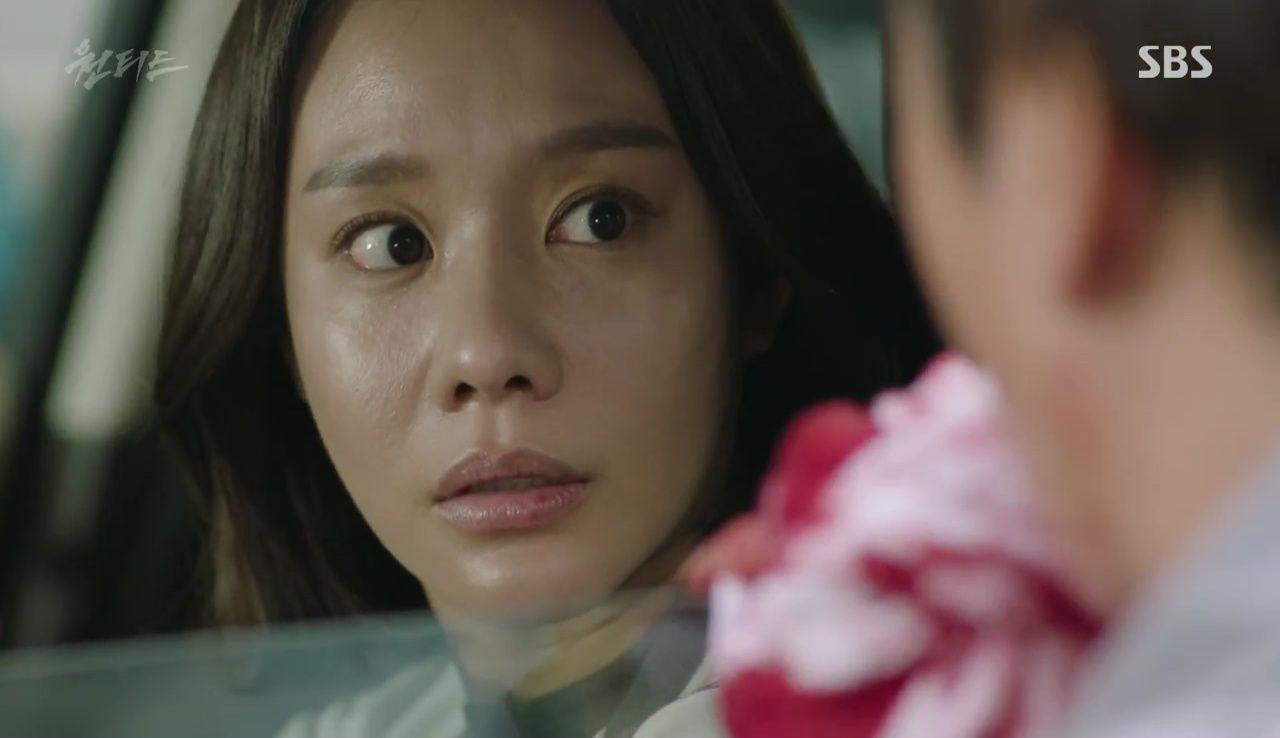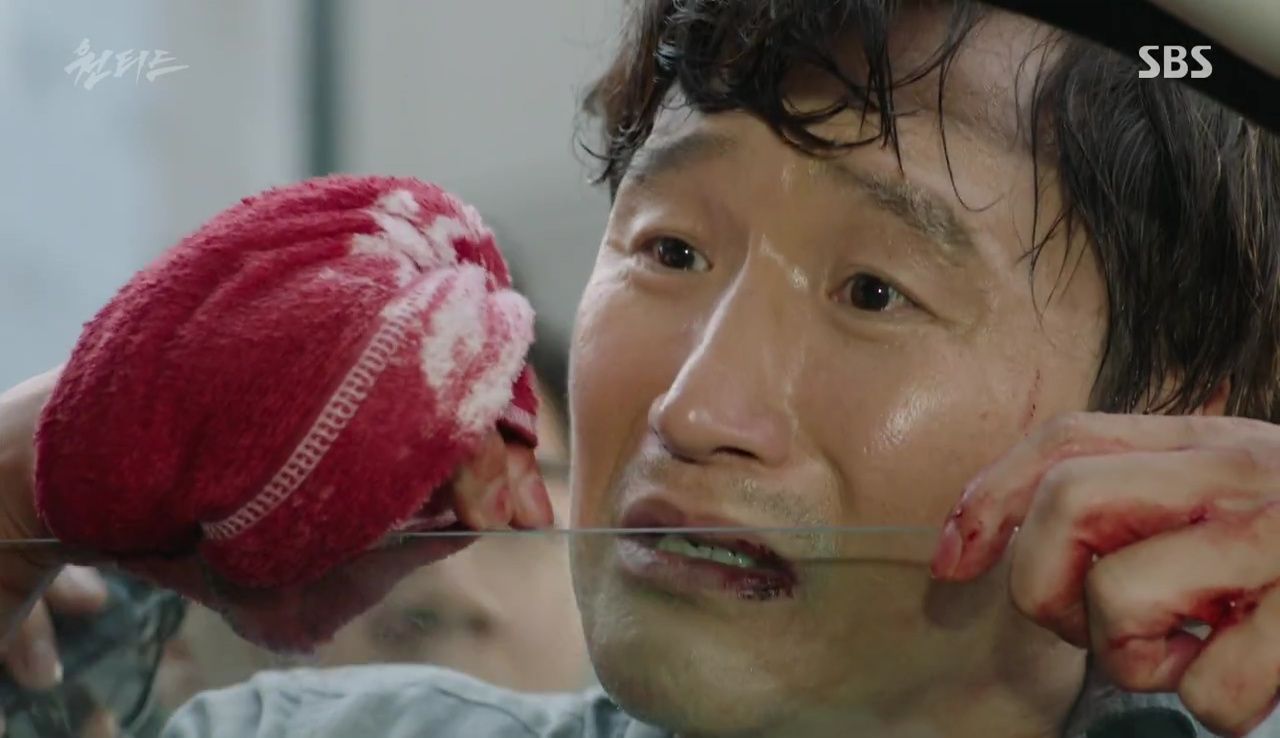 Young-gwan tells Seung-in that the detective who worked on Na Jae-hyun's missing persons case seven years ago quit at that time, and is a private detective now. They go to his office to find blood on the floor and signs of a violent struggle.
Hye-in arrives back at the TV station only to be mobbed by reporters. A battered and bloody man comes to her car window, asking her to get him on the show—he's the fifth mission. They have to get the victim of the missing persons case he worked on seven years ago, Na Jae-hyun, on the show.
She takes him inside and Bo-yeon treats his wounds. He tells them on camera that he never imagined the one who ruined his life would come back again.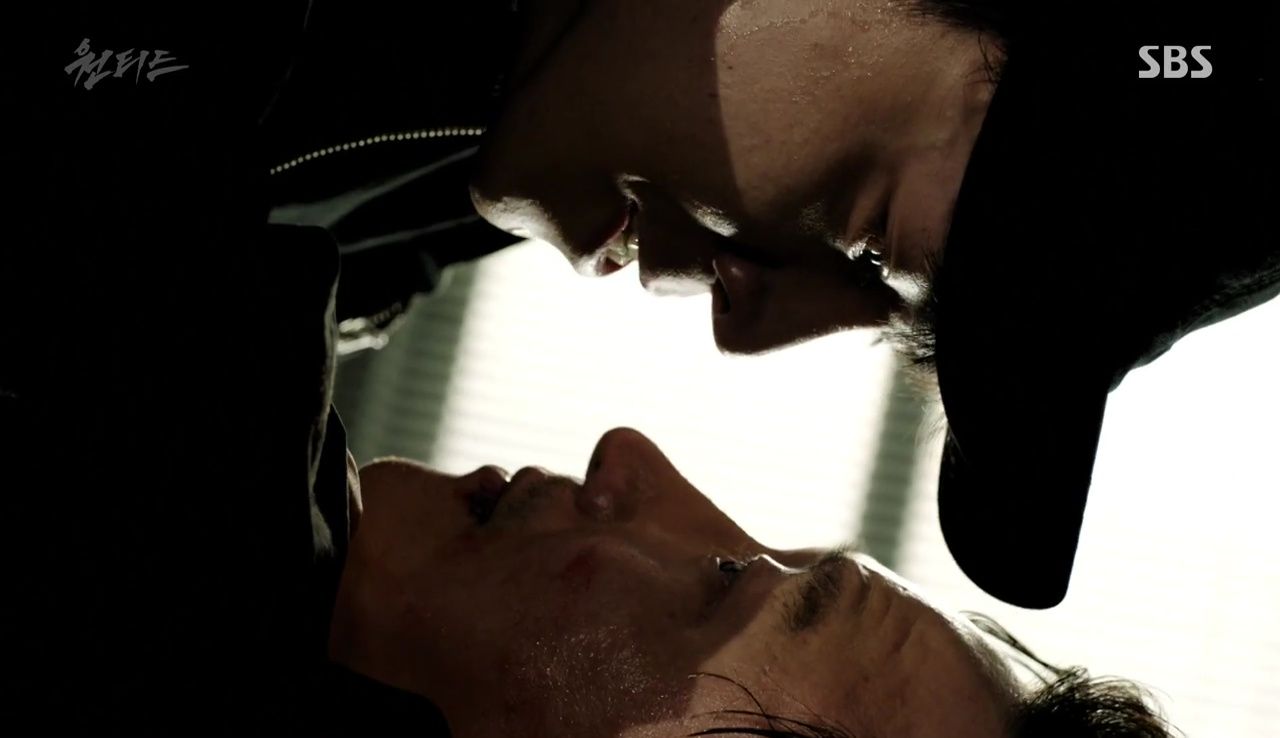 Flashback to two hours ago. Na Soo-hyun has him bound and gagged at the detective's agency. He gives him pen and paper and tells him to write down who made him drop Na Jae-hyun's case and quit his job seven years ago. He refuses. Na Soo-hyun stabs at his stomach, but the man saves himself by grabbing the bare blade with his hand. Na Soo-hyun threatens him again, and the detective writes, signing his name as GO HYUNG-JOON.
Na Soo-hyun grabs him and says if he does what he says, he'll spare his life. Detective Go stabs him in the leg with his pencil. They struggle, until Na Soo-hyun overpowers him and snarls, "If you run away or call the police, you'll know the pain of losing your family. Because not knowing that is your sin."
Bo-yeon is dispatched to get Seung-in while the team questions Detective Go. He says only that Na Soo-hyun did this to him because he blames him for not finding his brother. Na Jae-hyun had been unreachable for two months before he was reported missing. The last recorded contact someone had with him was July 12, 2009—the day before Hye-in's first husband died. On that day, he had gone home in a black Rolls-Royce rather than taking his bicycle.
Hye-in says that was the same car her husband had, which is rare in Korea. Detective Go confirms that it was her husband's car. They ask why the investigation stopped at that point.
Seung-in finds a note that Na Soo-hyun has left on his car. It says that Detective Go stopped the missing persons case due to pressure from above, that he's hiding something, and has already resigned. The note is signed by Kim Sang-shik, Seung-in's murdered mentor.
An attached sticky note from Na Soo-hyun reads: Exactly why was Detective Kim Sang-shik following my hyung's case? Also, what did he find out to die at Jo Nam-cheol's hands? Detective, please find out before it's too late.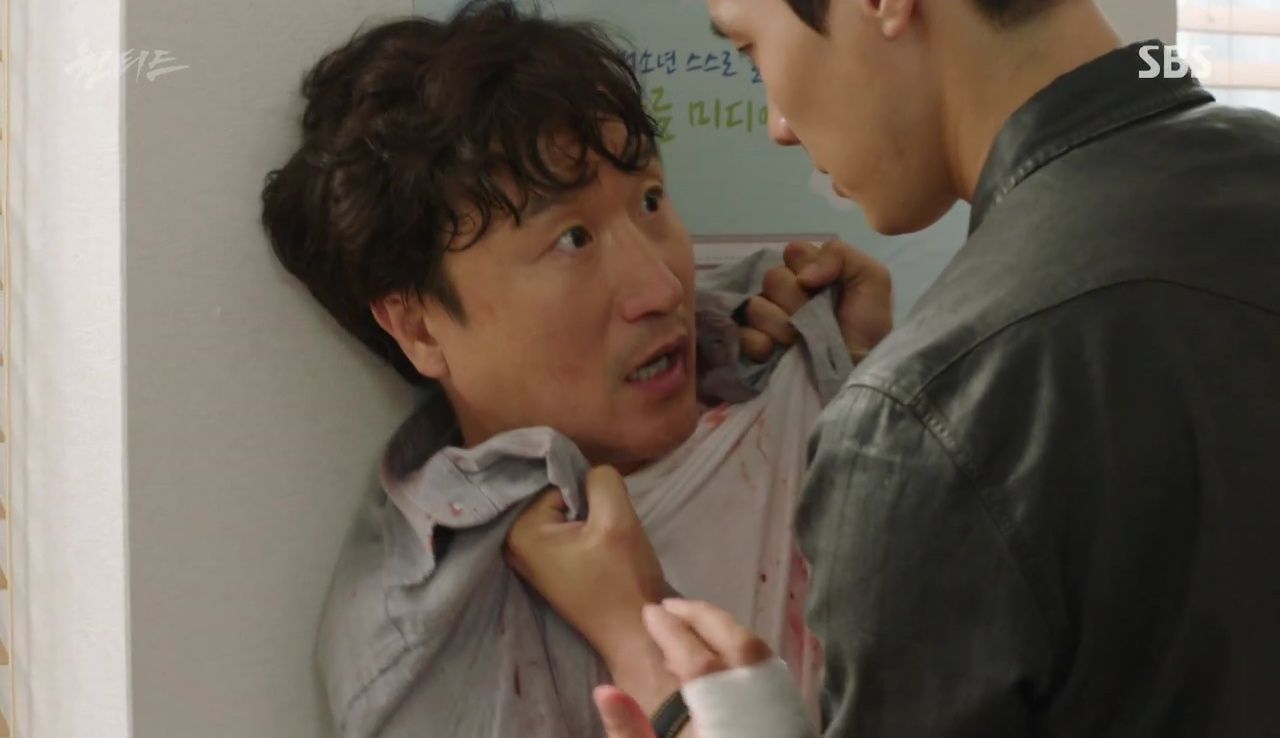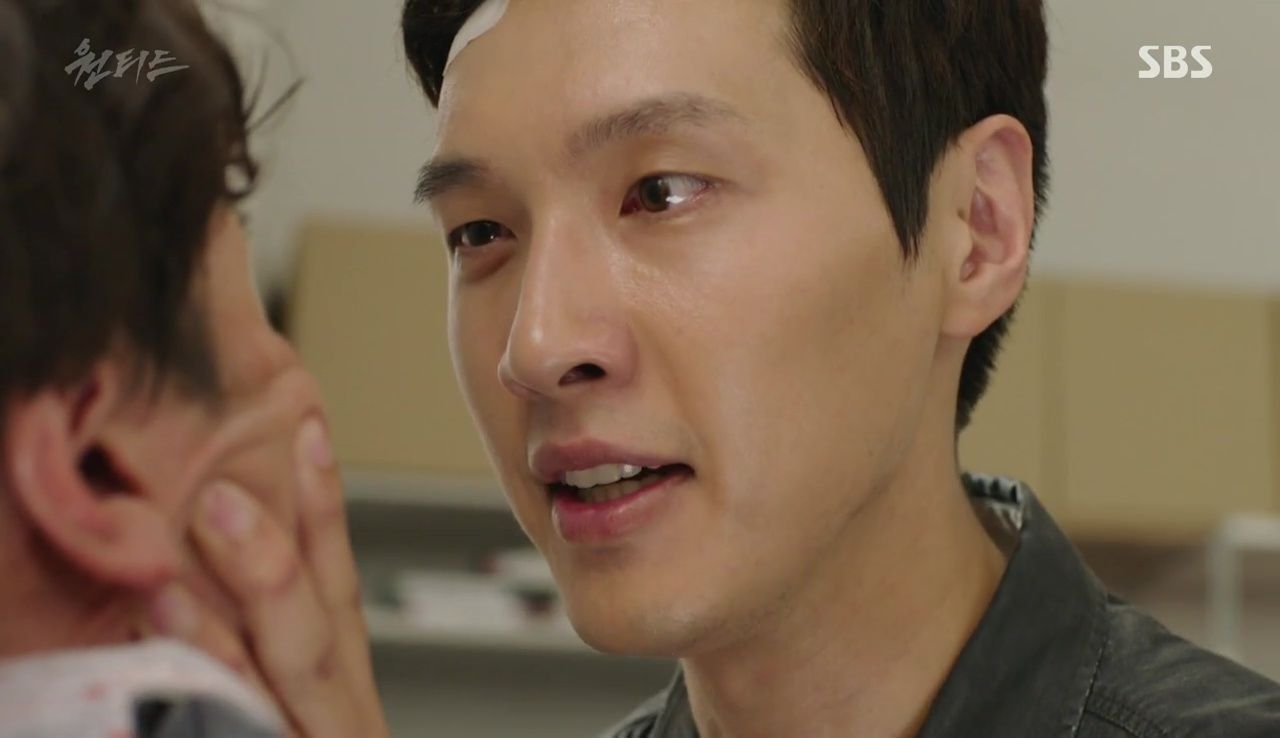 Seung-in storms into the meeting room at UCN and slams Detective Go into the wall by his collar. He asks if Detective Kim came to see him seven years ago. Detective Go says he doesn't know who that is, but Seung-in grabs his face. "No, you know. You definitely remember," he grits out. "What did he find out that he had to die for, you bastard?" He throws him to the floor. Young-gwan tries to hold Seung-in back, but he collars him again.
Detective Go insists he simply got an order from his superiors to stop, so he did. He says Im Hyung-soon had contacted him with information, and since he was no longer on the case and Detective Kim had been asking about it, he simply told the latter where to meet him.
Seung-in thinks back to the last time he saw Detective Kim, years ago. "I didn't know he would die there," says Detective Go. Seung-in releases him, thinking of the moment he found his sunbae's body. A single tear rolls down his cheek.
Hye-in approaches Seung-in in the hallway outside. She says she knows it's hard for him, but they have to find Na Jae-hyun, for Hyun-woo's sake. "There is no way that Hyun-woo will get hurt," he assures her. "What should we do?" she asks.
The two of them brainstorm with Mi-ok in Hye-in's dressing room. It seems to them that the key to all this is in Na Jae-hyun's disappearance. Perhaps Na Soo-hyun started this whole scheme to find his brother.
Hye-in wonders, if there is indeed someone behind all these events so far, why would Na Soo-hyun kill Jo Nam-cheol? Jo Nam-cheol tried to expose the one who was acting behind the scenes. If in fact Jo Nam-cheol killed his brother and Na Soo-hyun killed him in revenge, it could be he already knows the truth, and didn't want Jo Nam-cheol to get off lightly.
Seung-in suddenly recalls the body that his mob boss contact told him about, the one the gangster disposed of for Jo Nam-cheol seven years ago.
With the show about to start, protestors outside UCN call for it to be shut down. Dong-wook assures Hye-in that there's no way to prove if that body is Na Jae-hyun's today, so she has nothing to worry about. He tells her to focus on two things for this broadcast: make the viewers sympathize with Hyun-woo, and have them on the edge of their seats, as if they're watching a thriller. She replies that he only has to remember one thing: Hyun-woo's safety.
Joon-gu takes a camera crew to where the police are searching for the corpse buried by the mobster. In the studio, before Dong-wook comes in, Writer Yeon tells one of the engineers that she took out the scene where the detectives were fighting, and changed the script.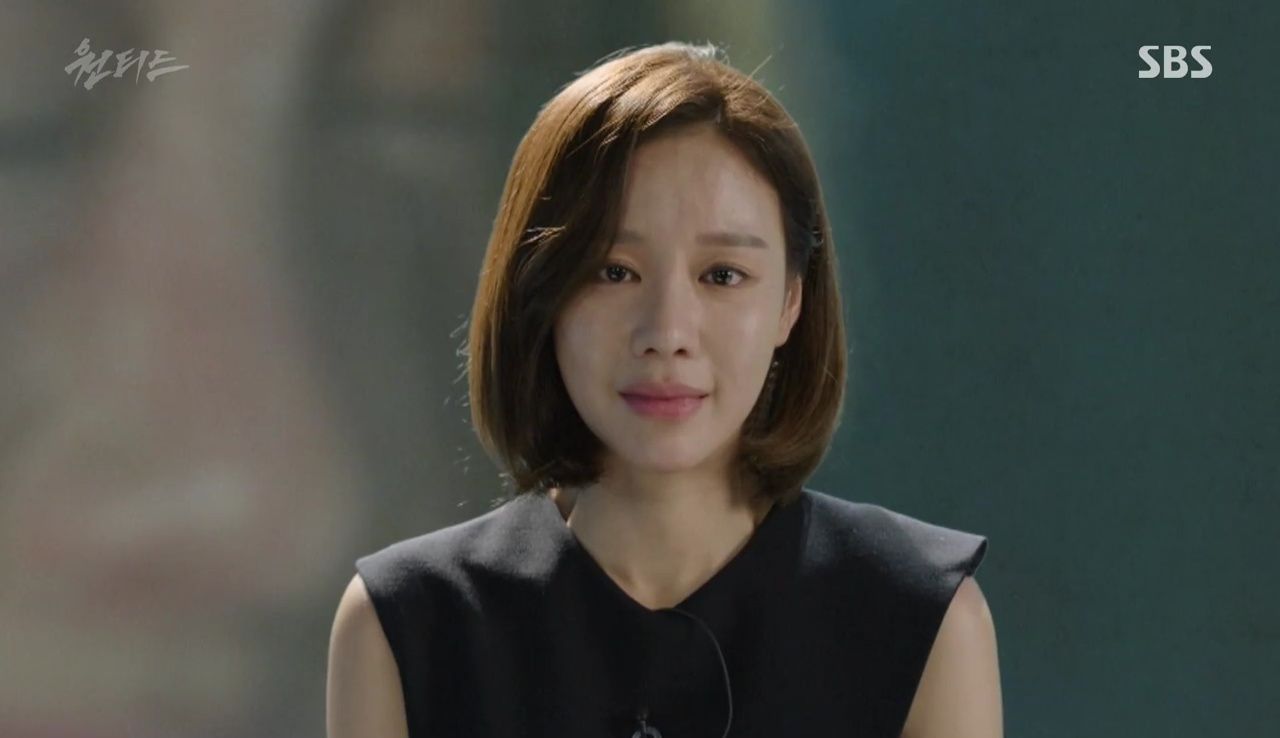 Hye-in starts by telling the audience about Hyun-woo's near-rescue of the night before, which was featured in the preview. Watching from home, Jung-ho receives a call from the police commissioner, agreeing to do as promised. Na Soo-hyun also watches Hye-in explain his history, his connection to the previous murders, and the fifth mission, which is to bring Na Jae-hyun on the show.
Dong-wook angrily asks why the footage of the detectives fighting didn't show up, and why the script has changed. Writer Yeon says she changed it: "We used Detective Cha enough on the last episode. It has nothing to do with Hyun-woo, either." Dong-wook protests that it changes the whole feeling of the episode, and affects continuity as well.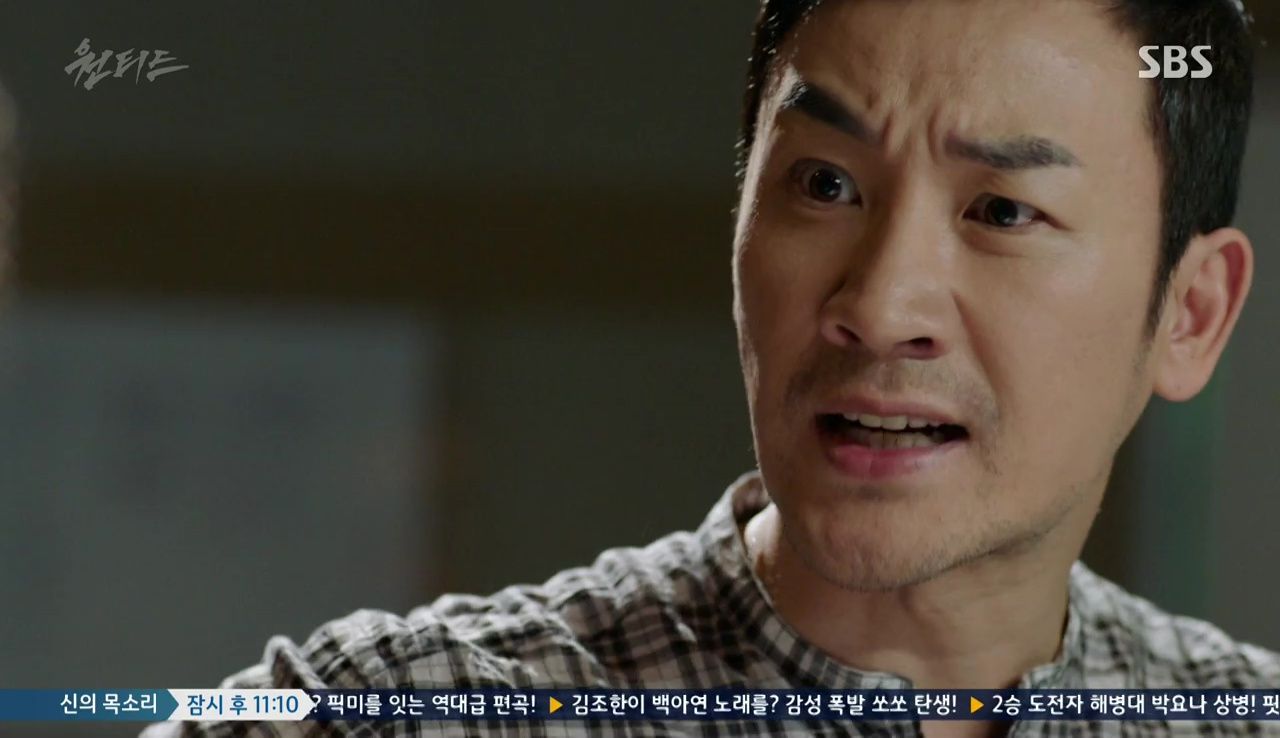 "In my judgment, it wasn't important enough to rub salt in someone's wounds without their permission," she says. "Writer Yeon!" Dong-wook yells reproachfully.
In the woods where the police are searching for the body, Seung-in finds a tree with a cross carved into it. They dig there, and unearth a desiccated corpse. Seung-in searches its pockets and finds a wallet. The ID card reads: Na Jae-hyun.
With the footage of the body being uncovered playing out behind her, Hye-in says that Na Jae-hyun cannot give testimony, but he was last seen getting into her late husband's car the day he died. Today, he has been found as a skeleton in a forest.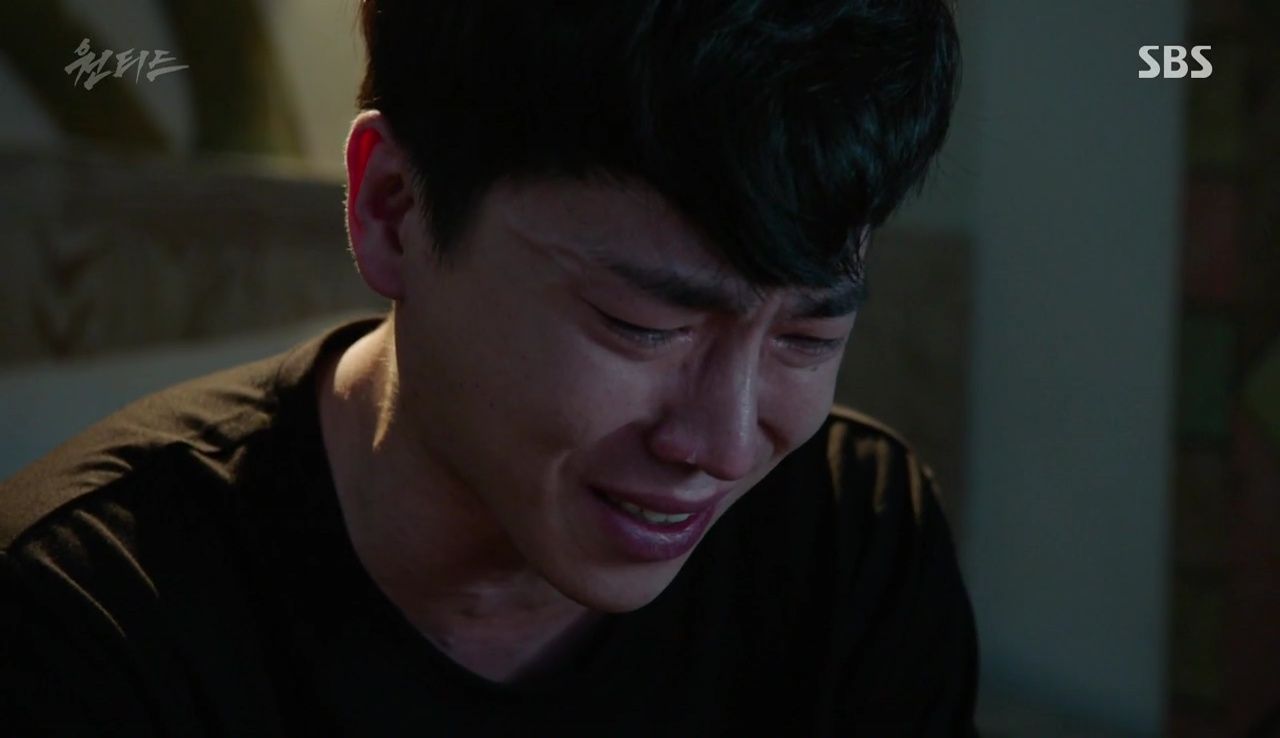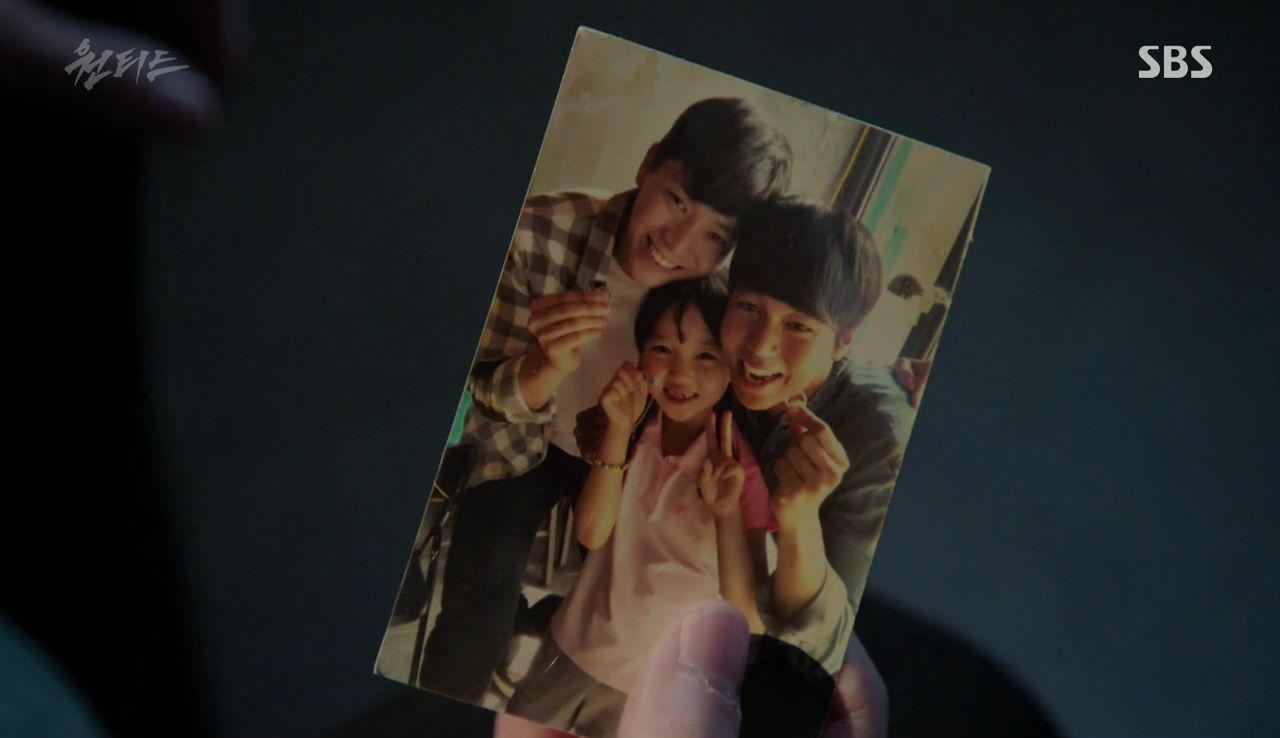 Jung-ho's chair in front of his TV is now empty. Na Soo-hyun watches the broadcast, sobbing and holding a picture of his siblings. Hye-in narrates, "In the beginning, the kidnapper seemed to punish criminals who committed crimes against children. Now, he has thrown a complicated question at us. Na Soo-hyun, Na Jae-hyun, Detective Kim, my late husband's accident, and me—what could be connecting these things together?"
Jung-ho suddenly strides onto the stage and asks for a mic. "As Hyun-woo's father and UCN's CEO, I have something to say to all of you," he declares. "Today will be the last day of Jung Hye-in's Wanted."

COMMENTS
Well, that certainly puts a wrench in things. Already in this hour we've seen cracks beginning to show in the broadcast team, as circumstances get more desperate and Dong-wook and Hye-in make increasingly questionable choices in their single-minded race to save Hyun-woo. It's hard to fault Hye-in for this, but it's also easy to understand where the other characters' discomfort comes from. The parasitic yet necessary voyeurism of the show was a given, and something the team accepted from the beginning. Yet with every new dead body a feeling of revulsion and wrongness seems to be overwhelming members of the team like Bo-yeon, and especially Writer Yeon.
Perhaps it's because, as much as they want to save Hyun-woo, they are the least emotionally invested out of the team, since the show is primarily a job for them. Hye-in's desperation is to be expected, but Dong-wook is equally driven, and I can't discount it as simply a desire to revive his dying career. Hye-in is the only person he speaks to with gentleness, and he continually emphasizes that the end goal is to find Hyun-woo by any means necessary. He is willing to bend or break the rules, even lie to the viewers if he needs to, in order to achieve this goal.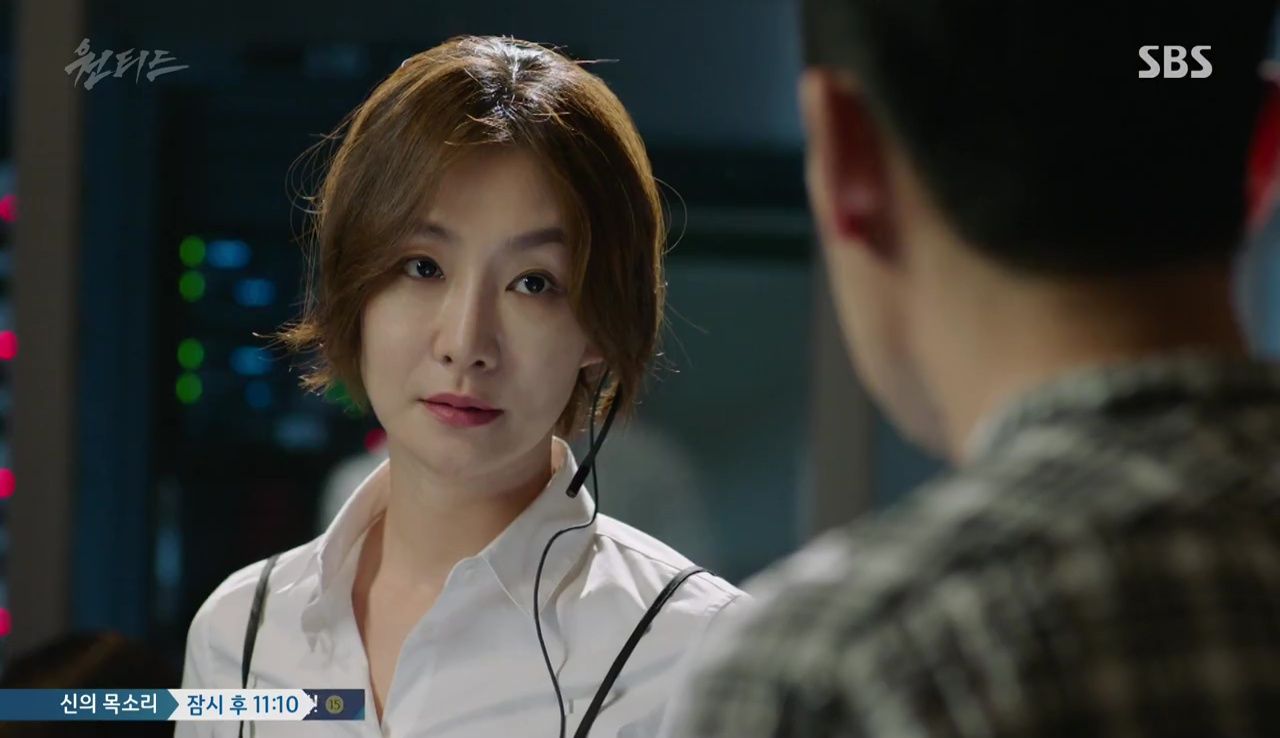 Bo-yeon and Writer Yeon can see more clearly the moral implications of constantly raising the bar of sensationalism and prurience in response to the killer's demands, and it's starting to scare them. Thus we have Bo-yeon's speech to Seung-in when she offers to hide information from her team, and Writer Yeon's bold mutiny against Dong-wook in this episode. It's a natural result of the tension that's been building since the first body was found, and from the conversation the two women had then about how far each is willing to go for this job.
Of course, at that time it was Writer Yeon telling Bo-yeon to be practical and do the work she signed up for. Now she is far more disturbed by the human cost to those whose lives have been swept up in this whirlwind. It's not so easy to be blasé once the storm has touched her personally. (The fact that she actually spoke up on behalf of Seung-in rather than herself surprised me, and it made me like her more.) If the Wanted team somehow overcomes Jung-ho's cancellation in the next episode, it will be interesting to see how their internal conflict plays out.
The most heartwrenching part of this hour, however, was of course Hye-in's fleeting reunion and loss of Hyun-woo. As she said in the day's live broadcast, she's lost her son twice to a murderous kidnapper, and the pain of that is just unimaginable. Juxtaposed against the grief of Na Soo-hyun as he watched his hyung's body be unearthed on live television, and the theme of lost family and hurt children that runs through this show, I can't help but see the parallels. Will Hye-in also take a darker path because of the loss and pain inflicted upon her family by the world? Will she rise above the kidnapper's evil deeds and prove herself the better woman by not betraying herself, whatever that means to her? Is there ever a price too high to pay for the sake of one's child? These are all questions I hope the show will attempt to address in the coming weeks.

RELATED POSTS
Tags: Episode 7, featured, Ji Hyun-woo, Kim Ah-joong, Uhm Tae-woong, Wanted