Wanted: Episode 13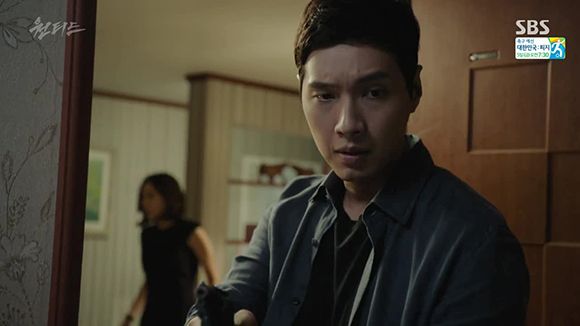 There's a whole lot of tragedy behind the kidnapper's motive, whose identity reveal hurts those who are closest to him. The revelation results in focused efforts to find the culprit, forcing Hye-in and Seung-in to race to recover Hyun-woo. As more facts emerge regarding the motive for the kidnapping, SG Group flexes its muscles to protect the company's interests. Seung-in finds himself separated from his colleagues, leaving them vulnerable against the forces of SG Group.

EPISODE 13 RECAP
Seung-in is in the Wanted meeting room when Hye-in runs in, gasping that Joon-gu must be the kidnapper. She explains that Joon-gu's wife was pregnant when she died eight years earlier from an unknown cause. Everything falls into place as Hye-in realizes that Joon-gu's background fits the kidnapper's methods.
Seung-in supports Hye-in's suspicion with the information that Lee Ji-eun made a call to the kidnapper moments before Joon-gu disappeared. Hye-in is inconsolable as she asks Seung-in why she didn't know when Joon-gu was so close to her. Crouching before Hye-in, Seung-in echoes an earlier promise, "I'm going to find Hyun-woo. I promised you, didn't I? I will find him."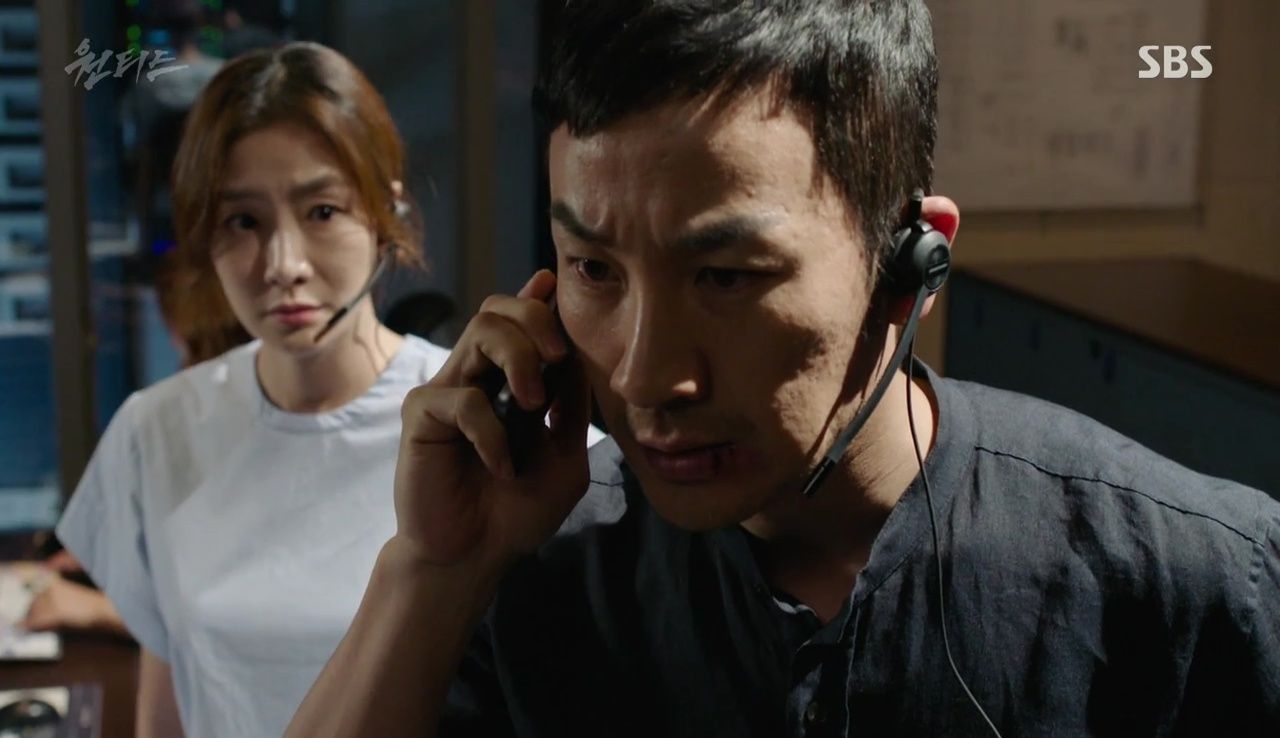 In the show's control room with Writer Yeon, Dong-wook prepares to search for Hye-in. He starts to call her, but another call comes through. Dong-wook asks if the caller is Joon-gu. After the call, Dong-wook instructs Writer Yeon to air highlights from the show, then runs off.
Dong-wook finds Seung-in and Hye-in and asks if they know that Joon-gu is the kidnapper. Hye-in wonders how he found out. Dong-wook tells them that Joon-gu just called: "He said to finish the rest of the show. He wants you to reveal that SG Group ordered people to kill Na Soo-hyun."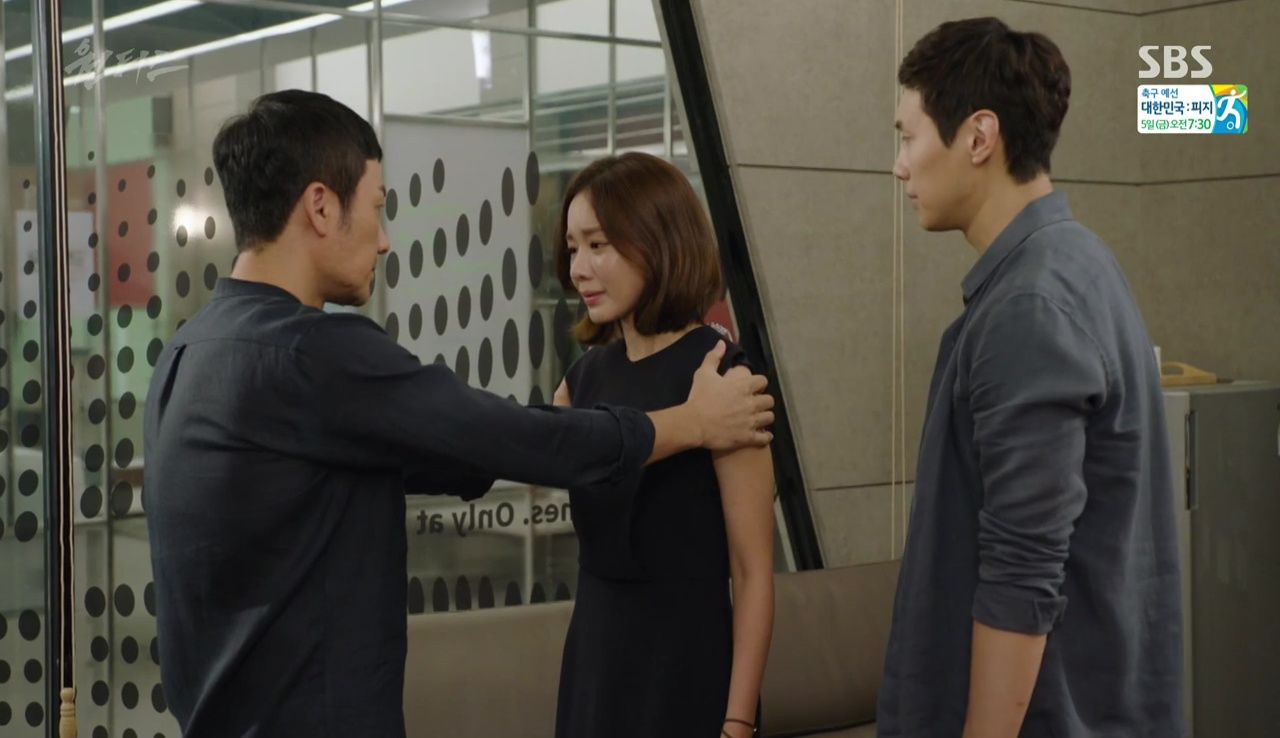 Hye-in refuses to continue with the broadcast. Turning to Seung-in, she begs him to help her search for Hyun-woo. Firmly, Dong-wook tells Hye-in that she must continue with the episode because Joon-gu will be watching. Seung-in agrees, pointing out that the show must continue in order to protect Hyun-woo. With a heavy heart, Hye-in returns to the set.
A car weaves through the nighttime traffic, the driver honking at the cars on the road. Joon-gu drives as tears flood his dazed face. Ji-eun's phone call replays in his mind, informing him that Na Soo-hyun was killed by SG Group. Unable to see, Joon-gu pulls over, overwhelmed by his sobs.
Joon-gu recalls waiting with Jo Nam-cheol at UCN for his special broadcast. Jo Nam-cheol seemed to recognize Joon-gu, and then remembered that he was parked on the street the night Detective Kim Sang-shik was killed. Realizing that the kidnapper knew of his connection to Detective Kim's death, Jo Nam-cheol guessed that Joon-gu kidnapped Hye-in's son.
Armed with this information, Jo Nam-cheol forced Joon-gu to the bathrooms, where he took his phone into a stall to make a call. Joon-gu used the opportunity to text Na Soo-hyun from his burner phone: "Jo Nam-cheol is here… at UCN. My connection to Detective Kim Sang-shik has been found out. I think we need to get him out of here." Na Soo-hyun's answer was that they would have to get rid of Jo Nam-cheol.
After returning to the dressing room, Jo Nam-cheol looked pleased at the turn of events. Na Soo-hyun then entered the room pretending he worked for the network, and used the opportunity to stab Jo Nam-cheol.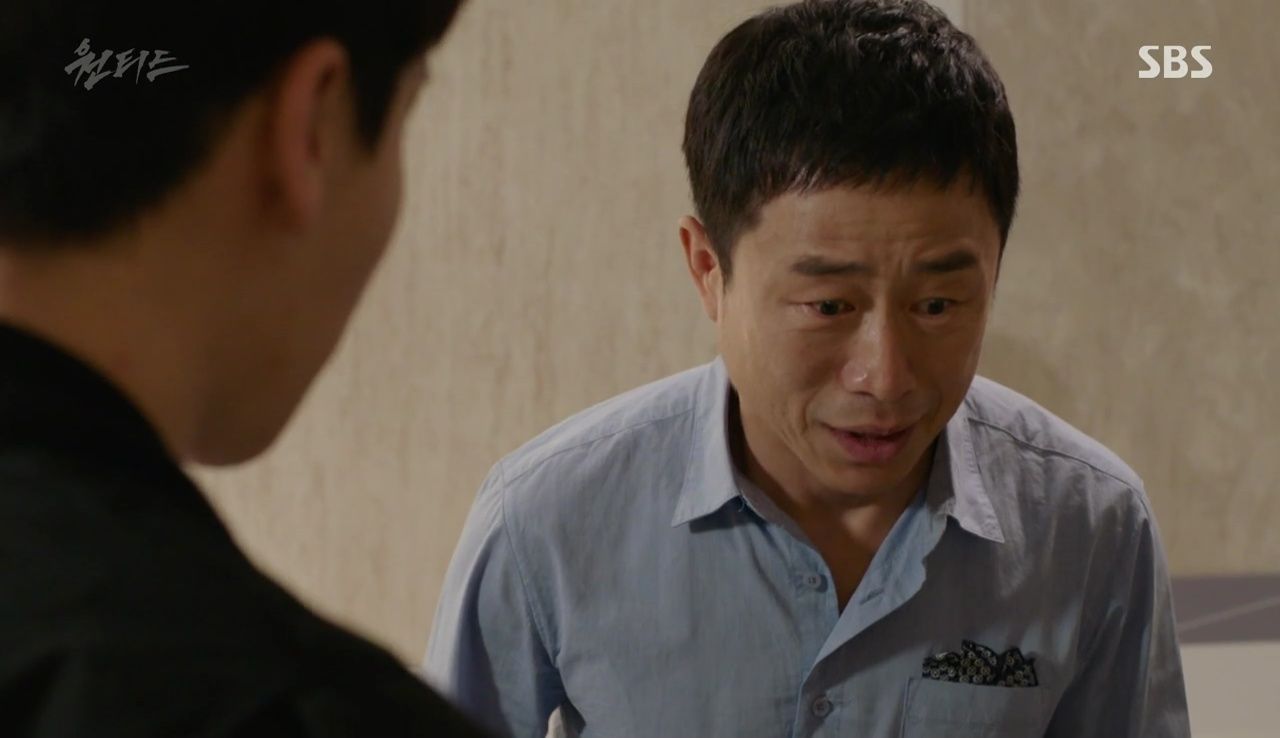 With Jo Nam-cheol dead, Na Soo-hyun became concerned about Joon-gu: "You can't get caught yet. I'll be seen on the CCTV and the assistant director [Bo-yeon] will recognize me. I want you to confirm that it was me." Joon-gu urged Na Soo-hyun to leave before being caught, and asked him to stay in touch. Instead, Na Soo-hyun choked Joon-gu into unconsciousness to prevent his identity as the kidnapper from becoming known.
In the present, Joon-gu sits in his car as he continues to weep for Na Soo-hyun, sorry that he involved him in his plan. Suddenly, he stops crying and drives off.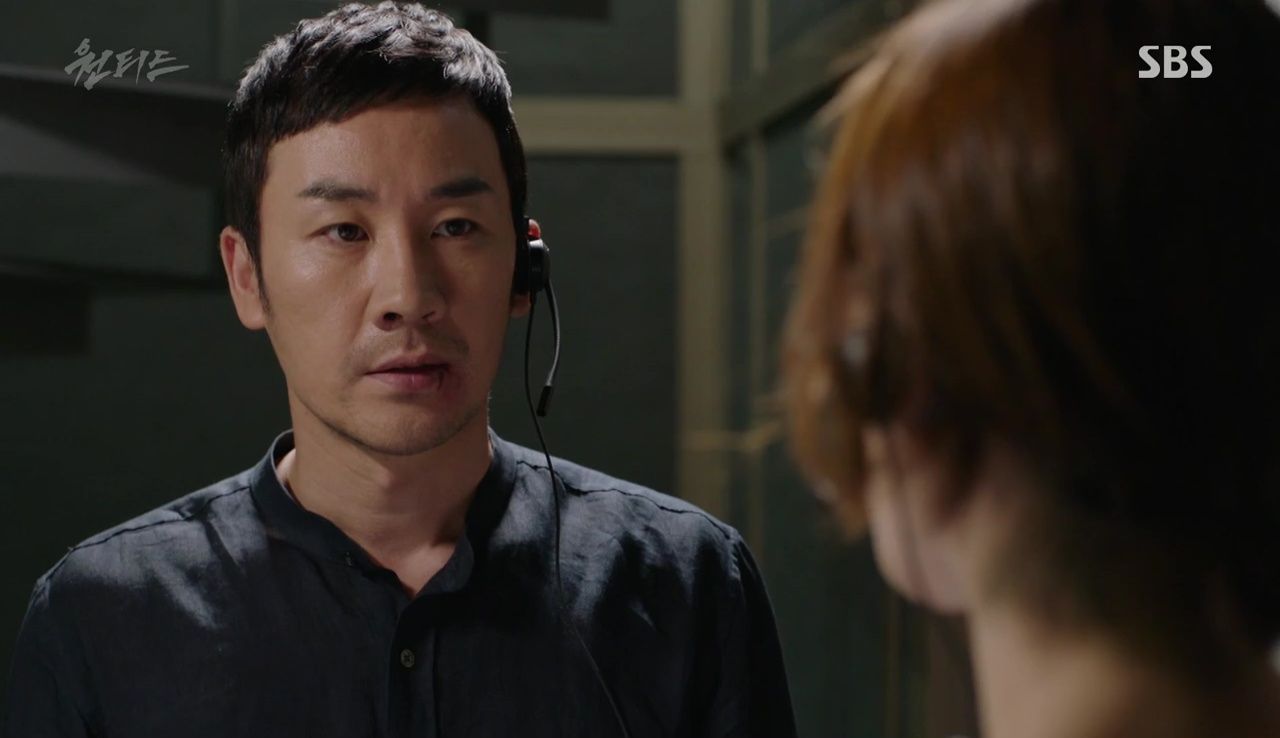 At UCN, Dong-wook tells Writer Yeon that Joon-gu is the kidnapper. Struggling to comprehend the news, Writer Yeon listens as Dong-wook briefs her about the death of Joon-gu's wife. Writer Yeon expresses concern for Hyun-woo, but Dong-wook is convinced that Joon-gu won't harm the boy.
Hye-in returns to the airwaves, announcing that they have just heard from the kidnapper. She shares his request to reveal one thing on the show: that his accomplice, Na Soo-hyun, was stabbed and killed under the presumed orders of SG Group. As Ham Tae-seok watches the show, he takes a call from the man who killed Na Soo-hyun. He informs his boss that Joon-gu has disappeared, and that the police are looking for him.
Still on-air, Hye-in continues to update the viewers on the case, beginning with the facts of Na Young-hyun's death from acute interstitial pneumonia in 2009. Professor Kim Woo-jin, the target of the first mission, conducted research before then that was linked to the girl's death. Dr. Ha Dong-min, Na Young-hyun's doctor, knew the true cause of the girl's illness but hid the truth. Hye-in reveals that both men received support from SG Group after Na Young-hyun's death.
Hye-in adds that there is one important question left to be answered: Why did her late husband, Ham Tae-young, then the SG Chemical Vice President, meet with Na Jae-hyun? She theorizes that Na Jae-hyun found evidence for the cause of his sister's death. Because Ham Tae-young was Vice President of SG Chemical, a branch of SG Group, the cause must be linked to a product made by the company.
Still watching the program in his office at SG Group, Ham Tae-seok makes a call and demands that Hyun-woo and Ji-eun be found immediately.
Hye-in shares her belief that Ham Tae-young wanted SG Group to take responsibility for their product. Because the company wanted to cover-up the truth, Na Jae-hyun and Ham Tae-young were killed to keep the secret. As the show concludes, Hye-in addresses Hyun-woo, begging him to return to her. She then speaks directly to the kidnapper and promises to continue investigating until the truth is revealed.
Joon-gu watches Hye-in plead for Hyun-woo's return, but turns off the television. The police are on the scene at an apartment building when Detective Park and Dong-joon drive up. As they run inside, we see Joon-gu speak to his mother-in-law somewhere that isn't being beseiged by police. His mother-in-law wonders what's going on, since he was never to come to her home, and Joon-gu admits that his plan hasn't worked out. This is his last resort.
Joon-gu's mother-in-law asks him to stop, saying he has done enough. She regrets helping him and is worried for Hyun-woo, emphasizing that he did nothing wrong. Joon-gu reacts by demanding to know, "Then what did my Sun-young do wrong? And what about my baby who didn't even get to open its eyes? What about Soo-hyun and his siblings who all died at their hands?"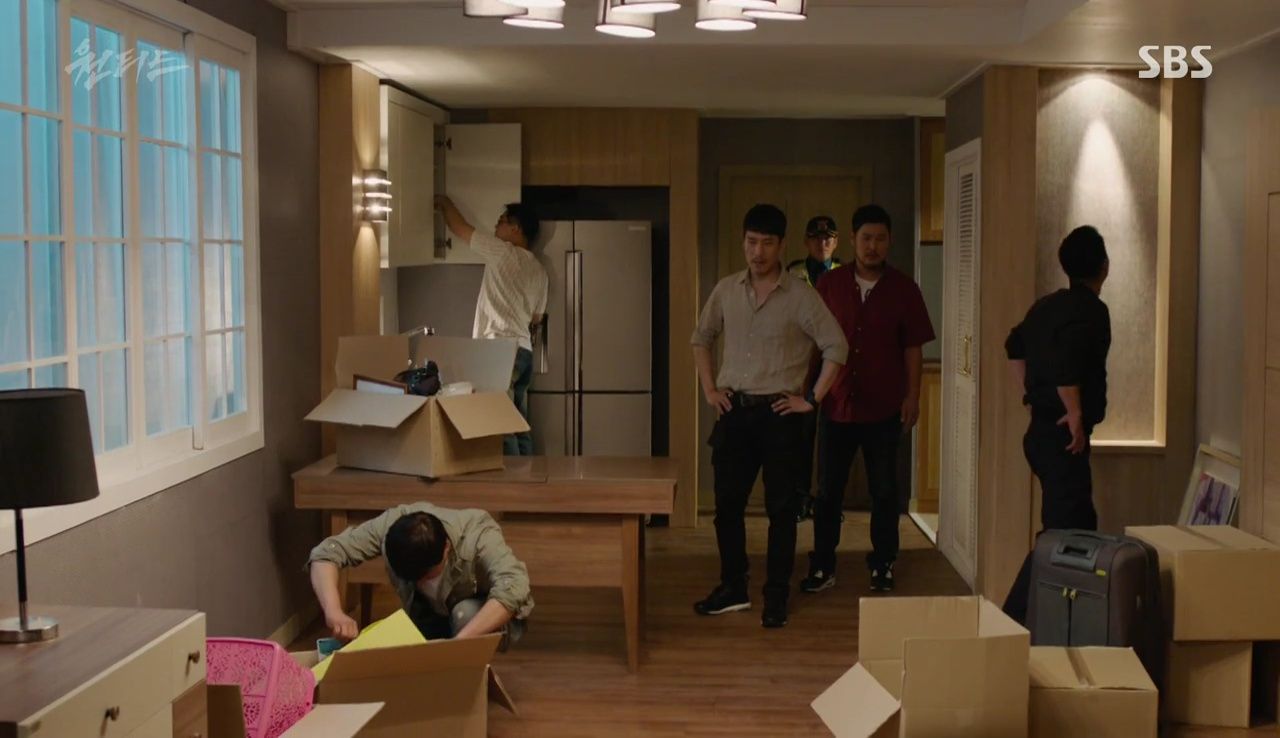 Detective Park and Dong-joon enter what looks like an unoccupied apartment already filled with other officers. Over at UCN, Young-gwan wonders where Joon-gu might be. Seung-in thinks he must be moving Hyun-woo and suggests they find him before that happens.
Hye-in tells Seung-in that she's been thinking about the older woman whose voice was heard in the video of Hyun-woo. Knowing that Joon-gu's mother is dead, they figure out the woman must be his mother-in-law.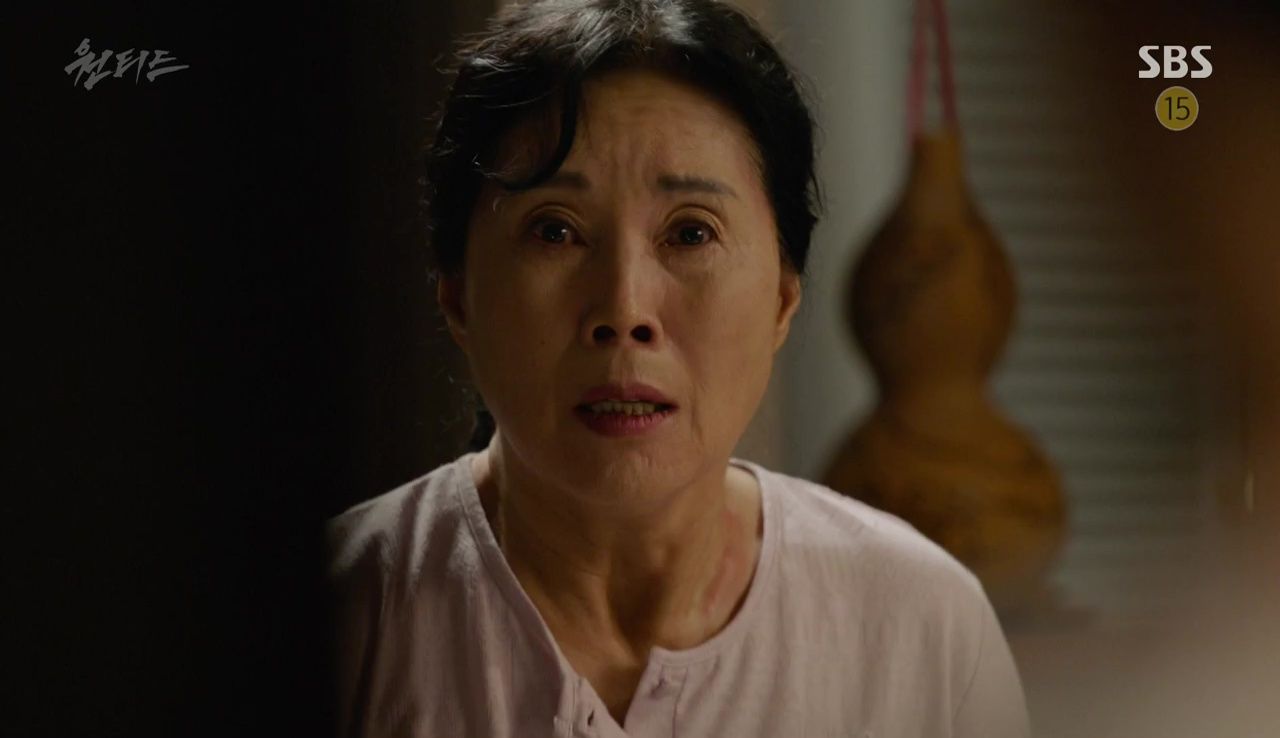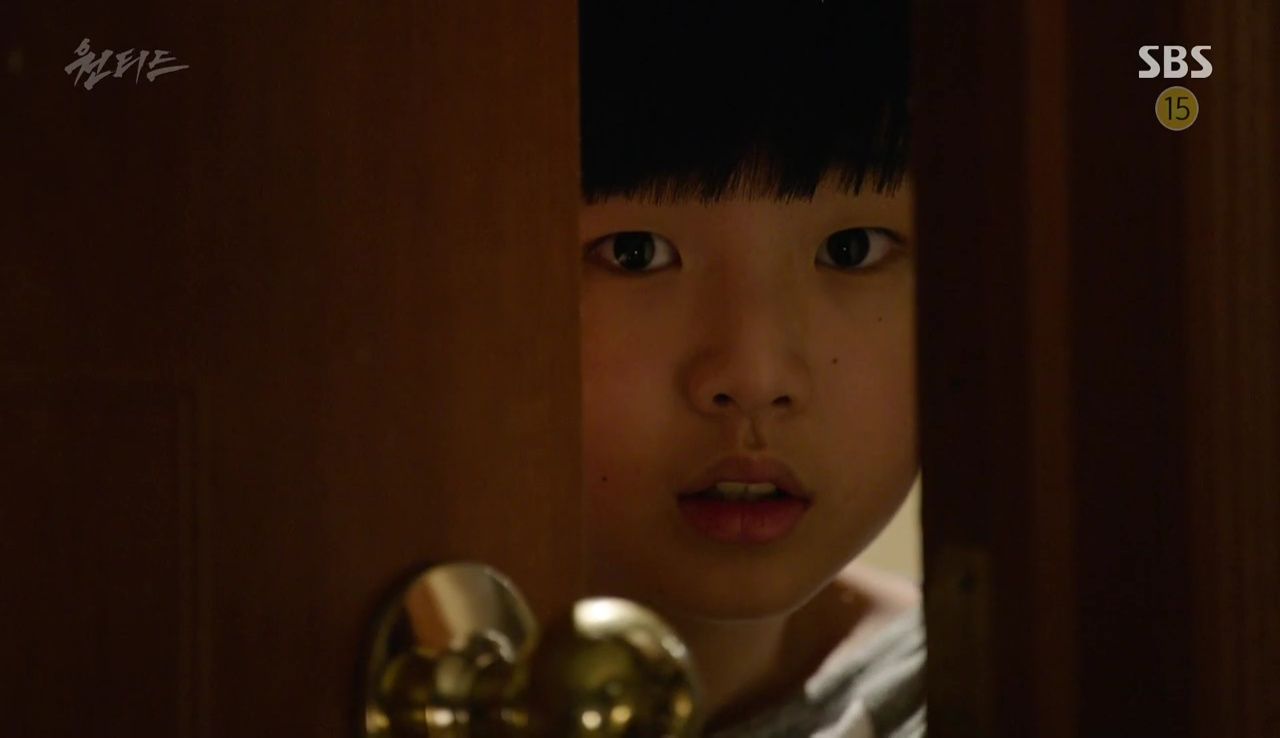 Joon-gu tells his mother-in-law that everything will end the next day, because once SG Group comes after them, they will all die. Joon-gu's mother-in-law looks up in horror to see Hyun-woo peeking out of his room, having heard everything Joon-gu just said.
Acting Police Commissioner Sung meets with Ham Tae-seok at SG Group, promising to catch Joon-gu. Ham Tae-seok wants Commissioner Sung to deal with Seung-in, a detective who doesn't follow orders, and suggests that he should be cut off.
Catching Hyun-woo eavesdropping, Joon-gu yells that he was ordered not to leave his room. Young-gwan drives Seung-in and Hye-in to the mother-in-law's apartment, trying to reassure Hye-in that Joon-gu doesn't seem the type to harm a child. Crying, Hye-in points out Joon-gu is already guilty of kidnapping to get what he wanted.
Back at the apartment, Joon-gu and his mother-in-law prepare to move a blindfolded Hyun-woo. Impatient, Joon-gu throws the boy over his shoulder as they walk out. Seung-in, Young-gwan, and Hye-in arrive at the apartment, but find it empty. Knowing they just missed finding Hyun-woo, Hye-in looks around in disbelief and sees her son's clothes hanging on a clothesline.
As Joon-gu drives away, his mother-in-law sits in the back seat with a sleeping Hyun-woo, stroking his hand. At the apartment, Hye-in takes Hyun-woo's clothes down from the clothesline. Crying into them, she is overcome by their failure to rescue her son. Seung-in joins her on the balcony and notices a bag that was left behind. He opens it to find it filled with video tapes.
Two officials from Internal Affairs march into the station and ask Captain Jung for Seung-in. When they hear he is working on a case, they tell Captain Jung that Seung-in must return right away. Captain Jung calls him, but one of the officials takes the phone to speak to Seung-in directly.
As Seung-in speaks with Internal Affairs over at the apartment, Hye-in looks through the bag of video tapes. Seung-in informs Hye-in that he has to return to the police station.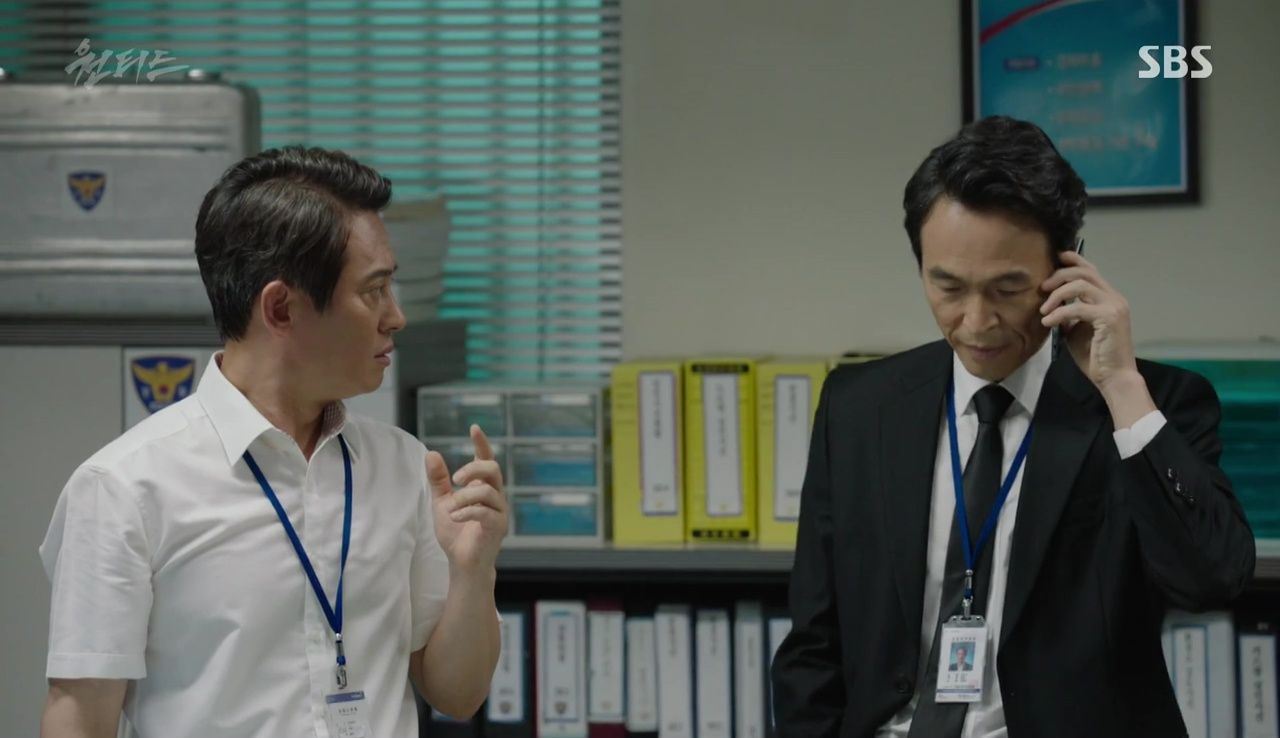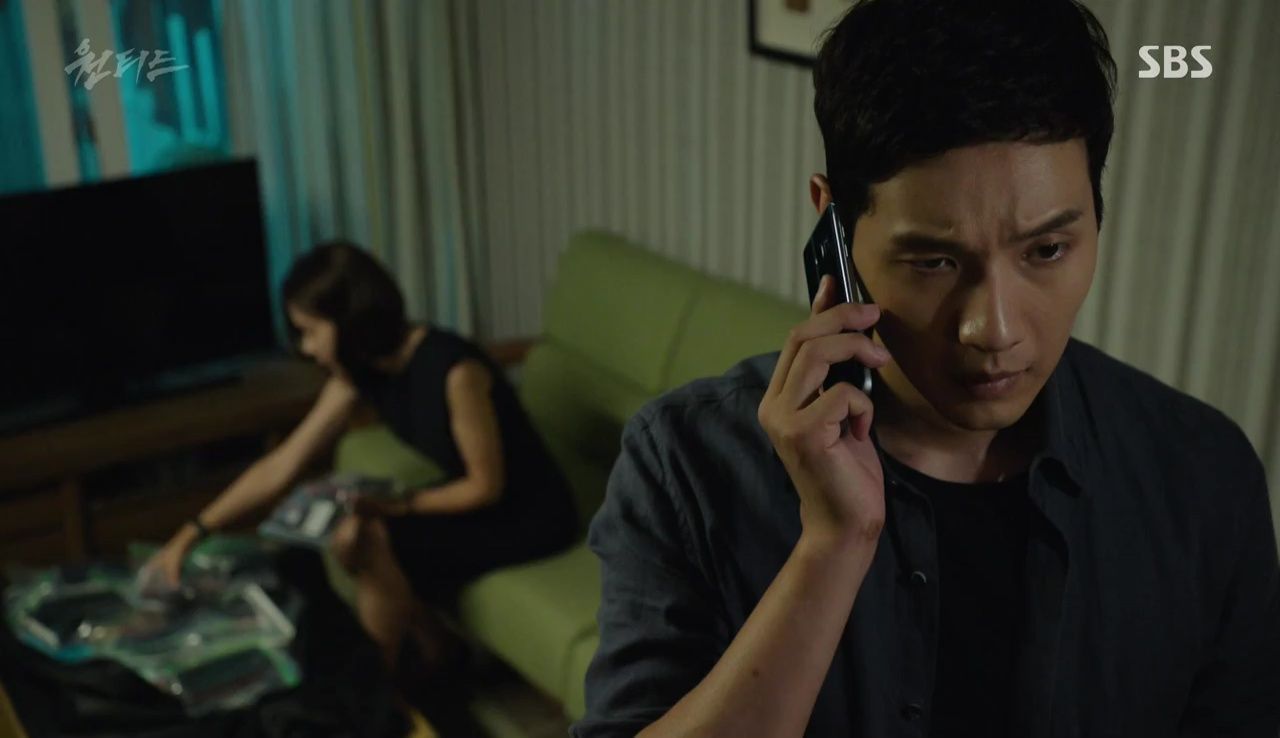 Hye-in thinks SG Group is getting involved in the police investigation. Seung-in notes that if SG Group interferes like they did with Na Jae-hyun's case, she won't be able to use the tapes to find Hyun-woo. Hye-in decides to take the tapes to the production team instead.
Before Seung-in returns to the station, Young-gwan observes that the man who killed Na Soo-hyun is being released while Seung-in is being called in for questioning. Realizing that SG Group is attempting another cover-up, Young-gwan promises to find a way to continue the investigation.
Hye-in receives a call as Young-gwan drives to the station. After the call, she asks Young-gwan to take her to SG Life instead. Young-gwan voices concern for her safety, but she insists that she needs to find out what SG Group has planned, especially after the last show. Hye-in is sure she will be safe, because SG Group could have already hurt her if they wanted to.
But when she goes to Ham Tae-seok, he claims there has been a big misunderstanding. He attributes Lawyer Choi Pil-gyu's behavior to extreme loyalty. Ham Tae-seok expresses shock over Hye-in's comments about SG Group on the show. He wonders how the show can continue with Joon-gu missing, and then asks if Joon-gu is the kidnapper.
Hye-in assures Ham Tae-seok that the show will continue, because Hyun-woo has not yet been recovered. Ham Tae-seok informs Hye-in that SG Group is using all its resources to find Hyun-woo and that Wanted will now be a joint project between her and the company. The successful recovery of Hyun-woo will justify his acquisition of UCN.
Hye-in promises her gratitude if SG Group finds Hyun-woo. Ham Tae-seok asks Hye-in to correct her story about SG Group with the next episode. Hye-in is noncommittal as she stands to leave. Ham Tae-seok reminds her that when Hyun-woo is found, he will be returned to SG Group's family.
Internal Affairs questions Seung-in regarding the disappearance of Lee Ji-eun, wanting to know if he planned it, or found out about it later. Seung-in remains silent, and the interrogators guess that he is wondering, "'Ah, how did they find out?' You know that man you caught at Go Hyung-joon's office? He says he witnessed you near Na Soo-hyun as he was dying. That's a bit strange. Why were you there? He even saw Lee Ji-eun and Jung Hye-in run away in your car."
Seung-in finally breaks his silence to ask his interrogators if they have a warrant. The Internal Affairs investigators respond by encouraging Seung-in to cooperate with them instead of being difficult.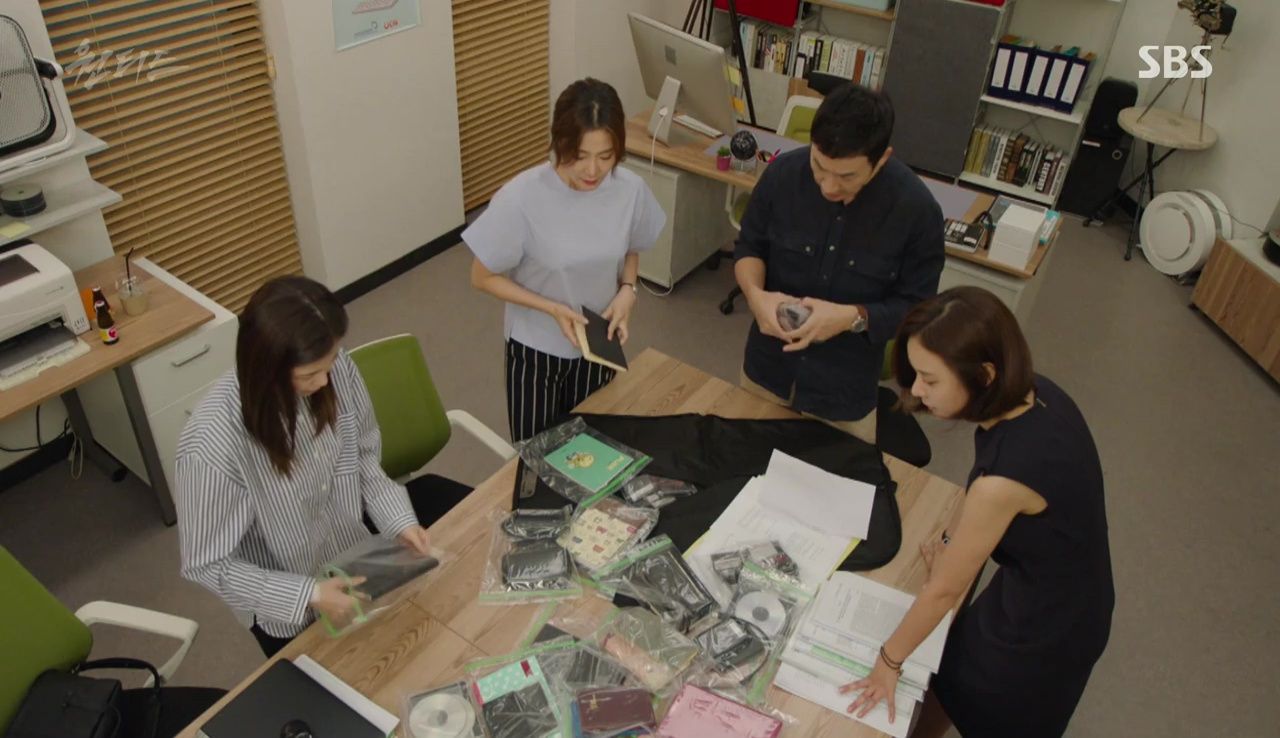 Hye-in returns to UCN with the video tapes that were found in the apartment. The team notes that Joon-gu prepared for a long time, ready to produce a show that was probably blocked due to outside pressure. The tapes are labeled with the names of Professor Kim Woo-jin, Dr. Ha Dong-min, Im Hyung-soon, Jo Nam-cheol, Go Hyung-joon, Police Commissioner Lee Tae-kyun, and Lawyer Choi Pil-gyu.
Hye-in realizes that Joon-gu began to track the movements of the men in 2009. He even hired a private investigator to follow them. Dong-wook urges the team to go through the tapes quickly to figure out what was planned for the final mission. Writer Yeon worries about the nature of the final mission, but Hye-in is adamant they complete the mission no matter what, because Hyun-woo is in danger.
In a UCN dressing room, Reporter Jang is joined by the Wanted employee who has been feeding him information. He tells Reporter Jang that the kidnapper is on the production team. The two compare notes, and Reporter Jang guesses that the kidnapper is Joon-gu.
The Wanted employee wonders how Reporter Jang found out, and he admits he did his own investigating. In flashback, we see he met with Joon-gu's mother-in-law to ask her about Joon-gu. She asked him not to contact her again and left without answering his questions.
The Wanted employee asks Reporter Jang for his compensation and protests when he starts to leave. The reporter promises to see his informant the next day, but the man thinks the show won't continue now that the kidnapper's identity is known. Reporter Jang points out that Hyun-woo hasn't been found, and the kidnapper's planned ending has yet to be revealed.
Needing to answer a call, Reporter Jang excuses himself. It's Joon-gu, and he promises an exclusive interview if the reporter does him a favor. Reporter Jang asks what the favor is, but we don't hear the answer.
Young-gwan and Captain Jung stand outside of Seung-in's interrogation room, where the captain notes that at least they know where Seung-in is. Young-gwan wonders if the men are really from Internal Affairs, and the Captain assures him they are—but they work for SG Group, not the police.
Captain Jung asks about Mi-ok's whereabouts, but Young-gwan doesn't have any information. Captain Jung informs him that Internal Affairs won't just go after Seung-in, but Young-gwan really claims to know nothing.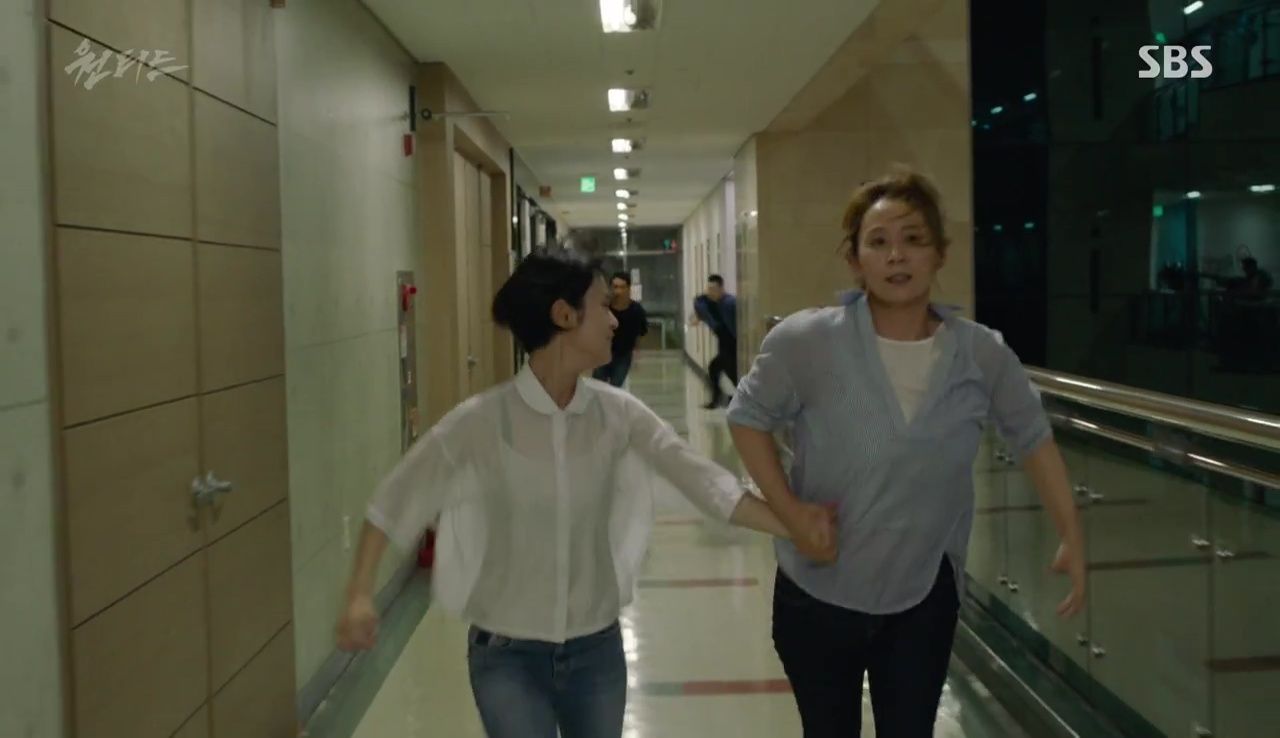 As it happens, Mi-ok and Ji-eun are being chased by Ham Tae-seok's goons. Young-gwan texts Mi-ok to ask where she is and to let her know that Seung-in is being held by Internal Affairs. Trapped, Mi-ok texts her location and lets Young-gwan know someone is chasing them.
Mi-ok attempts to escape, but runs into the man who killed Na Soo-hyun. Mi-ok lands some kicks and gets away, but finds herself surrounded by the other men. Young-gwan pulls up to the building and runs in, hearing a woman's scream upstairs.
Mi-ok has been tied up and taken to the alley. The man responsible tells her that she should have learned from Detective Kim Sang-shik and not gotten involved. Her head covered, Ji-eun gets dragged through the parking garage by the other men to their car. Young-gwan finds them and draws his gun, ordering the men to free Ji-eun.
The man who just left Mi-ok comes up from behind and knocks Young-gwan down. He then drives off with Ji-eun, while his three companions fight with an outnumbered Young-gwan. In the alley, Mi-ok uses a piece of broken glass to free herself. We then see a badly beaten Young-gwan, who is told to tell Seung-in that this happened because of him. Once she's free, Mi-ok finds Young-gwan unconscious.
In her dressing room, Hye-in tries to reach Joon-gu without success before calling Captain Jung to ask about Seung-in. Dong-wook, Writer Yeon, and Bo-yeon watch more videos of Lee Ji-eun's father, who explains his conflict as he saw the victims of SG Group's product: young children the same age as his daughter. Writer Yeon thinks of her own daughter and is overcome by fear, admitting she uses that product in her own home. Bo-yeon realizes how widespread the use of the product must be.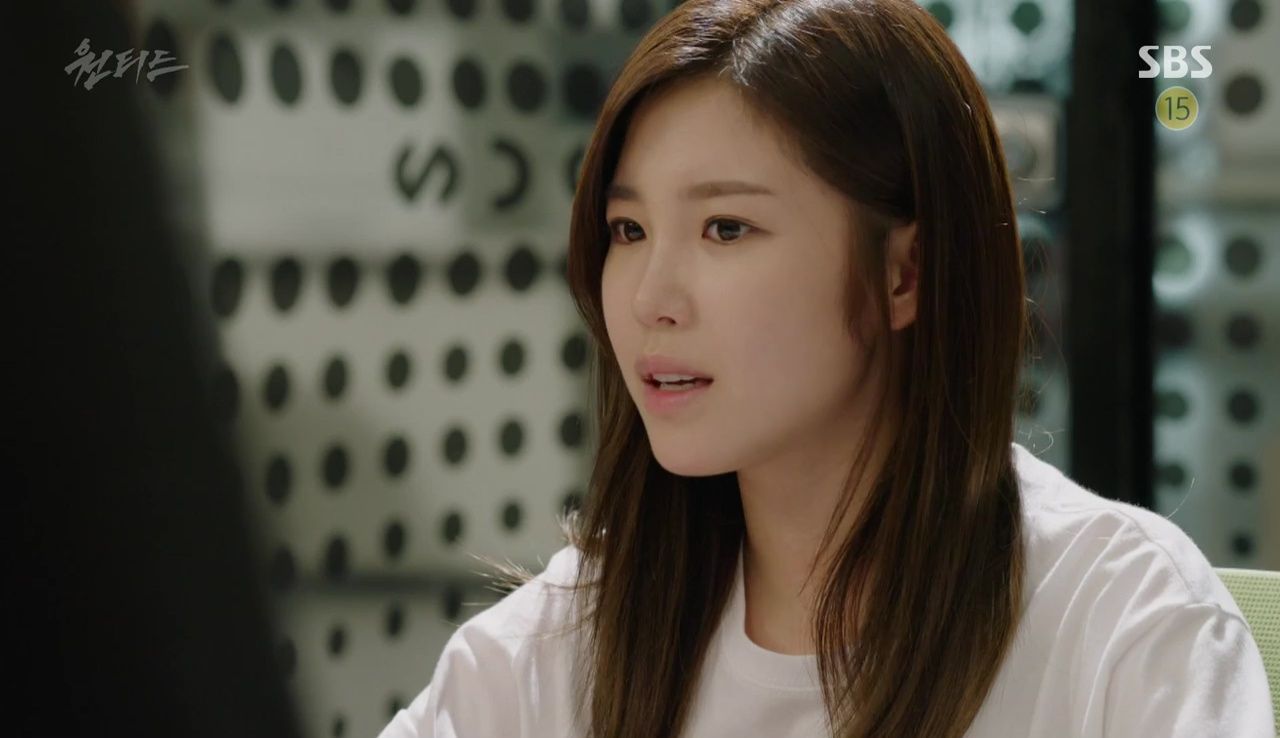 Hye-in walks in and asks what the team has discovered. Bo-yeon thinks the high ratings condition for the show was intended to spread the news about the product. Dong-wook disagrees, thinking that there was an element of revenge, since everyone involved in the cover-up died. That leads Hye-in to believe that Joon-gu may plan to kill Ham Tae-seok, who is the SG representative responsible for everything. Just then, someone taps on their door.
Ji-eun sits in a utility room with a black sack over her head. Someone walks in and stands before her, and we see that it is Ham Tae-seok.
A woman on oxygen walks into the UCN production room and raggedly asks if this is the office for Wanted. She tells the team she was shocked by what she saw on the show, and wants to know if the SG product was their air humidifier.
Dong-wook wonders how she knew, and she answers that her daughter died of the same illness that killed Na Young-hyun. The mother said she didn't know the reason at first, but a director visited her and told her other people were suffering like her and her daughter, all because of the humidifier.
The mother came to the network, thinking that director might be involved. Dong-wook asks for the director's name, and the mother offers Choi Joon-gu's business card. The mother was scared and refused to be interviewed, even though Joon-gu asked her many times. Joon-gu even shared his own story, and we finally learn what happened to his wife.
In flashback, Joon-gu prepares to leave for work as his wife, Sun-young, busies herself in their future baby's nursery. Wondering why his wife keeps coughing, Joon-gu suggests going to the hospital, but Sun-young says it's just a cold. There is a humidifier in the nursery, so Joon-gu turns it up. Noting her poor appetite, Joon-gu is worried, but his wife sends him off to work. With a happy smile, Joon-gu tells his baby that dad will be home soon, and he shuts the nursery door on his way out.
His wife calls him suddenly, crying that she can't breathe. Joon-gu runs back inside to find his wife in terrible distress. In the present, the woman finishes Joon-gu's story by saying that a week later, he lost both his wife and baby, unaware it was due to the humidifier.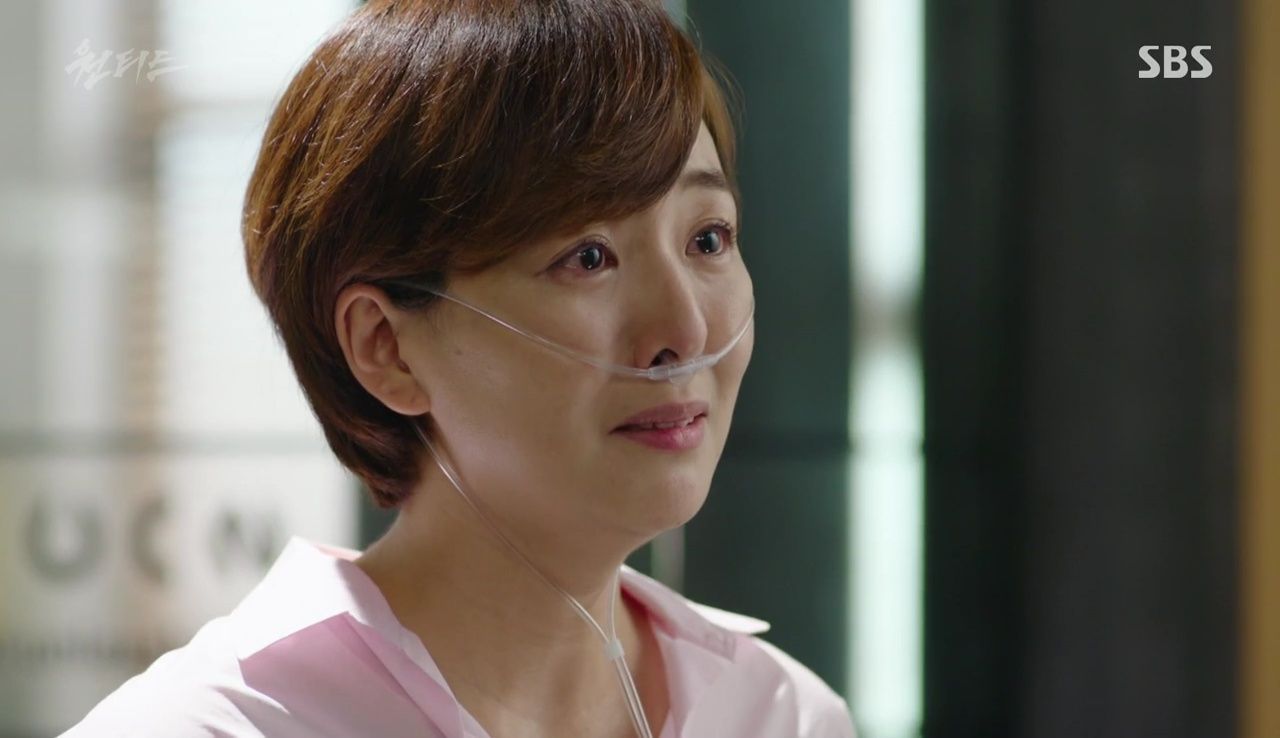 Hye-in walks the woman out of the meeting room. The woman wonders whether Hyun-woo wouldn't have been kidnapped, and whether the people linked to the cover-up might not have died if she had only agreed to help Joon-gu when he first approached her.
Back in the interrogation room, Seung-in wonders what more the officers from Internal Affairs want to know. Instead, he's told that he's now suspected of kidnapping Hyun-woo, which requires a review of his past seven years.
The Internal Affairs officers then get a text and announce an end to Seung-in's questioning for the day. They tell Seung-in to get to the hospital quickly, claiming that Young-gwan got hurt trying to stop four burglars by himself.
Seung-in walks into the hospital looking for Young-gwan. A nurse takes him to his partner's bed and pulls back the curtain, revealing the injured detective. Seung-in gets a hard look in his eyes as he takes in Young-gwan's injuries, which includes a broken arm. Young-gwan opens his eyes and, seeing Seung-in, asks him to save Ji-eun.
Mi-ok joins them and tells Seung-in that Ji-eun was taken. Seung-in sees her injuries and knows how hard they both fought to protect Ji-eun while he was detained. With a determined look, Seung-in walks away.
Hye-in receives a phone call from Joon-gu, and immediately demands that he tell her where Hyun-woo is.
Meanwhile, Dong-wook walks into his apartment and wearily sits on the edge of his bed. He senses someone else in the room and looks up to find none other than Joon-gu sitting on his couch.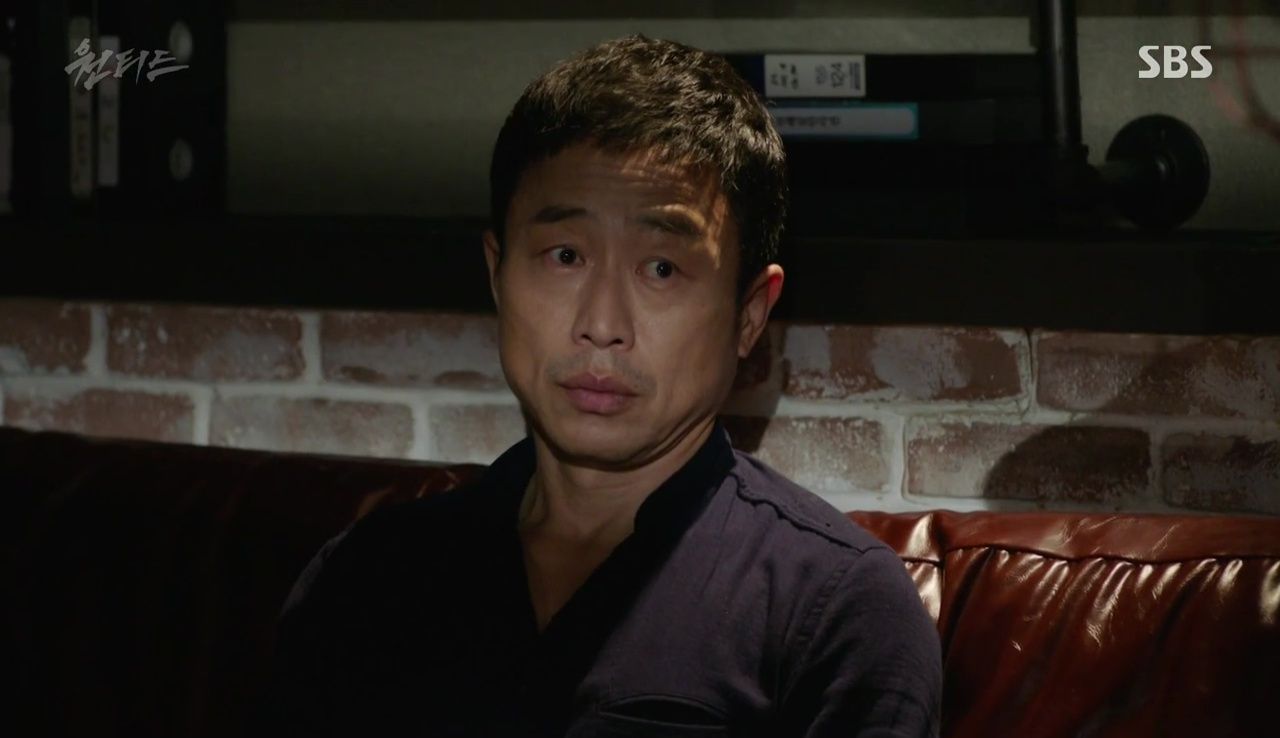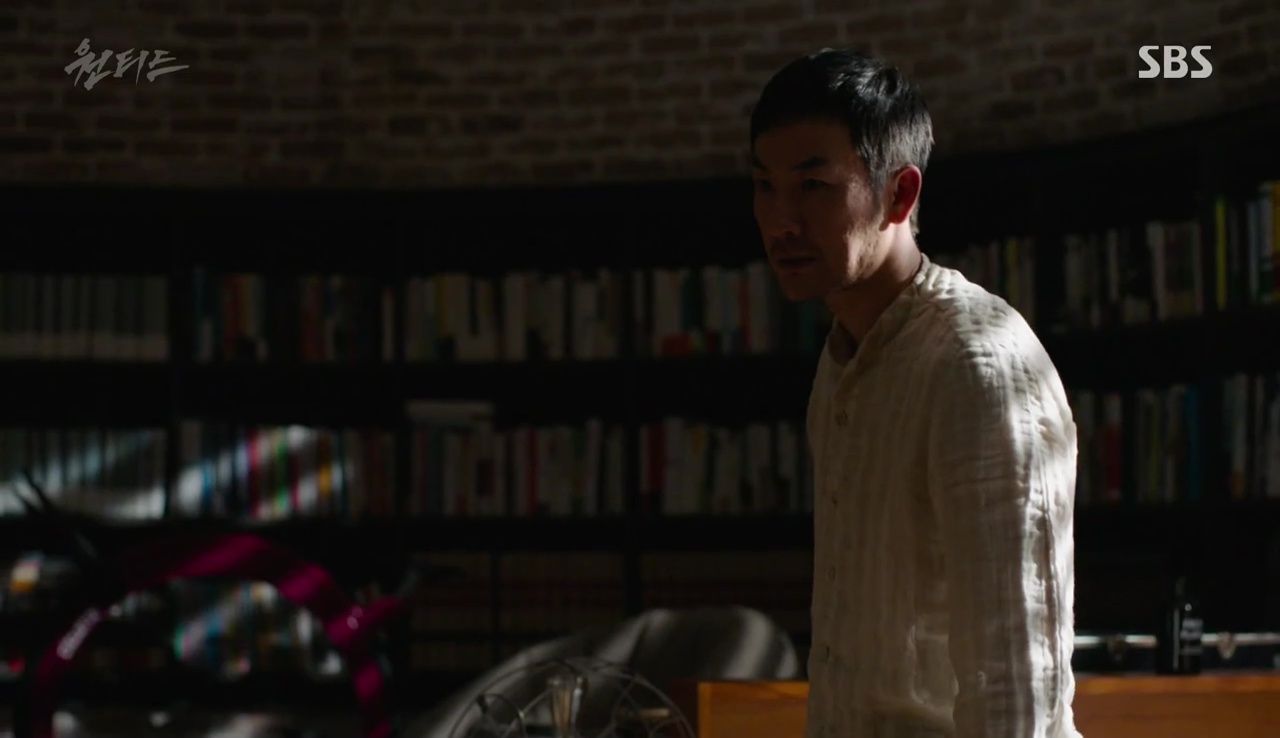 COMMENTS
Now that Joon-gu's identity as the kidnapper has been cemented, more people are becoming aware of that fact, and the search is on to find both him and Hyun-woo. In particular, the ultimate target of Joon-gu's missions, SG Group, has a keen interest in finding him to prevent any further damage to the company. The use of corrupt officials to do their dirty work only affirms the means Joon-gu used to expose the company's tainted product. Joon-gu was uniquely qualified to expose the corruption that allowed SG Group to sell a dangerous product that ultimately took the life of his wife and unborn child. Trying to insure that they didn't die in vain, Joon-gu single-mindedly pursued the truth to prevent others from suffering a similar fate. His need to make some sense of his loss has ultimately driven him to the brink of madness.
The tragic circumstances surrounding Joon-gu's motive are mirrored in the lives of the accomplices who have helped him. The loss of loved ones cut down in their youth can be an especially difficult grief to bear. Joon-gu lost his wife and baby to a dangerous product that was innocently brought into the sanctity of his home. Ji-eun lost her father, who was burdened by his knowledge and driven to suicide in his complete powerlessness against SG Group. Na Soo-hyun lost his sister to the tainted product, and then his brother to the cover-up. They were all joined by a desire to make sense of their loved ones' senseless deaths.
The contrast between the caring, happy Joon-gu of the past with the haunted man of the present was extremely effective. It really sold the reality as to how drastically life can change. Joon-gu's obsession, and the choices he has made since he lost his family, make the man he has become so pitiable. He has become hard and uncaring, focused only on bringing down the giant of SG Group no matter the cost. Joon-gu's mental state makes Hyun-woo's safety a real concern. Joon-gu's mother-in-law is probably the boy's best chance of staying alive, since she seems to be genuinely concerned for him.
That kind of maternal love has been Hye-in's story all along. She has suffered her own losses and disappointments, but her love for Hyun-woo has given her life purpose. Learning that Joon-gu was the kidnapper who took her son made her blind with rage. Now that she is learning the truth about his personal tragedy, her fear of losing her son must be even more acute. How can someone live happily if everyone they live for is gone? Joon-gu couldn't manage to do so, and neither could Ji-eun or Na Soo-hyun. Not only does Hye-in have to contend with an increasingly unhinged Joon-gu, but now SG Group is determined to recover Hyun-woo and raise him within the ruthless SG Group family. Having Seung-in sidelined by Internal Affairs has only made her recovery of Hyun-woo harder, which is exactly what her brother-in-law wants. Her only hope may be for Joon-gu to complete his life's work and bring SG Group down.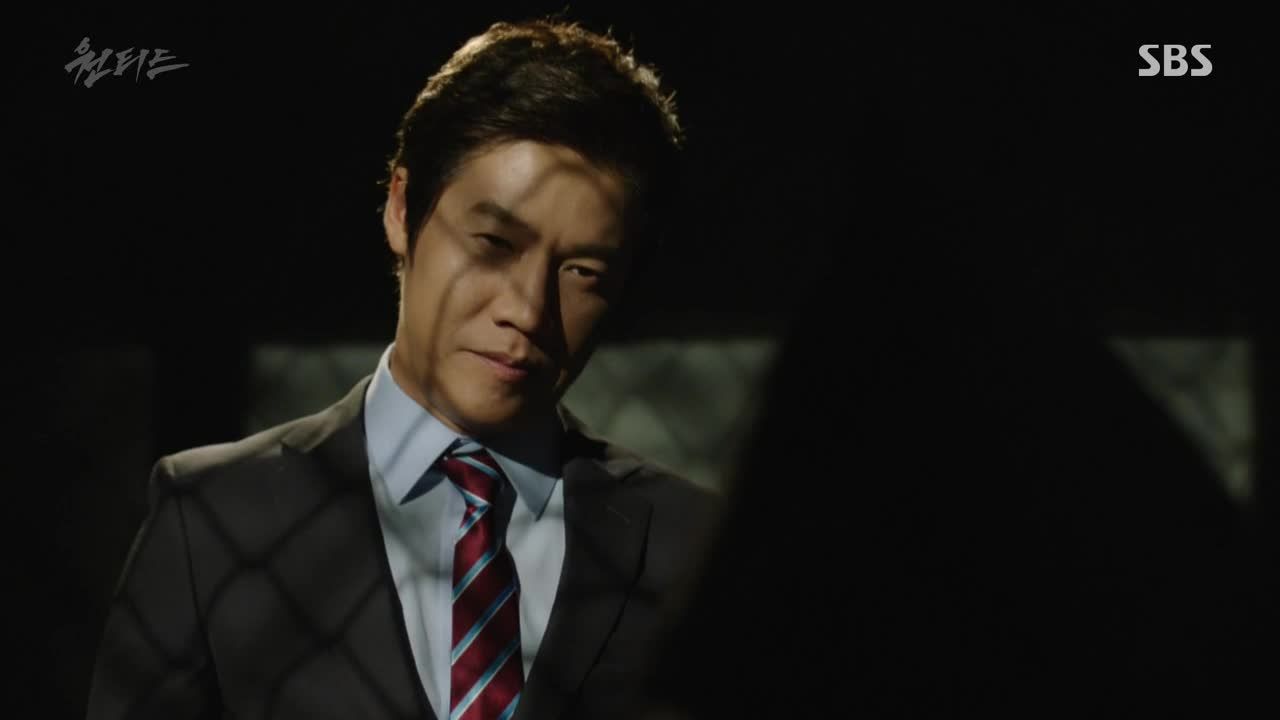 RELATED POSTS
Tags: Episode 13, featured, Ji Hyun-woo, Kim Ah-joong, Uhm Tae-woong, Wanted