Cinderella and the Four Knights: Episode 13
Trying to keep your hands off someone you love is even harder when the feelings have to remain hidden, and especially when the relationship is forbidden (see: Romeo and Juliet). It's also tricky when a confession comes too late and drives two people further apart than when they started. Are rules meant to be broken in the name of love? Or is that a risk better left untaken?

EPISODE 13 RECAP
Right before the romantic kiss in the middle of a verdant field, Ji-woon tells Ha-won to stay put so he can take initiative this time. He strides toward her before pulling her in for a kiss. As if we needed further confirmation that this was an epic moment, the camera swirls around them, capturing the impossibly beautiful setting, complete with wind turbines and lush greenery.
On the ride back, the new lovebirds hold hands in the car, unable to contain their smiles. Ha-won wonders if they should go home separately to avoid suspicion, but they both decide against it and continue to revel in their bliss until Ha-won receives a call from a dejected Ja-young who can't believe Ha-won decided to date her beloved Seo-woo without telling her.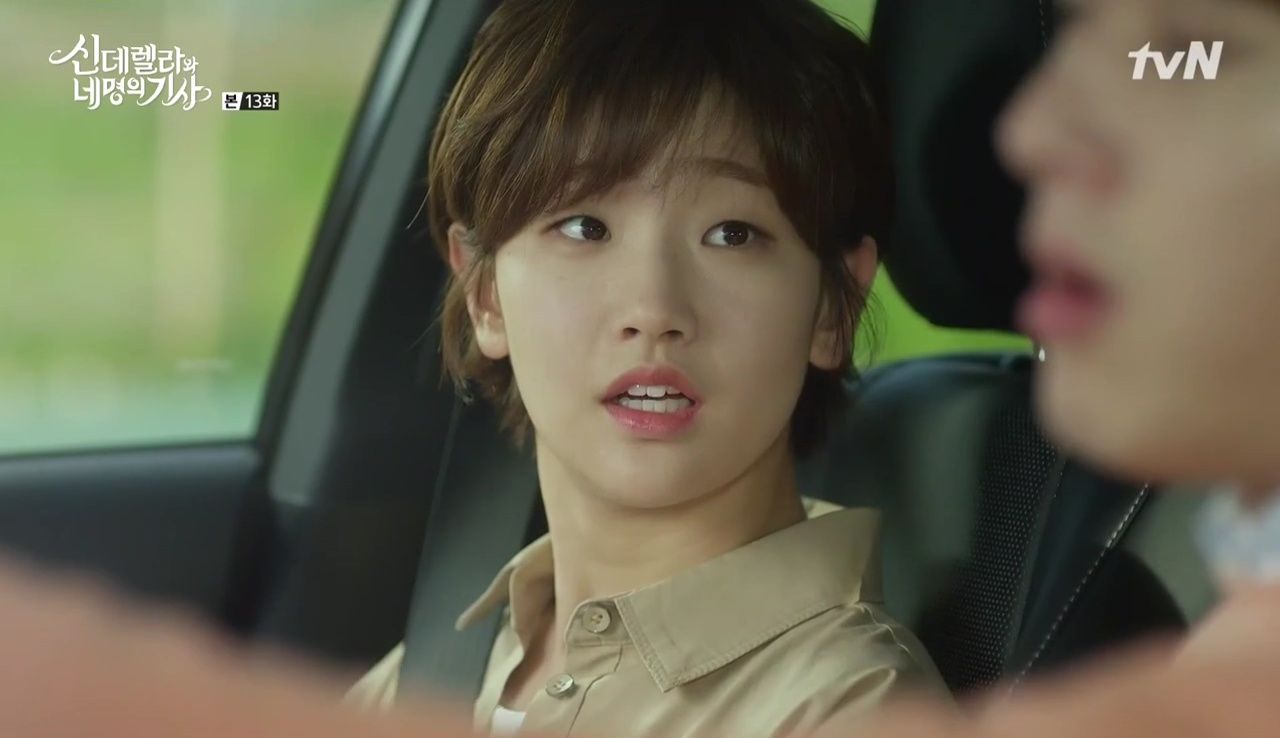 Puzzled, Ha-won checks online and discovers articles floating around with pictures of her and Seo-woo looking friendly. Ji-woon takes a look and is not pleased. When they arrive at Sky House, Ha-won insists the tabloids are false, but Ji-woon isn't so eager to believe her since the pictures indicate otherwise. She reminds Ji-woon that the more pressing issue is keeping her relationship with him a secret, especially from Grandpa Kang.
They join Grandpa Kang and Seo-woo in the living room, and the former is quite unhappy about the scandal. Seo-woo repeatedly maintains that the rumors are false, and Ha-won concurs. Bodyguard Lee confirms that there was nothing going on between Ha-won and Seo-woo, and only then does Grandpa Kang give in.
He's relieved the scandal was merely a rumor since it could've ended Ha-won's stay at Sky House. Ji-woon and Seo-woo are alarmed to hear that Ha-won agreed on their grandpa's no-dating rule as part of her employment. Grandpa Kang reiterates that if the rule had been broken, Ha-won would've been fired and forbidden from meeting anyone at Sky House.
Novice driver Hye-ji miraculously pulls up to Sky House, and Hyun-min emerges alive but unwell from what was probably his longest and most harrowing car ride ever, heh. Meanwhile, Ha-won's contract is placed on the table for all to see. Ji-woon and Seo-woo find the dating ban ludicrous. Grandpa Kang doesn't budge, however, and declares that just because Ha-won's living at Sky House doesn't mean they should delude themselves into thinking she's on the same level as the them. Whoa there. Seo-woo calls him out for being rude, but for Ji-woon, this is just another instance of Grandpa Kang manipulating others with money.
Later that day, Ja-young waits for Seo-woo to arrive to inform him that unlike other fans, she's not against his dating someone. She details Ha-won's frugal habits and insatiable appetite to give him some pointers, but Seo-woo clarifies that the tabloids are false, which brings Ja-young relief.
Ha-won visits Ji-woon in his rec room, and he's got plenty on his mind. He's incredulous that she agreed to the contract, but in her defense, how could she have known she'd fall for him? He tells her to get it annulled, and she reminds him that neither he nor Hyun-min treated her very well when she first arrived here. He interjects that that's probably why she grew close with Seo-woo, but Ha-won doesn't let him off the hook by bringing up his odd relationship with Hye-ji. They accuse each other of jealousy, and Ha-won storms off. But even after that tiff, Ji-woon can't help but grin.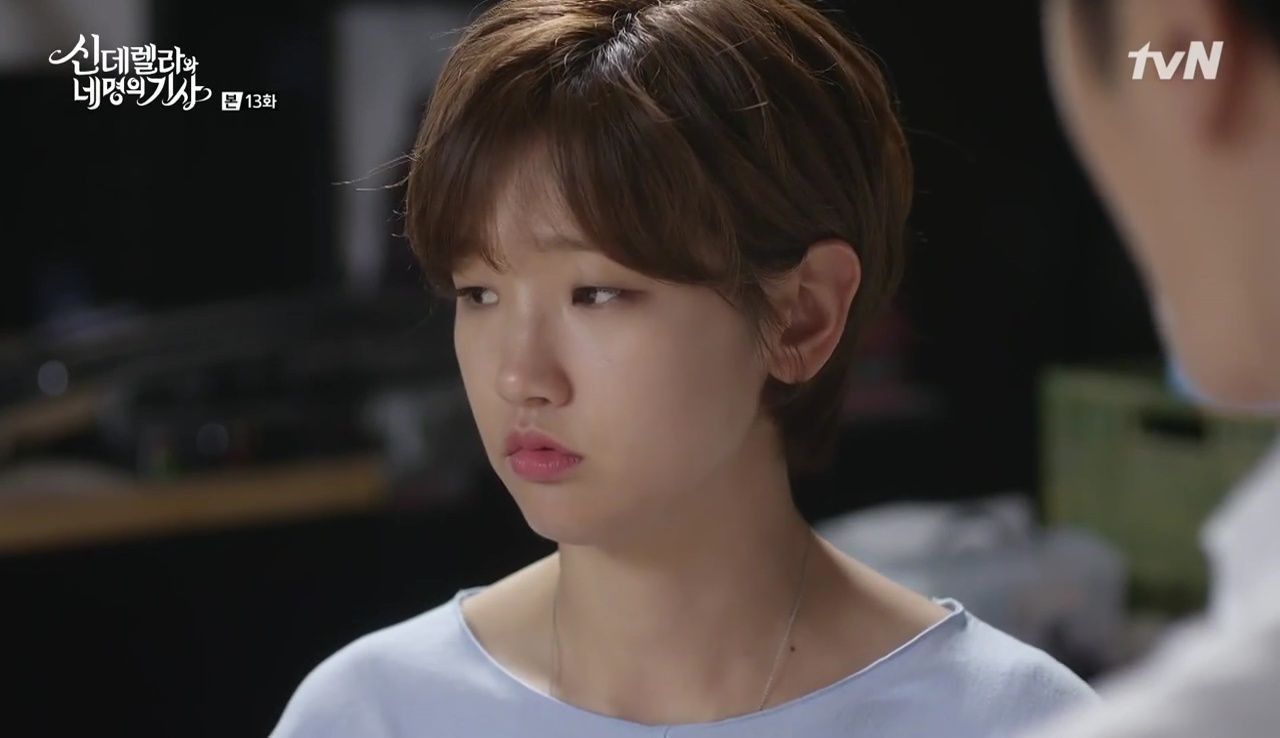 Bodyguard Lee trails Hwa-ja in his car. After purchasing bags of children's clothing, he's surprised to see her arrive at an orphanage where the kids excitedly greet her and call her "Mom." She happily gifts them the clothing from earlier.
Moments later, Bodyguard Lee meets with the director of the orphanage claiming that he wants to become a sponsor. He subtly brings up the generous visitor from before, and the director states that she's a frequent, beloved visitor who lost her son at a young age and wishes to show the orphans the love she failed to give to her own child. Lee drives back, mulling over the director's words.
Hyun-min notices Hye-ji outside and decides to follow her, but halts when she enters Ji-woon's rec room. Inside Sky House, Ha-won goes back and forth on whether she was too harsh on Ji-woon. That night, Ji-woon finds Hye-ji packing up her sewing equipment in his rec room. He says she can leave her stuff here, but she wants to stop accepting help from him and apologizes.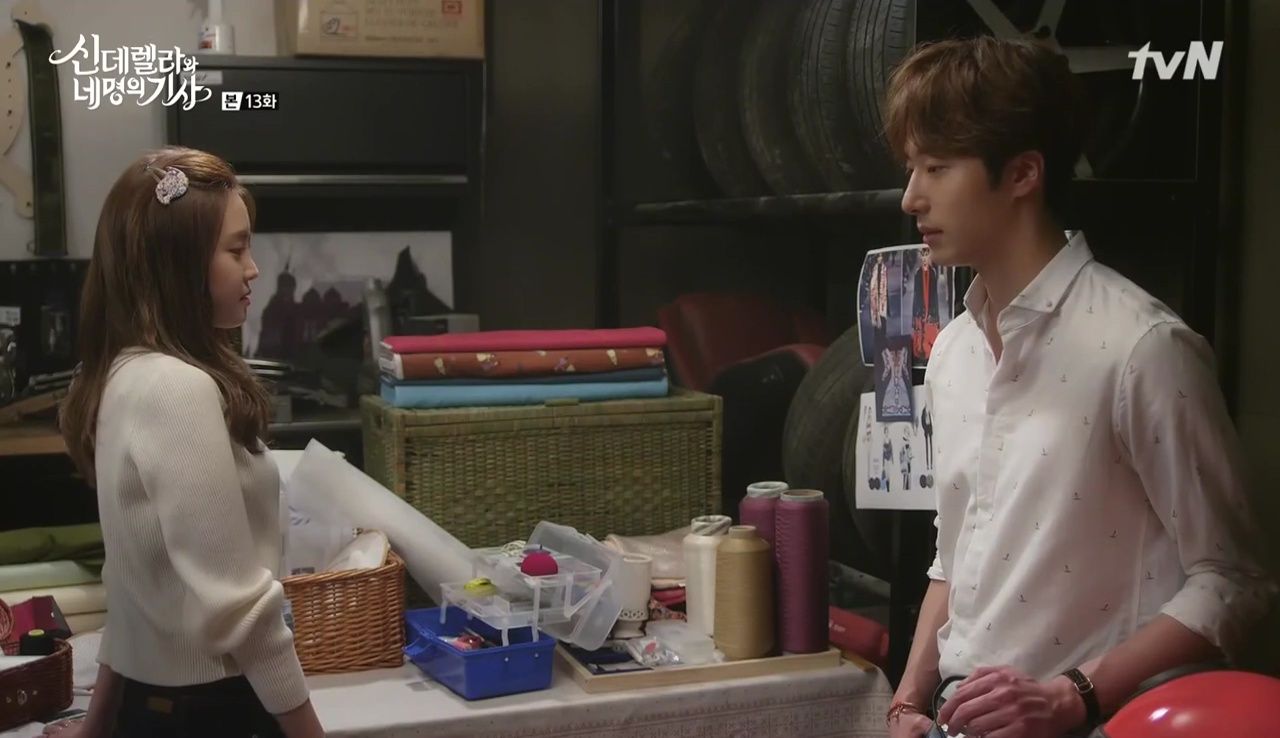 Ji-woon tells Hye-ji upfront that he and Ha-won are now a couple, adding that Hyun-min was the one who retrieved all her belongings from her house, and that he worries about her immensely. Ha-won lights up when she sees Ji-woon leaving his rec room, but her face falls when she sees Hye-ji leave with him.
Ha-won laments how nice he is to Hye-ji, but she tests her compatibility with Ji-woon on a simple online test and the 90% score lifts her mood. Just then, Ji-woon joins her. He mutters an adorably incoherent "Sorry" before enunciating his apology for treating her poorly when she first moved in. Ha-won teases him for struggling to apologize, and he goes on to state that his relationship with Hye-ji is different from what he has with her. Ha-won tries to clear the air about her and Seo-woo, but he cuts her off and takes her hand instead, answering that he overreacted unnecessarily. Aw.
Ha-won's stomach growls, and Ji-woon sweetly leads her to the kitchen. He chops vegetables and quips that he's trying to enjoy cooking from now on to accommodate his girlfriend's huge appetite. Ha-won remarks that eating isn't the only thing she's good at and makes him move over so she can chop instead. Ji-woon puts his arms around her, causing Ha-won to worry about onlookers, but he's not too concerned. He does back away when she warns that she's the knife wielder, but not before pecking her on the cheek, heh.
Ji-woon makes a whole fried chicken for Ha-won, who happily munches on a leg. She says she could really use a beer, and remarks that Ji-woon is cute when he's drunk. She wonders when she should get him drunk again; the last time he was drunk he was so wasted that he blacked out. Ji-woon's adamant that he remembers everything that happened that night, and proves it with a kissy noise. Ha-won's incredulous that he remembered everything and still acted grumpy towards her, but Ji-woon figured she'd feel awkward if he recalled what happened.
Just then, Ha-won spots Seo-woo coming out of his room and panics. She smacks Ji-woon on the head and kicks back his chair so he falls to the ground, then shoves him underneath the table. Speedy reflexes! Seo-woo decides to join Ha-won at the table, and poor Ji-woon is left contorting to uncomfortable positions to avoid getting kicked and caught while Seo-woo and Ha-won enjoy their chicken above, heh.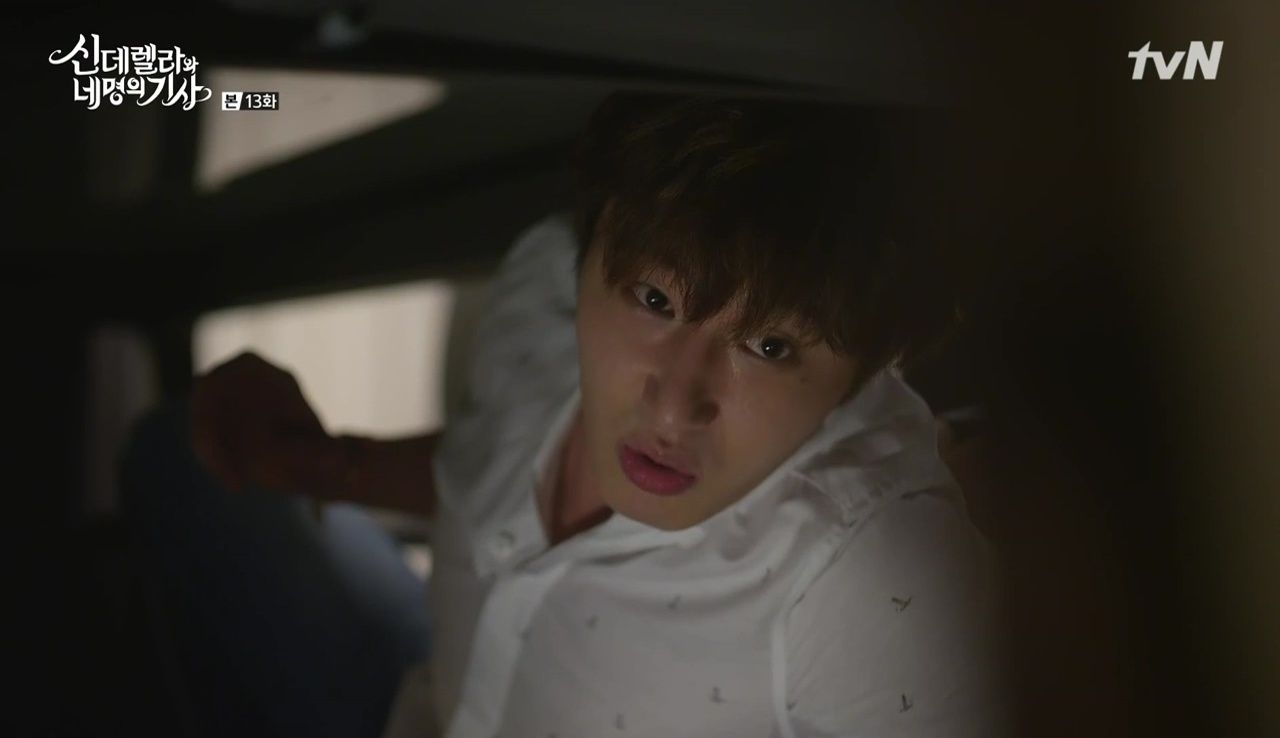 After receiving a call from an angry man who never received the monetary reward for finding Kang Young-jin and giving Stepmom Young-jin's contact info, Ha-won's father pays Young-jin a visit at the construction site and accuses him of having an affair with his wife, which resulted in the birth of Ha-won. Young-jin argues that he and Ha-won's mother merely opened a dojo together, but Ha-won's father refuses to believe him because his wife died at his apartment in a fire.
Young-jin admits that he sold the dojo without telling Ha-won's mother, and that she was at his place to confront him about it. By the time he got home, his place was already in flames, and Ha-won's mother perished while trying to rescue a neighbor who requested that she deliver a ring to her son. Stunned by the truth, Ha-won's father regrets ever doubting his wife and for hating Ha-won, who treasured that ring.
At Sky House, Ha-won signals to Ji-woon to meet at his rec room by clearing her throat. It's not the clearest signal, so she texts him instead. Once they meet, Ji-woon blames his grandpa for him not being able to meet with Ha-won openly. Ha-won asks him why he hates his grandpa so much, and Ji-woon answers that his mother was an ordinary person who never mentioned his father, which meant that she and his father probably didn't end on good terms. Ji-woon adds that he came to Sky House because he had so many questions. Ha-won points out that that's all the more reason for him to stop hiding and ask his grandpa those questions directly.
Ji-woon shows Ha-won his father's old camera; it's the only trace of him that he found. To update Ji-woon's father on their relationship, Ha-won playfully presses the shutter on the old camera, selfie-style. A call unexpectedly comes in from Ha-won's father and she meets with him. He apologizes to her in-person for his huge misunderstanding and regrets that he didn't trust her mother like Ha-won did all along. But Ha-won believes he trusted her mother, and that he kept searching for Young-jin because he wanted to ask for forgiveness; he felt guilty for being unable to be by her mother's side when she died.
Moved by her magnanimity, Ha-won's father admits that he was unaware that Stepmom and Yoo-na were mistreating her. Before Ha-won can move back home again, he asks her for some time to repair the family. Ha-won's father gets home and scolds Stepmom for trying to get money from Young-jin when he isn't even Ha-won's father. He's livid that Stepmom and Yoo-na treated Ha-won poorly, and the two beg for forgiveness.
Ha! Looks like they're getting a taste of their own medicine, because Stepmom and Yoo-na end up trembling in the tiny sunroom Ha-won had to use as her bedroom. They shiver from the cold and cry at the thought of getting kicked out of the house.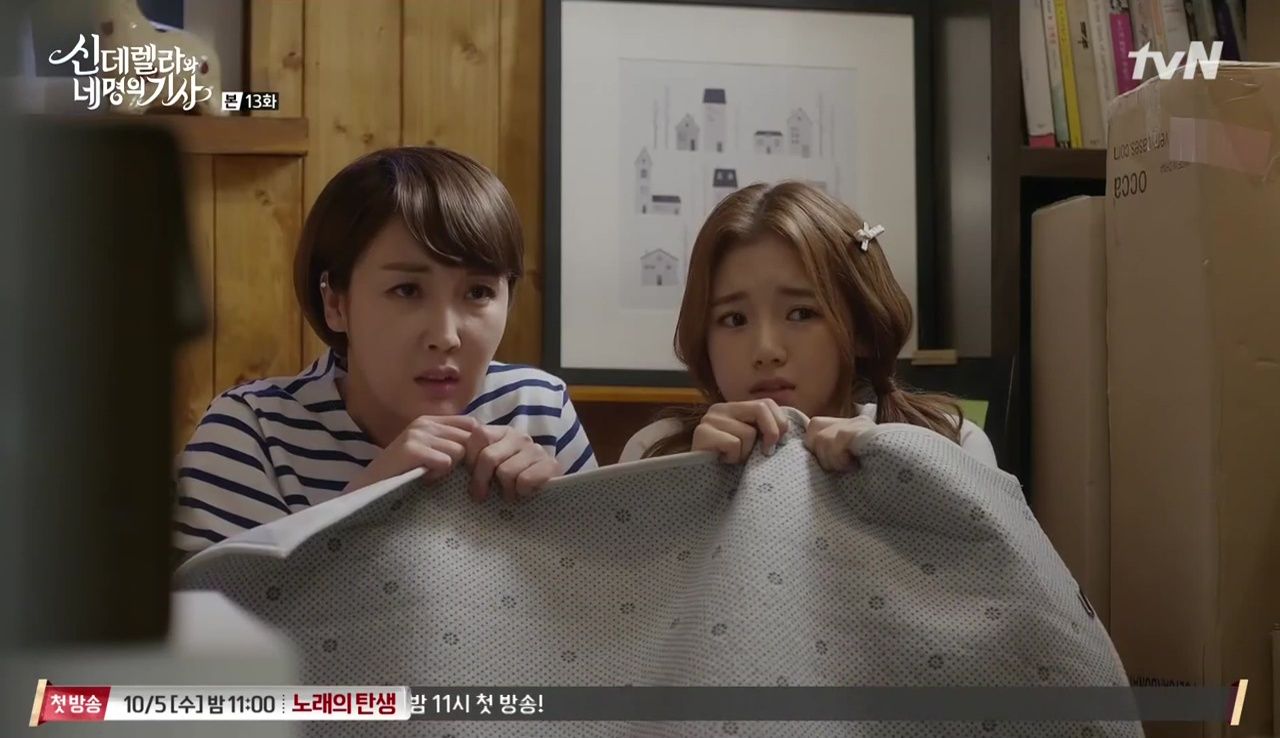 At Sky House, Hye-ji glances at her planner; the next day is marked as her brother's birthday. Hyun-min's calendar has Hye-ji's birthday marked for tomorrow as well. We flashback to when they were all kids. Hyun-min had gifted Hye-ji's brother with a toy car for his birthday, and Hye-ji was upset when there wasn't a gift for her as well. Her brother explained to Hyun-min that they shared the same birthday because they were fraternal twins, and Hyun-min consoled Hye-ji by promising to get her a present for every birthday.
The next day, Hye-ji heads out, and Hyun-min is disappointed to learn that she already has birthday plans. Bodyguard Lee drives Hwa-ja to her destination, and she wonders what she did to make Chairman Kang doubt her. Lee discloses that he's not sure why he mistrusts her either. Hwa-ja tries again to convince Lee to share a meal with her, but he declines, and she asks him to accept a long overdue gift instead: a necktie.
Hye-ji is looking into student hostels and rooms on her birthday, but with her budget, the options are limited. Hyun-min secretly follows her and now knows that she's not out celebrating with friends like she said she'd be.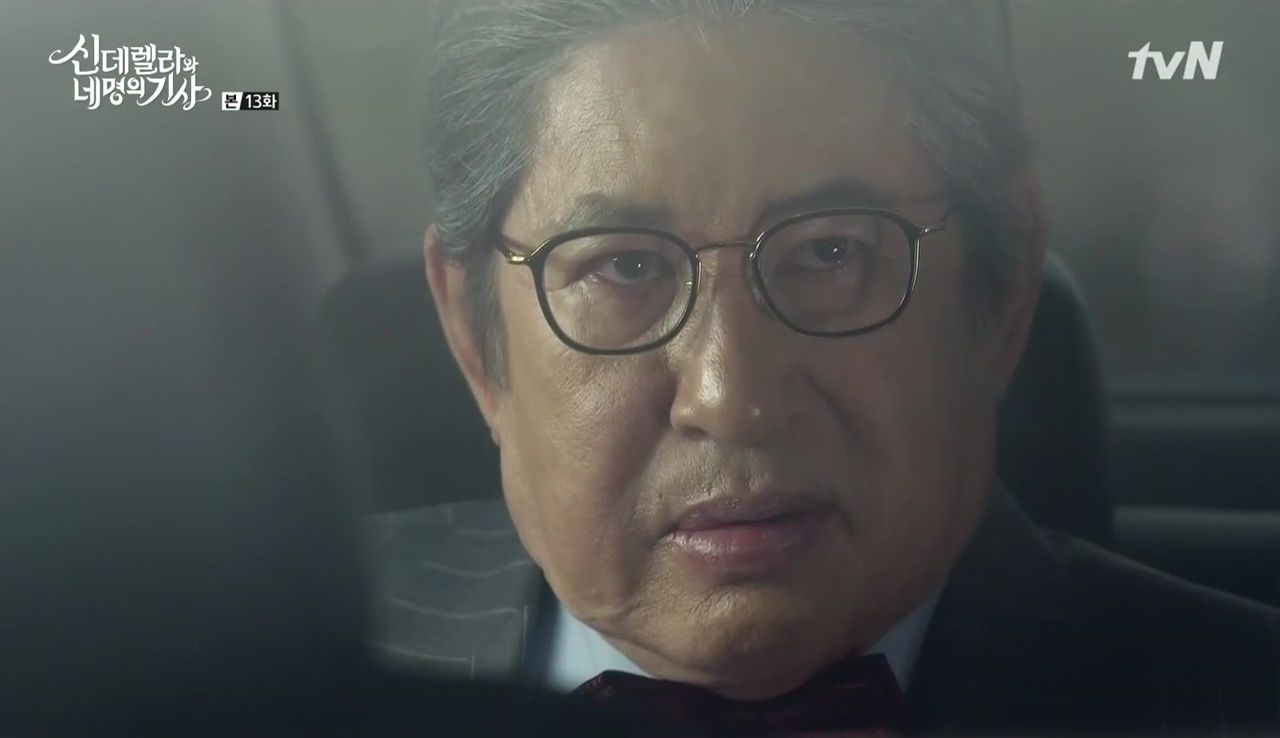 Chairman Kang beams from his car when he sees a young and affectionate couple outside on the street, but he fumes when he sees that it's Ji-woon and Ha-won. Uh oh. Back at Sky House, Ji-woon and Ha-won waffle over who should enter the house first to avoid raising suspicion. But Seo-woo catches them in a warm embrace, and the poor thing looks crushed.
Just then, Bodyguard Lee walks up to him, and quick-thinking Seo-woo feigns a stiff shoulder so he can block Lee from seeing Ha-won with Ji-woon. His plan works, and by the time Lee starts massaging Seo-woo's shoulders, the two lovebirds have entered the house, much to Seo-woo's relief.
Seo-woo tries to work on his music, but is troubled by his grandpa's dating ban. He gets up to brew himself some coffee, and Ha-won joins him in the kitchen as well. As they're sipping, Seo-woo asks if something good happened to her recently; she's been smiling more frequently these days. But Ha-won deflects and asks him (on behalf of a "friend of a friend who's dating for the first time") what guys typically like to receive as gifts, since he receives a ton from his female fans.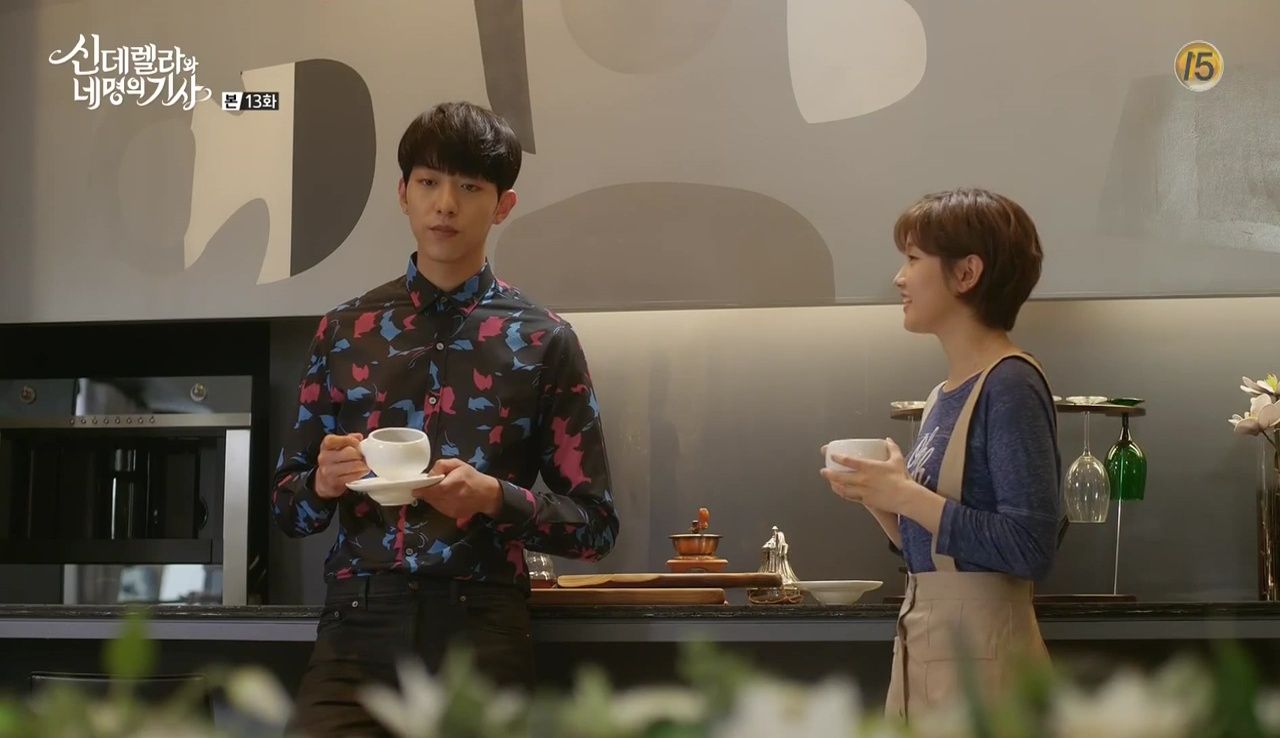 Seo-woo answers that guys don't need things like gifts; having someone's company and someone to smile with them is enough. "Just like you're doing now," he says to Ha-won. Poor puppy! Moments later, Grandpa Kang calls Ha-won into his office. Oy.
Hyun-min peers into Ha-won's room and is annoyed that Hye-ji isn't back yet. He notices a farewell note left behind; Hye-ji had written her thanks and apology to Ha-won, which clues Hyun-min to venture out and find Hye-ji. There's no trace of her at any of the hostels she was looking into, but an old childhood photo gives him an idea.
Grandpa Kang sternly expresses his disappointment in Ha-won for lying to his face about her relationship with Ji-woon. Ha-won's eyes brim with tears, and she stutters an apology. "What will you choose? Your future, or Ji-woon?" asks Grandpa Kang. He gives her the option of forgetting Ji-woon, him, her time at Sky House, and leaving. If she leaves, he'll pay for her tuition and support her fully as promised. She can have it all, but she can't have Ji-woon.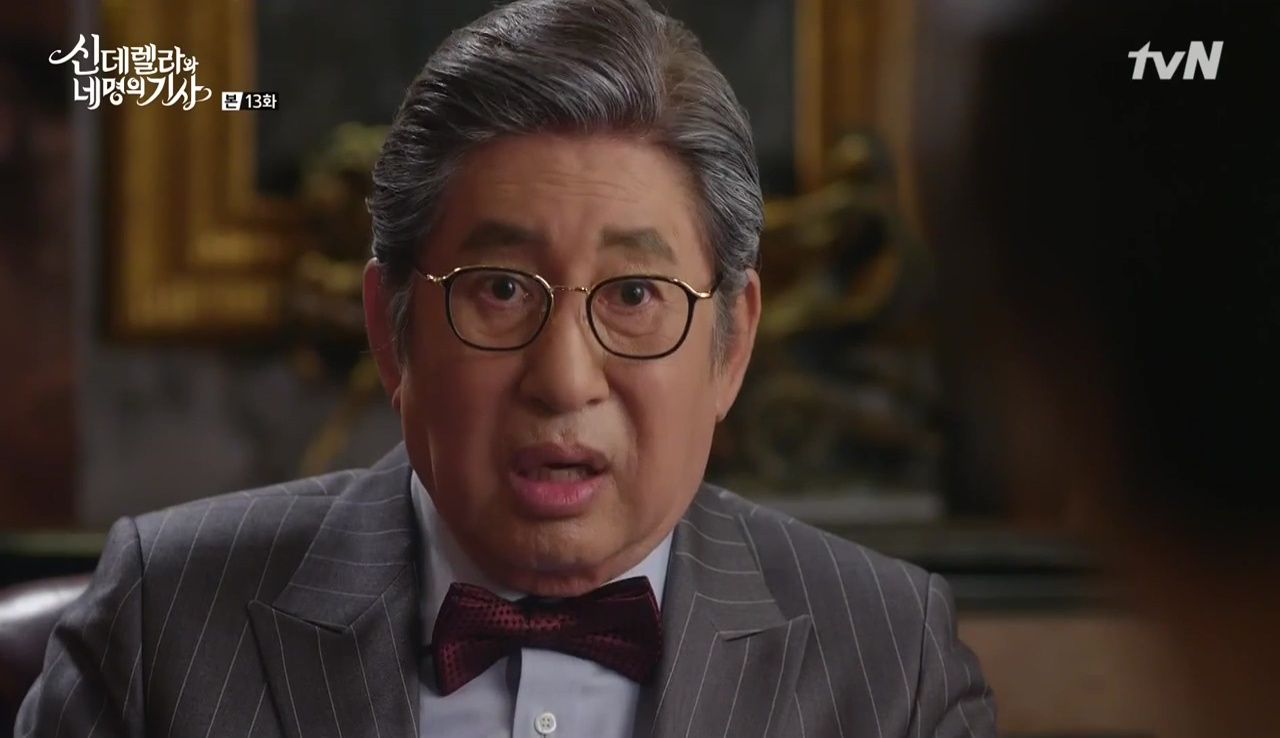 "Will you choose a capricious love that may not even last? Do you understand what you must do now?" he asks. Ha-won silently leaves the room, upset and stuck at a crossroads. Grandpa Kang is reminded of the time he kicked out Ji-woon's mother and her father (who had served Grandpa Kang for many years) from his home. Ji-woon's mother had asked him what she and her father had done so wrong to warrant such dismissal, and Grandpa Kang had coldly responded that their very existence was a mistake. Also, her wedding band looks exactly like the ring housed in the pendant Ha-won wears around her neck. Hmm.
Later that day, Ji-woon's father was livid that Grandpa Kang had forced his wife and father-in-law to leave the house without telling him. But Grandpa Kang was not sorry. "That's why I told you not to be affectionate toward have-nots like her," he snapped. Ji-woon's father called Grandpa Kang a coward for using money to mess with people's hearts and shouted that unlike him, he didn't need money.
Back in the present, Grandpa Kang opens a small box containing Ji-woon's father's wedding band. He recalls Ji-woon calling him out for buying people with money, which mirrored what Ji-woon's father had said years prior.
Hyun-min finds Hye-ji at the playground, their old childhood stomping ground. She tells him to go away because her friends are on their way, but Hyun-min knows better. She takes a look at her surroundings and concludes that this is the perfect place to say farewell for good. Flashback to the two of them as kids. Hyun-min bended on one knee and proposed to Hye-ji with a plastic heart ring. When asked if she'd marry him, she coyly replied that she didn't know, but would give him an answer in ten years.
We return to the present, and Hye-ji gives her final answer, which is a "No." Hyun-min urges her to return to Sky House, and even volunteers to move out if his presence makes her uncomfortable. But Hye-ji tells him to mind his own business; she has no reason to listen to him or return to Sky House.
Hye-ji doesn't want his pity after he toyed with her feelings for so long, confusing her and hurting her numerous times. She asks if he enjoyed messing with her, and he finally divulges that every time she missed him, he missed her a hundred times more. "I treasured you and loved you more, but the two of us can never be together," he says tearfully.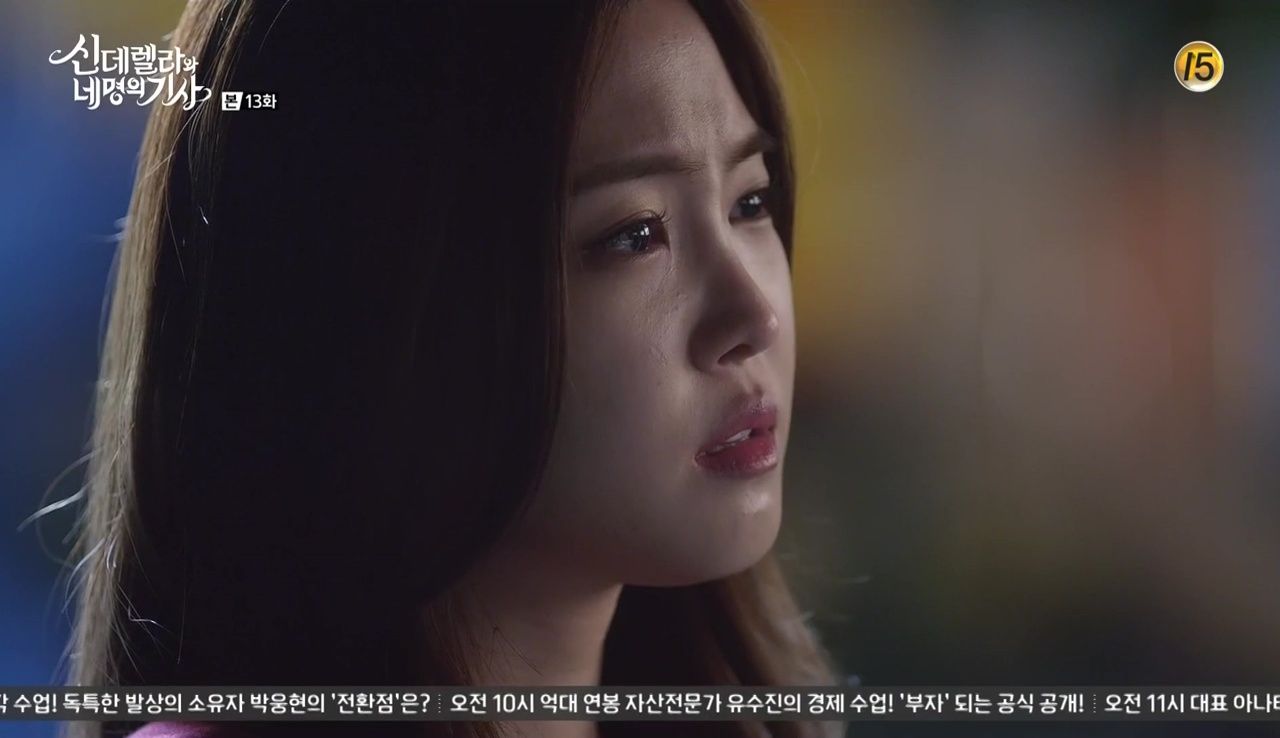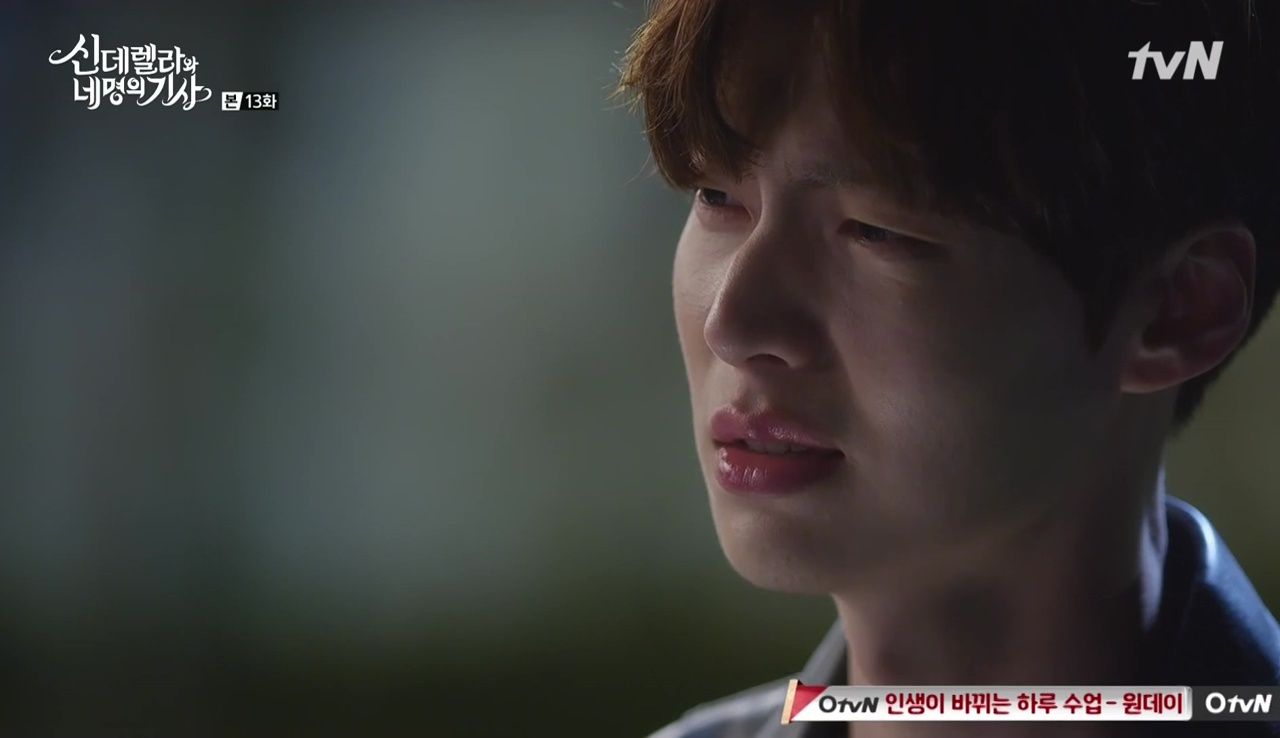 He explains that the day her twin brother died, he witnessed the hit-and-run incident that killed him, but because he was too afraid, he ran away. "That is the kind of cowardly bastard that I am. That is why you and I can never be together," he states. Hye-ji processes this, finally aware of why he was pushing her away all this time. Still reeling, Hye-ji asserts that they should never ever see each other again before walking away.
Ji-woon accidentally drops his phone which falls behind the locked chain-link door inside his rec room. Bodyguard Lee reports to Chairman Kang that there was nothing suspicious in regards to Hwa-ja, but he's wearing the necktie she had gifted him, and Chairman Kang falters as soon as he sees it.
Hwa-ja sits at a restaurant waiting for the other person to show up, and her face lights up when—surprise!—her son, Bodyguard Lee, arrives. Back in the rec room, Ji-woon snaps the lock off and enters through the chain-link door. His eyes land on an old photo album, and he opens it to find pictures of his parents, happy and in love. He comes to the startling realization that his mother lived at Sky House… just like someone we know!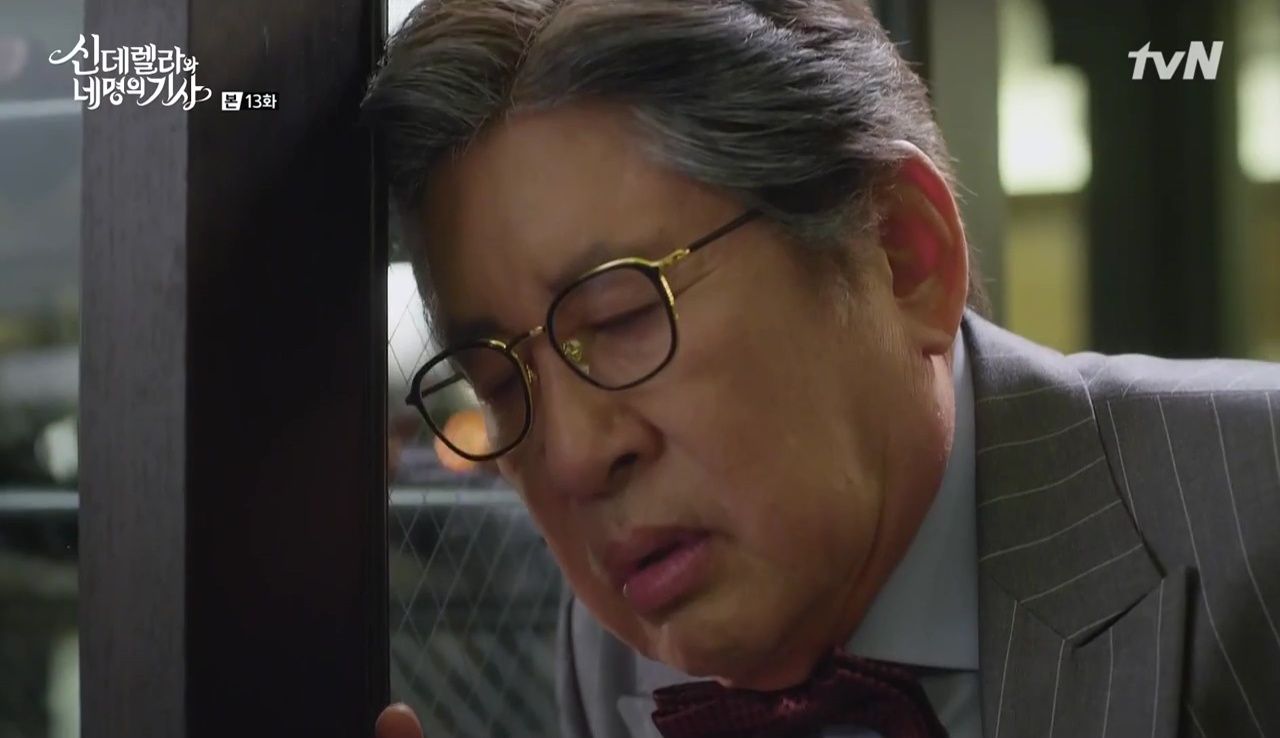 Bodyguard Lee dines with his mother and smiles when she places her hand on his and thanks him for coming out. Beholding all this is Chairman Kang, who faints from the shocking scene before him. Lee and his mother turn to him, surprised by his presence.
Hyun-min's still at the playground after Hye-ji left him, and Hye-ji's walking aimlessly. Angered by this case of deja vu, Ji-woon angrily gets up and leaves. Meanwhile, Ha-won packs her suitcase in her room, her future uncertain.

COMMENTS
Well, tickle me surprised at how much happened within this hour at such a leisurely pace. The good stuff: the adorable, albeit short-lived, romance between Ha-won and Ji-woon. They were remarkably open with their affections, and I really loved that the two lovebirds didn't hide their feelings for each other despite the silly no-dating rule. It was as if they both realized how ludicrous the rule was so they threw caution to the wind, and just decided to continue being the cute lovebirds that they are. That fried chicken scene with Ji-woon cramped underneath the table was hilarious; Ha-won just knocked him down and shoved him under in one incredibly smooth motion like she was professionally trained to disarm people.
Good ol' Seo-woo. He makes me so sad because he really is the closest thing to a perfect boyfriend, but none of that matters because our heroine is smitten with someone else. Ah, the pitfalls of unrequited love. He's legitimately employed, he's open about his feelings, he's not weighed down by family baggage like Hyun-min or Ji-woon, and he's consistently shown himself to be quite smart and sensible. He knows his feelings for Ha-won aren't mutual, but he's above jealousy and actually protected her from getting caught by Bodyguard Lee. Seo-woo is just an all-around good guy, and I hope someone special recognizes that. Perhaps Ja-young? I think they'd make a cute couple, although netizens would absolutely destroy her if they ever went public with their relationship. But then again, Seo-woo knows how to spin the media to his advantage, so maybe she'd be in good hands. He's perfect, so what else is there to say?
The bad: unreasonable Grandpa Kang and that terribly unconvincing, no good, very bad, Hye-ji and Hyun-min confrontation scene. The Grandpa Kang we saw at the beginning of the show was still unreasonable but also a likable, punny goof, and now he's just a full-blown unreasonable killjoy. Technically speaking, Ha-won broke his cardinal rule so his anger is warranted, but I'm still unclear on the reasoning behind his dating ban. I guess it came about after the failed marriage of Ji-woon's parents, but wasn't he the one that ruined it in the first place? Why is he so prejudiced against the poor? Maybe the reason is as simple as this: He hates the poor because he's rich. It's not a very satisfying reason, but I guess it's in keeping with the simple plot.
That scene at the playground with the insufferable Hye-ji and Hyun-min (yes, he too has become insufferable) was painful to watch. I wasn't sold on his math when he confessed to loving her and wanting to hold her however many times more than she did because we really only saw how conflicted his feelings for Hye-ji were after that vacation home getaway. From the beginning up until Hyun-min got a smiley face drawn on his hand, he was shown as having not even a lick of interest in Hye-ji. Post-smiley face, Hyun-min seemed to really go back and forth on his love for Hye-ji.
I really enjoyed Hyun-min as the pompous playboy, but when the time came for him to finally spill his emotions in front of Hye-ji, the delivery felt so forced, and his words just seemed empty. I was so removed throughout the whole scene and consequently, it felt very long; I thought I was watching two green acting students (more like pillars) practicing their lines. I blame the writing, first and foremost, followed by the acting. I didn't believe Hyun-min loved Hye-ji all this time because I simply didn't see it. And it's hard to sell a scene that doesn't make much sense. Also, I couldn't help but laugh when Hye-ji meekly said, "My answer is 'No'" in regards to Hyun-min's proposal. That was the weakest rejection I ever witnessed in the history of kdrama rejections.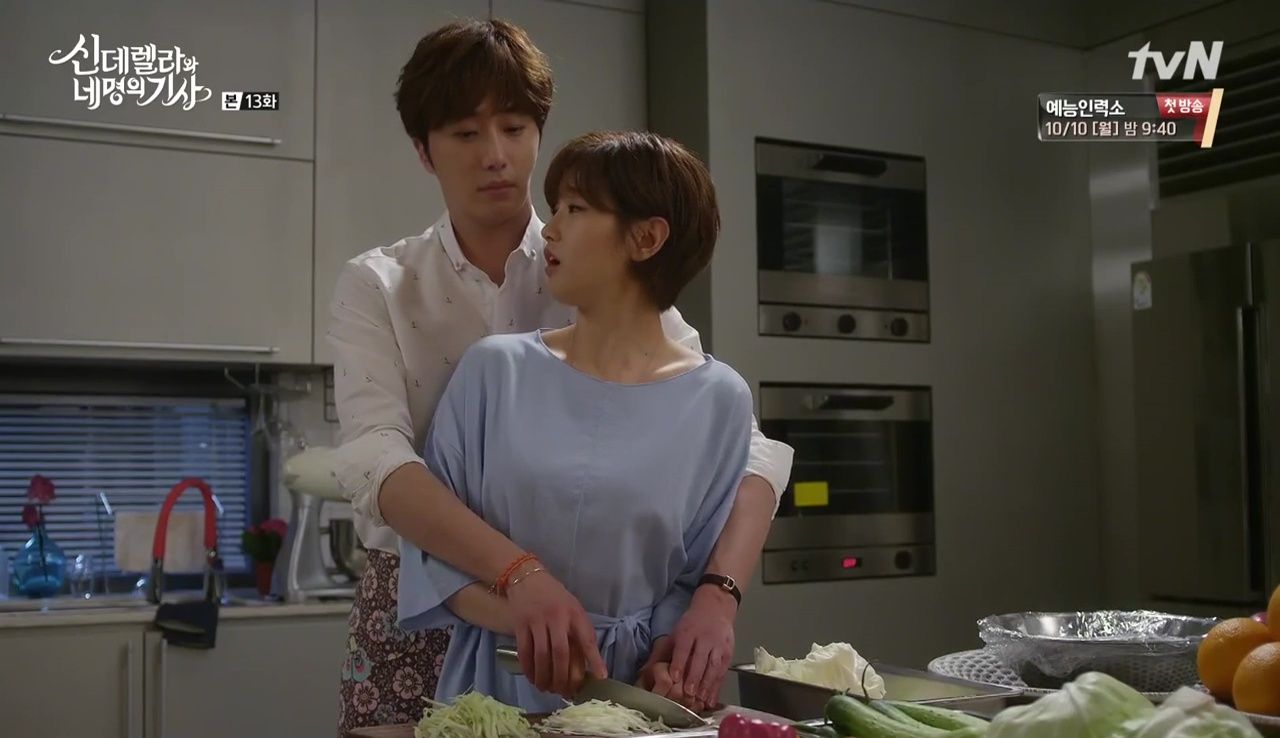 The weird: Ha-won's dingbat of a father. His huge and groundless misunderstanding only hurt Ha-won, and he could've figured out the truth with a simple DNA test. Or common sense.
In any case, I think Ji-woon's mother may have been the neighbor Ha-won's mother tried to save from the fire that ended up killing both; the unique shape of the ring Ha-won wears around her neck is identical to the one worn by Ji-woon's parents. Moreover, it makes sense that both mothers passed away on the same day if they died from the same incident.
Now that Grandpa Kang witnessed his two most trusted individuals meeting in secret, I'm curious to see what Hwa-ja's Plan B is if she still plans on taking over the Haneul Group fortune. I also wonder if Bodyguard Lee will be more inclined to further his mother's agenda now that he's come around to her.
Unfortunately, I have a feeling we won't be seeing much lovey-doveyness from Ha-won and Ji-woon in the next episode, but as long as the story keeps chugging along, I think I'll be a happy (enough) camper.

RELATED POSTS
Tags: Ahn Jae-hyun, Cinderella and the Four Knights, featured, Jung Il-woo, Lee Jung-shin, Park So-dam