Cinderella and the Four Knights: Episode 14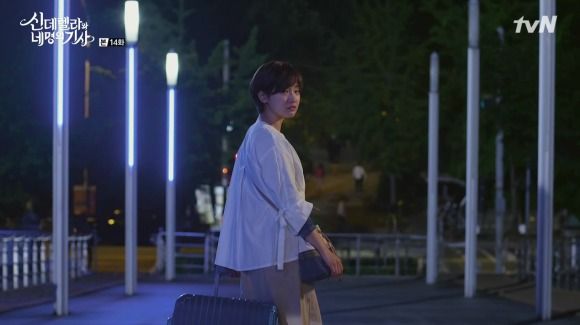 Get ready for plenty of heartbreak, guilt trips, and anguish, all wrapped up in some serious sadness and stares of longing. Between Ha-won's relationship forcing her to face the age-old dilemma between choosing love or money and Grandpa Kang's wavering health, the ripple effect results in the forming of some unexpected alliances, while forcing others even further apart.

EPISODE 14 RECAP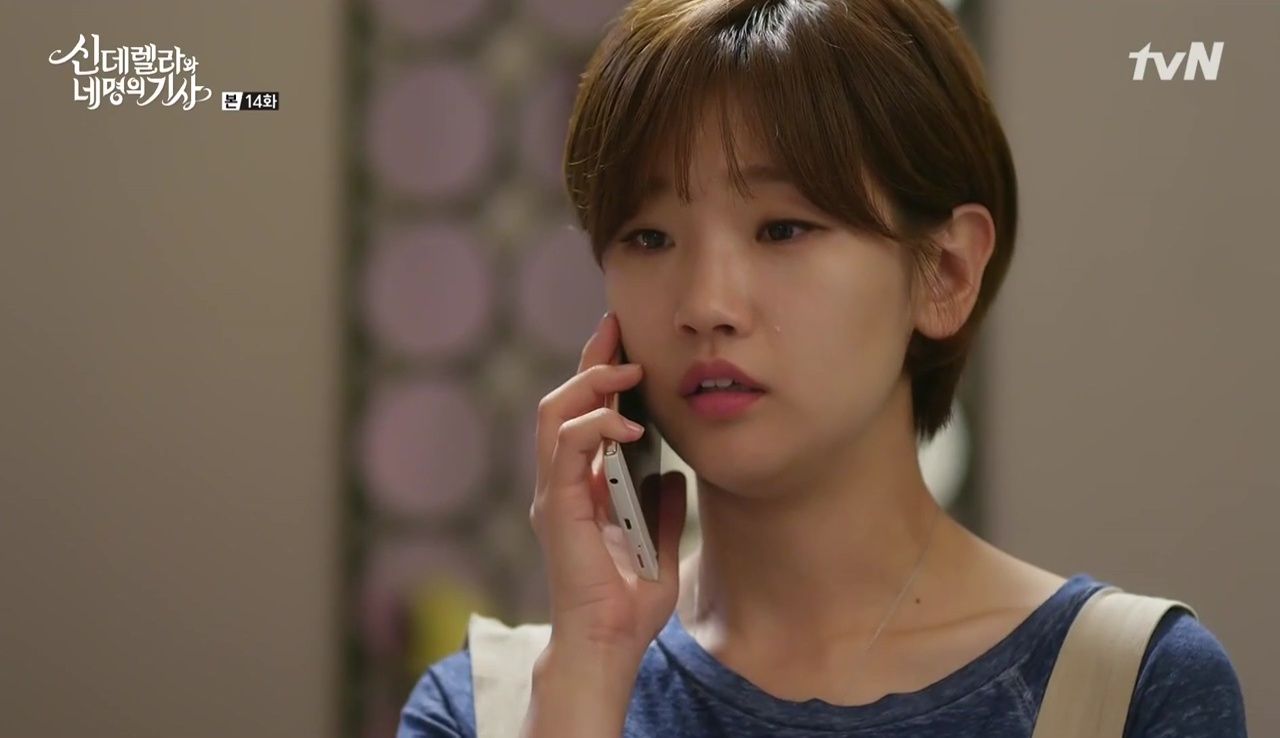 It seems midnight has struck on this fairytale, as our tearful Cinderella slowly packs up her belongings. She spares a glance for the box Ji-woon gave her, sniffing back more tears as she remembers their hilltop kiss. However, her packing (and crying) is interrupted by a phone call.
Seo-woo is busy signing a stack of albums, adding a personal message to each one. The notes are seemingly unrelated, though as he thinks about Ha-won, we see that each message relays his true feelings. He is also interrupted by a phone call, which seems to have startling news.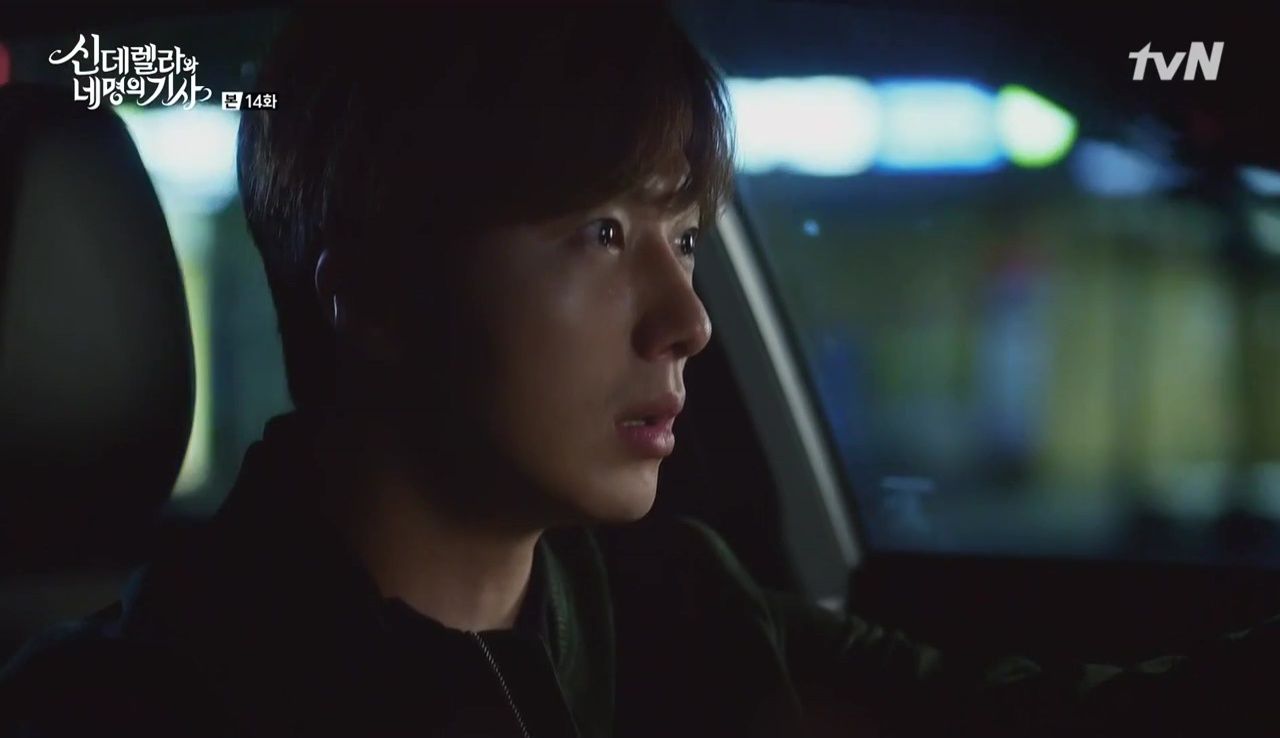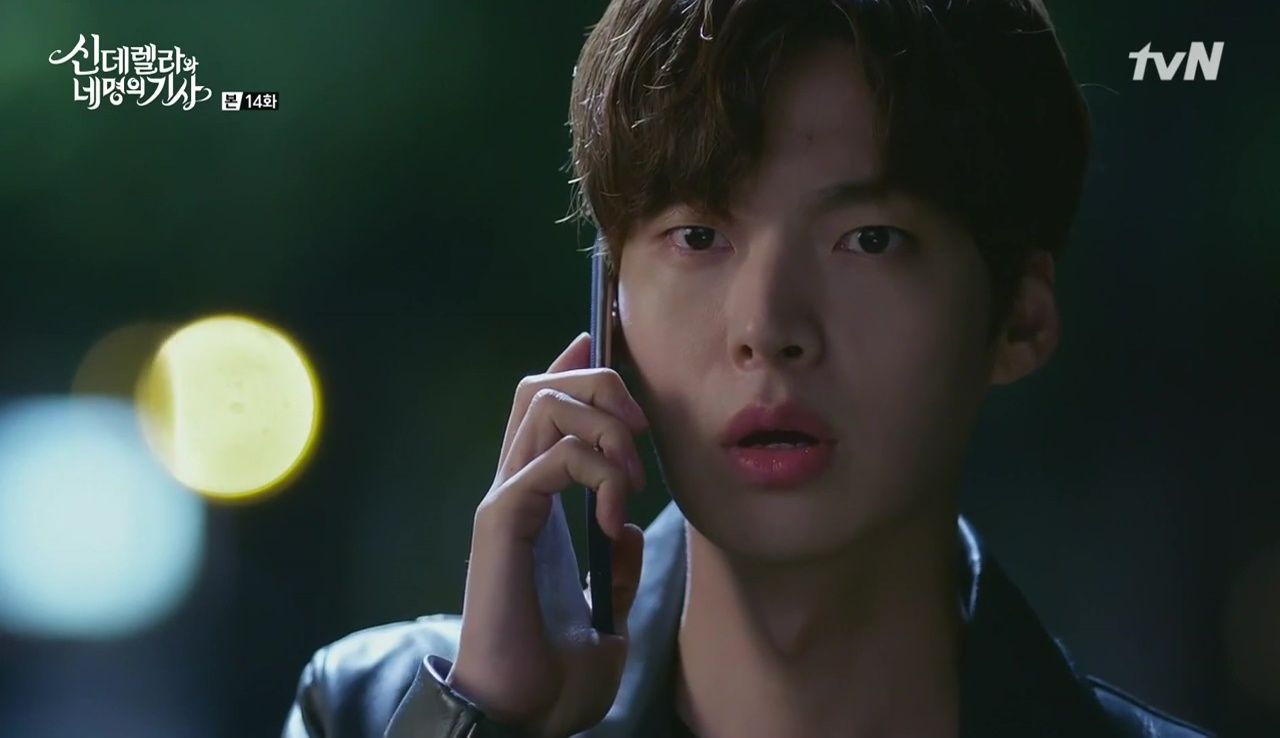 Once Hye-ji's gone, Hyun-min stands by the seesaw, recalling when he'd given Hye-ji the plastic ring as children. Reaching into his jacket, he pulls out the same ring. After contemplating it for a moment, he walks away from the playground, leaving the ring behind on the seesaw. As he leaves, Hyun-min also receives the phone call of doom.
Ji-woon is currently driving to the office, his father's photo album that he found in his garage resting on the front seat. He gets The Phone Call as well, which turns out to be from Bodyguard Lee. Ji-woon asks to meet with Grandpa Kang, saying he has something important to say, but Lee breaks it to him that Grandpa has collapsed.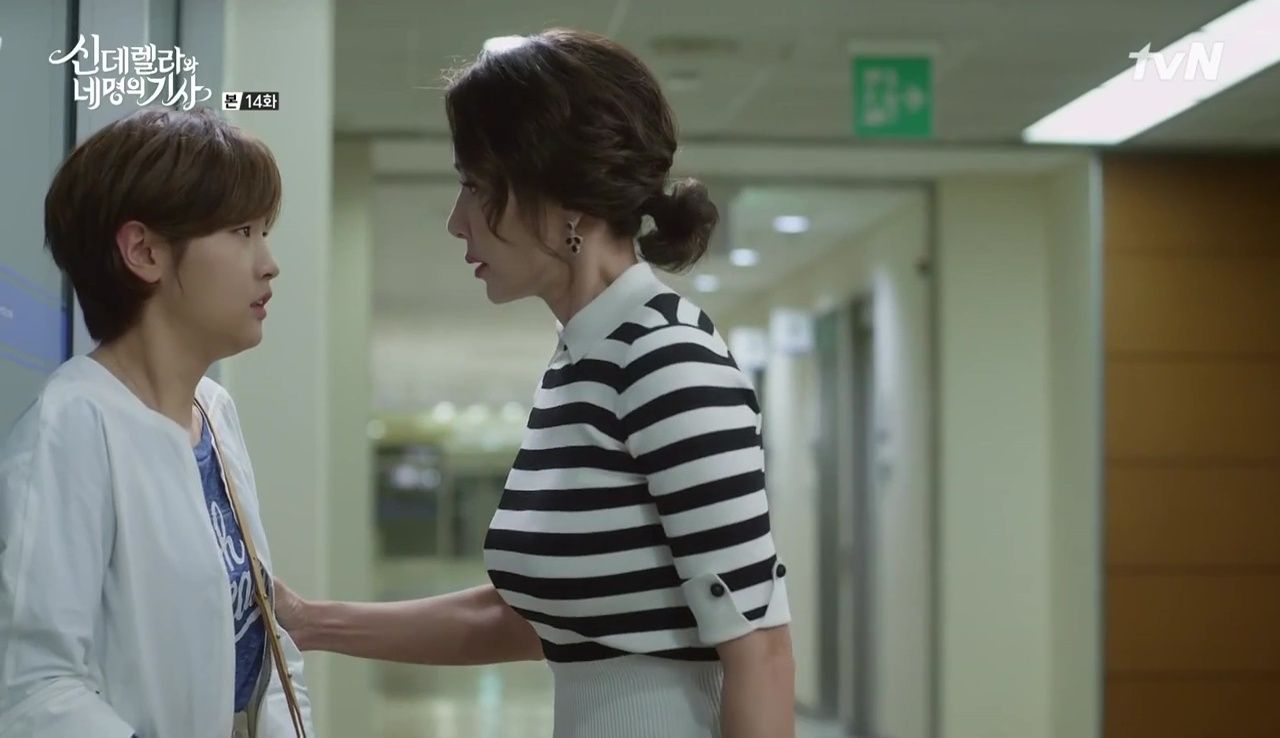 Ha-won arrives at the hospital first and asks a passing nurse after Grandpa Kang. They're interrupted when Hwa-ja marches up to get a status update on her husband. After the nurse scurries off, Hwa-ja turns to leave when Ha-won whispers, "It's all my fault."
Like a shark scenting blood, Hwa-ja asks what she's talking about, and Ha-won admits that she was with Grandpa Kang a little while ago. She believes that the stress of finding out about her and Ji-woon's relationship caused the frail man to collapse. Ha-won seems determined to shoulder all the blame, and suddenly Hwa-ja turns on her, accusing the poor girl, "What have you done!"
Pushing Ha-won up against a wall, Hwa-ja admonishes Ha-won for angering Grandpa Kang when he was already in such a fragile state. She layers on the guilt, revealing Grandpa's liver cancer and how he was clinging to what little time he had left, until Ha-won came along and stole it. Sheesh. Scar the kid for life, why don't you.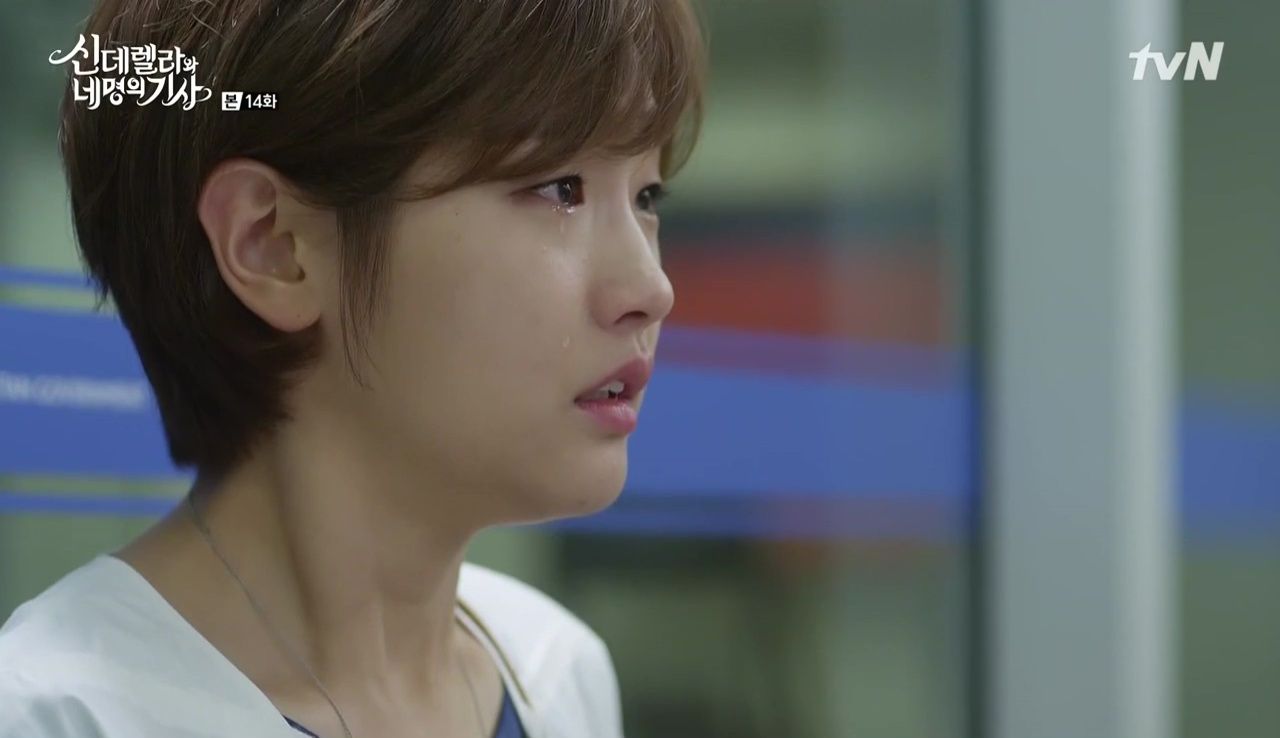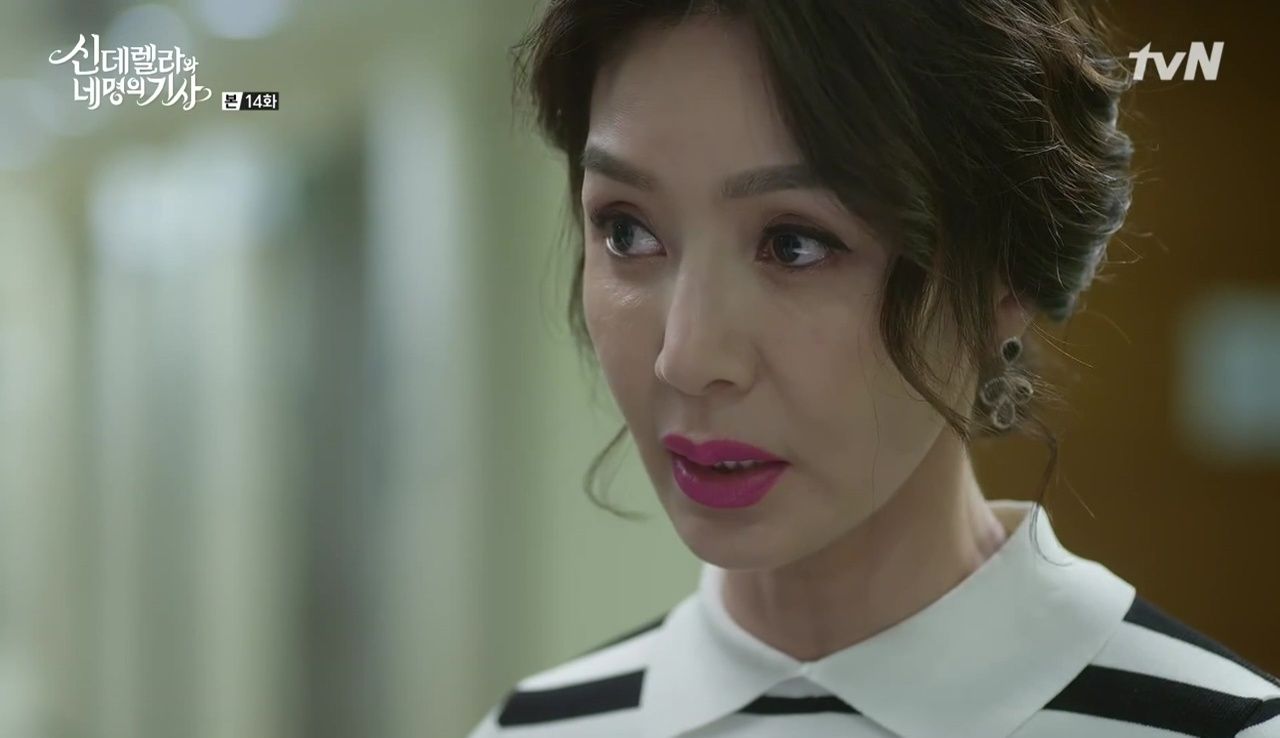 Backing off a bit from the crushed girl, Hwa-ja asks what Grandpa Kang said about her dating Ji-woon. Through her tears, Ha-won details the choice her gave her of staying with Ji-woon, or receiving payment for the work she's done at Sky House. Hwa-ja answers that it looks like Ha-won has her answer then: leave immediately.
Hwa-ja instructs Ha-won to leave Sky House without telling any of the cousins about her departure. She also tells her to forget about coming to the hospital, and forget their conversation. If she does that, then Hwa-ja promises to keep the fact that Ha-won caused Grandpa Kang's collapse a secret.
Ha-won protests weakly, but Hwa-ja retorts that everyone is worried about Grandpa Kang's life right now, so is her "stupid relationship" to Ji-woon so important when compared to that? When Ha-won still hesitates, Hwa-ja threatens to tell everyone that Grandpa collapsed because Ha-won deceived him. Giving in, Ha-won stutters an apology and leaves.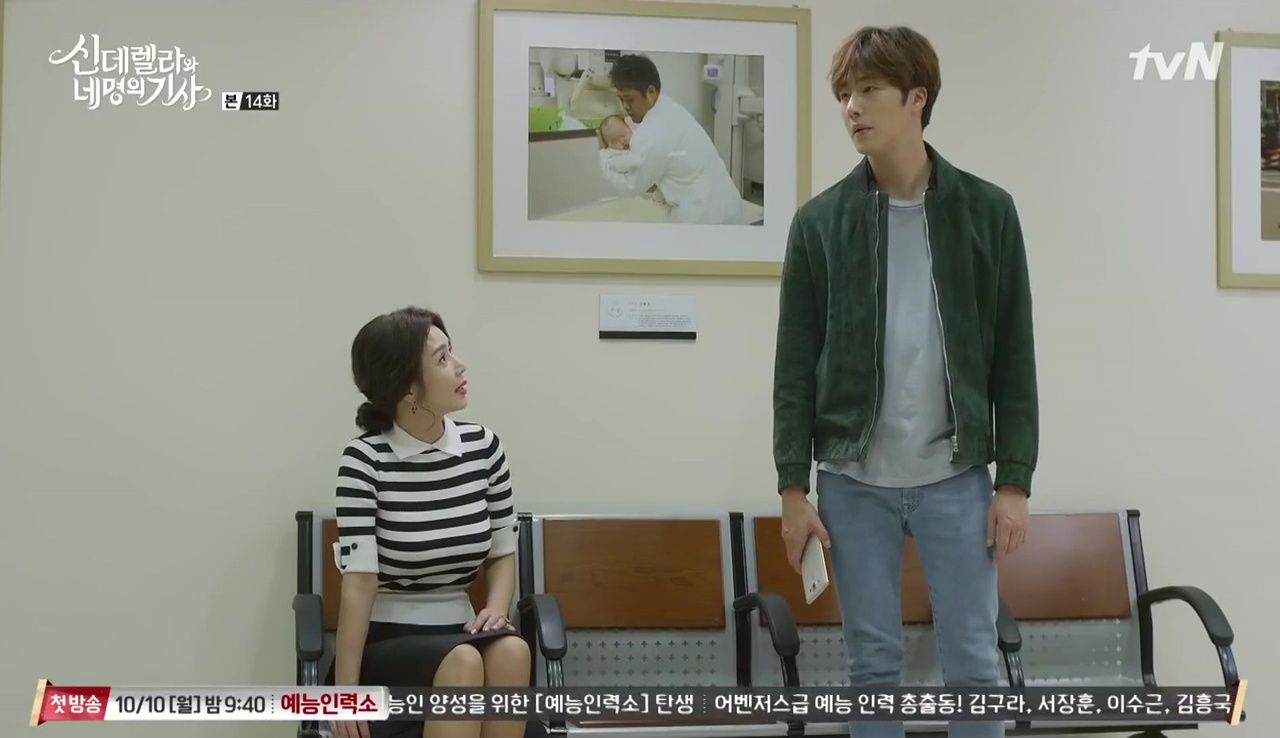 As Ha-won exits the hospital, hiccuping with tears, she just misses Ji-woon entering the building. They cross paths without knowing it.
Ji-woon finds Bodyguard Lee and Hwa-ja, and Lee informs him of Grandpa Kang's liver cancer. When Ji-woon asks after Ha-won, Lee tells him that she said she'd come. Ji-woon says he'll wait for her, and the cunning Hwa-ja watches him walk off.
Joining her step-grandson on a bench, Hwa-ja, out of the goodness of her heart, informs Ji-woon of Grandpa Kang finding out about his relationship with Ha-won. She tells him that Grandpa Kang gave her the choice between money and Ji-woon, calling the girl clever for taking the payment. Ji-woon denies her words at first, but Hwa-ja points out that Ha-won isn't picking up his calls, adding that Grandpa will never stand for someone as lowly as her to be dating his grandson. Ji-woon refuses to listen to any more and walks off.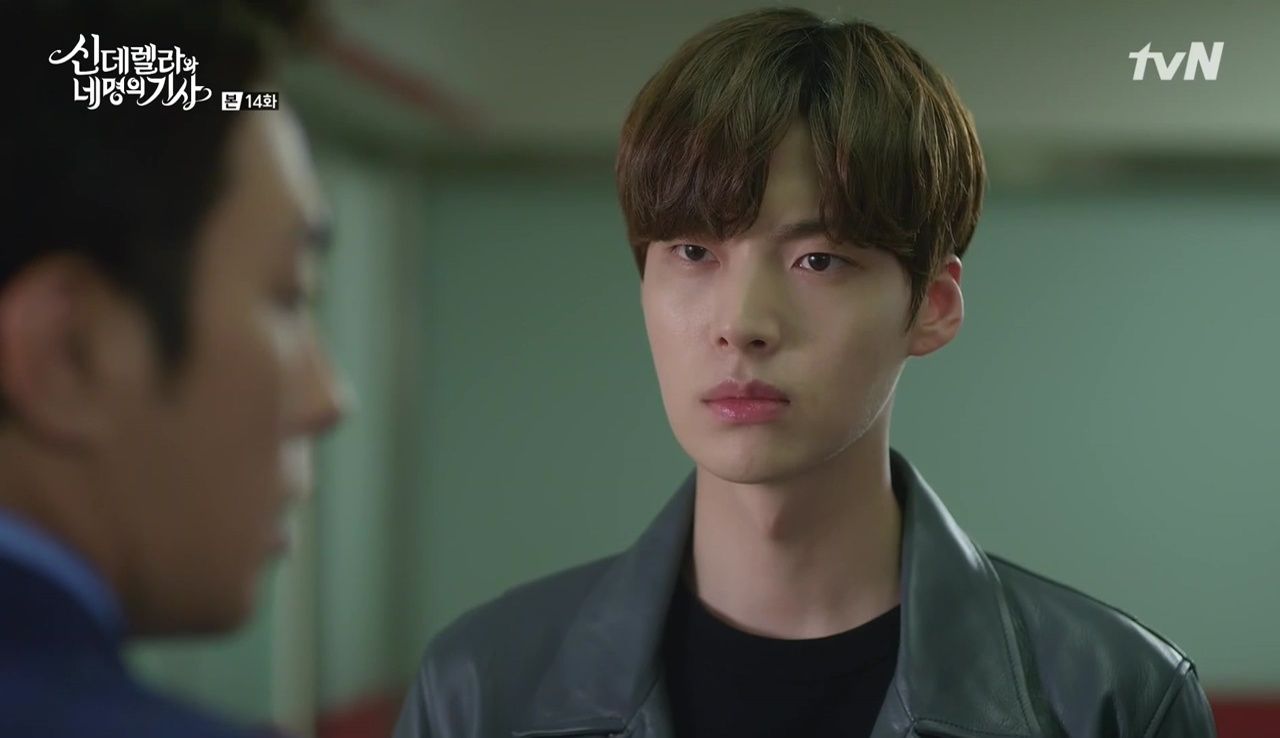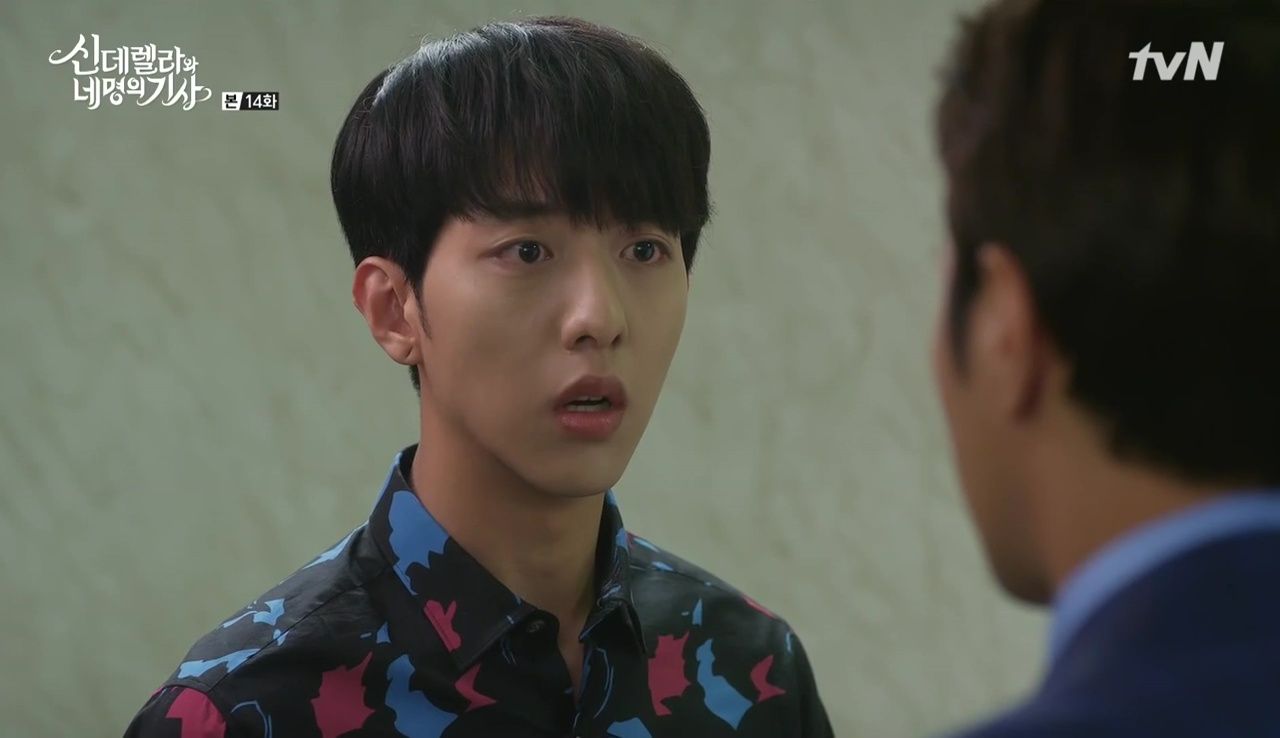 Hyun-min and Seo-woo meet with Bodyguard Lee, who fills them in on Grandpa Kang's cancer problem. He tells them that Grandpa's only hope now is to find a donor, which is why he kept his condition a secret from his grandsons, so as not to pressure them into donating.
Seo-woo wonders how Grandpa ended up like this when he'd been doing well up till now, asking Bodyguard Lee what happened to cause his collapse. Lee falters a bit as he lies that he's not sure, since he only found out about it after. Liar, Liar, sneaky pants on fire.
In the meantime, Hye-ji finds room and board from a friend, making a deal to work in her clothing store and stay in the storage room.
Hyun-min and Seo-woo check with Grandpa Kang's doctor, who warns them that a liver transplant is risky not just for the recipient, but for the donor as well. Regardless, both boys want to get their compatibility tested to see if either of them could be a match.
As they leave the wing, Hyun-min and Seo-woo bond over their shared worry for Grandpa, both admitting that they don't want to lose what little family they have left. Awww.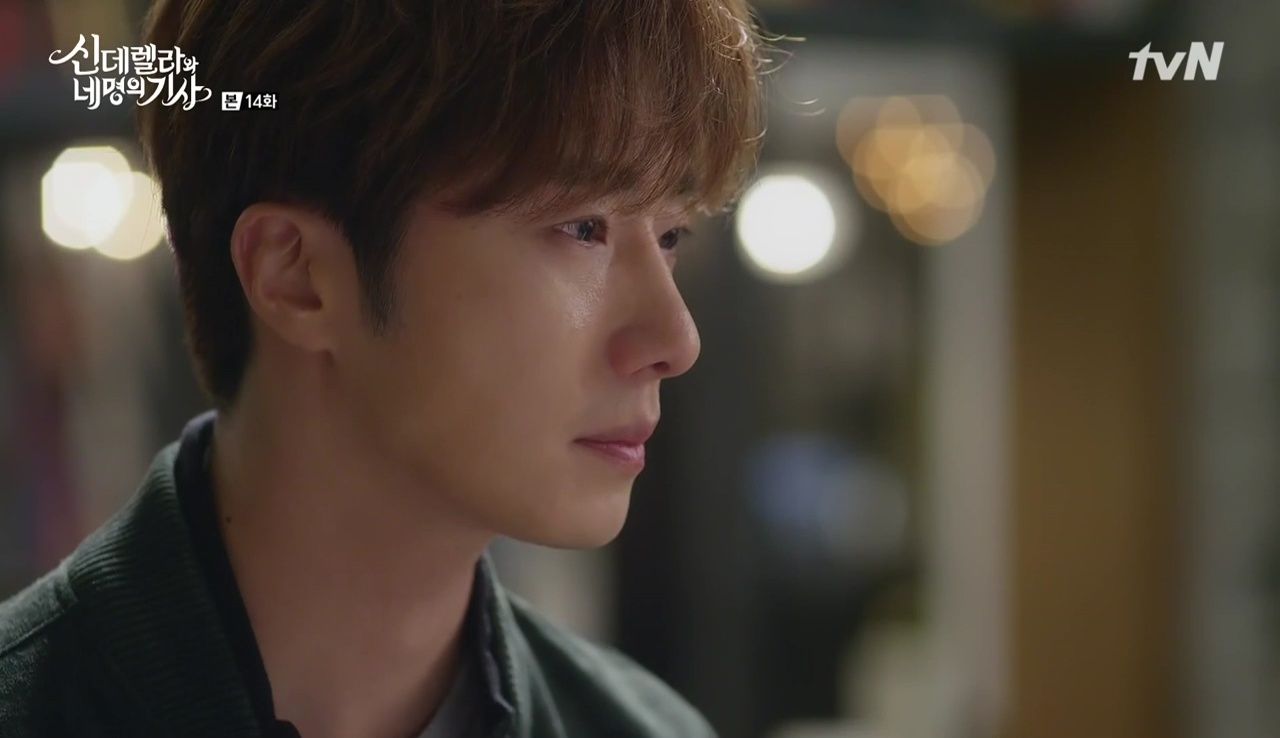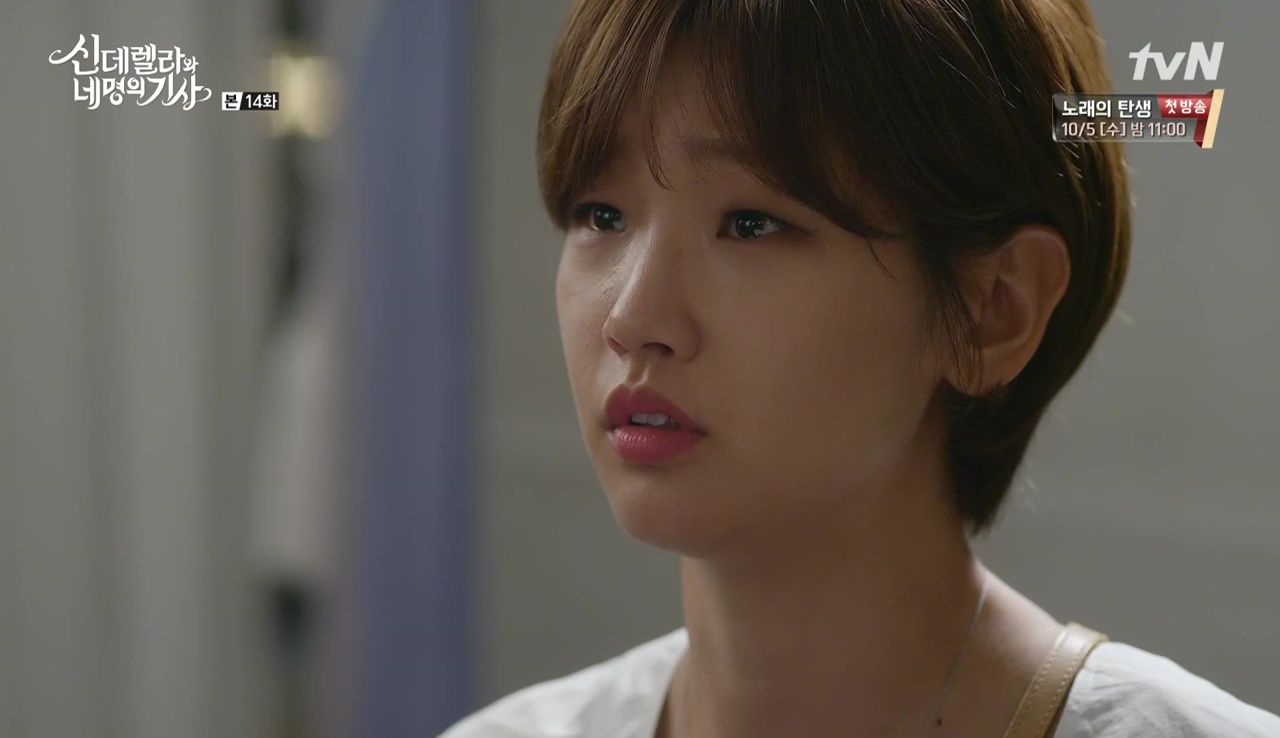 Per Hwa-ja's instructions/threats, Ha-won tries to leave Sky House secretly, only to run right into Ji-woon a she exits her room. When Ji-woon demands to know what she's doing, Ha-won answers that she doesn't belong here, muttering that it's not like she's Cinderella or anything (hur).
Ji-woon stops her with a hand on her suitcase. He argues that he knows this isn't how she really feels, and nearly begs her not to do this to him, especially given all that he's going through right now. In answer, Ha-won gently pries his hand away, asking him to let her go
As Ha-won starts to walk past him, Ji-woon warns her that if she leaves now, he'll never see her again. But Ha-won has her orders, so she turns a deaf ear and walks away without a backwards glance.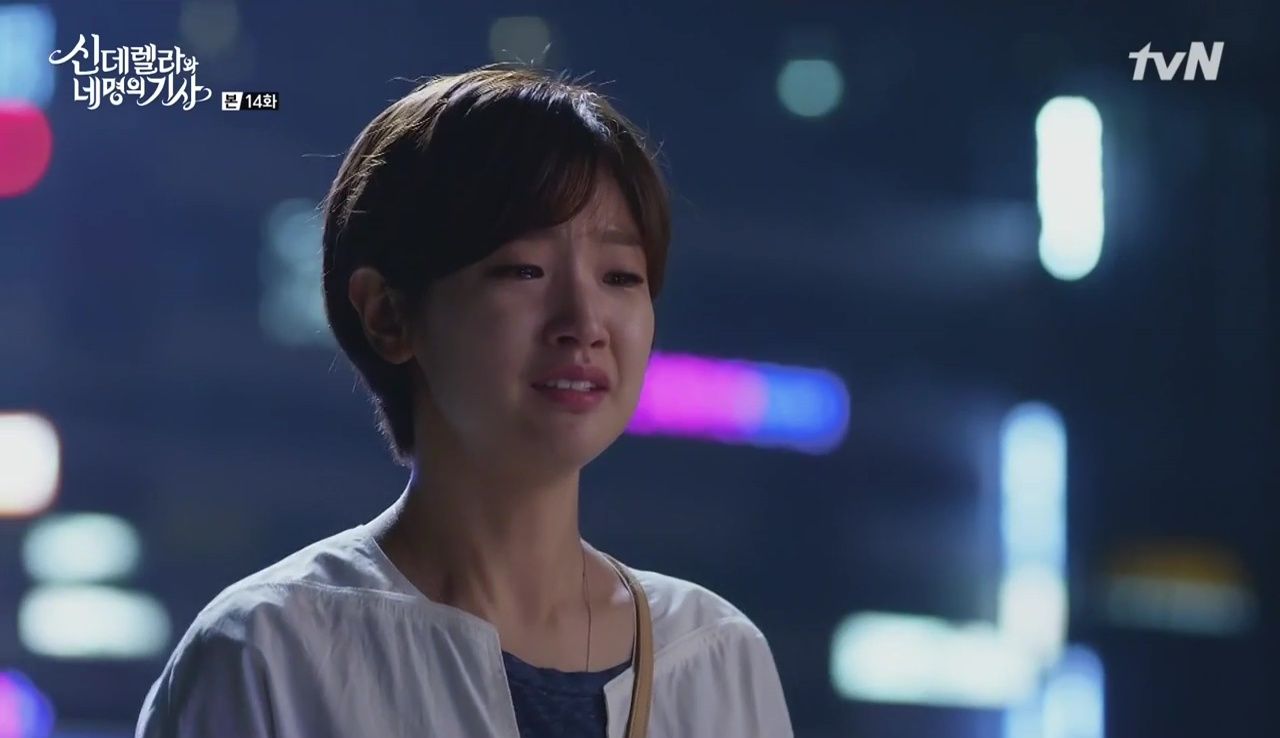 Dragging her suitcase, Ha-won wanders through the night, sobbing. She remembers all the lovely moments she and Ji-woon shared, flashing back all the way from his pricking her finger, through to when he'd hugged her in the columbarium and told her to cry as much as she'd like, promising to stay beside her.
With those words ringing in her mind, Ha-won breaks down, and her feet seem to stop of their own accord as she looks back behind her. But, with a final longing glance, she turns away again and trudges on.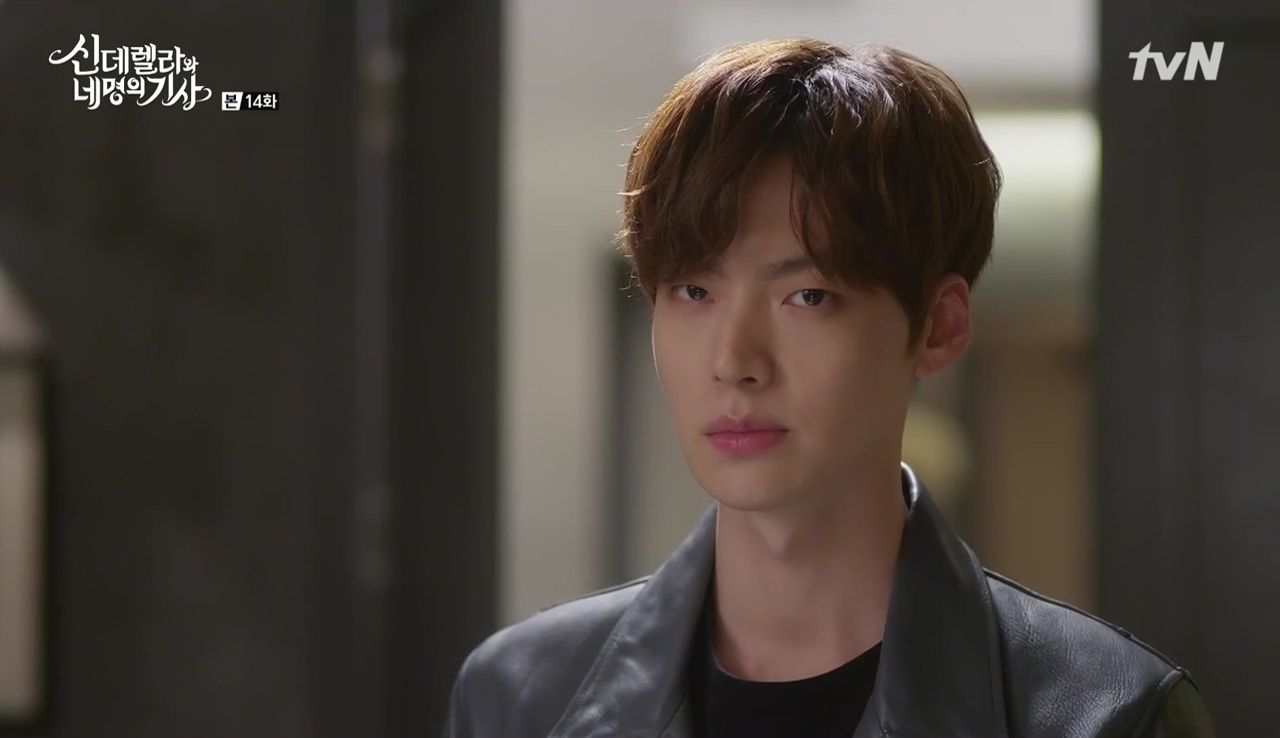 At Sky House, Hyun-min runs into Ms. Beolgyo, whose arms are full of the belongings that Hye-ji left behind. Taking the boxes to his own room, Hyun-min pulls out the blue dress that Hye-ji had made for Grandpa Kang's wedding. Thinking back on all the times he'd treated Hye-ji poorly (so, pretty much every interaction thus far), Hyun-min sighs and calls himself an asshole.
Hye-ji also joins the flashback train, looking at the childhood picture of her, Hyun-min, and her brother. She recalls Hyun-min's words about running away from her brother's accident, and remembers all the times that he pushed her away.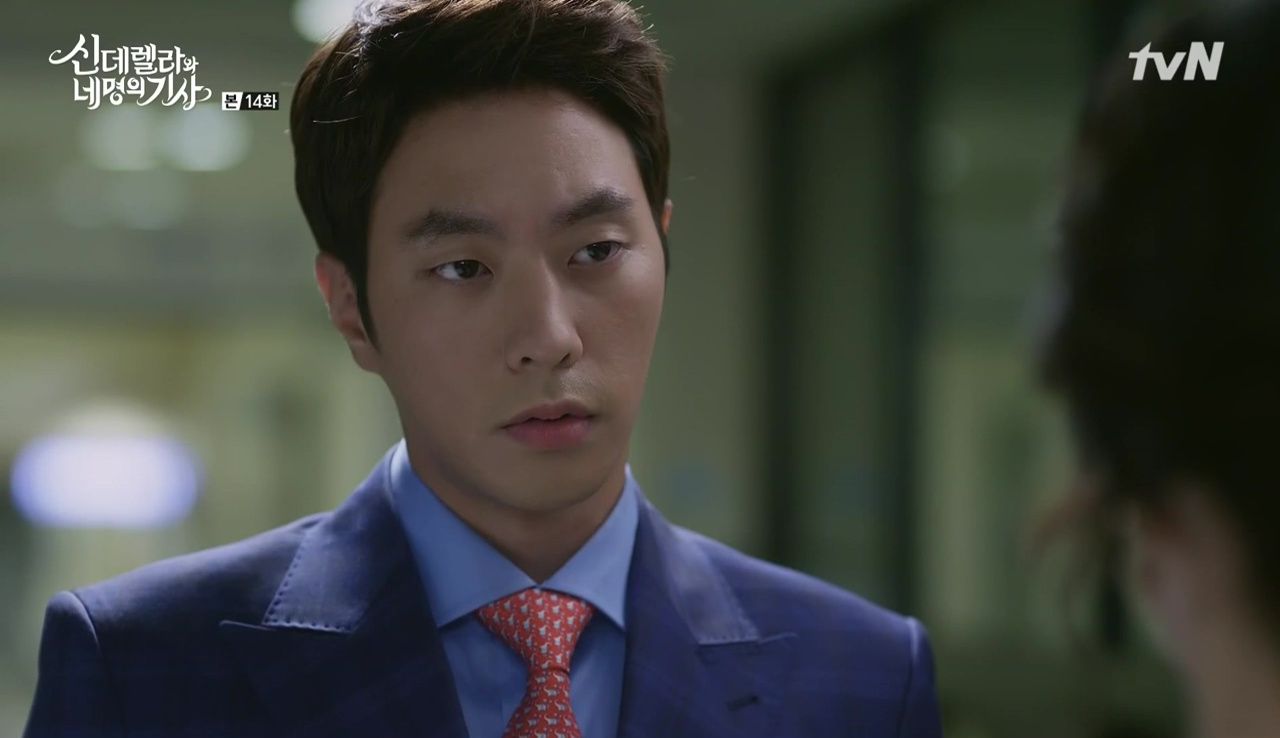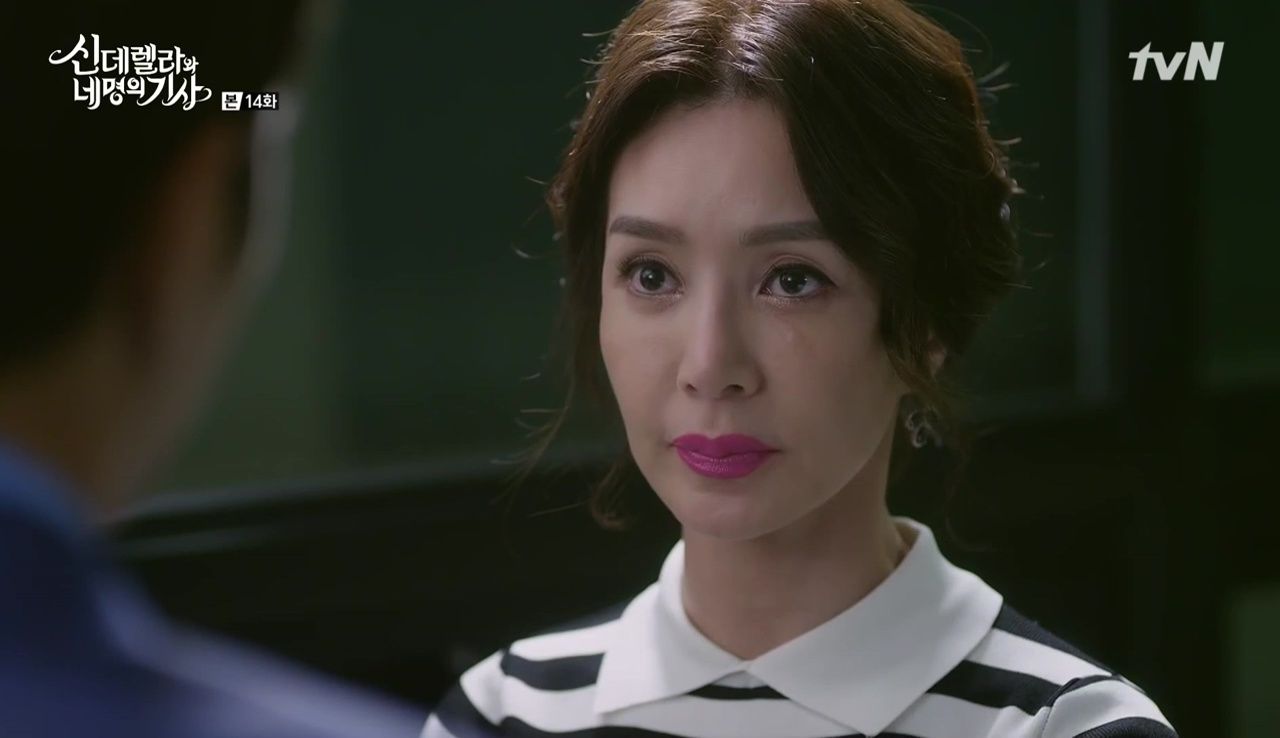 Hwa-ja and Bodyguard Lee meet in secret, with Lee assuring his mother that no one knows they were with Grandpa when he collapsed. Hwa-ja says that she met with Grandpa's doctor and that it's unclear when — or if — he will regain consciousness.
Hwa-ja tells her son that right now, Hanuel Group needs a leader, and who's better suited for it than Bodyguard Lee? Lee argues that now is not the time to be saying such things, but Hwa-ja is determined to put him in the position he deserves. She decides that from now on, she'll act as his mother.
Retreating to her sanctuary at the columbarium, Ha-won seeks guidance from her mother. She blames herself for causing Grandpa Kang's collapse and for putting everyone through such a difficult time, tearfully asking what she's supposed to do now.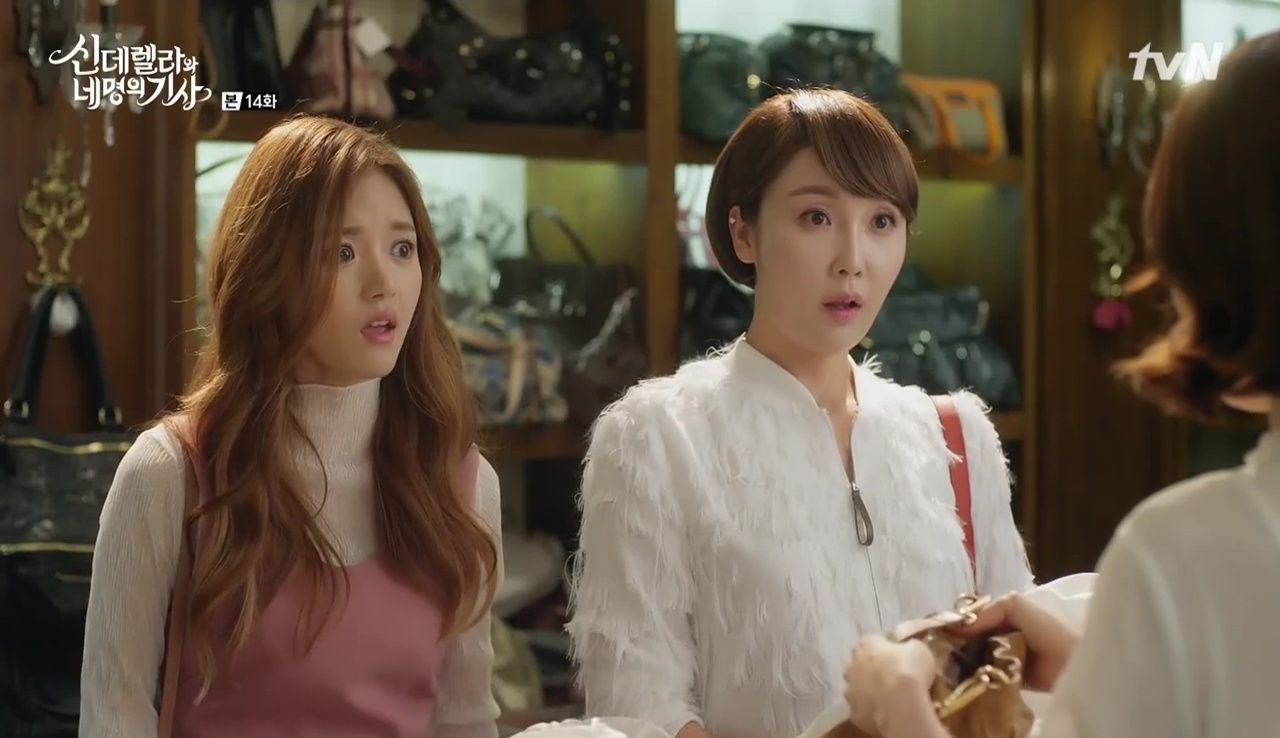 Grandpa's doctor informs Lee that neither Hyun-min nor Seo-woo were a match. He advises that, statistically, they're more likely to find a donor match within the family, and asks if there are any other blood-relatives that could be tested.
Strapped for cash now that Dad is firmly on Ha-won's side, Stepmom and Stepsis resort to selling their handbags at a department store, trying to pass off the knockoffs as authentic. Unfortunately for the pair, the saleswoman isn't fooled, and their newest diabolical plan fails.
Looking through his father's photo album, Ji-woon notices the restaurant in the background of his mother's picture. He's able to locate the address and arrives at a quaint café called Island in the Woods.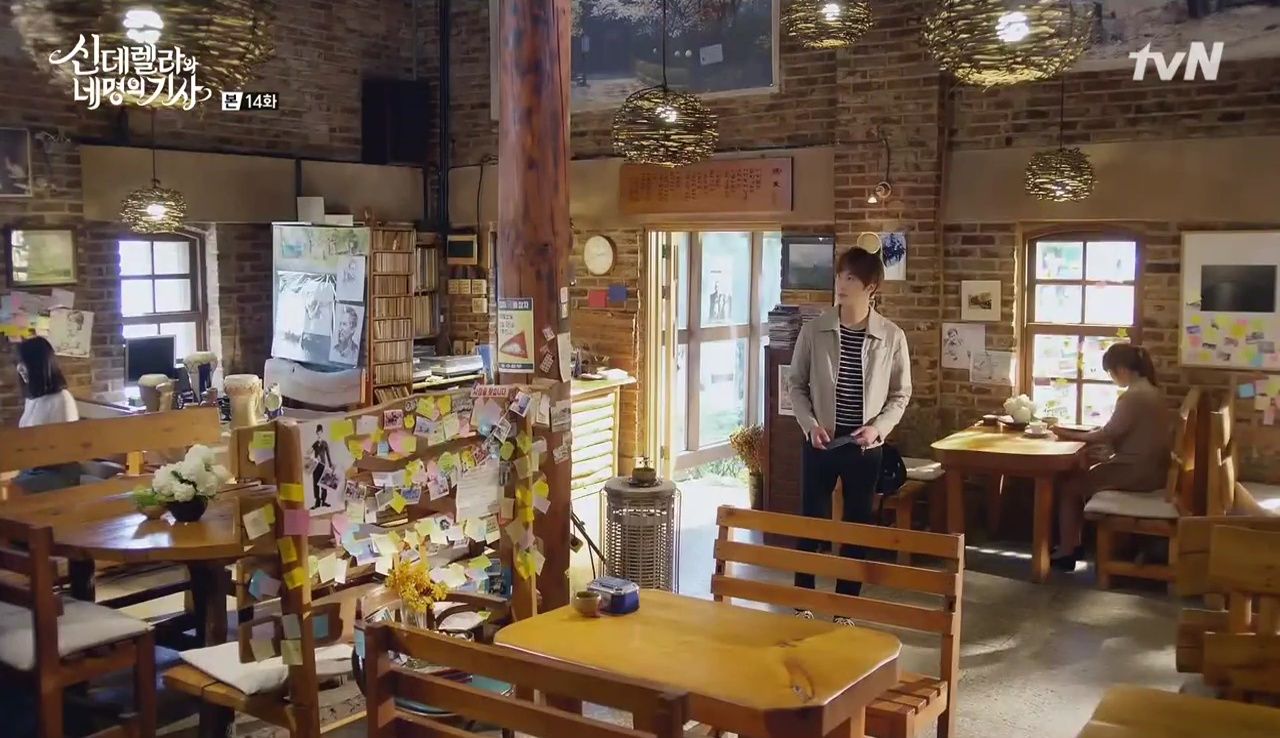 Hye-ji is hard at work at her friend's store, and completely oblivious to her stalker, Hyun-min. Hyun-min stares at her from his car, before making a phone call to a friend, asking to meet.
At the café, Ji-woon looks around at the notes that cover the walls, all of them messages between couples or lost lovers. The owner stops by his table and notices the picture of Ji-woon's mother outside the café. Seeing the date on the photo (1995), he brings Ji-woon a box containing all the notes left from that year.
Ji-woon looks through them and quickly finds a message from his father to his mother, promising to never make her leave again. His mother had replied on that same note, apologizing for running away and admitting to being scared. Eager, Ji-woon asks the owner if he could see the box from 1996 as well.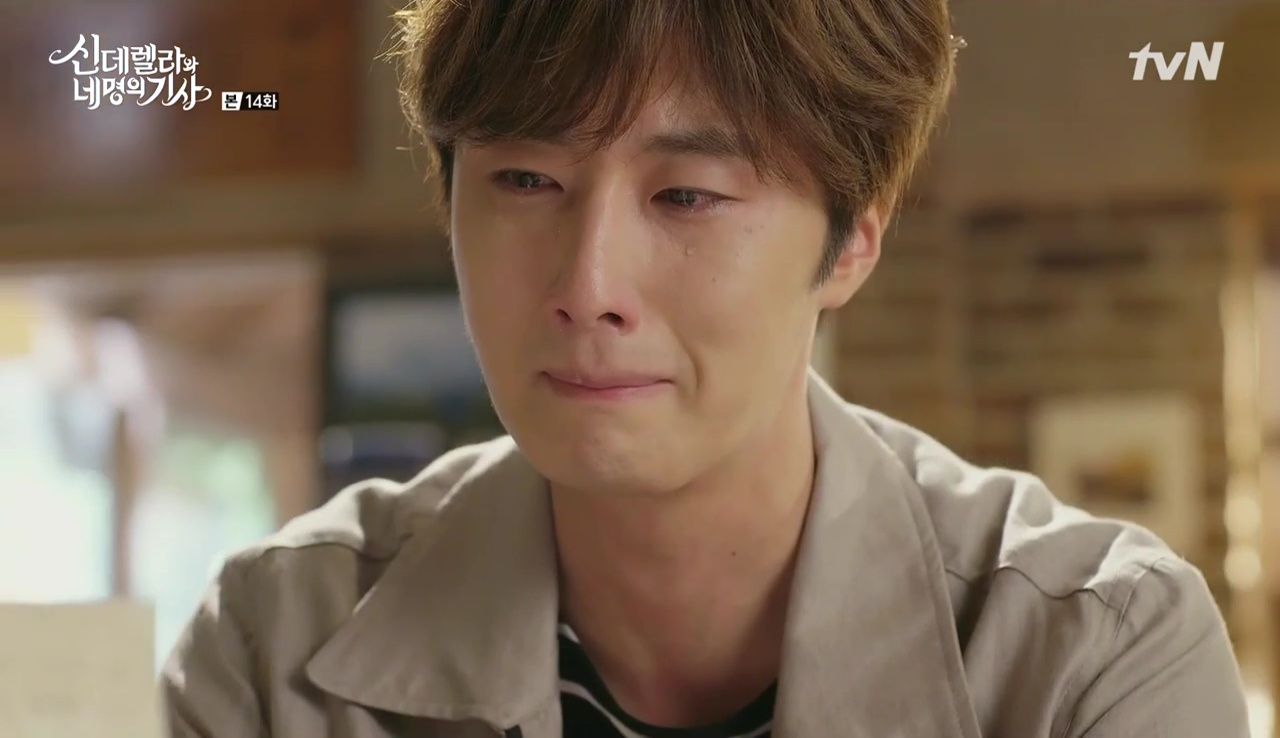 Soon, the table is littered with boxes, and Ji-woon has a small stack of letters his mother wrote in front of him. It seems she visited the café every year, leaving notes for Ji-woon's father to tell him about their son.
She wrote that she wished their son could know his father, and that she wanted Ji-woon to have the freedom to love whomever he wishes, without worrying about social status. She said that this is why she hid her son's existence from Grandpa Kang, and why she couldn't return to Ji-woon's father.
Tears fall freely as Ji-woon reads, but his face hardens when he realizes that his grandfather is the reason for all his mother's suffering, and the reason why he never knew his father.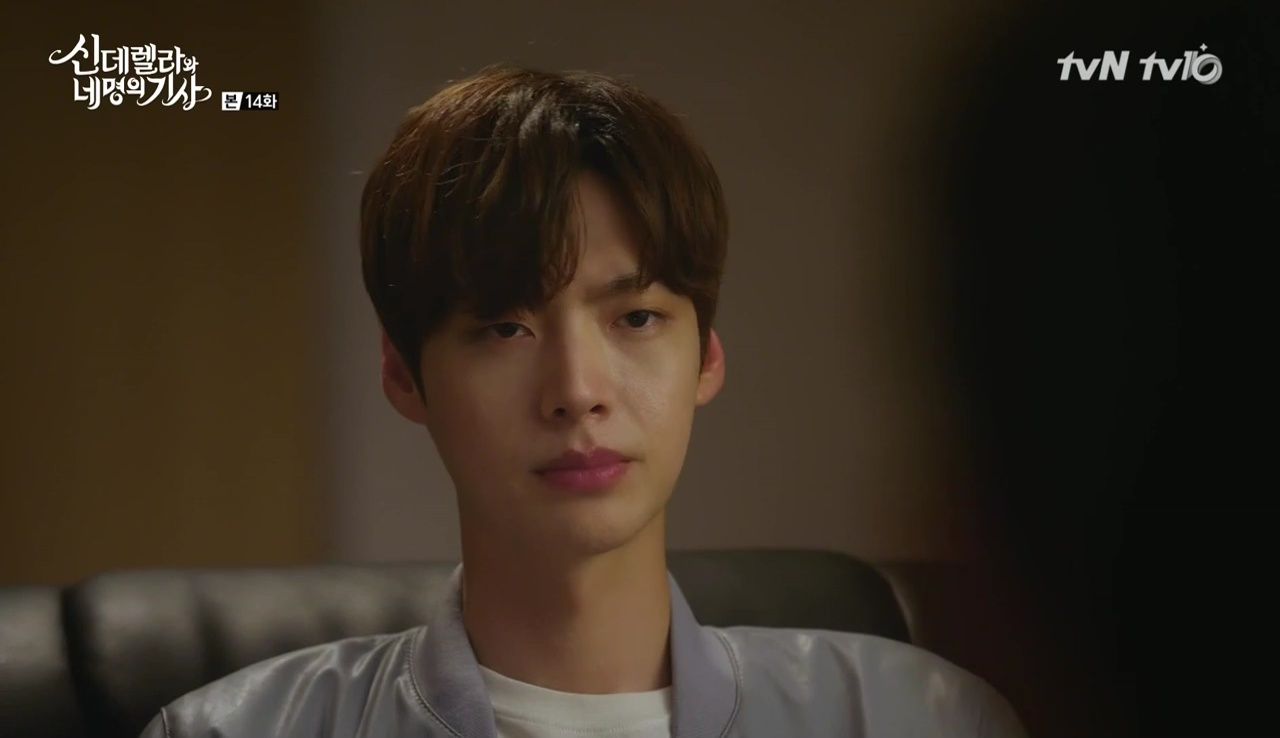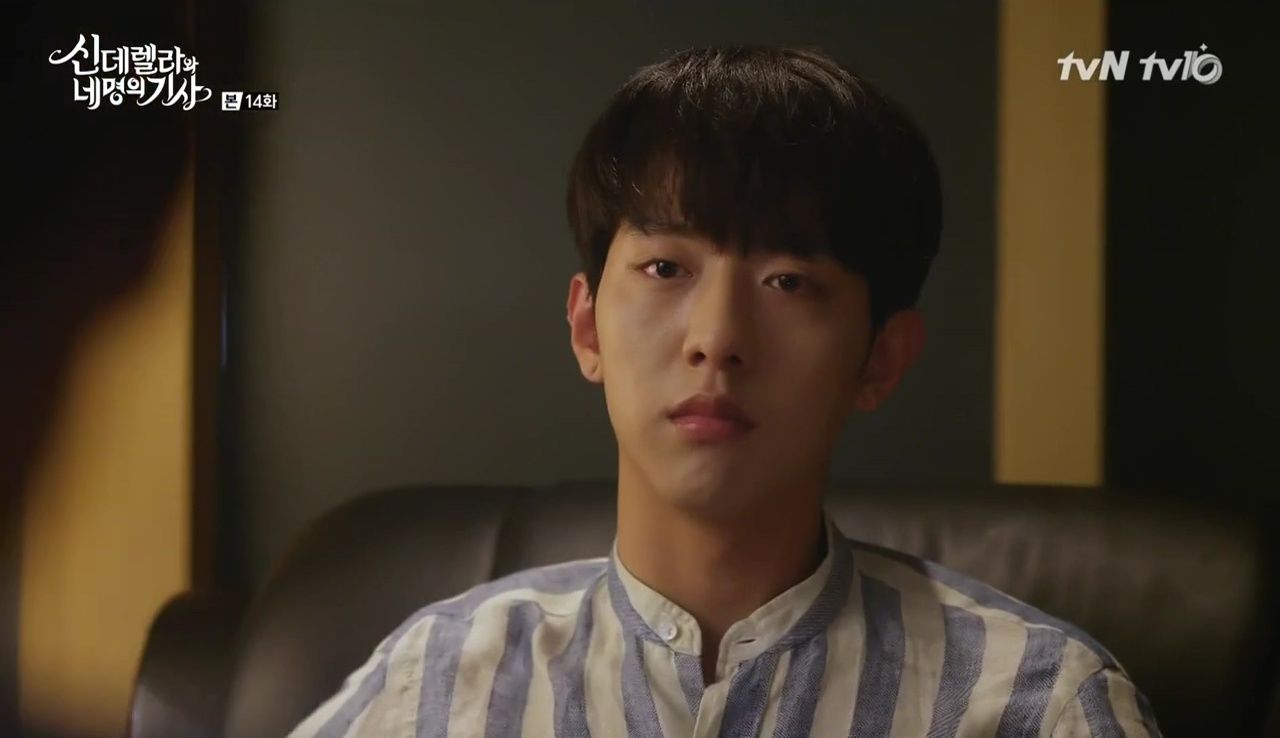 Seo-woo visits Grandpa Kang, scowling slightly at the small flower arrangement Hanuel Group sent, feeling sorry for his grandfather when his own company cares so little.
That night, Seo-woo is joined by Hyun-min at the hospital, both of them having cleared their schedule to be with Grandpa. Hyun-min talks to Grandpa's prone form, telling him to hurry and wake up, but to no avail. Hilariously, Seo-woo just shakes his head at his cousin afterwards. Yeah, we know: He's in a coma.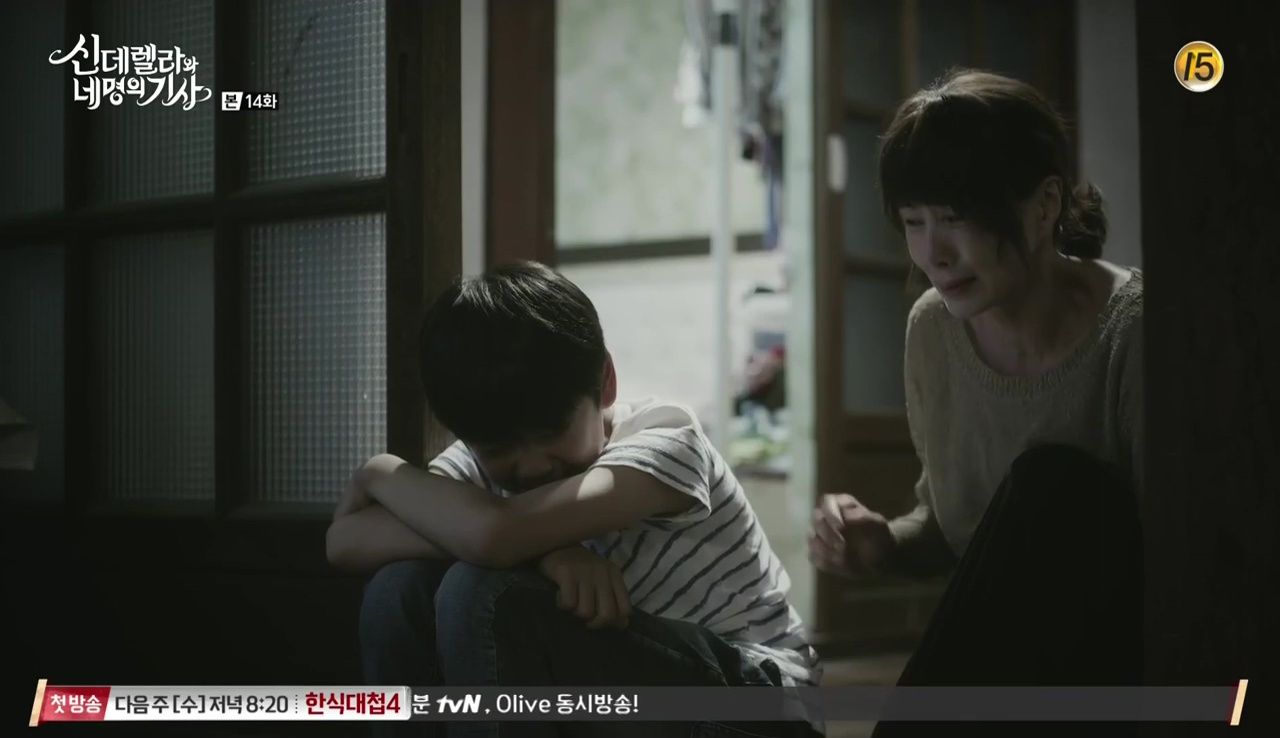 Bodyguard Lee visits the office that night, caressing Grandpa Kang's nameplate as he flashes back to a scene from his childhood. Poor Little Lee had sobbed in fear, listening to his drunk father beat his mom (Hwa-ja). Afterwards, Hwa-ja had crawled out, shaking and crying as she told her son that she was going out for a bit and would be right back.
This must have been the night she left, since Little Lee had fallen asleep at the door, waiting for her to return. Which is why, as a young man, Lee had trained vigorously in martial arts, telling his instructor that he had someone he wanted to protect.
Hyun-min meets his friend, who turns out to be a famous designer. Asking for a favor, he slides over the design books that Hye-ji left at Sky House.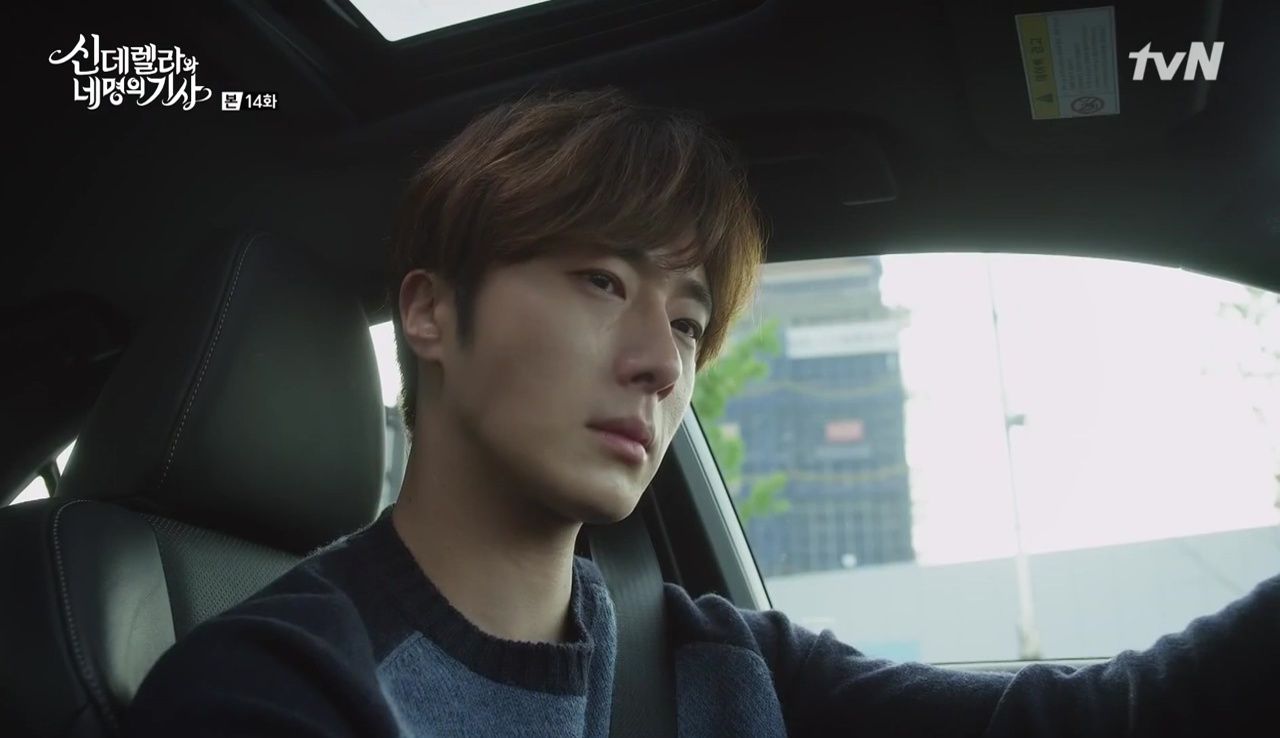 At a stop light, Ji-woon looks at his father's photo album and comes to a decision. He changes direction and, after a last look at his phone, chucks it out the window and drives on, leaving Kang Ji-woon behind.
Hyun-min gets called into the hospital by Grandpa's doctor. He asks if Hyun-min has heard from Ha-won recently, since she volunteered to get tested to see if she could be a donor, but he hasn't been able to contact her with the results. The news that Ha-won was willing to donate surprises Hyun-min, but unfortunately, she is not a match either.
While he's visiting his grandfather, a nurse tells Hyun-min that the restaurant where Grandpa Kang collapsed has been trying to get in touch with them.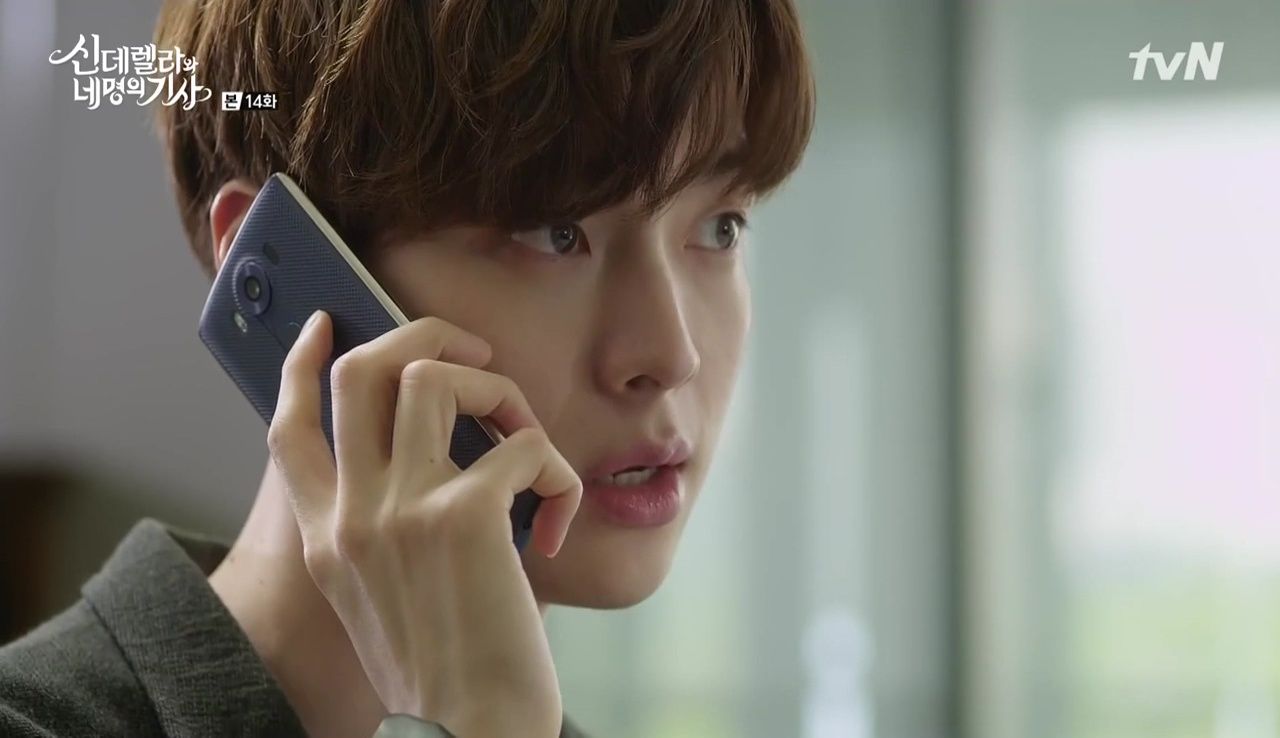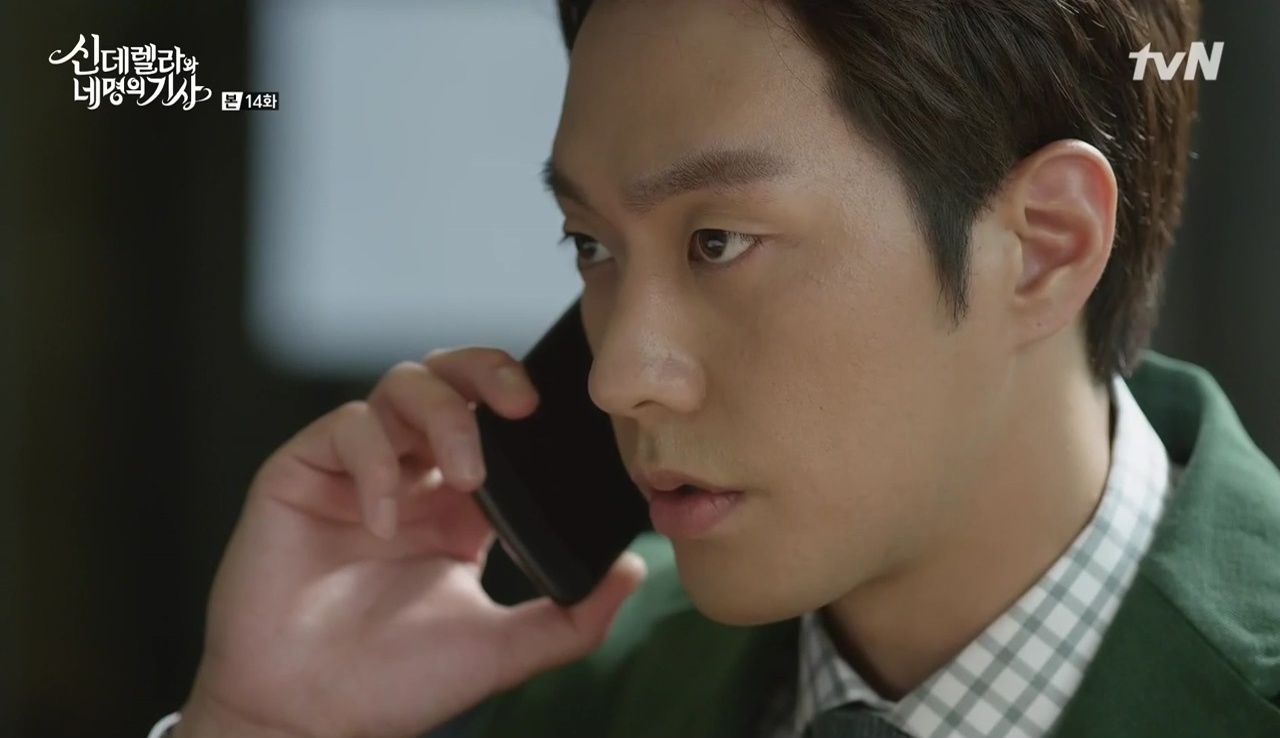 Hyun-min visits the restaurant, and the manager gives him Grandpa's phone which had fallen when he collapsed. The man inadvertently reveals that Bodyguard Lee was already there at the restaurant with Hwa-ja when Grandpa arrived and saw the pair.
Mulling this new information over, Hyun-min stops at the company to look for Bodyguard Lee, but he's told he isn't there. Except, when Hyun min calls Bodyguard Lee to ask where he is, Lee answers that he's at the company. (Ruh-roh.) Hyun-min hides his suspicions for now, and Lee says that he'll stop by the hospital later.
Bodyguard Lee is in fact meeting his mother, who hands over documents which will transfer her stock shares to his name, making him a majority shareholder. She tells him that she wanted to be a proper mother to him just once, asking if he'll let her. Lee thinks back to the orphan children calling Hwa-ja "Mom," and how she wanted her own son to call her that.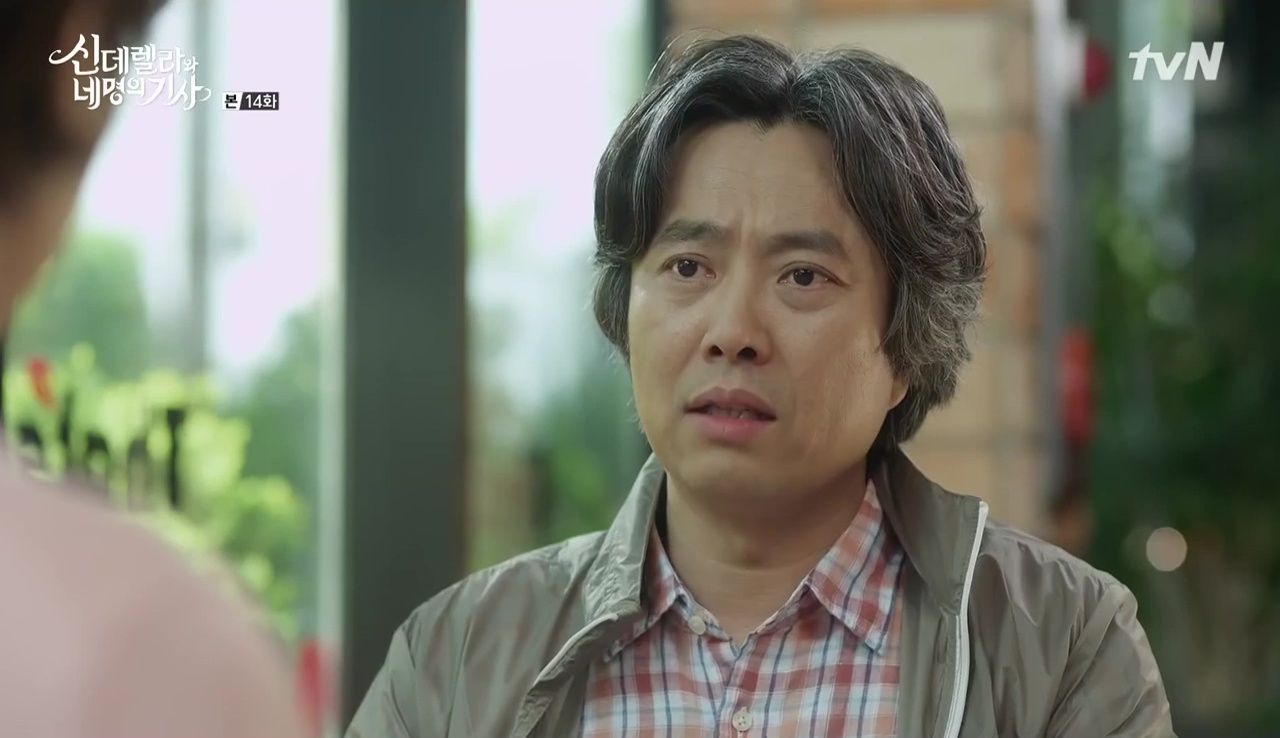 Ha-won is back at at her part-time job as a barista with Ja-young. Her friend pouts that Ha-won didn't tell her that her oppa's (Seo-woo's) grandfather was sick, but Ha-won shies away from the subject. Ja-young worries about where Ha-won is going to stay now that she left Sky House, revealing that Ha-won is currently sleeping in the coffee shop storage room. Their banter is interrupted by the arrival of Ha-won's dad, who smiles sweetly at his (now confirmed) daughter.
Dad and daughter sit together, and he asks how she's doing. Hiding the fact that she was fired, Ha-won insists that she's doing well, but Dad is concerned about Ha-won spending all her time with people on such a higher rung on the social ladder.
Dad asks after the ring that Ha-won's mother left her, revealing the real story of how the ring belonged to the woman who Ha-won's mother died trying to save. The news hits Ha-won hard, and Dad gently says that they should return the ring to its rightful owner, so both of them can finally move on.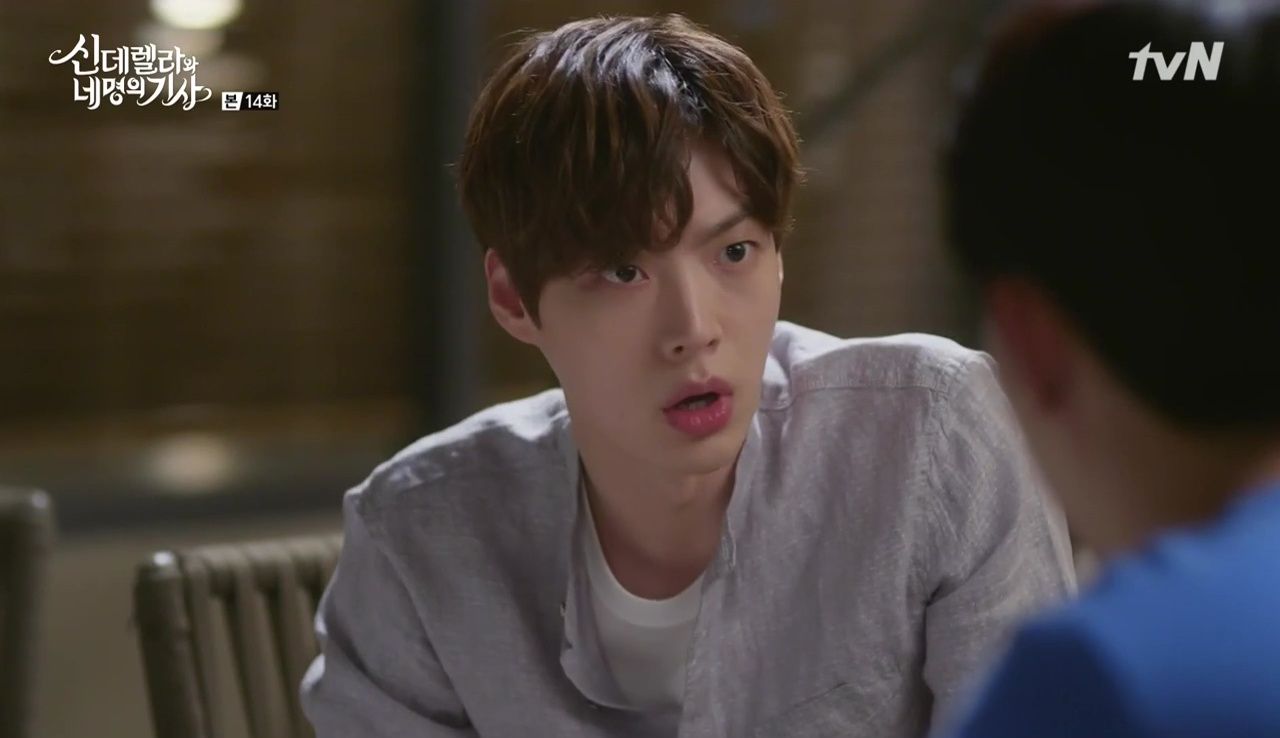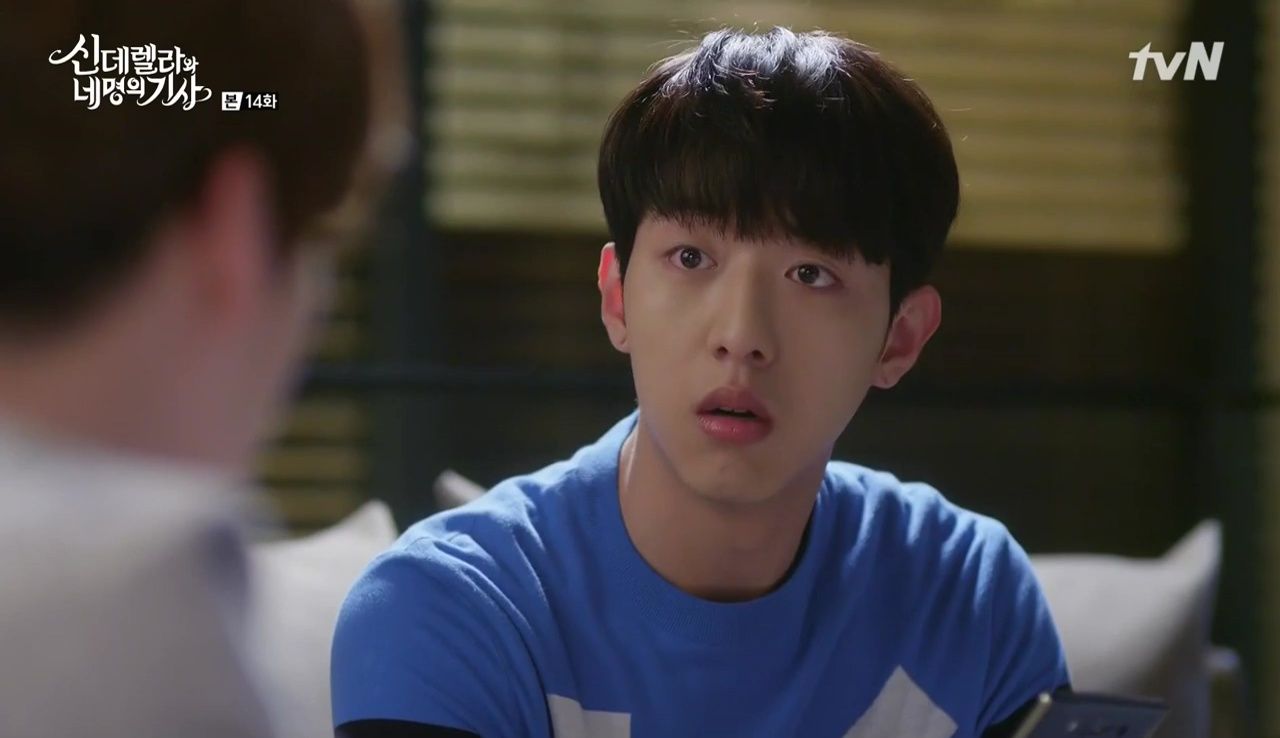 Hye-ji gets a call from Hyun-min's fashion designer friend. She meets with him, and right away he says that he likes her designs and wants to become her mentor, deciding to recommend her as a scholarship student for a fashion school in Paris. Oh goodie, does that mean she's leaving the country?
Back at Sky House, Hyun-min confirms with Seo-woo that Bodyguard Lee never visited the hospital, his suspicions growing. Showing Seo-woo Grandpa Kang's phone, Hyun-min admits that he hasn't been able to figure out the password to unlock it. Seo-woo tries and, strangely enough, it works on the first try. Both boys are adorably excited about it, and Seo-woo says that it's the same password he uses for his own phone, musing that he and Grandpa Kang had something in common.
The phone opens to the "family portrait" that Ha-won took of them, making both cousins pause. Hyun-min tells Seo-woo about Ha-won getting herself tested as a potential donor, though she wasn't a match. He sighs that the only one left now is Ji-woon, wondering, "Where did that punk go?"
Ja-young meets Seo-woo outside the hospital and gives him a homemade meal she prepared. She recounts her own experience of having a loved one in a hospital when her father had cancer, and how Ha-won had brought her food at that time, which sparked their friendship.
Seo-woo enjoys her food, and when he leaves to get water, Ja-young goofily fangirls over Seo-woo eating the meal she made. Snatching the phone Seo-woo left behind, Ja-young quickly opens the same dating app that Ha-won used with Ji-woon, and nearly loses her mind to see that they have 95% compatibility.
Seo-woo returns, and after Ja-young not-so-subtly puts his phone back, he asks if she knows where Ha-won is.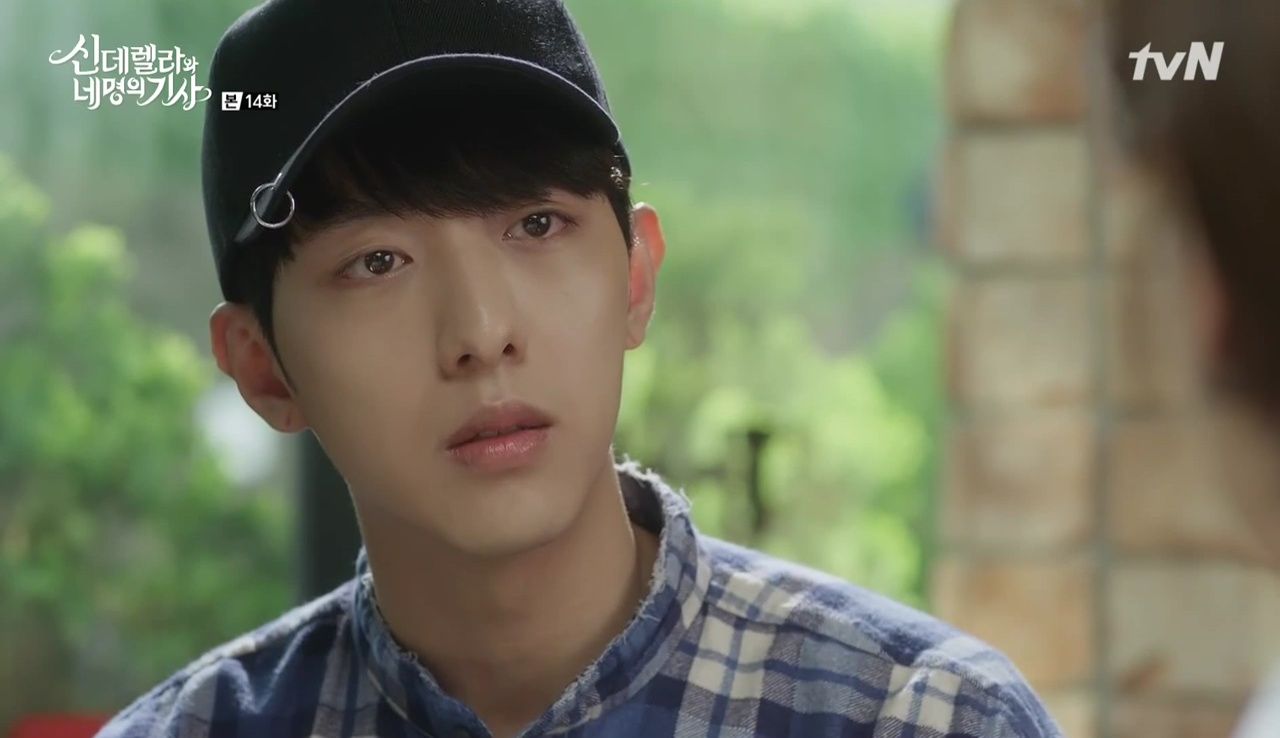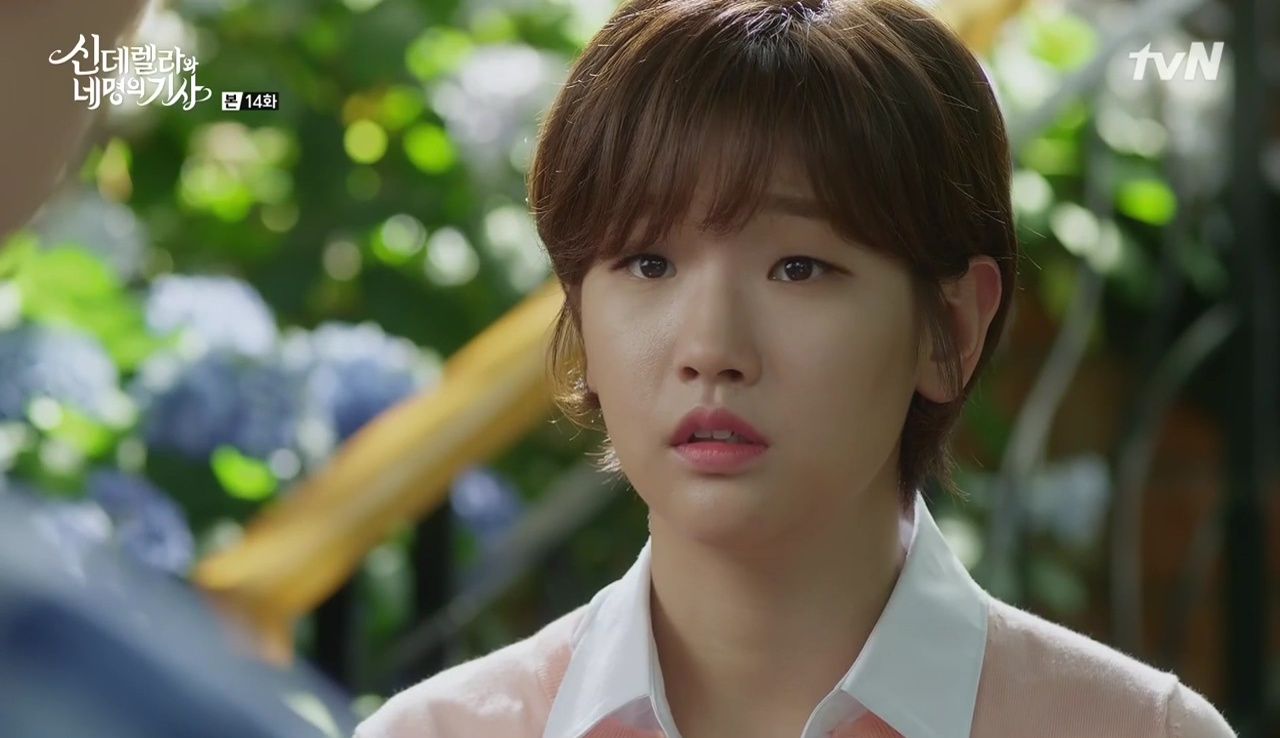 Following Ja-young's tip, Seo-woo finds Ha-won at the coffee shop. He updates her on Grandpa's condition, and informs her that she isn't a compatible donor either. Looking at her intently, Seo-woo says that Ji-woon is the only blood relative left, except they can't find him… but Ha-won could.
Seo-woo admits that he knew about her relationship with Ji-woon. He was going to keep it a secret, but he realized that in spite of living with his cousin for a year, he knows nothing about him or where to find him. He hands over Grandpa Kang's phone and says that there's something in it that Ji-woon should see.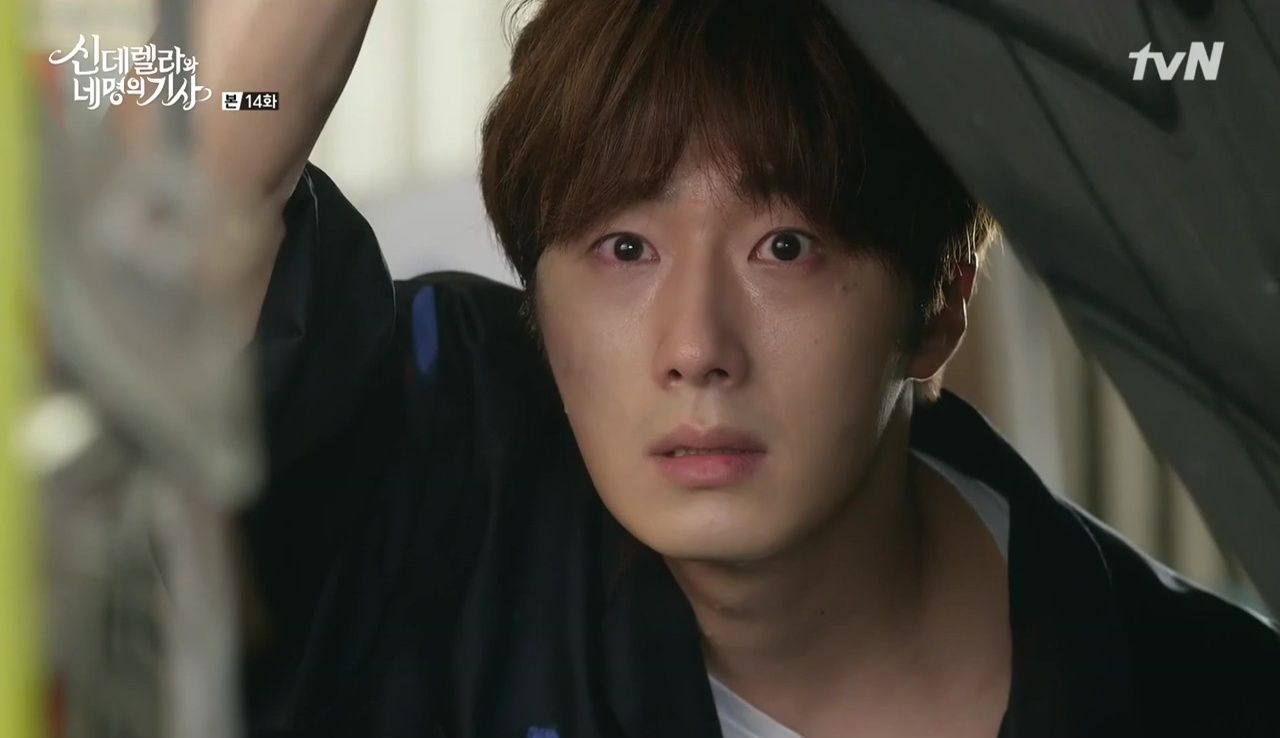 That night, Ha-won thinks back to her parting with Ji-woon, and how he'd refused to see her again if she left. She scrolls through Grandpa Kang's phone, reading through a number of texts that Grandpa had sent to his already deceased son, describing Ji-woon.
In the morning, Ha-won tracks Ji-woon down. She finds him working in a garage, where he's returned to his old name of Han Ji-woon.
Ha-won says she found him by backtracking though his old jobs, but Ji-woon just tells her to just head back. She gives him Grandpa Kang's phone and, as he scrolls through it, tells him that Grandpa wrote a message to Ji-woon's father every day since finding Ji-woon. The texts are sweet, telling his son that Ji-woon has a good name and takes after him.
Ji-woon looks a bit moved, but it isn't enough, and he refuses to visit Grandpa. When Ha-won says that Grandpa needs him, he snaps that he doesn't need Grandpa. Hackles raised, Ha-won says that's no way to talk about his grandfather and calls him a coward for running away.
Ji-woon fires back that she doesn't know what she's talking about. Ha-won agrees that she doesn't know what he's going through, but he's still Grandpa's last hope. She says that Grandpa is his family. If he's angry with him, then go save him. He can fight with him and be mad at him later, but he has to save him first.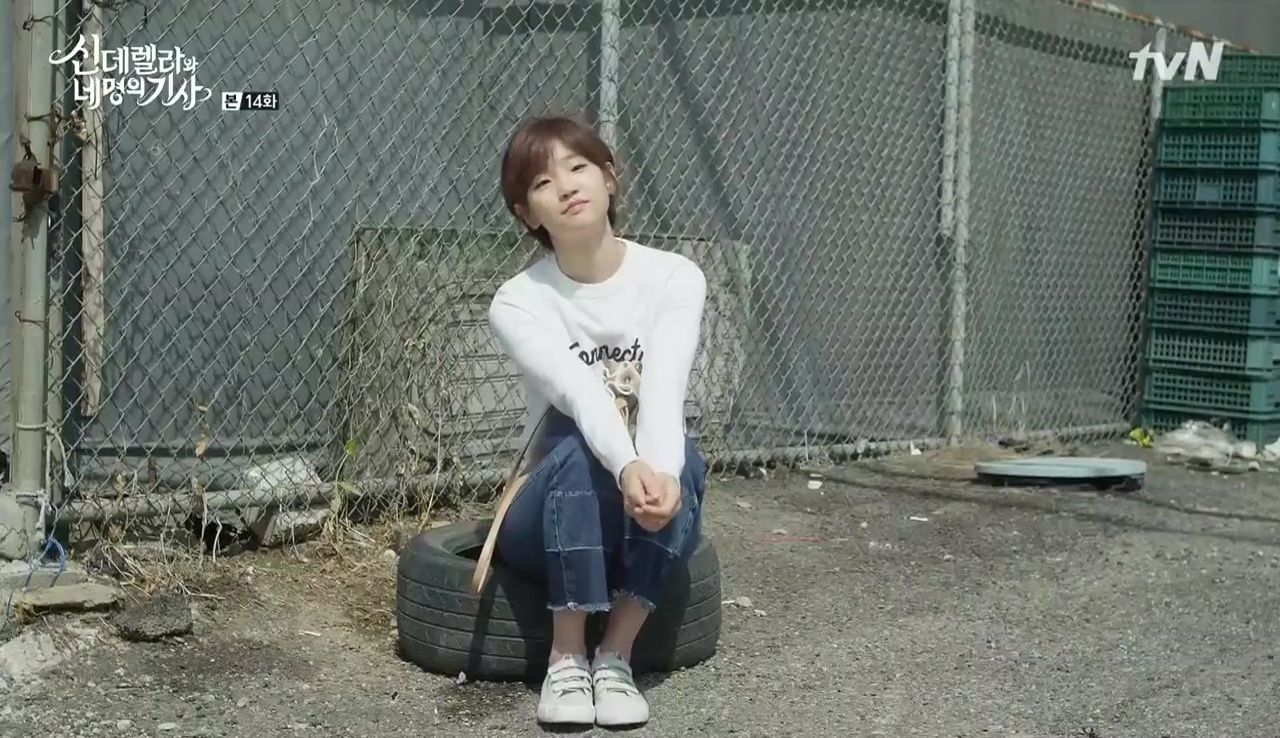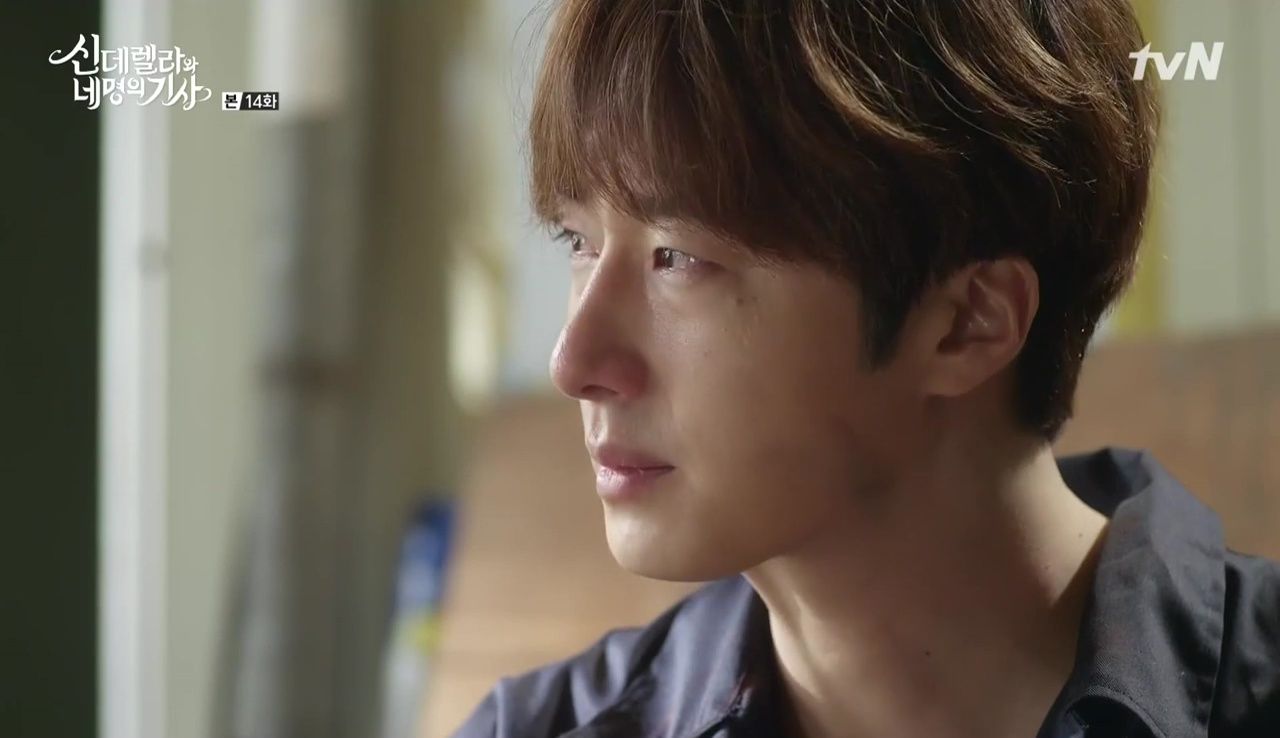 As Grandpa Kang clings to life, Hwa-ja calls a board meeting, since Grandpa's illness is bad for public opinion. The board doesn't appreciate her trying to step in, but Hwa-ja clarifies: She's not here to take control, but to announce a new major shareholder within the company.
Ji-woon broods over Ha-won's words and Grandpa Kang's texts. He glances across the street to see Ha-won smiling at him, clearly not leaving until he visits his grandfather. Hah.
Meanwhile, Hyun-min gets the bad news that Grandpa's liver has failed completely. It's now a race against time to find a donor.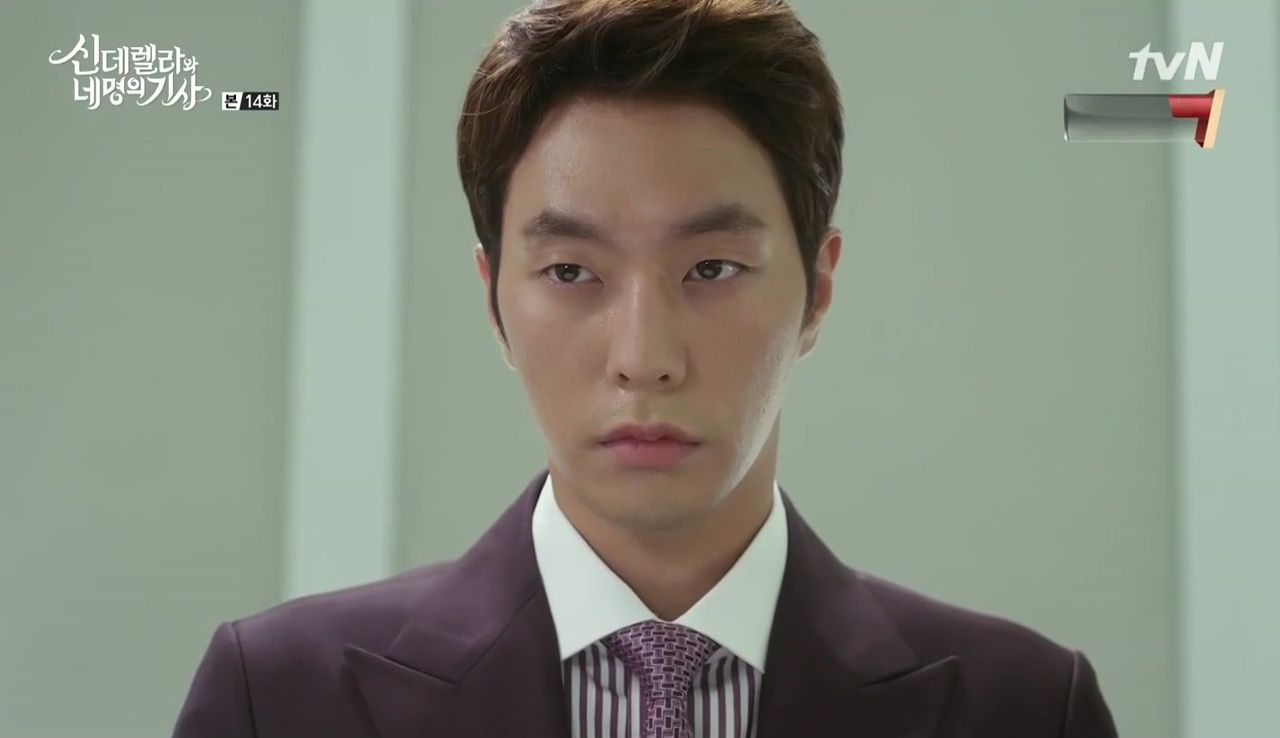 Back at the company, Hwa-ja introduces the new shareholder… and in walks Bodyguard Lee.
At the same time, Ji-woon marches into Grandpa's hospital room, Ha-won right behind him. Hyun-min and Seo-woo rise from their sitting vigil and flank him. As Bodyguard Lee faces the boardroom, all three cousins stare down at their grandfather.

COMMENTS
Aww, cousin bromance! Where has that been this whole time? There's still a little way to go for Ji-woon, since he's really only here to save Grandpa so that he can fight with him later, but I loved watching Hyun-min and Seo-woo hesitantly bond. While the two of them were never strictly at war the way Hyun-min was with Ji-woon, it was so heartwarming to see them coming together over Grandpa Kang's illness. Wasn't that the point of Ha-won's missions, to get the boys to become a family? Ironic that all two of the missions Grandpa Kang assigned her didn't do diddly-squat, and yet, as soon as he fires her, she finds a way to bring them together. Though I guess you could argue it was really Grandpa's failing liver that gathered them in a united front.
I think we can all safely assume at this point that Ji-woon is going to prove to be a donor match for Grandpa Kang, especially since they mentioned that Ji-woon is Grandpa's "only remaining blood-relative" about seventy-two times. I really hope the surgery works quickly, because someone needs to put a stop to the crazy mother-son duo going on between Hwa-ja and Bodyguard Lee. Honestly, I'm not sure how I feel about this apparent alliance, mostly because I can't tell how Lee feels about it, or what his motivation is. I've still got a little whiplash from his allegiance switch, and I have no idea what brought it on, or if it's genuine. I know he was starting to reconcile with his mom before Grandpa's collapse, but going along with a hostile take-over after two days of togetherness is a bit much.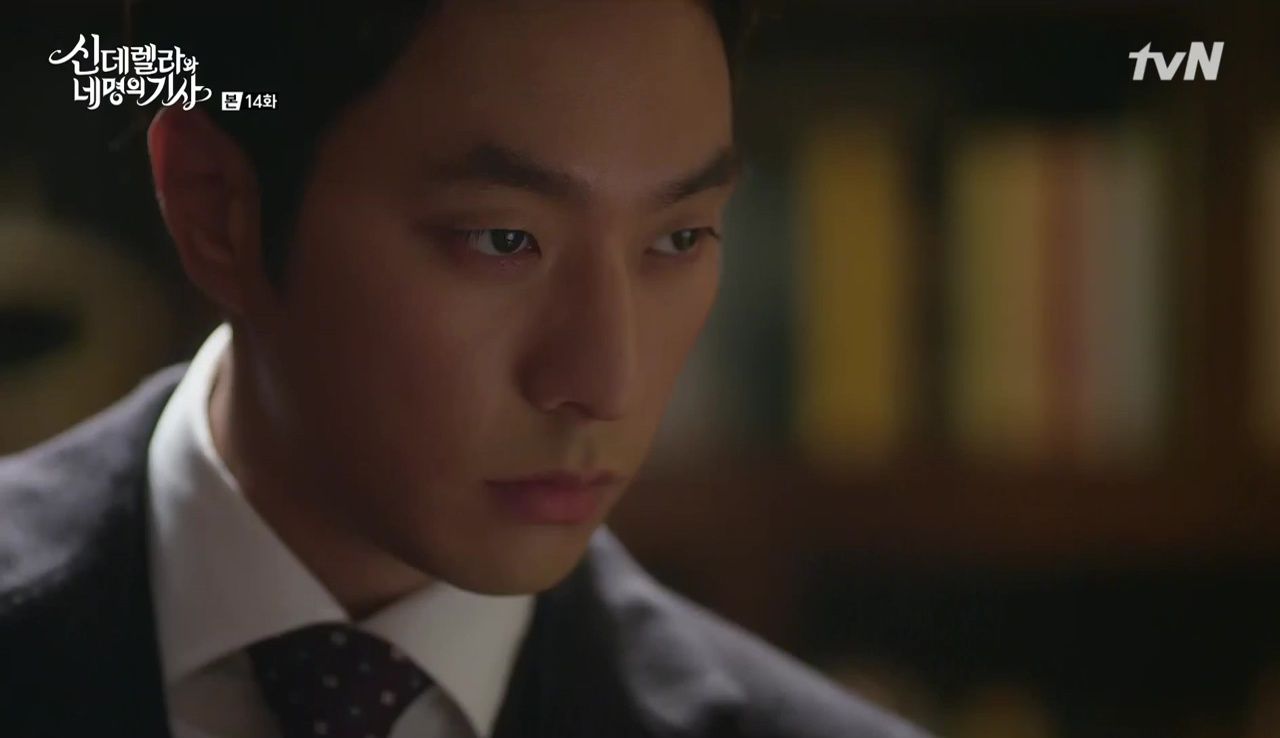 So far, character motivation has been one of this show's main weak points, and this is yet another example of how it's consistently difficult to figure out why people are doing the things they're doing. If it wasn't for all the other fuzzy characters, then I might be able to appreciate that Lee's new allegiance could lead to an epic plot twist of some kind, but after thirteen episodes of dealing with the non-emotive Hye-ji, Grandpa's random distain for lower social classes, and Ji-woon's baseless "Get losts," I would prefer a little less mystery and some more answers… preferably ones wrapped in a pretty Seo-woo package, delivered via a singing telegram, and followed up with a homemade pasta dinner.
If I can't get answers, than at the very least, could we end the Ji-woon and Ha-won angst? That was a lot of tearful glares, longing stares, and self-flagellation (on Ha-won's part). Our main couple had barely managed to enter the honeymoon period before having it ripped away from them. After all the cute from last episode, to follow it up with a solid hour of sadness was hitting a bit below the belt.
New game plan: Ji-woon saves Grandpa Kang, and the transfer of liver magically removes Grandpa's bias towards the have-nots, leading him to bless Ji-woon and Ha-won's relationship. Seo-woo realizes he was too good for Ha-won to begin with and produces a new upbeat song, which he writes while hanging out at Ja-young's café where she can fan-girl to her heart's content. Lee tells Mommy Dearest that she was too late, ruins her takeover plans, and returns to Grandpa Kang, who names him his heir because he is clearly the most qualified. Hye-ji leaves the country (the end), freeing Hyun-min to return to his carefree playboy ways, until the day he stumbles across his one true love. We've got two episodes left, people. Make it happen!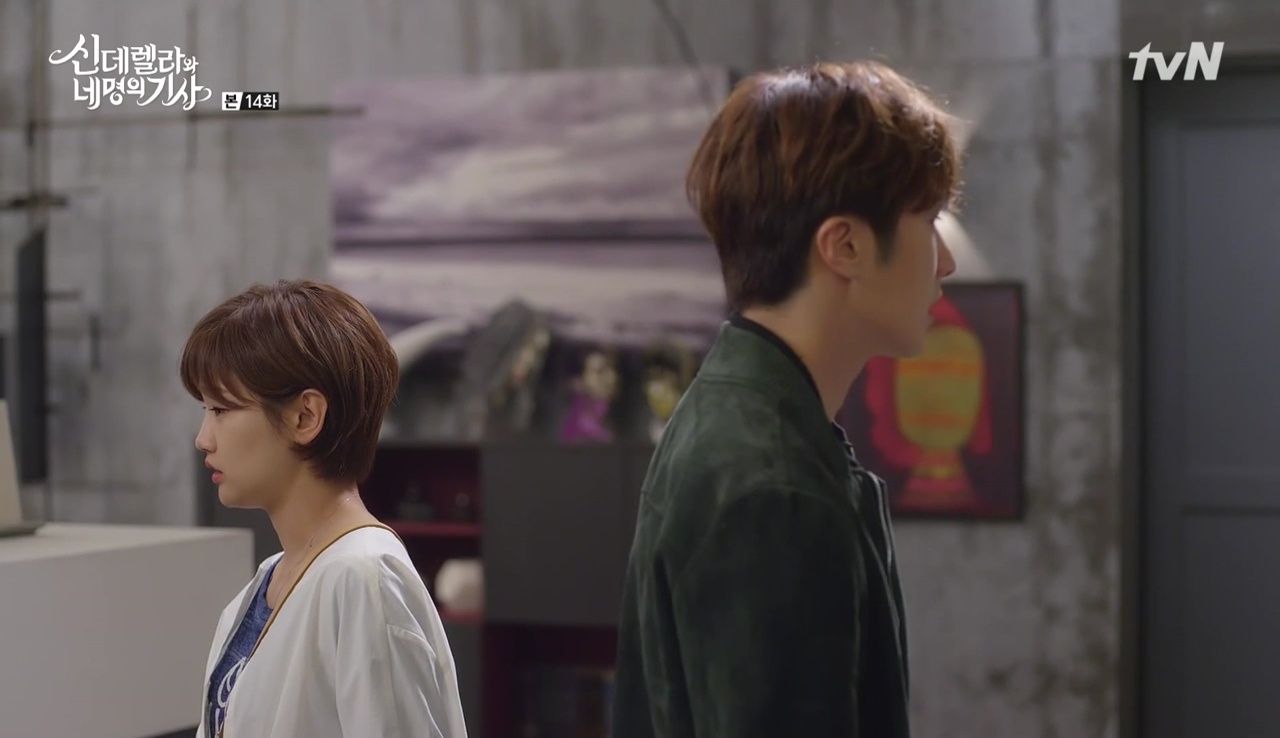 RELATED POSTS
Tags: Ahn Jae-hyun, Cinderella and the Four Knights, featured, Jung Il-woo, Lee Jung-shin, Park So-dam