Running Man: Episode 315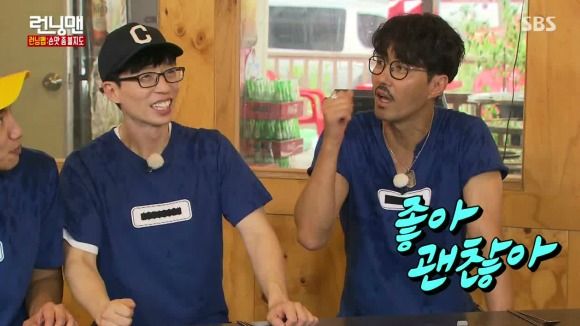 Getting a taste of homemade food has never been so important as our cast jumps from one food stop to another, letting their empty stomachs drive their competitive spirits. Putting the pieces of a map together will take a backseat to the more important task of eating and cooking up their own dishes. But we all know that we only need one wizard in the kitchen: Chajumma.
EPISODE 315. Broadcast on September 4, 2016.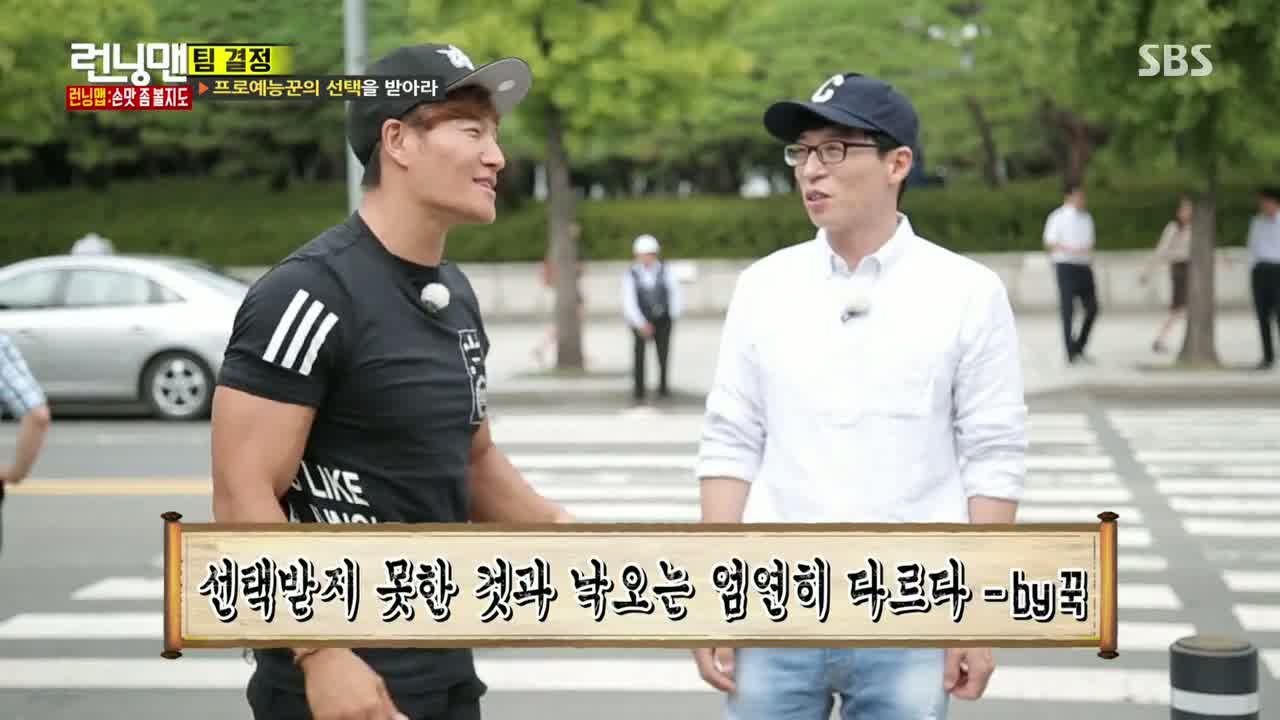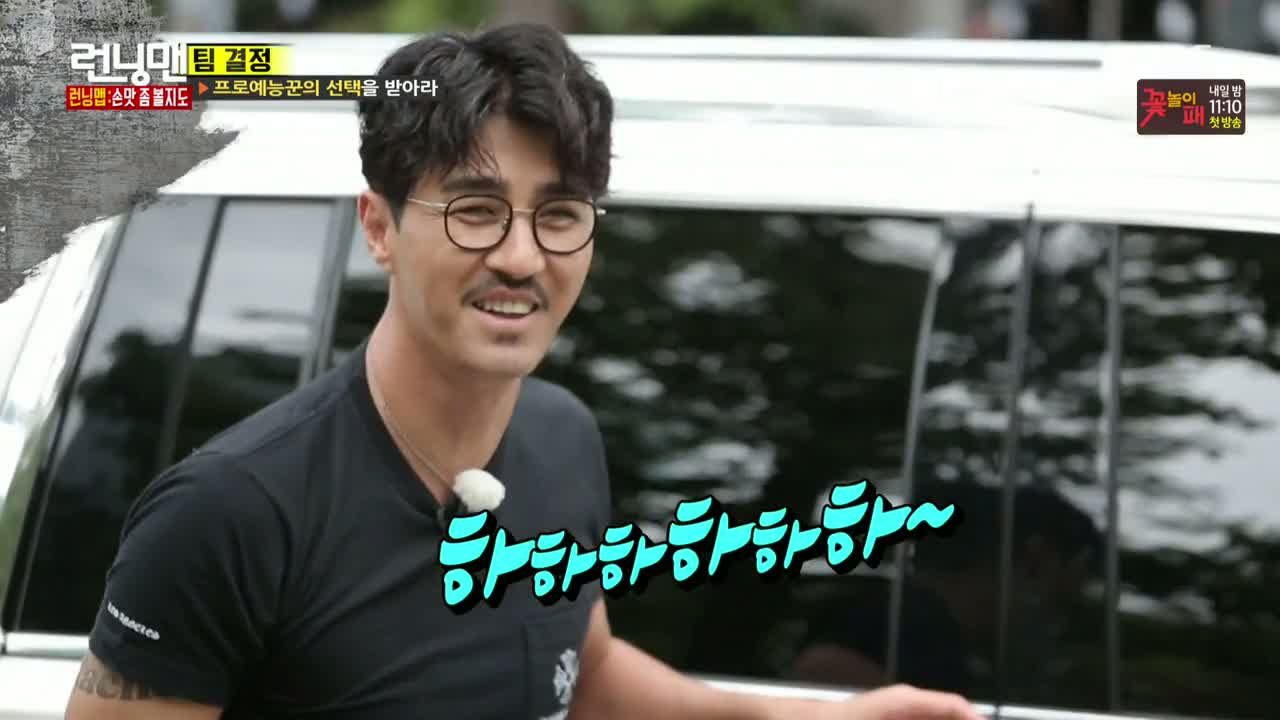 On a late summer day, our cast members arrive just outside Yeouido Park, where today's guest will choose to pick them up or not. Jong-kook isn't afraid of rejection, since he believes he can satisfactorily lead his team regardless.
Elsewhere, Haha and Suk-jin still revel in last week's mud fight while Gary stands convinced that a male guest would pick Ji-hyo and a female guest would choose Kwang-soo.
Time to meet our guest: eeee it's Chajumma, aka Cha Seung-won. He'll be choosing his own teammates by picking them up on the trolley, and is faced with a tough first choice: Jong-kook or Jae-suk?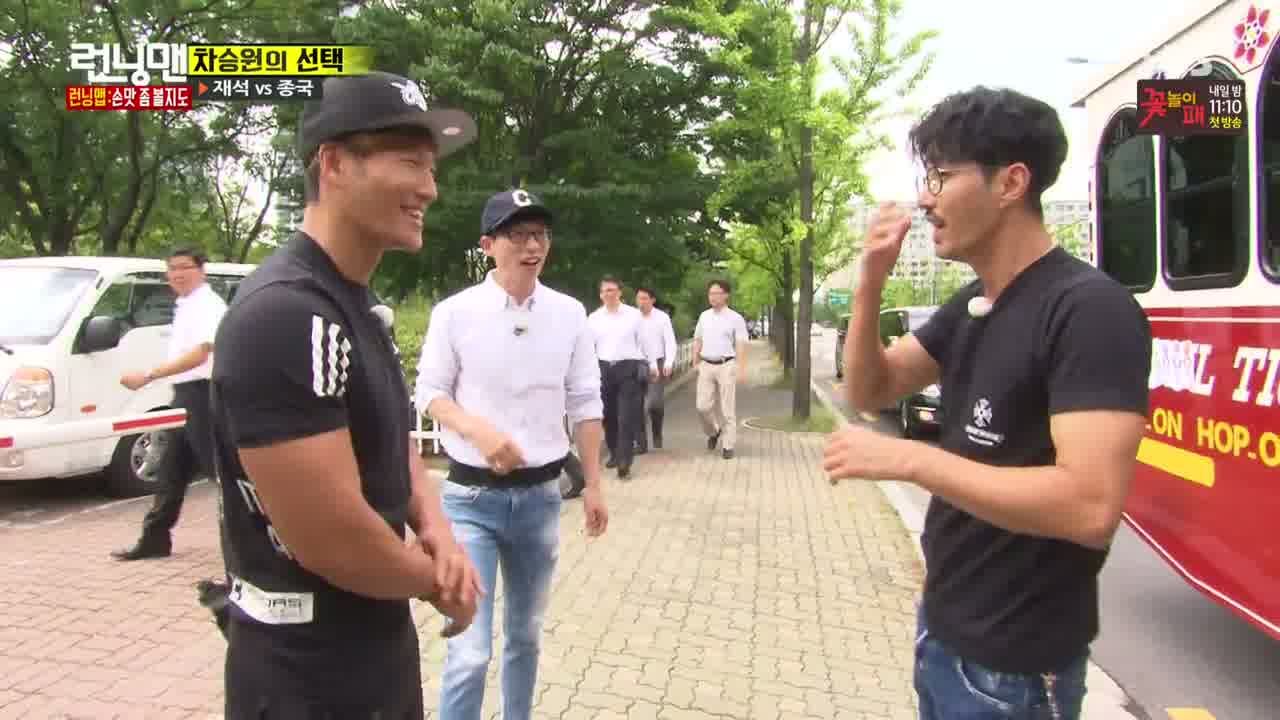 Jae-suk thinks he's a shoe-in, but then Jong-kook warns that if Seung-won doesn't pick him, he'll be on the opposing team. Gulp. Seung-won ends up choosing Jae-suk for old time's sake and profusely apologizes to Jong-kook.
He figures he'll have an easier time choosing the others, adding that Jong-kook legitimately scares him. Now he has to choose between Gary, Ji-hyo, and Kwang-soo, but then Jong-kook's voice pipes up because he's been following the trolley.
So Seung-won hurriedly chooses Kwang-soo because of their similar model backgrounds. He explains that Kwang-soo was a famous model back then, and his Three Meals A Day co-star Yoo Hae-jin claimed the same for himself.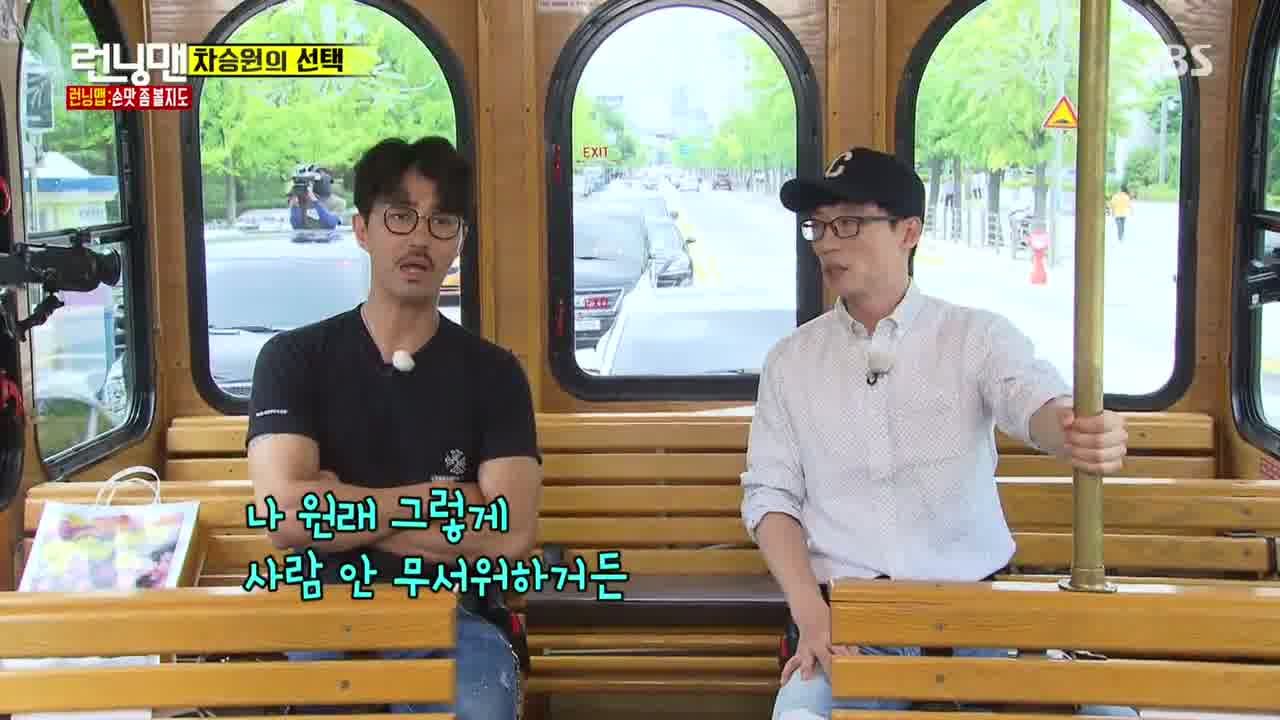 Jae-suk observes that Seung-won's choices are headed toward a path of humor vs. victory. Seung-won looks torn with his final decision, Haha and Suk-jin, then boldly chooses Haha.
Today's rules are as follows: Complete the Running Map by finding the R-mon, and crack the hidden secrets of the map. Our first stop today is an outdoor market, where the teams drool over the delicious-looking food… and Seung-won takes an unexpected tumble. Lol.
The first game is a tug-of-war of sorts where the first person whose knees bends first, loses. There's food on the line here, and when Jong-kook says he wants to go up against Seung-won, the latter flatly refuses.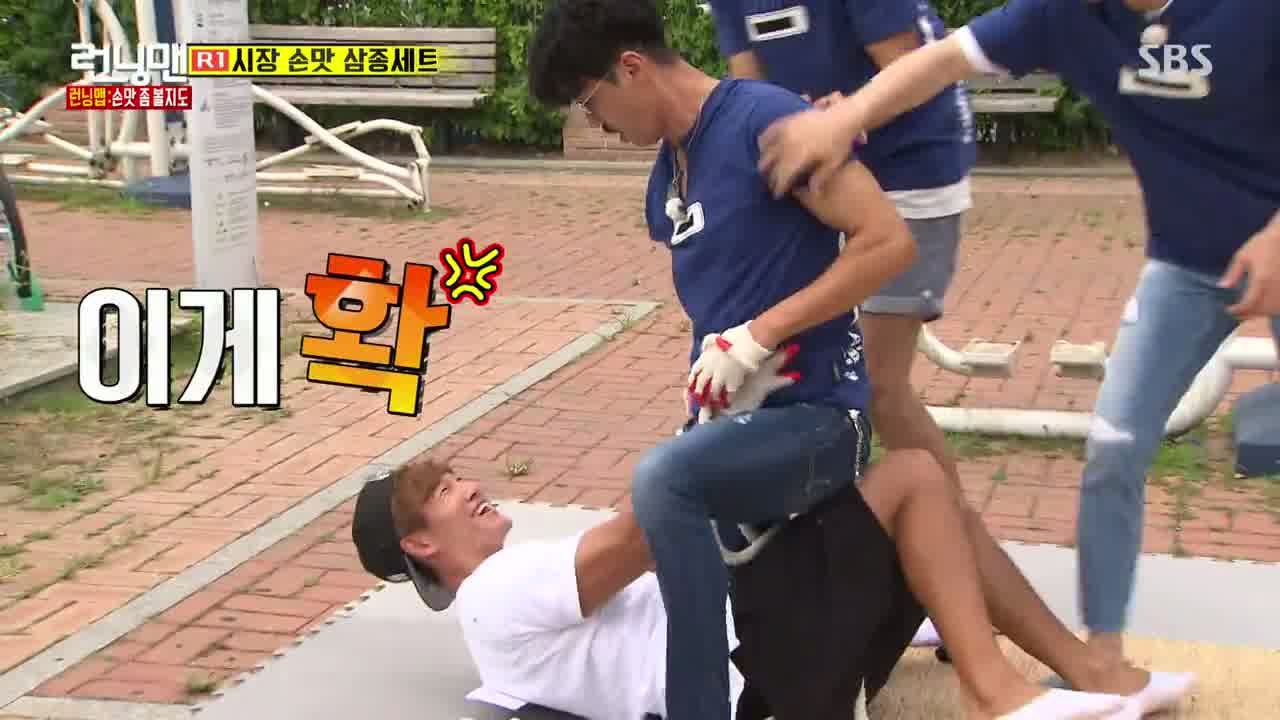 Round 1 is Gary vs. Kwang-soo, and the latter loses when his knee bends trying to tickle Gary's foot. The second round is Jae-suk vs. Jong-kook, and it only takes one tug for Jae-suk to lose. So Seung-won decides to give it a try, and sure enough, he also ends up on top of Jong-kook.
We move on to the second game: textbook coin-flipping, where the first team to flip all five coins on a textbook wins. Jae-suk and Jong-kook go back and forth flipping coins, but it's Jae-suk who finally flips the last coin for his team.
The third game is a ddakji battle, and after winning the rock-paper-scissors match, Ji-hyo takes out Haha with one shot. She does the same to Seung-won, who tells his teammates that he'll just BUY them the pig's trotters on the line for this game.
Ji-hyo doesn't even give Kwang-soo a chance when she flips his ddakji over, then Jae-suk is the fourth person on his team to lose the rock-paper-scissors match. All that ddakji practice with Dad pays off for Ji-hyo though, who takes out Jae-suk for the win.
Furious, Seung-won slams down their ddakji, which simply bounces off the other paper square.
The teams sit down for their respective lunches, and when Seung-won's team convinces the others to offer a piece of pig trotters to their team leader, Suk-jin baits him with the tiny piece. Enraged, Haha tells Seung-won not to eat it.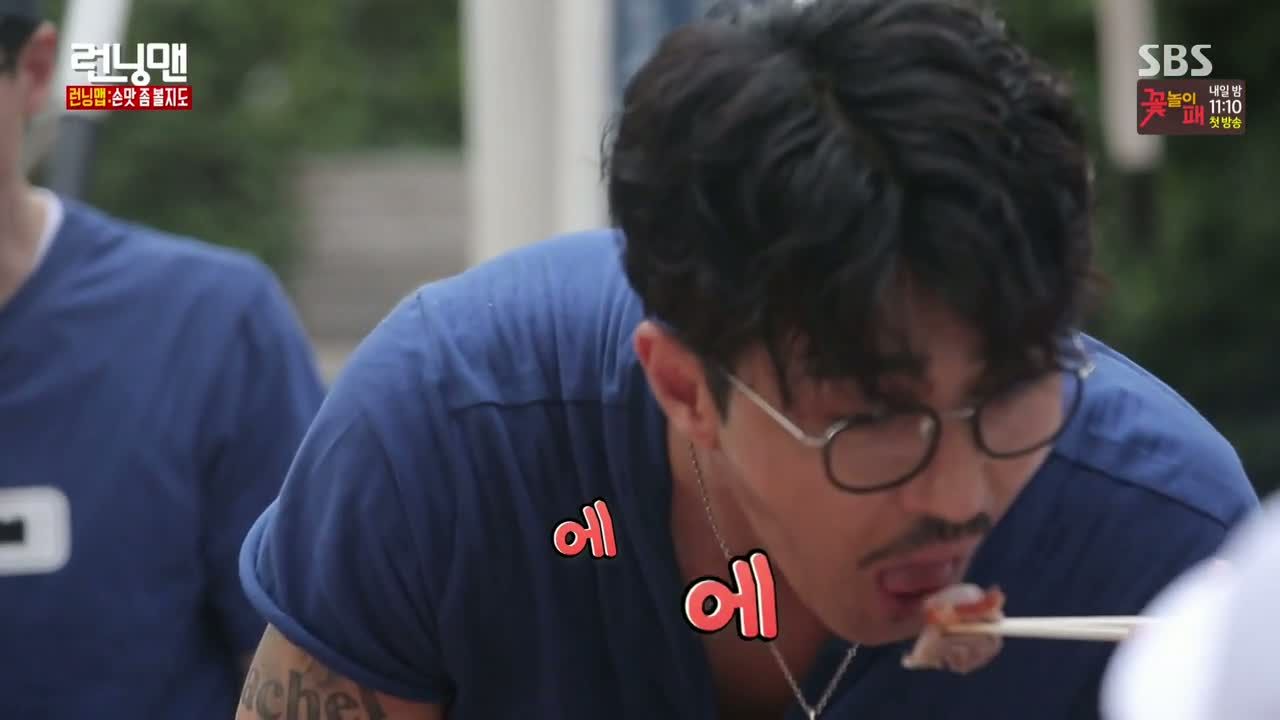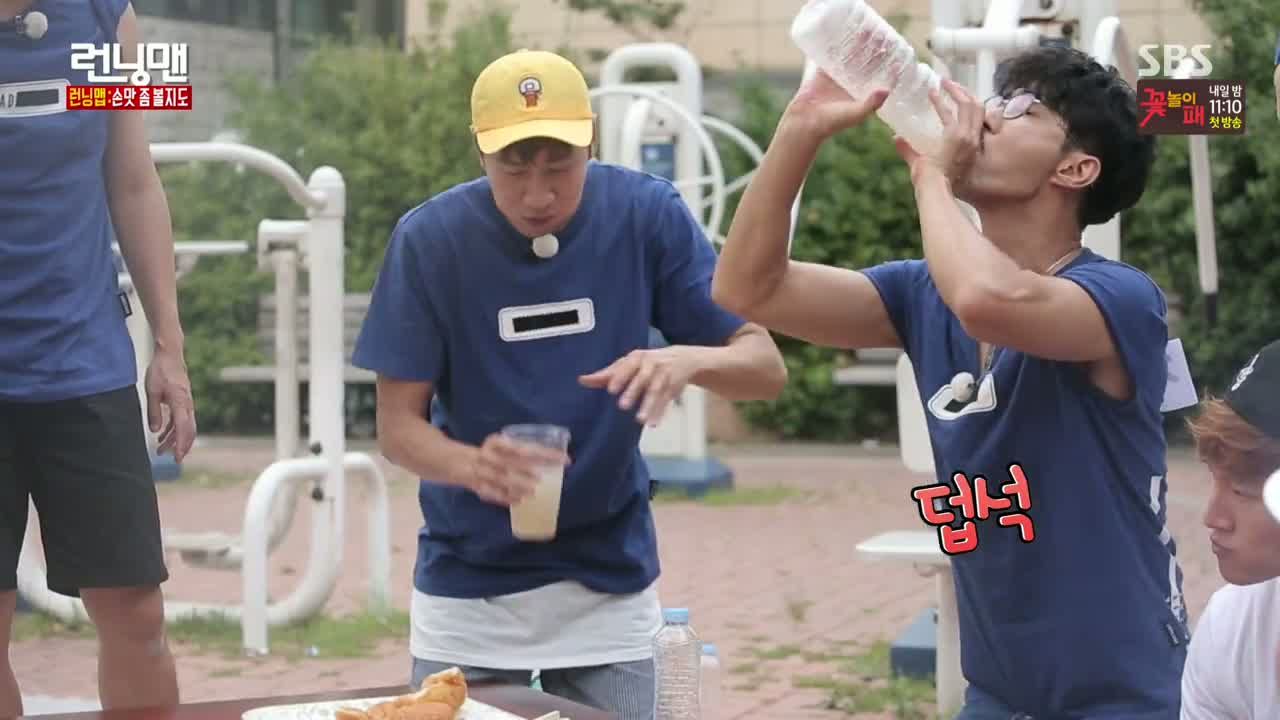 Jae-suk retaliates by swiping Suk-jin's shikhye (rice punch) drink, and all of Seung-won's team downs some. There's more food waiting for them at their second stop: a cold buckwheat noodles restaurant.
Here both the kicker and goalkeeper will wear binoculars to try and score as many penalty kicks as possible. Suk-jin is our first kicker while Kwang-soo stands atop an acupuncture mat to defend the goal.
HA, Suk-jin kicks nothing but air on his first attempt, but he does succeed on his second try. Jae-suk gets a good kick in, but it's blocked by Gary. Kwang-soo lies horizontal to the ground per Haha's advice, but the ball bounces into the goal.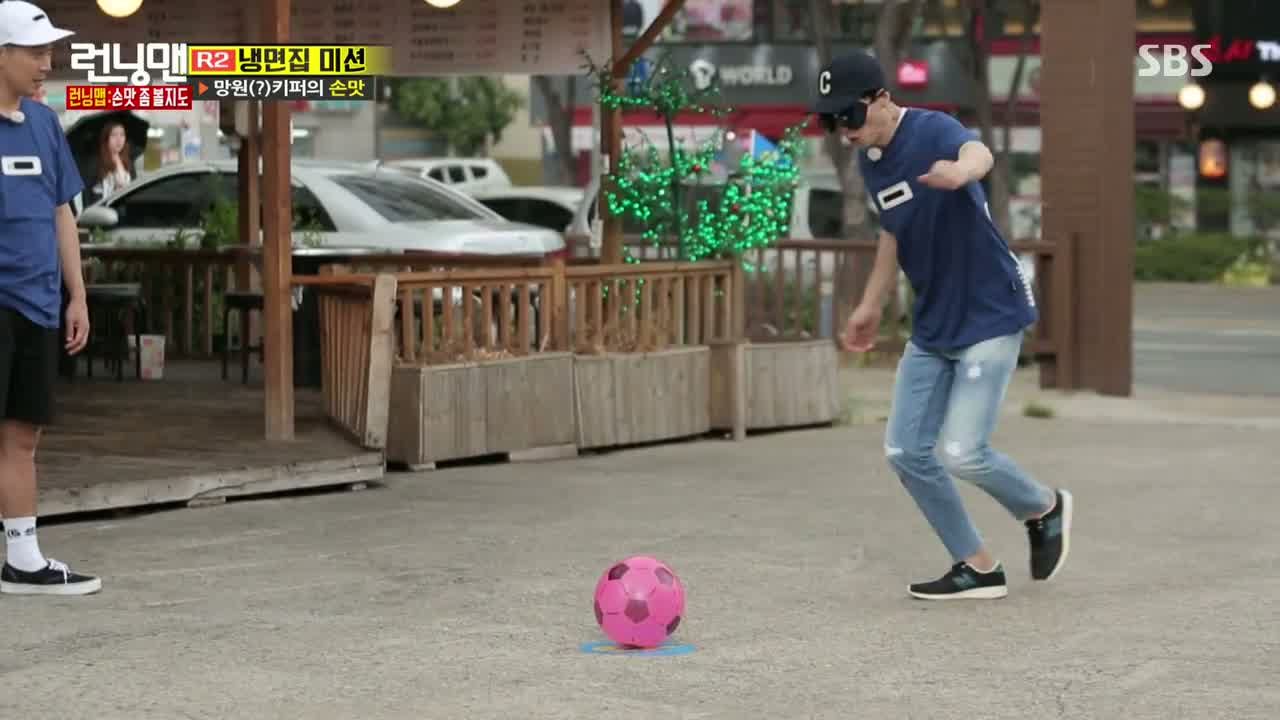 Seung-won is next to kick, but he's momentarily lost when the ball rolls off. He send the ball straight into the goal. Kwang-soo successfully defends the goal against Gary, albeit with a little pain. But then Gary successfully defends the goal one more time, giving his teammates the win.
As Seung-won's team is forced to watch the other team dig into the noodles, Jae-suk asks them to give Seung-won a bit. It's because he feels so bad because he unexpectedly puts Seung-won through so much trouble whenever he's a guest on his show. Seung-won: "I'm always starving (when I'm on one of his shows)!"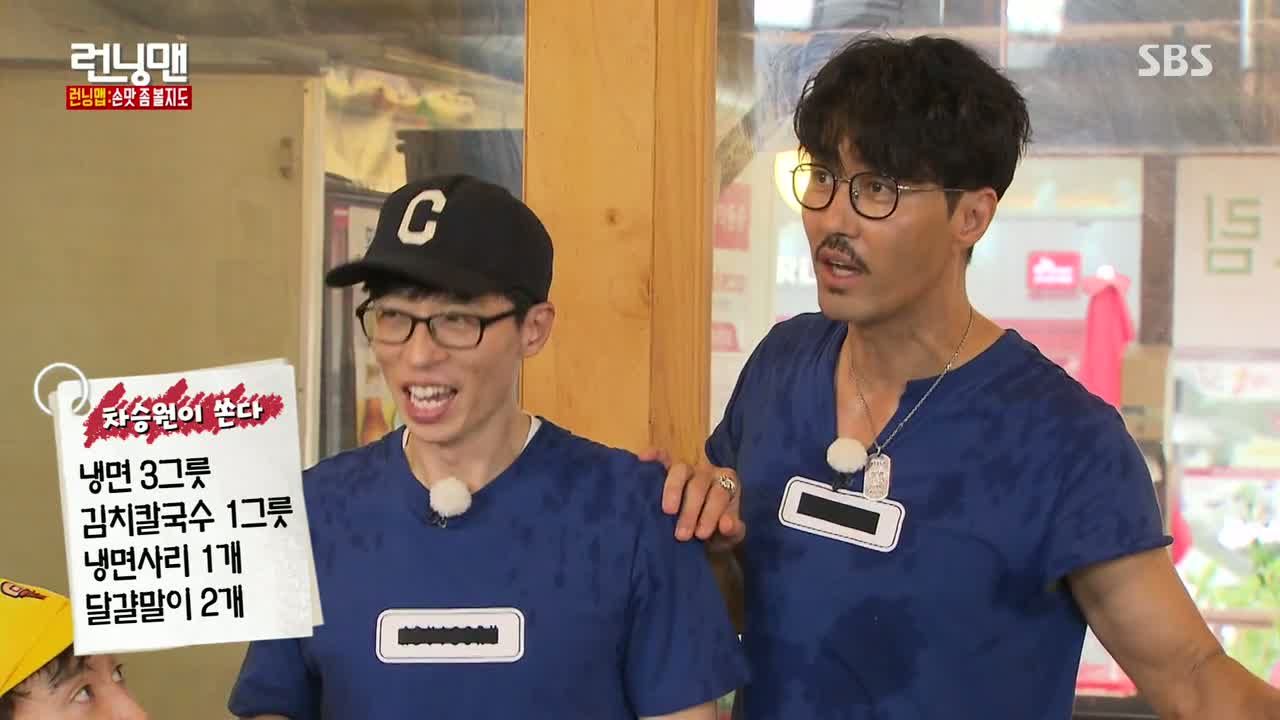 Since Seung-won has his wallet on him, it's not like they're WITHOUT money. He's feeling pretty generous with his tab today, and Jae-suk laughs that he's only seen two people carry their wallets with them whenever they're filming: Seung-won and Kim Gu-ra.
He makes sure to help out as the food comes in, then once their bellies are stuffed, the teams are given their second map piece. Whereas Jong-kook's team also has additional hints (thanks to winning the games), Seung-won's team doesn't have any.
We speed through the third game—a fishing quiz–as we're told that Seung-won's team secures the win and a hint. Then we're off to Noryangjin for our last game before the final mission: a 45-minute cooking relay. One member of their team will shop for ingredients for 15 minutes while the remaining three will cook for 10 minutes each.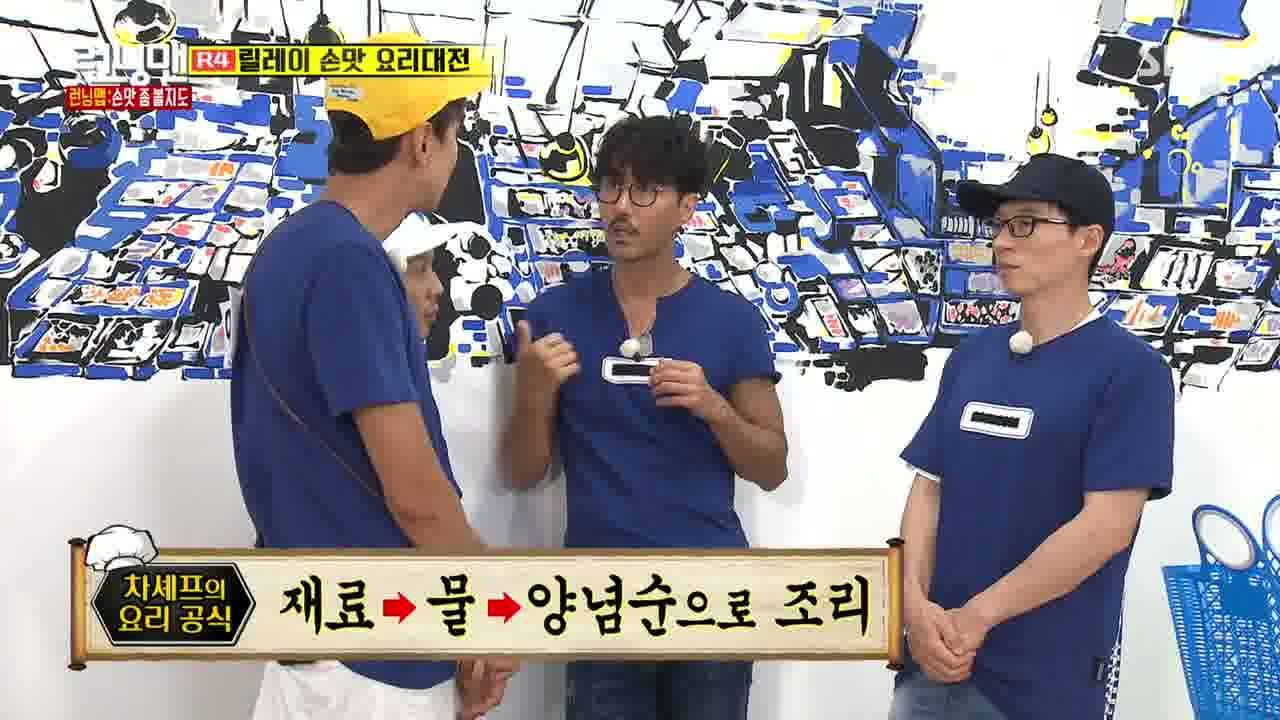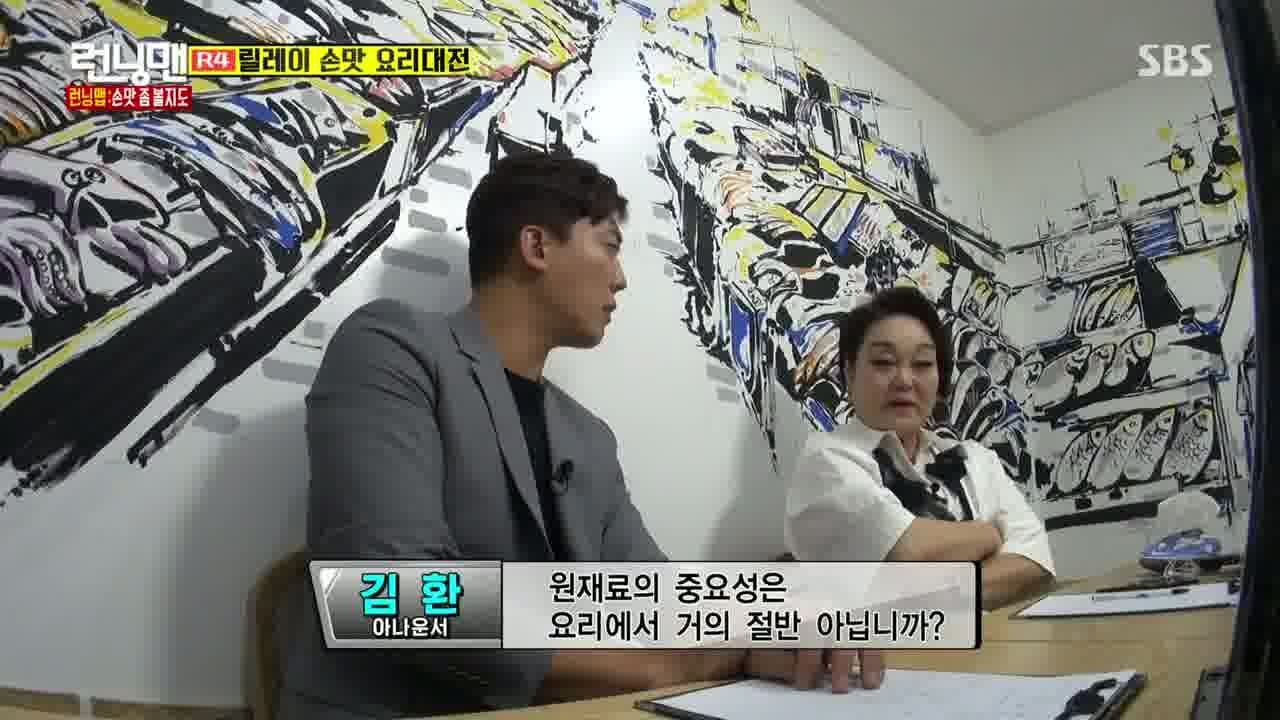 During the cooking portions, only one chef will be in the kitchen at a time while the others will be looking on via monitors. The teams will need to buy everything, even down to the basic ingredients, themselves, so Chajumma thinks carefully before telling them about the essentials.
We have two judges hiding in a corner: announcer Kim Hwan, and culinary specialist Big Mama, Lee Hye-jung. Gary and Kwang-soo are sent out for grocery shopping for the following dish: octopus stew.
Gary heads straight for the seafood section to pick up some octopus. He makes sure to ask about the other ingredients too, just as Kwang-soo rushes in to ask for the same. Kwang-soo ends up asking for an assortment of seafood, while his teammates worry that he won't buy what they need—octopus.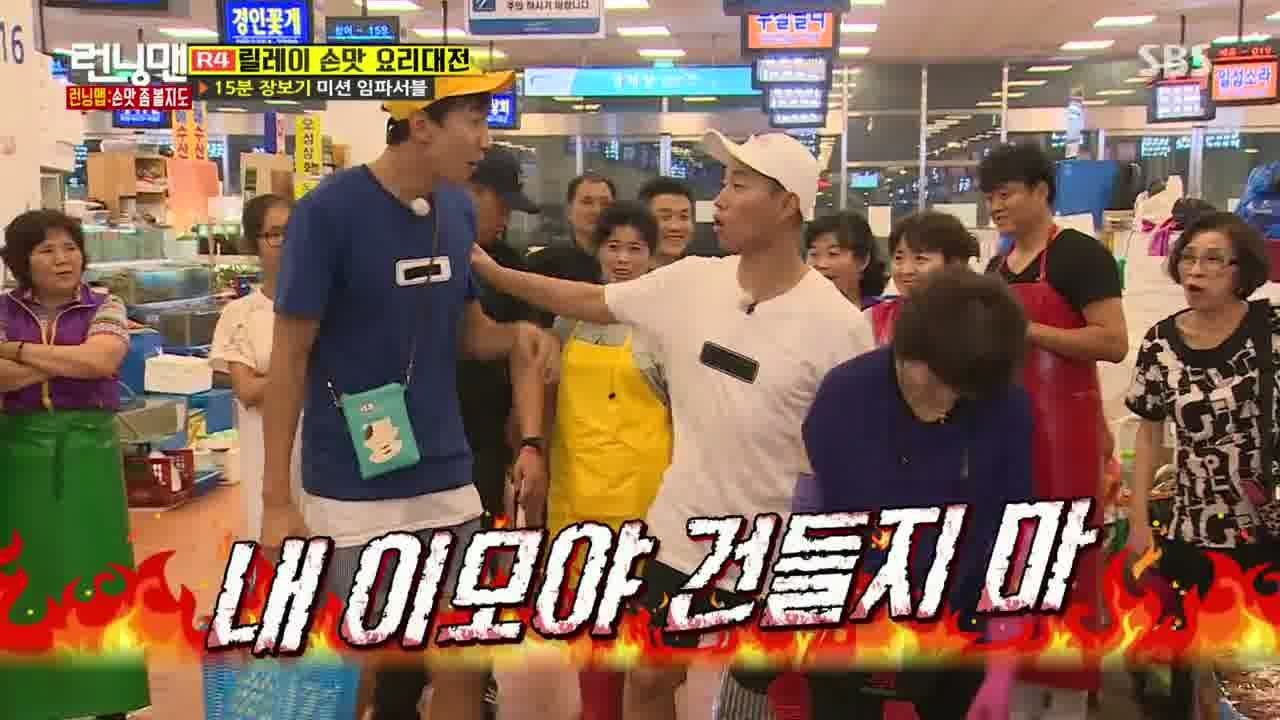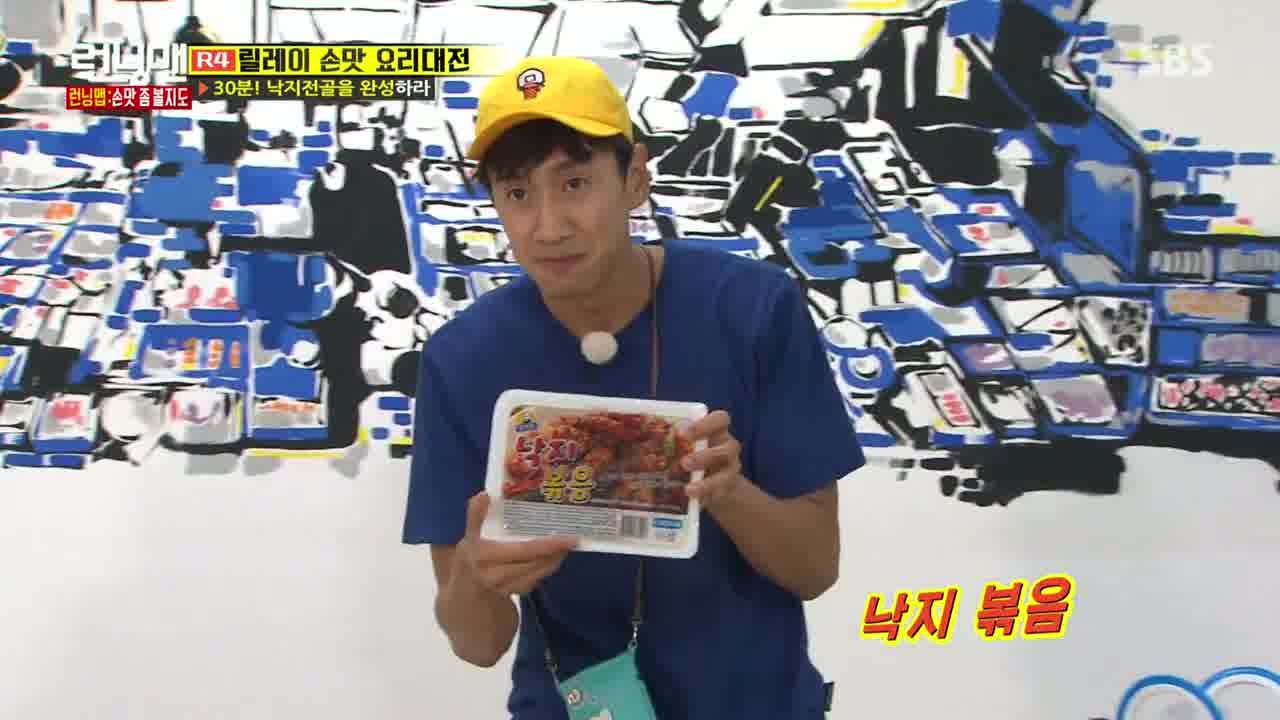 Gary heads to the grocery section to pick up the remaining ingredients, while Kwang-soo asks the lady at the cash register to give him a copy of Gary's receipt.
When the guys return, Chajumma seems impressed with Kwang-soo's choice of vegetables and basic ingredients, but then everyone is surprised when he shows off a box of frozen spicy octopus stirfry.
His teammates look nervous when it looks like Kwang-soo has bought everything but the kitchen sink. Thankfully, however, Kwang-soo shows off the octopus and Chajumma launches into strategy mode.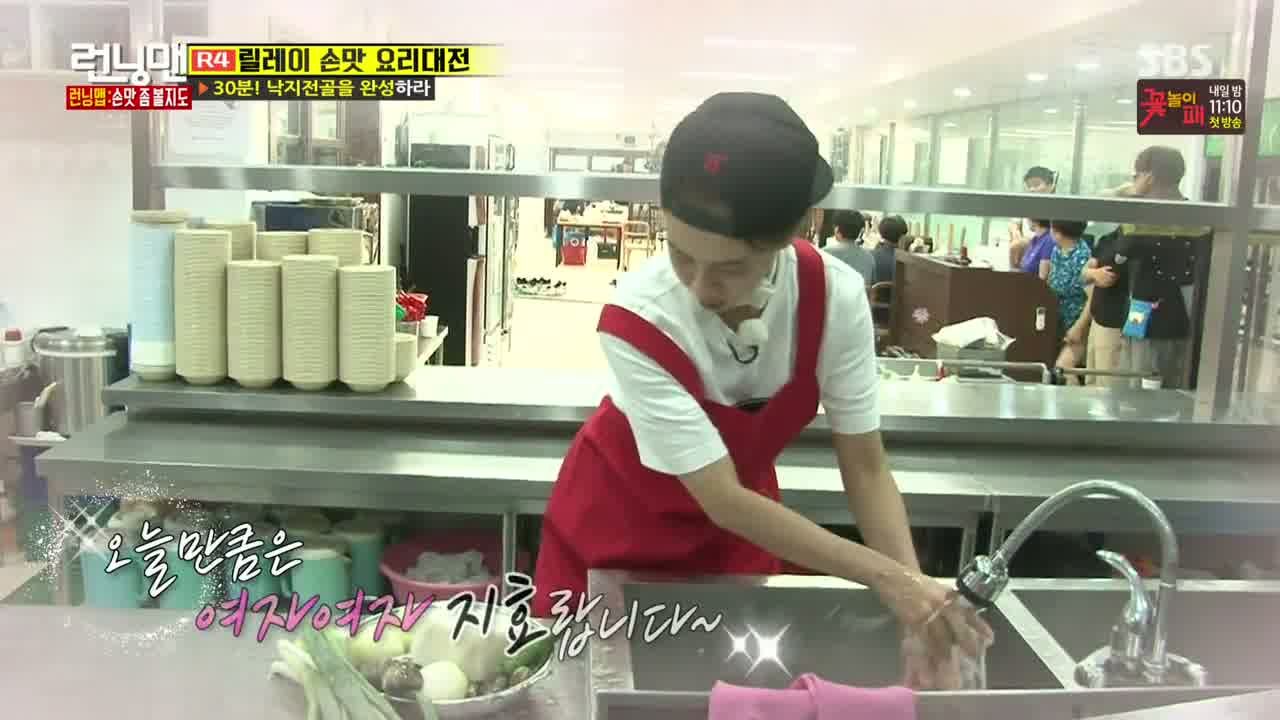 Ji-hyo and Haha are the first chefs for their respective teams, and Haha can hear Seung-won yelling instructions from the next room. After he works with the broth per Seung-won's instructions, he's told to cut up the vegetables.
Haha cries, "How is this a relay?!" Meanwhile, Lee Hye-jung praises Ji-hyo for speedily washing off the food and preparing the stock. Haha's teammates continue to yell out instructions at him while the judges note how he hasn't washed a single ingredient.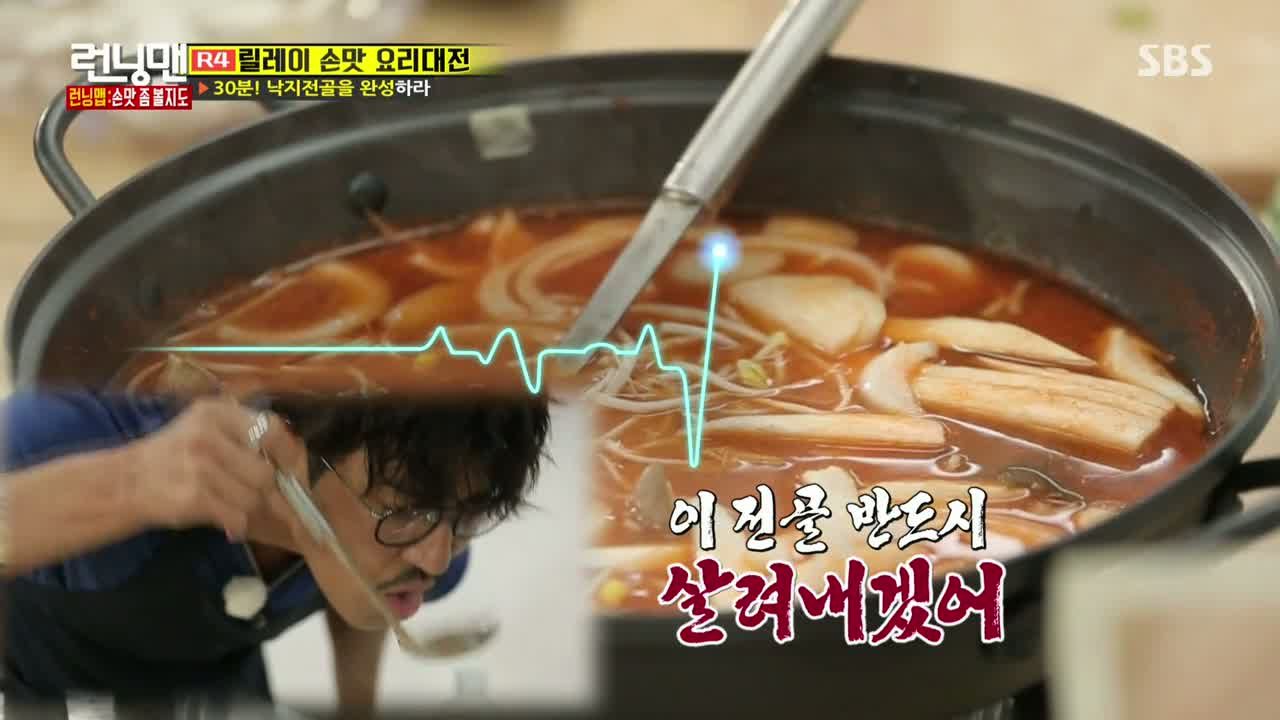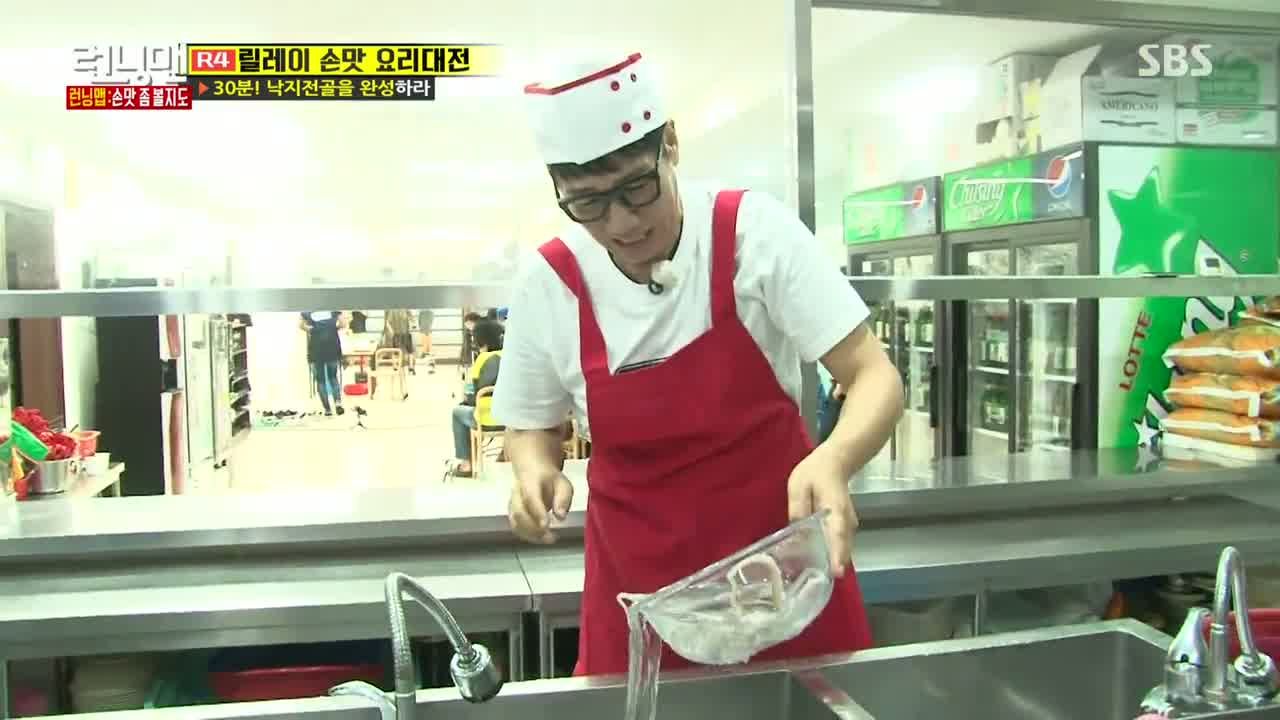 Then it's time for the first switch, as Seung-won takes over for Haha, and Suk-jin takes over for Ji-hyo. Seung-won speedily attends to both the broth and octopus whilst Suk-jin seems to take his time working with the food.
Lee Hye-jung worries that Seung-won is adding the octopus too early whereas all Suk-jin has really done is make the paste (and well, freak out that the octopus is still alive). Suk-jin keeps getting yelled at for constantly opening and closing the lid as Seung-won adds more ingredients into the pot.
Then it's time for the final switch, as Seung-won instructs Jae-suk on the finishing touches of the dish. The judges sigh that his team is preparing the clams too late, and wonder when Jong-kook's team will add their octopus.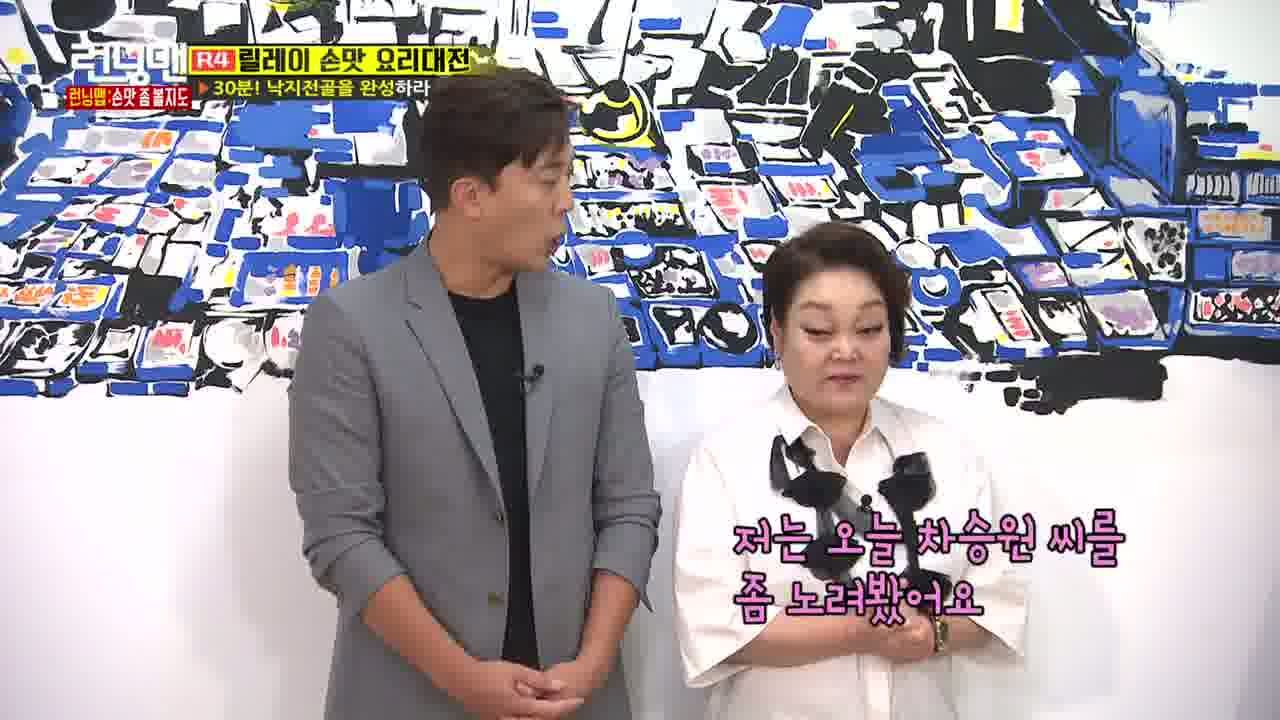 The final few seconds are called out, and Big Mama Lee Hye-jung is brought out. She admits she kept a keener eye on Chajumma and praises him for his immaculate cooking style. She and announcer Kim Hwan taste Chajumma's team's dish first, and are impressed by the broth.
She deems the dish edible, adding that the octopus isn't tough at all. She also finds Jong-kook's team's dish very refreshing, complimenting Ji-hyo for adding the clams in early.
She ultimately chooses the familiar taste of Chajumma's dish, and then everyone digs in.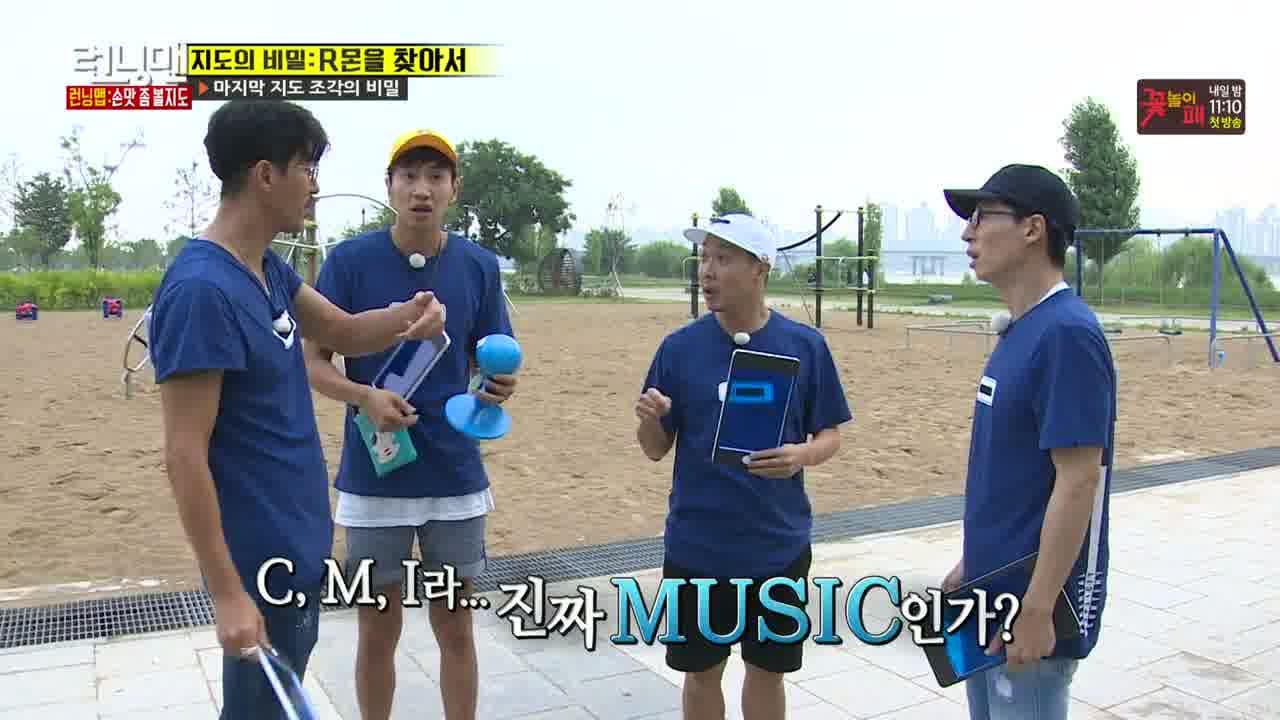 Now it's time to zero in on the final mission location—Yeouido Park. There, Seung-won's team realizes that they're missing a puzzle piece, and Myuk PD explains that they need to scour the park to find the real R-mon.
Kwang-soo finds the real R-mon which reveals the clue "CMI". Haha thinks that it must be the letters in the word "music", so for now his entire team gathers together again. They wonder if it could be "I am Cha," racking their brains over what else the letters could mean.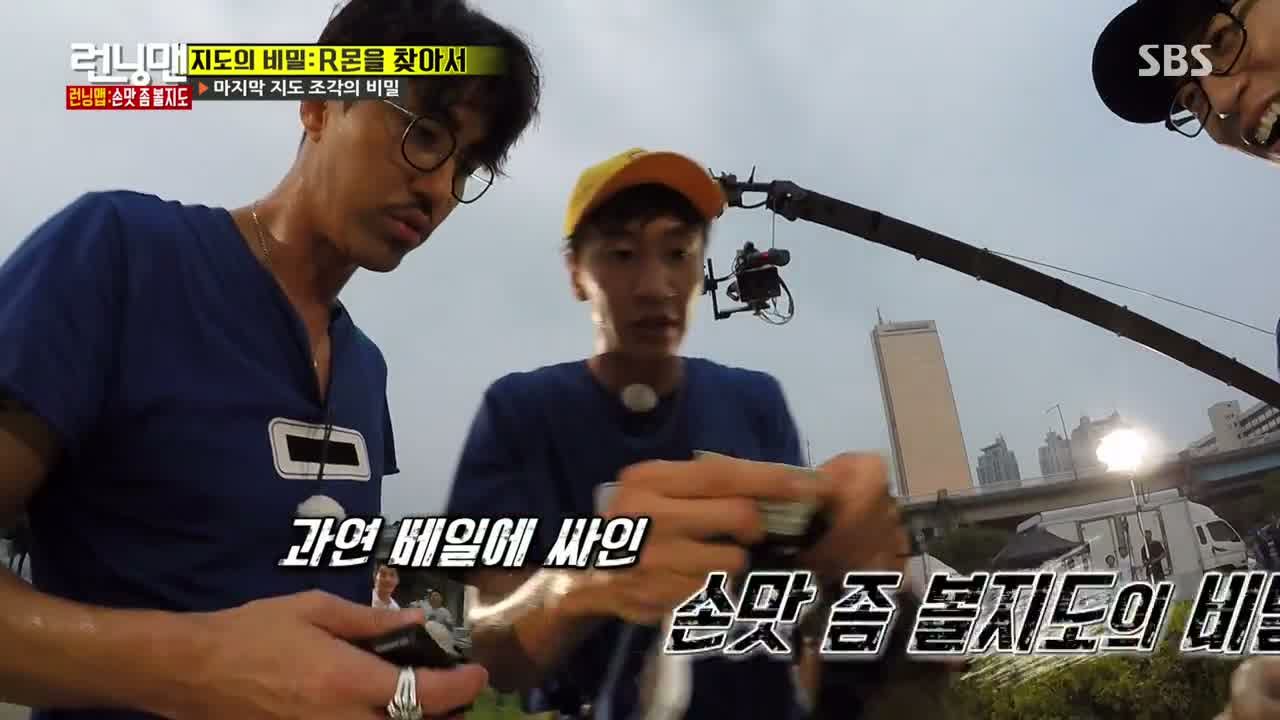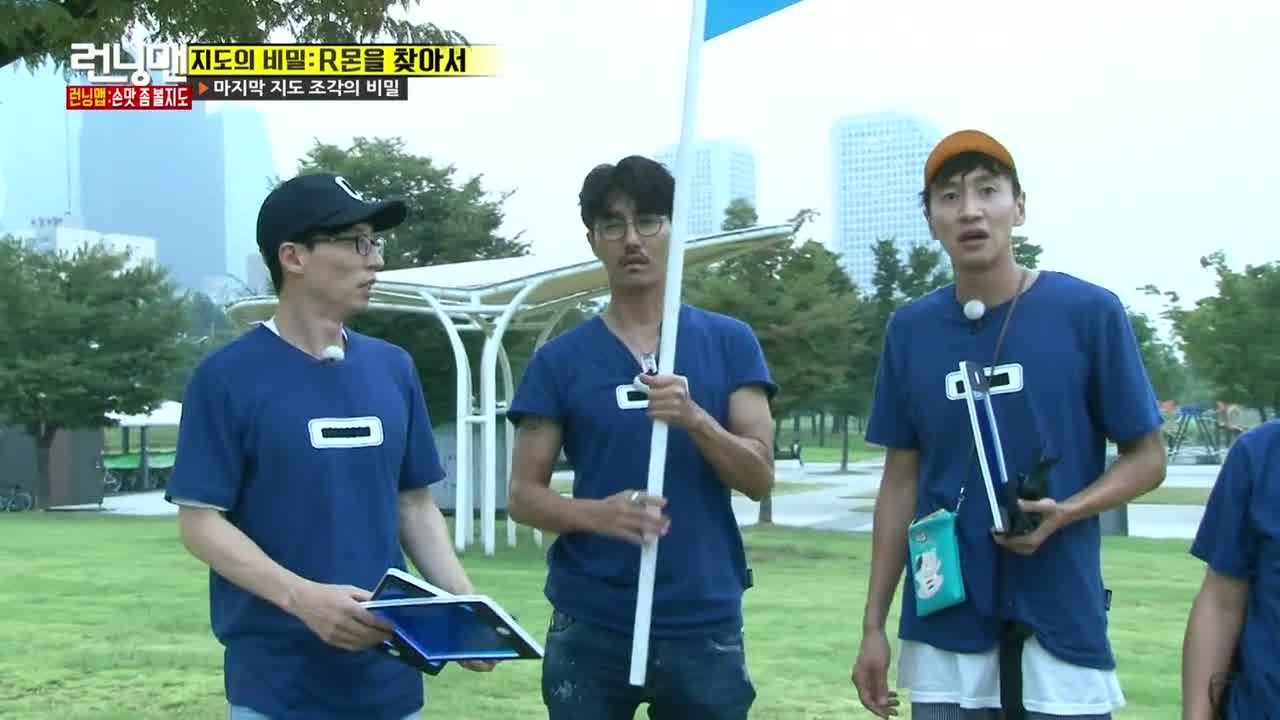 Then Kwang-soo chimes in: "Mic." They check each other's mics, and then Kwang-soo discovers the last piece hiding on Seung-won's person. Just then, a flag appears at a distance, so it's time to run.
Jong-kook's team sees them running too, but it's too late. Once Seung-won grabs the flag, the team praises Kwang-soo on his quick thinking. And then Seung-won is declared the sole winner.
Ha, it turns out that the back of the puzzle piece had explicitly said that only one person can win. To rub salt into the wound, everyone had that missing piece on their person from the start.
Seung-won doesn't feel too happy about winning alone, but he'll take the gold home with a winning smile.

RELATED POSTS
Tags: featured, Haha, Ji Suk-jin, Kang Gary, Kim Jong-kook, Lee Kwang-soo, Running Man, Song Ji-hyo, Yoo Jae-suk