Chuno writer apologizes to Lee Da-hae
Chun Sung-il, the scriptwriter for action-thriller drama Chuno, has expressed his apologies in a recent interview toward one of the drama's stars, Lee Da-hae.
Nearly as loud as the enthusiasm for the drama has been the dissatisfaction with one of its lead characters, Un-nyun (also Hye-won), played by Lee. Some of the criticisms have been downright silly (she looks too pretty!), but others are rooted in more reasonable logic, such as the weakness of her character and her role as constant damsel in distress. Lee Da-hae has admitted that she agrees with criticism calling her character a nuisance, in response to the new nickname that viewers have used up to describe her: Minpae Un-nyun, which roughly translates to "Public Menace Un-nyun."
Writer Chun said, "Seeing all this criticism about Un-nyun as a character who is a public menace, I felt extremely apologetic toward Lee Da-hae. However, if you watch the drama through the end, you will be able to understand Un-nyun." Among the complaints are that she, unlike the male characters who take charge of their fates, is a reckless, passive character. It has led viewers to comment that the writer "doesn't have any interest in female characters" and that "Un-nyun just puts everyone around her in danger."
Chun added, "I think Un-nyun stands out even more because of recent historical dramas like Queen Seon-deok and Iron Empress where the female leads drive their own fates. But Un-nyun will continue to change, because she is a character who keeps developing until the end."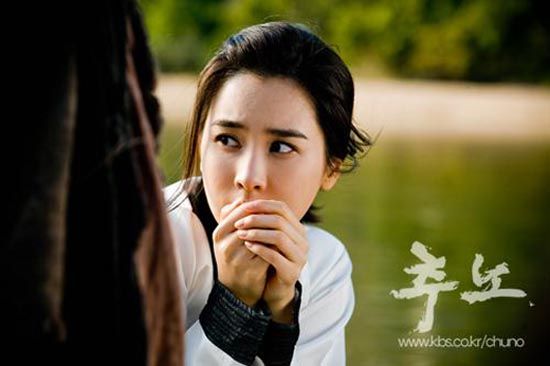 "I wanted to draw her character as someone who starts out as an ordinary woman and finds herself as she goes through turbulent times. Un-nyun is inherently passionate, but doesn't know how to express that. She had the courage to run away from an unwanted marriage, but afterward she doesn't know what to do. But that's a natural thing. There was nothing women could do in the Joseon era. Aside from cooking and bearing children, there was nothing they could do. Un-nyun is searching for that right now."
The other women characters, Seol-hwa and Cho-bok, are in the same boat as Un-nyun.
"Seol-hwa was once a member of a traveling actors' troupe, but after running away she travels with Dae-gil's group. If Dae-gil tosses her out, she has nowhere to go. Cho-bok entered an underground organization of slaves, but there's no place for her there. Un-nyun isn't the only one causing harm to others. However, Un-nyun overcomes those circumstances and changes."
Chun also expressed disappointment that the antipathy toward Un-nyun was aggravated by the complaints about Lee's makeup, excessive exposure, and screen blurring, which hadn't been his intention.
"It must be frustrating to watch Un-nyun before her change, because she's not particularly special and doesn't do anything particularly important, but if you keep watching, things will change."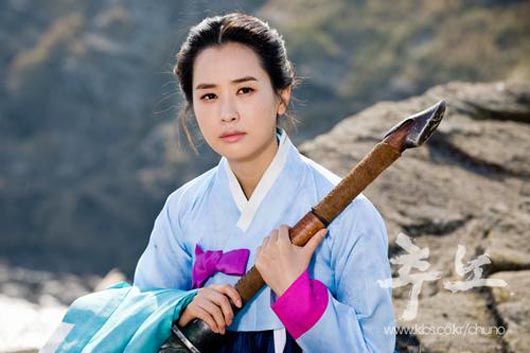 I think the problem is a little more complex than Chun explains — and I will agree that he seems to be less interested in making women compelling, rounded characters. The entire drama seems to revolve around the glorification of male beauty, but that just makes the imbalance more stark because the women (as characters, not actors) feel like afterthoughts.
However, on top of all that, Lee Da-hae has been something of an easy target in recent years. I think it's a combination of some unfortunate career moves and a certain je ne sais quoi that tends to attract negative response. Some stars just make particular connections to the public, which are not necessarily always logical — which is why you'll have some actors with virtually no anti-fans while the anti's for another may even outnumber his/her own fanbase.
I hope the character changes come soon; I don't really buy Chun's excuses, because you can certainly make flawed characters who are still interesting, without making them useless. (Case in point: most of the men in Chuno!) Also, women may not have had a lot of options historically, but honestly, that's going to be your defense for giving your women nothing to do? Plenty of sageuks have managed ways to make women interesting, and not just queens and empresses.
Via Yonhap News, Review Star, Sports Chosun
RELATED POSTS
Tags: Chuno, Lee Da-hae