Air City: Episode 16 (Final)
Wow. Everything I say in this post will probably be surprising, because the finale of Air City — which took me this long to finally see, due to general lack of interest — in an unexpected turn, didn't completely suck. Actually, it's the first episode I liked since Episode 5. Nobody is more surprised than me.
See, I'm not a horrible mean hag who enjoys tearing down other people's hard work. I am completely able to give props where they are due. I want to give props and I'm pleased to finally have some to deliver. And despite an overwhelmingly mediocre run, I think the writers pulled out a nice finale. Then again, perhaps this benefits from having absolutely no expectations left — they've been pretty effectively crushed by the last ten installments. But I wasn't annoyed once this episode, which is rare enough for this drama.
SONG OF THE DAY
Wanted – "사랑이란.." (Love is… / The thing called love) [ zShare download ]
Audio clip: Adobe Flash Player (version 9 or above) is required to play this audio clip. Download the latest version here. You also need to have JavaScript enabled in your browser.

EPISODE 16 SUMMARY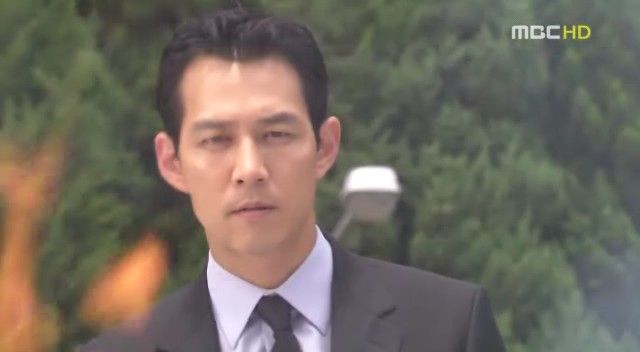 Ji Sung is sent to NIS headquarters, where he's given the order to ship out to Moscow immediately. He visits the memorial wall and deliberates over his choice.
Do Kyung is distracted over learning of Myung Woo's illness, and finally confides in Ha Joon. Surprisingly, Ha Joon tells her to keep quiet — Ji Sung wouldn't stay with Do Kyung if he knew about Myung Woo, and he tells her to carry this burden alone, and do her best to be happy as Ji Sung's woman.
Ji Sung tries to resist the order, telling his boss that compliance means he'll have to leave everyone behind without a word — cart supervisor Mr. Eom, his fellow agents, airport staff… He understands too well the pain of facing separation without a understanding the reason. The chief says the words "personal choice" aren't in a black-ops agent's vocabulary: "Are you going to throw away your career over a woman?" Grimly, Ji Sung says yes. His boss slaps him across the face at his foolishness.
Ji Sung: "I want to live a normal, happy life."
Still, Ji Sung feels carefree and light at this dismissal of responsibility, happily helping Mr. Eom with his carts and visiting Do Kyung in her office to whisk her away to Seoul for the day.
Ji Sung takes Do Kyung to a church in Seoul, the same one his parents were married in. Then, in typical Korean male fashion, he tells her, "Let's have our wedding here too." So much for fancy proposals. Ji Sung IS sorry, however, to not have prepared a ring in advance.

However, Ji Sung meets with his agent friend and is shocked to be informed of Myung Woo's condition.
Seeing her lying in her hospital bed, needing a respirator, he breaks down outside her room. Just then, Do Kyung arrives to pay a visit, and sees Ji Sung's reaction.
There's a small side plot regarding the planned expansion of Incheon Airport. In order to further develop the airport, they'll be buying out the land from everyone living in the vicinity — which elates the airport workers who own land there, as they'll be receiving lots of compensation. The (lower-ranked) cleaning lady quits her job immediately, and Manager Noh holds out hope that his bit of land, which is just outside the deisgnated planned purchase area, will be included with minor tweaking to the purchasing plans.
After seeing Ji Sung's reaction to Myung Woo's condition, Do Kyung senses their impending relationship troubles, and throws herself into her work. She tells Ha Joon, to whom she'd mentioned the proposal, that she won't be getting married after all — but asks him to please leave the consolation for later.
Ha Joon asks Ye Won about Ji Sung, and finds out what it means to be a black ops agent — to go on mission using a different passport, to live as some other name, to disappear without a trace. Once a black ops agent is in place, the main headquarters disavows knowledge of the agent, even if the agent is killed: "They must face everything alone."
Feeling bad for Do Kyung's situation, Ha Joon piles work on her, although she doesn't understand the reason for it. Ha Joon watches her work, thinking to keep her busy to keep her mind off her personal hurt.
Ji Sung, meanwhile, changes his mind and decides to take the assignment. Having been gone for a few days (which the chief explains is because he's away on a training assignment), none of the airport employees think much of seeing him back at the airport one last time. They greet him happily, and Ji Sung resists his impulse to say anything, particularly to Mr. Eom.
And so, he leaves for his mission, with one last regretful look at Do Kyung before he goes. Do Kyung and Ha Joon both hear (from Mr. Eom and the security officer, respectively) that they saw Ji Sung just a while ago in the airport, and they take off running through the airport to find him.
Ha Joon finds Ji Sung on the security monitors and holds the plane back to talk to Ji Sung. He can't believe the nerve he has, leaving without a word, but Ji Sung asks him to please let him leave quietly. Just as Ha Joon is yelling at him for being thoughtless and cruel, Do Kyung arrives, and the two of them step aside for a tense, silence-filled moment.

Ji Sung asks her if she can understand him (just as he did before they started dating), and Do Kyung nods. Ji Sung wipes a tear from her face, puts a hand briefly on her shoulder, then forces himself back on the plane with clenched, stoic jaw.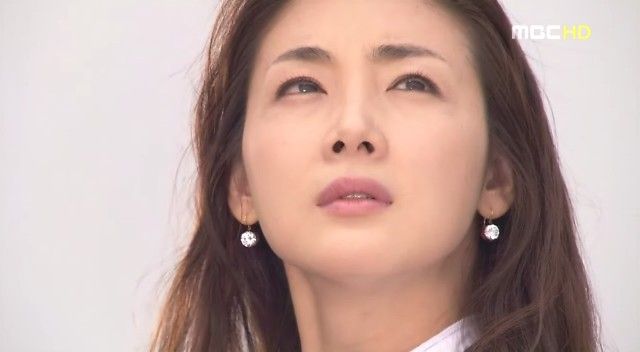 Do Kyung goes out to the runway to watch his plane depart.
Meanwhile, life carries on at the airport as usual:

Having decided to carry on construction elsewhere, the land purchases are cancelled, leaving Manager Noh's and the cleaning lady's hopes for wealth dashed. Supervisor Min and the bureau chief bicker back and forth as usual, Ha Joon is as hot as ever, Nan Young and Ye Won are still in full rival mode, and Mr. Eom brings home yet another young man to treat as a son figure.
As Do Kyung walks through the airport, her turf, her voicover says:
"In this place filled with so many meetings and farewells, I met and came to love one man, and also experienced a parting I couldn't control. Whenever a plane takes flight, my heart goes with it. I wonder if he thinks of me whenever he sees an airplane, too. Farewells are painful, but discovering that waiting for someone can be a happy thing is something I learned at the airport."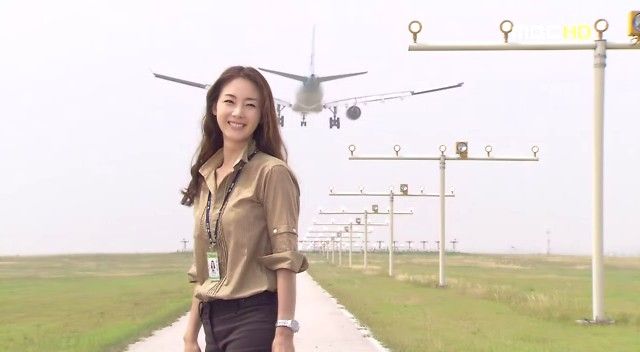 Final thoughts:
It's no secret how I feel about Air City. If I had watched this drama completely on my own, I would have ditched it ages ago and not felt the least bit sorry. But since I stuck through it, I'm at least glad the final installment was able to remove a bit of my disappointment. I think part of the reason for the final episode being better than I expected was that there were no ridiculous spy-action-intrigue shenanigans. Korean dramas are usually quite good at relationships and characters, and less so with these kinds of high-stakes occupational action stories. I'm glad the melodrama was left behind (no drawn-out doctor scenes, no drawn-out sobbing farewells) and the final image was in the vein of the airport motif — rather ordinary (another day in the life), but uplifting.
If Air City gets a Season 2, I will be shocked (and I won't be watching). But I think all the stars will go on to do more worthy endeavors, and perhaps the series will do much better in overseas markets.
Tags: Air City, Choi Ji-woo, Lee Jin-wook, Lee Jung-jae