Air City: Episodes 14 & 15
Oh man. You don't even know how many times I was going to quit recaps on Air City. I'd firmly decided to finish what I started, so I had no intention of quitting… and every time I tried to get through Episode 14, I was THISCLOSE to giving up. It wasn't necessarily awful. I was just bored to death — I've been checked out of Air City for a while. That's another reason I was considering quitting, because I'm sure it's no fun reading a recap written by someone who had no fun watching the show. But since I finally finished the episode(s), I might as well write them up.
SONG OF THE DAY
Dynamic Duo – "살인자의 몽타쥬" (a killer's montage / portrait of a killer) [ zShare download ]
Audio clip: Adobe Flash Player (version 9 or above) is required to play this audio clip. Download the latest version here. You also need to have JavaScript enabled in your browser.

Sorry, the best compromise I can offer is these shortened recaps.
EPISODE 14 & 15 SUMMARIES
Kim Sun Woo holds Ji Sung at gunpoint, but is easily subdued when backup security arrive to arrest him. The Bureau Chief and Ji Sung don't believe Sun Woo intended to hurt anyone, and they wonder what his motive was. The chief asks Ji Sung to look after Sun Woo, and uses his influence to have him released.
Ji Sung talks to Sun Woo, who's mostly silent except to say they should've sent him to jail. His excuse is that he's lived in the States for twenty years; Korea's foreign and cold. (He got into some trouble and was thus deported to Korea.) He figured jail would be safer. Ji Sung doesn't believe that's his real reason, but takes Sun Woo home with him, where Mr. Eom warmly greets him.
Mr. Eom and Sun Woo bond, and Mr. Eom decides to look after him as his son. The cleaning ladies fuss over him, and things look promising.
Ji Sung finds out that Sun Woo had applied for the witness protection program in the States, but was denied, meaning he's now in grave danger. When Sun Woo is accosted by thugs, Ji Sung arrives to ward them off, but not before Sun Woo's stabbed. Sun Woo won't disclose any information about his attackers, so nobody knows what kind of trouble he's in.
Meanwhile, the operations team decides something's shady with Michael, the VP from NEO Airlines, and decides to follow his every move. They only have a few days until NEO's President arrives to hear Incheon Airport's presentation. It's mostly an excuse for the guys to act silly at playing spies.
A document Ha Joon's team retreives from Michael's trash (ripped up and taped back together) provides Do Kyung with some aid — it links Michael to some investors — and she hugs Ha Joon in gratitude (which Ji Sung witnesses). The spying also reveals that he's planning a corporate merger, and the presentation that Do Kyung is preparing is irrelevant (it's just to keep her busy in the wrong area).
The bureau chief asks Sun Woo to open up to him and tell him who he's being chased by. He knows their relationship isn't good, but he wants to help. Sun Woo tells him bitterly that he and his mother knew that the chief had a wife and child back in Korea when they knew him, so they can't blame him for that. But the cruelest thing he did was give them hope — then disappeared one day without a word and never contacted them again.
Ji Sung reports to the chief that the organization Sun Woo was involved with dealt in arms dealing and cocaine trade. When they receive word that Sun Woo has disappeared, Ji Sung rushes out in search of him, noting, "He's in danger."
Hearing that Sun Woo's disappeared, Ji Sung tells the agents to track him down. He was involved in a dangerous world, dealing in an arms and drug trade between Korea, Colombia, and the States (what an odd crime trifecta).
The NIS agents are able to locate the general vicinity and Ji Sung follows, arriving in time to bust a fight at a nightclub. Sun Woo has tracked his attackers there and attacked them with a bat. However, Ji Sung gets caught up fighting the thugs, and while he's busy defending himself, Sun Woo slips away.
Myung Woo tells Do Kyung she's leaving the hospital. When asked if it's because of Ji Sung, Myung Woo demurs and merely explains she got a better offer. (Since when is cancer a better offer?) Myung Woo notes Do Kyung's worried expression (she's been unable to get in touch with Ji Sung all day), and tells her that she'll have to face that feeling a lot if she's dating Ji Sung. If she were Do Kyung, she'd ask Ji Sung to quit his work, because she's horribly selfish. No, sorry. Because it takes its toll worrying about someone whose everyday activities include danger and intrigue.
She also tells her about the black ops division, a covert group of agents who, should they die in the line of duty, cannot even reveal the true reason of death. Personally, Myung Woo was unable to overcome it, but hopes Do Kyung will be happy.
Do Kyung is relieved when Ji Sung finally arrives, joking around and telling her she's his hostage. He'll take her someplace where there are no cameras (to which she counters that it was boring just looking at airplanes the last time). She expresses her worries over his well-being, and asks if he would be able to give up his work. He assures her he'll be fine, that he won't cause her worry, and then he's called away.
Ji Sung catches up to Sun Woo again, who's out for blood and attacks those thugs (again). He breaks up the fight (again) angrily, frustrated that Sun Woo isn't cooperating or talking about why the guys are after him. Ji Sung says since Sun Woo wanted to go to jail so badly, he'll send him there.
Meanwhile, this time Ji Sung's the one who fetches background information on Michael for Do Kyung, and she rewards him with a hug. Ha Joon witnesses the sight, disappointed.
There's a whole plot detour about the NIS and the CIA bargaining for Sun Woo's release. Ji Sung calls in a favor with his friend at the CIA to pull strings with Sun Woo's case, but it's not really a favor OR a friend as the guy won't help. So Ji Sung resorts to using his leverage regarding the transfer/theft of some new technology. The NIS will broker Sun Woo's release by catching and handing over the criminal. And they do.
Sun Woo, whose only request to the bureau chief was that he be returned to live with his mother, gets his wish when he's allowed entry to the States under the witness protection program. He says his grateful goodbyes to Ji Sung, the chief, and Mr. Eom and the ladies.
Do Kyung spends a few days with the operations team feverishly restructuring their presentation, having figured out Michael's hidden motive — he's working behind the scenes with the Chinese investors (or something) and has exchanged money under the table to make that happen, at Incheon's expense. He's essentially setting Do Kyung's team up for failure when they present to NEO's President.
Knowing this, their revised presentation is completely different from the original idea (which is what Michael expected), as Do Kyung unveils their "Air City Project" to make Incheon Airport an international hub — its own world, its own character, its own television series.
She succeeds and the President fires Michael. I'm not sure why. He says he's "disappointed" in him.
Ji Sung, who's been waiting for Do Kyung's presentation to end (at another place without cameras), teases her about keeping him waiting, which is his least favorite thing in the world to do. She apologizes, but he tells her that he never knew that waiting for somebody could also make him happy.
Touched, Do Kyung wells up with tears and hugs him.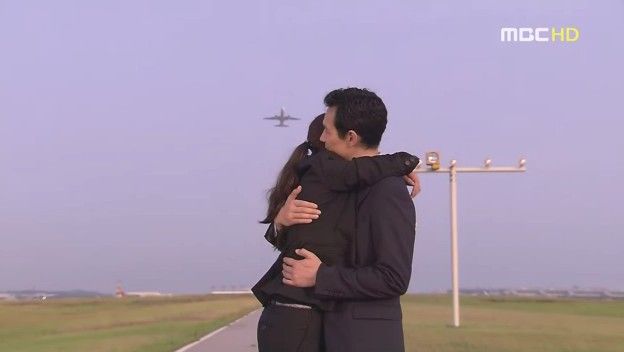 She then goes to Myung Woo's new hospital to pay her a visit, but is told by the receptionist that there's no doctor with that name working there. She asks her to check again, and finds that although there's no doctor under that name, there's a cancer patient.
Myung Woo assures Do Kyung she'll do whatever she can do to fight it; she won't give up. But, she asks her not to tell Ji Sung, because it was hard enough for him three years ago when she left him. She wants him to remember her being healthy, thinking she's happy.
Do Kyung holds it together in Myung Woo's presence, but she's clearly shocked at the revelation.
The chief thanks Ji Sung for his work with Sun Woo, and asks how things are with Do Kyung. Is she okay with his line of work? Ji Sung tells him she at least has agreed to understand it, and the chief asks if she understands what it means to be a black ops agent. The chief tells him to report to headquarters tomorrow. Ji Sung is alarmed at the implication that his black ops status is about to be enforced, and asks, "Is that a direct order?"
Tags: Air City, Choi Ji-woo, Lee Jin-wook, Lee Jung-jae