Wouldn't be an On Air event without a hyped-up cameo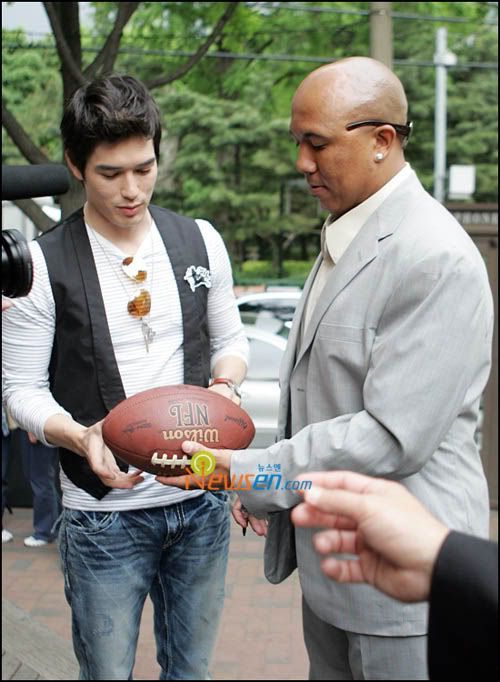 SBS's current ratings hit On Air is winding down, and although its initial three-episode extension was then curtailed to merely one, it will end its run likely on a high note next week. And in typical On Air fashion, they're doing it with yet more high-profile cameos.
Hines Ward — NFL football player and Super Bowl MVP — was on location with Ricky Kim (or Ricky Lee Neely) in Seoul's Apgujung neighborhood on May 7 shooting the drama's final episode. In the show, Ward plays Aiden's (Ricky Kim) longtime buddy, meeting again after both have achieved success.
(Seriously, who is this Ricky Kim dude and why does he get so much press? According to his bio, he was in the universally panned movie D-War, had a small part in a short drama Miracle, and a Best Theater episode. Not saying the guy's untalented (yet), but he gets a disproportionate amount of attention for his thin resumé: Let's just say being good-looking and half-white has been the ticket for many a budding model-turned-actor.)
On Air ends with its 21st episode on May 15; Lee Junki's action sageuk Iljimae takes over afterward.
SONG OF THE DAY
On Air – "사랑을 해요" (To love) (Bossa Nova version) [ Download ]
Audio clip: Adobe Flash Player (version 9 or above) is required to play this audio clip. Download the latest version here. You also need to have JavaScript enabled in your browser.
RELATED POSTS