Trading one regret for the other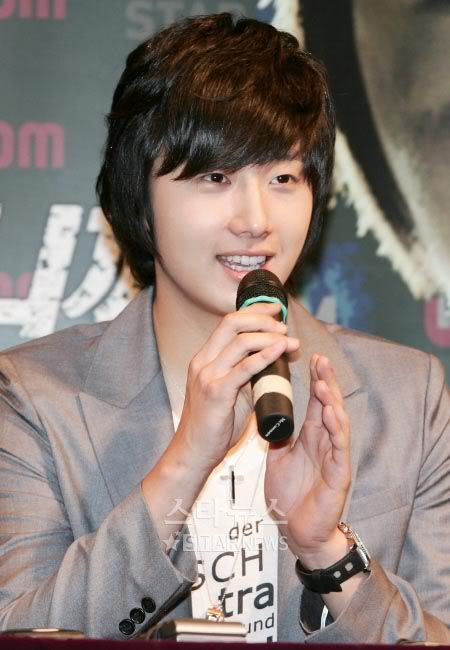 MBC's Iljimae, formerly known as Lee Seung-gi's Iljimae, has got its work cut out for it, following SBS's recent hit with Lee Junki's Iljimae. And that was even before Lee Seung-gi dropped out of the titular hero role in a move that had many disappointed with his replacement, teen heartthrob Jung Il-woo, who had shot to fame playing a rebellious, silently brooding teenager in the family sitcom Unstoppable High Kick.
He did follow that with a part opposite Lee Yeon-hee in the "omnibus" (multi-vignette) film My Love, but then Jung Il-woo's star kinda sputtered and he faded from the limelight, so this news came while his popularity was on the wane.
On July 30, he resurfaced on his own homepage with a post titled "Already been a year" and talked about his upcoming Iljimae role.
"It's already been a year since High Kick ended… Since then, many projects have been canceled and I've struggled and worried a lot, so I think it's better to do a project and regret it than to not do a project and regret it."
…which, actually, makes some sense.
"I'll be seeing you possibly in November, or at the latest, January. It's true that there have been a lot of worries and discussion about it, but any project is bound to have burdens and concerns. I've taken a break for a long while, and I'll come back that much more grown-up and mature."
I'm not all that excited about seeing Jung Il-woo as Iljimae, but I've gotta give him props for recognizing (and admitting) that the drama's got a rocky road ahead of it. Some might say it's better to not admit your faults lest you draw attention to them, but I'm pretty sure everyone was aware of theirs. Plus, it's worse when people brag about disasters in the making as though they live in some alternate-reality bubble, willfully ignoring the opinions of the public they hope to attract.
MBC's Iljimae is scheduled (for now) to begin in November, and co-stars Kim Min-jong (Woman of Matchless Beauty Park Jung-geum, Hyena) and new actress Yoon Jin-seo.
Via My Daily
RELATED POSTS
Tags: Iljimae, Jung Il-woo, Return of Iljimae