Final trial starts in Song Il-kook's reporter assault case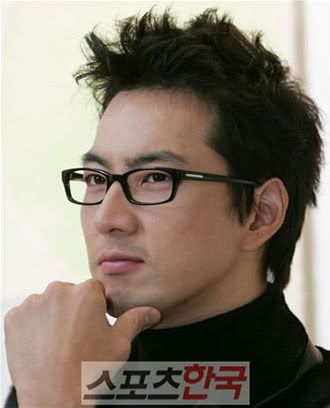 Just goes to show: don't mess with a celebrity. Particularly one as rich and famous as Song Il-kook who doesn't take kindly to be painted as a woman-beater.
To refresh memories: A freelance reporter, Kim Soon-hee, accused Song of assault back when she was trying to approach him for an interview regarding his upcoming wedding in January. He refused and went into his home. She sued that Song struck her in the face and knocked her teeth loose. He countersued saying she was a big fat liar. The court then ruled that the security camera footage supported Song's stance that they had barely touched, to which she countered that the footage (taken from Song's home security cameras) was doctored in his favor. A cameraman testified to back up her story. Song then accused the woman of false accusations and perjury.
The final trial regarding the false accusation claim opened on September 11. Now the actor's reps are calling for punishment for her actions, requesting 2 years and 6 months' hard jail time. Ouch.
However, with Reporter Kim maintaining that she is innocent of the charge, people are wondering how the judge will rule. Her lawyer said, "Another reporter present at the time testified that there was a physical fight with Song Il-kook, and in the act of shutting his apartment's glass doors (in her face, I presume), five of Kim's teeth were injured. … Ms. Kim has no intention of slandering Song Il-kook." Kim said in her defense, "The investigators didn't believe me and charged me with making false accusations."
The ruling on this case will be delivered on September 25.
Via EDaily.com
RELATED POSTS
Tags: lawsuits, Song Il-kook