Go Go 70 prepares to premiere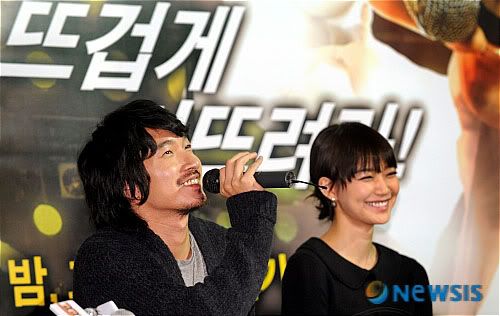 (Does anyone else hear the words "Go go" and find yourself immediately tempted to singsong out, "…Power Rangers!"?)
The three leads of the disco-era movie Go Go 70 (Jo Seung-woo, Shin Mina, and Cha Seung-woo) came out to promote their new film on September 19.
In the film, Jo Seung-woo apparently performed all songs himself — he plays a rocker fronting a band — and found his numerous stage experiences in musicals helpful: "It wasn't very difficult filming the performance scenes. I wasn't required to follow the camera. We filmed as though they were real concerts," with multiple cameras fixed in various spots to capture the unfolding events: "All I had to do was enjoy myself."
Shin Mina, on the other hand, had this to say about her dance- and singing-heavy role (for which she trained for three months leading up to shooting): "It was a difficult process from the start. … I felt pressure working with Jo Seung-woo, too." Having never danced in any of her prior roles before, she felt shy at the outset, but found her groove (we hope) as filming progressed.
The movie opens October 2.
Via Newsen
RELATED POSTS
Tags: Jo Seung-woo, Shin Mina