Kwon Sang-woo weds Sohn Tae-young (finally)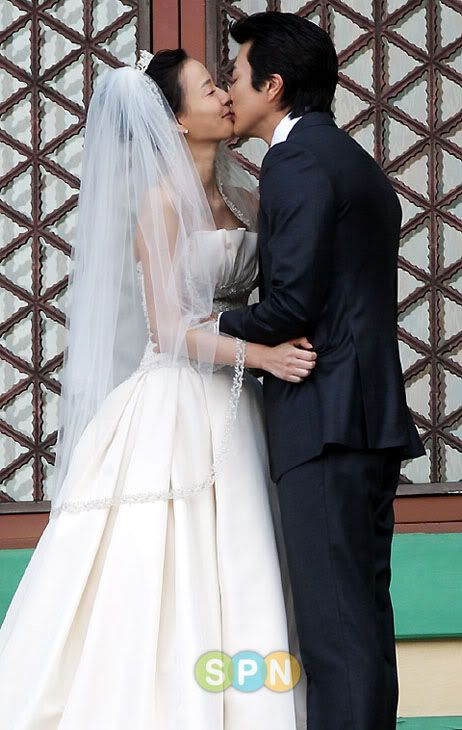 After all the hullaballo, Kwon Sang-woo finally married Sohn Tae-young today (September 28), and I for one am glad, since we won't be having to hear about it anymore.
The couple gave a press conference prior to the wedding, as the wedding itself was closed to the press. Sohn Tae-young wore a Kenneth Pool gown, which she bought on the couple's recent trip to England.
Kwon: "I'm finally getting married. I'm so nervous — my nerves don't begin to compare with any film festival or event I've been to. … We'll live happily together. I vow to love her forever." Sohn: "It doesn't feel real yet. Actually, I wasn't nervous at all while getting ready. But now I'm starting to feel it."
When asked about kids, Kwon answered that he'd like three, but joked that Sohn "has agreed to two, for her figure's sake."
And, since it's not every day such a huge Hallyu star gets married, we have a pretty impressive guest-star roster that rivals the red carpet at some of the largest industry events.
Kwon's best bud Song Seung-heon, actor-director Yoo Ji-tae and date Kim Hyo-jin:
So Ji-sub, Park Shi-yeon:
Choi Ji-woo, Cha Seung-won:
Ha Ji-won, Jung Woo-sung:
Jang Dong-gun:
Lee Byung-heon, Lee Beom-soo:
Lee Dong-gun, Lee Jung-jin:
Married couple Yeon Jung-hoon and Han Ga-in:
Lee Jung-jae, Jung Joon-ha:
"Matchmaker" Kim Sung-soo (who introduced the couple):
Byun Jung-soo:
Park Yong-ha (looking a little Liza Minnelli), So Yi-hyun, Oh Ji-ho:
Hwang Bo, Park Jung-chul, Shim Ji-ho:
Via Mk.co.kr
RELATED POSTS
Tags: Byun Jung-soo, Cha Seung-won, Choi Ji-woo, Ha Ji-won, Han Ga-in, Hwang Bo, Jang Dong-gun, Jung Woo-sung, Kim Sung-soo, Kwon Sang-woo, Lee Beom-soo, Lee Byung-heon, Lee Jung-jae, Lee Jung-jin, Oh Ji-ho, So Ji-sub, Sohn Tae-young, Song Seung-heon, star romances, weddings, Yoo Ji-tae