The current drama landscape: An overview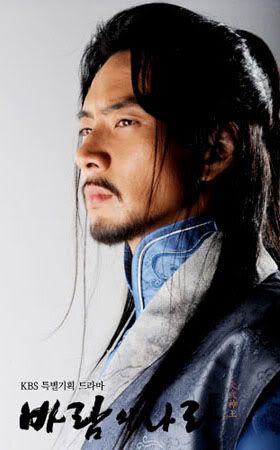 It seems we suddenly have a ton of new dramas out, and I was starting to feel a bit lost. So here's a brief overview of the dramas currently airing, some of which I'm following regularly and some that I haven't committed to sticking with yet.
For the series I plan to keep watching, I'll probably follow up with more in-depth posts, but for now I'm taking a general, overall look at the current lineup. (The two dramas pictured above, Kingdom of Wind and The Painter of Wind, are probably the two best series airing currently, but for different reasons.)
SONG OF THE DAY
Sorri – "Because of You" [ Download ]
Audio clip: Adobe Flash Player (version 9 or above) is required to play this audio clip. Download the latest version here. You also need to have JavaScript enabled in your browser.
But let's do this chronologically, shall we?
MONDAY-TUESDAY DRAMAS
Ratings-wise, East of Eden is winning Mondays and Tuesdays, clobbering the romance Love & Marriage and taking a comfortable lead over Tazza (although it had a considerable advantage over Tazza in starting several weeks earlier).
East of Eden (MBC)
When I watched the first episode of East of Eden, I thought it sucked. It was alternately melodramatic and interminably boring. (The boring/melodramatic dichotomy continues in following episodes, but while it's to a lesser degree in latter installments, Episode 1 was almost painfully dull.) But now that I've seen the first six episodes, I find that I don't hate East of Eden. In fact, there are some parts I find downright compelling.
Audiences are enjoying the grand melodrama that characterizes Eden, and being able to watch the gorgeous sculpted features of Song Seung-heon after such a long time away from television can't hurt, either. But imo, while Song certainly has a pretty face, his presence is not the draw; the early success of Eden owes a huuuuge debt to the young Kim Bum, establishing the character of young Dong-chul (later played by Song).
The first five episodes take place in Dong-chul's childhood and adolescence, and Kim Bum positively carries the entire show on his young, untried shoulders. He's fierce, vulnerable, loving, desperate, and scrappy all at once. He emotes with his whole body, and conveys the character so thoroughly that it's hard not to feel for him. What a long way he's come from being the goofy little kid on High Kick to being so dynamic here, on the cusp of manhood. And then Song Seung-heon showed up and I got bored. (Issues of acting talent aside, Song just doesn't embody the same intensity as Kim Bum; he doesn't dig deep and invest himself as wholly. I always feel like he starts his work on top of a base veneer of vanity.)
Unfortunately, despite having some heart-tugging moments, the biggest irritant for me is that Eden gets damn repetitive. The scene that brings you to tears the first time might wring out a tear or two the second time around, but the third, fourth, fifth… When you're basically putting forth slightly altered iterations of the same scene over and over and over, it gets tiring. And since most of these scenes are the tearjerker scenes, it also starts feeling emotionally manipulative. The acting is good, but there are only so many ways you can say the same thing. And there is So. Much. Damn. Crying. To be fair, I cried along with the characters — to a point. After a while, you're like, "This again?"
Verdict: This is a show I might have continued to follow if it were on TV every day and I left the program on in the background while I did the dishes. Or I might have continued it if it were a short, concise miniseries wrapping up at 16 episodes. I might've also continued had Kim Bum somehow stayed longer. But I find that despite the aspects I did like, I don't have it in me to stick out this kind of overwrought, tearjerking, grandiose drama for 50 episodes, especially when I find Song Seung-heon's Dong-chul only a fraction as compelling as Kim Bum's.
Love & Marriage (KBS)
Since I'm recapping Love & Marriage, I won't go into too much detail now. Suffice to say that this drama rides on the charm of Kim Min-hee, the looks of Kim Ji-hoon, and the hilarious, offbeat scenarios engineered by Goong scriptwriter In Eun-ah.
Love & Marriage isn't reinventing the romantic-comedy wheel, and thus far there's not a lot to get emotional about — but it's a sleeper surprise (at least for me), displaying an effervescent, flirty charm that appeals to those of us who like our dramas speedy, fun, and laugh-inducing.
Verdict: Oh, you know I dig it.
Tazza (SBS)
Tazza is less intense than I'd thought it would be, showing off a glib slickness exemplified by Jang Hyuk's freewheeling character. I think Jang is perfect for these rascally guys he is starting to get typecast playing, but since he fits the bill, it's for good enough reason.
Han Ye-seul does better with extreme or exaggerated characters; she's not exactly a nuanced actress. But she's been gradually improving (she was almost unwatchable in the Nonstop series), and although I don't think her rise in visibility after Fantasy Couple was because of skilled acting, it was because she carried off the outrageous character with an endearing panache. Here, her Nan-sook is a feisty character with a heavy rural accent, which lends itself to better to Han's strengths because I find her most watchable when she's being a little left of center (I tend to cringe when she's playing a scene "straight").
There's also something really cute about the way the childhood love between Nan-sook and Jang Hyuk's Go-ni is expressed. They've done a fair job of establishing them as friends as children, and the years spent apart until their reunion in their late teens have only made their hearts grow fonder. Their relationship dynamic fits every first-love cliché — as well as the good-girl, bad-boy cliché — but it still makes me smile.
Plus, in its first few episodes, Tazza also showcases some early-'90s fashions, MC Hammer and New Kids On the Block, and a nightclub dance-off. Kitsch city!
Oh yeah, and there's also that "my best friend tried to save his family and ended up ruining mine" angle they've got going, too.
Verdict: Still not convinced either way. Will keep a tentative eye on the series, enjoying it while I can and dropping it if my interest wanes.

WEDNESDAY-THURSDAY DRAMAS
But Wednesday-Thursday is when things really get good.
I think Beethoven Virus is at a slight handicap (quality-wise), because it's up against two excellent series. This doesn't mean Beethoven is bad; it's just that the two others are superior to everything else right now.
But on the upside, Beethoven Virus is winning the ratings battle, even if it's not by a huge stretch. Beethoven is creeping up in the mid- to upper teens, Kingdom of the Wind is in mid-teen territory, and The Painter of Wind — which premiered the latest and has aired the fewest episodes — got off to a 12% start.
Beethoven Virus (MBC)
I've been behind on this series, and based on early reports of hate from some people, I was pre-emptively feeling disappointed. But I'm glad I watched the series for myself, because I'm really enjoying this drama. At least, I've really liked the first three episodes. Perhaps it helped that I didn't have many expectations going in.
Like Sevenses said, Beethoven Virus can get a little predictable, but there's enough about the series that feels fresh that I don't mind a little plot predictability. And by "fresh" I don't mean wildly ingenious — that's rare for broadcast television in any form — but rather that it incorporates a stylish flair that I appreciate. Kind of how My Sweet Seoul wasn't exactly a breakthrough novelty, but set itself apart with its atmosphere. The director makes occasional use of jump cuts and composite shots that I dig — they add a stylized feel and a jolt of energy to the scenes. And I love the classical music featured, although I wish they'd actually do more with the classical-music theme.
Kim Myung-min, coming off a career high with White Tower, is again the intense, commanding actor we've come to expect of him. What I LOVE about his portrayal of Maestro Kang is in how he makes him rude — borderline socially defunct — but also relatable. His character says some truly boorish things sometimes — not necessarily false, but cruel in spirit and in tone — but Kim's genius is in making his extreme snobbery and contempt for people stem from a place of wild, nearly debilitating insecurity. The instant we connect with his Salieri complex — Maestro Kang hates geniuses, because he was overshadowed by one — his character opens up to all these wonderful, lovely and ugly complex shades. Vintage Kim Myung-min.
Y'all may know how I was sorely disappointed with Jang Geun-seok since his performance in Hong Gil Dong, but I'm so pleased that I like him 100% more as trumpeter genius Gun-woo. Maybe even more than 100% better. He is the Mozart to Maestro's Salieri (the second Mozart in his life, actually), and Gun-woo's own initial detachment and disinterest also mask an inner longing. But since he's the genius, the natural who doesn't have to try as hard as Kang, Gun-woo is the perfect foil for Maestro Kang, his complete antithesis.
Lee Jia's acting — yes, a little exaggeratey — doesn't bother me (yet?). Note: what DOES bother me is how her fake violin playing is atrocious. Really, really fake. To be fair, the other "musicians" are also pretty fakey, but string instruments are particularly difficult — more so than wind instruments, for instance — to feign skill in faux-playing.
Verdict: Me likey so far. Now I've got to catch up on all the great recaps!
Kingdom of the Wind (KBS)
Gorgeous and epic.
Although Kingdom of the Wind and The Painter of Wind share some similarities (both are Wed.-Thurs. dramas, both are sageuks, and both titles bear the word "wind"), they're not really similar at all, content-wise. While both are shot in a beautifully cinematic way, Kingdom is a war epic/conspiracy thriller, while Painter is period romance. It's almost too bad they share the same timeslot, even if audiences these days can easily partake of dramas via the internet.
Kingdom of the Wind is characterized by a beautiful score, sprawling battle scenes, and lots of political intrigue, for those of you who like your historical dramas chock-full of conspiracies and assassination plots. It's well-acted, beautifully lit, and well-directed. There are hints of a dark fantasy-like element, but from what I've seen, it doesn't take it far enough to call the series fantasy — unlike, say, Legend, which was much more a hybrid fantasy-historical.
Verdict: I am duly impressed, but I won't be recapping this. It's a series that deserves attention, though, so if anybody feels a desire to recap the series, I hereby offer up my webspace here. Takers?
The Painter of Wind (SBS)
On the other hand, The Painter of Wind shows off an entirely different artistic sensibility in its delicacy. While Kingdom of the Wind is dark, Painter is picturesque, and finds itself in its details — the close shots of the moving paintbrush, the lingering look in a character's eyes. It also boasts a lovely background score and a director who uses it to its best effect.
I wouldn't be too quick to call Moon Geun-young revelatory in her performance as a woman masquerading as a man in order to receive art training — not yet — but I think we can expect good things from her as this series progresses. Like Yoon Eun-hye before her, she is almost too pretty to pass off as male, but actually does a credible job with mannerisms, line delivery, and deepened voice (especially considering how much more high-pitched her normal speaking voice is).
The thing that sets The Painter of Wind apart from most sageuks is that it doesn't (appear to) have a political focus. While the court and politics are featured, the main plot of Painter isn't dictated by power (comma, the acquisition of). It's a character and relationship study.
Based on the first two episodes, it looks like the series is going to start off lighthearted — Episode 1 was surprisingly upbeat and funnier than I'd expected. I am guessing the series will progress into more emotionally fraught territory as we delve into these characters. Park Shin-yang lays out the development of the relationship that will flower between master and student in the opening voiceover, saying, "She was my student… my teacher… my friend… and my beloved."
Verdict: Same deal as Kingdom. I plan to watch, but won't be recapping. But if you feel up to the task, I'd be happy to give someone else a stab at it.

…AND THE REST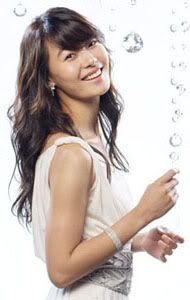 Scale of Providence is SBS's new Friday drama. Centered around the world of lawyers and judges (the "scales" in the title refer to the scales of justice), it looks to be shaping up into a legal thriller and relationship drama. It may require more watching to get into, but I found the first episode on the boring side.
As for weekend fare, MBC offers Moon Sori's (Legend) fifty-episode drama Golden Years of My Life along with My Woman as its Saturday-Sunday shows.
KBS has two long-running successes with Angry Mom and the historical Great King Sejong (well, Sejong isn't a ratings bonanza, but it's holding steady, while Mom continues to do extremely well in the 30%-40% range).
And SBS, in addition to its long-running hit First Wives Club, brings Yoon So-yi (Goodbye Solo) and Lee Jin-wook (Rivals) together in another fifty-episoder that unfolds around romance, career, and marriage.

RELATED POSTS
Tags: 1 show to rule them all, Beethoven Virus, East of Eden, Jang Geun-seok, Kim Bum, Kim Myung-min, Kingdom of Wind, Lee Jia, Lee Jin-wook, Love & Marriage, Moon Geun-young, Park Shin-yang, Song Seung-heon, Tazza, The Painter of Wind, Yoon So-yi