"Civil Servant" kicks off filming, wishes self luck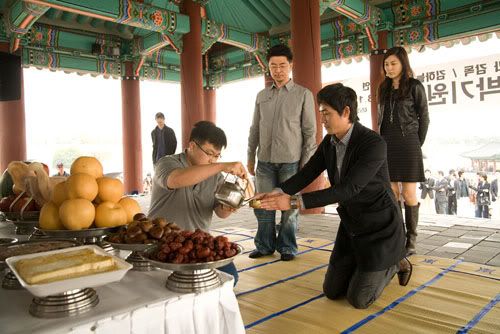 October 13 marked the official start for work on the romantic action comedy Civil Servant Level 7 [7급공무원], starring Kim Haneul as a sexy veteran spy and Kang Ji-hwan as a newbie agent on his first secret mission chasing Russian industrial spies who work for an illegal crime organization, in an attempt to prevent the proliferation of dangerous chemical weapons. (So many things to giggle at in the description. What's not to love?)
Cast and crew performed the opening spiritual rites for good luck, and filming commenced in the city of Suwon on the following day.
The film is directed by Shin Tae-ra (of Black House) and also stars Kang Shin-il (Public Enemy Returns, Golden Bride), Ryu Seung-ryong (Painter of the Wind), and Jang Young-nam (Women in the Sun) in supporting roles. Also in attendance were several dozens of Japanese fans (attracted by Kang Ji-hwan, no doubt — not that I blame them!), some of whom sported T-shirts bearing Kang's name.
Civil Servant Level 7 is looking at an early 2009 release.
Via Arts News
RELATED POSTS
Tags: Kang Ji-hwan, Kim Haneul