Return of Iljimae unveils promo poster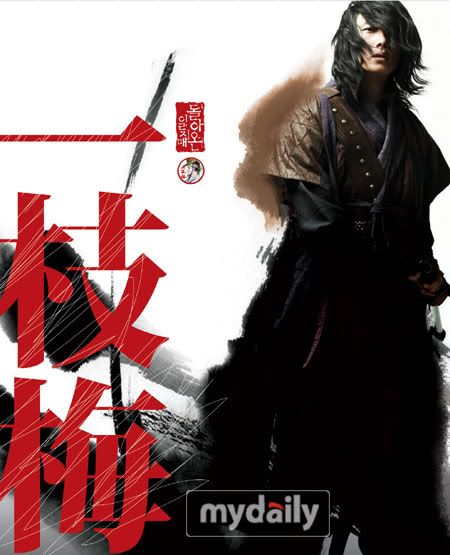 How gorgeous is that promo shot or what? It reminds me of the whimsical artwork of old-school Final Fantasy, doesn't it? Somehow it manages to be fantasy-like, but not too weak or caricaturish.
Talk about changing my mind, both firmly and quickly. MBC's Return of Iljimae has managed to do that in a really short period of time, and I admit that it's for totally superficial reasons. But hey, that's effective marketing (and art direction!) for ya. And image really is a huge component when we're talking entertainment-industry success. (Also: who could have predicted that pretty-boy Jung Il-woo could pull off such a drastic image shift?)
Based purely on aesthetic, it looks like MBC will be going for a very different feel from SBS's more overt comic-book-y influences. SBS's Iljimae was kind of intentionally exaggerated, sometimes jokesy, and I don't think MBC will be taking that tack. I don't meant to belabor the comparison, but it's rare that you get the chance to see such a stark comparison of two very similar things done (probably) very differently — it's an interesting study in drama production, if nothing else.
Return of Iljimae premieres on Wednesday, November 19.
Yoon Jin-seo (Beastie Boys) plays Iljimae's first love:
Jung Hye-young (of East of Eden, Lawyers, and Mrs. Sean of Jinusean):
Singer-actor Kim Min-jong (Hyena):
Via My Daily
RELATED POSTS
Tags: Iljimae, Jung Hye-young, Jung Il-woo, Kim Min-jong, Return of Iljimae, Yoon Jin-seo