Jo Sung-min tells his side of the story
Deceased actress Choi Jin-shil's ex-husband Jo Sung-min is changing his mind regarding the fight for child custody and inheritance rights (perhaps after the continued public outcry).
We've mostly been presented with the issue from Choi's side, with her brother and mother speaking out to retain custody of the kids, bringing up Jo's lackluster performance as absent dad to support their stance that he doesn't deserve to win back his fatherly rights. While I generally feel that they've got a solid argument, the media has been awfully one-sided in painting Jo as evil. Now we get Jo's perspective in a TV interview about his side of the story.
He appeared on November 18 on MBC's PD Notebook, giving the program a 5% boost in ratings, to say that he will withdraw his claim to Choi's inheritance. He explains that he's fine letting Choi's family handle her estate: "My only desire is to be a father to my children. I want to be able to see my children comfortably." His stance is that even if he gives up a claim to Choi's assets, he can't give up a claim to his children.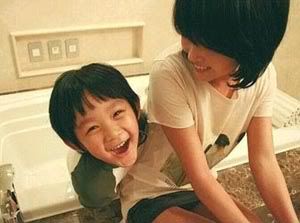 Choi's mother has maintained her opposition to Jo, saying, "After the divorce, he never once saw the children, and even when the little one missed him and called, he didn't answer, so what is he doing acting like this now?" Furthermore, at the time of divorce in 2004, Choi had written off Jo's debts in exchange for custody and his relinquishment of parental rights.
In the program, Jo addressed the fact that he'd previously signed a contract giving up his parental authority. He admits that he agreed not to see the kids when he signed the contract, but that was because he felt their mother would be able to provide a better environment for the kids, not because he wanted nothing to do with them. He also admits to the debts, but contends that they had nothing to do with custody issues.
Jo also reacted strongly against Choi's mother's claim that he had no interest in his children; he feels that in the absence of their mother, it's right that their father should take care of them. In response to grandma's accusation that he's never been there for a child's birthday in the past five years, Jo is rather honest, saying, "I haven't done much or been a support to my children in the past, but with their mother gone, I want to be a support to them starting now and take on my fatherly responsibilities, that's all."
Finally, Jo was asked about his intentions regarding Choi's estate, seeing as how most of the world considers him to be "playing at dad" to get to her money. He said, "I'll say it again: I have no interest in her property. When we were together, I didn't know how much it was worth. I just want to take on my responsibilities as father."
Choi's mother, meanwhile, remains steadfast in her claims that Jo is only after Choi's money. An online group (Opposition to Jo Sung-min's Parental Claim Café) also held a rally on November 15 in Yoido, Seoul, to protest.
Here's my take: If Jo does give up any claim to Choi's estate, I don't see a point in further vilifying him for wanting to be a dad. I also think that the public fervor against Jo is partly earned by his past behavior, but partly also symbolic, as though he's being held representative for a population of deadbeat dads. Jo has been a deadbeat in the past, but I also do respect his honesty in the interview in admitting he's pretty much been a lousy father, but wants to rectify that now. I mean, having your ex-wife kill herself in depression can be a pretty strong motivator for changing one's outlook, can't it? The only hangup I have is the fact that he was known to have hit Choi while they were married, and that's a tough one to ignore given the sake of young children at stake. But as he's argued, he wants to take on fatherly rights, but I don't believe he's fighting for actual custody. Please correct me if I'm mistaken.
Via No Cut News, Arts News
RELATED POSTS
Tags: Choi Jin-shil, Jo Sung-min