A grump reviews 2008 [Year in Review, Part 2]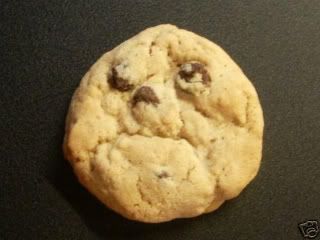 How should one convey bad news in writing? By creating a buffer first. Avoid traumatizing your audience with the bad news all at once, but instead cushion the blow so that you can maintain goodwill. That textbook approach (business communication, by the way) would be dandy if the crop of 2008 dramas I watched was anything like the stellar quality of 2007. But no, this was a harvest to make one downright grumpy.
This time last year, eight dramas vied to be in my Top 3. Even the ones that disappointed weren't half bad and at least I finished them. Not this year. I picked up around twenty dramas and dropped at least fifteen. "Dropped" is putting it mildly. I ran from some of them like a kid fleeing an apparition: hands in the air and hair standing on end. As the year wore on, my patience wore thin and my grumpiness increased.
So, no, I can't use the buffer approach when reviewing this year's dramas. Hedging doesn't work for this grumpy cookie. I will present to you the worst dramas first, followed by the so-so ones, and then the few gems of 2008. Even though the year was overcast and gloomy, the sun broke through the clouds occasionally and when it did the effect was glorious. Let's get the bad news out of the way and we can enjoy the good stuff, shall we?
SONG OF THE DAY
Jin Yi-han – "This is the Moment" which he sang (live!) in Episode 3 of Who Are You. [ Download ]
Audio clip: Adobe Flash Player (version 9 or above) is required to play this audio clip. Download the latest version here. You also need to have JavaScript enabled in your browser.
COULD USE AS FIREWOOD
The four dramas that I dislike the most this year are ironically the ones I did not expect to go wrong. Consider the reasons: Kim Myung Min, Lee Jong Hyuk, Shin Sung Rok, Lee Beom Soo. Even if you aren't fangirly over them (which I am), you have to agree that they aren't your average pin-up boys with the hot looks and nothing else. These guys can actually act. Kim Myung Min was best actor of 2007 (disagree with me at your peril, haha) and he helmed the best drama of 2007, White Tower. And then came Beethoven Virus in 2008.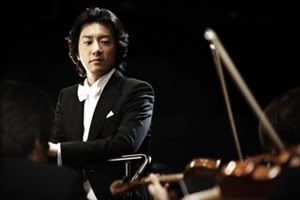 Every episode that I've watched of Beethoven Virus I wanted to throw a shoe at the screen. After a while, and for my own sanity, I stopped rolling my eyes and resigned myself to parking my brain aside when watching. These are orchestra players? Sure, and I'm a Cirque du Soleil acrobat. Acting is over the top (take a bow, Lee Ji Ah), conflict is contrived, developments are far-fetched (see me drunk, see me deaf, see me almost drown!), and even the poor dog is not spared the overwrought theatrics. I could have stopped watching after the first excruciating ten minutes and ordinarily I would have. But I plodded on for only one reason (see previous paragraph).
Can I go out on a limb here and say that Kim Myung Min's acting in Beethoven Virus pains me sometimes? I never thought my most admired actor could be capable of bad acting, but his latest drama proves me wrong. Still, in this awful drama he is the best thing about it. When he conducts he is so, so mesmerizing you have eyes for nothing else but him. So, no matter how long it takes (because I can only stomach one or two episodes a month), I intend to keep watching Beethoven Virus to its brain-numbing end. Because the maestro is worthy of it.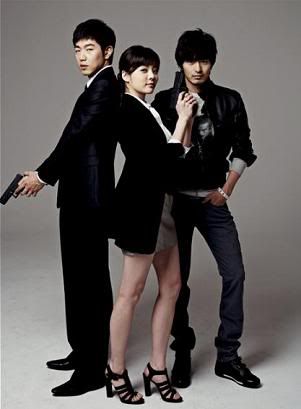 Such doggedness, alas, did not extend to Powerful Opponents. In the first episode, Lee Jong Hyuk and Chae Rim demonstrated convincingly that it's possible for two people to be grown ups, to be training for the elite Presidential Guards, and to still behave like seven-year olds brawling in the schoolyard. Think of two children fighting to be first in line, or to have the last word. The childish one-upmanship between the two would be slightly funny if it weren't so excessive and ridiculous. Like their fellow trainees, I watched their long and self-absorbed charade with growing bemusement. You couldn't have asked for more evidence of immaturity than what the two adults, grim-faced and sweaty, were displaying. And you trust these kids them to protect your president and other dignitaries?
Sorry, Lee Jong Hyuk. You're my all-time favorite villain (Green Rose) and your voice makes me melt, but your 2008 drama is more paltry than powerful and I'm not sticking around. And sigh, I have to say the same thing to Shin Sung Rok whom I adored in Thank You and Hyena.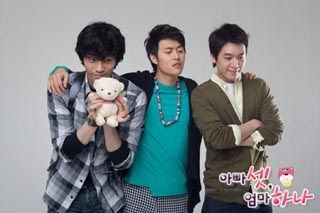 When twice (the first time for laughs and the second time for a lack of ideas) Jae Hee and his nasal pressed-duck voice rolled off the bed onto Shin Sung Rok and his bad perm, I said to myself, "Enough." If the gags in Three Dads, One Mom were genuinely funny, I wouldn't have minded so much. But no, they felt so fake and forced. Ya right, trot over to your married friend's apartment with your dirty laundry every week so that your friend's wife can enjoy a "marry one, toil for four" deal. Hammer home the "we five are so cozy we're practically family!" point at every opportunity. Creep your viewers out with saccharine sweetness one moment, and shady underhandedness the next.
Three Dads, One Mom. You had the potential to be funny, but you busted it with crappy writing and insipid acting. In one fell stroke you dimmed the lights of your four leads and made us scratch our heads in befuddlement. Did Jae Hee always sound this awful? Strange how Shin Sung Rok's good looks have all but disappeared here, eh? Jo Hyun Jae was never this spaced-out, was he? And surely Eugene's acting had improved prior to this drama even if it didn't seem evident here?
The last one in this sorry bundle, On Air, was also the one that I bailed out of at the shortest notice. I ran from it in voiceless horror, aghast at all the on-screen shouting and temper tantrums. Okay, so Lee Beom Soo is loud here, as he was in Surgeon Bong Dal Hee. But in that 2007 drama where he was such a dreamboat of a doc, he was mostly the only one shouting. In On Air, it's like in every corner someone is yelling and acting all aggrieved. Such shrillness. Such angst. Thanks but no thanks.
On hindsight, I may have been too quick to judge On Air. A close friend loves the drama to pieces and I'm fascinated by how much she likes Park Yong Ha here (she couldn't stand the sight of him in Winter Sonata, and who could blame her?). Supposedly his character is so very charismatic as a PD, and so caring towards his lady love… Oops, would that be Kim Ha Neul's character or Song Yoon Ah's? Couldn't tell them apart honestly; both were two very pissed-off divas in the first episode and I was too busy plotting my escape.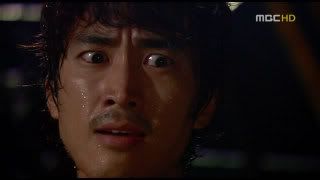 Oh wait, there's one more. It's still airing so we can't feed it to the flames, but I watched the first two episodes and really have no more use for it. Surely the most hyped drama of the year, our East of Eden. And supposedly the most star-studded (although the only one I like in that "dream" cast is Lee Mi Sook). Also the drama with the most convoluted plot (think five daytime soaps rolled into one). Who liked whom? Who violated whose modesty? (Oh, for Pete's sake, stop skirting the issue. It's rape, rape!) Who is friend and who is foe? If this one is your wife, who is that lady staring so forlornly at you? (Don't ask me, I was so confused myself.) Unwrongful death. Babies switched at birth. A fire. Etc.
So much was going on in the first two episodes my head was spinning. Yet I also found unexpected mirth, and from the most unlikely source. Song Seung Heon made me howl in laughter when he appeared, so unnecessarily intense were his expressions, as if trying to out-glare all the naysayers who said he couldn't act. Point taken, Mr. Handsome, but work on the nuances, will ya?
JUST YOUR AVERAGE FARE
When I was drawing up my list of dramas for this write-up, I was stunned by how many of them I had forgotten. Episodes faded away, some almost instantly, like streets you pass in a daze when driving in an unfamiliar city. Nothing stood out to remind you of the "scenery"; everything was ordinary and just so-so. Some of these dramas I discarded long ago. A couple I am still watching, either because I have to or because a particular actor has caught my eye.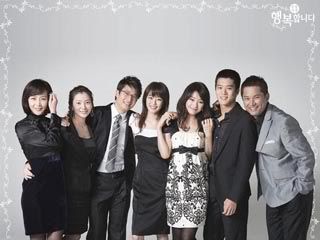 Happiness a.k.a. I Am Happy started out promisingly. How not to like a drama with that title? The main story (of a couple from two economically disparate families) was funny and engaging, the characters were fleshed-out sufficiently, and there was suspense (an old love, a bastard child, a scheming daughter-in-law, etc.) to keep one going in this 58-episode series. The drama exuded a palpable warmth and I was a happy viewer.
After sticking around for more than twenty episodes, why then did I decide to leave? Oh, for various reasons, one of which may seem flimsy to you. Spousal abuse is a huge no-no, and it is worse when a dictionary (I love my dictionaries) is used as the weapon of assault. When the dictionary flew out of her hand and hit its target hard, the one who recoiled in pain was me. Ouch! Okay, so the leads weren't out to maim each other, but their squabbles and childish antics were fast getting old and unfunny. A supporting character (that conniving daughter-in-law, who else?) usurped the main plot and kept hoodwinking everyone with her ploys. Nothing looked like it was going to get resolved soon. The thought of plodding through 34 more episodes of wearying sameness instantly aged me and I left.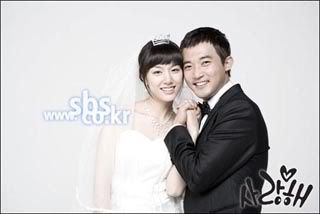 I Love You was actually decent. Ahn Jae Wook was adorable as a marriage-averse comic artist who got Seo Ji Hye's character pregnant after a one-night stand. Their situation was mirrored in a second couple (Hwan Hee's character impregnated a girl who had the same name as Seo Ji Hye's character, how coincidental), albeit with more sobering undertones. I really enjoyed the first couple; they had wonderful chemistry and were delightful together. Acting was solid (the two mothers were a riot; to this day I remember their first meeting) and the story oozed oodles of charm. Although the atmosphere was generally lighthearted, it was balanced by moments of poignancy. Marriage is not to be undertaken frivolously, of course, even if hurried into it by circumstances such as an unplanned pregnancy, and I felt for the two couples caught in that situation.
Still, I aborted my watch and finished only half the series. I think I grew impatient with the two guys' cowardice as they tried to run away from their responsibilities. Life also got busy and since the drama wasn't exactly a standout, it became another of those dramas that you watch to pass the time, one that doesn't stay with you long after you are done, a drama easily summed up (and as easily dismissed) in one word. Cute.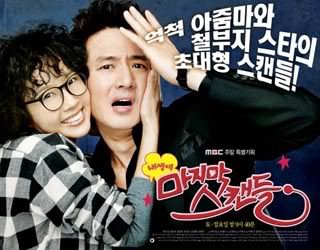 The Last Scandal Of My Life I watched for Choi Jin Shil and because of the raves. (A married friend kept saying, "You must watch! It's soooo good!") I loved Choi Jin Shil's acting; she was so natural and had wonderful comic timing. I admired her character's guts and tenacity but must confess to feeling majorly irked by her naiveté and gullibility around her asshole husband. His character was pretty unbelievable, no? The strokes used to paint him were too broad, thus turning the man into a caricature (not that he was the only one in the drama). For some odd reason I also could not stand their daughter; she was just too petulant for my liking and her over-the-top acting didn't help. I normally enjoy watching mother-daughter dynamics, but this one didn't feel authentic to me.
Then there's Jeong Joon Ho. His character was endearing (if you consider a 39-year old man behaving like a kid half the time to be endearing) and quite sweet and funny. But the drama's portrayal of him as a star also felt staged and less than convincing. Despite my friend's enthusiasm, I gradually lost interest in the drama and stopped after nine episodes.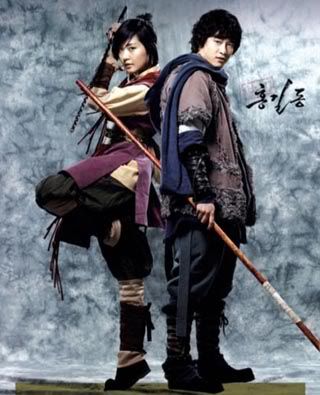 Hong Gil Dong I could have continued. The wacky opening episode definitely left an impression, of the eye-popping sort. The term fusion sageuk took on a whole new meaning, forcing sageuk purists everywhere to gnash their teeth and don sack-clothes. I didn't mind, actually. (Moi am all for inventiveness!) Shades-wearing Kang Ji Hwan was a joy to watch (unflattering perm notwithstanding), and I didn't roll my eyes at Sung Yuri's acting this time (A Thousand Years of Love being my previous, and unfortunate, exposure to her).
So why did I drop the drama after just four episodes? Was it because the drama bordered on the inane sometimes? Was it because Sung Yuri's Yi Nok did a No. 2 in the waters and totally grossed me out? Maybe. But the real reason had to do with two sageuks (explanation in the last part of this year-end review) and I just could not go on with Hong Gil Dong.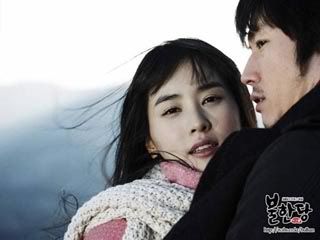 Robber reminded me of why I stopped liking Jang Hyuk midway through Thank You. That smirk, that posturing that showed too much self-consciousness. Lee Da Hae also looked like she had walked right out of My Girl into this one. Getting typecast, huh?
The supporting cast in the drama was the more attractive draw, with Kim Jung Tae giving me the giggles with his wonderful turn as the deadpan Jin Goo who's forced by his father to court Lee Da Hae's character. Watch him in the action thriller H.I.T. where he plays a detective and marvel at how talented and versatile this actor is. Son Byung Ho as the lovestruck gangster boss was a hoot to watch as well. Since I didn't care too much for the lead actors, I thought I would put Robber on hold and come back to it another day. Then I read that an overused plot device had been rehatched for the drama and that was it. Bye, Robber.
Gourmet I quit because it gave me flashbacks of Dae Jang Geum. You know, that evil rival who steals or spills your ingredients right before that all-important cooking contest. As a result you're running around like a headless chicken trying to salvage the situation even as the minutes tick mercilessly away. (In Gourmet's case, searching frantically for that missing set of knives, dammit!)
I can't stand foul play and to think of its various machinations unfolding episode after teeth-clenching episode to thwart our hero's path was too much for my weak heart. I did like the atmosphere of the drama (love its old-world charm) and thought Kim Rae Won acted really naturally. (Can't say the same for Nam Sang Mi who seemed a little too excitable. Still, have a soft spot for her because of her unassuming girl-next-door vibes. Because she's not stick-thin. Because she's acted with two actors I love, in two dramas I love: Bad Family and Time Between Dog And Wolf.)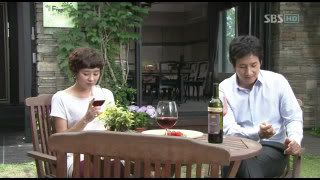 My Sweet Seoul I had really looked forward to. The leads were two actors I liked very much: Lee Seon Kyun (a.k.a. The Voice) and Choi Kang Hee. But right from the start something about Choi Kang Hee's acting and character niggled. A cloying childlikeness. A preoccupation with self. A certain hypocrisy in her relationships. All very subtle, actually. Some of my pals thought her Eun Soo character extremely well-written and realistic; they appreciated her idiosyncrasies and little imperfections. I didn't. I thought her incredibly pretentious. It bugged me like hell that she seemed caring on the surface but really wasn't. Like for instance someone would be confiding something in her and she would seem to be listening, but as soon as the person stopped talking, Eun Soo would switch the conversation to herself. It happened so often I wanted to scream. As the drama progressed, even the initial liking that I had for her two girl pals vanished, replaced by a growing irritation with all three of them!
The only thing that kept me going was The Voice; he was the "sweet" in the drama's title. But then the plot took an abrupt shift in the last few episodes where his character was concerned. "Sweet" became "sinister," and I was left gobsmacked. Not a nice feeling at all.
Kingdom Of The Wind is the only drama in this so-so category that I can't drop. I love editing the subtitles because it's barrels of fun working with the translator (wave to your fans, Your Grumpiness). The drama itself is a lot less enjoyable, alas. The script feels like it's written by two people with very different styles. Almost without fail half of an episode will be a stupor-inducing drag, the other half suddenly jerking you awake with hooves-pounding excitement. Transition is haphazard. A tense situation fizzles out without the expected consequences and you're left wondering what the previous brouha was all about.
But it's the uneven acting in Kingdom Of The Wind that bothers me the most. Song Il Gook, Jung Jin Young and Han Jin Hee deliver the goods as expected, and together they are holding up the drama as best as they can. But three people do not a drama make, especially when they are outnumbered by folks who can't act to save their lives. Choi Jung Won, Park Gun Hyung, Kim Hye Sung and Kim Jae Wook seem in cahoots to act as awkwardly as possible. Choi Jung Won is unbearably wooden and you can count on her to ruin yet another momentous scene with her one-expression-fits-all delivery. Accept your award for Worst Acting (Miniseries, Actress), Your Blankness.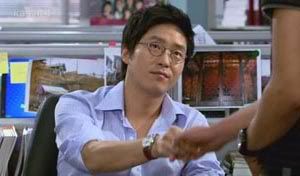 Worlds Within is another yawn, although I hear from trusted sources that it gets better after the seventh or eighth episode. That's a long way off for me, and I'm not sure I will reach that halfway mark. I've never disliked Song Hye Gyo, but here she really gets on my nerves, both the actor and the character. Just shut up, woman. Just, even for a moment, spare a thought for the people who populate your world. It's not all about you. I also don't care one iota for her relationship with Hyun Bin's character and it annoys me to no end how the two keep rehashing their old misunderstandings.
What else to gripe about? Oh, direction is awful, music is terrible, and everyone talks too fast. But two reasons keep me going, barely. Noh Hee Kyung and Eom Gi Joon. I have always loved the former's writing (More Beautiful Than A Flower, Solitude, Goodbye Solo). The latter I have never watched before, but I loved him at first sight here. Easily the best actor in Worlds Within, he is utterly yummy to boot.
GOOD FOR A FEAST
And finally we come to the good stuff. Phew. Of the many dramas sampled this year, these were the few that stood out. They aren't perfect, mind you, and I confess I don't love them like I did my favorites last year. But in a year of dismal offerings, they granted this grump some respite. The spread isn't enough for all your neighbors down the road, but for a group of five it should do nicely. Enjoy!
The best drama of 2008 opened with an unsettling scene: a detective investigating an unnatural death on a rainy night. Then the darkness shifts, we're in a different country, and dazzling brightness takes over. A woman surveys that white wintry landscape; she seems excited and also somewhat melancholic. A man insists on hitching a ride in her car; he seems strangely intent on following her. And thus begins La Dolce Vita, this wondrous drama that stood head and shoulders above everything else offered this year.
I approached La Dolce Vita with high hopes, and for good reason. Two months before, I had started watching Shin Don, a little-known 2005 sageuk written by Jung Ha Yeon. A note of explanation first. Earlier, as you were plodding through my list of awful and so-so dramas, you might be thinking, "Thunderbolt, you are most unfair. Just because you are nitpicky, you claim this and that drama stank." In defense, may I say I wasn't always this dismissive? I've put up with god-awful dramas in the past, hell, finished them even.
Then I watched Conspiracy In The Court and Shin Don early this year. Two awesome dramas with writing that sizzled and characters you loved because they were so human. The historical consciousness in the dramas was searing, production values rock-solid, acting top-notch. Watching these two masterpieces resulted in a strange malady, though. I became a grump, irritable and impatient. Every drama I watched I measured against these two, perhaps unjustly. Hong Gil Dong, for example, suddenly became too silly for words even though I had thought it amusing initially. But it was different with La Dolce Vita. Jung Ha Yeon was writing this, he who had written Shin Don, the drama that knocked Eyes of Dawn off its No. 1 position in my all-time favorites list. And he would be reuniting with the same Shin Don director, Kim Jin Min. Wow.

La Dolce Vita is not a comfortable drama to watch. It's troubling to watch unhappiness at such a close range, to witness a marriage fall apart frame by frame. Betrayal, despair, scars so deep healing seems impossible. The drama, through Jung Ha Yeon's amazingly humane writing and the voiceovers, allows us to see deep into the psyche of the main characters and what we see leaves us perplexed. What is truth if what you hear does not jell with what you feel? What is reality if your memory keeps shifting? Is love worth pursuing if it means forsaking all that is precious to you, to chart an uncertain path? And if I forsake everything for you, why can't you be happy?
Contrary to what some people think, the drama is not depressing. It just doesn't offer easy answers, and more importantly, it doesn't judge. Its characters are flawed, they have inner demons, they do things that make you question their sense of morality. Yet they are painted with marked gentleness. Jung Ha Yeon respects his characters, and similarly, he respects us, the viewers.
I made a Best of 2008 list as part of my notes for this write-up and it made me laugh. Because La Dolce Vita swept almost every freaking category. Best drama, script and directing. Best actor (Jung Bo Seok, hands down), best actress (Oh Yeon Su, who incidentally, also won in the swimsuit category, ha), and best supporting actress (Park Si Yeon, who elevated her acting to such a level she left me shaking my head in awe). The drama even won for best non-human acting, with our little Shih Tzu dog walking away with the honors, woof!
The second best drama of 2008 made its appearance quietly in late October, airing on cable TV and with just one episode a week. Not many people noticed it, but those who did could not stop raving and I was one of them. After a year of mostly duds, Fight (a.k.a. Road Fighter) was that breath of fresh air I badly needed.
Only eight episodes, and with each episode under an hour, its premise was so simple the creators of East of Eden would have rolled their eyes in derision. A drama about fighting and fight clubs? That's all? But that simplicity, stripped of all unnecessary trappings, gave Fight a focus and energy missing in many of the dramas this year. I never knew watching two men beat each other to a pulp could be so exhilarating. The fights were beautifully choreographed and realistically fought, and a wonderfully upbeat music score made them even more compelling to watch. I sometimes replayed a fight scene immediately just so I could hear the music. And if one of the fighters was Baek Do Bin, then I replayed the scene again and again.
Ah, Baek Do Bin. Just for him may I add a new category to my Best of 2008 list? Find of the Year. This unknown actor was clearly the best thing in Fight, outshining lead actor Yoo Geon and even Uhm Tae Woong (who had an important cameo in the series). His relationship with Yoo Geon was undoubtedly the highlight of the drama, sensitively handled and deeply felt. I would love to see a sequel to Fight, just so I could see their bond develop further. However, may I suggest a different actress if a sequel does pan out? Lee Young Jin may own Uhm Tae Woong's heart (the two are dating in real life), but she sure doesn't own any of his acting skills. In fact, if Choi Jung Won didn't own the Worst Actress award so completely, I would have divided it between the two of them.
Third place was much trickier this year. La Dolce Vita and Fight were shoo-ins for Top 2, but it took several days of mulling over one drama and frantically trying to catch up with another before I could decide. In the end Who Are You? won, simply because I had watched all of it.
Who Are You? could easily have been one of my dropped dramas this year because I didn't like the first episode. Go Ara's acting was too shrill (I hated how verbally abusive she was towards her dad; the girl had no manners at all) and Yoon Kye Sang was this fastidious stick-in-the-mud who yelled too much. But such is Conspiracy In The Court's hold on me I simply had to continue with Who Are You? just so I could watch Jin Yi Han (who was so awesome in Conspiracy).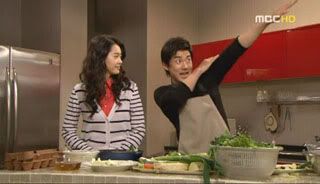 I'm glad I stuck around because the drama quickly turned out to be a delightful surprise. Yoon Kye Sang's dual role allowed him to stretch his acting and I loved watching his transformation from overbearing boss to overcompensating (ghost) dad. He was hysterical. Jin Yi Han was the villain you couldn't help loving (no effort needed on my part at all, tee hee). The veteran actors were excellent, especially Park Ji Young as the girlfriend of the father. She needed neither words nor wailing to convey the depth of her grief; with just a glance she made my heart hurt with her. (Take notes, Go Ara.) Not an exceptional drama by any means, Who Are You? was nevertheless a ray of light in this gloomy year.
Fourth best drama of 2008, for now at least, is Painter Of The Wind. I say for now because I've only watched seven episodes. A trusted source told me, most grumpily, that the second half of the series stank to the heavens. Well, we'll see when I get there. For now, what I've seen so far has been heavenly, and I'm awestruck by the drama's gorgeous details and dumbstruck by its boldness. The gay sexual undercurrents overflowed in the last two episodes I watched and I was literally trembling at what was unfolding on screen. Can't wait to get to episode 8 as soon as I finish writing this review!
Moon Geun Young is so convincing playing a lad who is really a lass let's give her the Best Young Actress award, shall we? Park Shin Yang, on the other hand, is alternately underacting (I sometimes forget he's even around) and overacting (ya right, show how pissed you are by blasting everyone at the top of your lungs and kicking everything within sight, eh?). And something tells me he's not used to acting in a sageuk. Just observe his behavior in front of His Majesty, the very kingly Bae Soo Bin. *insert fangirly squeals* Our monarch, by the way, is a joy to behold, so compassionate, authoritative and handsome is he. Excellent, Your Majesty. May you act in many more sageuks to come.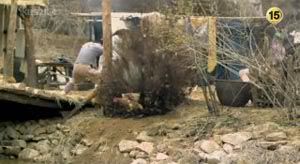 And now we come to the last drama in this year-end recap. Strongest Chil Woo will make few people's Best Dramas of 2008 list. The opening episode was a mess, with cannonballs and chickens flying all over the place and a schizophrenic music score that didn't match anything that was happening on screen. Oh Man Seok (heart, be still!) must privately be relieved he only had a cameo in that first episode. Looking at his face (yes, my powers of scrutiny go into overdrive when he's around), I thought he might burst out laughing any moment even though his scenes were of the tearful and bloody kind.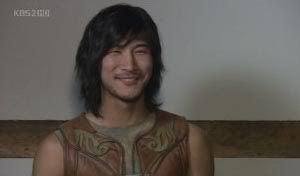 The whole setup of the drama was so wacky it actually became a thing of wonder. The fake horses, Chil Woo's bad hair, incessant flashbacks, horrendous directing, etc. somehow ceased to matter; out of that entangled mess a story was actually emerging. There was order in that chaos after all! I found myself defending the drama when others were dissing it. I looked forward to each episode, mainly to watch Yoo Ah In's Heuk San, and also because of the on- and off-screen camaraderie of the cast.
When Eon (who played Jaja) passed away so tragically, instead of avoiding the drama, I threw myself into it, determined to do my best for the subtitles. And when you labor over something with that sort of determination, inevitably you will come to love it. Strongest Chil Woo, you were the oddball of 2008, but you had guts and heart. Other dramas may have more impressive credentials than you, but they left me cold. You, on the other hand, surprised and entertained me. You are my fifth best drama of the year.
There. Nineteen dramas in all. The number surprises me actually, because so few left a deep impression on me I thought I had watched only a handful this year. Thank you, Sarah, for giving me the opportunity to rant and rave again. I can't wait to read your year-end review, and Dahee's and Sevenses' as well. Would the three of you be just as grumpy? I can't wait to find out! Happy 2009, my drama-loving friends.

RELATED POSTS
Tags: 1 show to rule them all, Beethoven Virus, Bulhandang/Robbers, Conspiracy in the Court, East of Eden, Gourmet, Hong Gil Dong, I Love You, Kingdom of Wind, La Dolce Vita, On Air, Rivals, Strongest Chil Woo, The Last Scandal of My Life, The Painter of Wind, The World They Live In, Three Dads One Mom, Who Are You? (MBC), year in review, year in review 2008