Lee Dong-wook celebrates fan club anniversary in hanbok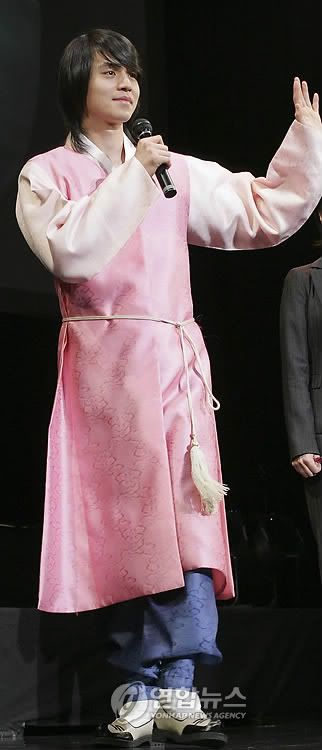 Lee Dong-wook (La Dolce Vita) held his latest fanmeeting on January 30 in Tokyo to commemorate the one-year anniversary of his official Japanese fan club. He arrived wearing the traditional Korean hanbok to ring in the new (lunar) year.
After garnering fans for his roles in dramas like School and My Girl, Lee earned nicknames like "Milk Boy" (for his pale, clear complexion) and "Crown Prince." The latter drama, which aired in 2006 and also shot his co-stars Lee Da-hae and Lee Junki to (greater) fame, was particularly instrumental in winning overseas fans and turning him into a bona fide Hallyu star. He followed that with movies Arang and Page 198 of His Book, as well as last year's La Dolce Vita.
Lee explained that he plans on perhaps two more projects before enlisting for his army service, which will happen sometime after fall.
Via Yonhap News
RELATED POSTS
Tags: fanmeetings, Lee Dong-wook