Filming begins on Rabbit and Lizard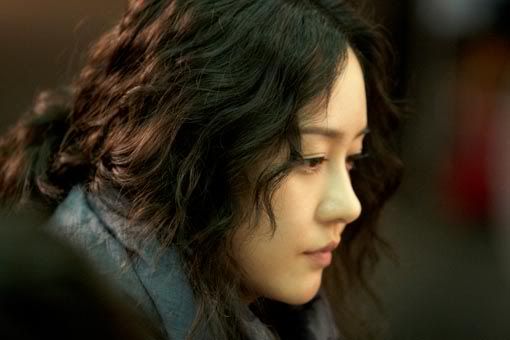 Filming has commenced for Rabbit and Lizard [토끼와 리저드], as you can from these newly released stills. The film is the latest project from actors Sung Yuri (Hong Gil Dong) and Jang Hyuk (Tazza), and marks Sung's film debut.
In Rabbit and Lizard (which is still just a working title), Sung is placed in the role of "mysterious and free-spirited" adoptee May. After growing up in the States, May comes to Korea for the first time in 23 years in search of her identity.
In the above scene, May and Jang's character Eun-seol meet at a bus stop, where, "sitting side by side, May and Eun-seol come to feel each other's presence." Their acting in the scene is described as "lyrical" as these two people "sympathize and come to share their subtle feelings with each other."
Jang plays a taxi driver suffering a rare heart condition that threatens to stop his heartbeat at any moment. He contrasts with Sung's character with his sardonic and gruff exterior, though it hides a warmth on the inside.
From the description, it looks like this will be one of those films that is more dependent on tone and subtle acting performances than, say, plot and conflict. I'm interested in seeing if Sung Yuri can pull off a nuanced and detailed performance; that hasn't been her strong suit, but she's been improving over the course of her career. As for Jang Hyuk — well, I can see him in the character already. Gruff and sarcastic? He was made for that.
Rabbit and Lizard is directed by Joo Ji-hong, a director who gained notice with his debut feature film in France, the 2004 road movie Toothache [치통], and is looking at a summer release.
Via OSEN
RELATED POSTS