First teaser for Story of a Man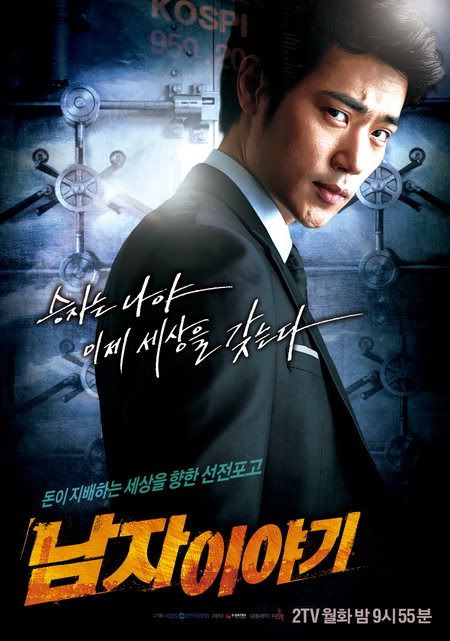 Kim Kang-woo
KBS's Story of a Man [남자이야기] is revving up promo for its premiere (to follow Boys Before Flowers), starting with these character posters and its first teaser video (watch below).
Despite the hype, my initial impression is that the Song Ji-nah-penned corporate-crime-thriller series probably won't be a match for her previous masterworks Sandglass or Eyes of Dawn, but her involvement is still drawing buzz. (Those two set the bar really high, and are among the highest-rated Korean dramas of all time, in addition to drawing overwhelming critical praise.)
In Story of a Man, On Air actor Park Yong-ha is initially a carefree rich boy, living life without much effort. However, his outlook is shaken when he "loses money, love and family in one instant" and is imprisoned for attempted murder. In prison, his eyes are opened to the "real world" beyond the privileged one he'd lived in.
Realizing that money rules all, he toughens up and decides to square off against that money-driven world, facing powerful opponents as he enters the realm of finance and stocks.
Kim Kang-woo and his Marine Boy co-star Park Shi-yeon round out the lead trio. Kim is an ambitious, cold-hearted antagonist to Park Yong-ha and sees life as a game ruled by money. As such, expect to see him always perfectly coifed and wearing sleek designer suits (as below) — yum! Meanwhile, Park Shi-yeon plays the good-hearted girlfriend to Park Yong-ha.
Story of a Man airs its first episode on KBS on April 6.
I'll be interested in seeing how this fares, given that it's going up against Ja Myung Go and Queen of Housewives — both are new series that have had their potential stifled by the popularity of Boys Before Flowers, and both may pick up audiences after BBF ends.
Or (and this is my prediction), we may find that once BBF is done, audiences will be more in the mood for something entirely new and watch Story of a Man instead of jumping into a drama mid-way. Perhaps it'll appeal to viewers who prefer more action-driven and hardened storylines now that East of Eden has wrapped. But what do I know? We'll see soon enough.
Via Sports Khan, Mk.co.kr
RELATED POSTS
Tags: Kim Kang-woo, Park Shi-yeon, Park Yong-ha, Story of a Man