Ja Myung Go kicks off with a whimper
So, who caught the premiere of Jung Ryeo-won's new grand historical series Ja Myung Go [자명고]? (It has apparently dropped the "Princess" from its title.)
…Nobody? Well, you're not alone — ratings were abysmal (4.1%), considering the months of hype leading up to it.
After trying to maneuver its premiere to evade ratings behemoths East of Eden and Boys Before Flowers, Ja Myung Go's Monday "special" broadcast pulled in a weak 5.8%. But that wasn't too upsetting, since specials that air before a drama's premiere tend to draw low numbers.
But its first episode on Tuesday aired at probably the worst time ever — it had to contend with the ever-increasing numbers for BBF and the grand exit for Eden.

Song Seung-heon, of East of Eden
So, let's talk about ratings.
I find ratings fascinating. It's one of those things we try to have both ways. The numbers totally don't matter, except when they're good and then they do, but then once they go bad we try to say they don't matter again.
In Eden's absence on Monday, Boys Before Flowers shot up to its personal best, 35.5%. As I said, Ja Myung Go's weak special broadcast isn't a big deal, but I would have expected a higher number given Eden's absence. Ah, the power of baseball.
Tuesday, however, meant that Eden was back with its last two episodes. It finally broke the 30% barrier for the first time in a while with its finale, although technically the last episode had no prime-time competition — Eden's episode 55 drew a 25.8% against Flowers' 31.2% and Ja Myung Go's 4.1%. Because of the pre-emption from the day before, Eden's finale followed in the 11 pm hour with a 30.1%.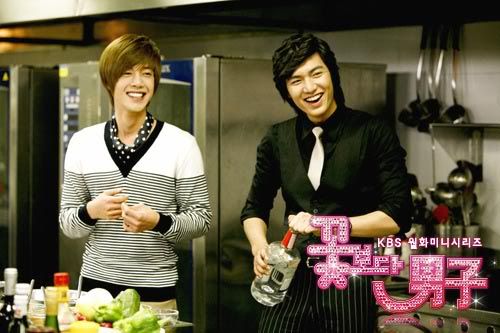 Boys Before Flowers
Like I said, to some extent these ratings numbers don't mean much. Yet, on the other hand, it's fascinating to look at the trends, as though they represent more than mere viewing habits.
And whatever our opinion on television ratings, the fact is that they drive the business, and to completely disregard them would be ignoring a key facet of the industry. While they may not indicate a drama's quality, they do affect productions in significant ways: money, accolades, prestige, future work for the actors and crew.
I wouldn't write off Ja Myung Go yet, however — it will have its chance to recover; with 50 episodes, there's a lot of time to build. Plus, MBC's next offering doesn't look like very strong competition: 16-episode drama Queen of Housewives [내조의 여왕], starring Kim Nam-joo (Voice of a Murder) and Oh Ji-ho (Single Papa in Love).
Personally, I'm more interested in seeing if the tragically flawed but inexplicably addictive Boys Before Flowers will be the first miniseries (i.e., non-daily) in a while to break the 40% barrier. (I say it will.)
Via TV Report, My Daily, Yonhap News
RELATED POSTS
Tags: Boys Before Flowers, drama ratings, East of Eden, Ja Myung Go, Jung Ryeo-won, Park Min-young