Shin Mina and Gong Hyo-jin are Sisters on the Road
Gong Hyo-jin and Shin Mina are teaming up as half-sisters in the upcoming film Sisters on the Road [지금, 이대로가 좋아요]. This could be interesting, as both ladies are among their generation's more visible rising actresses (and fashionistas), having worked steadily and increased their profiles over the past several years in projects like Crush and Blush and The Naked Kitchen.
In the film, the two share the same mother, but because they have different fathers, the sisters have never cultivated a close bond. However, when their mother suddenly dies, they set off on a trip to locate the younger one's (Shin) father, encountering unexpected obstacles, accidents, and the revelation of startling family histories as they unravel what it means to be family, and sisters.
(The English title is given as Sisters on the Road, but the literal Korean translation means "I like how things are here, now.")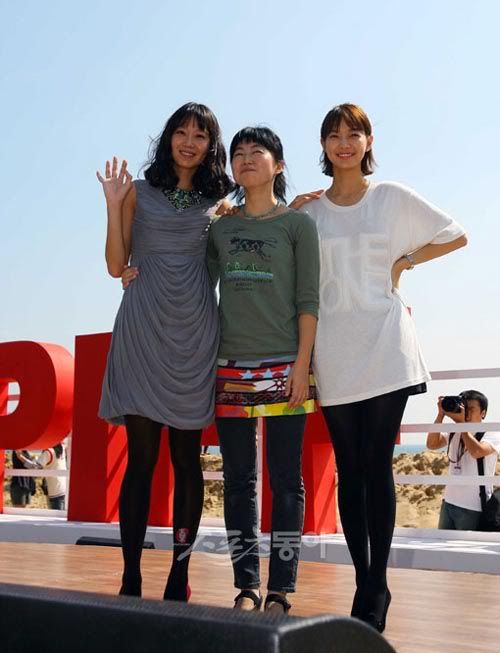 Director Bu Ji-young (center) with actresses Gong Hyo-jin and Shin Mina
Gong Hyo-jin plays the easygoing older sister who inherits their mother's fish shop and cares for the house in their Jeju Island hometown. Meanwhile, Shin Mina's character is the intelligent but more sensitive, prickly career-woman sister; she struck out on her own and has been independent ever since her university days, and now works in a corporate job in Seoul.
The film comes from director Bu Ji-young, who also wrote her 2003 film Untold Scandal [스캔들 – 조선남녀상열지사]. She also won a special award at Daegu International Short Film Festival for her 2002 short, A Drop of Clear Salty Liquid [눈물, aka Tears].
Gong Hyo-jin was most recently in the film Crush and Blush [미쓰 홍당무], for which she drew in many accolades last year. Preceding that, she'd acted in action-spy comedy Dachimawa Lee [다찌마와 리] and the heartwarming 2007 MBC drama Thank You.
Meanwhile, Shin Mina's most recent project was romance film The Naked Kitchen, in which she reteamed with her previous co-star Joo Ji-hoon (they'd first paired in the 2007 thriller drama Devil).
Sisters on the Road releases on April 23.
Via Kuki News
RELATED POSTS
Tags: Gong Hyo-jin, Shin Mina