Cinderella Man production press conference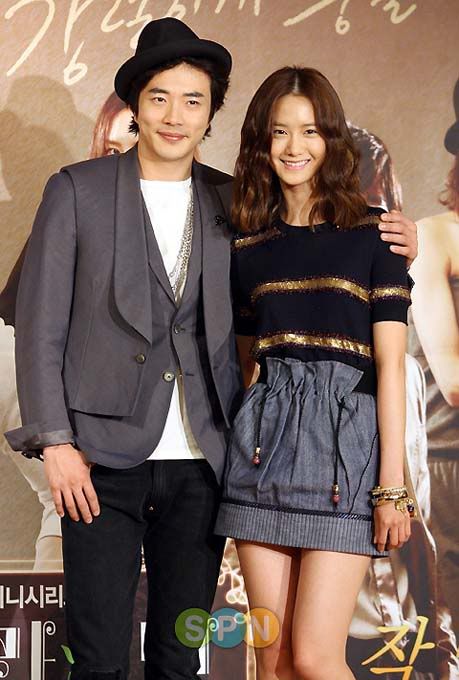 I admit to poking a bit of fun at MBC's upcoming series Cinderella Man, but I will say from photos of the drama's production press conference, it does have one good-looking cast. (Of course, merely casting pretty actors never ensures quality, but when you're approaching a drama with low expectations of the body-switching, weirdly-cast, cliché-ridden story, eye candy becomes important.)
Kwon Sang-woo and Yoon-ah, above, still look a little more like "Daddy's little girl" than romantic counterparts, but I'm willing to give it a shot.

Like I said, good-looking, right?
The drama held its production press conference on the afternoon of April 2 at Lotte Hotel in Seoul. Cast members present were, in order above, Kwon Sang-woo (Bad Love), Yoon-ah (You're My Destiny), Han Eun-jung (Lawyers of Korea), and Song Chang-eui (Scale of Providence).
Kwon was asked about the 14-year age difference between him and Yoon-ah, and whether they'd feel a generation gap. (He was born in 1976, she in 1990.) He explained that it's a "strange and interesting" feeling (신기하다), which Yoon-ah also echoed, particularly since he's an "oppa" she'd never imagined getting to act with. Kwon said, "We haven't conversed enough yet to feel a generation gap, but seeing her on set, she's even prettier in person and she acts well, which puts me at ease. When I'm filming with other people, I don't make many NGs [mistakes], but only with Yoon-ah, I have a lot of NGs."
He also explained what a novel feeling it was to talk to Yoon-ah's Girls' Generation groupmates via video phone, thanks to his co-star.
Kwon was also asked if he felt any pressure with this drama (following his mess of a drama Bad Love). He answered that he doesn't feel too much pressure: "My last drama didn't do so well, so I'd like for this one to do better than that. Whatever the project, when I've thought insistently that 'This one did well so the next one must do better,' things haven't worked that way."
Cinderella Man premieres April 15.
Via No Cut News, E Daily
RELATED POSTS
Tags: Cinderella Man, Han Eun-jung, Kwon Sang-woo, press conferences, Song Chang-eui, Yoon-ah