Kim Kang-woo: Birth of a Devil
You don't know how happy I was to see the most recent interview by the net-magazine 10 Asia focusing on Kim Kang-woo — not just because I knew it would be in-depth and insightful, but because he's currently starring in a drama that's got me intrigued, KBS's dark Story of a Man [aka The Slingshot, aka 남자이야기]. (As the mysterious villain, Kim Kang-woo is by far the most fascinating character thus far, as I talked about in some detail in my recap for Episodes 3 & 4.)
After reading some of 10 Asia's previous interviews (Jung Il-woo, Kim Joon, and a few others I want to put up eventually), I can count on them to ask interesting questions that actually focus on the work of acting, in prose that's well-written.
The interview was published this past week, before Episode 4 of Story of a Man aired. Kim Kang-woo seems very intelligent, quite serious and even, dare I say, a little uptight. But I don't mean that in a bad way — in fact, I found that a lot of his comments resonated with me.
SONG OF THE DAY
Fly to the Sky – "구속" (confinement) [ Download ]
Audio clip: Adobe Flash Player (version 9 or above) is required to play this audio clip. Download the latest version here. You also need to have JavaScript enabled in your browser.

Kim Kang-woo: "Birth of a Devil"
He was in the background in a crowd of runners. The camera was on the leader, leaving his presence fuzzy and out of focus. But then he came running with long strides into the center of the camera's view, revealing his face in sharp clarity.

In MBC's I Run [aka Breathless, 나는 달린다], the moment he is captured on Hee-ya's (Chae Jung-ahn) camera, Kim Kang-woo, whose image as a defiant and unsettled youth melted him into the background of the films The Coast Guard [해안선] and Silmido [실미도], came into the public's field of vision in his first leading role.

Furthermore, this was a prescient scene for this actor who had calmly stood in the background, demonstrating in one compressed moment his six-year process of bringing his name and face into focus.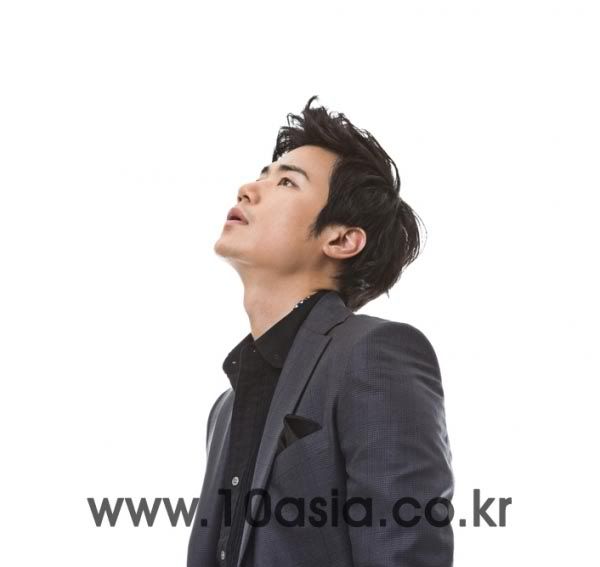 Like someone who had always been there

2003. The year before, director Park Sung-soo had caused a sensation on par with the World Cup with Ruler of Your Own World [네 멋대로 해라], and followed that by casting a new actor with a rather uncommon face, Kim Kang-woo, as Mu-chul in his youth drama I Run.

The drama, weighed down by the theme of youthful passion, didn't manage to show a sense of liveliness and drew in disappointing ratings, but the director hadn't been mistaken in his choice of who would bring Mu-chul to life. The welding shop and the shabby book shop, with one wall crammed with books — the spaces suited Kim Kang-woo, darkly tanned and crew-cutted from shooting Silmido, who fit in as if he had always been there. Even if his acting in subsequent dramas and films wasn't necessarily outstanding in its realism, he showed his knack for settling naturally into the surroundings. What's interesting is that even when he takes on upper-class characters, he's still able to fit in within the overall setting.

In the movie The Beast and the Beauty [야수와 미녀], his Jun-ha is someone who annoys the "beast" Gu Dong-gun (Ryu Seung-beom) because he's good-looking and capable. In Dong-gun's memory, whether he's leading a cheering party onstage or singing at a jazz bar, Jun-ha — no, Kim Kang-woo — excels at everything. But his acting wasn't unrealistic like the crazy character that Lee Min-ho played in Boys Before Flowers, but gives off the impression of a real "mom's friend's nice son," perhaps a prosecutor, or a realistic version of a popular kid at school.

That's largely the effect of Mu-chul's image faintly overlapping with his good-looking appearance, but it's also because Kim holds firm to the belief that whatever the character, the personality has to suit the setting and reasons in order for him to act the role. That's why Jun-ha may be handsome and capable, but he doesn't consider all the women in the world to be his. Mo-gi in The Aggressives [태풍태양] may be a free spirit who doesn't fear society's rules, but when he has to confront the real world, he crumbles into weak hysterics. Those characters give off the sense of being real people living somewhere in this reality, but paradoxically, because of that, they are absorbed amidst the overall plot, setting, and characters.

Rather than a skilled outfielder who sees the direction of a baseball and moves to catch it in a brilliant play, he's like someone who had always been there, ready to catch it with ease.

Kim Kang-woo runs from another starting point

Because an actor reveals himself through his work, this is a needed skill, but can also be a kind of obstacle on the way to being a star. Perhaps he needed that in a movie that spoke of deep pain in a quiet tone like The Railroad [경의선], where the engineer Man-soo says without turning his gaze from what's in front of him, with a facial expression that is blank yet not stiff, "I hope today will be the best day of all of your lives." But for a movie like Rainbow Eyes [가면], which could have been a unique genre film, it would have been nice if Kim had shown a more distinct, macho detective character. Although the movie Le Grand Chef [식객] drew more than 3 million viewers, because his Sung-chan character was seen as a repeat of his previous role of Mu-chul, Kim Kang-woo was labeled as someone specializing in nice, decent characters more than as a serious film actor.

That's why the devilish Chae Do-woo of KBS's Story of a Man is Kim Kang-woo's biggest opportunity for a turning point. It's not simply because it's the opposite of the nice image he has with the public. Back in his rookie days, Kim had hoped to be an actor "who eight or nine people out of ten would recognize" and may have received recognition as Jun-ha, but he's remembered less for a certain fixed image and more for his filmography. But Chae Do-woo is an extreme villain who tells someone he has crushed that "I wanted to see that earnest gaze," a psycho who feels pleasure as he grabs the throat of a friend who'd dishonored him and strangles him in a triangle choke. That is to say, Chae Do-woo is a real character's character.

Currently, we haven't seen much of a transformation from his rival character Kim Shin (Park Yong-ha), who's in prison, and some important supporting characters have yet to make their appearance. Naturally, the drama's focus has fixed on the genius psychopath. As a result, currently Kim Kang-woo stands in vivid clarity not in the backdrop but the foreground. From here, it's up to him to make his name and image known to the public.

"To understand Chae Do-woo, I met with a psychiatrist"

Throughout the interview, Kim Kang-woo's words were qualified by words like "In my opinion" or "I could be wrong…" and he looked over now and then to ask, "Isn't that true?" as though seeking agreement. However, that doesn't mean he was avoiding giving an answer or lacked confidence. Rather, he was being honest, and stuck to his belief in the proverb "Faith without doubt is not faith."

Come to think of it, although the characters he took on following his sudden rise to leading status in 2003's I Run were of various occupations and personalities, they weren't covertly sly. That even goes for the villain Chae Do-woo of KBS's Story of a Man, who is honest about his own ambition. That's why one can feel his previous roles in all his dialogue, even though he says he erased himself in his acting.

10 ASIA: What's the question you were asked the most when you started Story of a Man?

KIM KANG-WOO: "What do you find difficult about playing a villain? How did you prepare?"

Aside from the being a villain, it's more remarkable how your character feels somewhat androgynous.

He is a character who doesn't move around much, so it can appear that way. He's a character whose "feel" must be conveyed through his stares, his voice, the subtle hand gestures that seem as though he's feeling around for something. It's probably because of his meticulousness that he feels that way. I'm not actively trying to portray an androgynous image, but if it's come across as androgynous in the sense of being sensitive, I've succeeded.

"Being a villain doesn't mean he should always be forceful"

I heard you talked quite a lot with scriptwriter Song Ji-nah about the character. What did the writer request?

First of all, she told me, "He must be aristocratic, so high-class that many would not dare approach. He speaks and manages his gaze with moderation, and his demeanor never shakes." She also didn't want him to be just any villain, but wanted his devilish, psychopathic nature to reveal itself as things progress.

There's a difference between scaring someone and being frightening. Is it the latter?

This man doesn't have emotions. He doesn't get worked up, he isn't easily agitated, he doesn't have fun, he doesn't laugh. That's why the writer told me frequently that she'd like Chae Do-woo to be softer. It's in the midst of all that, his evilness is revealed, moment by moment. I don't think being a villain means he should always act forceful.

Since you're acting in a very restrained way, it seems that even the way you look at a target would have to change.

Because Chae Do-woo is incredibly intelligent and sly, he looks down on everyone with contempt. So when I act as him, I look at everyone with the presupposition that I can read them all clearly. I assume that I know what they'll say next, and what they're thinking. If I don't do that, my stare would falter.

In the drama he says, "It's because I want to," but do you think he acts out those misdeeds in order to prove his superior abilities?

That's his inclination. If he doesn't keep winning out over somebody, he loses interest in life. If he were to decide to, he has the brains, financial means, and social circle to make money without hurting others, but I think he does those things because if he doesn't, he has no reason to live. He has to prove that the others can't compete with him.

In that case, it seems like there's no goal at the end of his ambition.

That's true. He just enjoys destroying people one by one.

"If someone speaks of my shortcomings, I write it down and analyze it"

The character is quite unusual. Was there anything you presented on your own to the writer?

I wanted to make him a clean freak. Early in Episode 1, he plucks a stray hair from Director Oh's (Kim Roi-ha) clothing, and in the future you'll occasionally see things like that. I also spoke with the writer about a childhood trauma, and she was open to that. Actually, I think the writer wants him to be an inherent psychopath, like a true devil, but she's set things up for some kind of trauma. There are some things I personally don't understand, so I met with a psychiatrist to ask questions.

Did you want him to be a character you could understand?

Um… No matter how extreme a character he is, I think he must have a reason for doing what he does. I don't think it makes sense to say, "He does that just because he's that kind of person." I couldn't keep going if that were the case. The reason I went to see the psychiatrist is to clear up some uncertainties, and I wanted to start the role with some measure of validity and clarity. Of course I have to create a situation where that's possible — if I force something that's wrong, later on it'll crack.

Are you the type who can't work if you have doubts from the start?

I think any actor would feel that, if he thought there was a problem he couldn't overcome. But if you do commit, I think you must absolutely trust in the director and continue. Even if I've read the script, they are the ones who have read it once more than me. I think it's dangerous if I push my influence more. Those things should be worked out before the filming begins.

But as you work, don't you develop personal opinions about what suits you or doesn't suit you?

That's for those who are watching to judge. I don't think an actor should determine, "That worked for me and that was my best." That leads to danger. I could be wrong, but I try not to do that.

You added the phrase, "I could be wrong." Do you not like to draw conclusions?

I don't. I think that's a good thing. I listen a lot to what others say. Actually, an actor can't help but dislike talking about one's own shortcomings. Naturally talking about them makes me feel bad too, but I write them down, always. Then, when the project is over, I look at those comments in a very critical way, like a media critic. That's how I find my weaknesses. If I don't, I feel like I'm not making progress.

"A real man is someone who takes responsibility for his woman and his work"

You seem like a hard worker.

I try hard. I don't think I've ever been criticized for not working hard. I think of this as my livelihood, my art, and my study, so I can't treat it like a hobby lifestyle. So I constantly read books and watch movies and travel a lot. We're people who work and live by our five senses. Along those lines, there are times I feel a little disappointed that I grew up in the city since my childhood, and never got to enjoy rural life. I definitely lack some of the sensibilities in that area, so I try to satisfy that through traveling a lot.

Do you travel to rural places, then? Say, instead of Paris, do you prefer traveling to Provence?

I choose depending on how I feel at that moment. If I've finished a warm movie like Le Grand Chef, I might want to go to Paris, and after a drama like this one, I'd want to go to Provence. Instinctually, when considering a range from 0 through 10, I have a compulsion to aim for 5, to keep from tilting too far one way or another. It isn't intentional, but it turned out that way. I think of it as a good thing. I don't lose myself in anything, and I'm not terribly disappointed by anything. I'm kind of conservative.


"I think it's dangerous for an actor to reveal too much of his political side"

What do you mean by conservative?

I'm a very conservative Korean man.

Could that be taken to mean you're the opposite of Mo-gi in the movie The Aggressives?

Yes, the direct opposite. I learned that side while doing The Aggressives, but the real me is very cautious. I'm not criticizing those people… but I think it's dangerous if an actor reveals too much of his political or ideological side.

Even outside of films?

Yes. Although I could be wrong. Of course, I think it's impressive when some people can be active in those things and still manage to embody different characters. Perhaps if I had political inclinations, I wouldn't be able to take on other roles. I always adjust to be at level 5. After doing Marine Boy, everyone said, "You have a great body," but I tell people that if my body was a 9 out of 10 then, it's a 5 or 6 now. I don't know what role I'll take up next, so I return to the most basic state. The same goes for the way I think. If you ask about progress, conservatism, my political affiliation, my ideology, or my personality, I'm always in the middle. That's what I aim for.

It would seem you don't believe in opinions like "This is absolutely right."

I don't believe in that. There's nothing that's absolutely right. Everything has its own reason.

You mentioned conservatism — it seems like you're conservative in the way of a very ordinary citizen.

I really dislike the idea that because I'm an actor, my actions or thoughts are particularly special. It's probably because I don't really have close friendships with actors. If I started to think along those lines, I think I'd struggle with it.

You're saying you don't like conforming to others, but somehow I think you wouldn't like controversy, either.

I don't. I don't want to get involved in that.

"I'm envious of people like Noh Hong-chul or MC Mong"

At the Story of a Man production press conference, you said that you are kind of an outsider.

I don't really like meeting up with people. I don't like loud, boisterous atmospheres. I feel extremely uncomfortable and it's painful to me, so I can't stick around. I'm awful at formal social interactions. If I could manage that better, I think I'd do much better as an actor. As it is, because it's an occupation, there are times I have to go out and meet people and have changed a lot, but I still don't actively seek out people. I've tried to do that, but something feels unbalanced and forced. So I think of it as my innate nature that I can't help.

How do you feel looking at someone who's the opposite of you?

I'm really envious of people like Noh Hong-chul and MC Mong, I'm a fan. It's not that I'm not like them because I dislike those personalities, but because I can't be like that.

You could share and empathize with other people in the same profession.

That's true, but there are some problematic points with talking in detail about that. For instance, Marine Boy performed a bit disappointingly, which means I should drink and worry and cry alone for a month, right? But I really hate showing that I'm going through a hard time.

That kind of strictness may be why director Lee Kye-byuk of The Beast and the Beauty said, "Even speaking as a man myself, Kim Kang-woo is very manly and cool." What do you think of as being manly?

I think a man does his best in his work and takes responsibility, whether it's toward a woman or his job. Someone who thinks masculinity is shown on the outside, who tries to look manly, is just a thug.

Then is Kim Kang-woo that kind of man?

I aspire to be, but hmm…

I'll change the question, then. Is Story of a Man's Chae Do-woo a man?

Yes. He does his best and doesn't let anyone take things from him. He does his best to win. He's a man, a real man.


Published April 14, 2009
Written by Wie Geun-woo
Via 10 Asia (intro), Part 1, Part 2
RELATED POSTS
Tags: interviews, Kim Kang-woo, Story of a Man