Kim Gun-mo cameos as a bad first date
Oh, I love Kim Gun-mo. I love that he songwrites his music, starting back in the day before kpop singers wrote their own stuff. Well, most still don't, but he always wrote his. I love that he has a playful touch to his music. And I love that in his cameo for the new KBS series The Man Who Can't Get Married [결혼 못하는 남자], he apparently looks like a big ol' dork as he goes on a blind date with Uhm Jung-hwa's character.
The cameo was shot on May 12 at a restaurant in Seoul's Yoido neighborhood, with Kim Gun-mo playing an (off-putting, nauseating) applied music professor.
SONG OF THE DAY
Kim Gun-mo – "너에게 (마음으로 하는 말)," or "(My Heart Says These Words) To You."
Aww yeah, it's old-school Kim Gun-mo. This one's from his third album (he has twelve), which is probably my favorite. [ Download ]
Audio clip: Adobe Flash Player (version 9 or above) is required to play this audio clip. Download the latest version here. You also need to have JavaScript enabled in your browser.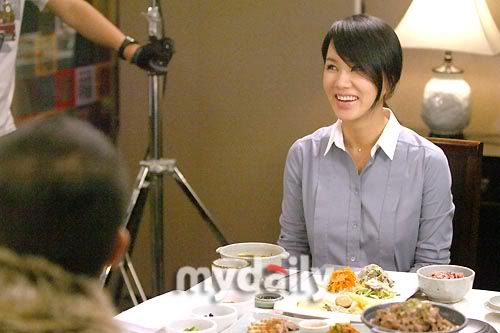 Oh, by the way, Uhm Jung-hwa's character had previously been described as a dentist, but now is described as an internist/physician. Either that changed, or the earlier report was mistaken (I'm going with mistaken).
In the story, Uhm's doctor character is told by her father with irritation to "Hurry up and get married," and is forced into a blind "mat-seon" date. Kim's character is a respectable professor who's been on tons of these types of dates before, who is also a somewhat sickening date — he wipes his sweat at the table and says things like, "A professor and a doctor — there are lots of married couples like that. Our marriage fortunes are probably good."
Uhm said of the shoot, "I thought I would die laughing. We're good friends, and he hesitated a bit over how to film and was a little bit awkward with his acting, but still, he was pretty decent."
Although Uhm is friends with Kim, she explained that because of her friendship, she felt she shouldn't push for casting him, but she did recommend him to the producers. (MILD SPOILER?) This failed first date takes place in the first episode, but Kim Gun-mo will make a reappearance in Episode 7 when Uhm's character bumps into him again.
Uhm's main love interest in the drama is the "man who can't get married" himself, the lead character played by Ji Jin-hee (Spotlight). They have a somewhat odd first meeting, as she is the doctor who gives him a hemorrhoidectomy. (Tell that story to the kids, huh?)
The drama premieres on Monday, June 15, on KBS.
Via My Daily
RELATED POSTS
Tags: Ji Jin-hee, Kim Gun-mo, The Man Who Can't Get Married, Uhm Jung-hwa