No Forgiveness for Han Hye-jin and Sol Kyung-gu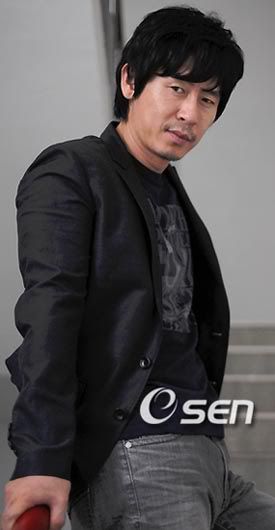 Jumong and Terroir actress Han Hye-jin has a new project lined up, and it's a film called No Forgiveness [용서는 없다], which co-stars Sol Kyung-gu of such films as Public Enemy Returns and Voice of a Murder. He's also the recently announced fiancé to On Air actress Song Yoon-ah.
No Forgiveness is described as a crime thriller involving a violent murderer. Sol Kyung-gu's character investigates dead bodies as an employee of the National Scientific, Criminal & Investigation Laboratory and embarks on a hunt to catch the killer. Han Hye-jin plays a junior police officer who joins up with Sol in digging up the truth. Also cast is Ryu Seung-beom (Radio Days), who discovers the first clue and faces off against Sol in a fierce two-way psychological battle.
The film will begin filming at the end of May, at about the same time Sol marries Song Yoon-ah (on the 28th), meaning the couple will hold off on their honeymoon while the groom films.
Not sure how I feel about the description — there's nothing wrong with it, but it doesn't sound particularly striking, and I'm thinking it can go either way. I've never been a huge Han Hye-jin fan, but these two men squaring off against each other in a murder thriller just might be worth catching.
Via OSEN
RELATED POSTS
Tags: Han Hye-jin, Ryu Seung-beom, Sol Kyung-gu