Hyun Bin and Kim Min-joon are friends again

Hyun Bin, Kim Min-joon
(Cute.)
With baseball drama Strike Love winding down on MBC, its replacement series is getting ready to air: Friend, Our Legend [친구, 우리들의 전설], which is the television remake of the immensely successful 2001 film Friend.
The series stars Hyun Bin (The World They Live In) and Kim Min-joon (Tazza) as Dong-soo and Jun-seok, respectively. The roles were originated in the film by Jang Dong-gun and Yoo Oh-sung, who played the two leads in a group of four childhood friends.
This also marks the second time Hyun Bin and Kim Min-joon are acting together; their first experience was back in the 2004 drama Ireland, which went a long way to establishing their acting careers back before they were well-known.
Friend, Our Legend was produced in advance and filmed nearly every day for the past four months in the city of Busan. After working so closely together, Hyun Bin said of his co-star Kim Min-joon, "It's good working with him again. We can even communicate without needing to speak."
The rest of the cast proved helpful in getting Hyun Bin's southern Saturi accent down, as Kim Min-joon and director Kwak Kyung-taek (and a number of the supporting actors) all hail from Busan. (Hyun Bin is a Seoulite.)
The drama premieres on MBC weekends on June 27.
The actors play childhood friends of the same age, but Hyun Bin looks a lot younger than Kim, doesn't he? Based on these stills (which I know is a very limited basis for judgment), I do think the production has done a good job of preserving the feel of the original — which might be none too surprising since director Kwak was also the brains behind the film.
For instance, compare the new still (directly below) with one from the original 2001 film (bottom):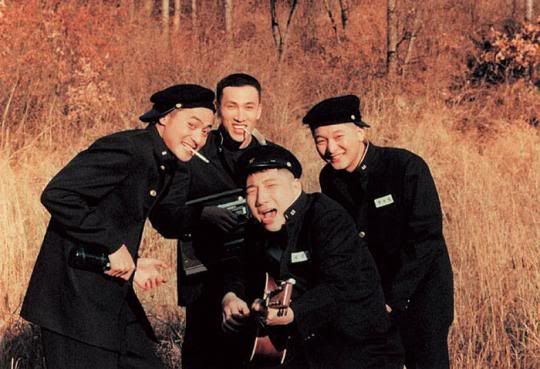 Via Asia Economy
RELATED POSTS
Tags: Friend, Hyun Bin, Kim Min-joon, remakes