Partner: Episode 1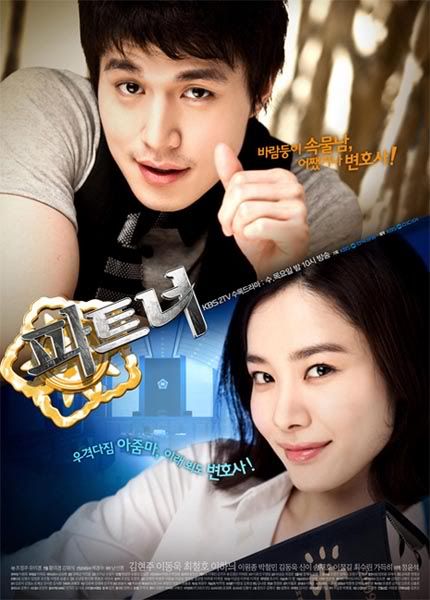 Partner got off to its start this week, and it was kind of like I expected: flawed but fairly entertaining. Not a fabulous story, and there are some pretty big plot holes, but the acting keeps it afloat. I hadn't realized just how much I'd missed Lee Dong-wook — but he is SO enjoyable.
SONG OF THE DAY
FT Island – "Troublemaker" [ Download ]
Audio clip: Adobe Flash Player (version 9 or above) is required to play this audio clip. Download the latest version here. You also need to have JavaScript enabled in your browser.

CHARACTERS & BACKGROUND
Kim Hyun-joo is Kang Eun-ho, a lawyer who works in her father's small firm in a small town. She worries that her father, formerly a famous judge, drinks too much; she also has a cute but mischievous young son, Jae-dong, whom she raises on her own after her husband passed away.
Eun-ho also has a great affection for the neighborhood youngsters who are prone to delinquency, and has taken up a weekly boxing session as one way of keeping them out of trouble. She tells them to feel free to take out all their aggressions within the ring but leave them there, and not act out in their real lives. Some of the young boys are harder to get through to than others, but when Eun-ho leaves for Seoul to pursue a job offer with Lee Kim Attorneys, they all see her off and wish her luck.
Lee Dong-wook shows off some of his comic chops as Lee Tae-jo, a slick womanizer who might be a decent lawyer if he bothered to care about his cases beyond finding the easy way out. (Think of him as Tom Cruise in A Few Good Men, always eager to settle for the fastest solution to avoid hard work.) He's also the "Lee" of Lee Kim Attorneys, a firm made up of a motley group of lawyers, as you can see below.
Tae-jo dresses in fancy suits, drives a fancy car, and generally lives to enjoy himself. He flirts with any pretty thing that walks by, and has a flippant attitude with a lot of the judges and prosecutors at the courthouse, whom he knew from his student days. (For instance, in Episode 1, he steps in to speak on behalf of a racing model at court, and then deals with his own case — public urination — with a careless ease that shows his knowledge of the law, but also demonstrates his irreverence for it.) He's intelligent, but he's just not that interested in applying himself.
There are hints of depth to Tae-jo's character — daddy issues, for one — but every time emotion starts to creep up on him, he slaps on a big grin and lightens the mood with a joke.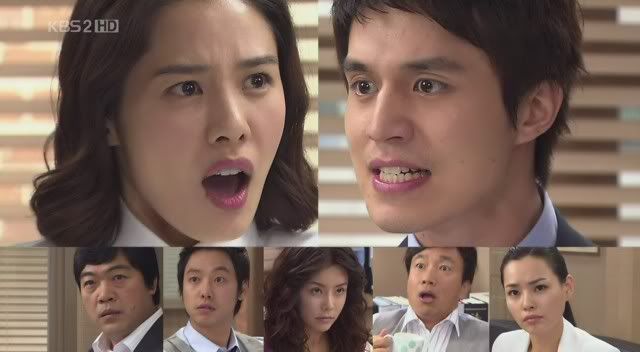 Here is the cast of Lee Kim. The first man in the bottom row is Kim Yong-soo (Lee Won-jong), the other partner in the firm. Although he and Tae-jo are the two names in the title, Yong-soo is the real boss and CEO, and is the one to offer the job to Eun-ho. The request had come from her father, who was a judge that Yong-soo greatly admired back in the day.
However, the other employees all grumble at this, such as Yoon Joon (Kim Dong-wook), who's the newest lawyer to the office. Choi Soon-yi (Shin-yi) is the eccentric office manager, while Byun Hang-ro's (Park Chul-min) forte is dealing with clients.
Meanwhile, Honey Lee makes a rather impressive television debut (though it's not her acting debut) as lawyer Han Jung-won, who's sharp and professional, and always rebuffing Tae-jo's advances. (She has quite a natural charisma and portrays her character's sophistication and sexiness well.) What nobody around the office knows is that Jung-won is having an affair with a lawyer on their opposing team, Lee Young-woo (Choi Chul-ho). Young-woo is cold and hard and boasts a perfect win rate, and belongs to the large-scale fancy law firm Hae Yoon. (Lee Kim, in contrast, is a modest firm.)
Young-woo isn't just a top lawyer at the Hae Yoon firm, he's also the son of the head attorney. (And married, according to his profile, although we haven't yet met his wife.)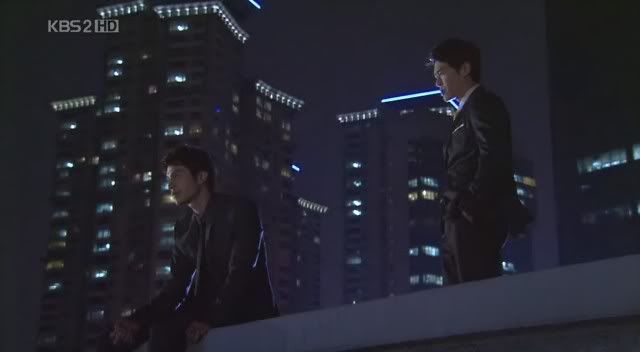 Oh, and Young-woo and Tae-jo are brothers. There's some tension there, either because of or resulting in Tae-jo's taking up shop at a different law firm rather than joining his father and brother — which I'm sure would bring him more money and more prestige. Despite the fact that most people would consider Tae-jo's to be a pretty successful career, Young-woo and Daddy Lee look down on him disapprovingly, seeing him as a frivolous, wasteful kid who needs to wake up and be a grown-up. There are elements of truth to that because Tae-jo often does act like a feckless child, but I'm sure the familial strife is as much a contributor to his behavior as it is a result of it.

EPISODE 1 RECAP
Eun-ho leaves her small town behind to start a new job as an attorney with a Seoul firm, which is a big step up for her from working in a small office with her father.
When she arrives, Tae-jo mistakes her for a client and takes her into his office, where he immediately gets to work flirting with her. I don't even think he's particularly interested in her; he just sees a pretty woman and his playboy instincts kick in. Tae-jo counsels her with false concern that getting a divorce from her cheating husband is the best for her, and talks over her protests.
When it becomes known that she's the new hire, the rest of the firm holds a meeting and protests this. Some reasons are petty (Joon doesn't want a newer lawyer to be older than him; it upsets the order of things, I suppose) but Yong-soo, the boss, insists he is the one in charge and he can hire who he wants. After all, the request came from someone he used to really look up to (Eun-ho's father).
However, he's not completely comfortable with the situation, and hits upon a compromise (or rather, the coward's way out). He entrusts Eun-ho with a case, and tells her that if she wins, she can stay. He doesn't add that it's an unwinnable case, and therefore he sees it as the easy way to get out of this situation without ruffling feathers. Yong-soo assigns Tae-jo to work with her on the case, overriding his protests with the reminder that he is the one who pays Tae-jo's salary. (The implication is also that if Eun-ho loses, things will return to normal, so it's in his interest to stick with her anyway.)
The case involves a young man named Jung Jae-ho, who has been charged with murdering his stepsister with a jagged piece of glass to the throat. The evidence seems incomplete but points to Jae-ho being the murderer, although he doesn't speak in his defense — or at all — to his new lawyers. He remains silent and unresponsive.
Eun-ho, having experience with troubled young men, asks for his handcuffs to be removed as a gesture of faith. However, Tae-jo ruins things by starting off accusing the guy of a bad attitude and demands outright, "You did it, didn't you?" Naturally, this does not go well and only angers Jae-ho.
We see some of the brotherly tension when Lee Kim's team faces off against Hae Yoon's team in a different case (a money battle between a rich woman and her ex-daughter-in-law). (Sexy Jung-won and cold Young-woo head the arguments for their respective teams, and their professional iciness covers up the fact that they're actually quite cozy behind the scenes.)
After the meeting, Big Bro talks to Tae-jo separately, telling him to give up the murder case because it's a lost cause. Tae-jo knows this, but I suspect his brother's dismissiveness will actually make him want to defy him and attempt to win the unwinnable case. Seems likely.
Eun-ho and Tae-jo visit the accused's mother, and they deduce that even mom doesn't believe her son is innocent, but she cleaned up the crime scene (the broken glass surrounding her stepdaughter's body) to help him. She asks the lawyers if they can handle informing the girl's father, her husband, who has been out of the country.
Tae-jo leaves Eun-ho to take care of that and heads off on a date, so Eun-ho has to meet the girl's father at the airport and tell him the news. Devastated, the father asks to visit his stepson, and starts out by asking sadly, "Did you hate me that much?"
Jae-ho is genuinely startled and uncomfortable to be facing his stepfather, who then loses his temper and starts to yell at him. This sets him off, and after his stepfather leaves, Jae-ho starts to yell and scream in the empty room and throws a chair. Police officers start to rush in, but Eun-ho feels she may have a better shot at connecting with him and yells at them to stay back.
Eun-ho tries to subdue Jae-ho, but he's nearly hysterical and lashes out uncontrollably. He pushes her to the ground, and sobs while the guards restrain him. Eun-ho makes eye contact with him, feeling a strong connection to him.
After this, she becomes convinced that Jae-ho is innocent, and pesters Tae-jo to take another look at the case and help her. He considers his job to be fulfilled by getting his clients reduced prison terms, not defending murderers without supporting evidence. Eun-ho sticks to her belief, even though the only reason she can offer is, "I could read it in his eyes."
He scoffs instead that people aren't good or bad — everyone's a criminal, either literally or mentally or just waiting to happen. That makes Eun-ho wonder, "Were you lonely as a child?"
Their meeting with the judge and public prosecutor in charge of Jae-ho's case is not particularly successful, which doesn't surprise Tae-jo. Still, he makes their case, or at least tries to.
However, he's on familiar terms with both men, and makes a few of his careless jokes with the prosecutor, who does not share his sense of humor. When they run into each other in the bathroom, the prosecutor reminds him that Tae-jo has never won against him — not as a lawyer, not back in university, not back in high school.
This encounter cuts through Tae-jo's joking exterior, and when he rejoins Eun-ho, he's absolutely seething.
His reaction to the prosecutor suggests he has new motivation for winning this case, but he still doesn't agree with Eun-ho's idea — that if they can't win over a judge, they have to find a new way to defend Jae-ho. Like a jury trial.
That is a very undesirable idea to Tae-jo, who shudders at all the work and expense in a jury trial, not to mention the unpredictability of winning. Eun-ho persists all the way back to the law firm, where their debate explodes into a full-on shouting match.
Eun-ho: "Why, do you lack confidence? You act so cocky but I guess you're unsure of yourself."
Tae-jo: "You just want to win so you can stay here! That's why you're doing this! Why pretend you're doing it for someone else's behalf?"
Tae-jo says that in trying to get the defendant off as completely innocent, she'll lose. They could have pled guilty and gotten him a lighter sentence, but if they lose now he might die.
Eun-ho: "You acted tough but you're a coward! You don't think you can win against that prosecutor so you're running away! You're giving up before you even fight!"
Tae-jo: "Ajumma!"
Eun-ho: "What?!"
Tae-jo: "Get your stuff out of my office NOW!"

COMMENTS
I enjoyed Episode 1 and laughed at several parts, and was entertained throughout. It wasn't until I had finished that I thought back and conceded that it wasn't really such a great episode. The acting was a lot of fun to watch, but the story is kind of rough.
For instance, it's a simple enough case so I can't see it taking up very much time, and the drama has not done a very thorough job of showing us why this is so "unwinnable." We're told it's tough, we're told he's probably guilty, but we're not really shown why. This falls into the category of "Stuff you'll just have to close your eyes to and let slide while you enjoy the characters' chemistry." Also, Eun-ho is willing to stake this job on "a look in his eye"? From the audience's point of view she's absolutely right (I'm assuming) in thinking the defendant is innocent, but from a lawyer's point of view, it's a foolish move. Eun-ho may not be in the fancy law-firm league, but she should still be smart.
Another question is Eun-ho's hasty flight to Seoul — why does she absolutely have to take and keep this job? It's not like she's unemployed or starving in her hometown. I can see why she'd appreciate a step up in her career, but this is another point that's glossed over to get her at Lee Kim quickly and bickering with Tae-jo asap. The scenes switch without smooth flow so the tone is often scattered — one moment jokey, another moment grave and dire. Hopefully this is a result of the hurrying the drama into production after Magazine Allo fell through and will smooth out in subsequent episodes, otherwise we'll be suffering from emotional whiplash.
So why watch Partner, then?
Lee Dong-wook is positively hilarious, and I'm sooooo happy to be seeing his comic side come out — and it does, in spades. He's has Kim Sun-ah levels of comedic presence in this, which is to say, a little over-the-top but super endearing, and he can switch his emotions around on a dime. He's playful, but already we can see that his character harbors pain that he keeps locked up, which we'll probably get to see emerge slowly. I kinda feel that he's the only actor working below the surface, which isn't necessarily the other actors' faults — I think the script is flat and the others are doing their parts with what they've been given. It's just that he's managed to work with a mediocre script and inject it with energy.
Kim Hyun-joo is pretty good, so far. Nothing spectacular, but it's her warmth and charm that works for this character, and I know she can be good when the drama calls for it, so no worries there. Choi Chul-ho is playing a mean bastard, which means we probably won't get to see him being funny (alas), but I am curious to see if he's given more of a personality as things progress. Honey Lee is absolutely gorgeous, but the surprise is how natural she is at acting — she has a great voice (I'd love to see her do a sageuk) and commanding air.
Let's see what Episode 2 has in store…

RELATED POSTS
Tags: Choi Chul-ho, first episodes, Honey Lee, Kim Dong-wook, Kim Hyun-joo, Lee Dong-wook, Lee Won-jong, Park Min-chul, Partner, Shin-yi