Han Hyo-joo goes from Cinderella to Chuno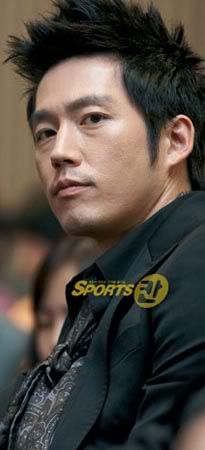 Jang Hyuk, Han Hyo-joo, Oh Ji-ho
With her hot drama Brilliant Legacy heading toward its close (and achieving a 40% rating), Han Hyo-joo has picked out her next drama, which she'll begin filming right away. The series is Chuno [추노, or Pursuing Servants] and it casts Han in the role of a daughter to servants (sometimes translated as slaves, though there are arguments against that nomenclature) in the mid-Joseon era.
She will act alongside Jang Hyuk (Tazza) and Oh Ji-ho (Queen of Housewives), who are two actors who strike me as seeming rather "modern" for a sageuk like this (Han has previous sageuk experience, although Iljimae was really a fusion drama). However, I have to look upon this drama with a favorable eye if only for its director, PD Kwak Jung-hwan, who also did the wonderfully dark fusion sageuk thriller Conspiracy in the Court [한성별곡]. Writing is Level 7 Civil Servant screenwriter Chun Sung-il.
Aside from Jang Hyuk and Oh Ji-ho, Lee Jong-hyuk (Crush and Blush, Rivals) and Gong Hyung-jin (I Love You, Dal Ja's Spring) have also been cast. Okay, one WTF moment: I understand that Oh Ji-ho's career has experienced a rejuvenation with Queen of Housewives' massive popularity, but he's not really getting top billing over Lee Jong-hyuk, is he? (And in a historical drama to boot?)
The drama is produced by the company behind Level 7 Civil Servant, Harimao Pictures, and is scheduled to air on KBS Wednesdays and Thursdays in October following Please Take Care of the Lady (aka the former Lady Castle).
Via Asia Economy, Star News
RELATED POSTS
Tags: Chuno, Gong Hyung-jin, Han Hyo-joo, Jang Hyuk, Lee Jong-hyuk, Oh Ji-ho