Ivy plans her big return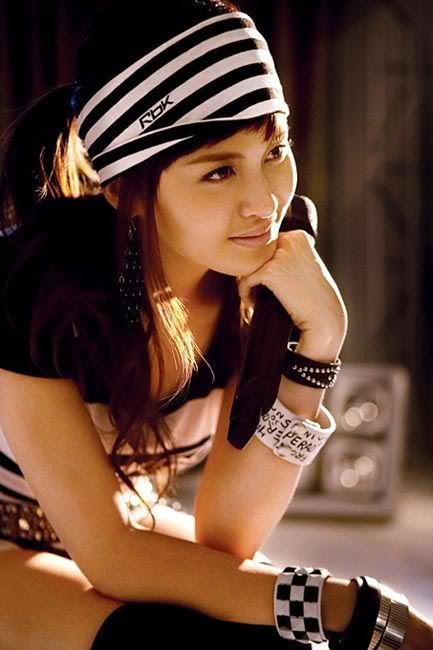 Singer Ivy is finally readying to make her comeback, and it looks as though she'll be pulling double-duty with her first new album in three years, accompanied by a new acting project.
She has been out of the public eye for the past two years, having been forced out of the spotlight at the height of her popularity when scandal broke wherein an angry (and violent) ex-boyfriend blackmailed her and threatened to release an alleged sex tape (which never came to light, by the way). I say she was "forced" to take a hiatus but that's not strictly the case; the embarrassment and smear job on her reputation caused the singer to withdraw from all public activities. Feeling attacked (netizens were particularly harsh, painting her as a slut and a cheater), she has been virtually silent since 2007.
I've always thought that if Ivy had brazened it out, the scandal would have eventually faded and she could have made her comeback sooner and with less fanfare. However, you can't really blame her for disappearing, even if it's sexist and unfair that she felt the need to. It's also somewhat ironic that she was painted as slutty when she had theretofore been known for promoting a sexy image without showing skin (her performance outfits were often long-sleeved and high-necked).
In June 2008, she was featured in the four-part miniseries Tokyo Showers (which I believe was filmed before her scandal broke), but she didn't participate in the promotion of the drama, which was a somewhat sweet but overall forgettable affair.
Now, it's being reported that Ivy is entertaining multiple offers from drama productions, and she is seriously considering taking a role in one of them. According to her rep, she had received offers throughout her long hiatus.
Ivy has recently returned to Korea from the States, and is getting straight to work on recording her new album. I can't say I enjoy her music (her ballads are much better than the pop-techno stuff), but I have respect for her vocal skills and strong live performances. Much luck to her.
Via Donga
RELATED POSTS
Tags: comebacks, Ivy, Tokyo Showers