Park Ki-woong is autistic again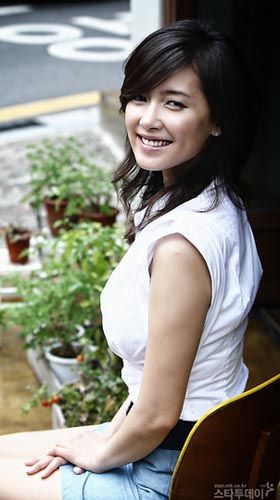 Nam Sang-mi, Park Ki-woong
Park Ki-woong (Story of a Man) is the latest to join the cast of KBS's drama Invincible Lee Pyeong-gang [천하무적 이평강], which has already cast Nam Sang-mi (Gourmet), Ji Hyun-woo (My Sweet Seoul), Cha Ye-ryun (A Star's Lover), and Seo Do-young (Friend, Our Legend).
Pretty decent cast, actually. Not so sold on the story…
The drama is the modern-day reimagining of the tale of the Fool On-dal and Princess Pyeong-gang, which somehow takes on the topic of golf (er?); Nam Sang-mi and Ji Hyun-woo fill the lead roles. Nam's character is Pyeong-gang, the resourceful daughter of a golf course planner, while Ji plays On-dal, the son of a rich family. They strike up a romance despite their class differences and a lot of bickering. (I'm not sure how this is related to the original tale of On-dal and Pyeong-gang, unless it's a reversal.)
Meanwhile, Park Ki-woong may finally be moving away from his prior image as a guy who was famous for not a whole lot (he admits to not understanding how to work on his acting until his recent noteworthy turn as an adorable autistic financial genius in Story of a Man). Previously known more for his cute and quirky appearance than anything, I'm going to guess he owes SOAM at least a little for this latest character, who is also autistic and speaks with a stutter due to a traumatic memory of losing his parents at a young age in a landslide. He finds comfort in music and rap. (Park is currently busy studying his character and practicing his rap/dance moves.) The character later falls in love with divorcee Yeon Mi-ju (bleh), but the family opposes the match because of their age difference.
Are you wondering how the story fits together? So am I. I'm not so sure about the writer-director combo, since Park Kye-ok wrote the frustrating Cain & Abel and Lee Jung-seob directed Hong Gil Dong, which was written and acted better than it was directed.
Unbeatable Lee Pyeong-gang began filming on October 1 and will premiere on KBS Mondays and Tuesdays following Princess Has Returned on November 9. Good luck going up against Queen Seon-deok!
RELATED POSTS
Tags: Cha Ye-ryun, Invincible Lee Pyeong-gang, Ji Hyun-woo, Nam Sang-mi, Park Ki-woong