Secret brings together a "thriller dream team"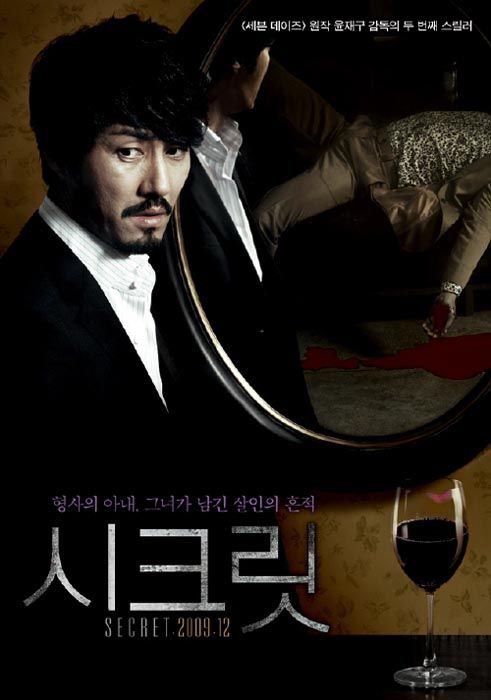 Cha Seung-won (City Hall) and Song Yoon-ah (On Air) have a new thriller coming out titled Secret [시크릿], which has just announced its release date as December 3. The film comes courtesy of the writer-director behind the successful 2007 thriller Seven Days, which starred Lost's Kim Yun-jin and A Million's Park Hee-soon.
The secret of the film's title refers to Cha Seung-won's desperate actions as a detective who covers up the evidence of a murder left by his wife (Song Yoon-ah). The movie's poster, above, shows the detective upon the discovery of the evidence at the crime scene. He becomes torn between wanting to save his wife from suspicion and his conscience. (Watch the preview below.)
My one complaint about the trailer: Is it just me, or does that music (in the second half) sound exactly like the music in the IRIS trailer?
Secret boasts something of a "thriller dream team": In addition to writer-director Yoon Jae-gu, its director of photography is Lee Sung-jae of The Chaser and editing is Shin Min-kyung of Tazza and The Big Swindle. The film also stars Ryu Seung-ryong, Kim In-kwon, and Park Won-sang.
The film also marks Song Yoon-ah's first project to be released following her May wedding to top actor Sol Kyung-gu. (She also filmed another movie, Wedding Dress, which doesn't yet have a release date.)
Quick "six degrees" game (more like two degrees): The writer-director made Seven Days, which used to be called Thursday's Child, which initially cast Kim Sun-ah before she dropped out. (That production was riddled with delays and she was left hanging for months and finally had enough; a lawsuit ensued, which she won.) And as we know, Kim Sun-ah then starred with Cha Seung-won in City Hall this year.
Via Newsen
RELATED POSTS
Tags: Cha Seung-won, Song Yoon-ah