Hero: Episodes 1-2
I don't think it's surprising that Hero started off with low ratings (5.4.% and 4.9%) because its two rivals — KBS's IRIS, SBS's You're Beautiful — are currently in full swing. With the latter ending this week, it'll be interesting to see how Hero's numbers fare in another week's time when SBS's new drama, Will it Snow At Christmas?, premieres. If Hero doesn't upswing significantly then, it's probably going to stay low for the rest of its run and be proclaimed a flop, but I'm curious to see whether they'll improve.
Personally, I'd like the series to have a better run but I would understand if it didn't, and it has nothing to do with quality. It's more about the public's taste. (Christmas looks like it's going to be a full-blown weepie melodrama, and audiences just eat those up.) I started out disappointed with Hero, but by the time I'd finished the first two episodes I thought it had an offbeat charm to it.
SONG OF THE DAY
LeeSsang – "일터" (Workplace) [ Download ]
Audio clip: Adobe Flash Player (version 9 or above) is required to play this audio clip. Download the latest version here. You also need to have JavaScript enabled in your browser.

CHARACTERS & BACKGROUND
Lee Junki is JIN DO-HYUK, a reporter at a craphole of a magazine called Monday Seoul, which specializes in lurid scandals and trashy gossip. He's in his late twenties and lives a modest existence on a meager salary. Do-hyuk will do anything to get a story, partly because it's his nature to be persistent but also because he needs the money. With his small office having delayed his salary this month, he needs more stories to bring in more pay. He's two months behind on rent and scouring his usual sources for story ideas.
For instance, Do-hyuk is chummy with the local police officers, whom he often hits up for tips. He also gets information from a certain MADAM P, who runs a host bar. He does have pride, however — he may beg for leads, but he won't accept money from Madam P. (They are on such close terms that at first I thought she really was his sister, but it looks like they're friends.)
This is the crew of Monday Seoul. Per the photo on the right, they are:
the daffy NA GA-YEON (Jung Soo-young, putting her comic stamp on another wacky character);
PARK JOON-HYUN (Sol Pharmacy's Ji Chang-wook), who's young and selfish, but in a cute sort of way;
GO EUN-SHIL (Jin Sung), a photographer with a languid, cool style (not unlike Waffle Sun-ki of Coffee Prince);
and CHA MAN-SOO (Jung Seok-yong), older and a bit hapless.

The team often works together to execute wild operations in order to gain access to stories.
The Kangsan Police Department, meanwhile, has a new supervisor in JOO JAE-IN (Yoon So-yi, doing a decent job pinch-hitting in the role). The officers who are friendly with Do-hyuk are, from left to right:
OFFICER NA KYUNG-MAN (veteran comic actor Lee Han-wi), a bachelor who develops a crush on Jae-in's mother;
OFFICER JANG HEUNG-GI (Choi Bum-ho);
and OFFICER OH JOONG-IL (Kim Ik, whom we last saw in My Fair Lady), who is "normal, bright, and a model officer." His profile tells us that he pays particular attention to his appearance for fear of turning into the stereotypical cop who lets his looks slide into ajusshi status.

Jae-in has just moved into the neighborhood with her mother (who has opened a cookie store selling inedible cookies). She has a strong work ethic and no patience for shenanigans. She is no-nonsense and firm at work, but shows her girlish side with her mother and with Hae-sung (below), whom she likes.
KANG HAE-SUNG (Eom Ki-joon yay!, as charismatic as ever) is a skilled, respected reporter with Daese Ilbo, a large and prestigious daily newspaper where he's the trusted second to its owner, CHAIRMAN CHOI. Hae-sung is well-educated and principled, and dislikes when his paper stoops to underhanded tactics. However, he doesn't take a stand against those practices — in that sense, he's shrewd and pragmatic.
Last but not least is this curious figure of a man, JO YONG-DEOK (a very good Baek Yoon-shik), a former crime boss who is released from prison after serving 15 years. He finds the world a much different place now, facing the puzzling changes with a fatalistic calm. He's a man of few words and slow movements, but those belie some still-powerful fighting skills. He seems to regret his crime life and has lost his wife and daughter because of it — she left him and remarried, and his daughter YURI pretends not to know him. Of all the gangsters he used to command, only one bumbling sidekick, SANG-CHUL, remains.

EPISODES 1 & 2
Jin Do-hyuk and his crew put on disguises to infiltrate the backstage of a concert for girl group KARA (who make a cameo appearance), and successfully pass security. Do-hyuk has received a tip from the well-connected Madam P that two celebrities who are secretly dating will be in attendance. Always scrambling to get a hot story for his magazine, Do-hyuk is determined to get a photo of them together at any cost.
His lurking, however, attracts the attention of Joo Jae-in, who is undercover as a backup dancer. She calls for security to remove Do-hyuk, and they chase him backstage.
Do-hyuk manages to outrun them and escapes being caught by jumping off a high walkway. Grabbing onto a curtain, he flies across the stage. At least he gets his photograph — but in so doing, he crashes right into Jae-in, knocking her out.
Not only does the concert grind to a halt, the audience gapes curiously and photographers snap pictures as the two lie onstage. Uncertain what to do, Do-hyuk attempts to administer CPR, and Jae-in soon comes back to consciousness. This is humiliating for them both.
What's worse, though, is that Do-hyuk's antics got in the way of the police investigation. KARA had received a kidnapping threat that day, so Jae-in assumes that Do-hyuk is the would-be kidnapper. He loudly proclaims his innocence, arguing that he was only here to get photos of the celebrity couple in the audience, but lands in jail for the night.
He's let out eventually, but he has lost his chance at a scoop because of Jae-in. When he crashed into her, his camera smashed, and now he has no story. To rub salt in the wound, the photo of him giving Jae-in mouth-to-mouth is splashed across the front page of Daese Ilbo the next morning.
Do-hyuk has a cheerful temperament, though, so he quickly gets back to work. Since he lost his concert story, he needs another to make up for it. He buys two of his officer buddies (Kyung-man and Joong-il) coffee and presses them for any possible leads. They don't have any.
The office culture at the Kangsan Police Station is rather lax, so when Jae-in announces herself as the new supervisor, they don't take her seriously at first. She repeats her instructions in an authoritative voice, disgusted with their squalor and lack of discipline. And when Do-hyuk bursts in with his usual cheeriness, well, they're not happy to recognize each other. Do-hyuk feels mistreated and wronged for spending the night in jail, so he demands an apology. Jae-in thinks he's a creep, so she refuses.
To tie things in neatly, Kang Hae-sung is the reporter who wrote the story featuring Do-hyuk's embarrassing concert appearance. Hae-sung meets with a parliament member, who asks him to pull some strings and help him with an embarrassing situation. Monday Seoul may be a trashy magazine, but it has run a story charging him with improper conduct. Worse yet, the article is accompanied by highly incriminating photos of the parliament member getting wild and crazy at a hostess bar. The eyes are covered with censor bars, but it's not impossible to see that it's him. (In some more plot symmetry, we'll find out later that the writer of this article is Do-hyuk.)
Hae-sung has no respect for the politician who could be so stupid as to (1) do this in the first place, (2) get caught red-handed doing this, and (3) beg for people to cover it up for him. He declines to help.
The former crime boss Jo Yong-deok is quietly released from prison, and Do-hyuk looks him up to see if he can get an interview. When the older man leaves prison with his subordinate, Sang-chul, Do-hyuk follows in order to make his request.
This leads him to the offices of Daese Ilbo. Yong-deok arrives just as Hae-sung and his boss, Chairman Choi, are emerging from the building, and lunges for the chairman. Although we don't know why, Yong-deok eyes Choi with hatred and vows revenge. The altercation is photographed by Hae-sung and makes the next day's newspaper, painting Yong-deok as a wild ex-gangster stirring up trouble.
Do-hyuk doesn't really understand what that was about, but he presses the old gangster for an interview. Time's ticking, and he needs a new story. Yong-deok declines, so Do-hyuk hands the man a note with his contact information.
Do-hyuk shares his woes with Madam P, who offers him money to help get through his rough patch. Do-hyuk can't take her money, but he does consider her offer to work part-time at her bar. They're on good enough terms for him to call her "sis" and talk in banmal (casual language), but not good enough for her to confide why a tense phone call has pushed her to tears.
While Do-hyuk is out, his older sister waits in the neighborhood for him with her two children, Sol (girl) and Jung (boy). Sol picks up a Monday Seoul magazine since her uncle writes for them, but Jae-in sees the little girl with the sleazy tabloid and tells her it's not a good magazine for kids to be looking at. I love that the precocious Sol (adorable Kim Hyang-gi) gives her attitude, telling her to butt out and then calling her ajumma, possibly on purpose to needle Jae-in, who is offended to be called an ajumma at her age.
Sol's sassy attitude contributes to Jae-in's frustration, and she crumples the magazine without thinking. Of course, that means Jae-in has to buy it, as Sol points out sweetly.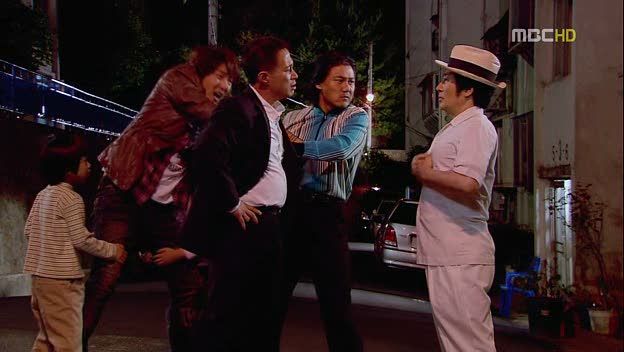 The reason for Do-hyuk's sister's visit soon becomes evident, because debt collectors appear looking for money from her — she has missed payments again. Do-hyuk has guessed his irresponsible sister has fallen into more trouble and is already frustrated with her, so naturally he is NOT happy when Big Sis runs off shouting that she's sorry and asks him to take care of the kids.
The loan sharks start to tussle with him, which is too much for Do-hyuk to handle solo. It's at this point that Yong-deok steps in to help. He appears out of nowhere and orders the thugs to stand down, but they don't show any respect for the gang name he invokes. But the old man is deft with his fighting maneuvers and easily subdues them.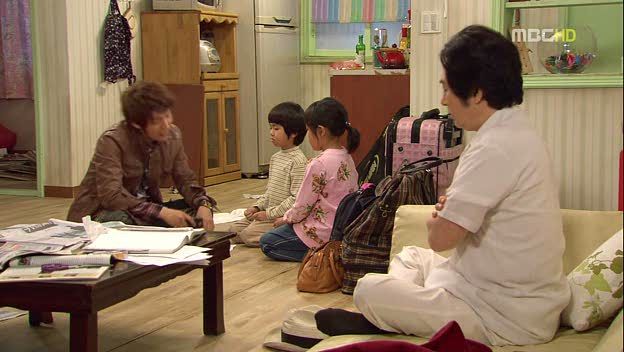 Following his prison release, Yong-deok has found the world an unfriendly place, and has difficulty using newfangled pay phones or riding buses since he's completely out of the loop. He had only decided to come to Do-hyuk as a last resort, since it's the only address he has available. Therefore, in exchange for helping with the loan sharks, Yong-deok asks for boarding for the night. He still refuses to do the interview, but figures Do-hyuk owes him this much.
Do-hyuk is spitting mad at his sister for dumping her problems on him and running, which is compounded by the fact that he's already broke. But he can't turn the kids away, either, and takes them in. This means he has to improvise with child care since he has his own work problems to handle. Sol can go on to school, but they need someone to look after Jung.
Thus when he runs into Jae-in again — both of them grimacing in distaste — and Jae-in inadvertently makes the boy cry, Do-hyuk foists the boy off on her. The kids have the odd ability to make Jae-in lose her cool, and she addresses them (particularly the girl) with annoyance. Do-hyuk is quick to use her guilt against her and makes her take Jung to work and watch him for the day.
He arrives at work to find that Monday Seoul has gone out of business and the only acknowledgement from his boss is a Post-It note saying sorry. The rest of the staff is completely shocked, and all are left broke and jobless.
News travels fast, and when Do-hyuk arrives at the police station to pick up Jung, he finds that his rival Hae-sung is already aware of it. Hae-sung had asked Jae-in out to lunch, and the two are on their way out when Hae-sung steps aside to (rather smugly) hand Do-hyuk his business card, telling him to drop by some time. He says it in a friendly way, but we can tell there's history between these high school classmates. Do-hyuk is annoyed but also envious of Hae-sung's position as a Daese reporter, and vows never to call him.
Thus he's moping (and drinking) when Yong-deok comes by with a surprising proclamation. Yong-deok had visited his own wife, carrying a lot of emotional baggage about the family he hurt. But the wife is remarried now and tells him to get lost. She has also read Hae-sung's article, which pictures Yong-deok causing a fuss outside Daese's offices and makes him look worse.
Obviously there's history between Yong-deok and Chairman Choi. Fuming about the news article, Yong-deok now agrees to do an interview. Do-hyuk no longer has a magazine to write for, so Yong-deok says matter-of-factly, "Then set up your own paper."
Do-hyuk laughs at the absurd idea — with what resources? Yong-deok answers that he has money, and Do-hyuk jumps onboard. Yong-deok just has to find his sidekick Sang-chul first, since he has the money.
Meanwhile, Do-hyuk works part-time at Madam P's bar for some extra cash, and has found positions for his sunbae Man-soo and the ditzy Ga-yeon. (The other two Monday Seoul guys are forced to take equally demeaning side jobs.) Again, we glimpse that Madam P is wrestling with personal difficulties, but the source of her stress remains unclear.
Do-hyuk is Yong-deok's first hire, but the older man refuses to hire the other Monday Seoul colleagues — he wants good reporters with good backgrounds. Feeling the need to help out his friends, Do-hyuk creates false resumes for them and tells them to play along. Yong-chul accepts their fake credentials and hires them.
Dreaming of riches, the reporters happily agree to help the gangster locate his money, which was buried in the woods. They calculate that there should be somewhere close to 1 billion won ($800,000) — which is why they are crushed, to say the least, when they dig up the suitcase to find a mere 10 million won ($8,000).
Sang-chul breaks down and begs for forgiveness — he'd fallen prey to a gold digger with an investment scam, and lost most of the money. Yong-deok strings up Sang-chul in punishment and pays the reporters for their labor.
Do-hyuk is tired after all these ups and downs, and tells the old man not to play around. Yong-deok answers that he doesn't play games.
With a sigh, Do-hyuk hands back his share. Even if he's in rough straits, he can't take the money from the old gangster. He tells Yong-deok to use his meager sum to set up a newspaper if he wants, or whatever. Do-hyuk walks off feeling defeated.
Hae-sung is pressured by his boss, Chairman Choi, to cooperate with the scandalized politician. The parliament member has called in a favor with Choi; Hae-sung must then print a story asserting that the article in Monday Seoul was faked, thereby clearing the politician's reputation. Hae-sung doesn't like doing this, but neither does he fight it — if he has qualms about the move, they're not great enough for him to risk his position.
This means that Hae-sung is directly attacking Do-hyuk's credibility as a reporter, accusing him of faking the photos and altering the images. The article claims that Monday Seoul invented the slanderous story.
Do-hyuk may not be a prestigious reporter, but he has his honor — and he never, ever lies — so he angrily confronts Hae-sung. We see more of their past in a flashback to high school, when they'd been running for school office against each other. Do-hyuk was the well-liked, popular candidate, and he had won. But Hae-sung had retaliated by accusing Do-hyuk of circulating bribes to buy his seat, and discredited Do-hyuk.
Back in high school, Hae-sung had told him condescendingly, "People only believe what they can see." Now, he turns those very words around and tells Do-hyuk that what you see isn't always the truth. Do-hyuk remembers, and this hypocrisy infuriates him.
Now he really, really wants to set up his own newspaper, partly to stick it to Hae-sung and partly to prove his own worth. He's back in with Yong-deok, and together they figure out a clever way to get the resources they need. Yong-deok goes around cashing in years-old favors.
For instance, when he was a gangster, Yong-deok once provided a man with a house without asking for rent or a security deposit, so now he wants the same. He reminds one man how he'd taken a stabbing for him, and so on and so forth. Thus they are able to set up office space and acquire all the necessary accoutrements to owning a paper, which they name Yongdeok Ilbo. (Ilbo means daily newspaper.)
A few other things to note: I'm not sure what Hae-sung's feelings are for Jae-in, but something is definitely fishy. She is interested in him and excited to go out on a date together, but he goes to Daese Ilbo's anniversary gala with another woman; he's introduced by Chairman Choi (that's him, on the right) at as the boyfriend of Choi's daughter.
Meanwhile, Madam P has gone missing without a trace. Do-hyuk wonders if the strange car he saw has something to do with it, and remembers its license plate, which is one of his special skills.
In a very cute bit, Sol and Jung have to go home from the police station on their own because the officer Kyung-man, who has been babysitting, has to go out on assignment. Because she has been clashing with the kids, Jae-in tries to pretend it's not her concern, but when Sol says her polite goodbyes, Jae-in feels bad and trails behind them to make sure they get home safely. (The girl is not impressed, and Jae-in and Sol end up bickering again.)
Do-hyuk meets up with the kids on the way, which is when the loan sharks reappear for their payment. When they hear that Do-hyuk doesn't have the money yet, they make a grab for the kids.
Jae-in doesn't understand what's going on but she sizes up the situation and jumps into action. Do-hyuk grabs the kids and yells for them to run away, but Jae-in stays and beats the living tar out of the thugs. Do-hyuk glances back in mid-run and watches incredulously as Jae-in fights off the men single-handedly. He groans, then runs back to help. (For the record, he's MUCH wimpier than she is!)
The thugs run off, and Jae-in pursues them down the street. The loan sharks escape in a taxi, but at least Do-hyuk manages to get their license plate, which Jae-in calls in to the station.
After the fight, Jae-in looks over his loan agreement — somehow, his sister had listed him as a guarantor (falsely, since he didn't sign). She says he should have called the police and says she'll take the case to make sure the guys are caught. He seems to soften toward her for the first time since they met when he thanks her.
However, his smile fades when she replies that she wasn't doing it for him — she did it because Hae-sung is such a good guy that he showed concern for "a man who doesn't even seem like a real man." (On their date, Hae-sung had asked Jae-in about Do-hyuk's troubles, playing it off as concern for a former schoolmate.) Do-hyuk hardens at this suggestion that Hae-sung is the better man.
Reproachfully, Jae-in brings up his supposedly faked article and insinuates that he's such a lowlife that he'll probably continue writing fake pieces at the new paper he set up with a mobster.
Do-hyuk tells her not to talk about things she doesn't know about: "I'm not that kind of person."
Jae-in: "Do you know who the worst person in the world is? Someone who causes other people to be hurt. You should be ashamed of making a living like that."
In a hard voice, Jae-in warns Do-hyuk to watch what he does — whatever awful deeds he and his gangster boss are intending to do, she'll stop them. Feeling wrongly accused, Do-hyuk glares furiously.

COMMENTS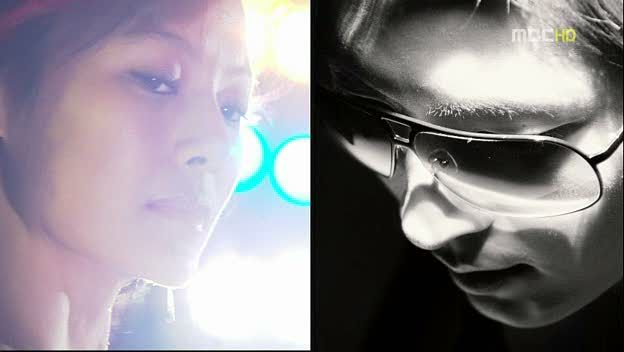 Hero seems to me to be an odd duck, not because it's bad or anything of that sort, but because I kept thinking that there was a weird identity crisis going on. At first I blamed it on the promotional team for mucking up the buzz-building process, because in the months leading up to the premiere, no matter how many articles I read or previews I watched, I still had no clear grasp of what this drama would be. Slapstick gags? Screwball comedy? Action thriller?
But then, it occurred to me that even after seeing the show, it's still difficult to explain the point in a clear, concise sound bite. The marketing team may have done their best but struggled with the nature of the show. As you can probably infer from the lengthy "Characters" section above, this drama has a large cast of characters and takes some time putting its pieces into place. That's not necessarily a bad thing, but it does have significant downsides. Often, you have to express the kernel of a drama in the first episode, in the first ten minutes — heck, sometimes even in a preview. If you don't give viewers that clear idea, there's a high chance they're going to lose interest before you're able to hook them.
For instance, I struggled with the first episode — again, not because it was expressly bad, but because it felt meandering. There was plenty of stuff going on, and a lot of active scenes — but what was the point? Where were they heading? What was this drama ABOUT?
The marketing team may have done their best, but they still dropped the ball. I remember early on hearing about this drama as Lee Junki losing his family and fighting on behalf of the poor and underprivileged as an unlikely hero. It certainly sounded a lot like Iljimae with its revenge and action-hero plot description, and that suggested intense melodrama. At some point, they should have realized that this drama's strength is in its comic underdog story. They really should have kept the old title "Strange Heroes."
Sometimes, dramas are so quick to hook an audience right away that they feel uncomfortably frenzied at first. But Hero doesn't have that immediate hook — and no, Lee Junki doesn't count. Without a huge name like Lee Junki, this drama probably wouldn't have gotten much attention in the first place, so I understand using his name to push the drama. However, I think they needed to establish the drama's identity separate from their big-time leading man, and they didn't. It was like, "Hey, you're going to watch because it's LEE JUNKI! Oh, there's a plot about reporters too."
Instead, I wish they had identified the drama with a clear conflict and narrative throughline. Example: "A ragtag team of reporters who are swindled out of their jobs at a third-rate tabloid decide to set up their own newspaper to stand up against a large, bureaucratic daily, while the head reporter (Lee Junki) vows to take down the corporate rival who defames his reputation. In the process, the small paper becomes a voice helping the little people fight against corporate assholes. Also: COMIC SHENANIGANS."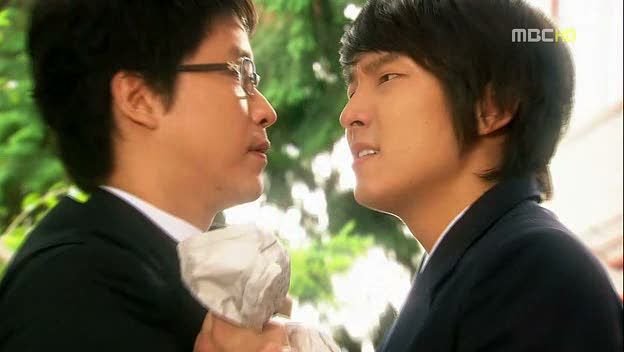 But that's more of the marketing/promoting side of things. As for the drama itself…
Like I said, slow start. If you've read this recap, perhaps you won't struggle with the same problems I did, because at least you'll know where things are going. That's the difficulty of recapping, I think — I watch things blind, so while I have the luxury of forming my opinions independent of anyone else's, I also lack access to anyone else's guidance. If you aren't tipped off in advance about the direction of the plot, it can be incredibly frustrating to keep going, not knowing if things will improve.
Thankfully, Hero comes into focus toward the end of the first episode, when Yong-deok decides to set up his own paper, with Do-hyuk's help. It was at that moment that I felt a big relief, thinking, "Oh, finally! THAT'S where this is headed!" And that feeling solidifies at the end of the second episode, when we see Hae-sung pulling that douche move and Do-hyuk feeling incredibly wronged. Lee Junki does a great job in that very last scene, and that's the first time this offbeat, funny little drama is injected with a dose of emotion.
I think Lee Junki is a promising actor but I haven't liked all his roles. However, I think he's great here, and though he can sometimes overdo the comic acting (as in Iljimae), it works here. He hits a nice balance between comedy and drama, and although I'm not completely sold on his pairing with Yoon So-yi, I'm taking an optimistic outlook. Yoon has been uneven in the past, but her interaction with the little kids is great. Although Jae-in is a good, hard-working cop, for some reason these little kids (in particular Sol, who's like a mini Do-hyuk) are able to bring out her childish, petty side, and it's hilarious.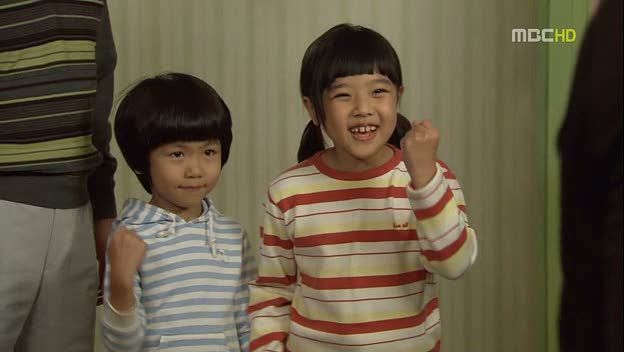 The drama definitely has a strong comic bent, but it's not slapstick (My Fair Lady) or even that situational (You're Beautiful). I would say that it finds funny little moments within larger scenes, while the overall situations aren't necessarily set up as comic platforms. For instance, Sol and Jae-in's conversation about the Monday Seoul magazine is very cute and amusing, although there's nothing inherently funny about them meeting at a store. It's the conversation, and how a precocious 10-year-old girl makes a responsible police officer lose her patience, that makes you chuckle. The conversations are often witty.
My biggest disappointment may be with the look of the drama, because visually, it's not very appealing. The visual palette is dull — the washed-out colors make me think of a retro '70s style — and it's just not pretty to look at.
On the upside, I do think they know what they're doing and where the story is going. There's an assurance to the way they set up their characters and relationships that suggests they have got the plot worked out. Perhaps in this case the low ratings will help the production carry out the story it intends, rather than futzing with plotlines in desperate attempts to draw out more ratings.
So. Overall, I have to say that Hero improved steadily in my estimation the more I watched, and by the end of the two episodes, I found myself enjoying it. Let's just hope it does know what it's doing, and that it finds more of an audience. And that MBC doesn't cut it.

RELATED POSTS
Tags: Eom Ki-joon, first episodes, Hero, Lee Jun-ki, Yoon So-yi